Top 10 Best Microphone Pop Filters
Introduction
All voice actors, songwriters, podcasters, and audiophiles have experienced the annoying noise that can appear in an audio recording. This popping sound shows how unprepared and without gear and attention can the creator of the audio clip become without knowing that their microphones can handle any kind of sound.
Not only does a pop filter manage plosives, but it also keeps harsh sibilance at bay. It is also extremely important to keep a clean studio, especially if you are recording. You can prevent stray saliva droplets from hitting your microphone with a pop filter. Regularly cleaning pop filters is a good idea.
The air inside the mic's diaphragm is forced to move faster as a result of stopping consonants (also called "plosives"). This causes unwanted signal clipping. Air is dissipated by pop filters, reducing its velocity, which allows clean vocal recordings, even for consonants.
So now, let's look more deeply into the 10 best microphone pop filters that you can find on the market + you will be able to find some brief reviews on each model to ease up your buying decisions.
1. Stedman Proscreen PS101
Metal pop screens from Stedman come in the standard size. In addition to the 4.6″ metal screen filter, it also features a 13″ gooseneck, so you can adjust the position easily and the clamp can comfortably accommodate a variety of mic stand shafts.
It is important to note that Stedman Proscreen PS101 has good transparency. By directing airflow, sibilant sounds were prevented from being selectively filtered (as is common with fabric-based filters), which makes them easier to detect and remove in post-production. The metal filter on the PS101 also makes it more durable than fabric filters.
With the Stedman Proscreen PS101, you get a unique and minimal pop filter that performs differently from other pop filters. In this way, you will be able to obtain a transparent sounding upper range capture for your microphones while at the same time reducing lower plosives effectively. The product is recommended if absolute transparency is desired.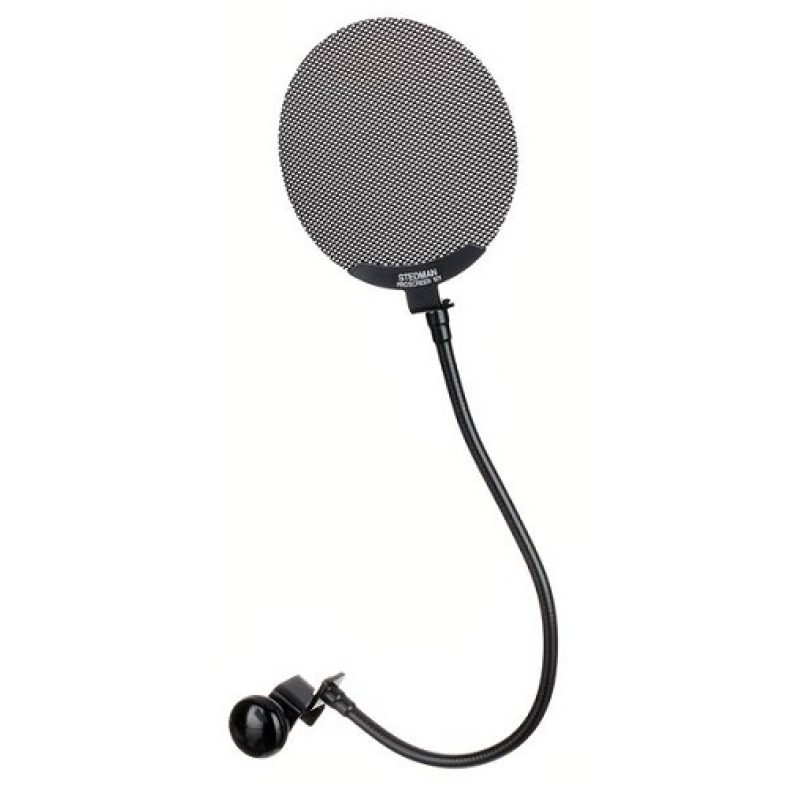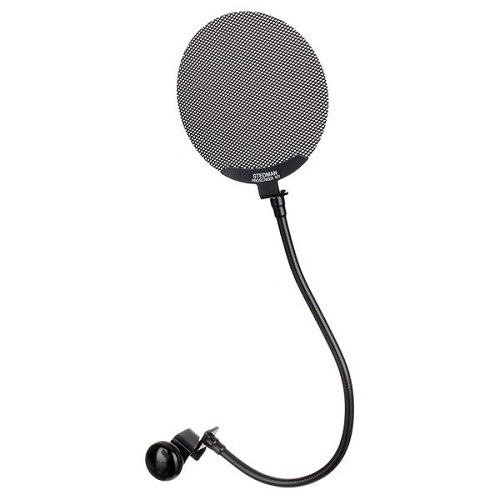 IMAGE
PRODUCT
For US
Customers
For EU
Customers
Amazon
Store
---
2. Shure PS-6 Popper Stopper
Among thicker pop filters, the Shure PS-6 Popper Stopper Pop Filter stands out as an excellent choice, being constructed out of 4-layered nylon with a sturdy, highly adjustable gooseneck.
This Popper Stopper Pop Filter is made of 4 layers of nylon mesh, so it's even more effective in reducing the plosives you produce while maintaining both quality and color.
With its 14-inch gooseneck, you won't have to install the clamp closer to the mic and can put it at an angle that matches your playing style without having to adjust it from your mic stand.
Furthermore, a 6-inch diameter pop filter covers most of the microphone, so you're able to move around the mic more freely than with smaller filters.
Even though the pop filter is well-built, its design can be quite frustrating, but if you don't mind tweaking a few components within it every now and then, it shouldn't be too challenging.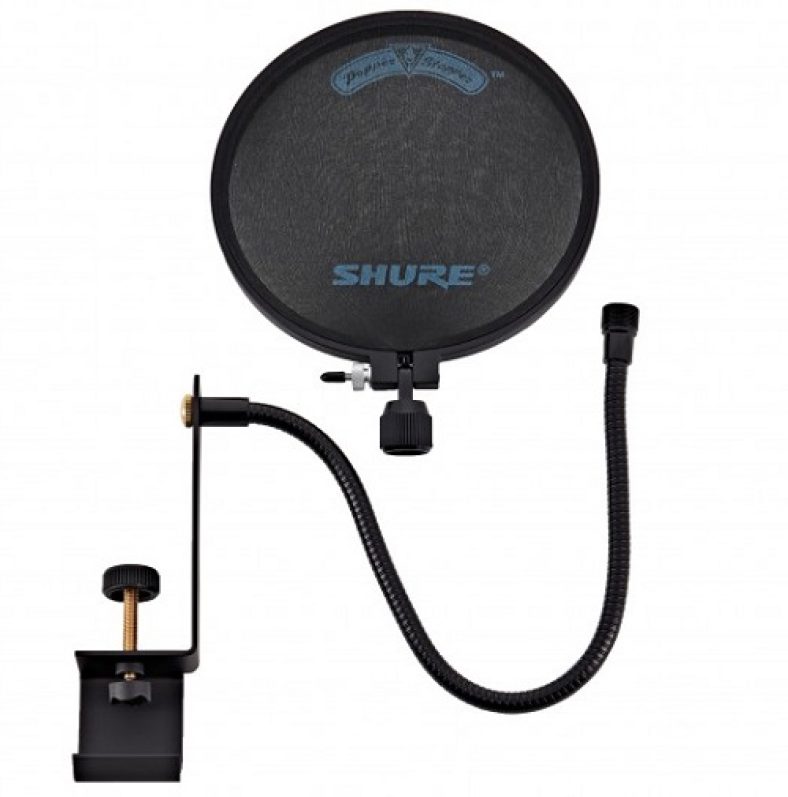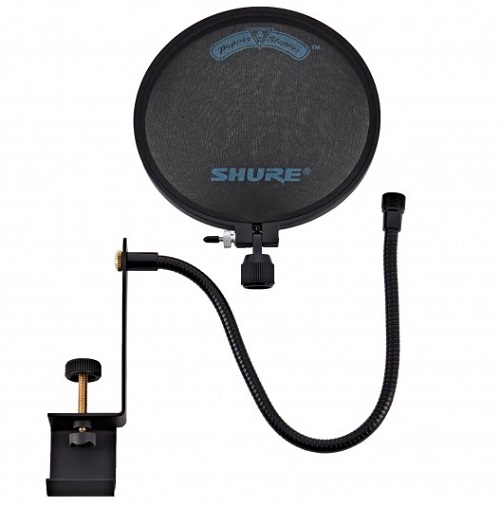 IMAGE
PRODUCT
For US
Customers
Amazon
Store

Shure PS-6 Popper Stopper
---
3. Avantone Pro PS-1
Among other curved pop filter choices, the Avantone PS-1 Pro-Shield Pop Filter is another great choice, because of its unique shape and design. There are only a few holes in the metal screen as compared to most metal pop filters on the market, but this helps to reduce even more plosives, although some higher frequency sounds are sacrificed.
As a result of its curvature at the top, this filter can be used with most studio microphones without obstructing most of the equipment, unlike a round filter that would take up a considerable amount of space just to cover the microphone in its entirety.
Also, PS-1 Pro-Shield does not have a flat surface but is curved to cover the sides of your microphone, which is great if you are very restless while recording.
In addition to the filter, the long gooseneck and clamp allow you to easily mount it on your microphone stand and adjust the angle at which it is installed so that the noise will be filtered out before it is picked up by the microphone.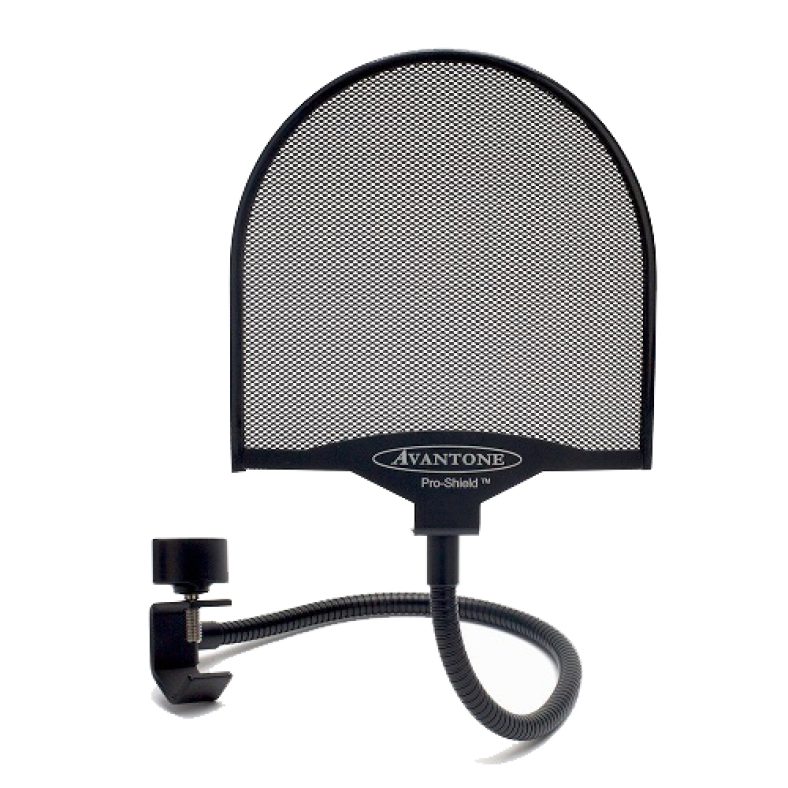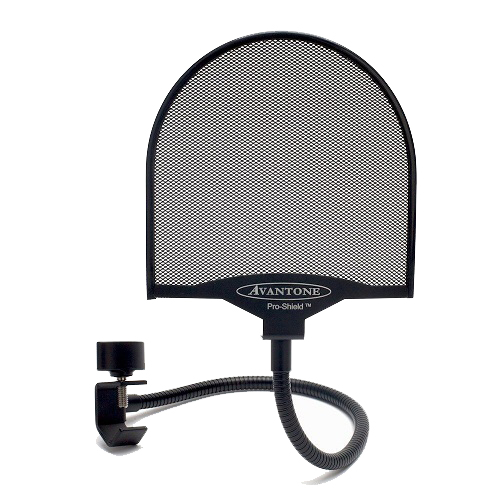 IMAGE
PRODUCT
For US
Customers
Amazon
Store
---
4. Neumann PS 20 a Pop Screen
There is a thin pop filter available from Neumann called the PS 20 Pop Screen. This filter works best when used in conjunction with other pop filters. When used with vocal microphones, a pop screen eliminates so-called pop noise, such as "p" or "t". Pop filters are commonly known as frames covered in black gauze on both sides and measure 7.9″ in diameter.
The pop shield is equipped with a gooseneck measuring approximately 30 cm (12 inches) in length. The microphone stand clamp is designed to be attached to the stand with a knurled screw. In comparison with a metal pop screen, this screen is high quality and does not add any noticeable color to the mic. It is also more effective at preventing unwanted pops from entering the microphone.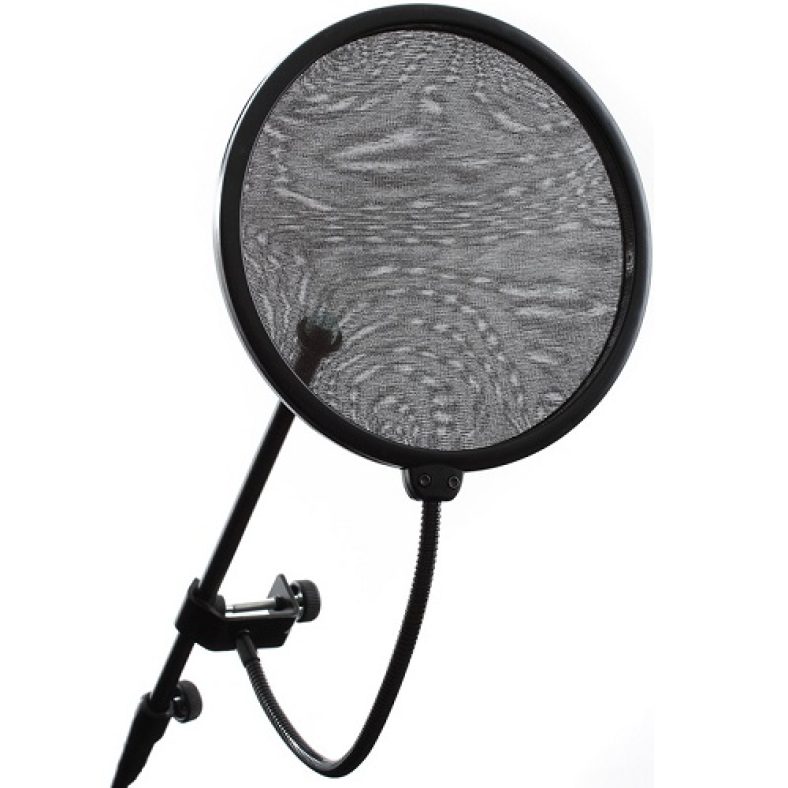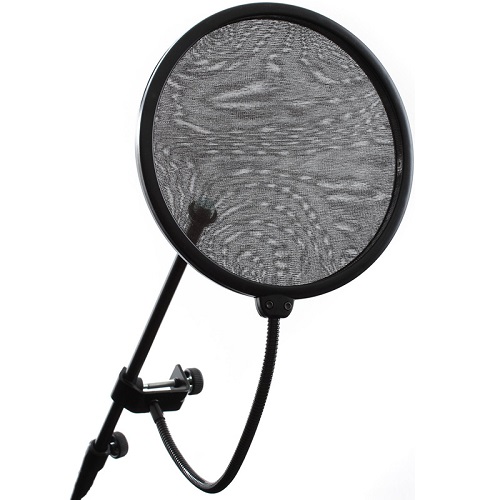 IMAGE
PRODUCT
For US
Customers
For EU
Customers
Amazon
Store

Neumann PS 20 a Pop Screen
---
5. sE Electronics Dual Pro Mic Pop Shield
With the sE Electronics Dual Pro Pop Filter, you can tame your vocals. It uses a rock-solid gooseneck with both a fabric membrane and pro metal pop shield on a hinged mechanism to provide a simple, yet highly effective solution to the problem of needing a pop shield for vocal performances.
There is a strong gooseneck on the sE Electronics Dual Pro Pop Filter which holds both sE Electronics' pro metal pop shield on a hinge mechanism and a standard fabric membrane as well. As a matter of fact, depending on the application, you may be able to use both at the same time or separately.
The sE Electronics Dual Pro Pop Filter is designed to eliminate pops from recordings without filtering the sound. With its efficient positioning, this filter will yield the best possible acoustic and aesthetic results.
It captures the details of passthrough high-frequency signals while blocking the invasive blasts produced by the sE Electronics Dual Pro Pop Filter. It is easy to attach the sE Electronics Dual Pro Pop Filter to any microphone stand due to its flexible yet sturdy goose-neck and clamp assembly.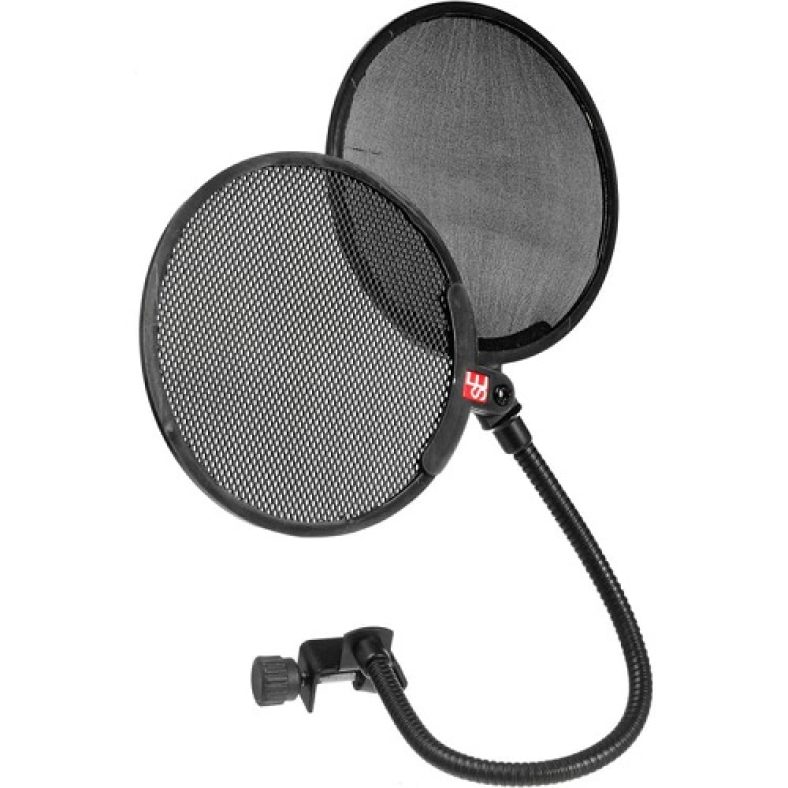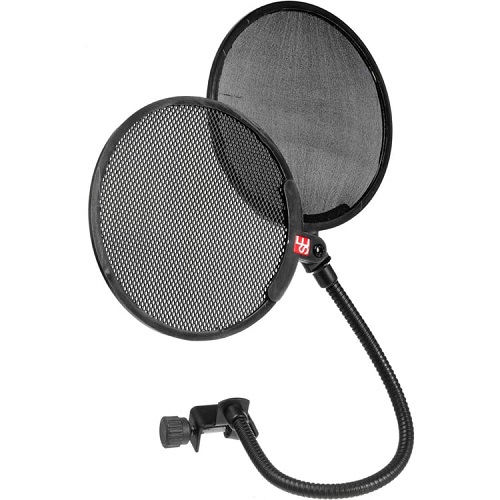 IMAGE
PRODUCT
For US
Customers
For EU
Customers
Amazon
Store

sE Electronics Dual Pro Mic Pop Shield
---
6. Nady MPF-6
One of the most well-known and best-selling pop filters in the world is the Nady MPF-6. This is primarily due to the fact that it is so cheap. There is more to the story than that, however.
As a result, there are dozens of other pop filters that are just as cheap, but very few sell as well. The majority of pop filters at this price point have goosenecks that do not stay in place and are made from cheap materials that break within a few weeks.
There appear to be only a few inexpensive options that perform as promised, among them the Nady MPF-6. In spite of the fact that this pop filter offers excellent value for the price, as always, you receive what you pay for. One disadvantage of this product is that the frame is made of plastic, which may not hold up as well as those made of metal.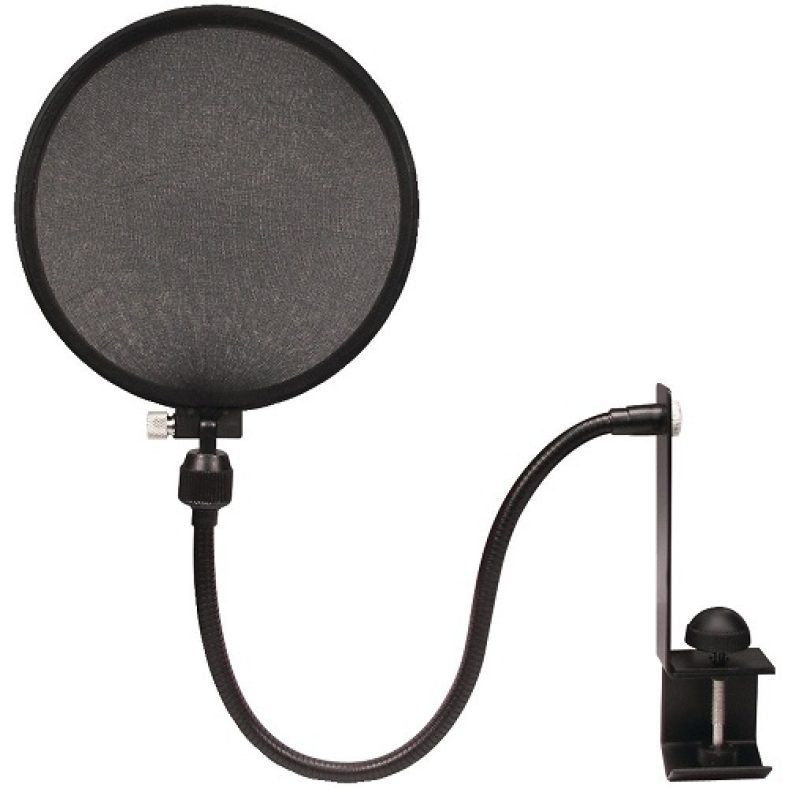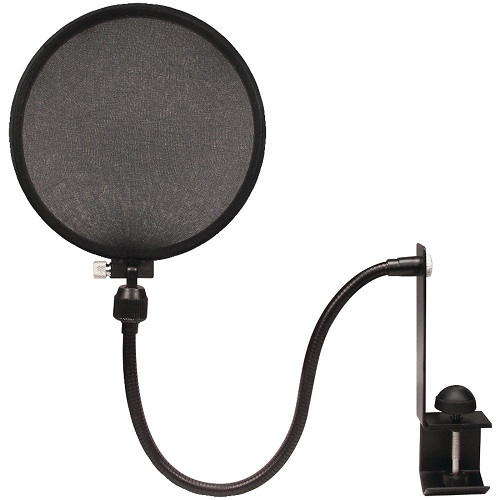 IMAGE
PRODUCT
Amazon
Store
---
On its filter mesh, the JZ PF features a unique wave pattern designed to reduce unwanted reverberations, as well as remove pops and blows. Despite the fact that the mesh is mounted on a 17.7″ long gooseneck, the actual filter is quite small, so vocalists that move around a great deal may not find it beneficial.
There are some times when it is best to repair things as close as possible to the source in order to get great vocal tracks. Depending on the individual, it may be the room, the microphones, or even the kind of cable. As a result of the JZ PF, many users did not have to use more processing in their mix than necessary because problems related to plosives and clarity were eliminated early on.
If the budget permits, this alone makes it a worthwhile investment. There is a nice large thumbscrew on the mic-stand mount, which allows it to be attached securely to the mic stand. It would be beneficial to use one of these if you are a recordist at any level.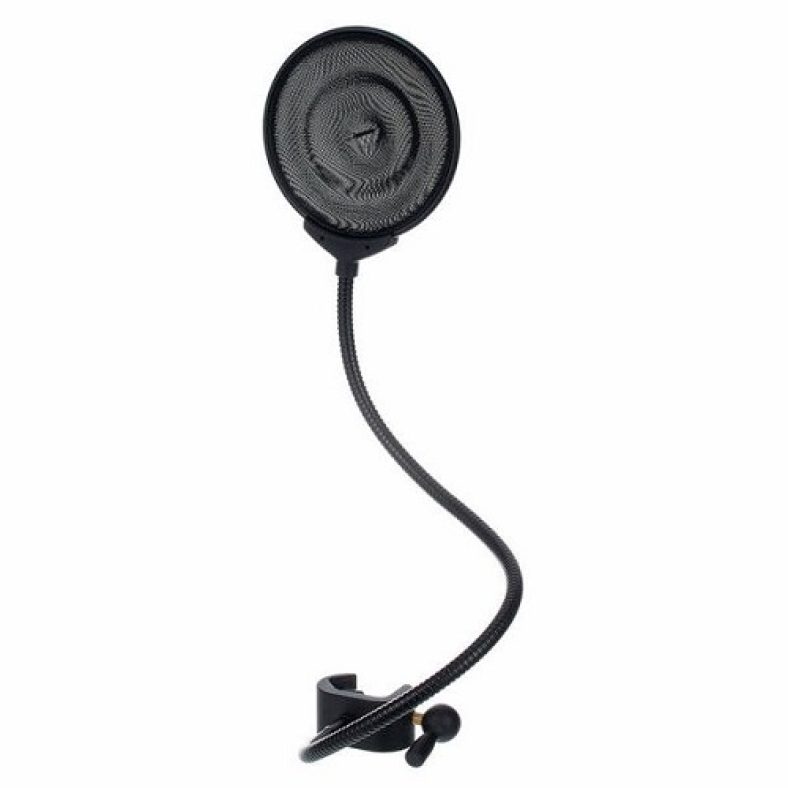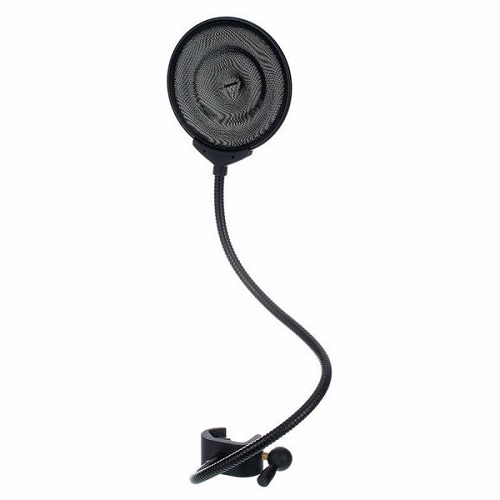 IMAGE
PRODUCT
For EU
Customers
Amazon
Store

JZ Microphones JZ-Pf Pop Filter
---
8. On-Stage ASFSS6-GB Dual Screen Microphone Pop Filter
Designed by On-Stage, this piece of equipment consists of a 6-inch dual-layer nylon filter with an 11-inch gooseneck. Unlike a conventional single-layer filter, nylon pop filters have an air gap between them that helps disperse plosive energy more effectively.
Look into the reviews and do some research, as some users have complained about the quality of the construction. The dual-layer pop filter is still relatively affordable, however.
Designed in the shape of a round circle, the ASFSS6GB Dual-Screen Pop ensures that air coming from your mouth does not reach your mic. This results in an effective reduction or elimination of plosives.
Due to the fact that this filter does not alter the color or quality of your voice or sound, it can only serve its intended purpose of reducing the annoying plosives. As a result, you must be particularly careful when handling and adjusting the gooseneck so that it covers the microphone properly, otherwise you may cause permanent damage to the filter.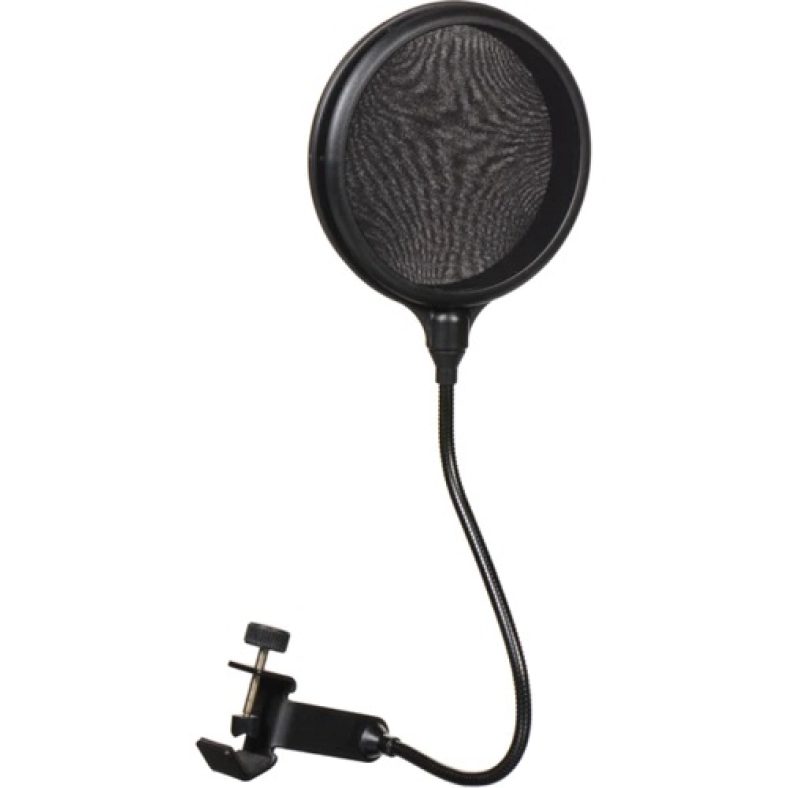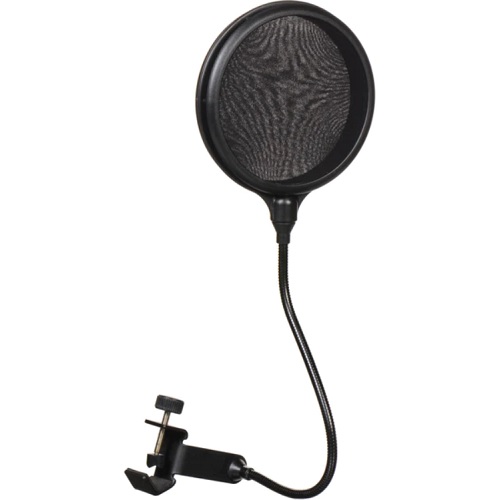 IMAGE
PRODUCT
For US
Customers
Amazon
Store

On-Stage ASFSS6-GB Dual Screen Microphone Pop Filter
---
9. Aspen Pittman Designs PFM+ Magnetic Pop Filter Plus
Aspen Pittman Design's PFM+ Magnetic Pop Filter is another excellent metal pop filter since it features a magnetic attachment mechanism and a unique design. As the metal filter is rectangular in shape but slightly curved, it covers most of the angles when you move vigorously, so you will not have to worry about constantly adjusting it.
While the filter features a magnetic feature and a metal filter, it does not reduce the sound quality your mic captures while still working perfectly to reduce and eliminate most plosives.
In addition to this, you may find that the magnetic pop filter has a weak magnetism, and it may easily fall off where it was attached if you apply too much force or movement. Therefore, be careful when handling and moving the filter.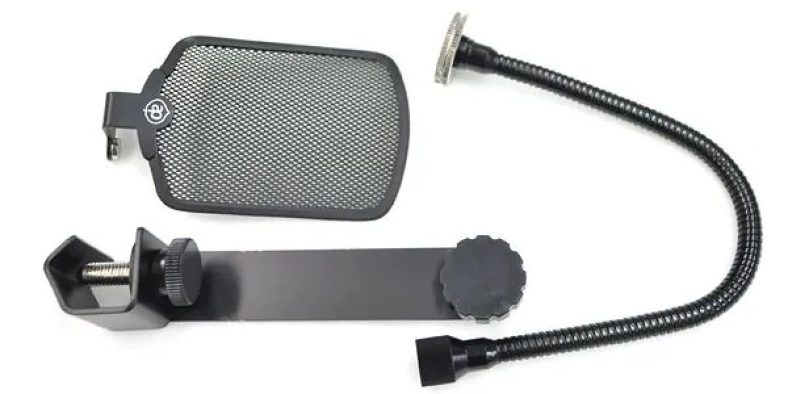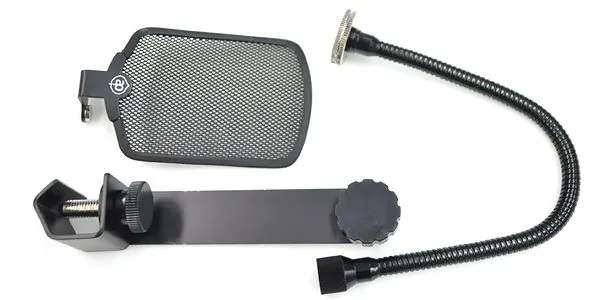 IMAGE
PRODUCT
For US
Customers
Amazon
Store

Aspen Pittman Designs PFM+ Magnetic Pop Filter Plus
---
10. ISOVOX IsoPop Filter
The IsoPop can be mounted directly onto a microphone stand and will work with virtually any type of microphone. It is constructed with a 35 cm/14″-long gooseneck, tempered with a layer of soft skin on the outer surface, which is designed to ensure the pop filter stays securely in place. In addition to having a non-intrusive diameter (10 cm/4″), this microphone helps vocalists and voiceover artists be more visible when they are on video or communicating with others during recording sessions.
With IsoPop, you have a Neutral Pro Filter; with IsoVox, you have an interchangeable De-Ess Pro Filter to soften treble/sibilance caused by challenging microphones or your own voice. It is also possible to mount the IsoPop directly to a desk by using the provided color-coordinated clamp with an opening that can be adjusted up to 25 mm/1″ in width.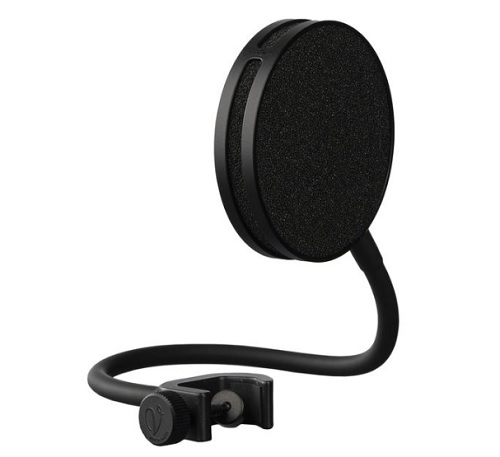 IMAGE
PRODUCT
For US
Customers
For EU
Customers
Amazon
Store
---
Conclusion
We recommend that you be prudent with your budget. If your budget is limited, you may want to consider an inexpensive pop filter. Regardless of which pop filter you select, you will be able to produce professional-quality recordings by reducing plosives.
The investment is well worth it due to its superior build quality, transparent sound, and durability. If you have the budget, you should consider purchasing a more expensive filter. In comparison to the other alternatives, it is likely to withstand frequent use much better.
So we listed what we think are the best pop filters that will stop any popping sounds. If you are having any concerns about any of the models we listed in this article, please let us know in the comment section below and we will be more than happy to assist you with further details.