Best Microphone Stands
Introduction
Mic stands are one of the most important things you should never skimp on in your studio. If a mic stand fails, it may damage your more expensive equipment. A faulty mic stands to break down much faster. A mic stand that slips down or falls over without much force can also disrupt performances and be an annoyance for performers.
In addition to providing a stable platform for microphones, a well-built mic stand can also support them. A mic stand should not be considered if it does not meet those two basic requirements.
You should determine what mics you will use and how often they will be in the path of movement before purchasing one for your studio or stage. Mics mounted above speaker cabs should be mounted on stable and tall mic stands to prevent tipping, while mics mounted from the floor are best miked with smaller mic stands.
To put it another way, what are you left with if you do not have a studio microphone stand? There is nothing but a pile of wires, a fragile microphone that's lying on the floor, and a pop filter that desperately needs a mounting plate.
There's a whole lot more to a microphone stand than just a cheap-made metal pole. If you want to record vocals (or instruments) easier, you need one designed for the purpose. In light of that, which microphone stand is best for 2023? Let's check out our choices and then we will move on with some more details on them.
---
Standard Vocal Microphone Stands
Tripod boom mic stands are the most common type, consisting of three legs at the base and an extendable boom arm that extends sideways. In spite of the fact that these microphone stands can be adjusted to almost any position, it is important to avoid overextending the center of gravity to the point that it topples over as a result of the weight of the microphone.
1. On-Stage MS7701B Euro Boom Microphone Stand
Designed for touring professionals, the height-adjustable MS7701B Euro Boom Mic Stand provides exceptional stability, even on uneven surfaces. This versatile new microphone stand can be used to mic vocals, acoustic instruments, and amps thanks to its angle-adjustable boom arm. Storage and travel are made easy with the foldable stand. A black finish is used.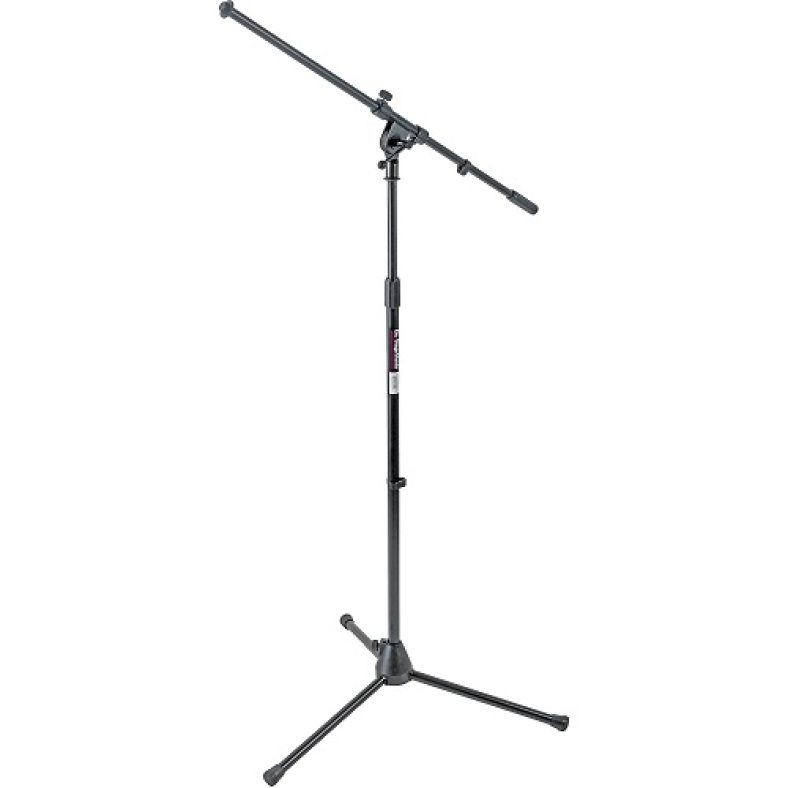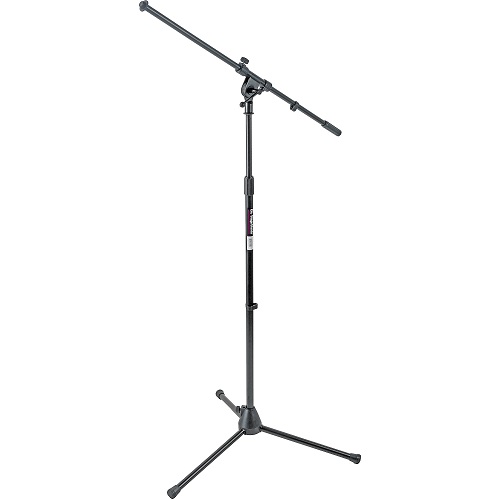 ---
2. K&M Microphone Stand with Telescoping Boom Arm
K&M's black 210/9 Tripod Microphone Stand with Telescoping Boom is an adjustable height stand with a telescoping boom arm that extends from 17.1″ to 29.3″. In addition to providing sturdy support for live sound, rehearsals, and recording, the microphone stand is equipped with a clutch that allows you to raise the stand height from 35.4″ to 63.2″ and a 5/8″ thread for mounting microphones.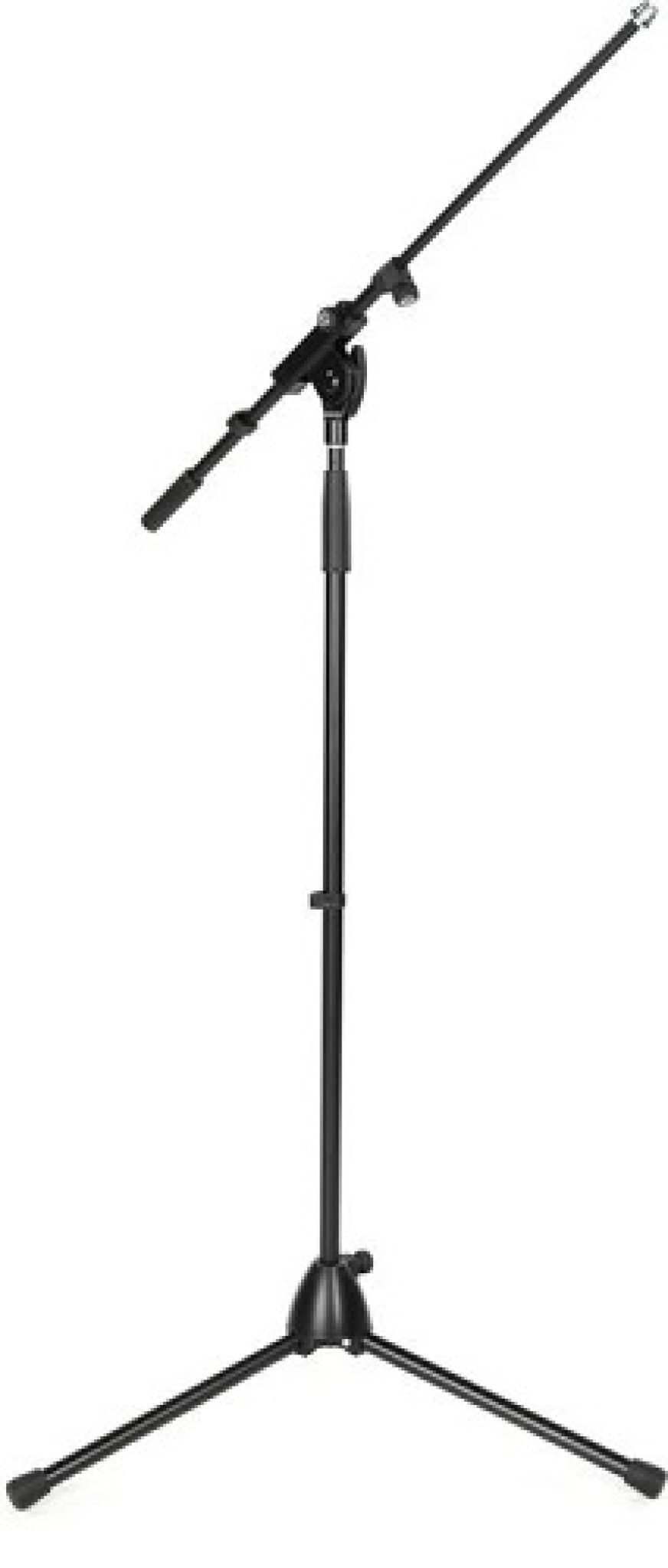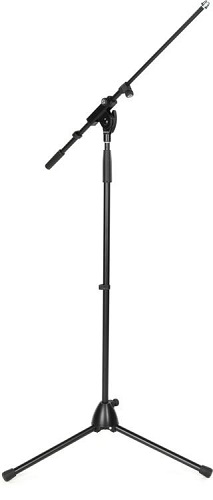 ---
3. Gator Frameworks GFW-MIC-2010 Standard
With its heavy-duty steel construction and collapsible tripod base, the Frameworks Tripod Mic Stand by Gator Cases is compatible with both US and European mic clips. The feet of tripod stands are equipped with removable red safety trim, and cable management clips are included as well. Additionally, the stand is equipped with an easy-to-use single-section boom.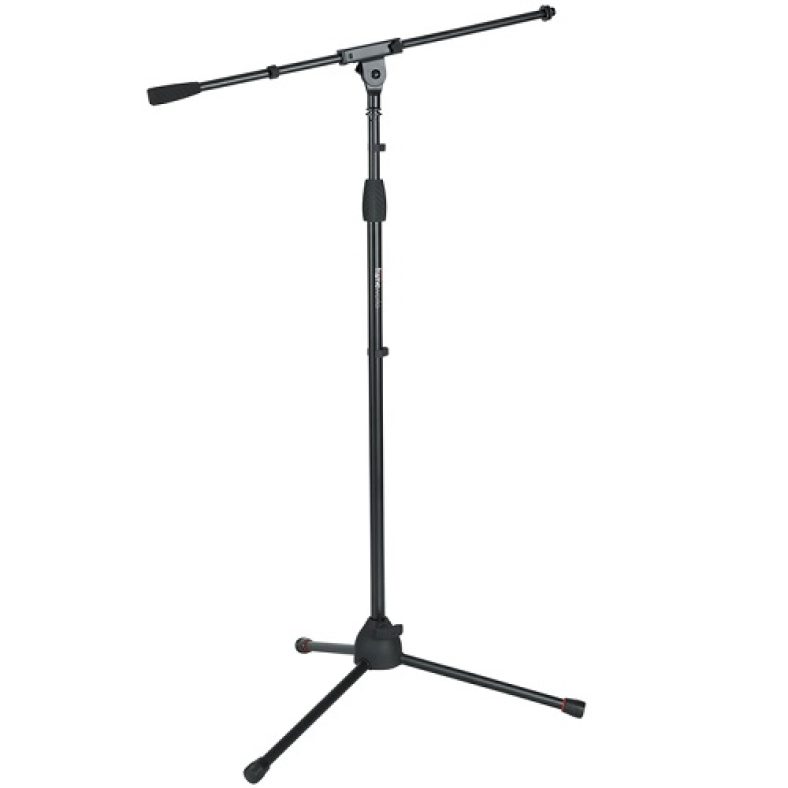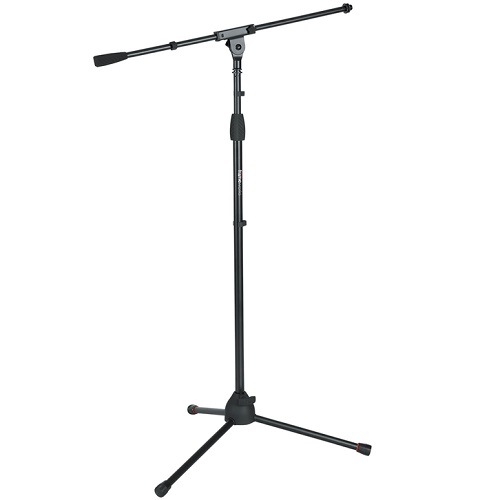 ---
4. Superlux MS-108E
In this stand, you will find the solution for those individuals who desire to use a large condenser microphone to reach that sweet spot but are concerned that the weight and length of these microphones could tip them over on an ordinary stand. The Superlux MS-108E will now provide the appropriate support by simply unscrewing a few turns on the foot you need to extend, giving you the perfect opportunity to place the microphone exactly where you want it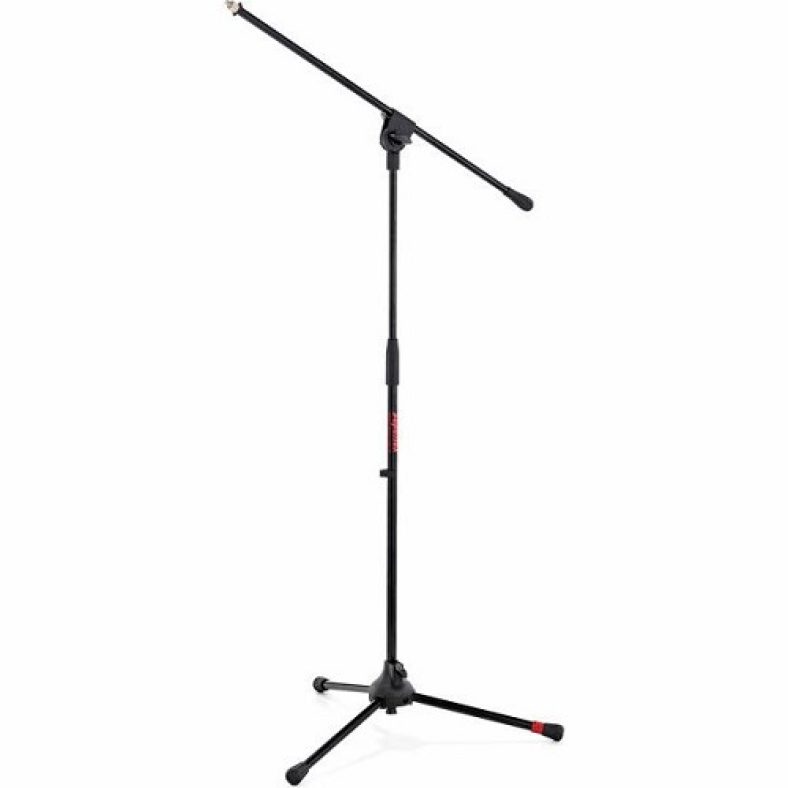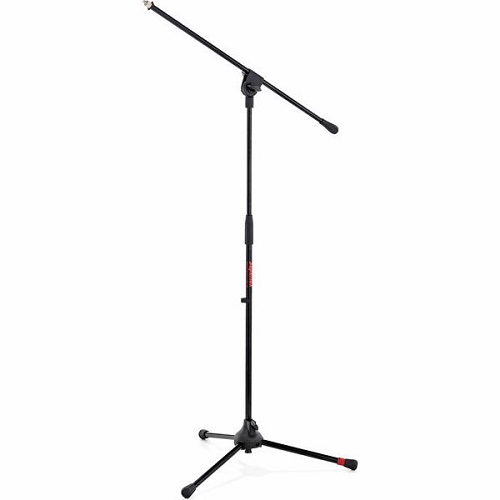 ---
5. Millenium MS 2003
Featuring folding feet with a die-cast base, a 3/8″ thread in the microphone clip, and height adjustment between 105 and 170 cm, the MilleniumMS2003 is a microphone stand with a boom arm. This is a great choice for your best microphone stand or if you are at the stage to get new support for it. For more details, head over to the links we provide for each model and find out if this is the right microphone stand for you.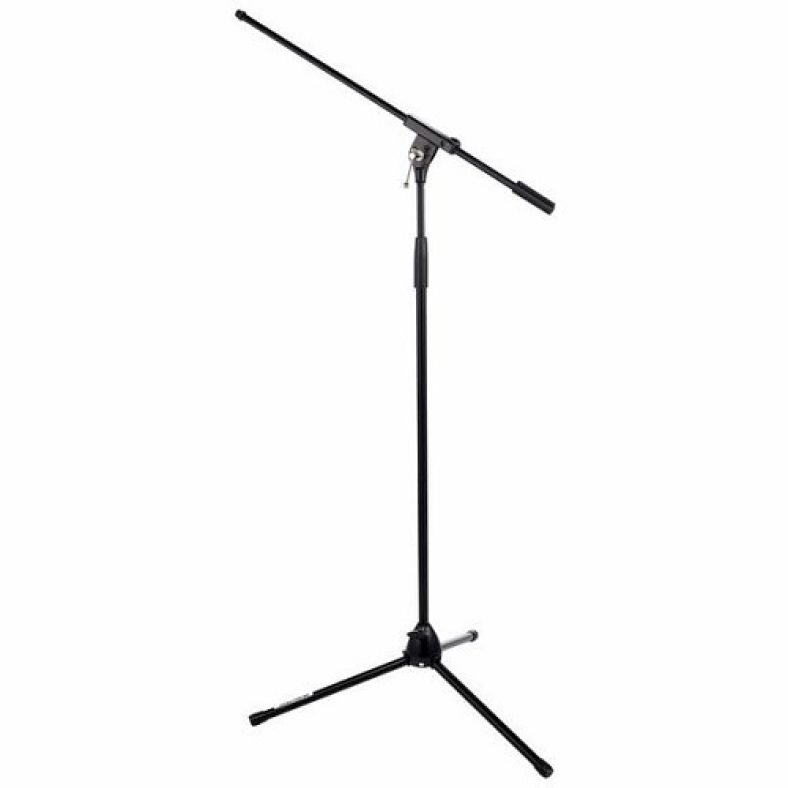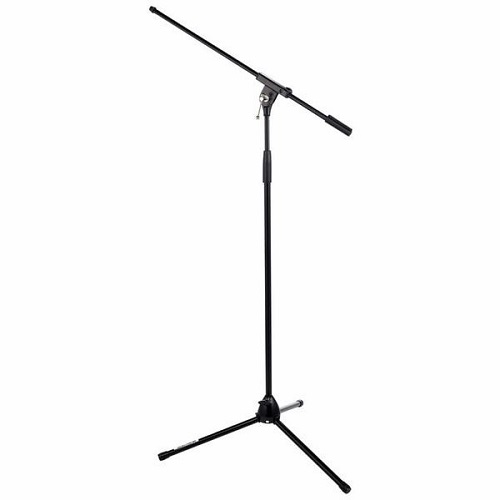 ---
Desktop Mic Stands
You can upgrade your setup with desktop mic stands, which provide a sleek, camera-friendly aesthetic, which helps you save valuable setup time, and efficient cable management, which reduces the amount of time you need to spend troubleshooting.
As a result of the combination of a desktop stand with a microphone shock mount, your audio quality will be improved by eliminating handling noise and rumble caused by ambient vibrations, which will save you the hassle of cleaning up the audio in the future.
6. On-Stage DS7200B Adjustable Desktop Microphone Stand
For short-height miking applications, the DS7200B Adjustable Desktop Mic Stand is ideal. The straight shaft is removable and can be adjusted in height from 9″ to 13″ and is compatible with standard microphone clips and accessories. Stability and balance are provided by a heavy base for reliable microphone support. Vibrations are reduced by the non-slip rubber feet, preventing mic rumble. Designed to be functionally simple, this mic stand makes it simple to place a microphone on a desk or podium.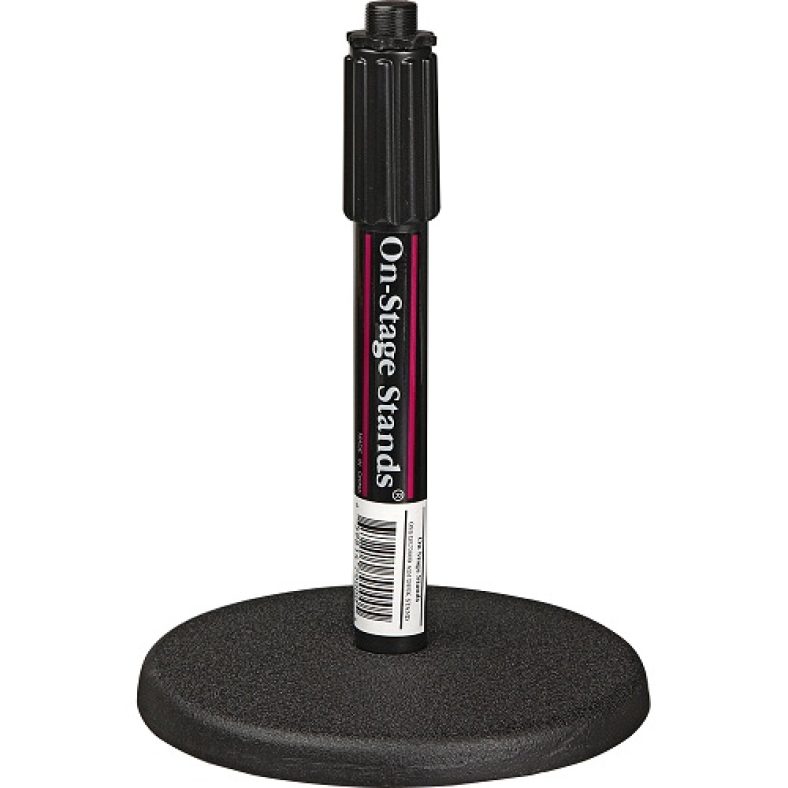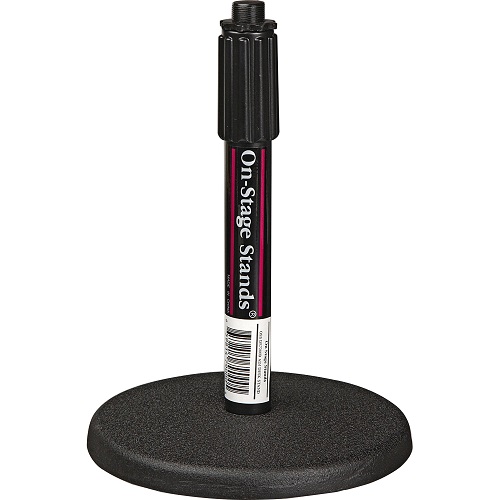 ---
7. Gator Frameworks GFW-MIC-0501 Desktop Mic Stand
Podcasting has grown exponentially in recent years, so it's only natural that high-quality hardware has become increasingly important. Designed for podcast studio desks, interview desks for film and television, and Q&A conference tables, the GFW-MIC-0501 Desktop Mic Stand provides a sturdy and convenient way to secure your beloved mics.
A solid weighted base allows for solid support, while non-slip, vibration-reducing feet allow for quiet handling. These capsules are designed to fit an array of today's most popular podcast microphones, including Shure's SM7B and MV7 models, as well as RODE's Procaster and PodMic models.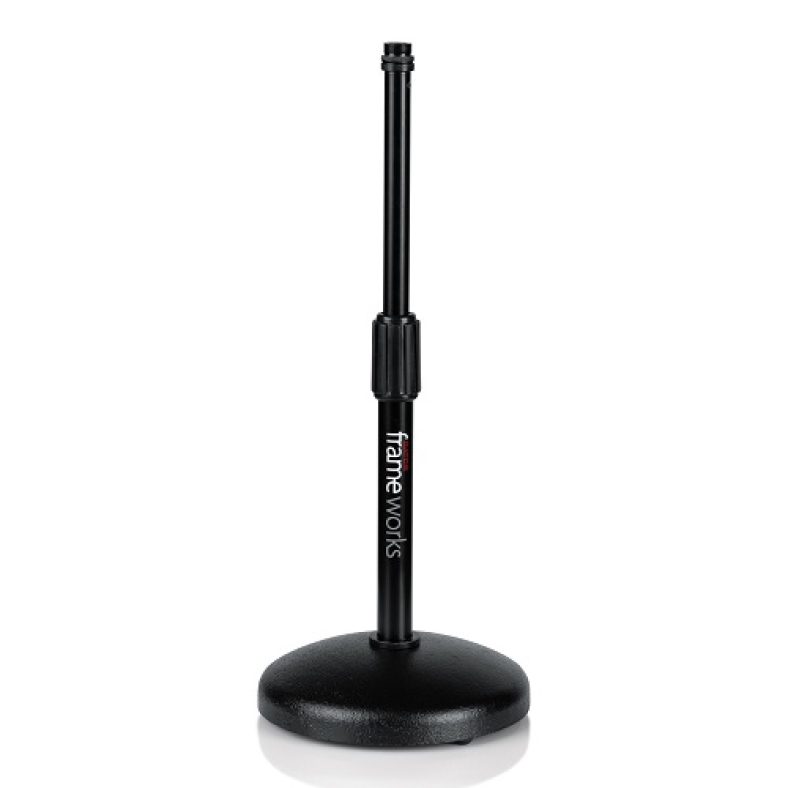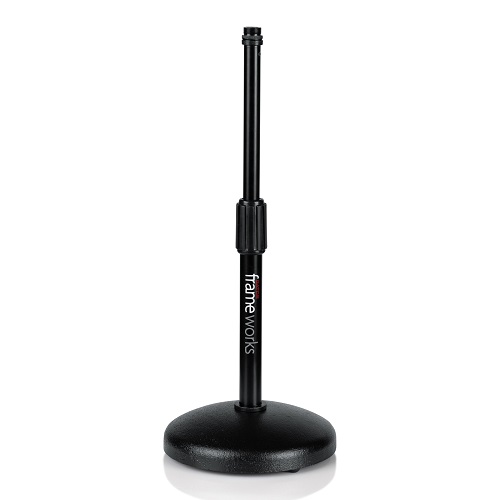 ---
8. K&M 23325 Table Microphone Stand
König & Meyer Table/Floor Mic Stands are versatile, low-profile units that can adjust in height between 8.5″ and 13.7″ (21.6 to 34.8 cm). Featuring a sturdy, black-steel base and an anti-vibration rubber insert designed to filter out noise, this stand raises and lowers itself with a center clutch. The base is made of heavy cast iron with an anti-vibration rubber insert.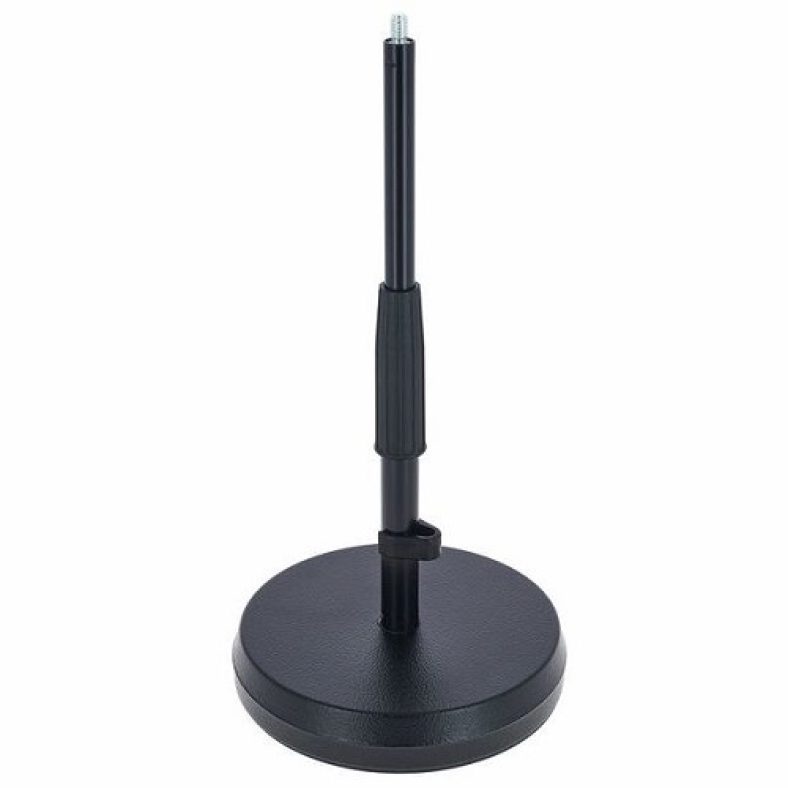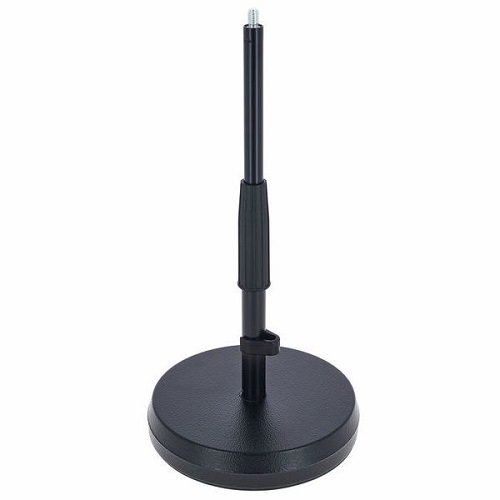 ---
9. Millenium DS-10
Incorporating a compact tripod and cable clip (included), the Millenium DS-10 Table Microphone Stand is a high-quality table microphone stand. When you place the microphone on it, it feels really steady and hard to fall, but it is merely an accidental nudge or tug of the cable that causes it to fall forward. This problem could have been resolved if the legs of the actual stand were a little longer. All in all, great looking and safe stand if out of reach.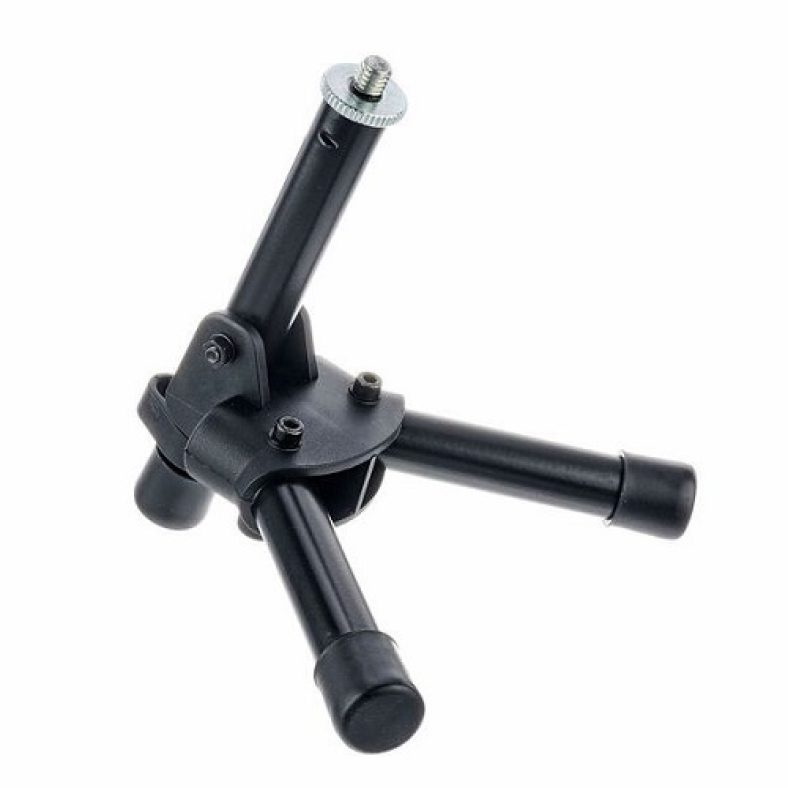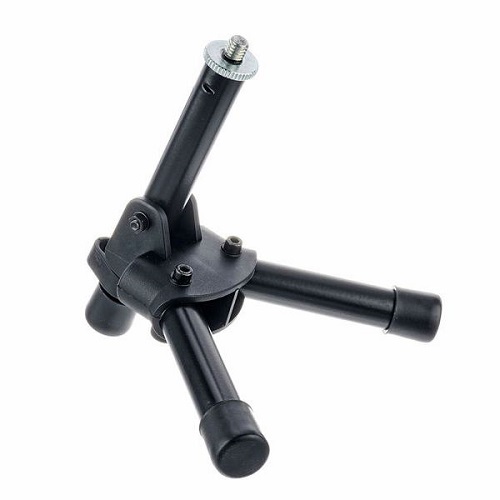 ---
10. Gator Frameworks GFW-MIC-0250 Mini Tripod Stand
In order for podcast interviews to be as effective as possible, you need a tripod stand for wired microphones like the Frameworks Mini Tripod Desktop Stand by Gator Cases. The lightweight and compact design of the frame will make it easy for you to move around. Most wired microphones are compatible with the mic clip included in the package. The mic clip on this stand can be used either with your own or with a mic clip you currently have if you prefer.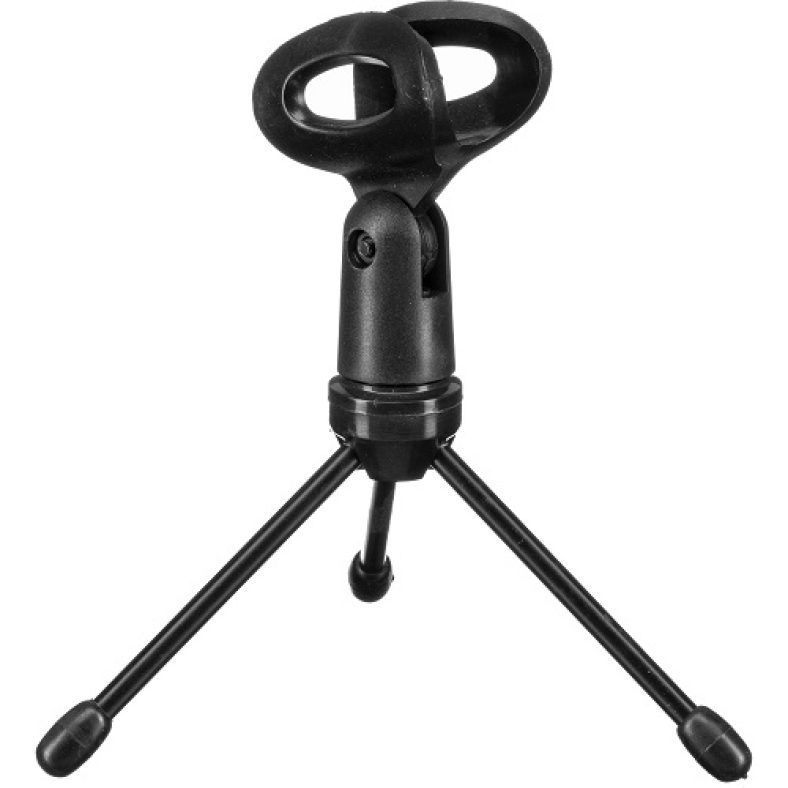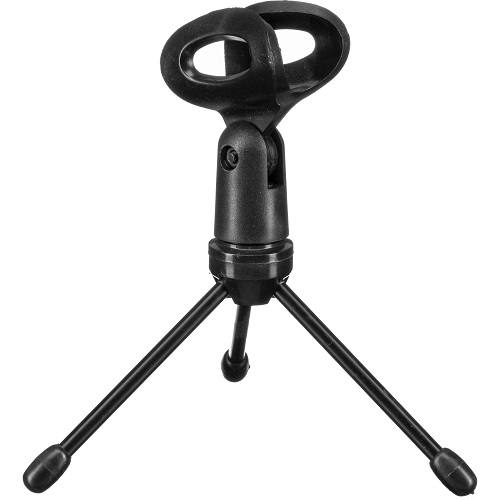 ---
Low Profile Mic Stands
Guitar cabs and kick drums can also be supported by stands with a short height. The boom arm and stand are shorter on these models. The adjustable height of these mic stands is also limited compared to the standard mic stands. Micing drums and other instruments with low profiles are typically done with the low-profile stand.
11. Millenium MS 2006
In addition to the rubber feet, this microphone stand comes with a coated cast-iron disk and boom arm, 3/8″ thread, and has dimensions of 330mm tall, weight is 2,5kg, boom arm 525mm long, base diameter is 190mm, and it includes 2x cable clips. This is a nice low-profile mic stand that can be used when micing bass drums, cahons, and any source that is lower to the ground.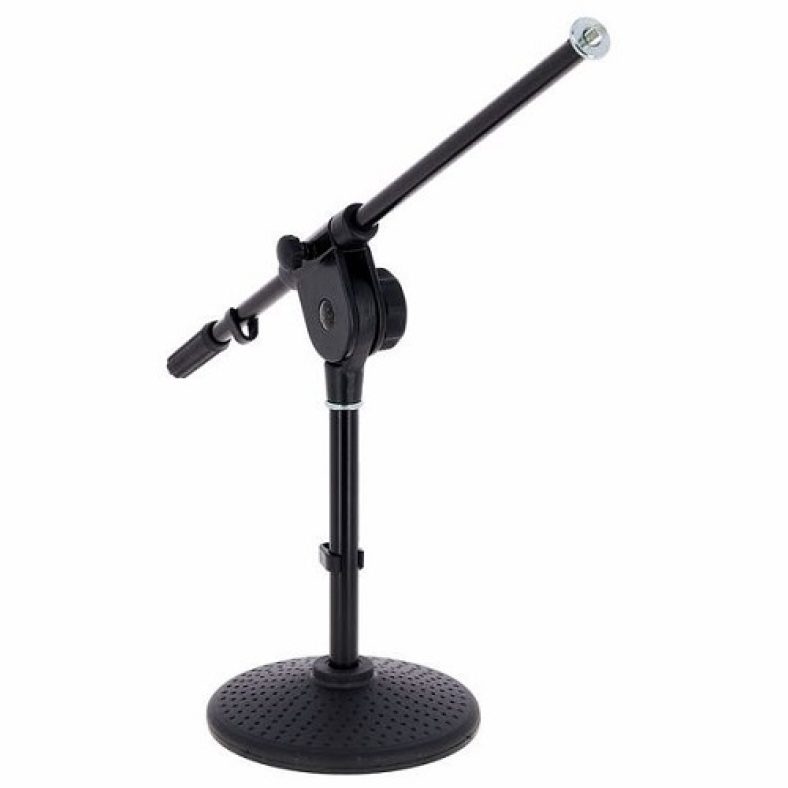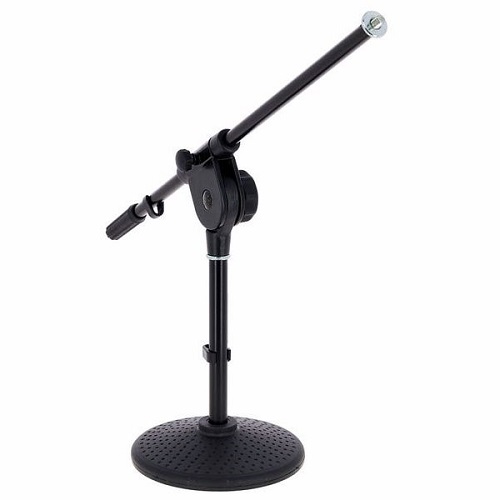 ---
12. K&M 25993 Microphone Stand
K&M 25993 mic stand is compact and space-saving and can be used for bass drums, amplifiers, cajons, etc. If a tripod stand would be too bulky for your needs, a flat, stable stand is a good choice. It can be used under a bass drum, an amplifier, or a cajon, for example. The microphone can be adjusted individually and precisely due to its easy height adjustment and extendable boom arm. A set of elastic rubber feet absorbs impact sounds and reduces the transmission of unwanted sounds.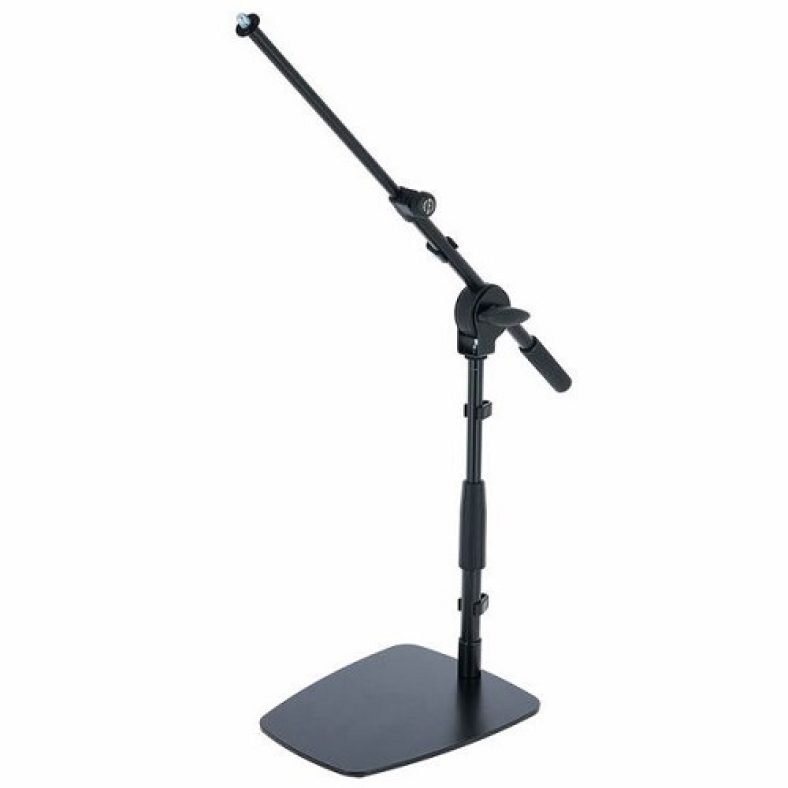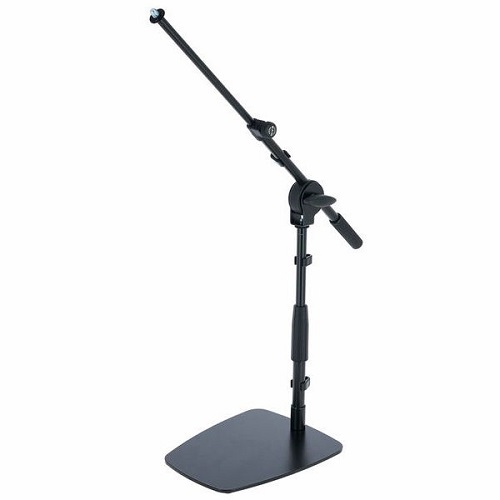 ---
13. Gator Frameworks GFW-MIC-0821
Make your drums and amps sound great with the Bass Drum/Amp Mic Stand with Boom from Gator Frameworks. A short mic stand such as this can be used onstage or in the studio to mic bass drums, amplifiers, and other low-profile microphone requirements. It is constructed with a stable weighted base that ensures minimal movement and provides solid support. Using the boom arm allows you to reach a greater distance. A must-have in any mic closet, the Gator Frameworks Bass Drum/Amp Mic Stand with Boom features reliable and rugged steel tubing.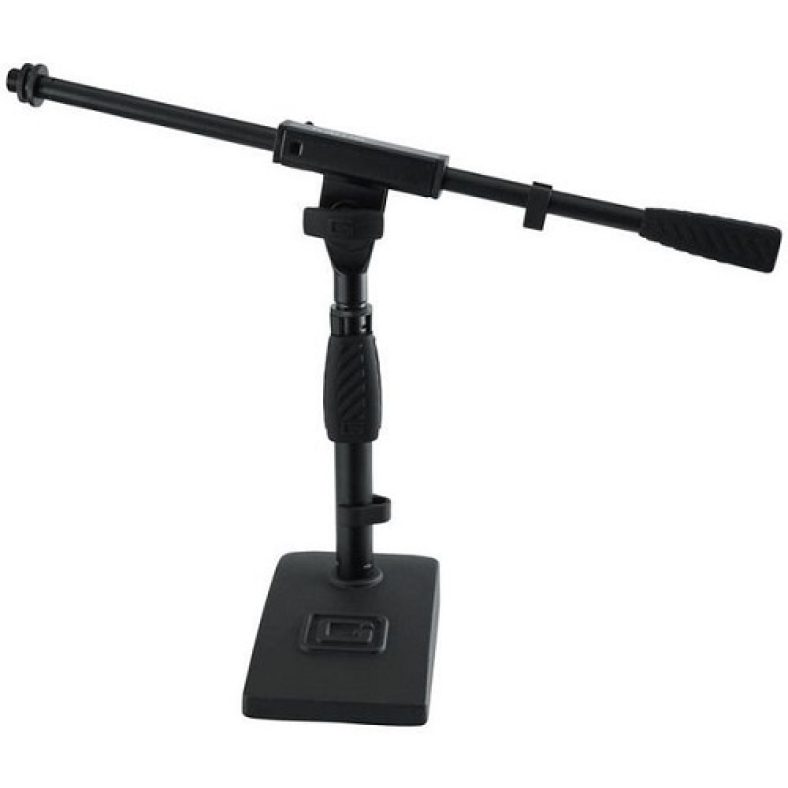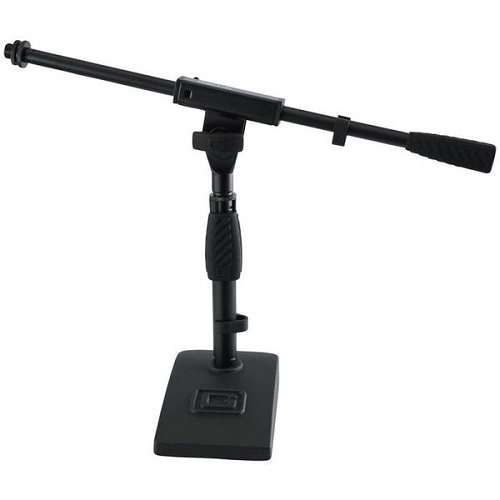 ---
14. K&M 25950 Extra Low Profile Tripod Mic Stand
Design that is extra low for bass drums or other special applications. In order to provide maximum stability, the tripod legs are very short and heavy. For ease of transportation, the legs are foldable. With the K&M 25950 REIN Microphone Stand, you will be able to capture sound from low-lying amplifier cabinets and bass drums with a low-profile tripod microphone stand. Featuring an all-metal construction, the stand's height is fixed at 11 inches (280mm). The boom's length can be adjusted from 16.73 to 28.54 inches (425 to 725mm).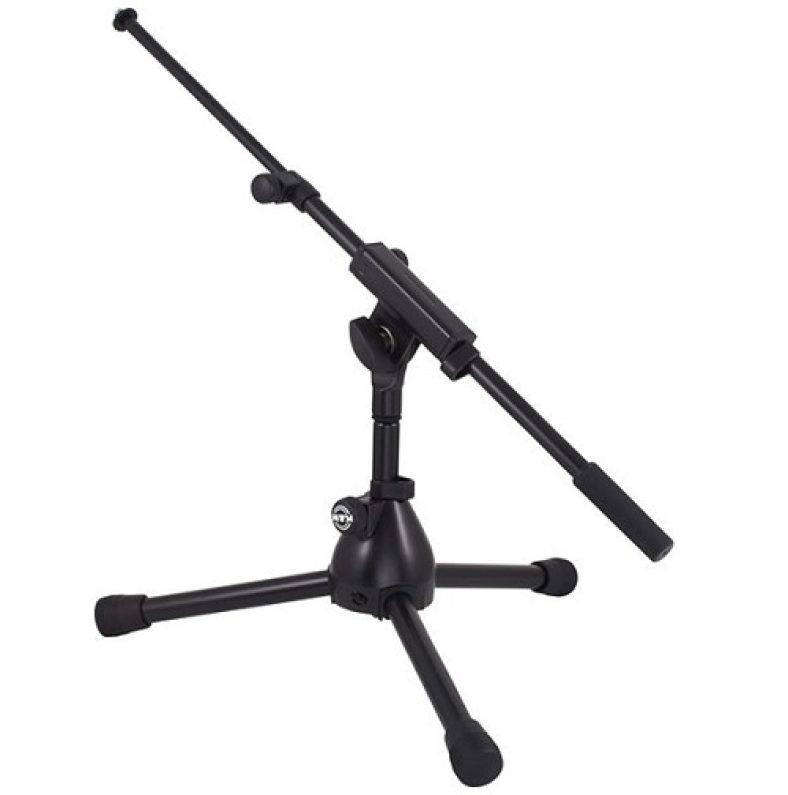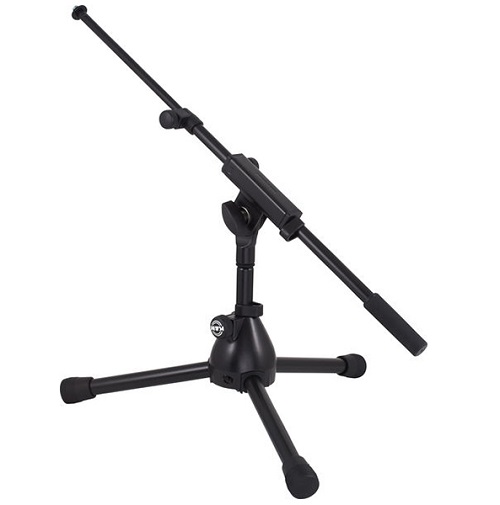 ---
15. Millenium DS-30
In this Millenium DS-30 Tripod Table Microphone Stand, the tripod is extendable, very stable, foldable, and comes with 3/8 inch threads and cable clips. With its rugged design, it can survive quite a bit of abuse without breaking or falling. we mostly use it for micing bridges on cellos or floor-stacked amplifiers, both live and in the studio. It is very sturdy since the tailpiece sits neatly in one of the holes. It is almost worthwhile to keep one in the car for emergencies since they are so light and compact when folded up.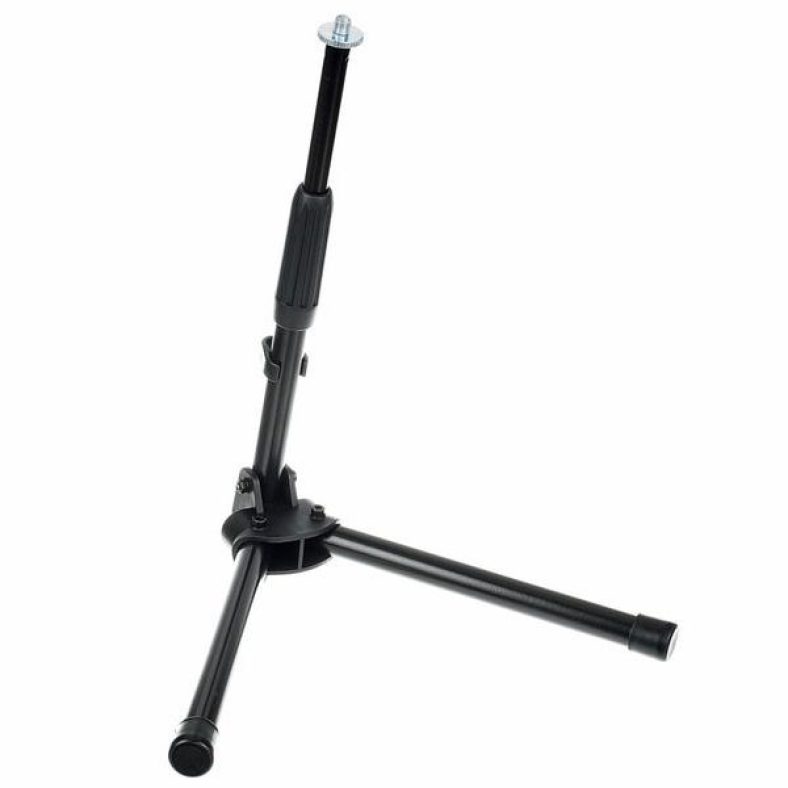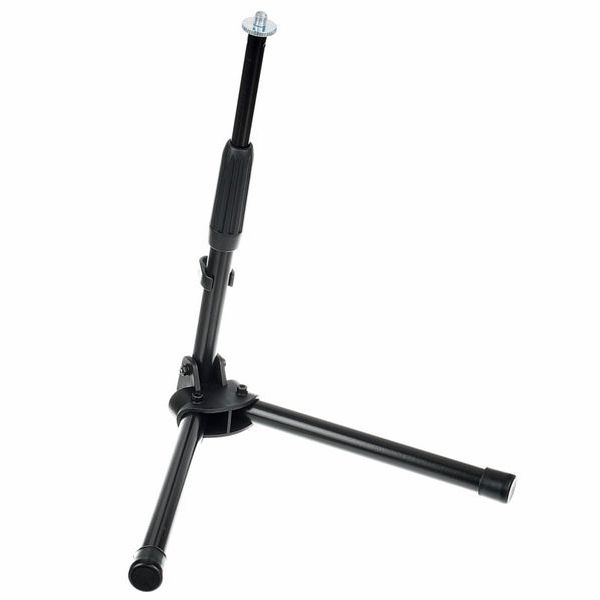 ---
Desk Mounted Microphone Boom Stands
Podcasters and broadcast talent benefit from this type of stand. In addition to featuring a robust design, this stand also features a scissor mechanism that is similar to that of the desk lamp. It is possible to quickly reposition the microphone with the help of this feature. This stand can be used for managing sound effects, or for moving around your desk while using a microphone.
These types of stands can also be clamped onto your desktop. Aside from that, it is a solid stand equipped with an internal shock dispersion system that prevents desk vibrations from being transmitted to the boom of your microphone. There is also a cable management system included with this type of microphone stand.
16. Rode PSA1 Desk-mounted Broadcast Microphone Boom Arm
Designed for use in broadcast radio studios, voiceover studios, and even the recording studio, the Rode PSA1 Studio Boom Arm is a two-section, spring-loaded broadcast microphone arm designed to provide flexibility and quiet positioning of microphones. Featuring a maximum reach of 32″ (820mm) horizontally, the PSA1 rotates 360 degrees and can be rotated 360 degrees in one direction.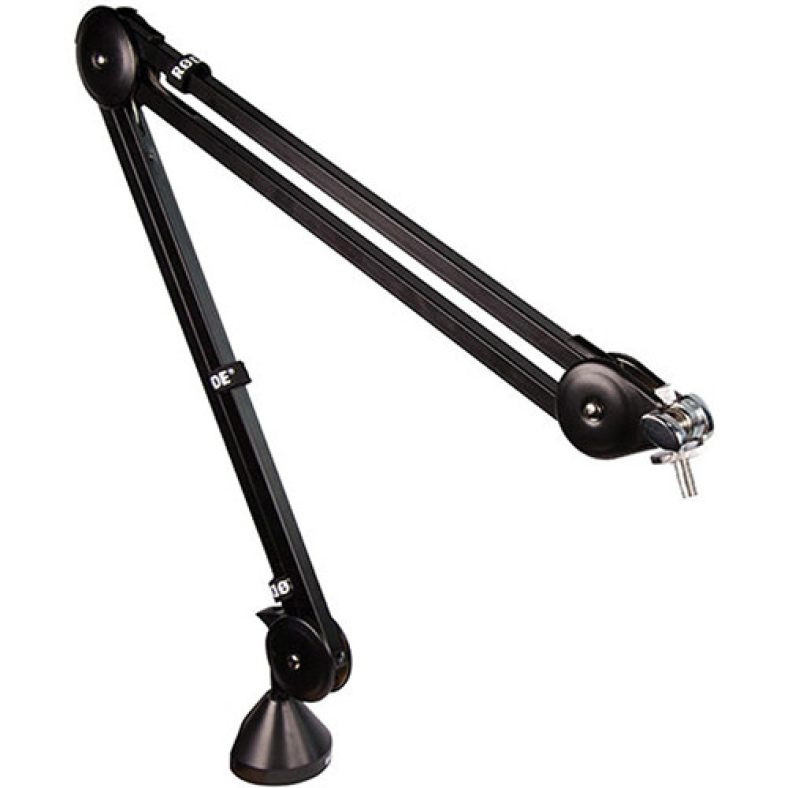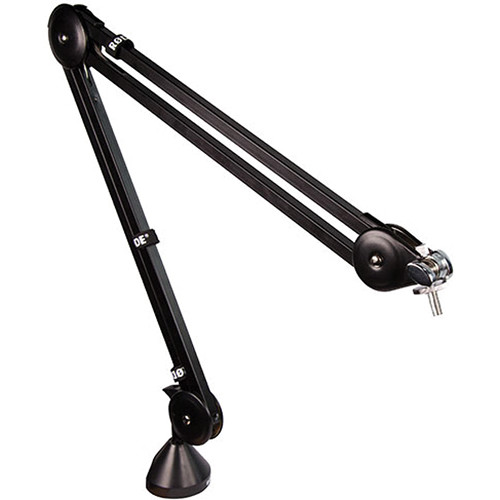 ---
17. Gator Frameworks GFWMICBCBM3000
This Gator Cases Deluxe Frameworks Desktop Mic Boom Stand simplifies mic placement and enhances workflow for podcasts, radio shows, and broadcasting. Featuring 360-degree rotation and multiple knobs for secure positioning, this desktop microphone boom stand allows you to quickly and easily move your microphone.
As a result of the internally routed 10′ XLR cable, the connector appears clean and ensures that the cable is connected properly to your mixer or mic preamp. There is a maximum extension of 32.3″ with the 16″ lower arm and 17.25″ upper arm, which support a maximum weight capacity of 4.4 pounds.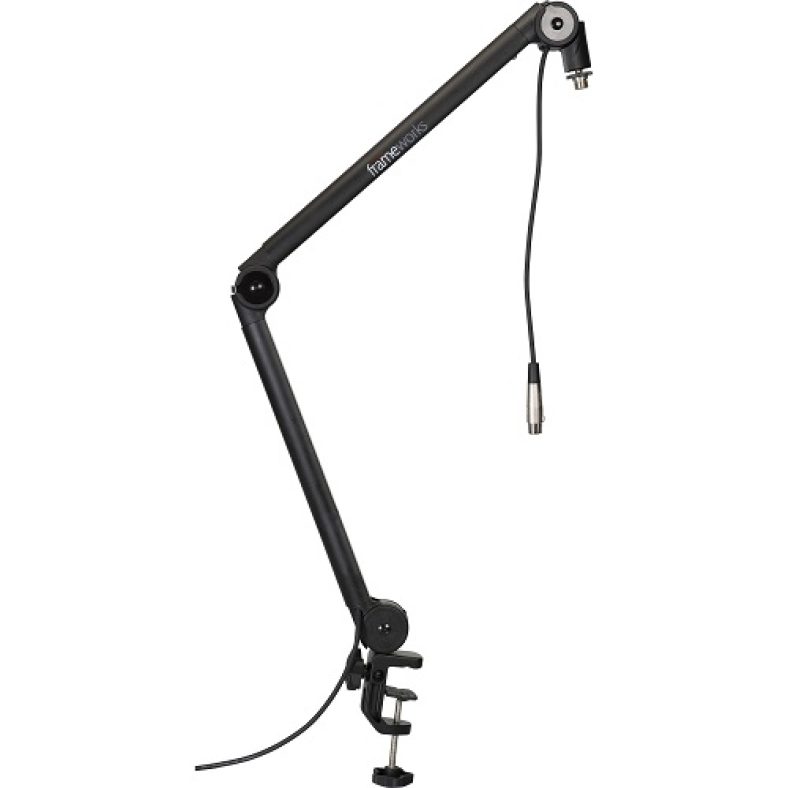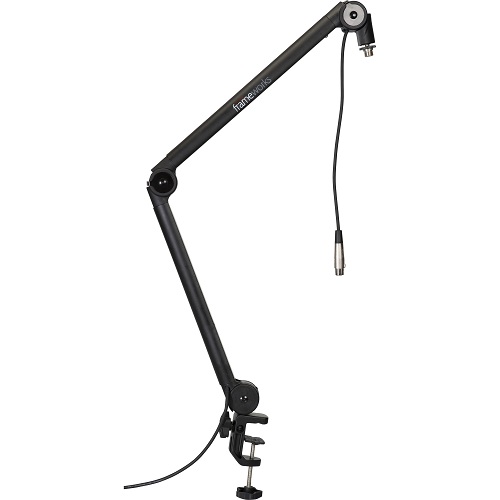 ---
18. On-Stage MBS5000
Broadcast mic booms like the MBS5000 have been developed to provide a reliable, easy-to-position microphone boom for broadcasts and webcasts. Designed to balance popular broadcast mics and oversized shock mounts, this microphone shock mount is made from heavy-duty construction to ensure durability and strength. With the internal XLR cable pre-installed in your studio, cable management is simplified and clutter is reduced. The C-clamp can be removed for desktops, and the flange can be attached to any flat surface with a screw.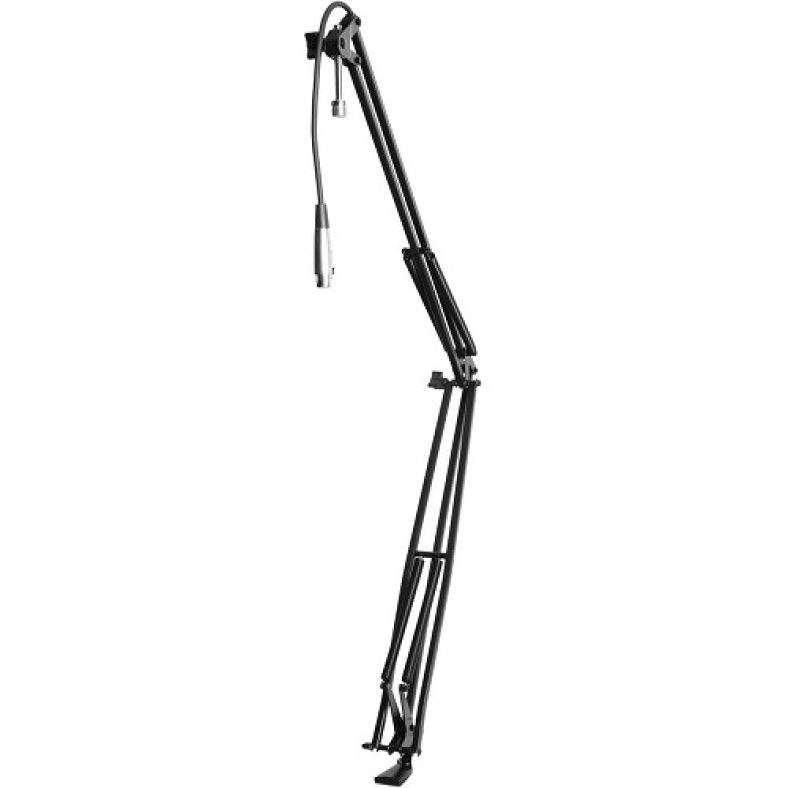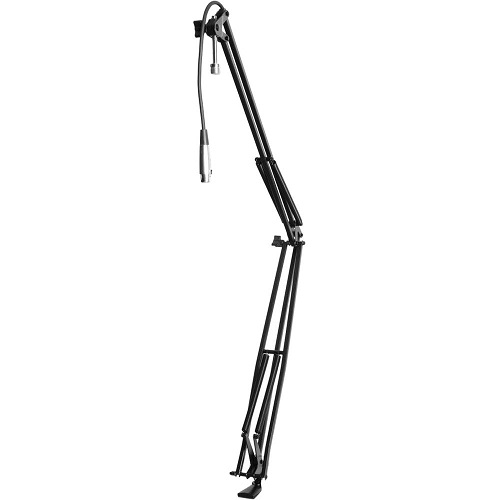 ---
19. Millenium MA-2040
This Millennium MA-2040 table microphone stand features a silver powder-coated body that is easy to handle & carry, a 5/8″ threaded connector that is perfect for recording studios and multimedia workstations and includes screws and a clamp mounting bracket for mounting the microphone. All in all, this is really reliable option if you are after a desktop mounting mic stand that will carry its task properly.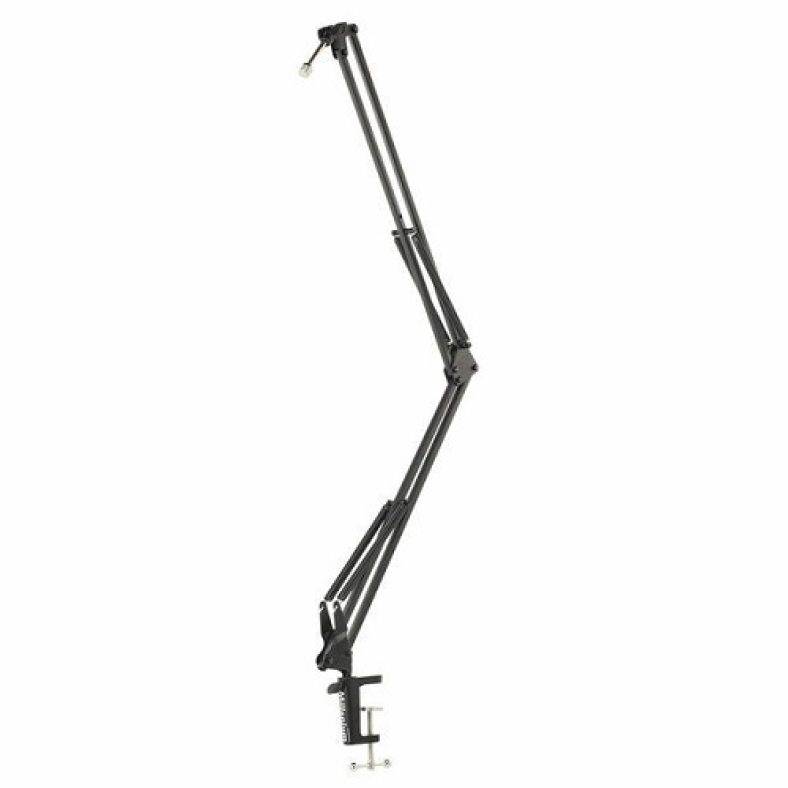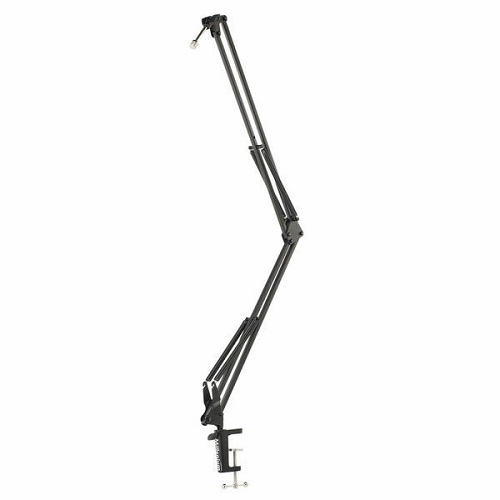 ---
20. K&M 23840 Microphone Arm
For recording studios and multimedia workstations, this flexible microphone boom arm is designed with a threaded connection of 3/8″ or 5/8″. You can easily and conveniently align and position microphones, tablets, or smartphones weighing up to 0.8 kg. Upon delivery, the microphone desk arm is not equipped with a cable and can therefore be customized as needed.
There are already four useful cable clips included with the delivery. In addition to being able to clamp on smooth surfaces, the clamp can also be used on round tubes due to its specially shaped clamping surfaces.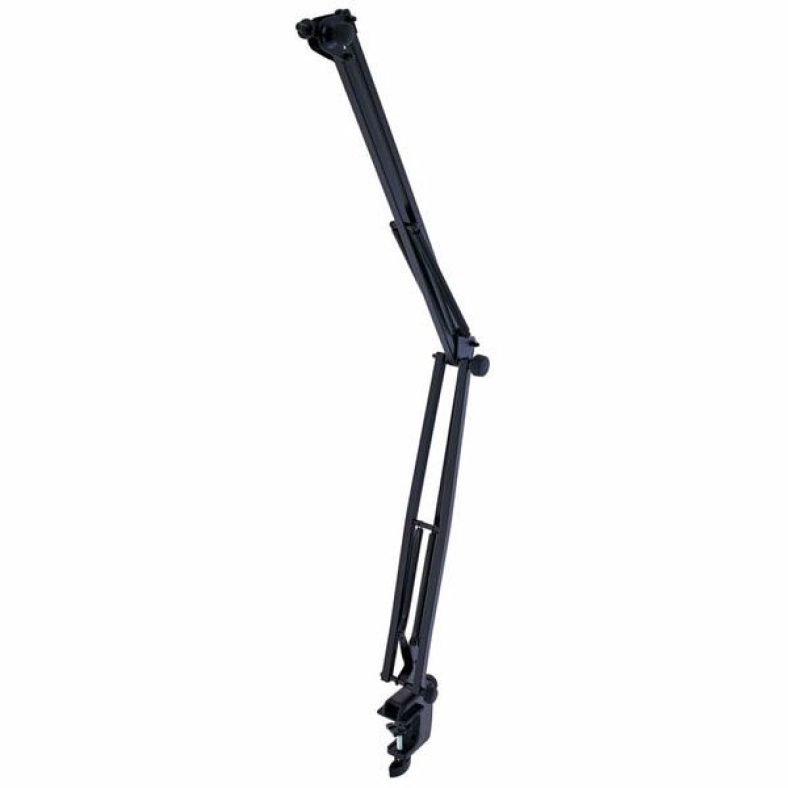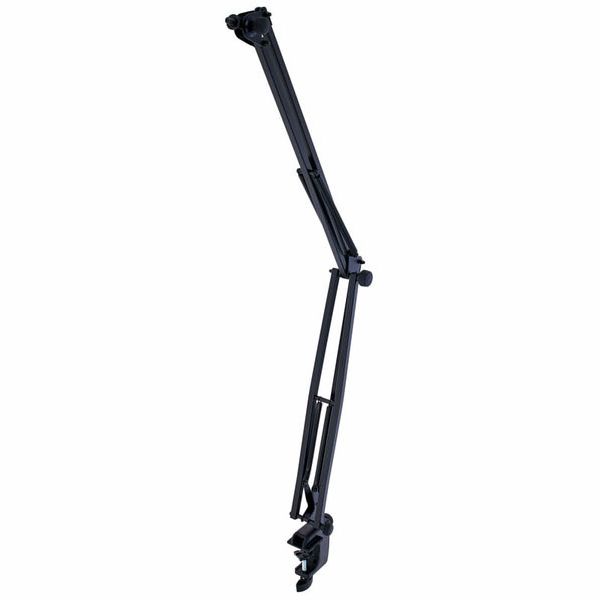 ---
The Buyers Guide
When searching for the perfect microphone stand, it is essential to consider a number of factors. You can make an informed purchase decision if you know what questions to ask, as they will enable you to identify your needs and ambitions.
You should ask yourself where your microphone stand will be used before choosing a new stand. It might be a good idea to use a lightweight portable desktop stand if you record primarily at home or if you need to record content on the go often.
In the case of musicians who often perform on stage, you may need a larger microphone stand or a boom arm to accommodate instruments.
In order to ensure the safety of your space, you should assess any potential hazards or risks. Do you use your microphone in an environment that provides ample room for movement? Perhaps a tripod stand would be a good choice. In the event that you have cable connections in the way or if there are many tripping hazards in a small area, you may be better off using a round-base stand.
In addition to considering your environment, you should also consider your microphone stand requirements and goals. In the case of expensive equipment, you should choose a mic stand that is extra-sturdy because some mic stands are more stable than others. As well as selecting a stand style that minimizes background noise, you should consider the type of stand.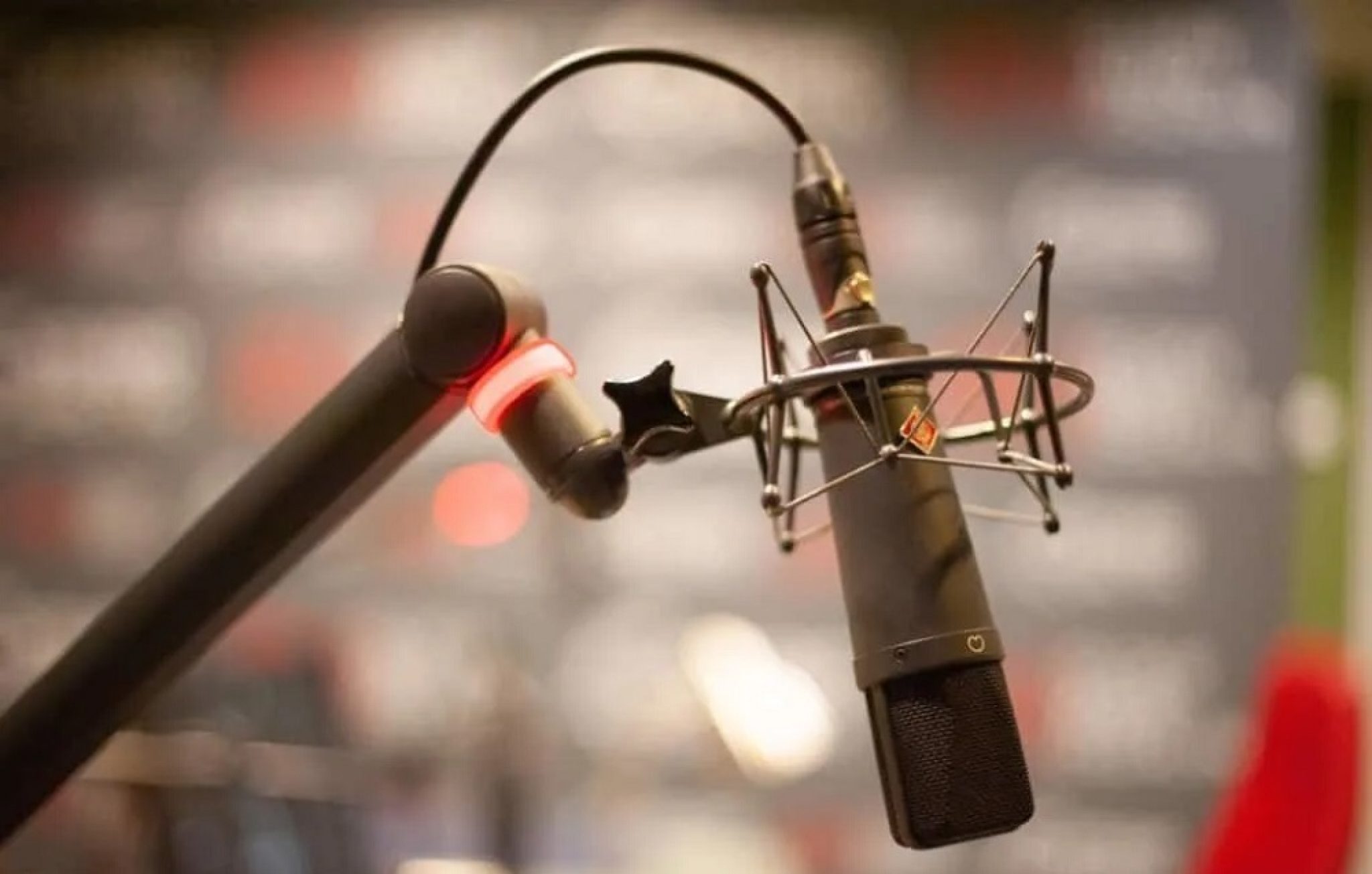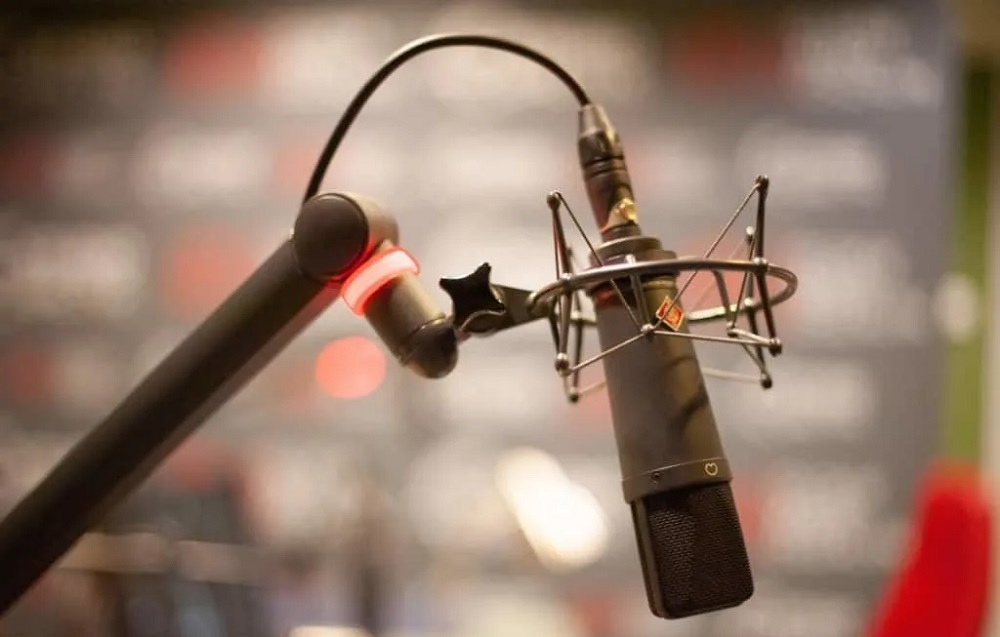 Conclusion
In this huge buyers guide list we included 20 models in a total of 4 different types of microphone stands that you can pick from. When it comes to quality mic stands, we provided the best studio mic stand choices with telescopic boom arm, tripod boom arms, stand options, and some heavy-duty mic stand variations.
Finding a reliable microphone stand is an easy task now. The only thing that we didn't include are some round base stands and some badly made cheap microphone stands. Generally, we shared the ones that can provide the ultimate support which makes them a perfect mic stand option for everybody.
In case you are having some questions, please let us know in the comment section, but we believe that provided all the things that there are in order to avoid any confusion when picking a good mic stand.