Best U87 Clones
Introduction
It is difficult to add anything new to what has already been said about the Neumann U87 microphone. Every major recording studio around the globe uses this mic, which is often referred to as the holy grail of microphones. The U87 has been heard on thousands of recordings, and it is estimated that more number-one chart hits have been recorded with a U87 than with any other microphone in history.
Despite their close resemblance to the original Neumann mics, these imitations contain some minor differences. The original model may have even set a higher bar than some of the subsequent models.
They are likely to have some slight differences from the original Neumann U87, but they will be closely based on their physical and sonic characteristics. There are some that have even gone beyond the high standards that the original model set.
The purpose of this article is to describe the best U87 clones available on the market. It is certain that you will be able to improve the quality of your recordings with these excellent microphones, which can also be used to record other instruments and vocals.
So let's start with the list of microphones that resemble the legendary microphone from Neumann that you can lay your hands on nowadays.
Here you will be able to check our review of the original Neumann U87. If you want to check more details, click on the link here!
Warm Audio WA87 R2
The R2 version of Warm Audio's acclaimed WA-87 is set to become a favorite among both home producers and professionals. Moreover, its low noise performance makes it an excellent all-around workhorse for recording source sounds accurately and cleanly.
A similar feature of the R2 is the switchable 80Hz high-pass filter and the switchable -10dB pad, as in the original WA-87 (and the U-87). The capsule of the WA-87-B-50-V is the same as that of the original WA-87 since it is a faithful reproduction of the original Neumann design; the WA-87-B-50-V is a replica of the original dual-backplate K87 capsule.
There have been a number of component modifications made to Warm Audio's WA-87 R2 from their first design, including a NOS Fairchild transistor and polystyrene and film capacitors of high bandwidth from WIMA and Nichicon. Additionally, Cinemag USA's custom-wound output transformer (CM-13113 vs. CM-2480 in the original) has been upgraded to improve output level and frequency response.
This microphone is encased in a nickel-plated brass body that is bigger and stronger than its predecessor, and the circular head basket creates more space around the capsule, resulting in "a more pleasing sonic signature."
It is safe to say that Warm Audio's WA87 R2 will satisfy home recordists and even professional studio engineers since it offers a convincingly similar sound to that of an original U87 for a much lower price.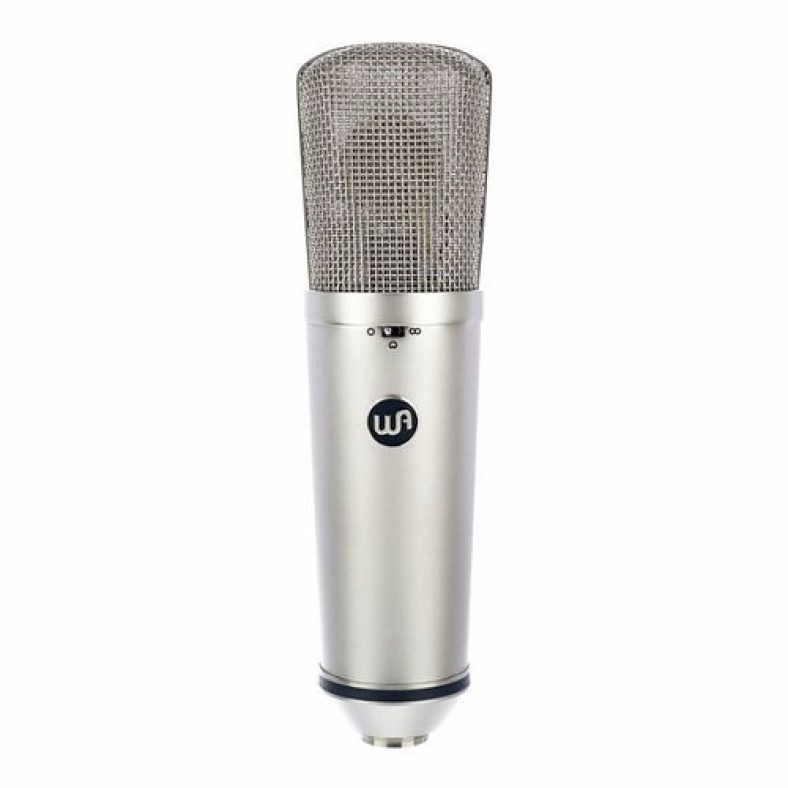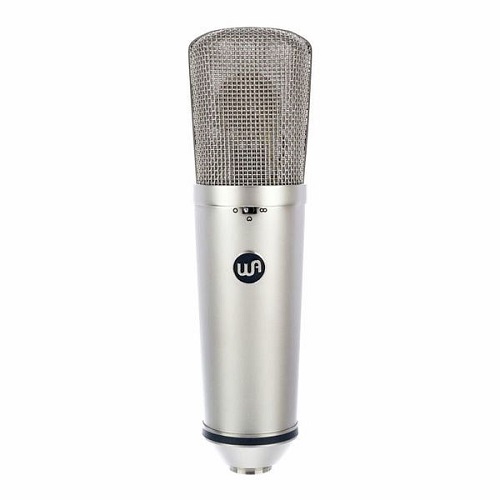 Features
Directional characteristic: Cardioid, Omnidirectional, Figure-8
WA-87-B-50V capsule – Reproduction of the classic K87 capsule
Gold-sputtered 6 µm NOS Mylar diaphragm
100% with discrete circuitry with an NOS Fairchild transistor
WIMA/Nichicon capacitors
Cinemag USA output transformer
Warm Audio WA87 R2
One of the latest clones that appeared on the market, meaning that most new technologies were used to recreate the recognizable Neumann microphone. Warm Audio is a brand that is known for clones and they did a good job on this one. We highly recommend it since the sound is impeccable and we really liked the vocals that were recorded with this mic.
Positives
Affordable
Warm and Delicate Sound
Multi Pattern
Negatives
Lacks the original precision and sonic character
IMAGE
PRODUCT
For US
Customers
For EU
Customers
Amazon
Store
---
Lauten Audio Atlantis FC-387
The introduction of this microphone to the market has piqued our curiosity for a long time. In order to understand exactly what the hype was all about, we read several reviews on the manufacturer.
Featuring three three-way switches, it offers cardioid, omnidirectional, and figure-8 pickup patterns, plus gain settings of +10dB, 0, and -10dB, along with three individual timbre settings.
It is important to note that the FC-387 is not overly bright as compared to the majority of LDCs out there, especially those that are vintage-styled. Though the high end is not as bright as say a 251 or a model in that group, the sound is not lacking in the air to the point that you must work hard to bring out the top end with EQ.
As soon as you begin using the Atlantis FC-387, you will want it on everything you own. Lauten Audio provided a three-way gain switch, which allows it to accommodate a wide variety of instruments. It is recommended that you use the 0dB setting to achieve the purest, most transparent sound.
By boosting the output of the Atlantis FC-387 by +10dB, you can add some more presence (and hit your mic preamp harder). You will likely find its -10dB setting useful if you are recording a loud guitar cab or recording overheads with Atlantis FC-387 microphones.
The sound of this microphone closely resembles the sound of the famous U87 and that's why we added it to this list of microphones that you can get if you are after some well-known signature sound that is heard in many various hit songs.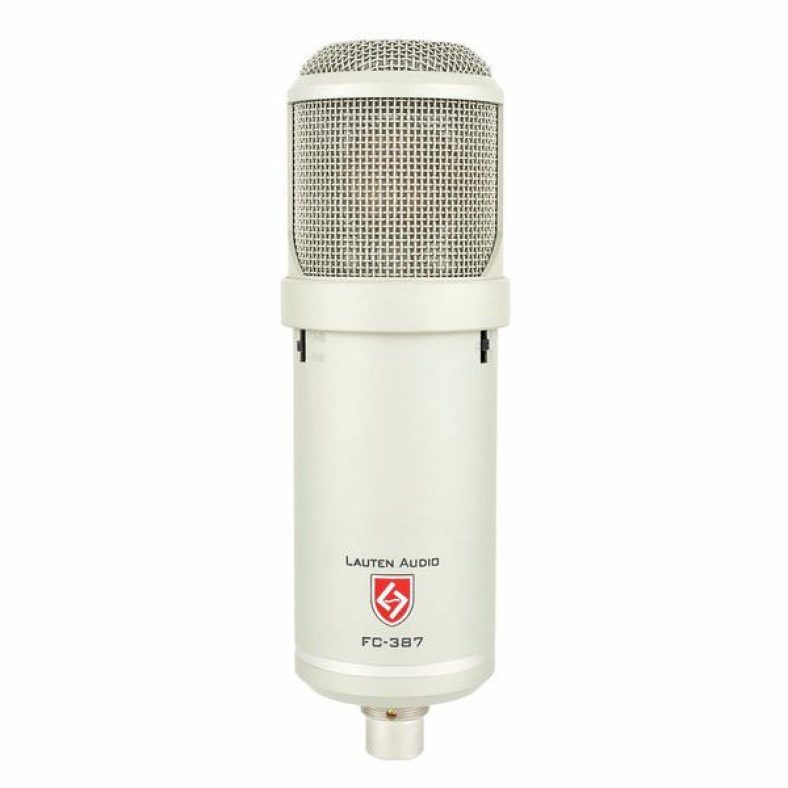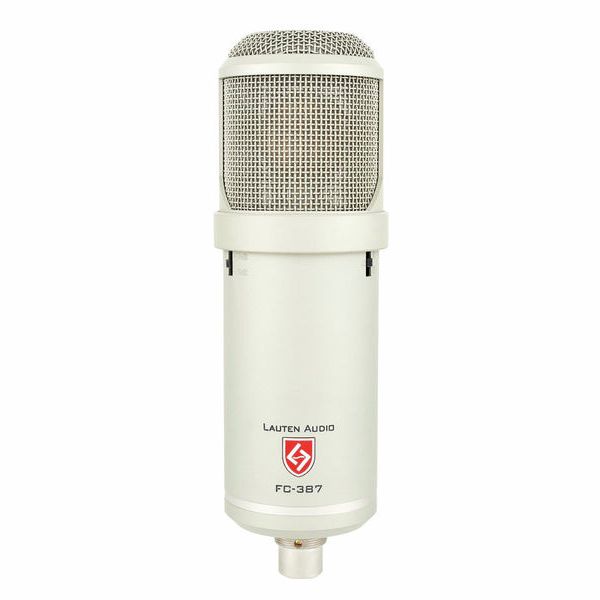 Features
Double-large diaphragm capsule: 31.25 mm
Switchable polar pattern: cardioid, omnidirectional and figure eight
Gain switch +10 dB
Attenuation switch-10 dB
Low-noise FET circuit
Capacitors with high resolution
Lauten Audio Atlantis FC-387
Designed to capture vocals and various instruments, the Lauten Audio Atlantis FC-387 offers different tonal options. The microphone's different voicings allow users to customize its sound according to their preferences. This microphone offers three switchable voicing options: forward, neutral, and vintage, although I haven't tried it myself.
Positives
Versatile Voicings
Solid Build Quality
Good for Vocals and Instruments
Negatives
Voicings are matter of personal preference
IMAGE
PRODUCT
For US
Customers
For EU
Customers
Amazon
Store

Lauten Audio Atlantis FC-387
---
Mojave Audio MA-200
Microphones of this quality are among those high-end devices you would normally purchase for a considerable amount of money. Featuring a large diaphragm and a triode-operated JAN 5840 vacuum tube, the MA-200 is a durable, hand-selected, gold-sputtered condenser microphone.
Featuring a flat-black body and satin-finish grille, the JAN 5840 vacuum tube wired for triode operation is concealed behind a 3-micron, gold-sputtered capsule. There's a small carry case inside a bigger, sturdy case that houses the external power supply (100/115/230VAC, 50/60Hz) and shock mount.
According to the specs, it responds to 30 to 18kHz and has an A-weighted self-noise of 14 dB. A clipping measurement is done at 132 decibels at 20 Hz, 135 decibels at 32 Hz, 136 decibels at 100 Hz, 136 decibels at 1 kHz, and 136 decibels at 10 kHz.
In tube microphones, the XLR cable goes directly from the power supply to the mic-pre, not the microphone itself. Both the microphone and power supply are connected with a special cable. Furthermore, a shock mount of high quality is included.
With this shock mount, you are able to suspend the MA-200 upside down or place it on tricky surfaces such as under a piano, inside a kick drum, or over a drum kit.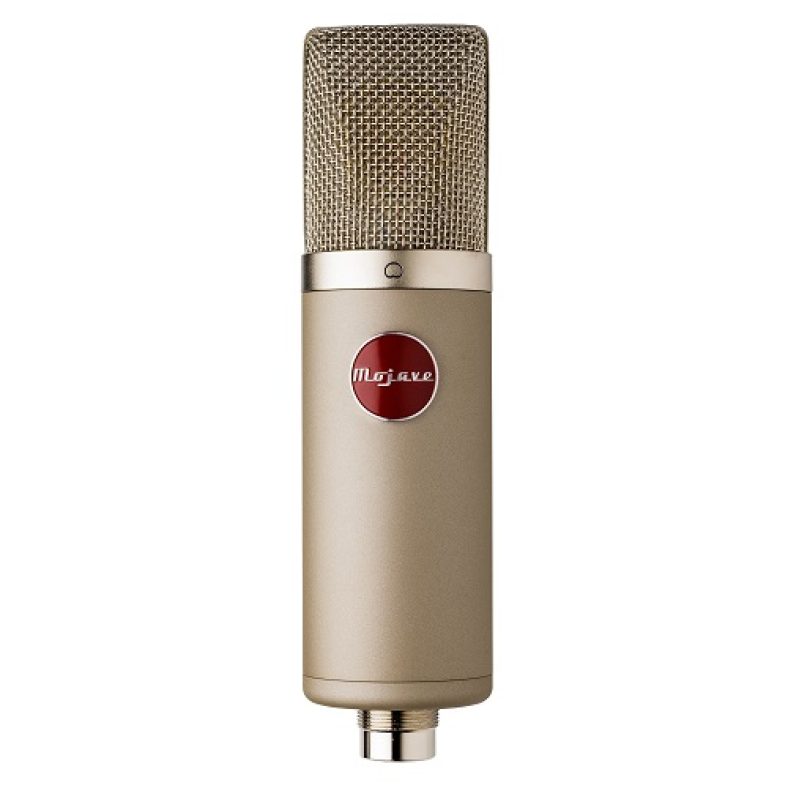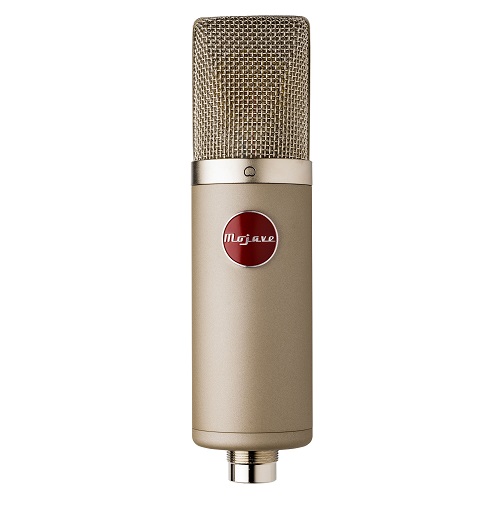 Features
Polar pattern: Cardioid
Handpicked 3 micron capsule
Jensen audio transformer
JAN 5840 military grade vacuum tube
Frequency range: 30 – 18000 Hz
Max. sound pressure level: 120 dB
Mojave Audio MA-200
With the Mojave Audio MA-200, you'll experience vintage-inspired sound quality and versatility. With its large-diaphragm capsule and continuously variable polar pattern selector (cardioid, omnidirectional, and figure-8), the MA-200 captures all types of sound sources. I tried it in a local store for a brief test and the mic gave an amazing recording that is very detailed.
Positives
Vintage Sound
Multi-Polar Patterns
Detailed and Warm Recordings
IMAGE
PRODUCT
For US
Customers
For EU
Customers
Amazon
Store
---
Townsend Labs Sphere L22
Since its launch in 2016, the Sphere L22 microphone has received a great deal of attention. To create a mono track from a stereo signal, the Sphere compares the outputs of two matched capsules. Besides manipulating the frequency response, there is more going on here.
One of the L22's most obvious selling points is its ability to model other microphones. You can change the sound of a track recorded with the L22 after it has been processed with the Townsend plugin by simply selecting a different mic model.
A wide range of models are currently available, ranging from large and small condensers to dynamic microphones and ribbon microphones. By leveraging the dual capsule design of the L22 as well as its signal processing software, Townsend optimizes each mic's frequency response, polar pattern (including variations based on frequency), off-axis response, proximity effect, and so on.  
The collection includes 11 microphone models, including Neumann's U87, AKG's C451 small diaphragm condenser, and Shure's SM57 dynamic microphone. In addition to a flat frequency response 'measurement microphone' setting, the remaining three options offer a more unadulterated sound from the actual Sphere microphone. For ease of navigation, each microphone is displayed in the plug-in's GUI.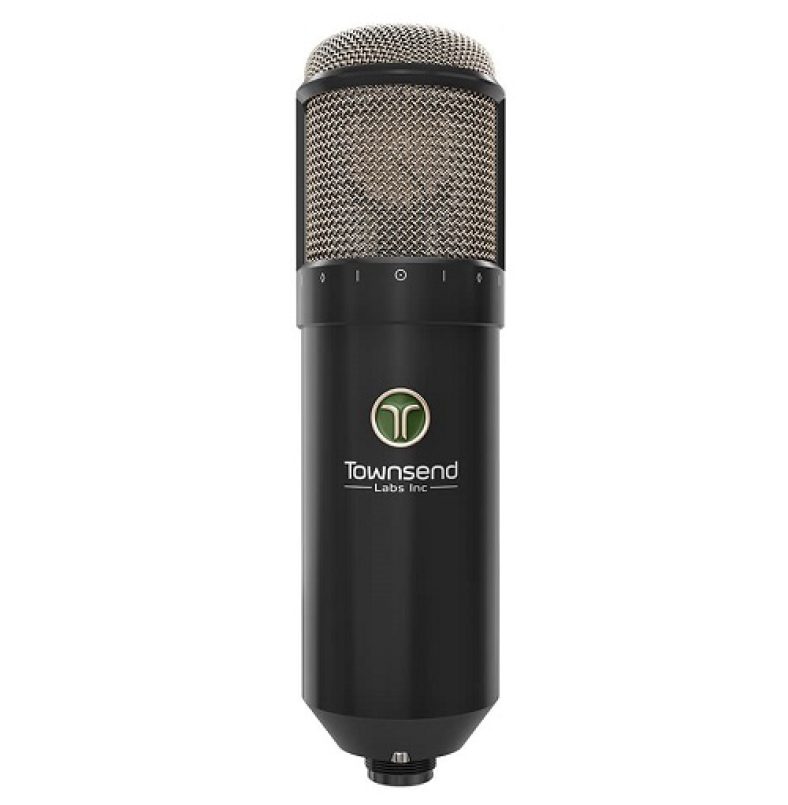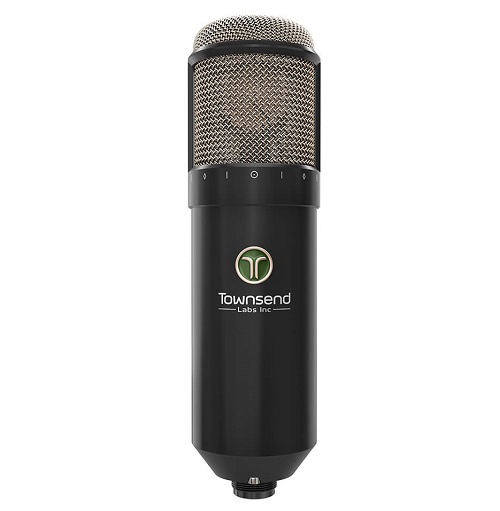 Features
Microphone Type: Condenser
Mono/Stereo: Dual capsule, Stereo output
Polar Pattern: Cardioid, Omni, Figure-8
Max SPL: 140 dB SPL (0.5% THD) with pad engaged
Output Impedance: 200 ohms
Sensitivity: 22mV/Pa
Townsend Labs Sphere L22
The technology behind this microphone is amazing. You can model it to be producing the u87 sound, but among that, you will be able to pick from many other legendary microphones as well. We would really like to own it and will do our best to get one soon because this mic sounds amazing!
Positives
Great Modeling Microphone
Can Change Characteristics Post Recording
Amazing Design
Negatives
Need to use plugin to model it
IMAGE
PRODUCT
For US
Customers
Amazon
Store
---
Brief Buyers Guide on U87 Clone
Directional adjustment
Mice manufacturers are increasingly installing switches that allow them to select between multiple pickup patterns.
If you intend to record a variety of instruments and vocal styles with a U87 clone, having multiple pickup patterns is very useful. You can adjust the focus of the capsule to increase or decrease the amount of sound it picks up from various angles.
If you want to record a duet with two vocalists or sing with another musician, switching from the cardioid polar pattern to the omnidirectional is ideal.
In addition, it may also enhance drum recordings by capturing more of the room sounds or concentrating specifically on a particular portion of the kit.
Handling of SPLs
When recording drums with a U87 clone, excellent results are likely to be obtained, but certain factors must be taken into account.
You will need a great mic that can handle high SPLs if you are recording a drummer who does not hold back when they are behind the kit.
In general, clipping and distortion are undesirable when recording, and a U87 clone might be susceptible to these issues due to its large diaphragm.
---
It is important to note that Neumann microphones are expensive due to the high manufacturing costs and standards required to produce high-quality microphones, which is also the reason for their highly-valued brand name. Herein lies the value of clones.
When you purchase a U87 clone, you should keep in mind that that is exactly what you will receive: a clone. The best of them will only be able to approximate the sound of a U87, so do not expect them to sound exactly like one.
The great thing about them is that they are more easily available and affordable than ever before. The Townsend Labs Sphere L22 is a versatile mic and a modeling solution that allows you to get the sound of a wide range of microphones for just a fraction of the price of the U87.
Despite their attempts to emulate the U87's sound, the clones will not sound identical. In essence, it is determined by how and with what they are made. Having them as different as possible is not a bad thing, and actually means you have a wide variety of options at your disposal.
Here is a video of a shootout between several U87 clones and there are some models included that we didn't have any experience with. Check it out if you are interested!
Conclusion
Well, we listed 4 microphones that we think are ready to oppose the famous U87 in terms of smooth sound quality. Also if you are after a vintage sound or natural sound, it is better to get the original one – but if you are on a budget, you will always have a choice to get something similar.
As with the great U87, with the clones, you will be able to get great outcomes when recording vocals, acoustic guitars, and more since they also are made from high-quality components which makes them great-sounding mics.
All in all, in the end the choice is yours. We provided some brief reviews on each model and now it's up to you to make the final decision (but if you ask us, we'll go for the Townsend mic). If you are having any questions in terms of our article here, please let us know in the comment section below and we will be more than happy to answer!