Best Drum Mic Kit
Introduction
In most drum mic kits, you will find all of the microphones you need for live recording performances and studio recordings. These kits include microphones that are well-suited for their purpose, making it much easier to shop for drum mics.
Microphone kits for drums are extremely useful when recording drums as well as during live performances. Their all-in-one design makes them an economical choice, and they often come with a travel case that makes transportation easier.
Despite the fact that drum microphones can be purchased individually, purchasing a drum microphone kit provides a simple solution accompanied by a monetary benefit. Drum mic kits are available in a variety of quality and sizes. It has been our goal to choose products that are of high quality while remaining within a reasonable budget.
The majority of these kits are not designed with the budget in mind, but buying a complete set of microphones will often save you money. Furthermore, these sets will save you the inconvenience of having to select mics separately for each component of your kit.
Find out what we think are the ten best drum mic kits available below, whether you're looking to record or perform live.
1. Audix DP7 Plus Bundle 8-Piece Drum Microphone Package
Designed for a drum set, the Audix DP7 is a premium drum mic kit. Though it is more expensive than Shure and other entry-level drum mics, it is superior in many ways. Ideally suited for tracking and recording, this set assumes you have some decent gear.
Ideally, companies want to maximize their sales, so they bundle their existing models into different bundles. It is important to note that these microphones have a broader application and are not necessarily suited for drums. It is therefore often the case that despite the overall quality of the mic, it lacks the edge required for the application.
Concerning accessories, they don't have the common problems associated with similar mic bundles. It is hard to break the clips, but it is easy to mount them. It's great that they don't get loose during a performance, as they sit nicely on almost any drum kit. Included are the following microphones:
x1 D6 for kick drum
x1 i5 for snare
x2 D2s for toms
x1 D4 for floor tom
x3 ADX51s for overheads and hi-hat
A drum set would not be complete without a kick drum, therefore this mic would be an important component. While the D6 is specified for 144 SPL, which is lower than the majority of kick mics, in practice it does not produce any discernible distortion even during aggressive play.
The Audix D4 was designed for floor toms. Although smaller than the D6, it still provides a significant low end. Suitable for both larger kick drums and smaller kick drums, this mic is versatile. In addition to being tight and clean in sound, it also has a distinct "oomph" to it, but there is no mud whatsoever to be heard!
With Audix D2, rack toms are given more body and warmth. The ADX51 is used as a pair of overhead mics. With those lightweight, small-diaphragm pencil microphones, you will be able to achieve clear and accurate highs, regardless of your setup.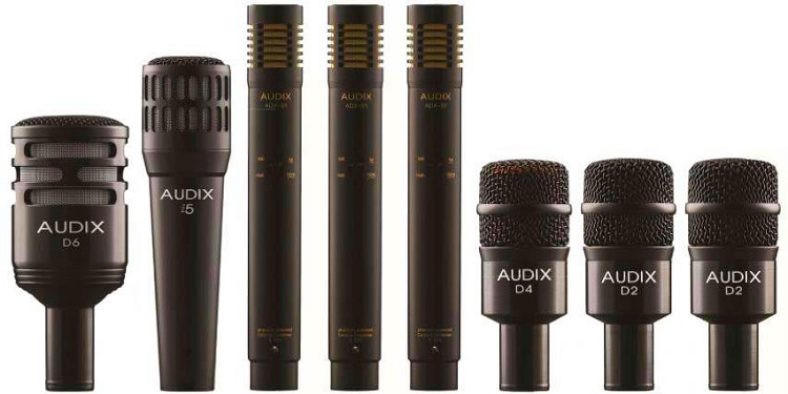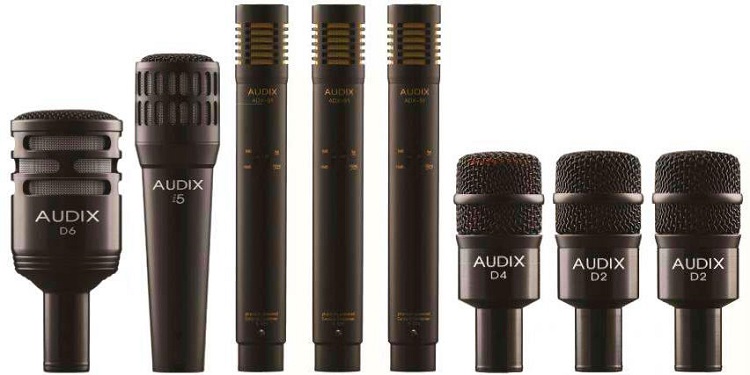 Audix DP7 Plus
These microphones will get you through a recording very easily since they will provide you with every piece that you will need to mic your drum set. We checked them out in a local store and were really satisfied with everything they got.
Positives
Amazing Build
Sonically Precise
Transparent Sound
IMAGE
PRODUCT
For US
Customers
Amazon
Store

Audix DP7 Plus Bundle 8-Piece Drum Microphone Package
---
2. PreSonus DM-7 Drum Microphone Set
DM-7 kit is contained in a lightweight aluminum carrying case containing one BD-1 dynamic kick drum microphone, four ST-4 dynamics for snares and tomtoms, two OH-2 pencil condenser mics for overheads, two clips and windscreens for OH-2s (the BD-1 and ST-4 have a mic stand adapters built-in), which is just cables, a short stand, and a couple of overhead booms short of providing a complete drum-kit recording package. Designed for drum rims, the four ST-4s are supplied with "European to American," small-to-large thread adapters.
Installation of the DM-7 set was simple, with no difficulties caused by defective accessories. We were able to mount the cardioid BD-1 firmly to the kick stand, and it was neither too heavy nor too large, so it was easy to get through the kick's resonant head hole, and with little effort, we were able to position the beater on-axis with little difficulty.
There was little flexibility in the placement of the cardioid ST-4 on the snare due to the clip/mount, but it was located in an appropriate spot. The ST-4's clips are intended for tom-toms and do not provide much range, but provide adequate performance.
There are four ST-4 microphones for capturing toms and snares, and two OH-2 condenser overhead microphones for capturing the rest of the kit. The BD-1 provides a punchy, fat-kick sound.
A heavy-duty carrying case is included with mic clips, mounting brackets, and windscreens for each microphone. Consider the PreSonus DM7 Drum Microphone Set if you are looking for a budget-friendly approach to micing your drum kit without sacrificing sound quality.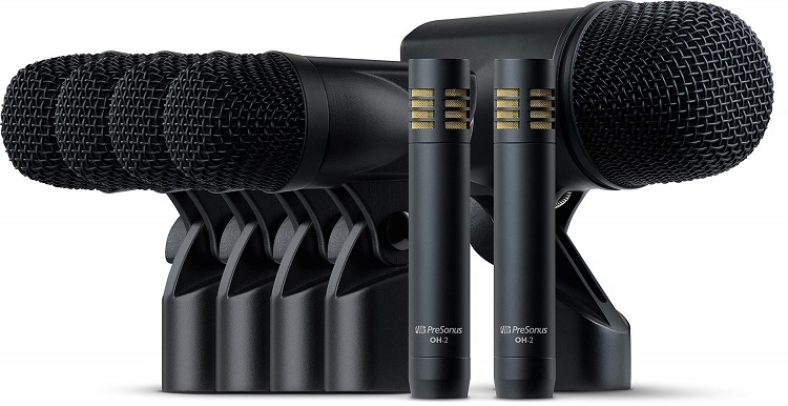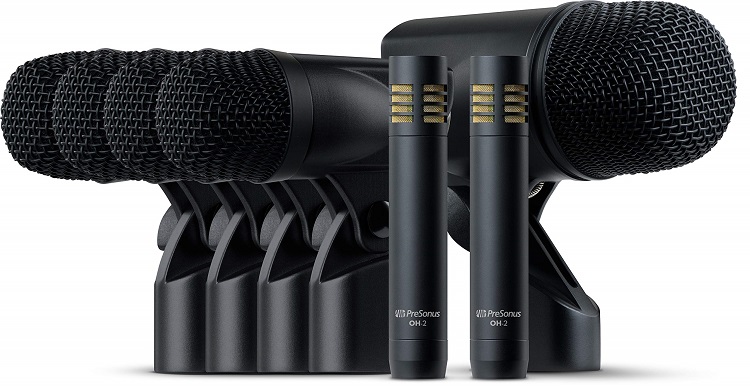 PreSonus DM-7
A very elegant and greatly designed kit that will give you amazing sound and all that for a great price. We really like the affordability and the transparency of this set and we would recommend it to everyone that is on a budget and needs a drum kit.
Positives
Very Natural Sounding
Durable Construction
Affordable
IMAGE
PRODUCT
For US
Customers
Amazon
Store

PreSonus DM-7 Drum Microphone Set
---
3. Shure PGADRUMKIT7 7-piece Drum Microphone Kit
Providing quality products is Shure's top priority. Every producer is aware that they manufacture a large number of microphones. The PGADRUMKIT 7 consists of seven high-quality microphones. With it, you receive a complete package of all the microphones necessary to record your drums.
In spite of their high cost-effectiveness, Shure microphones retain the high level of professional quality for which Shure is famous. The PGADRUMKIT7 will be your best investment if you cannot afford premium drum microphones but still wish to get the best quality.
Approximately $500 will bring you a complete package that includes a road case, mount accessories, cables, and amazing quality microphones. The clean sound reproduction along with the convenient design makes it perfect for both live jamming and budget recording needs.
x1 PGA52 for kick drum
x3 PGA56 for toms
x1 PGA57 for snare
x2 PGA81 for overheads
The microphones are of professional quality and can be used for a wide range of drumming and percussion applications. Each drummer will find them to be a valuable addition to their collection. In addition to their legendary Shure quality, they are constructed of durable materials. As a result, you can be certain of a high level of performance regardless of how you utilize them.
These are outstanding microphones, and the best part is that their price is unbeatable. It is important to note that every piece included in this set is actually good in its own right (especially the kick drum and the overheads), thereby ensuring that you will receive a high-quality sound. There is also a wire and mounting tool included with each mic, which is a nice and economical addition.


Shure PGADRUMKIT7
When it comes to audio and build quality, Shure is there. We really like this set and everything that comes with it. The transparent sound is what hooked me at first, but after that, everything else about this set screams "quality"
Positives
Affordable Kit from Big Brand
All Needed Accessories
Amazing Sound Reproduction
IMAGE
PRODUCT
For US
Customers
For EU
Customers
Amazon
Store

Shure PGADRUMKIT7 7-piece Drum Microphone Kit
---
4. sE Electronics V Pack Arena Drum Microphone Package
Despite not being able to survive being run over by a truck, the Peli-style case provided with the V Pack Arena would certainly survive being thrown into the back of a truck night after night. Inside, the microphones are inserted into precut spaces in the base and the lid is lined with foam to protect them from damage.
They do not come in individual pouches themselves, so if you are considering ditching the case and replacing it with your own production box, you may want to consider this.
There are seven microphones in total: a V Kick, three V Beats for toms, a V7X for snare, and two sE8s for overheads. Additionally, three V-Clamps are provided for attaching the VBeat to the drum, standard clips for the SE8 and V7X, foam windshields for the SE8, as well as spare stand adapters and washer-type things in case you lose any or do not already have a thousand spares.
It is important to note that the V Kick, V Beat, and V7X all share some common characteristics; they all feature dynamic capsules, a frequency range from 30 to 19,000Hz, except for the V Kick, which goes down to 20Hz, and they all have a super-cardioid polar pattern.
Each microphone is well constructed and feels heavy and solid in the hand; even the sE8 feels solid and heavy.
x1 V Kick bass drum mic
x3 V Beat tom mics
x1 V7 X super cardioid for snare drum
x2 sE8 condensers for overheads
Despite the fact that it is specifically designed for drums, the V Pack Arena is a kit that can be used for a wide variety of applications. There are a variety of options for use as well as individual settings on the microphones themselves that increase their usefulness, whether live or in the studio.
In spite of this, please be aware that the V Kick may require some time to become familiar with due to its additional features, so it is ideal to try it out first in a non-pressured environment.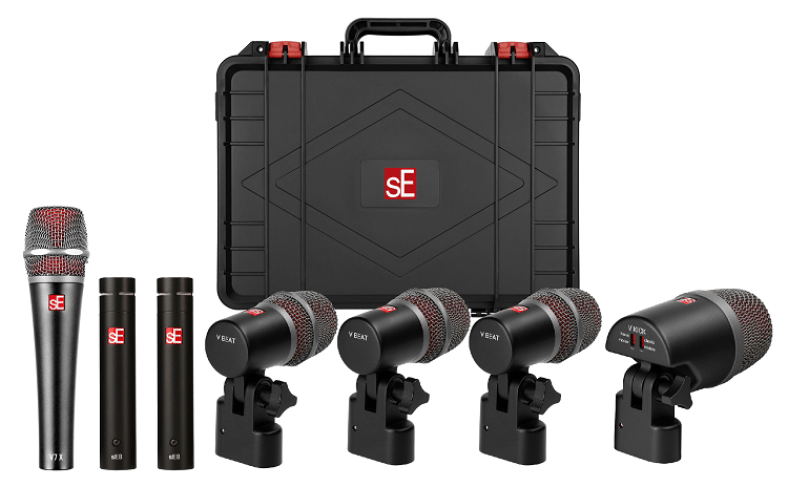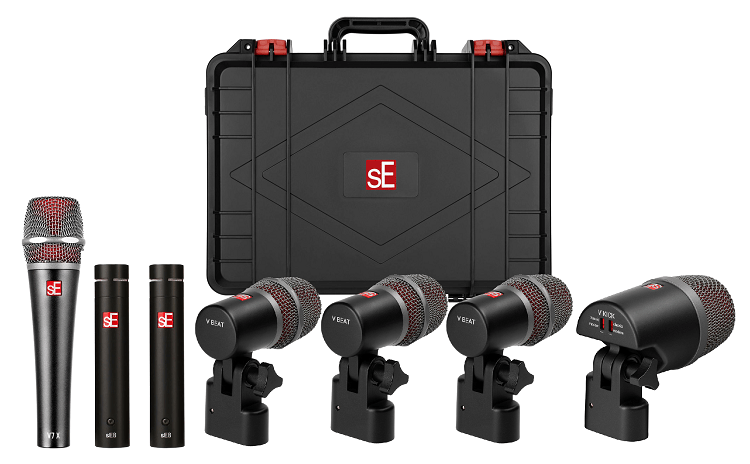 sE Electronics V Pack Arena
Another amazing set from our friends at sE. The set sounds amazing and has everything you need. Despite its quality build, this microphone kit will give you transparent sound without any coloring and will record your drums very well. We tested locally and it was an amazing experience!
Positives
Very Transparent and Natural
Durable Build
Comes with Case
IMAGE
PRODUCT
For US
Customers
For EU
Customers
Amazon
Store

sE Electronics V Pack Arena Drum Microphone Package
---
5. Sennheiser e600 Drum Microphone Kit
Various mic kits are available at different prices. Some are very expensive, while others are very affordable, but they do not include quality microphones. As we move forward, we will take a closer look at the Sennheiser e600 drum microphone kit. As a result, it falls in the middle of these two extremes, offering high-quality mics at an affordable price.
A total of seven microphones are included in the pack. The snare and toms are captured with four dynamic microphones, the kick with one microphone, and the overheads with two microphones that can either be used as overheads or as hi-hat mics. It is surprising how durable and tough all of the microphones are, and how easy they are to use to obtain a good drum sound.
Any drum kit will sound fantastic with these microphones if they are positioned in optimal positions. We appreciate the fact that even kits with old or worn drum heads sound great.
Additionally, this kit includes a sturdy microphone case that will protect the microphones wherever you go. Although microphone cases are fairly common, we believe this one stands out from the rest.
Generally, we would consider these microphones to be mid-range. These microphones are not as expensive or as high-quality as the top models on the market, but they are still more than adequate for professional use.
It is possible for someone with experience in drum mixing to create world-class drum sounds with these. These mics are capable of producing a fantastic sound even for those who lack drum mixing experience.
x1 e602-II cardioid dynamic for kick drum
x4 e604 cardioid dynamic for toms/snare
x2 e614 super-cardioid condenser for overheads/hat
Any drummer seeking a complete set of microphones should consider the Sennheiser e600 drum microphone kit. In spite of the fact that this pack is fairly expensive, all of the microphones are extremely sought after, and you will receive excellent value for your money.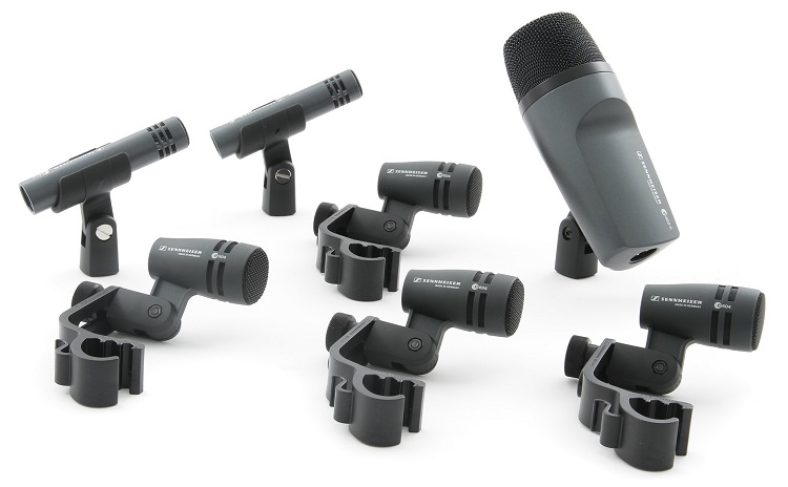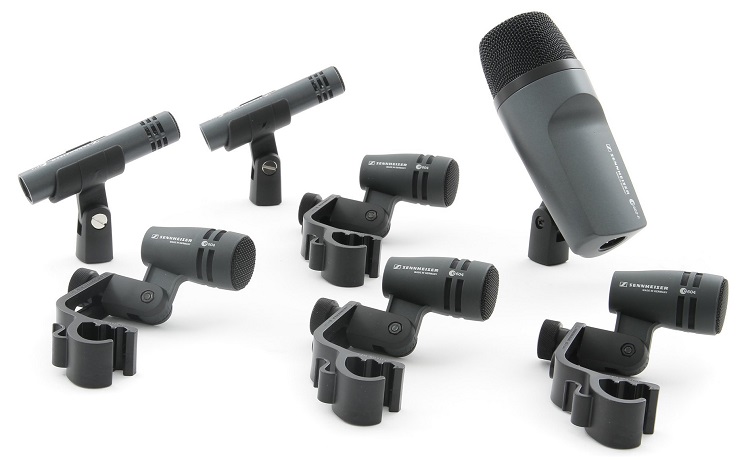 Sennheiser e600
This kit appears to be really cool and built to be sturdy and sustain any traveling and touring. Besides the regular set, you will get all the clamps that you need to fit them into your drums or stands. We heard a recording with this set and it sounded great!
Positives
Very Durable Build
High-Quality Recordings
All Needed Accessories
IMAGE
PRODUCT
For US
Customers
For EU
Customers
Amazon
Store

Sennheiser e600 Drum Microphone Kit
---
6. AKG Drum Set Session 1 Microphone Set
With its Perception Series microphones, Austrian microphone pioneer AKG is responding to the flood of Chinese-made microphones reaching our shores.
It is true that these mics are Chinese-made (under close scrutiny by AKG), but they are Austrian-designed and share all the hallmarks of their Austrian-made cousins. A six-piece microphone set was the first Perception Series Live mic set for drums, the Groove Pack.
With the AKG Drum Set Session 1, you get a great starting microphone kit with exceptional performance and value. The kit provides all the essentials needed to capture a complete drum set with seven microphones and accessories packed in a durable aluminum carrying case.
Other instruments can also be miked with this device, such as brass, woodwinds, and bass amps. A durable metal casing, rugged spring steel microphone grill, scratch-resistant finish as well as high maximum SPL capabilities are all features of the Perception Live series of microphones.
x1 P2 bass drum microphone
x2 P17 for overheads
x4 P4 for toms and snare
Despite their slim pencil designs, the condenser overheads surprisingly feel quite solid, perhaps due to their metal casings. A rugged, cushioned aluminum carrying case is included in the kit, along with clamps and dual socket adapters for all the microphones.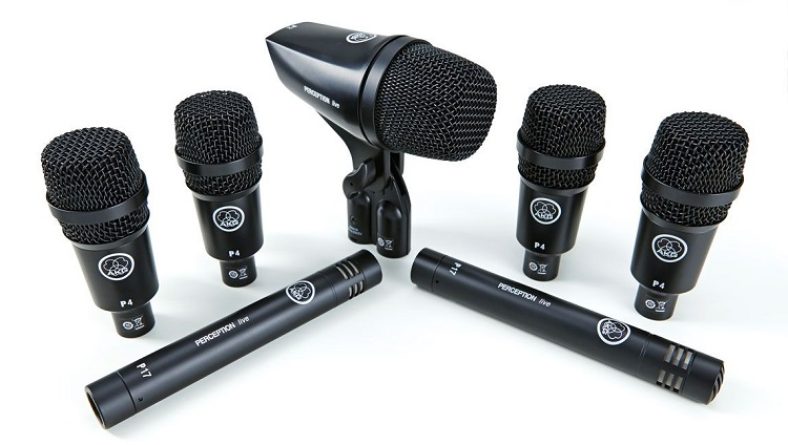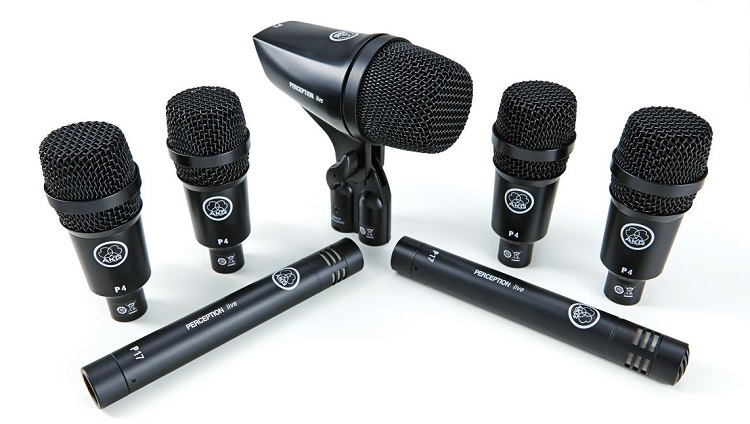 IMAGE
PRODUCT
For US
Customers
For EU
Customers
Amazon
Store

AKG Drum Set Session 1 Microphone Set
AKG Drum Set Session 1
You get all that you are seeing. Amazingly built microphones with every piece that you need to record your drums. These microphones are our go-to for many reasons, but mostly because of the price/quality ratio. We would recommend it to everyone who needs good mics and for a nice price.
Positives
Amazing Price for AKG
Natural and Clear Sound
Good Build
---
7. Lewitt Beatkit Pro 7-piece Drum Mic Kit
In addition to the four dynamic snare and tom mics, there are two overhead condensers as well as a dual capsule bass drum mic. In addition to the mounts, four clip mounts (to mount on drum rims) and a flight case are included. The Pro 7 represents massive savings over buying the component mics separately, despite being the most expensive of Lewitt's drum mic kits.
In this kit, the most innovative microphone is DTP 640 REX, which features two capsules (a dynamic and a condenser) enclosed within a mesh grille side by side. A bass drum can be double-miked with conventional mics (i.e. dynamic and condenser microphones separately), but if two separate sources are used to mic a single instrument, the signals may become out of phase – a problem that requires considerable sound engineering experience to fix.
x1 DTP 640 REX,
x1 MTP 440 DM,
x3 DTP 340 TT,
x2 LCT 140 AIR
The following mounting accessories are found on the second level of the case. A total of five rubber shock mounts for the DTP 40 MTS drums: three for the toms and two for the overheads. It is necessary to use a different MTP 40 MCS shock mount for the snare microphone, and the kick mic requires no shock mount at all. For the toms and snares, the kit comes with four DTP 40 MT rim mounts.
The only items you'll need are a decent drum set, two overhead stands, and a kick drum stand. The accessories are of high quality; they are well-built and do not loosen over time. Also, they are cheap in case you need to replace them!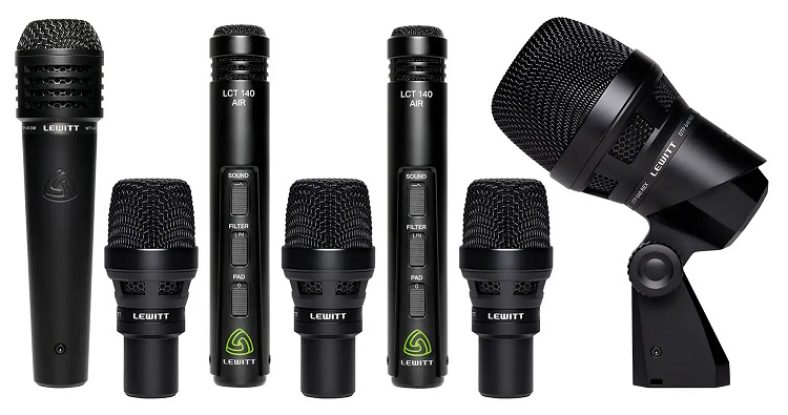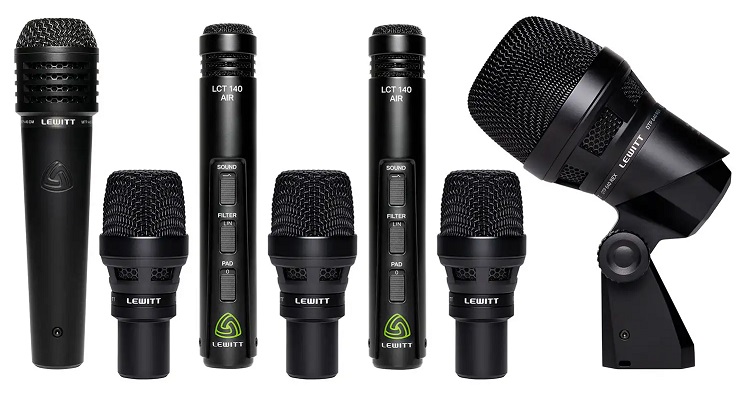 Lewitt Beatkit Pro
Another 7-piece set that will give you great results. Lewitt is getting really famous in the audio recording circles for their microphones lately, and this set definitively proves that. We heard a recording from these microphones and we were blown away. Another good set on the list.
Positives
High-Quality Mics
Nice Audio Quality
Great Transient Response for Each Mic
IMAGE
PRODUCT
For US
Customers
For EU
Customers
Amazon
Store

Lewitt Beatkit Pro 7-piece Drum Mic Kit
---
8. Beyerdynamic TG Drum Set Pro Medium Drum Microphone Kit
You can record your whole drum setup with the Beyerdynamic TG Drum Set Pro Medium if you're looking for a simple, out-of-the-box solution! You can capture your toms and snare with four TG D35 super-cardioid dynamic mics, which come with an optimized frequency response for easy EQing.
Moreover, the D71 boundary microphone can handle up to 148dB SPL, making it ideal for even the loudest of bass drum smacks. In order to capture clear, present overheads, Beyerdynamic incorporates two small-diaphragm condensers, the TG I53. Last but not least, the TG Drum Set Pro Medium kit features easy mounting of the tom clips to most drum rims.
x4 TG D35 dynamic super cardioid microphones
x2 TG I53 small-diaphragm condenser microphones
x1 TG D71 to capture your kick drum
Bass drum sounds are easily conveyed through the TG D71's compact size. With its semi-cardioid polar pattern, this boundary microphone can capture audio with high fidelity. Throughout the recording session, the rubber underside keeps its position stable.
TG D35 super-cardioid dynamic microphones are included in the Beyerdynamic TG Drum Set Pro Medium kit to capture your toms and snares. Your source of choice will be picked up naturally by a tight super-cardioid pattern, reducing unwanted mic bleed.
As part of the TG Drum Set Pro Medium kit, you will get a pair of condenser microphones, the TG I53 small-diaphragm condenser microphones. The TG I53 is a great choice for overheads, but users rave about its performance on hi-hats. An ear-pleasing treble boost is featured on these microphones.


IMAGE
PRODUCT
For US
Customers
For EU
Customers
Amazon
Store

Beyerdynamic TG Drum Set Pro Medium Drum Microphone Kit
Beyerdynamic TG Drum Set Pro
Another interesting set that includes a boundary mic for the drums. With it, you will get all the proper accessories to place the mics and get the best recording possible. Although we have no experience with this set, an audio engineer friend has high praises for it.
Positives
Has Boundary Mic for Kick
Nice Transparent Audio
All Needed Accessories
---
9. Avantone Pro CDMK-8 Drum Microphone Kit
This CDMK8 8-Mic Drum Microphone Kit from Avantone includes a full set of specially designed microphones that are appropriate for recording or live sound reinforcement. There are three Atom tom microphones, two CK-1 cardioid condenser microphones, one CK-1 hyper-cardioid condenser microphone, a Mondo kick drum microphone, the ADM snare drum microphone, all associated drum rim mounts, SSM metal shock mounts, and a rugged, padded tweed vintage case included in the set.
With MONDO Dynamic Kick Drum Microphone from Avantone, you can capture low-frequency signals from kick drums and bass cabinets with a rugged and elegant design. Engineers need only make a few EQ adjustments in both live sound reinforcement and recording applications when using the MONDO due to its aggressive frequency contouring and accentuated bass frequencies.
Since drum microphones usually have a rough life, special drum microphones are often used. Transient response is critical to cope with the first attack of the drum, so light materials are necessary, but durability is also crucial! This CDMK8 set from Avantone combines rapid response with a robust construction – so that it can take high volumes as well as a few knocks. It doesn't matter how loud the drummer is! These mics aren't frightened by them at all!
x1 Mondo kick drum mic
x1 ADM snare drum mic
x3 ATOM tom mics
x2 CK-1 cardioid condenser mics for overheads
x1 CK-1 hyper-cardioid condenser mic for hi-hat
Furthermore, these microphones are extremely durable. The mounts are made of metal, and the rest of the unit is made of metal as well. Make sure you use these pieces for a long time without experiencing any problems.
These mics are distinguished by their sound production capabilities. Whatever your playing style may be, they will meet your needs. There is no doubt that this is one of the most convenient drum mic kits available at this price point. The instruments are still instrumental, even though they are slightly heavier than most.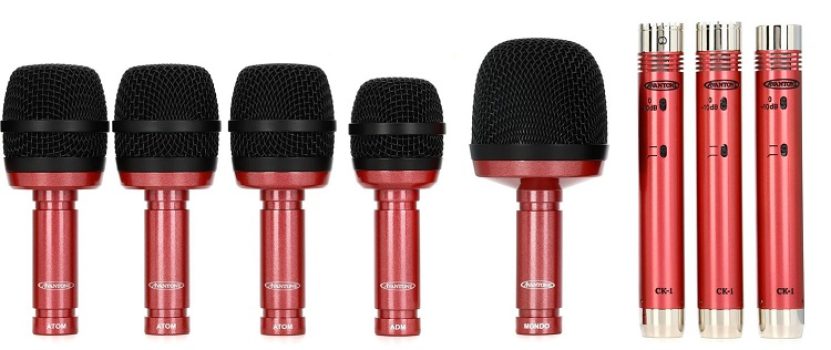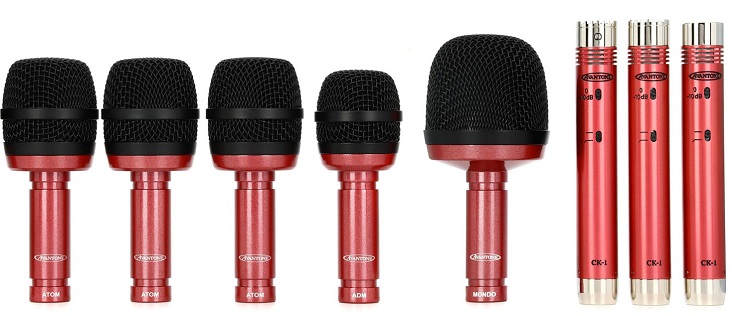 Avantone Pro CDMK
Besides the bright color of the mic, there is a bright and transparent sound of them as well. We saw them in a store and were captivated by their look. The sound is okay and will carry out all the necessary tasks for live and studio usage. The only thing is that it might be hard to find and are quite limited.
Positives
Amazing Design and Sound Quality
It is an 8 Piece Set
Comes with Accessories
IMAGE
PRODUCT
For US
Customers
Amazon
Store

Avantone Pro CDMK-8 Drum Microphone Kit
---
10. Telefunken DC7 Drum Microphone Package
Featuring five dynamic microphones and two matched small diaphragm FET condensers, the Telefunken Elektroakustik DC7 Drum Pack is ideal for recording drums and live performances. The sets consist of the M82 for kick drum duties, M80-SHB for snare, M81-SH for toms, and M60 FET Cardioid for overheads or cymbals.
DC7 microphones are shipped in the heavy-duty HC87 flight case and include multiple drum mounts (M782, M784, and M785) as well as a five-meter right-angle XLR cable with a female connector per microphone.
x1 M82 with M782 mount
x1 M80-SHB with M784 (metal) and M785 (plastic) mount
x3 M81-SH with M784 (metal) and M785 (plastic) mount
x2 M60 FET with M760 elastic mount
In order to make sure our customers have complete packages, the brand strives to provide them with the gear they need the same day they receive it. That is one of the reasons why we are so pleased to suggest the DC7 Drum Microphone Set. A set of quality microphone cables is also included with the DC7 Drum Microphone Pack in addition to seven superb microphones mounted on rims.
Due to the right-angle female connector, these cables are extremely convenient for positioning microphones around drum kits with tight configurations, as the ends do not stick upward and interfere with cymbals. Also included with the DC7 Drum Microphone Set is a hardshell flight case that ensures the safety of your microphones while traveling.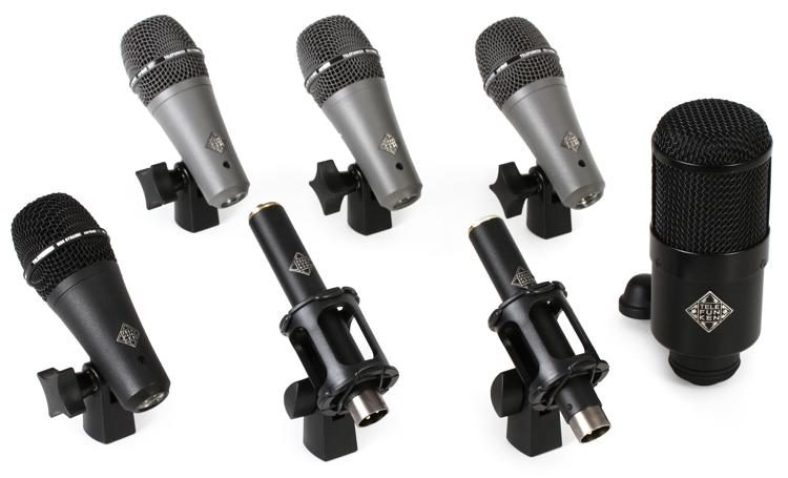 Telefunken DC7
In our opinion, this is probably the best set on the list, but it all comes at a price. If you have the budget, then go for it because this is great for both studio and life stage usage. When it comes to Telefunken, we tried out different microphones and were blown away. This set is owned by a friend of ours and he swears on it, so there is no reason for us not to believe him.
Positives
High-Grade Microphones
Great Transient Response
Durable Construction
IMAGE
PRODUCT
For US
Customers
Amazon
Store

Telefunken DC7 Drum Microphone Package
---
Conclusion
So here in this list, we believe that you will be able to find your perfect set for recording your drums. A mix of condenser and dynamic microphone options will ensure you get the perfect drum recording.
We tried to include sets from all different brands and developers to provide you with different options and choices to select from. The best kit on the list is of course the Telefunken DC7, but the most optimal in regards to price and performance is the AKG Drum Set Session 1.
In case you are having any questions in regards to the topic we covered here, feel free to let us know in the comment section below and we will be more than happy to elaborate and assist you with further selection.