Best sE Electronics Microphones
Introduction
As you can pick up from the title of this article, we will review some of the bestselling microphones from sE electronics and provide you with details you will need to make the purchase and get yourself a brand new microphone.
sE Electronics are not amateurs in the microphone-producing game and you will be able to expect microphones of the highest possible quality. Their range is impressive since they manufacture handheld microphones. large and small diaphragm ones, ribbon, stereo – basically every mic known in the audio engineering world.
Let's see briefly who exactly are sE Electronics. The company was founded in the early 2000s and besides the microphones they produce, they also created monitoring systems and microphone isolation shields. In these years they were focused on perfecting their craft and started with worldwide sales, operating both in US and Europe.
An interesting fact is that sE Electronics actually invented the reflection filter, an gadget that was adopted by many companies afterwards – but we need to pay our respects to the pioneers!
An interesting fact to include when we are not sparing any good words on this brand is that they officially made a collaboration with Rupert Neve and created microphones, which makes sE Electronics the only company that Rupert Neve collaborated on creating studio equipment.
So now, since you are already familiar with some of the background on this great brand, we will dive deep into the reviews of their most famous microphones and give you some guidance in choosing the right one for you and also will provide you with fast links to make that impulse purchase online!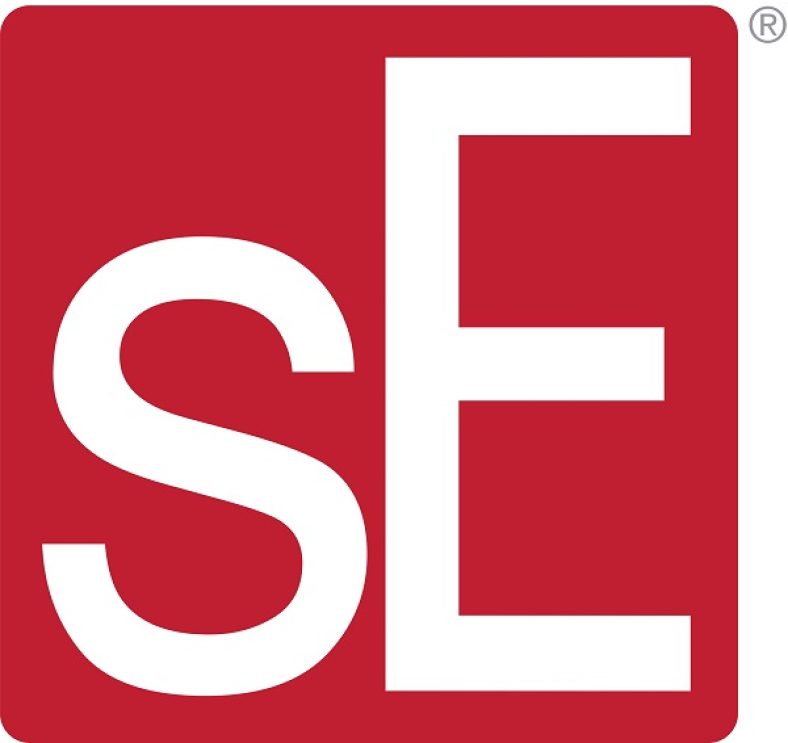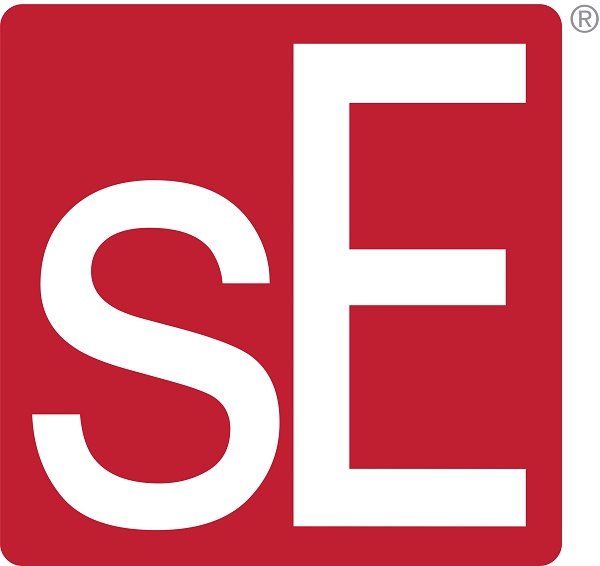 Below you will be able to find 10 of the best sE electronics microphones and they will be listed in no particular order.
1. sE Electronics V7
A reliable, rugged & roadworthy dynamic microphone that's lush, vibrant & musical, the sE Electronics V7 Supercardioid Dynamic Microphone has it all. sE Electronics' V Series dynamic mics are built to withstand rigorous touring schedules and perform better than any other mics in their class, thanks to their extensive experience working with engineers and bands.
All the parts on the V7 are made of metal – there are no plastic parts. Designed for years of onstage stress, the chassis' zinc alloy is highly durable and dent-resistant, while the spring steel mesh grille is corrosion-free and dent-proof.
It has a larger high-frequency extension; based on the measurements, roll-off begins at 14 kHz rather than 10 kHz. The sibilance dip is also wider, reaching down to 4.5 kHz rather than 5.5 kHz. Furthermore, the peak of its presence is located at a lower frequency of 3 kHz as opposed to 4.2 kHz. There is also a noticeable improvement in the sound quality of the upper mids and highs of the V7.
It is not necessary to worry about handling noise when you are on stage with the sE Electronics V7. In order to eliminate rumble and other distracting sounds, the V7 is equipped with an integrated shock mount that decouples the capsule from the headphone.
In addition, an internal windscreen is designed to reduce unwanted wind noise and plosives. The windscreens come in both red and black colors, so you can select the one that best matches your personal style.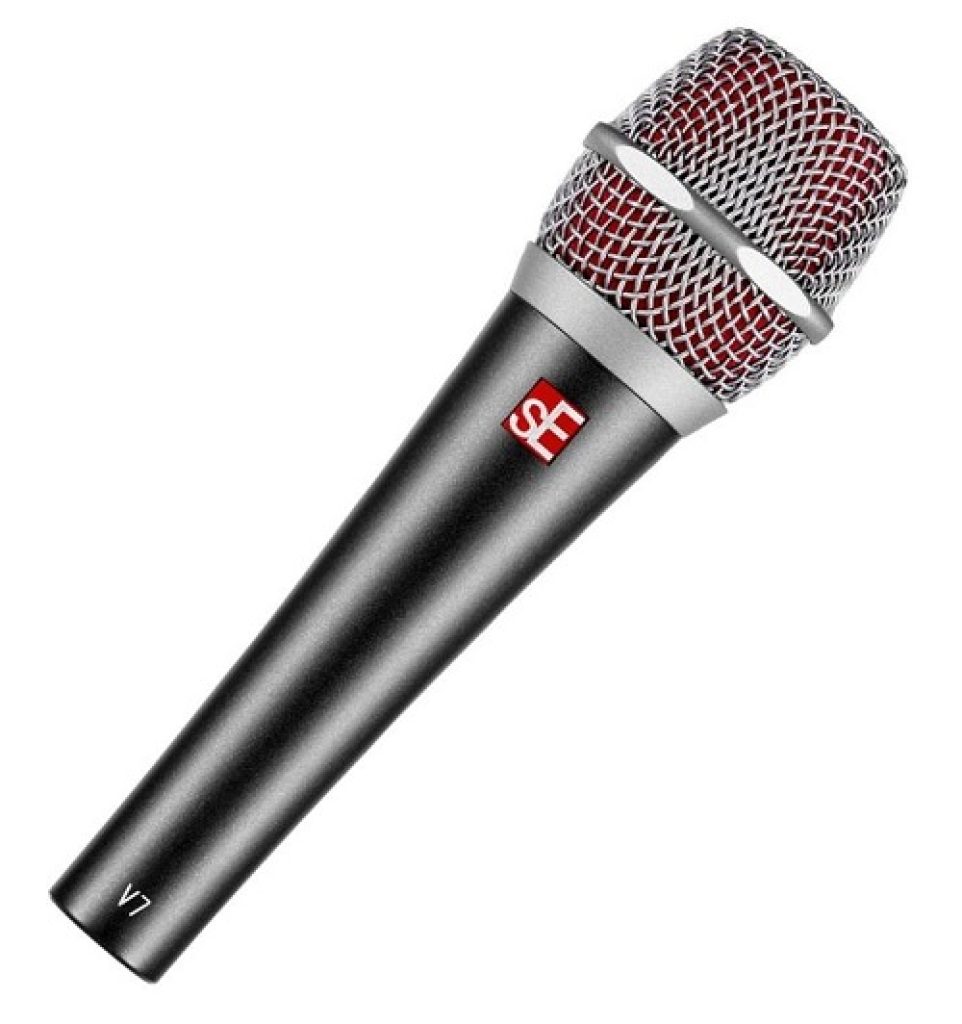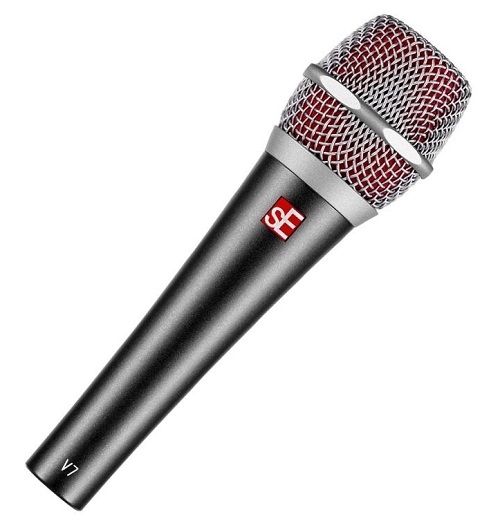 Features
Dynamic
Supercardioid characteristic
An integrated pop filter
Robust microphone cap made of rugged spring steel
Gold-plated XLR connector
Frequency response: 40 – 19,000 Hz
IMAGE
PRODUCT
For US
Customers
For EU
Customers
Amazon
Store
---
2. sE Electronics SE8 Stereo Set
In the sE8 Microphone Series from sE Electronics, a unique series of pencil microphones has been brought to life that offers a number of performance features that speak for themselves. There are several microphones available that can enhance your audio recording experience, and the sE8 is one of them.
They are all hand-selected matched pairs, which guarantees that when one sounds good, the other will be as well, and they will be well balanced as well for any stereo recording application. According to my initial investigation, the factory-installed cardioid capsules were easily removable and replaceable, so we expect to see a greater variety of capsules available in the future, increasing their versatility.
The included aluminum flight case is perfect for transporting them between venues or for safely storing them between uses. In addition, it provides a perfect place to store microphones, microphone clips, pop filters, and the stereo bar when not in use.
In addition, the capsules are well-housed and have been designed to be used with closed microphones as well. You can work around crowded drum kits and close to musicians without being too imposing, because the pad and high pass filter switches are recessed into the case.
This mic's short, efficient signal path does not use ICs or transformers, which is why it captures acoustic instruments like guitar, piano, strings, woodwinds, and percussion so naturally. These mics are awesome!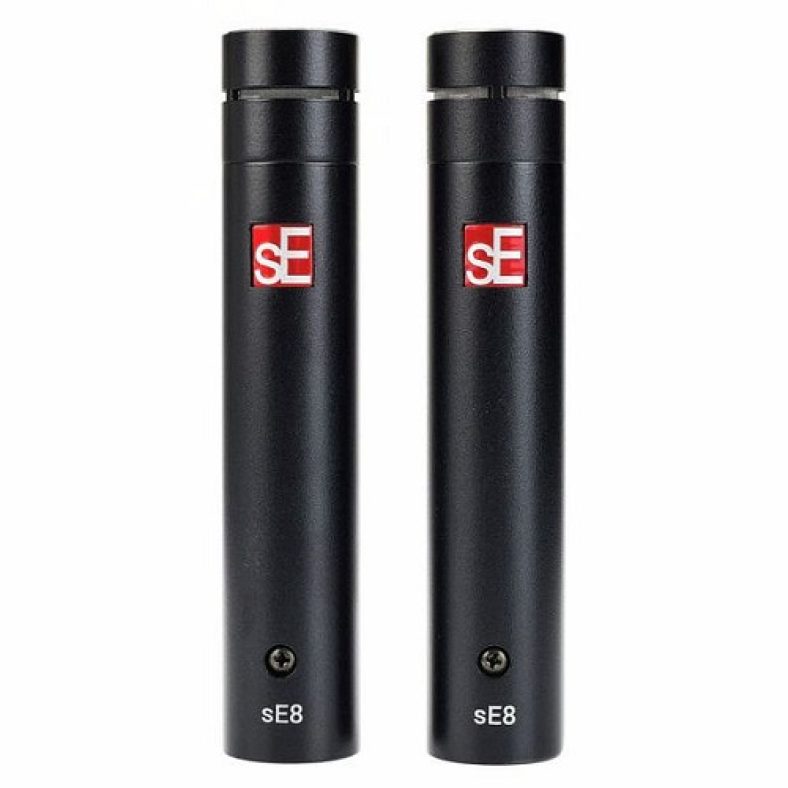 Features
Handmade small diaphragm condenser capsule
Polar pattern: Cardioid
Max. SPL (0.5% THD): 139/149/159 dB SPL (0/10/20 dB pad)
13 dB (A) inherent noise
LoCut switchable: 80 / 160Hz (6dB / oct.)
Frequency range: 20 to 20,000 Hz
IMAGE
PRODUCT
For US
Customers
For EU
Customers
Amazon
Store
---
3. sE Electronics DynaCaster DCM 8
Designed for podcasters, music producers, and sound engineers who enjoy crystalline clarity and a warm natural sound, the professional dynamic microphone from sE Electronics is a good choice.
Therefore, you can use the microphone to live stream, play games with friends, record vocals, and spoken words, and even record electric guitars and percussion. Three-layer windscreen protected by an all-metal chassis with excellent anti-vibration properties ensures that no ambient noise or noise can pass through.
It is a beautiful design that has been executed well. A great deal of time and effort has been put into ensuring the integrated swivel mount can be attached to virtually any microphone stand or boom arm, making the setup process a breeze. There is also a three-layer removable pop filter/windscreen that can be easily cleaned.
This mic's aluminum voice coil-equipped capsule, which is mounted in an integrated shock mount, is based on the well-respected sE V7 hand-held microphone, but with some tweaks to make it more versatile
DynaCasters are also equipped with integrated Dynamite preamps offering gain levels up to 30 dB and six equalizations presets to choose from. A cardioid directional microphone capsule such as the DMC8 offers you perfect isolation in conjunction with cardioid directional characteristics. From 200Hz right up to 10kHz, the frequency response curve is almost flat, albeit slightly boosted, with a gentle roll-off at low frequencies and a more pronounced roll-off at high frequencies.
As part of the package, you will receive an integrated microphone mount with gold-plated XLR connectors, threaded reducers, and a foam windproof cover. There are a number of reasons why you should consider the DynaCaster, whether you are a producer, vocalist, podcaster, or merely need to mic up some guitar cabinets.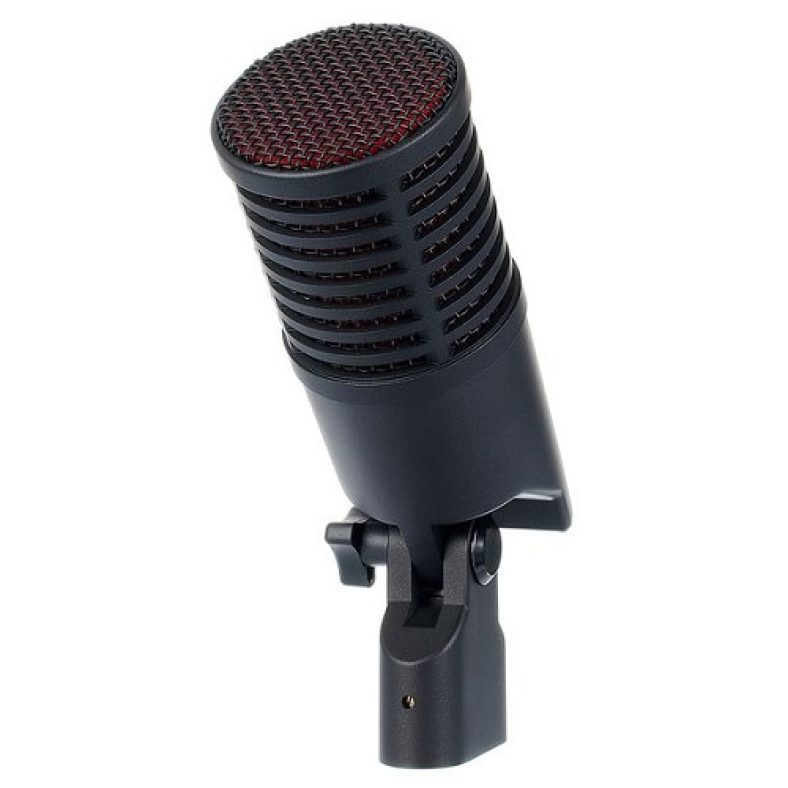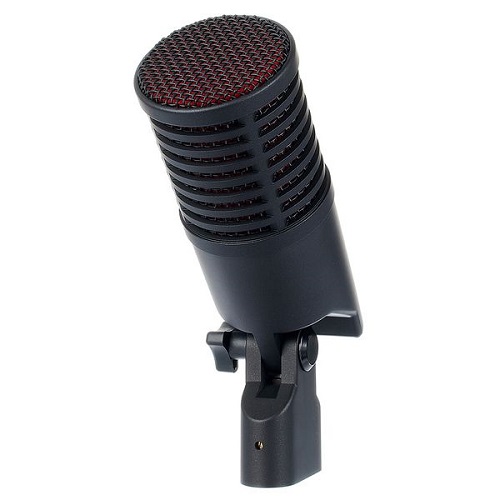 Features
Ideal for speech and vocals
Polar pattern: Cardioid
Integrated preamp boosts level by 30 dB when needed
Filter to cut or boost bass frequencies
Integrated three-layer windscreen
Frequency range: 20 – 19,000 Hz
IMAGE
PRODUCT
For US
Customers
For EU
Customers
Amazon
Store

sE Electronics DynaCaster DCM 8
---
4. sE Electronics VR1
With the VR1 ribbon microphone, the company's CEO Siwei Zou has developed a patent-pending design that allows full frequency capture from 20Hz to 20kHz with a fairly linear response.
Even though the VR1 is a relatively compact microphone, the special design, incorporating a metal plate into the housing, enables it to capture all the high-frequency frequencies that can be lost when using a ribbon microphone, while maintaining a natural and open sound. Despite the fact that this microphone is capable of capturing higher frequencies, the smooth response that is characteristic of ribbon microphones is preserved.
Prior to the release of the Voodoo series, the only full-frequency ribbon microphone available was sE Electronics' RNR1, designed in collaboration with Rupert Neve. Although the RNR1 is a fantastic microphone in its own right, it is not inexpensive.
However, the industry was turned upside down when sE Electronics also introduced the Voodoo series, which offered similar performance at a considerably reduced price. Using an innovative electrical circuit, it is now possible to achieve full-frequency sound on a budget.
Whenever someone builds a collection, the same microphones appear repeatedly, resulting in recordings with similar sounds. Take a chance on sE Electronic's new Voodoo VR1 ribbon microphone and break the pattern. Your recording will certainly acquire a new character that is not possible with any condenser microphone available in the market today.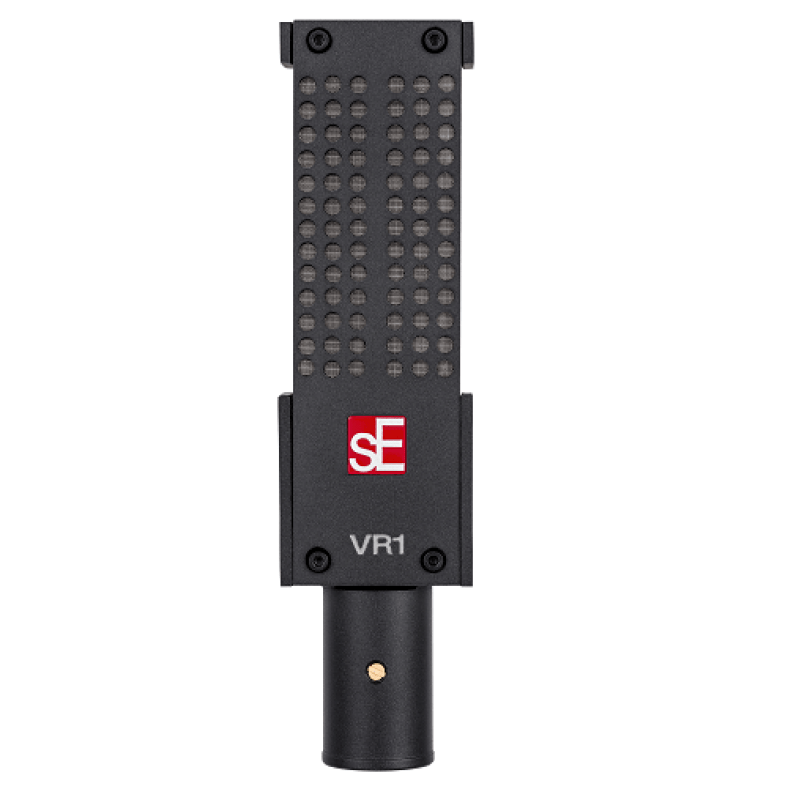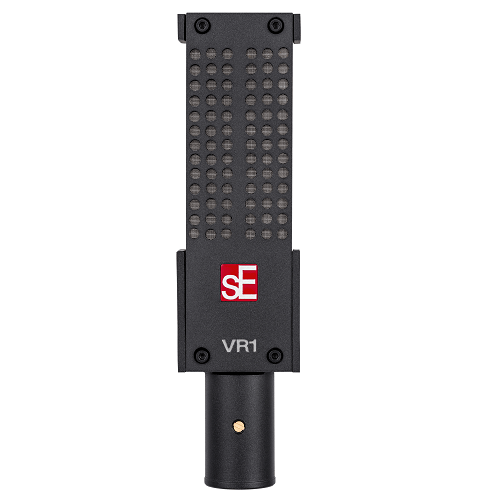 Features
Passive
Sensitivity: 1.6mV/Pa (- 56 ± 1.5 dB)
Figure 8 characteristic
Impedance: < 300 Ohm
Equivalent signal to noise ratio: 10dB(A)
Frequency range: 20 Hz-18 kHz
IMAGE
PRODUCT
For US
Customers
For EU
Customers
Amazon
Store

sE Electronics VR1 Voodoo
---
5. sE Electronics SE 2200
Whether you are recording vocals, guitar amps, or anything else you can imagine, 2200 makes for an excellent choice. The purpose of this review is to provide an in-depth analysis of all aspects of the microphone and why it is such a good choice for those seeking to upgrade their current equipment.
A comparison of the sE2200 with its competitors in this price range reveals that the latter sounds smoother and more expensive. By slightly bumping the 10kHz frequency, you are able to add a nice airiness to the vocals and help them to stand out from the background.
Every microphone capsule is handcrafted, and they are incredibly well-built. It is also convenient to have the shock mount and pop filter included, and this will save you a considerable amount of money. It is important to note that these items are pretty much essential.
Reflection filters are designed to surround the microphone and reduce room reverberation during recording. In small studios, the reflection filter is particularly useful for removing slapback echo in rooms that have not been acoustically treated. In order to attach the reflection filter to a standard microphone stand, a rubber clamp is used.
In addition to its stunning sound quality and consistent performance, the sE2200 has an astonishingly high level of sensitivity. Surface-mounted electronic components with extremely tight tolerances ensure that the mic produces high-quality results with any source – a true workhorse!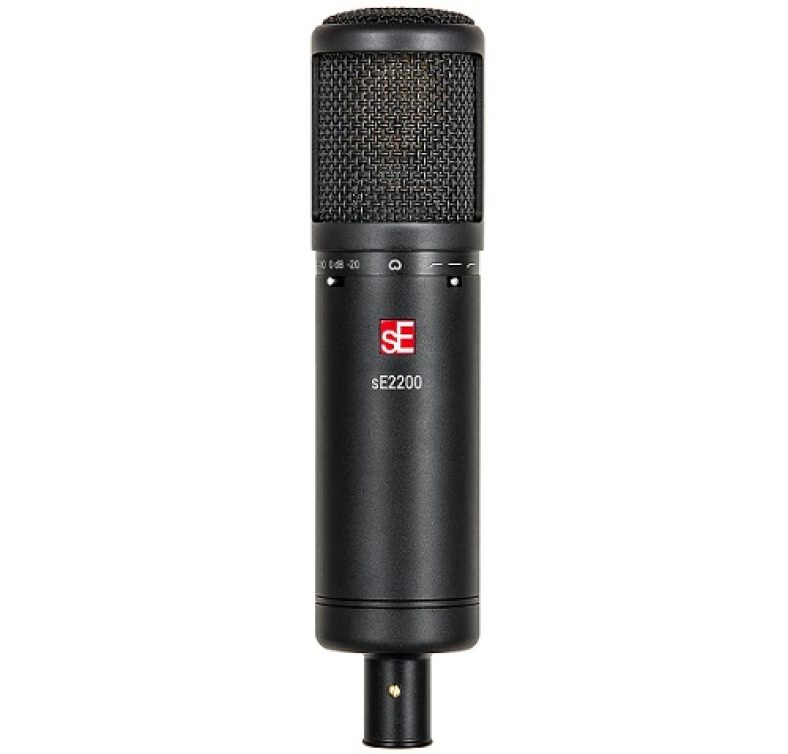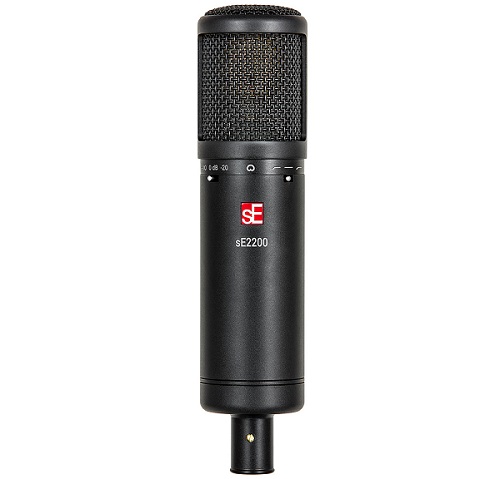 Features
Polar pattern: Cardioid
Gold-plated 1″ double membrane
10/20 dB pad switch
80/160 Hz low-cut switch
Requires +48 V phantom power
Frequency range: 20 – 20,000 Hz
IMAGE
PRODUCT
For US
Customers
For EU
Customers
Amazon
Store
---
6. sE Electronics RNR1
Mr. Neve's first effort was the active ribbon mic RNR1, where he brought his knowledge of transformers and circuit board design to bear on creating a new standard for ribbon microphones. Ribbons are highly valued by engineers for their ability to produce a smooth, natural, and flattering tone.
You will need to supply the RNR1 with +48V phantom power because it is an active ribbon microphone. In spite of the fact that neither the enclosed literature nor information on the website mentions the minimum phantom power voltage, it would seem reasonable to assume that a microphone of this caliber would require higher voltage in order to achieve optimal sonic results.
Typical ribbon microphones exhibit a frequency response that is 5-10dB down at 15 kHz, whereas the RNR1 has a near-flat response that extends to 25 kHz with very low self-noise. There is no doubt that these specifications rival those of the best microphones, regardless of the type of microphone.
The RNR1 performs better than most ribbons at around 7-10 kHz, while most ribbons suffer performance drops at this frequency point. Consequently, the ribbon microphone has an excellent frequency response that is almost flat and sounds perfectly natural. You can now capture all kinds of sounds, including instruments and vocals, more accurately than ever before with the RNR1.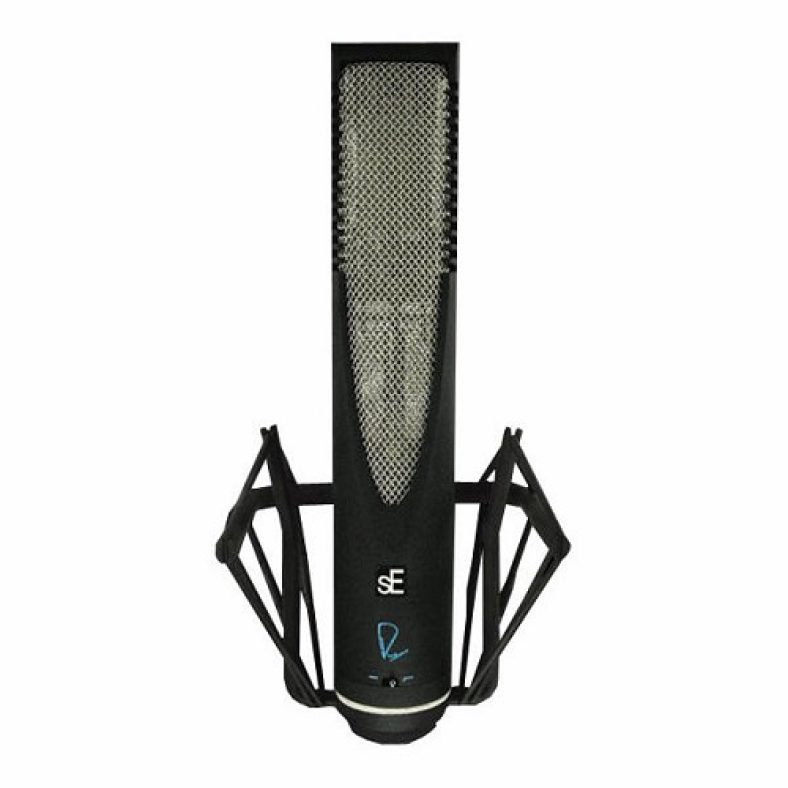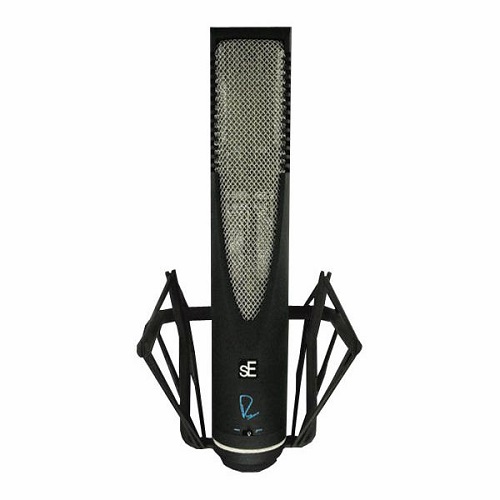 Features
Designed and built by Rupert Neve and sE Electronics
2.5 micron aluminium ribbon
Directional characteristics: Figure Eight
Equivalent Noise Level: 15 dB (A weighted)
Output impedance: 200 ohms balanced
Frequency response: 20 Hz – 25 kHz
IMAGE
PRODUCT
For US
Customers
For EU
Customers
Amazon
Store
---
7. sE Electronics X1R
Ribbon mics are nothing new, but the X1R boasts a few unique features. A ribbon microphone is designed to produce less high end, and a lower output level, than a large-diaphragm condenser.
Ribbon microphones are passive, and the sE X1R ribbon model comes in significantly cheaper than passive Voodoo microphones. A neodymium-magnet motor powers the ribbon element, and the mic incorporates some technology from the Voodoo HF extension models. However, its high-end isn't quite as advanced. In terms of ribbon technology, sE describes it as a hybrid of old and new.
The X1R can handle 135dB of SPL, which is quite loud. By removing some of the low end to counterbalance proximity effects and boost the presence around 5kHz, you will get a result that is chunky and warm like what you'd hear on a blues guitar.
An sE X1 cardioid microphone chassis houses the microphone's element, which is encased in Neodymium magnets. With a frequency response of 16 kHz and a gentle high-frequency boost, the X1R has a gentle boost at high frequencies. The ribbon has a more traditional voice and is highly recommended if you enjoy how ribbons operate.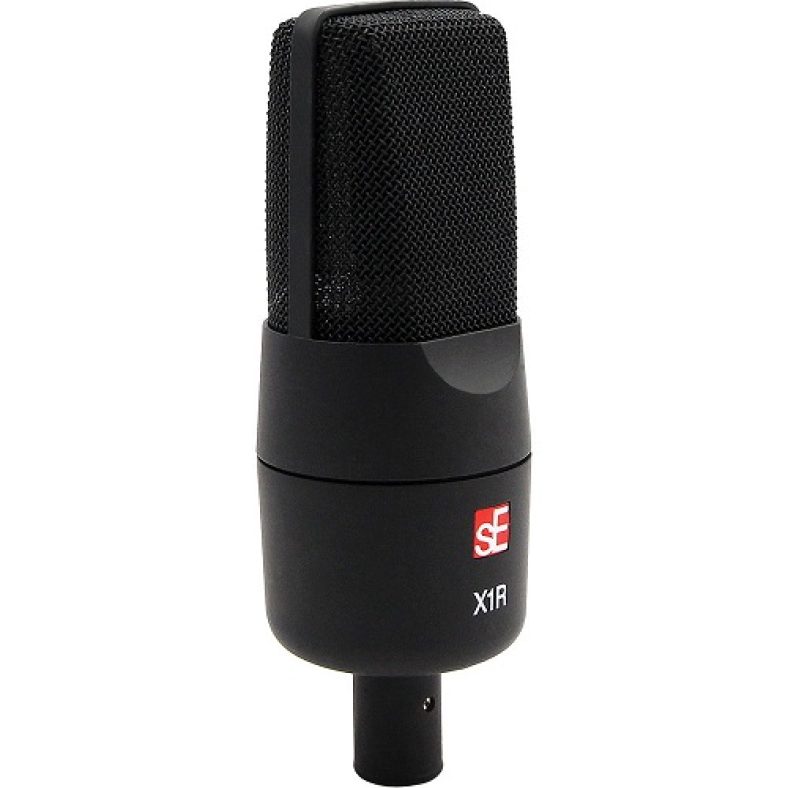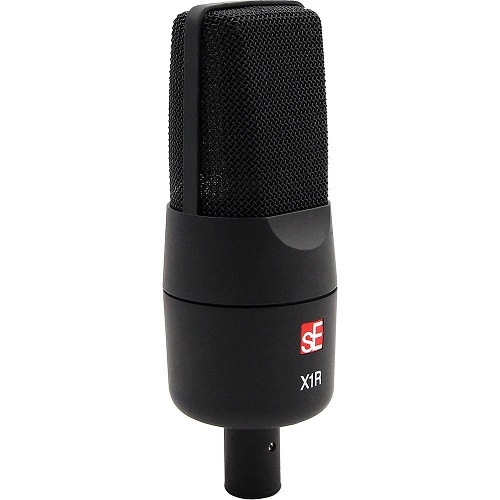 Features
Well suited for picking up guitar amplifiers
Type: Passive
Capsule: aluminium ribbon
Sensitivity: -55.3 dB 1V / Pa / – dB
Directional characteristics: Figure Eight
Frequency response: 20-16000 Hz / – 1 dB
IMAGE
PRODUCT
For US
Customers
For EU
Customers
Amazon
Store
---
8. sE Electronics T2
In the second generation of titanium-diaphragm FET condenser microphones, sE Electronics has launched the T2. Having the ability to handle transients can enhance the sound of sound sources that have an impact, such as percussion, and drum shells, as well as vocal sources such as rap, spoken word, voice-overs, and dynamic singing styles.
With its -10 and -20 dB pads, the T2 allows distortion-free recording of loud sound sources, such as drums. Despite the fact that many people initially purchased the T2 to use for drums, they quickly discovered that it was equally effective for playing acoustic guitars and singing – strumming and picking on acoustic guitars are enhanced with a level of clarity that most microphones lack.
The T2 is basically an sE 4400a with the titanium dual-diaphragm capsule from the Titan replacing the capsule from the 4400a. According to sE, the T2 is based on the same chassis as the 4400a. There are no differences in the electronic controls of the two microphones: they are both four-pattern microphones that can switch between Cardioid, Hypercardioid, Figure of Eight, and Omni.
It's a great microphone, which performs well and is very similar to other mics in the price range, has a very flat response and does not lie to you, has a very accurate definition and fast transients, and can be used on almost any recording setup you can think of.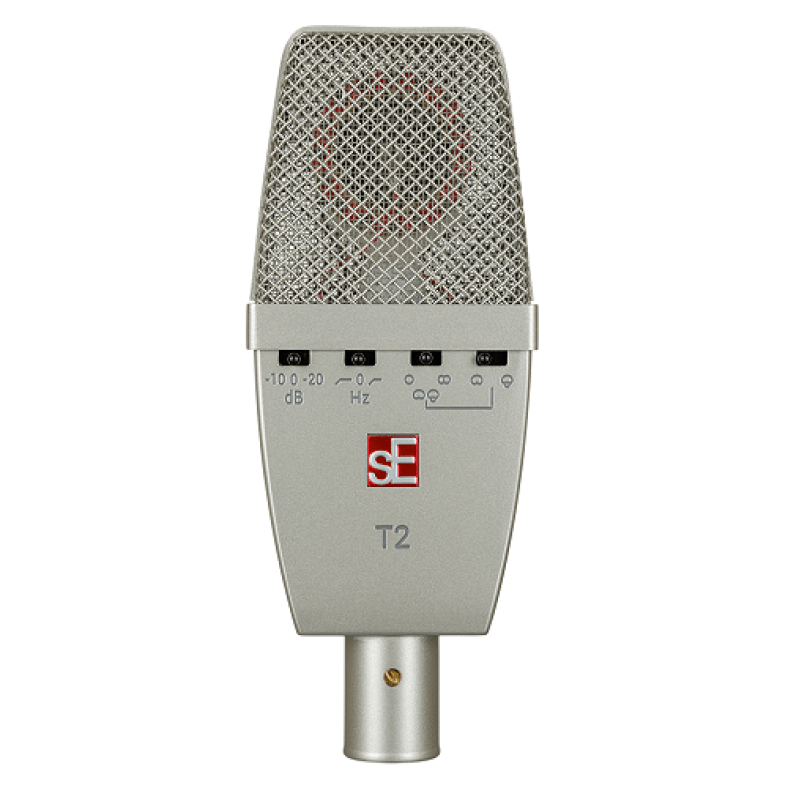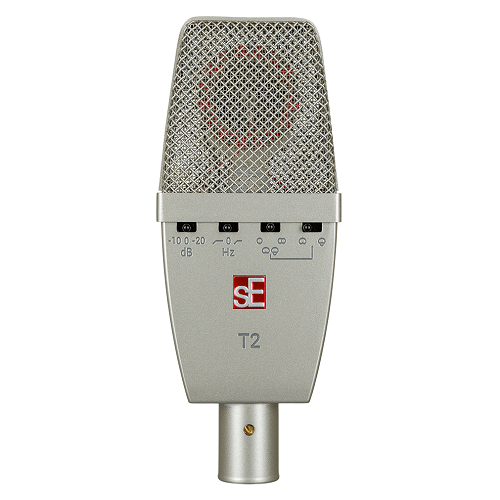 Features
With special titanium membrane
Sensitivity: 28mv / pa-31 ± 1dB
Polar pattern: omnidirectional, cardioid, super cardioid, figure-8
Impedance: <= 50 ohms
Equivalent noise level: 14dB (A)
Frequency response: 20 Hz-20 kHz
IMAGE
PRODUCT
For US
Customers
For EU
Customers
Amazon
Store
---
9. sE Electronics Z 5600A Mk II
In many of the world's top professional studios, the Z5600A is now being used as a brand-new, updated model. In addition to being extremely versatile, it is also one of the most effective vocal microphones available. Featuring nine graduated steps between omni, cardioid, and figure of eight capsule patterns, the Z5600A is suited for numerous applications, from recording a live drum kit to overhead acoustics.
Most importantly, this excellent microphone has achieved a superb vocal recording, with natural warmth and impressive detail. In addition to the Z5600a being presented in a wooden presentation case, it is housed in a full aluminum flight case that includes a shock mount and a power supply that includes pattern switching and cables.
A pad (-10 dB) and a high-pass filter (100 Hz) can be accessed via switches on the microphone body; these features are new for the 'II' version of the microphone. Additionally, there has been an improvement (reduction) in self-noise (from 16dBA to 12dBA) over the Z5600a.
It is fair to say that sE Electronics have assembled a nice bundle for the Z5600a II. With its smooth vocal sounds and wide range of applications, this microphone is an exceptional value for the money.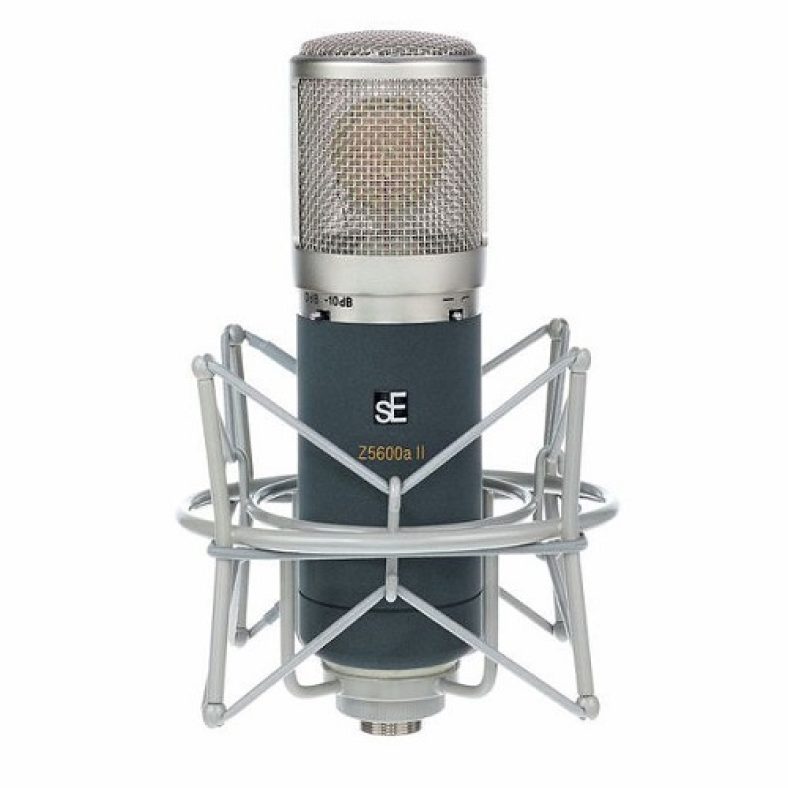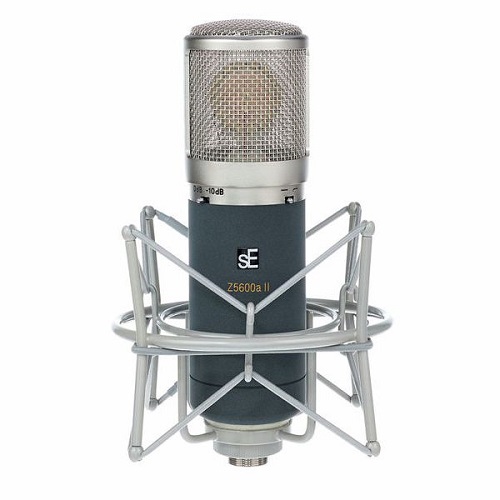 Features
With 12AT7 tube
Gold plated 1.07 "diaphragm
Including spider, flight case, microphone
9 different characteristics switchable on the supply
Impedance: 200 ohms
Frequency range: 20 Hz – 20 KHz
IMAGE
PRODUCT
For US
Customers
For EU
Customers

sE Electronics Z 5600A Mk II
---
10. sE Electronics RNT
RNT is the third in a series of tube condenser microphones developed in collaboration between sE Electronics and Rupert Neve Designs. There are discrete components in both stages of the microphone, which make it pure class-A. Among the nine polar patterns available on the large and very retro-looking power supply are omni, cardioid, figure eight, and everything in between.
There are two stages to the microphone: the tube-based section, which includes an ultra-low noise ECC82 tube inside the microphone chassis, and the custom-built RND output transformer. In addition to providing a wide dynamic range and the highest SPL possible, the Class-A circuitry ensures that the noise floor is the lowest possible.
A durable metal chassis houses the diaphragm, tube, and internal components of the microphone, which are all handmade at the sE factory. In the power supply, the microphone goes through its second stage. There are three gain staging options in the power supply, plus two high pass filters at 40Hz and 80Hz.
Compared to a tube condenser, the standard gain staging is set at 0dB, which we found to be a considerable amount of gain. It is recommended that you use +12dB when working with sources that are very soft and intimate, and -12dB when working with sources that are louder, such as a vocalist, drum amplifier, or electric guitar amp.
In the cardioid setting, the RNT is transparent and forward. Despite being positioned close to the speaker or singer, voices are articulate and crystal clear. All in all, we believe this is the best microphone that sE ever created and many factors point to this being a truthful statement.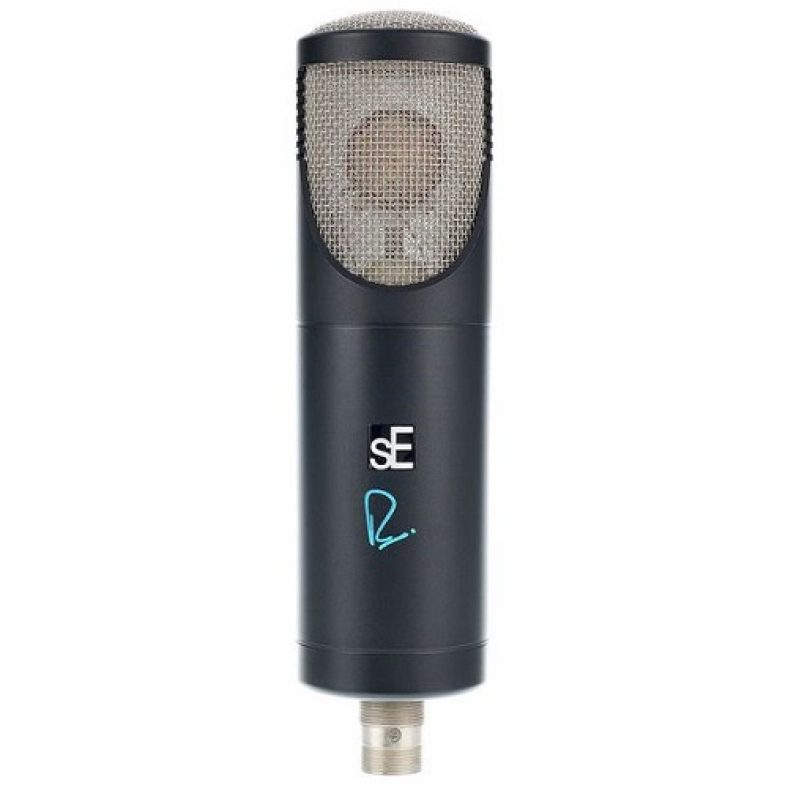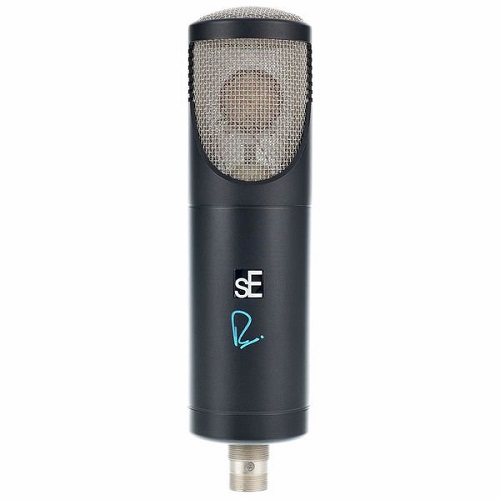 Features
Polar patterns: Cardioid, omni, figure eight plus six intermediate stages
Rupert Neve custom transformer and operational amplifier
Gain settings: -12 dB, 0 dB, +12 dB
Max. SPL: 151 dB
Dynamic range: 133 dB
Frequency range: 20 – 20,000 Hz
IMAGE
PRODUCT
For US
Customers
For EU
Customers
---
Conclusion
So we believe that we covered and provided important information about these 10 mics and that if you were on the brink of purchasing one, this review article will push you towards purchasing any of those.
As you can notice, sE Electronics dedicated over 20 years to producing microphones and that is enough time to perfect them. In case you are having any questions about this article or any of the microphones we have included, feel free to post your question in the comment section below, or reach out to sE Electronics customer care for more in-depth answers!