Elysia Brand Review
Introduction
When we mention the Elysia brand name, the first thing that comes to mind is a high-quality studio recording and mixing gear. Every mixing and mastering engineer came across Elysia units or wishes to upgrade their studio equipment with some of their products.
Based in Germany, probably the home of some of the highest and best music product developers, Elysia started their journey in unit development around 2006 and are upgrading their list of product constantly. They are very professional in terms of crafting their units and are one of the pioneers in Class-A electronics that are truly discreet.
So without any further ado, let's dive into their best-selling units that took over the market in recent years and we will give you some brief reviews on each unit and quick purchase links if you want to try out their units.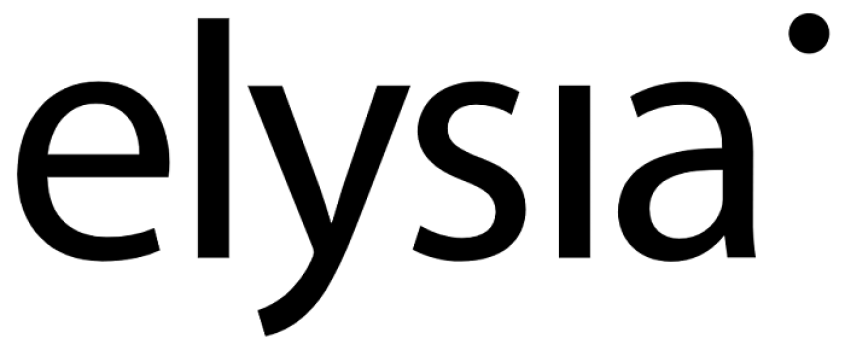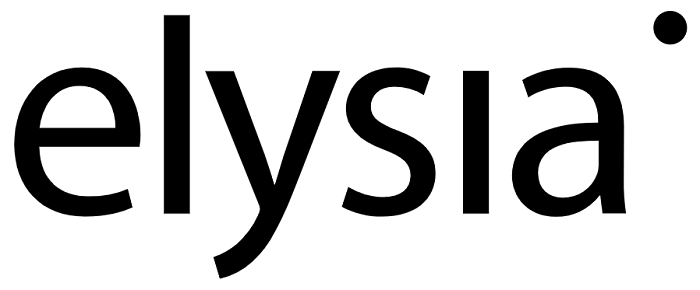 Below you will be able to find 8 of the best Elysia products. We are not going to list them in any order, but the order will be randomized because we cannot rate them from best to worst.
Rackmount 19″ Units
1. Elysia Alpha Compressor
Alpha compressors from this manufacturer feature switchable feedback and feed-forward gain-control circuit paths, adjustable low- and high-pass sidechain filters, parallel processing, stereo and M/S (Mid/Side) modes, channel linking, transformer-based coloration that can be defeated, soft clippers, and audio path filters.
The Alpha is primarily marketed as a mastering compressor, but it can also be used as a stereo or dual mono dynamics processor for tracking and mixing applications as well.
In the upper row, there are controls for adjusting threshold, attack, release, and ratio. The lower values are emphasized most in the last three controls. There are also three push-button switches in this top row.
On the second row of controls of the Alpha, you can activate and shape separate filters for the audio path and for the internal sidechain. In order to provide either a highpass filter or a lowpass filter, the sidechain filters for each channel are adjustable between 30 and 3,300 Hz; they can be bypassed or changed to provide either a highpass or a lowpass filter.
It is possible to parallel compress, use makeup gain, soft clip, and colorize the signal using Alpha's third row of controls. In order to combine unprocessed and compressed program material in any proportion, push-buttons for direct and compressed signals are activated and a rotary mix control is used to adjust the balance between the two signals.
After the compressor circuitry, there's another rotary control that lets you adjust the makeup gain up to 12 dB. The Alpha is an excellent mastering compressor if you have the scratch for such an expensive box.


Features
100% discrete Class-A technology
Feed forward & feedback switchable
Auto fast for attack and release
Audio filter
Side-chain filter
Parallel compression
IMAGE
PRODUCT
For US
Customers
For EU
Customer
---
2. Elysia xfilter
There are four bands in the XFilter that serve as a "Class A stereo equalizer". With this unit, there is one set of controls for both the left and right channels. Both channels are stereo ganged (linked) and detented, making it easy to make accurate and recallable equalization selections. Despite the fact that a mono signal can be run through one channel, it does not function as a dual mono equalizer.
In any case, its strength is best served when it is attached to a stereo channel output on a sound card, plugged into an analog mixing console, or integrated into a mastering environment. A computer test was conducted by Elysia to determine the tolerances of the pots used, which resulted in a typical match within 0.1 decibels per channel.
It consists of four equalizer bands, a low shelf (20Hz to 900Hz), a low mid-band (45Hz to 2.2kHz), with adjustable narrow or wide Q (1.0) and (0.5), a high mid-band (300Hz to 16kHz), with adjustable narrow or wide Q, and a high shelf (700Hz – 28kHz).
Also, the low and high shelves can be switched to serve as low-cut and high-cut filters, an interesting feature that adds flexibility. The slope design also incorporates a single button that inserts a passive high-end boost (a small resonant peak at 12 kHz and a roll-off at 17 kHz).


Features
100% Class-A topology
True stereo link
High and low shelf filter
Resonance-capable highpass and lowpass filter
Two parametric mids plus switchable Q
Additional passive high band
IMAGE
PRODUCT
For US
Customers
For EU
Customer
Amazon
Store
---
3. Elysia musEQ
Based on the concept behind Elysia musEQ, it combines superior sound shaping capabilities with optimally matched parameters in order to assist the user in finding the desired results quickly and precisely. As a result of the bands' generous control ranges and Elysia-specific features, the musEQ is able to be used in any recording and mixing situation, while the stepped controllers are particularly suited for mastering use.
Three parametric bands with switchable Q are offered on each of the two channels. Additionally, there are two outer bands that are low/high shelf designs with an additional resonance peak, which can be separately switched into a low/high cut mode.
Several gain controllers are available, each allowing you to change between boost and cut modes, resulting in a remarkably well-resolved control range and twice as many settings as before. The two channels can be switched to provide a stronger coloration of the signal in order to complete the musical composition.
MusEQ utilizes discrete analog technology in every aspect of its circuit design. Throughout the signal processing process, single transistors are permanently used in a Class-A operation, and even the power supply uses discrete circuits.


Features
100% Discrete Class-A technology
Active filter stages without coupling capacitors
A total of 2 x 5 bands
2 x 3 Semiparametric bands
Switchable filter quality
Switchable boost/cut mode
IMAGE
PRODUCT
For US
Customers
For EU
Customer
---
4. Elysia xpressor
A dynamic processor such as the Xpressor is extremely versatile. Besides compressing and taming transients, it can also be used to shape sounds. Unlike some compressors that retain nearly the same sound regardless of how you set the controls, the Xpressor does not exhibit this characteristic. As a result, all changes are clearly visible, and this makes it an extremely versatile tool that is a pleasure to use.
It's no wonder that Elysia units have found their way into various mastering studios around the world because their build quality guarantees that they will make music sound better for decades to come.
With the Elysia Xpressor you will find stepped pots with 41 steps each. Consequently, it is very easy to recall precise settings, as well as experiment with new settings. You will no longer have to guess where the knob is set, the Xpressor simplifies this process.
It is possible to mix compressed and uncompressed signals using parallel compression. Elysia Xpressor provides this feature as part of its default configuration. The use of parallel compression, sometimes referred to as New York Compression, allows you to maintain the subtleties of your performance while controlling and taming its dynamics at the same time. This is another amazing Elysia unit that can shape your signals!


Features
Clearly structured operation
Discrete Class-A topology
Auto Fast Attack
Switchable release characteristics
Warm mode
Parallel compression
IMAGE
PRODUCT
For US
Customers
For EU
Customer
---
500 Series Units
5. Elysia xpressor neo 500
Since its release in 2010, the Xpressor has become one of the world's most sophisticated compression products at an absolutely affordable price point, and has been used by studios all over the world. A new version of Elysia's famous compressor has been re-engineered and refined, and the results are truly remarkable.
Enhanced depth, enhanced transparency, and enhanced three-dimensional processing are incorporated into a new hardware design. Compared to the original version, the Elysia Xpressor NEO offers a greater range of sounds and functions.
In order to provide users with even greater sonic depth, Elysia redesigned the circuit design. However, the NEO features an entirely new level of audio processing with its new stereo width and phantom center, which are known to be deeply ingrained in Elysia's philosophy and, therefore, in the designs, driven by the puristic architecture of the flagship compressor, the Alpha compressor, which remains the popular features of the Xpressor.
The Xpressor NEO has come a long way since its original release and is now a powerful tool to allow audio enthusiasts and recording artists to work with sounds the way they envision them.
New faceplates are less light-reflective and provide users with a clearer view of potentiometer values. The cut edges were relocated from the midpoint of the face plate to its sides during the milling process. As a result, they now appear much more prominent and reflect the lighting of the user's mixing or mastering studio much more effectively.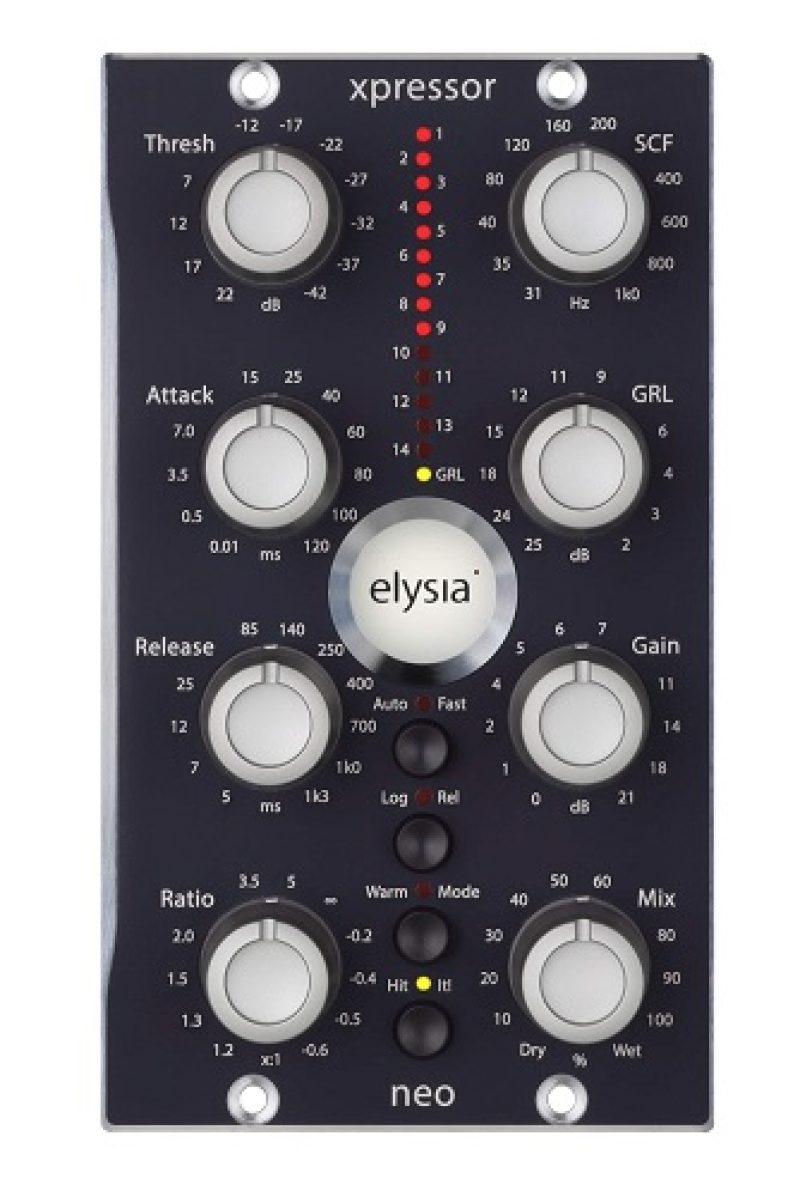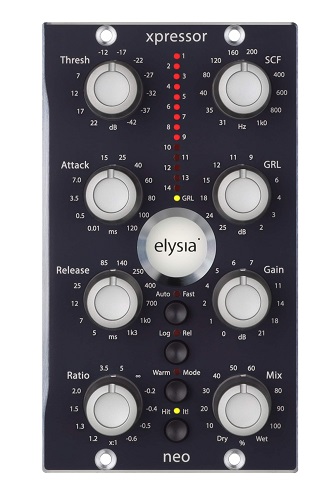 Features
For recording, mixing and mastering
Smooth control behaviour due to RMS detector and soft knee curve
Parallel compression and side chain inputs and outputs
Gain reduction limiter
Warm mode
Negative ratio can be generated
IMAGE
PRODUCT
For US
Customers
For EU
Customer
---
6. Elysia nvelope 500
It is important to note that, in contrast to a compressor, which depends on signal levels to determine the start of processing, the Nvelope performs its sonic shaping irrespective of audio level, so there is no need to worry about threshold controls.
Depending on the mode of operation selected, the controls on the front panel operate accordingly; for example, when using the Attack control in Full Range or Dual Band mode, it emphasizes or reduces the attack response of signals, while in EQ mode, it acts as a shelving boost or cut control for the selected high frequency.
As with Freq A (frequency attack), in Dual Band mode, the pot can be used to select the frequency at which attack processing should begin, while in EQ mode, it serves as the frequency selector for the high-shelf EQ filter. It operates similarly to the Sustain controls, either providing EQ control at the low end of the frequency spectrum or tailoring the duration of the signal's sustain.
In many ways, the Nvelope is easier to operate than some compressors; after getting used to it, most users will find it quite intuitive in its versatility. In a similar manner, while the equalizer cannot be employed as a forensic tool, it can be utilized to enhance the sound in a way that is instinctively musical.
Due to its discrete design, outstanding build, and modern appearance, Elysia has created a product that stands out among the numerous 'me too' retro-style products that are prevalent in the pro audio hardware market today. A piece of equipment such as the Nvelope is extremely useful.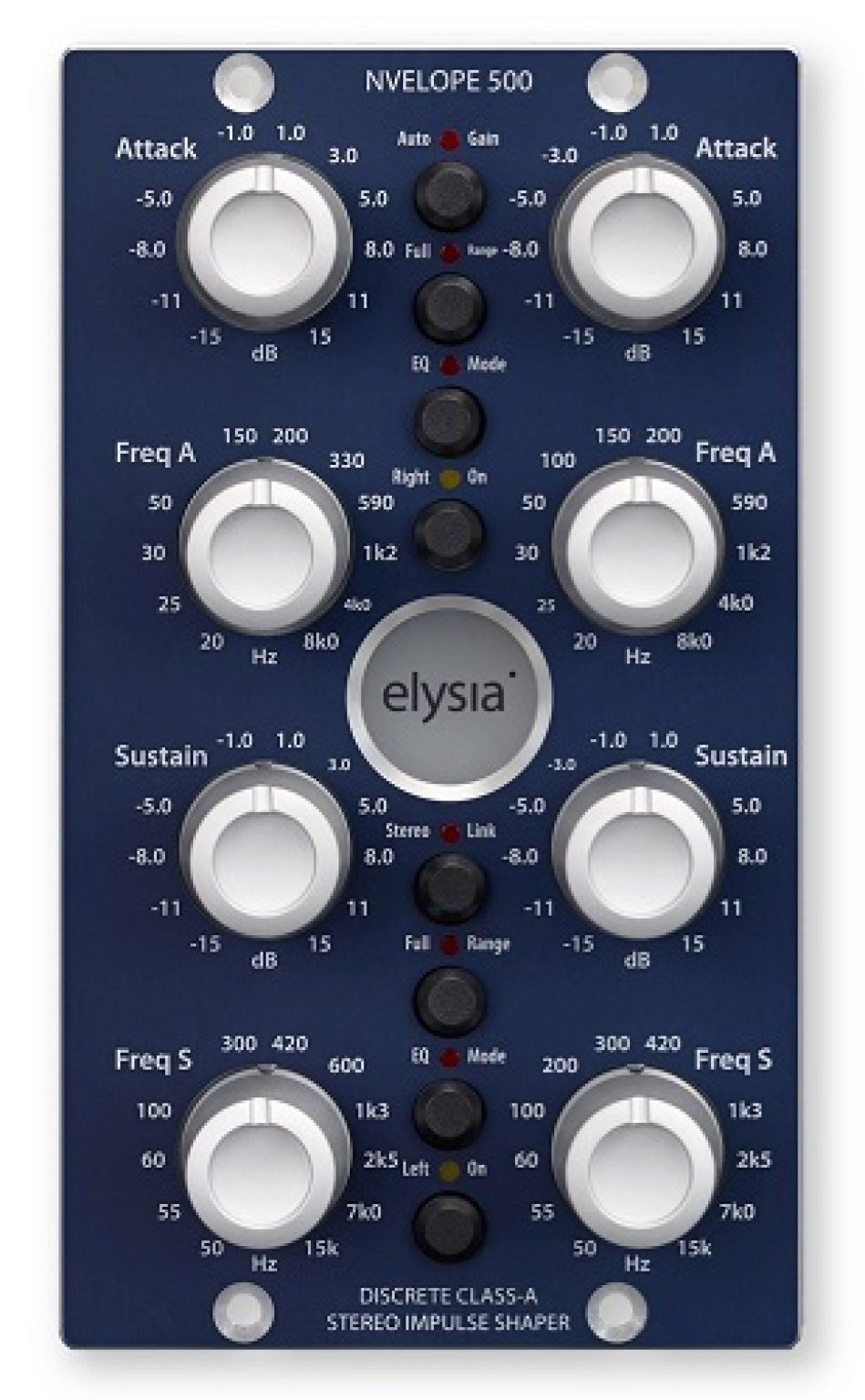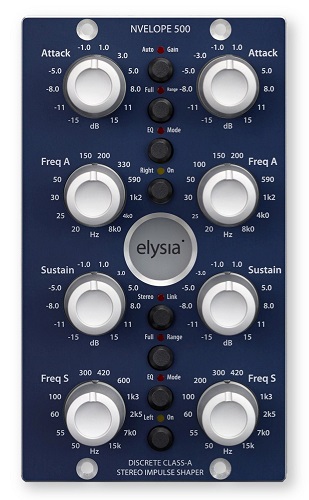 Features
Discrete Class-A topology
Full range mode
Dual band mode
EQ mode
Mixed mode
Dual Mono / Stereo Link
IMAGE
PRODUCT
For US
Customers
For EU
Customer
---
7. Elysia karacter 500
Featuring vibrant colors, the Karacter 500 is an attractive box. As well as mastering-grade saturation, tube-inspired distortion, and glorious destruction, it covers the full spectrum of sound. These elusive and highly desirable styles of tonal coloration are no longer only achieved with racks full of outboard gear.
In addition to the unit's discrete class-A topology, even the most lo-fi sounds should benefit from the character's high-end features. Make your tracks stand out or decimate them all – it's all a matter of character.
The various aspects of the product, such as the sound, the features, the circuitry, the components, the design, the materials, and the manufacturing process, have been thoroughly analyzed until there are no further improvements to be made. In general, every part of these fine products is custom-made, and most are tailored to meet the specifications and designs of each individual customer.
Asymmetrical clipping effects such as the Karacter 500 can provide subtle (or not so subtle) coloration and thickness to your music. In this mode, the characteristic curve is soft and the focus is on irregular harmonics (h3, h5, etc.). Mix controllers can always be used to blend various levels of saturation with your dry path for greater signal integrity.
Ideally, you would take this device for a test drive in order to determine if it provides the sound you desire. We found it to be extremely versatile, easy to operate, sonically satisfying, and a great deal of fun to use.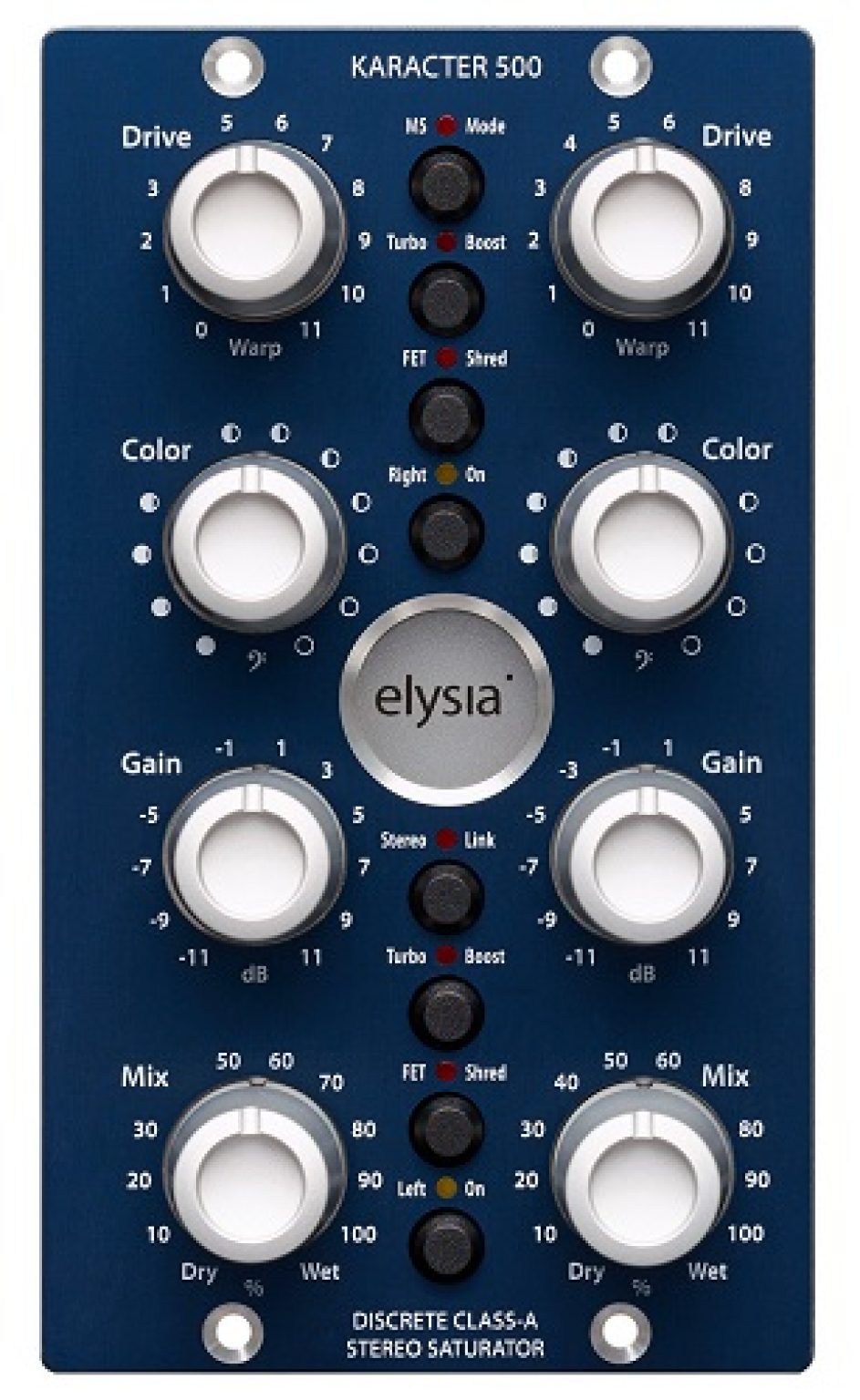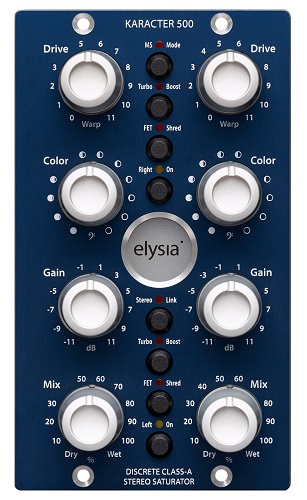 IMAGE
PRODUCT
For US
Customers
For EU
Customer
Amazon
Store
---
Conclusion
Well, we came to the end of the brand review of Elysia. We listed what we thought are some of their bestselling units that guarantee sound quality, no matter if it is a stereo compressor, mastering compressor, or equalizer.
In case you are having any questions about this brand, the units we listed, and the reviews we wrote, please let us know in the comment section below and we will be more than happy to elaborate with you! Also, reach out to Elysia customer care if you have any more in-depth questions or topics that we didn't cover.