Top 9 Mastering Compressors
Introduction
Mastering is the last step before finishing your song. The cherry on top of the cake you baked. This is a process mainly done by a different engineer, but nowadays there are one-man-army style producers and engineers that do it all by themself.
This process requires a completely different skillset and with that – different gear in comparison with your mixing units. And with that being said, when we are in the dynamic range process of mastering, there are the mastering compressors.
Here in this article, we are going to review what we think are the best mastering compressors and we included 9 monsters of compressors for this stage of production. Below you will be able to find some brief details on each one of them.
Also, we are not going to list them from best to worst, since they are all amazing and used in different setups – which one you pick, will need to be your decision at the end, so let's check them out!
1. Manley Variable Mu Stereo Limiter Compressor
The famed Manley Stereo Variable Mu Limiter/Compressor is a favorite of producers and recording engineers – and one listen to what this machine does on your sound will make you a believer, too! Anybody who has heard the traditional Fairchild 670 Series limiters in motion has thought of this Variable Mu's capabilities – however, the sound is even sweeter with the Variable Mu.
It has adjustable attack and release settings that are optimized for mixing and mastering but are versatile for many monitoring situations. Sonically versatile and reliable for daily use, the Variable Mu is Manley's best-selling gadget.
Though Variable Mu is just not a clone, the Fairchild 670 sequence used an identical limiting principle and those that are aware of that piece of gear know this methodology to be very particular. In reality, with "mu" which means gain or amplification factor, the Variable Mu gives the true variable gain, not like most units.
The way it works is that the distinctive 5670 twin triode is at the heart of the peak-reducing and compression action – and it is continuously being re-biased by the vacuum tube rectified side-chain management voltages. This causes the tube to easily change its gain.
The Variable Mu's Compress mode is a soft-knee 1.5:1 ratio whereas the sharper knee Limit mode begins at 4:1 and strikes to an extra dramatic ratio of 20:1 when limiting over 12dB. Apparently, the knee truly softens as more limiting is used. Distortion can be creatively utilized by turning up the Input and turning down the Outputs while using very little or no compression.

Features:
Balanced Inputs and Outputs
Variable Gain vacuum tube (per channel): 5670
Hard-wire Bypass switch
Recovery 5 steps: 0.2s, 0.4s, 0.6s, 4sec, 8sec
Variable Attack: 25msec–70msec
Switch for Limit or Compress modes
Limit (4:1 to 20:1) or Compress (1.5:1)
Stereo Link switch
Front-panel mounted Meter calibration
Large Illuminated Sifam Meters
IMAGE
PRODUCT
Amazon Store
For US
Customers
For EU
Customers

Manley Variable Mu Stereo Limiter Compressor
---
2. Tube-Tech SMC2B
The TUBE-TECH SMC 2B Stereo Multiband Compressor has three unbiased optical stereo compressors. Combining the impact of wide 3-band level management with individual compression of the three bands creates pure magic, particularly on the main mix bus, but in addition to sub-mixes and for mastering purposes.
The SMC2B is likely one of the few audio processors, that may be very hard to bypass, even after a brief listening test, and it will have a tendency to remain inserted forever due to the color and dynamics it could actually add to your source materials. Try it for mastering, and listen to the magic no different compressor can ship! For Live use, the SMC2B is including high quality and musicality to top touring acts.
As an additional bonus function, SMC2B will also be used to resolve/remove annoying frequencies in basses, vocals, and so forth. It will possibly even be arranged as a de-esser. SMC2B can be very efficient when recording very dynamic vocalists without having to spend hours finding out issues after the recording has been completed.
The design of the x-over networks optimizes the summing of all three bands, leading to flat frequency response (within +/-0,25 dB) when the gain controls for every band are set on the same stage. The three compressors feature Threshold, Ratio, Attack, Release, and Gain and a show exhibiting gain reduction. Master ranges are set with Output Gain and Balance controls.

Features:
All-tube opto-compressor-based multiband compression
All-tube opto-compressor-based
3 bands per channel, with variable crossover frequencies
Stereo sidechain
Master output gain (off to +10dB)
Balance control (+/-1,5dB)
LED display shows gain reduction
Conductive plastic potentiometers
Frequency response at -3dB: 5Hz to 60kHz
Low noise: < -60dBu at 10dB gain
IMAGE
PRODUCT
DETAILS
For US
Customers
For EU
Customers

Three Compressor bands per channel
Variable X-over networks between the bands
Adjustable Ratio, Threshold, Attack, Release and Output per band
---
3. Shadow Hills Industries Mastering Compressor
The Shadow Hills Mastering Compressor has extraordinary performance, and in addition, gives mastering grade compression and limiting for monitoring and mixing. Primarily it's two compressors in series, per channel, that may act in stereo or dual mono.
First comes our mastering grade electro-optical compressor, adopted by the discrete Class-A compressor/limiter. Each feeds the switchable customized output transformers, Nickel, Iron, and Steel. There's enough gain in every part to overdrive the most well-liked tape, or clip your converters, in the event you're into that kind of thing.
The input stage is transformer balanced, adopted by a totally discrete optical compressor. This part utilizes the identical T4B optical attenuator as the LA2A and LA3A, however, is optimized for mastering. The second stage is a discrete Class-A VCA compressor unit. There's an insertable filter within the side chain to restrict pumping with bass-heavy materials. Lastly, the signal goes by a new Shadow Hills customized transformer-switching network.
The primary position is Nickel, which is a customized model of a well-known L. A. custom console. Next is the Iron. In this mode the signal goes via an op-amp and right into a Class-A output stage then to customized Iron transformers, the final transformer position is Steel. These picks let you select between completely different output transformers which can be in effect: clear, colored, and dirty in a good way.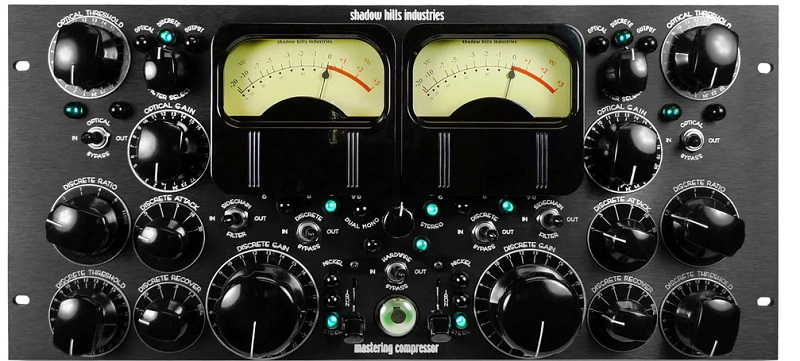 Features:
Dual compression sections for unprecedented dynamic control
Switchable output transformers for sonic variety
Premium signal path throughout
Choose from optical compression, VCA compression, or both in series
Optical section provides smooth, program dependent leveling
Discrete section gives you the fast, precise sound of a classic VCA compressor
Sidechain frequency filter
Three selectable output transformers
Requires Shadow Hills Power Supply
IMAGE
PRODUCT
DETAILS
For US
Customers

Shadow Hills Industries Mastering Compressor

Number of Channels: Stereo, Dual Mono
Ratio:1.2:1 to 20:1
Frequency Response:20Hz-20kHz
---
4. Bettermaker Mastering Compressor
Like all Bettermaker gear, the Mastering Compressor includes a pure analog sign path and full digital recall. An extremely versatile, mastering-grade compressor for recording, mixing, and mastering, the Mastering Compressor could be managed through its onboard 5″ touchscreen and encoders, in addition to its devoted companion plug-in.
It can save all of your settings to the inner memory for immediate recall, and in your DAW project. The unit's USB info control link (which doesn't pass audio) helps you to use the Mastering Compressor simply as you'd use a plug-in, complete with full recall and automation.
Designed for important tracking, mixing, and mastering work, the Bettermaker Mastering Compressor delivers analog audio high quality and operational flexibility that's on par with a number of the most revered compressors available on the market. Add in full digital management through the Bettermaker plug-in, and you've got the best of both worlds.
Bettermaker's strategy seems easy: cherry-pick one of the best classic and modern circuit topologies and mix them in products that supply the sonic integrity of analog with the pace and workflow conveniences of full digital management through the entrance panel and your DAW (with a devoted plug-in). The fact is that not all firms have the design chops to drag it off consistently. Bettermaker does.

Features:
Pure analog signal path
Manual and intelligent release modes
Variable mixing between limiting and clipping; clipping section defeat
2 variable color modules may be used simultaneously
Both color sections may be internally equalized
Touchscreen Metering for control over limiter functions
Input, output and reduction metering; VU: full screen, scaled RMS
LUFS metering
Two points of measurement: Limiter output or plug-in
IMAGE
PRODUCT
DETAILS
For US
Customers
For EU
Customers

Bettermaker Mastering Compressor

Dry / wet mix control
Dimensions (H x W x D): 19 "x 2 U x 220 mm
Weight: 3.9 kg
---
5. Elysia Alpha Compressor
The alpha compressor provides switchable feedback and feed-forward gain-control circuit paths, low- and highpass sidechain filters, parallel processing, stereo and M/S (Mid/Side) modes, channel linking, good transformer-based coloration, a soft-clipper, and audio path filter, and even extra. Billed as a mastering compressor, the alpha can, after all, even be used as a dual-mono or stereo dynamics processor for tracking or mixing purposes.
Among the many alpha compressor's boatloads of eminently useable options, is a built-in M/S matrix that allows you to process mid and side signals, opening up utterly new processing choices. You may as well select between feed-forward or feedback compression for every channel individually.
The alpha compressor's sidechain filter permits you to avoid complicated routings in favor of an efficient workflow. A helpful Signal Matrix lets direct and processed signals be monitored individually or collectively. There's way more we could go on, however, is enough to say that there are such a lot of cool, really helpful options onboard the alpha compressor, that it's going to, definitely, turn into your definitive go-to system for dynamics management.
All of the signal processing is dealt with by single transistors in everlasting Class A mode; even the sidechain and power supply use discrete circuits. All parts are of the very best caliber out there and hand-picked for their sonic excellence. Such attention to high quality and element is a normal working procedure for Elysia; they know the outcomes will likely be optimum signal high quality, even at excessive settings.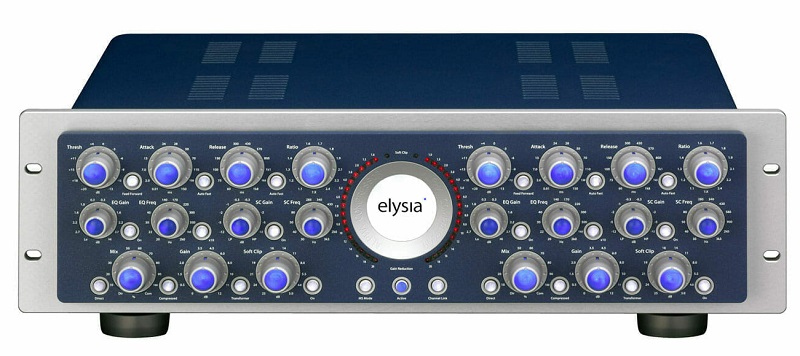 Features:
100% Discrete Class A – all discrete circuitry
Integrated M/S Matrix
Feed-forward and Feedback type of compression
Auto Fast – switchable semi-automation that always provides perfect attack and release
Niveau Filter lets you easily form the tonal characteristics
Parallel Compression
Soft Clip Limiter
Switchable Transformers
Passive Current Attenuator
IMAGE
PRODUCT
DETAILS
For US
Customers
For EU
Customers

Analog dynamic LED display
VOVOX sound conductors
Stepped potentiometers
---
6. Crane Song STC-8 Stereo Compressor/Limiter
The circuitry is all Discrete Class A, with the advantages of second harmonic distortion elements, that are extra-musical than the odd-order harmonics you are inclined to get with Built-in Circuit Op-Amps.
Certainly, the rear of the STC-8 feels hotter than many valve items. There are exterior and inner heatsinks, the latter holding hot discrete transistors. With its meshed top panel, further rack space should be allowed for sufficient airflow above the 2Us that the STC-8 occupies.
The Crane Song is definitely one of the smoothest compressors on the market. You can also make it distorted by utilizing very brief times and winding up the Shape management, nevertheless, it never sounds unpleasant. Though there's a standard Threshold knob, the Shape knob takes the place of the Ratio. Being a soft-knee design, this unit's ratio varies relying on the input stage (and release instances). Shape manages the steepness of the compression curve of the signal.
This is akin to ratio control however is a way more intuitive approach to controlling the depth of compression. The ratio usually reaches only 5:1 with 18dB of gain reduction, and the STC-8 appears to work happily and cleanly with such massive quantities of gain reduction. The Output Gain knobs have a 14dB range of make-up gain. In addition, they have a pleasing stepped motion.
The Crane Song is able to very quick, virtually invisible gain management, in addition to clean gradual compression, which can be remarkably clear.

Features:
Digital & Analog Mastering
System Overload Protection
Broadcast Engineering
Project Studio DAW
Simultaneous Compression/Limiting
Discrete Class A
Balanced/Transformerless I/O
Quick & Easy Presets
Transparent Overload Protection
IMAGE
PRODUCT
DETAILS
For US
Customers
For EU
Customers

Crane Song STC-8 Stereo Compressor/Limiter

Class A audio circuit / no use of VCAs
Soft knee characteristic
Attack modification (A-Mod)
---
7. SPL Iron Red
The SPL Iron Mastering Tube Compressor combines the sonic virtues of legendary classic tube compressors with the benefits of the High Dynamic 120V working voltage in a single unit. It's also excellent for the needs of contemporary mastering studios and units a brand new benchmark when it comes to tube compressor technology, with the modern implementation of a parallel dual-tube circuit.
Due to the specifically conceived Mu-Metal iron transformers, the signal of every channel is broken up across two totally different twin-triode tubes. The mixture of the totally different response curves of both tubes ends in a clear and musically nice compression. Thus, the output signal stays energetic even with an excessive gain reduction. The compression is just noticeable with excessive settings.
The SPL Iron has a real 120-volt working voltage that gives excessive headroom and an ultra-low noise floor. In the event you're fortunate enough to be mastering well-mixed tracks that are not already pumped as much as a full volume, the Iron compressor is strictly the tool you will want to have to make it loud while sustaining dynamics.
You'll be able to choose from 4 sidechain EQ modes to tailor how Iron responds to the control signal. It is excellent for stopping a heavy kick drum or bass within the mix from triggering the compressor too much, for instance. The 4 selectable modes are optimized for various kinds of program material, and you can too connect your individual EQ if you happen to prefer to use that to equalize the control signal.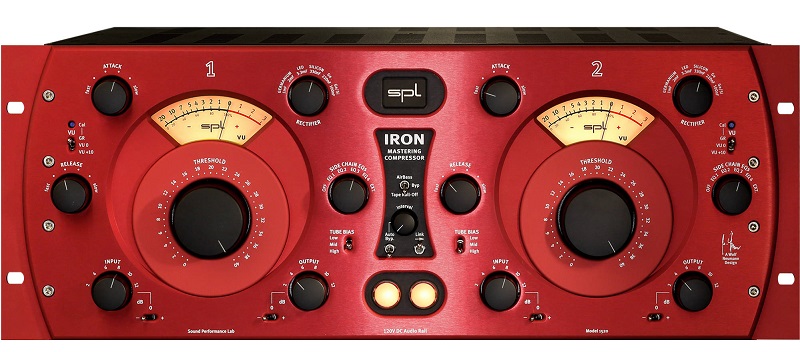 Features:
Twin-tube design
Six rectifier circuits for a wide sonic palette
Excellent sonic range and low noise
Fine-tune the compression response with sidechain EQ
Polish the mix with a sweet passive EQ
All controls are switches or detented knobs for easily repeatable results
High 120-volt operating voltage
Extremely musical, lively sound results
4 built-in sidechain EQ curves
IMAGE
PRODUCT
DETAILS
For US
Customers
For EU
Customers

Variable bias tube compressor
Parallel dual tube circuit
Selection and pairing of the tubes carried out with the Weigl RoeTest
---
8. Neve 33609 Limiter/Compressor
Right here's the Neve 33609, a classic compressor that's been used on numerous great records since the early 70s. It sounds very clean and it stays comparatively clear even when pushed hard. This unit has a compressor part and a limiter part, which makes it excellent for mastering and broadcasting as well. It has stepped controls that permit the person to recall settings when switching between totally different projects. This precision is also invaluable for crucial functions similar to mastering.
This compressor can also be well-known for gluing mixes together, making them sound fuller and richer. Not only is it clear when you want it to be, but it could additionally deal with very advanced materials where different compressors struggle, like pianos and strings. The preset attack time is simply excellent and the machine is definitely able to make something sound better. The build quality is outstanding, as you'd count on from a vastly revered company such as AMS-Neve.
The 33609 features unbiased sidechains for the compressor and limiter sections, with equally unbiased threshold, recovery, and attack controls. The compressor encompasses a choice of ratios from 1.5:1 to 6:1 and a gain make-up management that comes before the limiter. Overall gain discount is indicated on a shifting coil meter.
Very similar to the classic 1073 and 1081 microphone preamplifiers, the 33609 Stereo Compressor is commonly cited as a "desert island" compressor – one which a healthy sampling of the world's prime engineers and producers would pick above all others.

Features:
Meticulously designed according to exacting 1970s specifications
Discrete Class-A design provides distortion performance
Made with handwired Neve transformers
Independently selectable limiter and compressor
Brickwall-style limiter with variable recovery times
Fast and slow attack options
Pre-limiter gain makeup control
Versatile compressor with 5 ratio settings
IMAGE
PRODUCT
DETAILS
For US
Customers
For EU
Customers

Neve 33609 Limiter/Compressor

Hand-wired Neve transformers
Classic 2254 feedback compression
Brick wall limiting
---
9. WesAudio ngBusComp
The build quality is flawless, inside and outside. A black, 3U chassis is adorned with a substantial, brushed‑finish, metallic panel that has many controls, all a pleasing dimension and are generously spaced. The encoders' knurled knobs have simply enough stiffness to supply helpful tactile feedback and several are contact‑sensitive, their LED indicator rings turning brighter the moment you lay fingers on them.
Every channel's management panel has eight rotary encoders and three buttons. The Threshold knob does what you'd count on, and on the opposite side of the meter part sits a post-makeup-gain wet/dry mix management. The in/out meter LEDs present increments of 2 or 4 dB, relying on the extent, and the coil meter can point out a gain reduction of up to 20dB. Beneath the meter, two buttons increment the Ratio between 5 settings, each with standing LED: 1.5, 2, 4, 10, and INF:1, the final being hard limiting.
A side‑chain filter might be set to Off, 60, 90, or 150 Hz, or T1 or T2, the last two combining tilt EQs with high‑pass filters. That's loads of scope for fantastic‑tuning the compressor's response, but should you want extra, the final position engages the exterior side chain.
The ngBusComp's stand‑out function is that it may be managed by a plug‑in: it can save you and recall settings along with your initiatives and even use automation. And the execution is great, it's simply the very best, slickest integration of plug‑in and analog hardware that's out there Whether or not you control the plug‑in from a mouse, or touchscreen or use automation, it simply will get on with the job with a minimum of fuss.

Features:
100% analog device with +24dBu of headroom
Full digital control, automation, and recall via companion plug-in
Relative stereo channel linking
Mid-side operation allows for different side and mid settings
Selectable output stages: normal (electronically balanced), IRON (Carnhill transformer balanced)
Detailed metering for both channels
Per-channel external side chain filter access via TRS rear connector
A/B/C compare feature
IMAGE
PRODUCT
DETAILS
For US
Customers
For EU
Customers

Stereo / dual mono can be used
Headroom + 26dBu
Quad VCA THAT 2181
M / S mode switchable
---
Conclusion
Even though we are not experts in the mastering process, we know a little bit, just enough to make this suggestion. If you check various mastering studios, probably you will be able to find any of these units that we mentioned above – and for a good reason – they are the ultimate choice when it comes to applying compression in the mastering phase.
In case you are having any questions in regards to our topic, please let us know in the comment section below and we will be more than happy to answer you!
If you want to check our selection of mastering equalizers, you can do it here!