What is FET Compressor
Introduction
Welcome everyone! If you are here, you probably want to learn more about this type of compressor – the FET one. We already know that there are 4 basic types of compressors: Variable Mu compressor, VCA compressor, Optical or Opto compressor, and the king of this article, the FET compressor.
So now, what kind of compression does the FET compressor produce? Compressors with Field Effect Transistor (FET) technology emulate a tube-style compression, which adds warmth to audio. As fast and efficient compressors that clamp down on transients hard, FET compressors work well for drums, bass, guitar, vocals, and all other sounds that require aggression and punch.
Additionally, FET compressors are ideal for parallel compression, in which a duplicate vocal is heavily compressed before being mixed back into the original. A FET compressor can also be extremely useful when color is required for a sound.
A FET compressor may be useful for dealing with any situation that requires a certain amount of aggression. A FET compressor, for example, can enhance the warmth and aggression of heavy rock guitars in order to make them sound even more prominent.
If you require a bass with a little aggressive edge, this can be extremely effective. It is generally accepted that FET compressors will give your sound a greater punch.
It all begins with the application of the audio signal to the source terminal of the FET. In the next step of the audio chain, this signal is transferred to the drain terminal via the FET's body. FETs, on the other hand, flow current intermittently, which is determined by the voltage applied to their gate terminals.
If the gate terminal is connected to a low voltage, the FET has a high resistance, which restricts the flow of current through the device. FETs act as voltage dividers, reducing the level of the audio signal as a result.
This is more of a technical explanation if you are interested in that part of the compressor. In our opinion, it is most important to know where to apply this type of compression in order to treat the signal with the right tool and get the best possible outcome.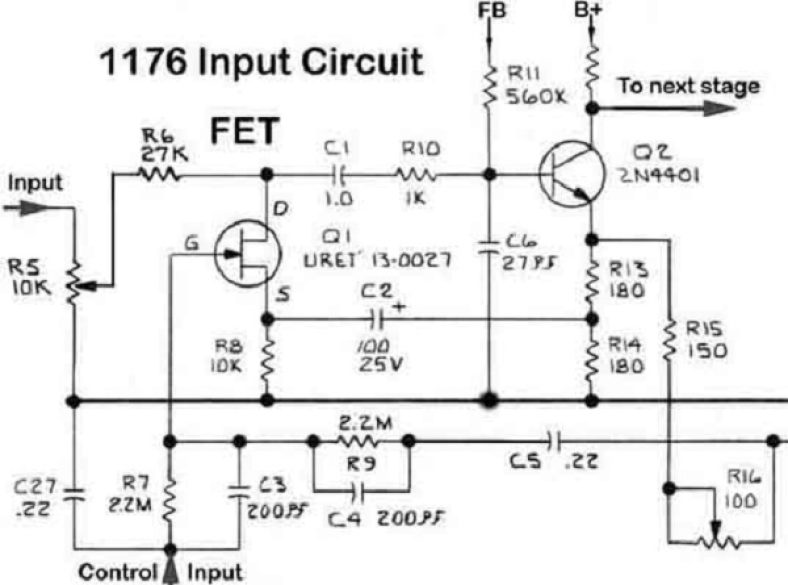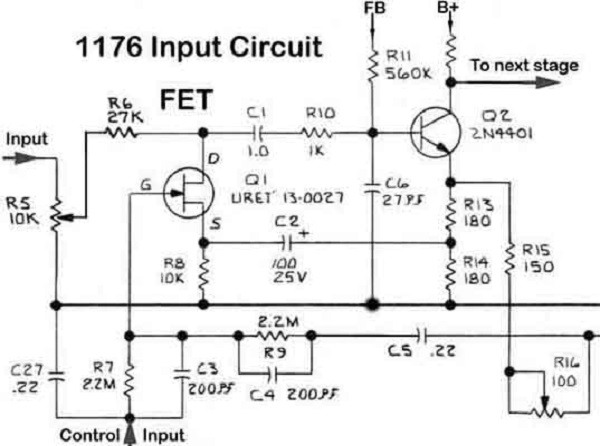 Below we will list some of the usages of FET compression when we are mixing and some basic starting points for the signals we had at hand. Just to let you know that we are using the CLA-76 plugin by Waves and we were using these settings for the signals we worked on. They might work for you as well, but you need to try several settings to suit your needs.
For vocals, you can choose whether the plugin hums at 50Hz (UK mains) or 60Hz (US mains) using the Analog buttons. We do not use it. Because FET compressors are known for their aggressive nature, we set our attack to 5 and check for onset clicks before using them. In order to achieve the fastest release, we set our release to 1.
On CLA-76, the attack and release settings are arranged in reverse order, with 1 representing the slowest action and 7 representing the fastest action. We have finalized the ratio by setting it to 12. In spite of the temptation to hit the All button to emulate the hardware trick of pushing all the buttons together to create a nuke effect, we restrain ourselves as it is not appropriate for the task at hand. With a consistent character, the vocal is now full and rich.
In guitar, some of the spiky transients are reduced and the sustain is increased so that it lasts until the next chord change. Set the input level at -3dB to feed more signal and the ratio at 20:1. Using a ratio of 20:1, we obtain a threshold value of -12dBFS. The attack of the guitar strum is reduced to 3, maintaining crispness but reducing spikes
In terms of compressing a piano, FET compression is great for lo-fi, classical, and jazz piano settings. Approximately 4:1 is the ratio. Make sure that the attack of the FET compressor is set to 6. The fastest release time can be achieved by setting the release time to 7 on the dial or 50 milliseconds. The hum has been set at 60 Hz, which is the frequency of the original hardware units.
As a result of FET compression, the notes ring out longer and are subject to subtle distortion. When you pay attention to the bass notes, you will be able to detect the analog character. A FET is best suited for such applications because of its ultra-fast attack time. In this case, the input gain is set to -12 dB. Alternatively, if the compression appears too colorful, you may choose to be more modest.
---
Well, we believe that we provided some basic input on the FET type of compression and that you have enough insights to decide if you need this compressor for your mixing or not. If you do (and we believe that you will need it) below we will list some hardware models that you can go for, as well as some VST plugin variations that you can use for mixing in the box. So let's dig into our brief reviews
Top 5 Best FET Compressor Choices!
Universal Audio 1176LN Classic Limiting Amplifier
As a result of their enormous popularity, even today they remain a reference in terms of function, form, and sound, to which players and instrument makers alike return time and time again. The 1176LN is one unit that every audio engineer recognizes and praises for everything that it is – a beast in terms of FET compression!
First of all, there is a fixed threshold for the compressor. In other words, the input level is determined by the input potentiometer, and correspondingly, how far the signal exceeds the control loop response threshold. Increasing the volume results in more coming out at the back, lessening the level reduction as you increase the volume. In this case, the output potentiometer determines the level of the output.
It is possible to fine-tune the compression using the attack and release potentiometers (which, as we all know, run "the wrong way", with the shortest times at the right stops) and four switches for 4: 1, 8: 1, 12: 2 and 20: 1.
A handbuilt, faithful reproduction of Bill Putnam Sr.'s original visionary design, Universal Audio's 1176LN Classic Limiting Amplifier was a key contributor to records by such luminaries as Led Zeppelin, The Rolling Stones, and Michael Jackson.


Features
Height: 3.5″
Depth: 12.25″
Width: 19″
Weight: 11 lbs.
Universal Audio 1176LN
There is not much to say about this compressor, except that is studio standard and can be found in many world-renowned studios. The compression is really good and adds great character to the sound. Those who used it will know that this is a true gem of a unit.
Positives
Legendary Status
All Buttons Mode
Amazing Build Quality
IMAGE
PRODUCT
For US
Customers
Amazon
Store

Universal Audio 1176LN Classic Limiting Amplifier
---
Serpent Splice MkII FET Compressor
Serpent Audio Splice MkII offers four-in-one compressor functionality with customizable audio path circuitry. Input and output modes, Blackface and Blue Stripe provide a wide range of tonal options. Its ALL-in mode is similar to that of the original FET limiters from which it takes its inspiration.
Even so, the Splice MkII is much more than a simple 1176 clone and boasts a number of valuable features that set it apart from the competition. Firstly, there is a front-panel switch allowing external insert points for send and return. For parallel compression, there is also a Mix/Blend control with a switchable bypass. Additionally, there is a switchable 600R output load and active side-chain filters. As a result, the Splice may be used with modern or vintage equipment.
Additionally, the Link function has another trick up its sleeve, namely that it raises the compressor threshold by 6 dB in mono mode, allowing you to drive the input transformer to higher saturation levels prior to triggering compression. A rock vocal, for example, can benefit greatly from this sonic enhancement.
The Serpent Audio Splice II should be high on your list of auditions if you are in need of a high-performance FET compressor.


Features
Side Chain Inserts: Yes
Other I/O: 2 x 1/4″ (in/out stereo link)
Rack Spaces: 2U
Power Source: Standard IEC AC cable
Serpent Splice MkII FET Compressor
In addition to its vintage-inspired sound, the Serpent Splice MkII FET Compressor has modern features. Featuring a solid-state design, the Splice MkII offers controls for threshold, ratio, attack, release, and makeup gain. To deliver a classic FET compression sound, it utilizes high-quality components and discrete FET circuitry. We didn't use it, but heard recordings that were processed with it and the outcome is great!
Positives
Vintage Inspired Sound
Musical Compression
Great Build Quality
IMAGE
PRODUCT
For US
Customers

Serpent Splice MkII FET Compressor
---
Drawmer 1973 Multiband FET Stereo Compressor
It is comprised of a set of crossover filters that separate the audio signal into three different frequency bands. Following the split, each signal passes through an independent compressor, which is then adjusted independently, followed by recombining and adjusting the final mix and levels. The advantage of this method is that it does not affect the other bands in any way when one band is compressed.
This feature, along with others, allows 1973 to perform feats that a single-band compressor would not be able to achieve. By using this technique, for example, an acoustic guitar, cello, or double bass will not sound boomy on low notes without thinning out the highs.
For example, if you record a vocal track that sounds too shrill, 1973 enables you to easily alter the timbre without sacrificing detail. In order to enhance the thickness and richness of the voice, heavier compression can be applied in the bass band. The mid-band controls the degree of raspiness. Lastly, compression in the high band may give a bland voice a bit more sizzle and definition. Additionally, sibilance can be easily controlled.
The ability to manage each band independently during mastering can resolve problem mixes by pulling out individual instruments, brightening the brilliance and air of the mix, and making the bottom end sound massive, while at the same time avoiding "pumping" or "breathing" artifacts and increasing headroom.


Features
VU meter
Format: 19″/ 2 U
Dimensions (W x H x D): 482 x 132 x 315 mm
Weight with packaging: 9.7 kg
Drawmer 1973
Designed for precise control of different frequencies, the Drawmer 1973 Multiband FET Stereo Compressor is a unique FET compressor. 1973 offers three compression bands (low, mid, and high) with controls for threshold, ratio, attack, release, and makeup gain. Compression is transparent and dynamic thanks to discrete FET circuitry. Used it in a friend's studio and we were blown away by its performance
Positives
Multiband Capabilities
Transparent Audio Quality
Versatile Features
Negatives
Might be complex for some users
IMAGE
PRODUCT
For US
Customers
For EU
Customers

Drawmer 1973 Multiband FET Stereo Compressor
---
Chandler Limited Germanium Compressor
In addition to utilizing the same all-class A amplifier found in the Germanium Pre and Tone Control, the Germanium Comp is transformer balanced both in and out. FET gain reductions are used in the compression circuit but with all the tricks and flexibility of Germnium units.
Besides the wet/dry mix for "submixing" tracks within the comp, there is also the Comp Curve, which selects the knee through various diode combinations, a clean/dirty comp, and a sidechain filter. There are many parameters in the Germanium Comp that were purposely set by listening to studio recordings rather than overanalyzing them with test equipment.
Despite its vintage appearance, the Germanium feels solid and well-made, which is exactly what it is. There is an immediate impression of a very warm, valve-like sound with an emphasis on the bottom end of the audio spectrum. The sound is slightly thickened and compressed.
Feedback control on the Chandler Limited Germanium Compressor affects the amount of signal fed back to the amplifier input from the amplifier output. Additionally, this knob functions as a volume control, as well as affecting the tone of the unit. Turning the knob to the left results in a lower level of volume and harmonic distortion, along with a higher level of high frequencies.
When the volume is set to the right, more harmonic distortion occurs, and a low-end peak of approximately 30 Hz is produced. If you are continually searching for unique and better sounds, the Germanium Compressor's Feedback control will prove to be your secret weapon.
We believe that the Germanium Compressor is likely to be the first in its own genre of compressors due to its simplicity and effectiveness, and this will immediately increase any engineer's skill level in compression.


Features
Outputs: 1 x XLR
Rack Spaces: 1U
Height: 1.75″
Width: 19″
Chandler Limited Germanium Compressor
A boutique FET compressor, the Chandler Limited Germanium Compressor provides vintage-style compression with a unique tone. Germanium transistors power the solid-state Germanium Compressor, which includes threshold, ratio, attack, release, and makeup gain controls. Vintage-style FET circuitry and high-quality components are incorporated. Tried it in a store, and was satisfied with it, but only tried it for such purposes to give you insights, since I wasn't in need of another hardware compressor.
Positives
Vintage Sound
Legendary Developer
Harmonically Rich
IMAGE
PRODUCT
For US
Customers
Amazon
Store

Chandler Limited Germanium Compressor
---
Fredenstein V.A.S. Desktop FET Compressor
There is a single-channel FET compressor from Fredenstein that includes a side-chain input, a mixing device for wet/dry signal processing, and a high-performance op-amp called OPA-2.
Designed as a versatile compressor for tracking and mixing, the Fredenstein V.A.S offers a variety of controls to let you customize the sound to meet your needs. Additionally, it offers a side-chain insert point with a switchable filter to fine-tune the signal that triggers the compressor, as well as a stereo link function when used in conjunction with another unit.
In addition to its own OPA2 op-amp and steel core output transformer, the V.A.S. delivers an extremely low noise level and a rich and musical sound. A different op-amp can also be substituted for the OPA2 in order to achieve a different tonality (such as the iconic API 2520).
The V.A.S., like other Fredenstein devices, offers impressive performance at a surprisingly low price point as a result of its clever FET architecture, which provides improved linearity and noise performance.
In addition, the compressor is a very versatile piece of equipment that can be used for a wide range of tasks from light tracking to full-on compression mayhem with a ratio ranging from 2:1 to 20:1. As for attack and release times, they range from 0.5 ms to 50 ms and 70 ms to 2.5 ms, respectively.


Features
Integrated power supply
Power switch on the rear side
Desktop format
Design: 9.5″/ 1U
Fredenstein V.A.S.
To be honest, we only heard recordings passed through this compressor, but the sound was really okay. For professional audio applications, Fredenstein V.A.S. Desktop FET Compressor is the ideal choice. If you are looking for a desktop compressor, this might be the one.
Positives
Transparent and Precise
Versatile Features
Great Build Quality
Negatives
Not famous that's why cannot be found in many studios
IMAGE
PRODUCT
For US
Customers
For EU
Customers

Fredenstein V.A.S. Desktop FET Compressor
---
Now let's look into some FET Compressor plugins that you can choose for your DAW implementation.
Waves CLA-76
Both versions of the CLA-76 ("Blacky" and "Bluey") are inspired by two iconic mid-60s Class A amplifiers that feature classic superfast attack times (up to 50 microseconds) that made them legendary. An exclusive "ALL" control replicates the original's explosive "All-Ratio-Buttons-In" mode, and the CLA-76 also features modeled pre-amp distortion, which adds an extra edge to the drum sounds.


---
Softube FET Compressor
Despite its aggressiveness and tendency to add some tasty distortion to the source when driven hard, the FET Compressor is an amazingly faithful model of the device loved for its aggressiveness. There is nothing like slamming and abusing this compressor. Nevertheless, there is often room for improvement, so it has a couple of nice features that make the software even more flexible than the original hardware.


---
Lindell Audio 7X 500
Essentially, the 7X 500 serves as a compressor and limiter in a single channel. The FET (field effect transistor) design incorporates a series of new features including a 'High Pass Sidechain Filter' and a 'Mix Knob' that allows for the mixing of both dry and wet signals (parallel compression). A rendition of the classic "1176 Sound" is presented in the 7X-500. In the case of a 100:1 ratio (all in), it may be smooth or it may be a rock'n'roll monster.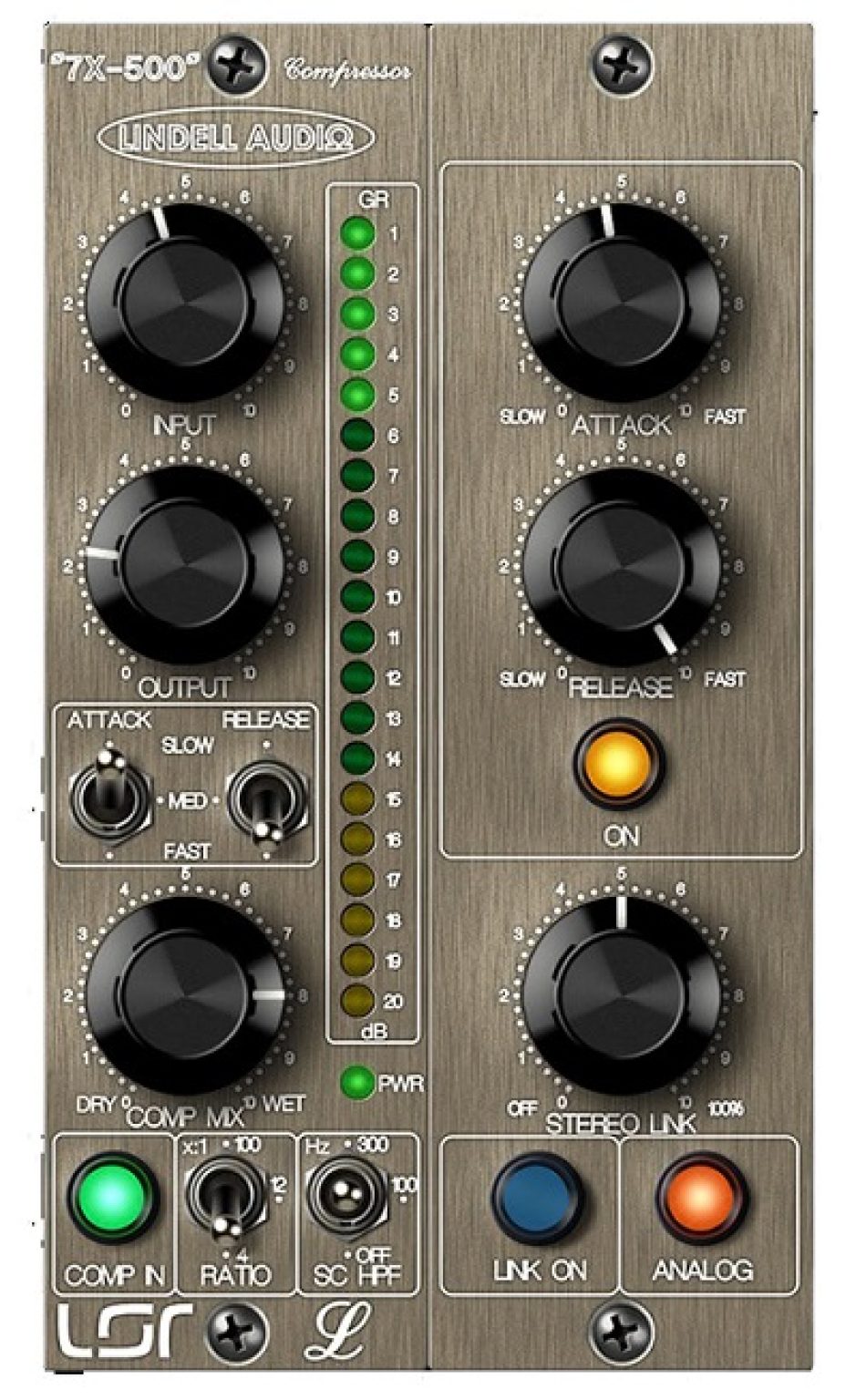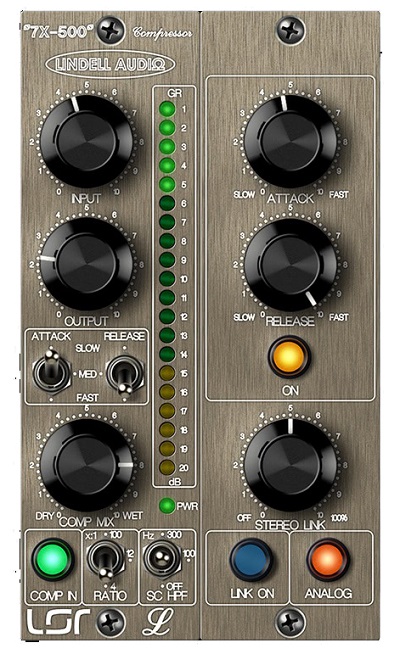 ---
Conclusion
There is a degree of similarity between the plugin emulators and the real units, but there is a lack of musicality in the harmonic distortion of the real units. It is possible to push the hardware units much harder than the emulations produced by plugins, resulting in better artifacts at the same settings.
It should be noted, however, that given the price difference, a good FET plugin should satisfy the needs of most users. FET compressors are more suitable for adding character, grit, and color to isolated instruments such as acoustic guitars, rock vocals, or snares.
So we explained a lot about those audio compressors, how their gain reduction works, and how they control signal level and process the dynamic range. The compressed signal will give different outcomes when you compare for ex. a VCA compression and a FET one, but that is it when you work with different audio signals.
In case you are having any questions in regards to this topic, please let us know in the comment section below and we will be more than happy to answer you and discuss it further.