Best Compressor Plugins
Introduction
It is imperative that you have compression in your arsenal of VST plugins. In music production, it is commonly transparent compression is used for leveling vocal performances, thickening drums, improving guitar tone, making bass sound tighter, and adding considerable impact.
To make life easier for you, we compiled a list of the 18 best compressor plugins available in 2023, so you do not have to perform a search on the internet in search of them.
Finding and selecting the best compressor VSTs in 2023 can be a challenging task due to the wide variety of compressors available on the market, each with its own pros and cons. Hopefully, you will have a better understanding of which compressor is suitable for your needs at the end of this article.
What are Digital Compressor Plugins?
If you are a complete beginner and you ended up on this article, this is what we are going to say to you to make this easier. Compressor plugins are software programs that are emulating or performing as compressor hardware in order to adjust the dynamic range on any signal you are having at hand.
This is a process, as mentioned, that will level any performance and make it more consistent, meaning that there will be no sudden dips or boosts in the volume of the audio signals. So the digital compressors will help you with this process from your DAW (program in your computer).
So now that even a beginner has a clue about what we are going to talk about in this article, let's dive into the list of compression plugins that you can select from. There will be some free compressor plugins, and some paid and premium ones – all in all, big choices ahead, so stay tuned.
We just want to point out that this list will be randomized and we will not list these plugins in any order – have that in mind.
Best Premium Compressor Plugins
1. Waves RComp
Although this plug-in has the appearance of a venerable VST "classic," its architecture is complex enough to compete with any compressor on the market today. In our opinion, the Renaissance Compressor (RComp) is one of the best compressors on the market due to its outstanding interface. We are frequently asked what a good compressor to learn on, and we would have to place this one at the top.
This product is fantastic because it uses vertical sliders to control levels, so it's easier to feel like you're compressing the audio when you pull down on the threshold slider, and the input VU meter is easy to see, so you can target your peaks visually.
With the responsive VU meters for gain reduction and output gain, it is very easy to adjust your input level manually (automated gain compensation is not available, but that's fine, it can be a crutch). There are certainly better and more versatile compressor units, however, there is no compressor that is as versatile, trustworthy, and straightforward as this one.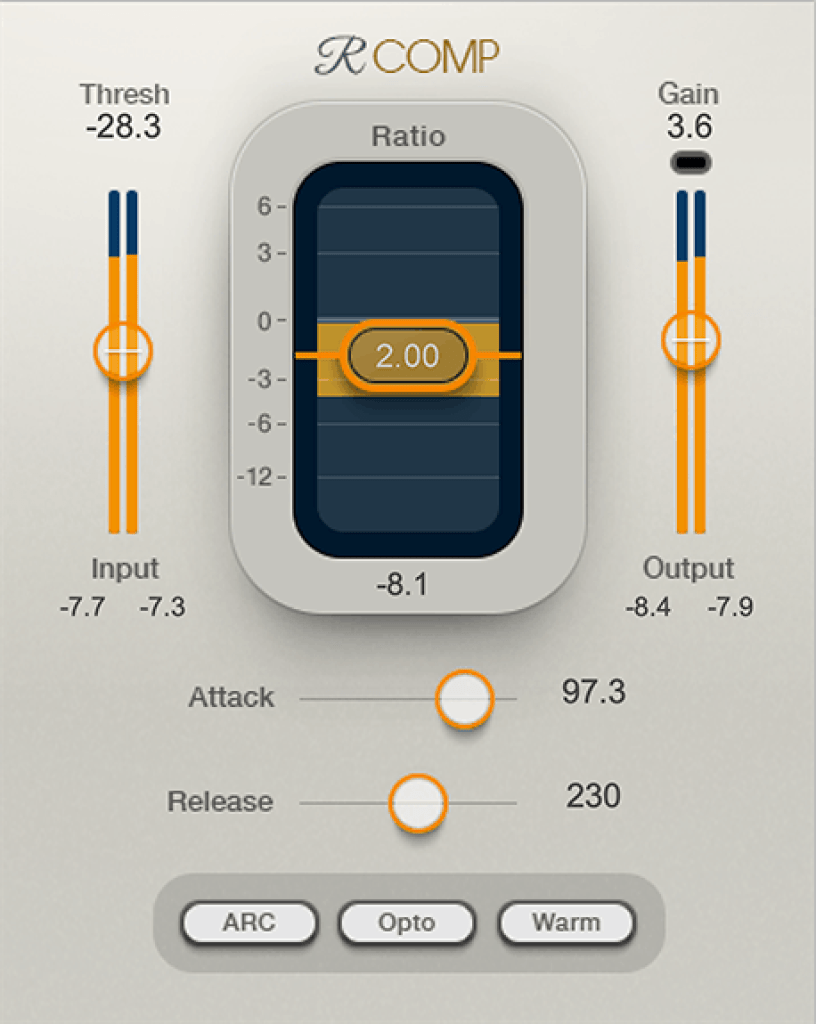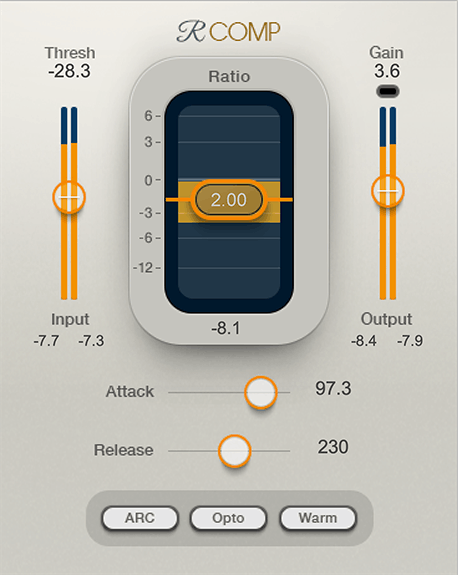 ---
2. FabFilter Pro-C2 Compressor
There is no doubt that the Fabfilter Pro-C 2 compressor plugin, with all its new bells and whistles, is capable of handling anything you can throw at it (and anything you can throw at it). In this regard, we tested it in an acoustic mix, which is naturally characterized by a cleaner sound. Our first impression was that there were two large graphs depicting how the knee and audio were being processed in real time.
It is natural for us to rely on our ears, so these flashy displays were very distracting. The compression can be customized in a number of ways, especially with regard to the side chain. Although the interface is intimidating, the help hints pop-ups provide detailed information about each option.
Despite the fact that the hints require some knowledge, this is not a plugin that is intended for beginners. Once you have determined the parameters, you will be able to turn off the helpful hints. It does not matter what you need, the FabFilter Pro-C 2 has a way to meet it. In fact, it is capable of transforming audio in so many ways that your imagination and skill are the only limitations.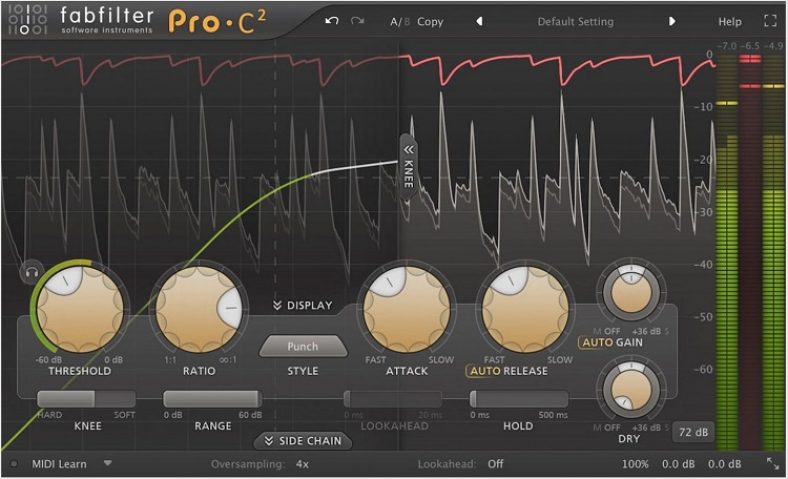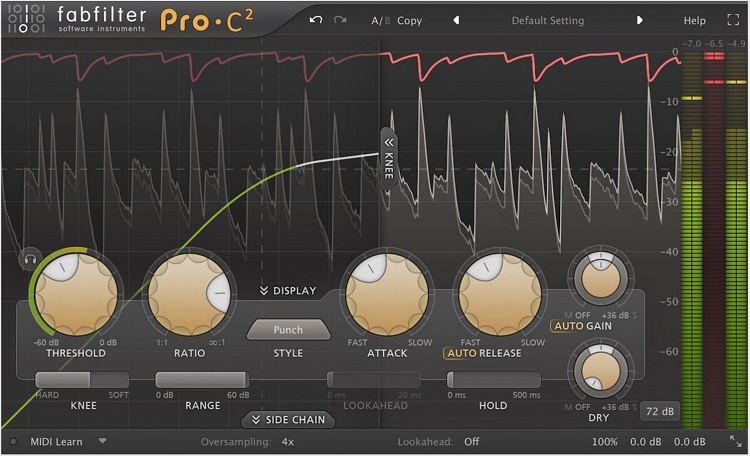 ---
3. FET Compressor Softube
The plug-in, simply called FET Compressor, by Softtube claims to be an "emulation of the most famous solid state compressor", which we assume to be the ubiquitous Urei/Universal Audio 1176. While their website doesn't confirm this, the ratio dial's 'all' setting and attack and release knob's 'back to front' setting (with the fastest setting fully clockwise) is enough to confirm our suspicions.
With the compressor's detector circuit controlled by four knobs, high-pass filters, and low-pass filters can be applied to the side chain, and an external side chain can be mixed with the main signal.
The detector circuit can also be set to apply a lookahead of up to 1 ms. By setting a separate knob for wet/dry mix, it is possible to utilize parallel compression techniques without having to spend time routing data between the host DAW and the detector circuit. Truly a great plugin that many should have in their weapon drawer.


---
4. Empirical Labs Mike-E Comp
This high-quality saturation/compression effect is based on the famous ELI Distressor, precisely modeled by Empirical Labs and Dave Derr. A core component of Mike-E is its class-leading CompSat system. One of the most revered contemporary compressors is the legendary ELI Distressor, which serves as the basis for the compressor.
Aside from its large control range, innovative feature set, and extended attack time, Mike-E makes use of a custom-designed gain control circuit in order to deliver a warm, toasty analog sound. With its multistage soft-clipping circuit saturator, you will never be subjected to harsh sounds. A multistage circuit called Emphasis enhances the tone by emphasizing the high frequencies before the CompSat circuit and cutting the low frequencies afterward.
By using Mike-E, you can create a wide variety of sounds on a wide variety of sound sources, and all of them sound analog and musical. Mike-E is unique and highly effective because of those magical elements.


---
5. Arturia Tube STA
As an all-American workhorse of early broadcasting and recording studios, the Arturia TUBE-STA captures the spirit and sound of the iconic valve-driven compressor. Your DAW now has access to a piece of history through simple controls, dynamic performance, and a stunning vintage tone.
Known for its intimacy, air, and subtle saturation, the original STA-Level was a boutique signal processor with a golden touch. In order to determine how the magic was created in the 1950s, Arturia's audio engineers and developers painstakingly analyzed a 1950s original.
The V Collection compressor has been reborn as a software plugin using the same modeling technology behind the award-winning synth collection. All major digital audio workstations are compatible with this iconic studio gear, allowing you to enjoy the harmonic push, subtle overtones, and tone-shaping power it offers.


---
6. Waves CLA-3A
With its short response time and subtle harmonic distortion, the CLA-3A recreates the sound of the original solid-state unit from the 1970s. As with the original, the CLA-3A works great for bass, guitar, and vocals. Your system will be able to handle as many instances as you want, unlike the original.
It's obvious that the CLA-3A doesn't offer a variable attack and release time, and although its attack time is decent at 1.5ms, it doesn't match the other compressors' variable attack and release settings. This tool is perfect for vocals and instruments such as electric guitars because it offers a transparent operation. It has always been drums that have been our favorite application for this kind of compressor.
In addition to its great sound, it has a very convenient attack and release time, which gives you a nice emphasized slap as well as a nice mid-range thud. Amazing compressor indeed.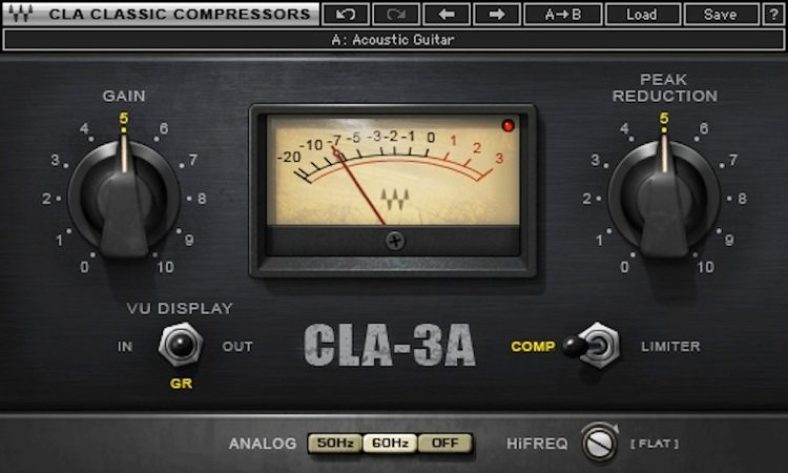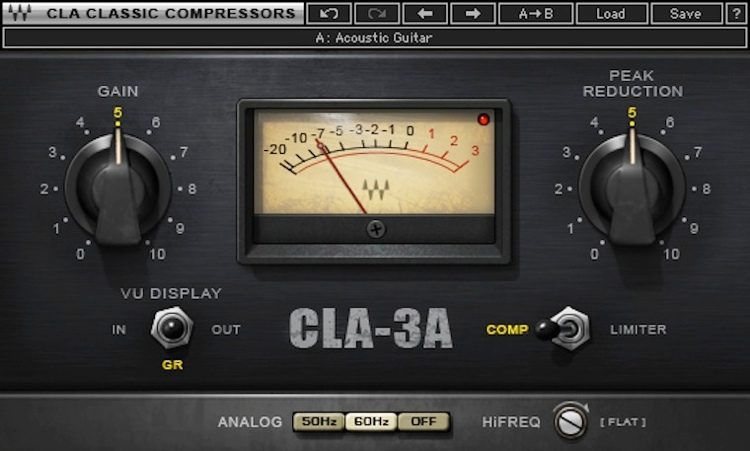 ---
7. UAD 1176 Compressor Plugin
Authenticity does not get any better than this collection of three of the most renowned 1176 designs of all time, meticulously reproduced. Currently, there are three different variations available, namely Rev. A, Rev. E, and Rev. AE. Therefore, you will be able to access classic models such as Blackface, Blue Stripe, and LN in the bundle.
In the case of all the top 1176 emulators, every element of the analog circuitry has been faithfully recreated in the digital realm. A number of factors contribute to harmonic distortion, including transistors. The attack times range between 20 milliseconds and 800 milliseconds. In addition to featuring the legendary "All Buttons In" mode, each model also offers the "No Ratio" mode, which adds pleasing analog distortion without adding any compression.
Additionally, you will find presets designed by renowned mix engineers that will assist you in getting a sense of how their settings work quickly. Additionally, the plugins are now available in native format, which does not require the ownership of a UAD audio interface.


---
8. Drawmer 1973 Multiband Compressor
In contrast to some of Softube's other analog-modeled products, "Drawmer 1973" is not actually based on vintage hardware. Despite this, the "1973" utilizes a FET design, which immediately places it in the category of classic, vintage-like sounds. In the years since it was released, the "1973" has quickly gained recognition as an excellent multi-band stereo compressor of mastering quality that is derived from its valve-powered predecessor, the "S3".
The price point of this product is more affordable, which is a positive. The reason for this is that Ivor Drawmer has used a completely new gain-cell design on this compressor that is not found in any of his previous models. The "Drawmer 1973" compression tool from Softube has quickly become one of our favorite tools for compressing content.
Once you have mastered working with a multi-band mastering compressor, this plug-in is quick and easy to use. It has become clear to us that 1973 imparts a highly convincing analog-like feel to any digital audio source without introducing aliasing or obvious saturation.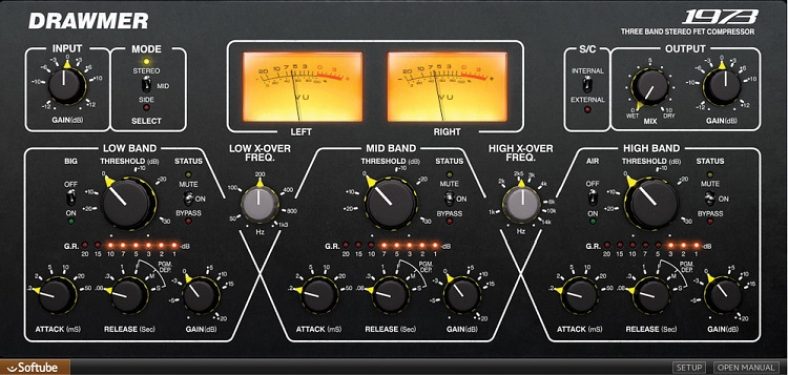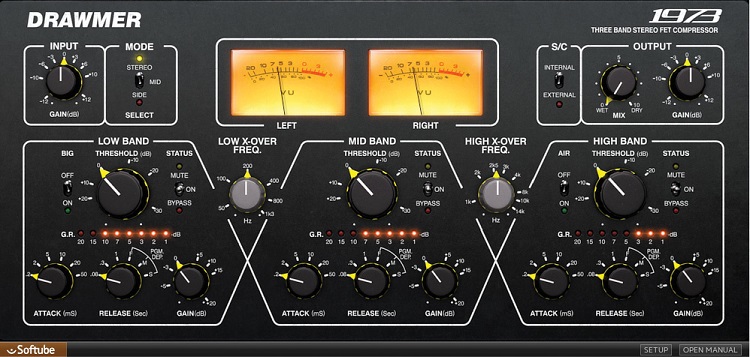 ---
9. UAD LA2A Compressor Plugin
A tube-driven optical attenuator was used to reduce gain in the LA-2A, making it the first compressor to utilize such a device. T4 optical attenuators are completely program dependent, allowing them to compress at different ratios and release at different times depending on the source material.
As Universal Audio released its revised 1176 Classic Limiter plug-in collection, we anticipated the company would explore some of its other vintage compressor plug-ins. In contrast, the Teletronix LA-2A plug-in, which entered its second generation recently, is the latest "analog classic."
In light of the fact that the original plug-ins are over ten years old and that plug-in authors have substantially more CPU resources now than in the past, this is undoubtedly a timely step.


---
10. FabFilter ProMB
In addition to being compatible with all major formats, the Pro-MB supports the very latest 64-bit systems as well. It works as far back as Windows XP and OS X 10.5. Pro-MB has a gorgeous interface, with a slick and translucent appearance. As sections appear and disappear automatically, help tips explain what everything does.
You can view the spectral display in order to know exactly what is occurring and how much compression or expansion is being applied at what frequencies. There does not seem to be a significant impact on the CPU, and the graphics are GPU-based, so they will not divert any CPU resources away from audio processing.
As long as you're not dealing with a perfectly recorded sound all the time, FabFilter's Pro-MB makes dealing with problems as painless and transparent as possible.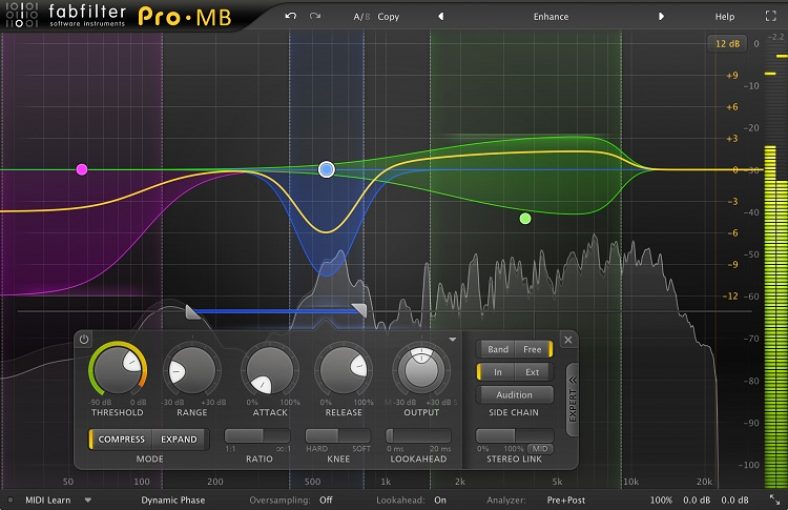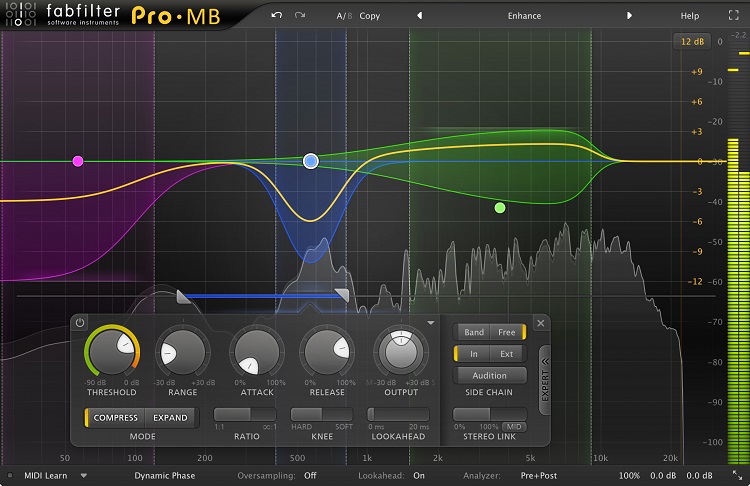 ---
11. Waves SSL EV2
This SSL EV2 channel strip emulates the legendary SSL 4000E, which has been used on countless tracks throughout the decades to provide warm, colorful compression and EQ. The thrill of having this channel strip in your DAW is amazing and all thanks to Waves.
Waves have done an impeccable job with the SSL EV2, obtaining full authorization from Solid State Logic to proceed with the release. It is always challenging to determine if emulations actually sound like the original, due to the intricate circuitry involved.
There is also a brand new section of Waves' plugin that allows you to drive the signal directly from the original SSL console preamp, adding subtle saturation to your audio, and giving it an analog feel that most audio enthusiasts crave. Upon understanding the interface, it becomes obvious that it is a great tool. Just be patient and you will be able to understand it in due course.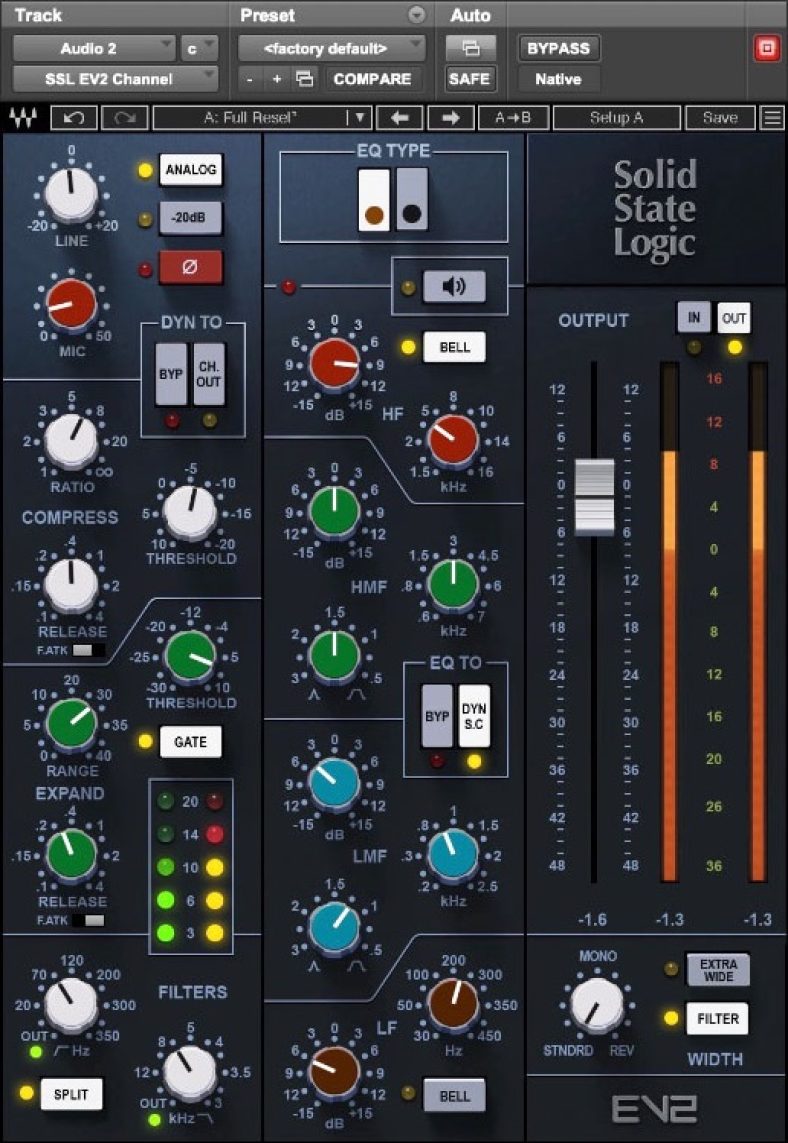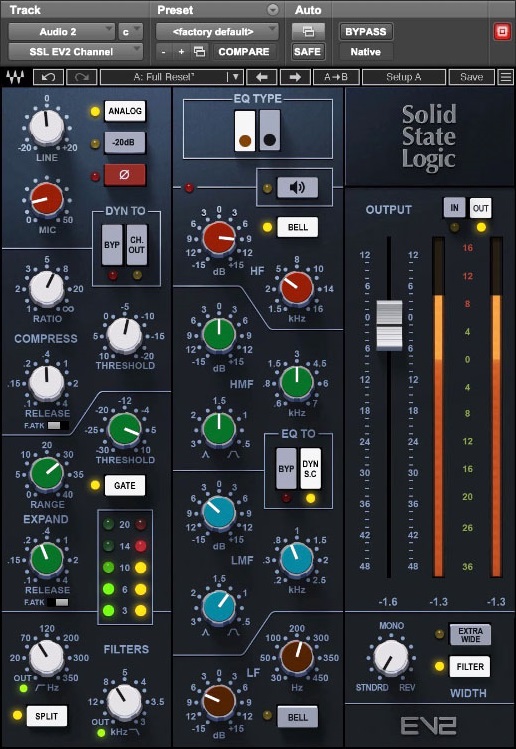 ---
12. Soundtoys Devil-Loc Deluxe
The Devil-Loc plugin was released in 2011 by Soundtoys, followed a few months later by the premium version Devil-Loc Deluxe. It is important to note that, despite the fact that these plugins are somewhat outdated by now (the world of audio effects is constantly changing), they are still widely used by many composers and producers.
Since neither of these Soundtoys plugins is intended for use in the originally intended way, it would be incorrect to consider them to be limiters. As a matter of fact, their real strength lies in compressing and saturating the signal in an interesting and musical manner. In order to accomplish this, the knobs "Crush" and "Crunch" are used. The Devil-Loc Deluxe is designed for those who require a little more control.
The Deluxe version includes an additional mix knob, Darkness control, and Release switch besides Crush and Crunch. Using the Darkness knob, you can shape the signal after distortion by applying a high-cut filter. It is possible to choose between a fast or a slow release of the compressor via the release switch. It is also dependent on the Crush control to determine how long it takes for the release to occur.


---
13. Baby Audio IHNY2
The Baby Audio plugins have a reputation for being quality, easy to use, and pleasing to the eye. The same applies to I Heart NY 2. You can dial in the plugin as a gentle giant, but you can easily overcompress. A simple design with full functionality is generally a good compromise.
Nonetheless, we believe that the tweaking section should be improved and made more user-friendly. Parallel compression is also known as New York compression because it was made famous by engineers and producers in New York. It's no surprise that Baby Audio has adopted the slogan I Love NY since it's based in NYC.
You should consider I Heart NY 2 if you are into genres such as Drum and Bass or EDM that use heavy compression. With its ease of use, good sound quality, and a wide variety of functions, you can customize the signal to your heart's content.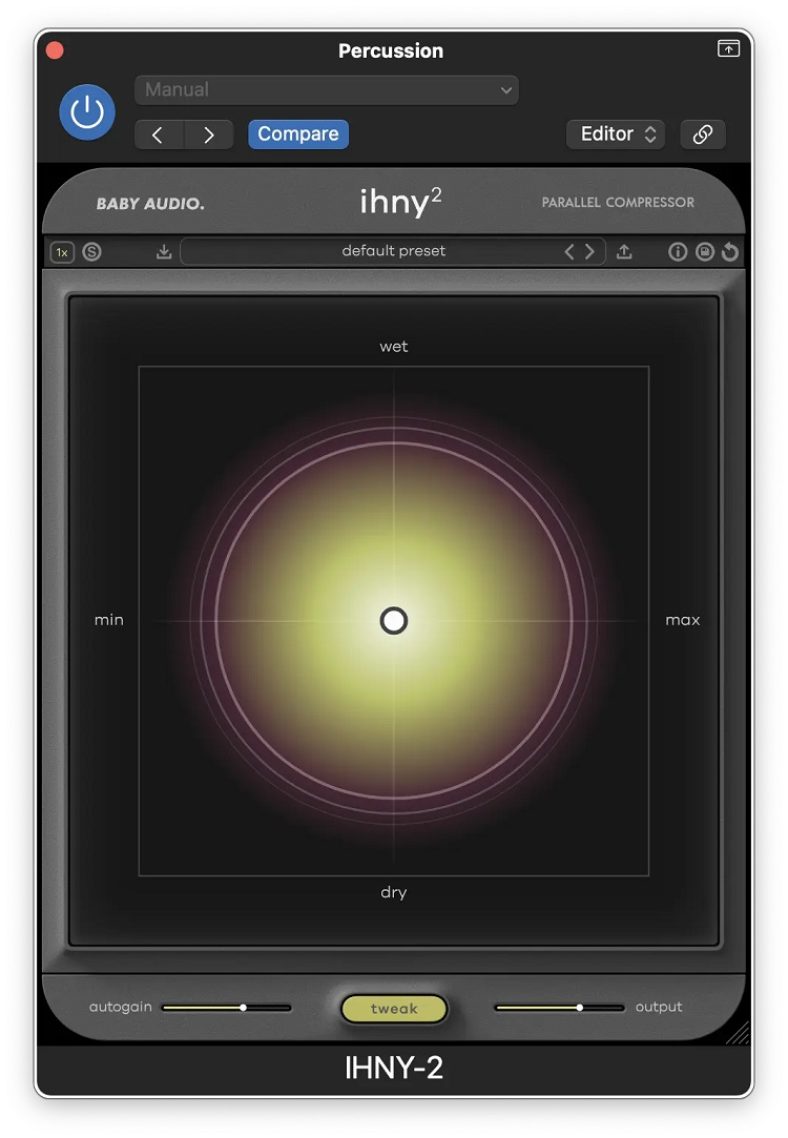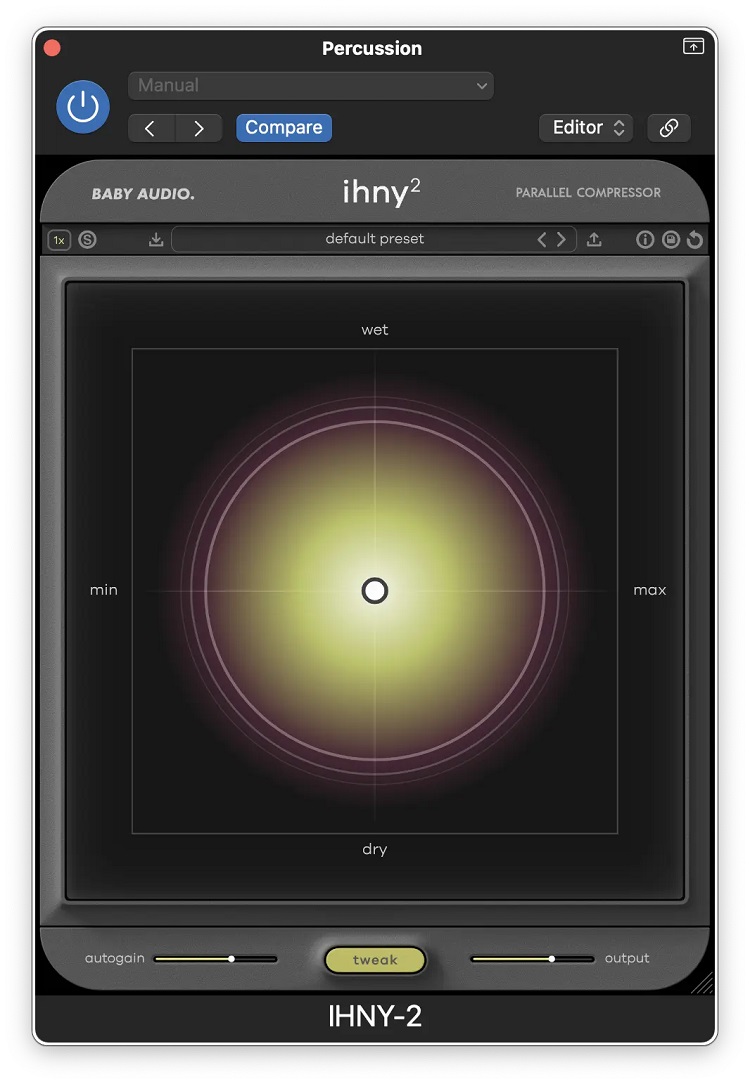 ---
14. Caelum Audio Schlap
The best way to make your tracks bold and energetic is to give them the "Schlap" treatment. The Schlap compressor is a program-dependent transparent compressor that is characterful, colorful, and aggressive sounding. A modern take on hardware RMS compressors evolved from hardware RMS compressors of the past.
Compression sounds dynamic and characterful due to the use of a program-dependent attack and release. Schlap's RMS detection detects the average loudness of a signal, so sudden short peaks can sound heavy hitting since they are uncompressed.
There is also an inherent delay in RMS detection that allows early, uncompressed transients to sneak through uncompressed, thereby retaining their effectiveness. It gives sounds a certain pump and makes them sound aggressive, thick, boomy, and thick. This effect is especially useful when used on bass, drums, guitar, and vocals, as it allows transients to come through before applying gain reduction.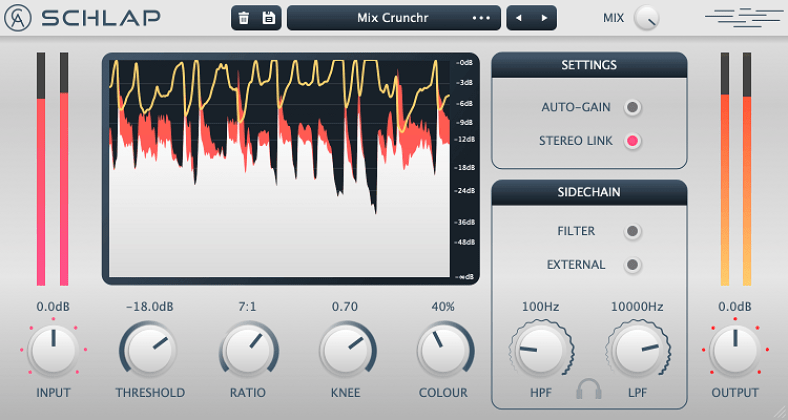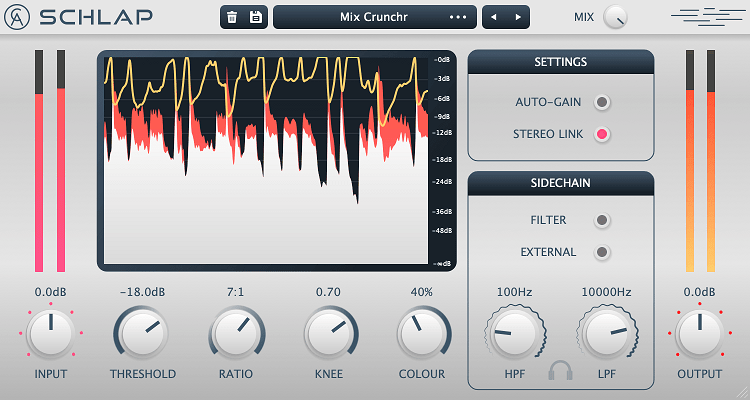 ---
15. Denise Audio Dragon Fire
Despite not being a multiband compressor, Dragon Fire has many similarities with one. There are different levels of compression for different frequency bands in a multiband compressor. The Dragon Fire compressor, on the other hand, has an internal sidechain that can be tweaked precisely. In this way, the compressor can be pushed in certain tonal bands by increasing or decreasing frequencies.
For more complex tonal control, you can also pass the equalized input signal to the output or trigger the compressor only with the EQ'd sidechain signal. Furthermore, it emulates the majority of features found on many of your favorite compressors and allows you to blend them together to create your perfect sound.
When audio needs a serious push, this compressor will be our go-to plug-in. Using the Pull control to prevent this functionality from unnaturally affecting the output audio EQ is a new way to compress different frequency bands simultaneously.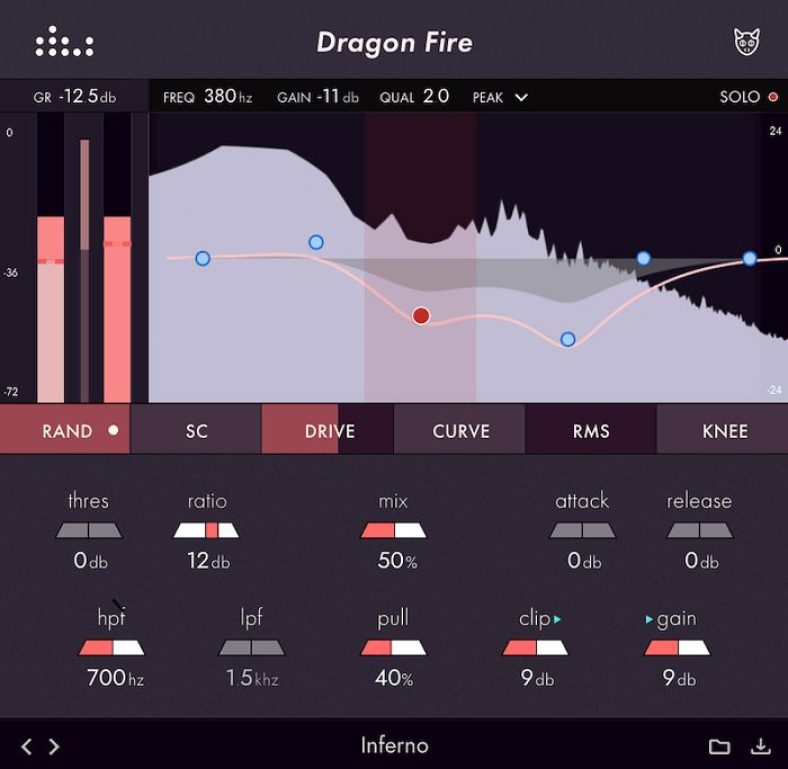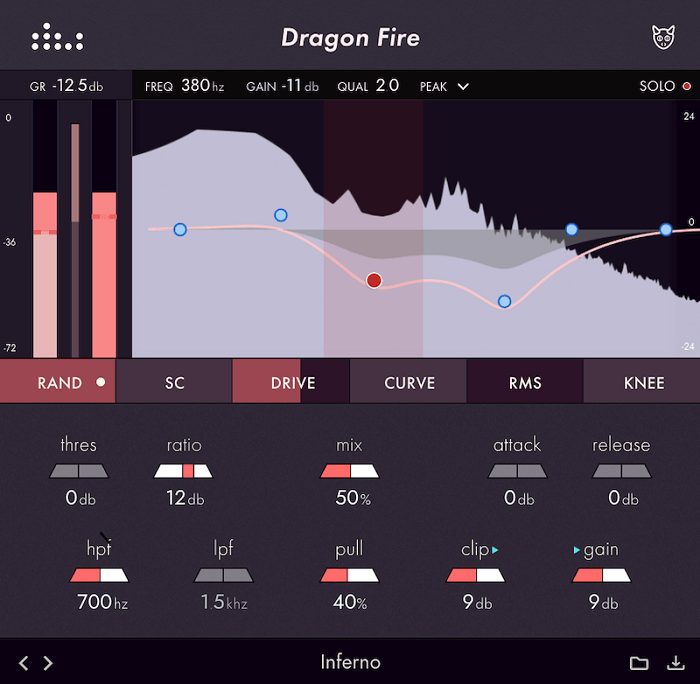 ---
16. Waves Renaissance Vox
One of the most popular plug-ins on the market, Waves Renaissance has helped shape countless recordings. You can quickly and easily dial in professional-sounding vocals with Waves Renaissance Vox dynamics processor. In addition to its simple interface, the Waves Renaissance Vox provides ultra-high-quality sound.
Controls for gate and compressor thresholds make it easy to remove background noise and hiss while smoothing your vocal signal to give you up-front, present vocals with a single processor. With the Clip-Guard output limiter, you're sure to stay hot without going overboard! Level maximization gives your sound an extra boost if needed. Using Waves Renaissance Vox, you can create top-quality vocal tracks quickly and easily.
Noah "40" Shebib hailed the Waves R-Vox as the "most important vocal compression plugin we ever made." It is the go-to vocal compressor of dozens of Grammy-winning engineers. A series of award-winning recordings has been made possible by the Waves R-Vox due to its user-friendliness and accessibility.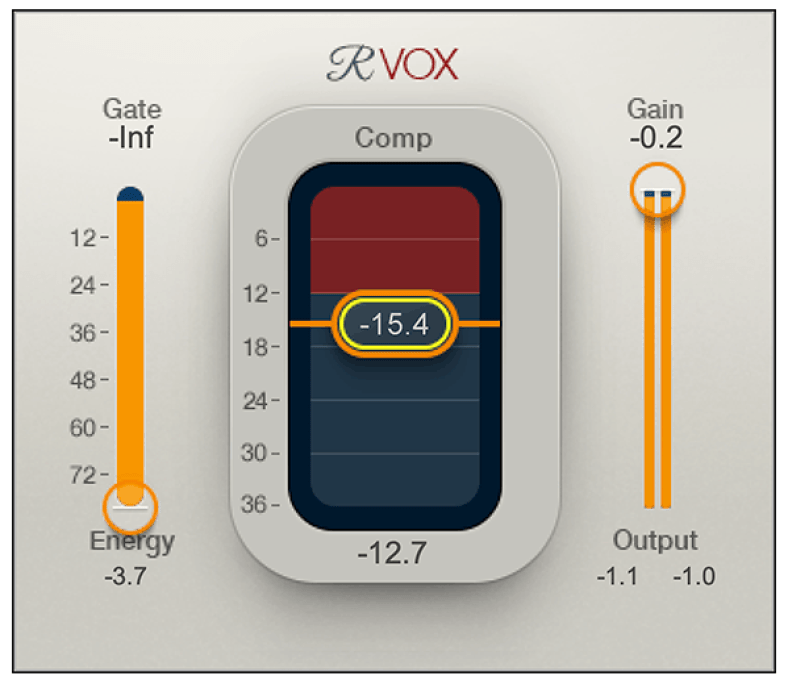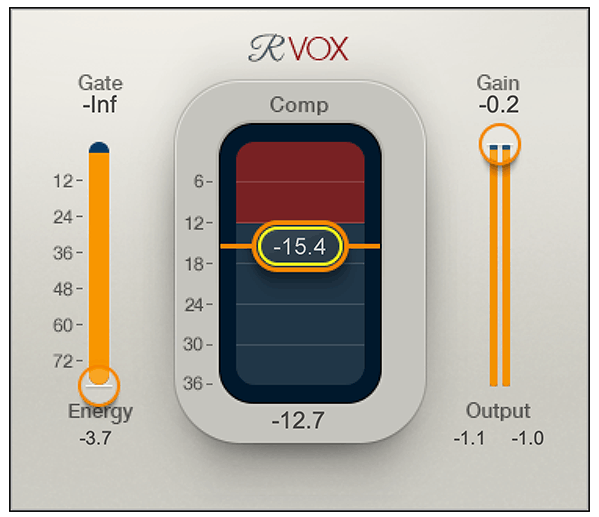 ---
Best Free Compressor Plugins
17. D16 Frontier
You can use it to bring sounds to the forefront of a mix, as its name suggests. Bass, vocals, and kick are some of the elements we usually want to hear loud, and D16 Frontier makes this possible. Its appearance initially reminded us of the LA2A compressor, as it has two main knobs.
Frontier does not only offer two main knobs, Threshold and Output Gain, but you'll also find three modes of release, Control Input (LR, L, R, or Mid Side) and a soft clip that is also a very aggressive one in terms of release value.
D16 Frontier's GUI appears to be quite simple and intuitive. A clear, authentic design is featured on their products that appear to be influenced by high-end sound equipment with a clean look. In spite of its 3D appearance, the interface still appears clean and visually pleasing to me, so we enjoy using it.


---
18. Audio Damage Rough Rider 3
Rough Rider 3 does not only possess a slight vintage bite but also produces a warm, modern sound. The software can also be used to add sound effects to synth basses, clean guitars, and backing vocals in addition to adding compression effects to your drum bus. A compressor such as the Rough Rider 3 cannot be considered to be an all-purpose device. When used to enhance rhythmic tracks, it is most effective.
Guys at Audio Damage are proud to inform you that this is not an all-purpose compressor and that it is best used for pumping up rhythmic tracks. With its 'Mix' control included, this plug-in can be used to add parallel compression without requiring additional routing. It is particularly useful for drum buses.


---
Conclusion
Well, we listed 18 plugins that will help you out with setting up the compression in your projects. You have a big list of premium plugins and a brief list with the best free compressor plugin choices that will suit many compression styles. Some of them are emulations from hardware compressors, no matter if they are vari mu, FET, or optical compressor units.
Our suggestion is if you own analog compressors, go with them in the first place, but if you need something for your DAW, you can reach out to a compressor VST plugin that can be found here in this great list.
So if you are having any questions about the topic we covered or any of the plugins listed, please let us know in the comments and we can discuss it further after that.