Best De-Esser Plugins
Introduction
If you are working with vocals and vocal recording in your music production, then you must be familiar with the process of de-essing. Even though it appears to be a simple process, if you overdo it, you might end up adding a lisp to your artist and actually be counterproductive in that manner.
In case you are still wondering which plugin will be the best one for you, well, look no further. In this article, we are going to compile the best plugins that you can reach out to when it comes to de-ess vocals. So stick around, we are immediately going to start with listing our choices and giving you various possibilities.
Best Premium De-Esser Plugins
1. Renaissance DeEsser by Waves
Using Waves Renaissance DeEsser Plug-In, you are able to combine the technologies found in Waves C4, Renaissance VOX, and Waves DeEsser as well as proprietary features that make it cleaner and more effective. This product is ideal for tracking, mixing, mastering, live sound, and broadcast applications.
As a specialized sibilance attenuator, Waves Renaissance DeEsser Plug-In is capable of reducing unwanted high frequencies surgically while maintaining the source's sparkle and musicality. In addition to causing unwanted distortion in high frequencies, sibilant sounds can also be unpleasantly loud.
This plugin combines the unique technologies used in Waves' C4, R-Vox, and DeEsser plugins to combat harsh sibilance, ensuring that it operates efficiently, effectively, and with a high level of cleanliness.
Waves Renaissance DeEssers have distinctive features such as phase-compensated crossovers and adaptive thresholds. With Waves Renaissance DeEsser's modern, updated interface and enhanced visual feedback, removing problematic frequencies has never been easier. This plugin was one of the first ones we used when we were addressing sibilance issues, so it deserves the first position on our list.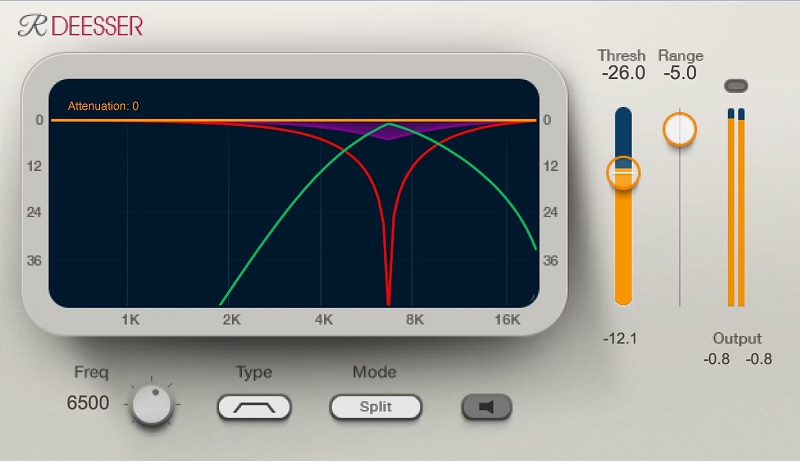 ---
2. FabFilter Pro-DS
This de-esser features a comprehensive feature set that includes mid-side processing, which can be useful when de-essing during mastering or high-frequency processing of non-sibilant sounds, such as splashy cymbals or piercing guitars.
In addition, the user interface is designed to make setting up the de-esser as simple as possible, providing a waveform view that indicates when the de-esser is kicking in and a sidechain input meter that identifies prominent frequencies, making it easy to adjust the settings.
Pro-DS excels at this basic function. Even before we started fine-tuning the settings, the Pro-DS accurately pulled out sibilant sounds using its "Single Vocal" setting and intelligent sibilance-detection algorithms.
With the waveform view, you can see the impact that your settings are having on the signal. Alternatively, you can use the sidechain EQ meter to figure out where the most energy is sent to focus the de-esser's behavior on a particular frequency range.
While Pro-DS may not be necessary for everyone, those who regularly work with vocals and/or sampled drum loops would certainly benefit from its use.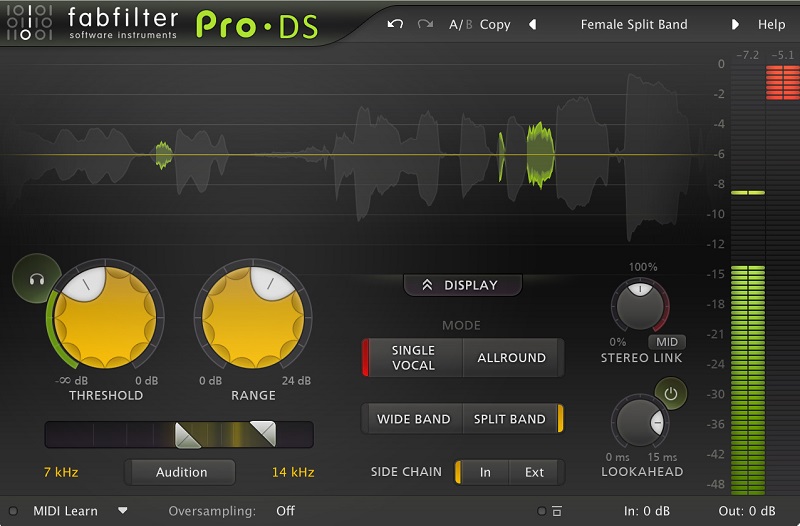 ---
3. Weiss Deess by Softube
In addition to being included in the Weiss DS1-MK3, the Weiss Deess is also available on its own as a plug-in. Upon first inspection, Weiss Deess gives the impression of having two completely independent bands, which may help narrow offending sibilance even when used on a master bus.
It also offers a variety of filter shapes and excellent control over bandwidth, so you can tailor the filter precisely to the issue at hand, without causing collateral damage. You are able to clearly see what effect your filter is having on your signal on a large, colorful, and intuitive display provided by Weiss Dess, which displays FFT readings along with your filter shapes.
The GUI on the faceplate provides a great deal of visual information, but a side menu provides access to all options. Everything is taken into consideration; ratios, attack and release times, knee settings, make-up gain, etc.
Last but not least, Weiss has code-ported its algorithms from the gold-standard DS1-MK3 unit to provide the world's best-sounding de-essing. Using this will make your work sound better than not using it.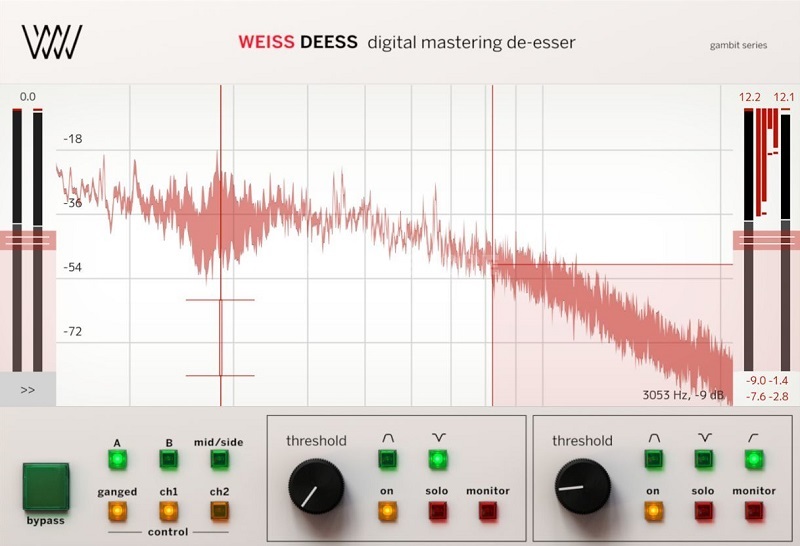 ---
4. Oxford SuprEsser by Sonnox
A fantastic tool developed by Sonnox, Oxford SuprEsser, allows users to identify and correct specific problem areas within the audio spectrum. According to its name, it is particularly effective in reducing or eliminating excessive fricatives and sibilants.
In addition to cleaning up and softening harsh cymbal overtones, it also excels at eliminating other sonic artifacts. Furthermore, SuprEsser is also capable of dealing with pops and clicks in addition to performing general compressor duties.
It is easy to identify and eliminate unwanted items through the interface. The target area and the amount of processing can be controlled with great precision and we had no difficulty dialing in and obtaining the desired results.
SuprEsser is highly recommended for musicians, producers, film and game trackers, sound designers, etc., who wish to reduce or remove unwanted lisping artifacts and other harsh audio without sacrificing dynamic range. It is impossible to describe how natural the tracks sound.
It is also quite useful in the more traditional sense of removing the sizzle from compressed drums without affecting their clarity. In addition to being a useful sonic tool, the SuprEsser has a few additional features.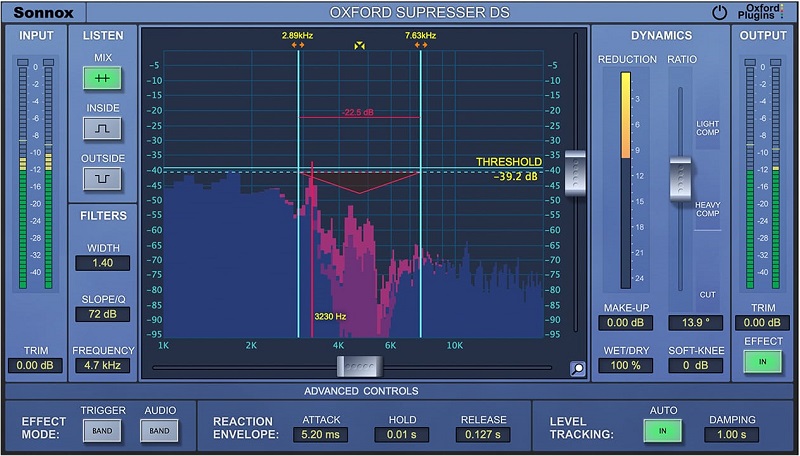 ---
5. Sibilance by Waves
There is no better way to describe Sibilance by Waves than that it is a de esser. As a band compressor, de essers are typically used for frequencies between 4kHz and 14kHz, which is the frequency range where vocals typically exhibit harsh sibilance. Sibilance differs from traditional DeEssers in that it is a band compressor that can also be used to tame harshness in mastering, while traditional DeEssers are really only band compressors.
Waves Sibilance is a special effect intended for recording harsh sounds such as "S" and "Sh". "Sibilance" is the result of a process known as "Organic ReSynthesis". DeEssing can be accomplished with ease, glitch-free, and effectively using Organic ReSynthesis, says the manual. In addition to reducing unwanted sounds flawlessly, Waves Sibilance maintains the original sound's timbre, duration, and natural resonance.
Sibilance stands out among the cleanest-sounding de-esser plugins we have evaluated over the years. Sibilance manages to sound natural and musical sound even after applying more intensive processing, but it is rare for a de-esser plugin to do so.
In addition to its transparent sound, Sibilance offers a number of other advantages. In addition to its intuitive interface, the plugin features a mechanism for detecting and removing harsh "s" sounds. This software is easy to use, quick, and extremely effective.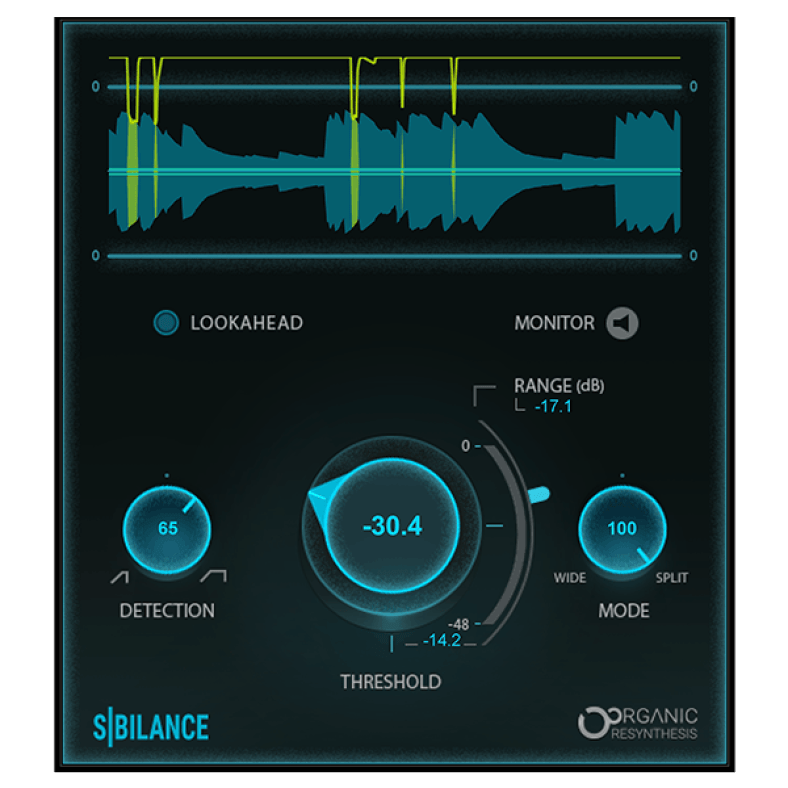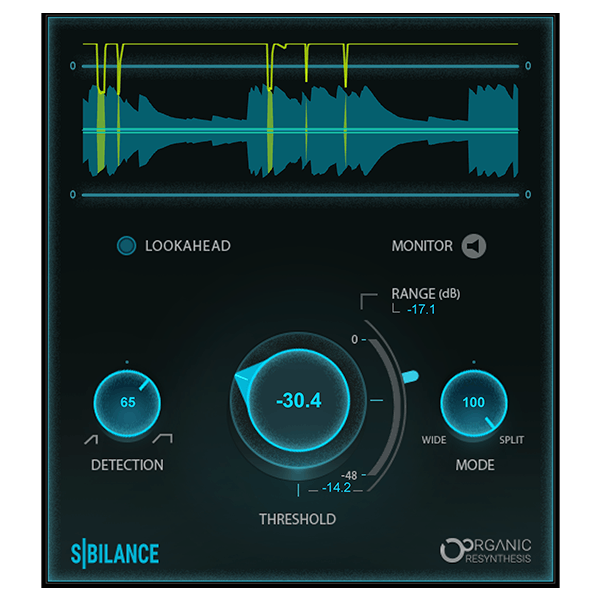 ---
Honorable Premium Mentions:
---
Best Free De-Esser Plugins
6. SpitFish DeEsser
It is true that there are a number of advanced de-esser tools available on the market, however, sometimes you require a solution that is not too expensive. SpitFish, the freeware de-esser offered by Digitalfishphone, is the ideal solution for this problem.
A mono or stereo vocal track can be processed with the Digital Fish Phones SpitFish. For being a free plugin, this free VST provides the tools needed to remove those "S" or "SHH" sounds from the vocal mix very effectively.
Its interface is very basic, consisting of only a tuner knob, a sense knob, a depth knob, as well as a listen button, a bypass button, and a stereo button. Almost all of the software that Digital Fish Phones has created is excellent and all of their VSTs are free of charge.
Anyone wishing to experiment with de-essing without having to purchase a new plugin would benefit from this super easy-to-use de-esser.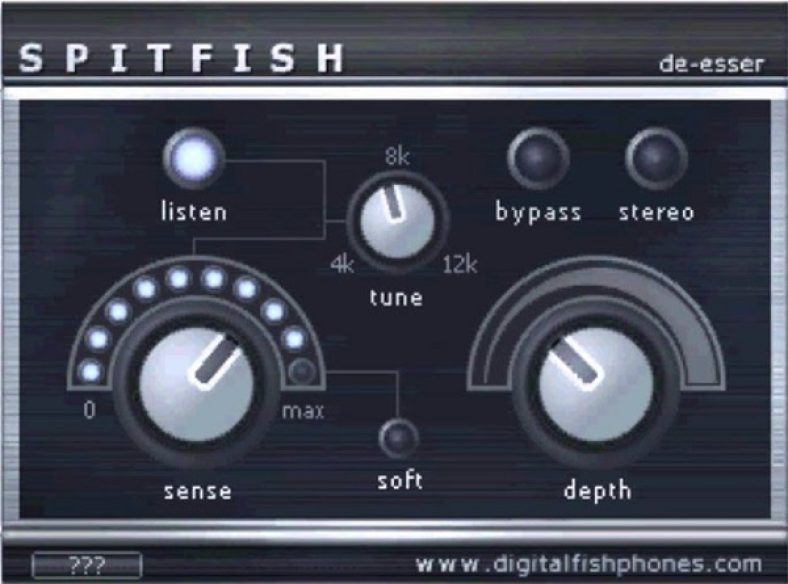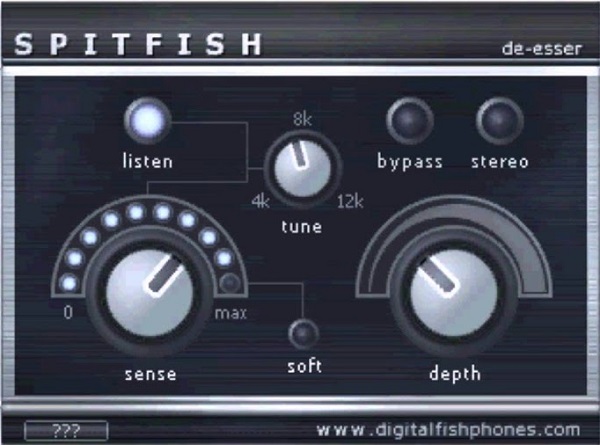 ---
7. Tonmann DeEsser
In addition to its ease of use, this plugin also features a clean user interface. Sibilance is a common problem with vocals, acoustic guitars, and other instruments that are susceptible to high levels of sibilance. A stereo track can also be balanced independently with the plugin without creating phase problems. This product can also be used in mono if that is what you require.
In order to preserve the "shimmery" sound character of a vocal, the detection threshold can be adjusted. In this free de-esser plugin, a peak prediction function is provided. In a free plugin, this is a very useful feature. There is a reason why Tonmann DeEsser is called a DeEsser. It is primarily designed for getting rid of "staging" sibilants that could occur on vocals when compression or a large boost is applied.
In addition to operating in stereo mode, Tonmann's DeEsser is also capable of operating in mono mode. Detection thresholds can be adjusted according to suitability in order to retain the 'Crispness' of the vocals.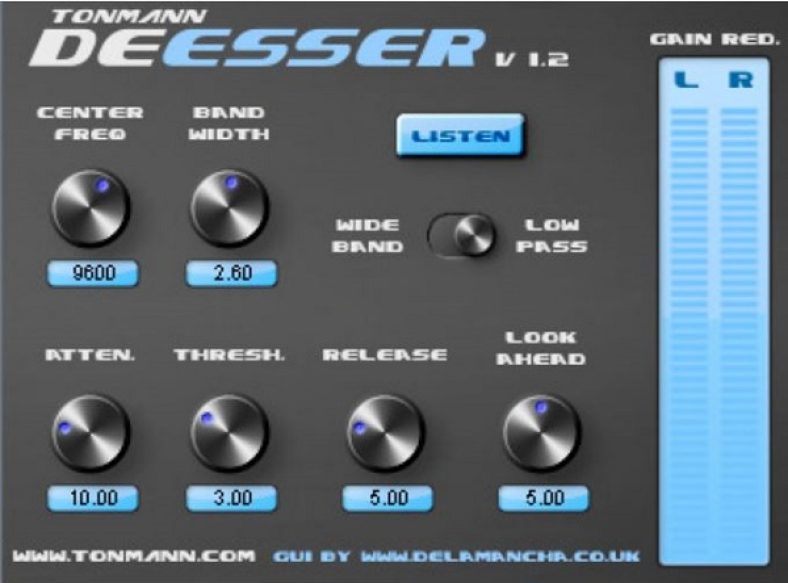 ---
8. VeeDeeS by ViperITB
De-Esser VST plugin VeeDeeS by Viper is designed with the objective of reducing the presence of sibilant consonants in the human voice. There are many sounds similar to "S", "Z", "SH", and various others that tend to "stick out" from recordings, especially when the EQ is very bright and present.
De-essers are very special types of compressors that react to high-frequency signals. It is possible to force the sibilants with the help of this de-esser VST plugin, while the other parts of the vocal performance remain unaffected. It is designed in such a way that everything above 3kHz can be monitored and attenuated by the VeeDeeS.
Even though it has a simple appearance, this is an effective plugin that will get the job done and it is a powerful de esser for freeware. It may not be the best de esser plugin, will get you through some hard times.


---
9. Lisp by Sleepy-Time DSP
The Lisp by Sleepy-Time processor has a level and is an independent sibilance processor. This VST plugin provides a number of controls, such as reduction, release, attack, stereo mode, sensitivity, sibilant range, processing mode, etc.
This is a classy VST with many features, but if you are looking for modern features, then this may not be for you. In terms of modern interfaces, Lisp does not provide most of them. This does not imply, however, that it looks or feels bad. Rather than being a competitor, it accomplishes the desired result more effectively.
As a way to clean up your vocal tracks, Lisp provides an automated sibilance detection algorithm that you already have built-in, which will save you a lot of time and effort.
Using the amplitude and pitch of the input in real-time, as well as the "ss" sound, this plugin removes the unnecessary sounds of "teh" and "ch". Consequently, you will hear much clearer vocals when the sibilances have been removed. The only thing you have to do here is set the amount of reduction, and everything else will be taken care of automatically.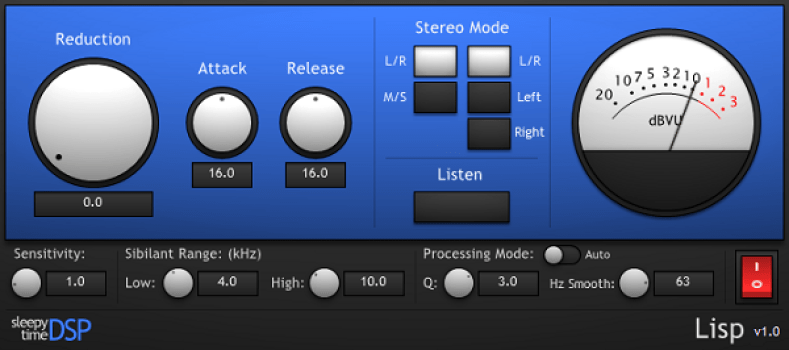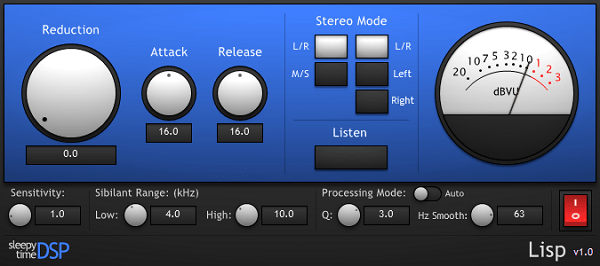 ---
Conclusion
So basically, that would be it. We believe that if you are in need to get a new plugin, you will find the go-to de esser VST in the list here. Before some time, our older fellow audio engineers were using analog hardware de essers, but nowadays, in the modern era, we can go ahead and get it all done with plugin de essers (de esser VST plugins)
And in case you have any questions in regards to the topic we covered here in this article, feel free to let us know in the comments below and we will elaborate with you all.