Best Beginner DJ Mixers
Introduction
Well, we covered what we thought are the basic details and information you will need in regards to learning what is a DJ mixer and how to properly use them, connect them, and properly add them to your DJ system. Since all the basics are already covered (just to let you know that you can find them on our website in many various articles) we decided it is time to share what we think are the best beginner DJ mixers that you can get in order to improve your setup.
In this listing, we will try to cover all the beginner DJ mixers that you can get. That means we are going to go basically over the affordable items that will not harm your budget and that are easy to learn to get you hooked into the whole DJing craft.
Just to let you know that probably some of those models will not be the best for professional uses or for big festivals, but they will do their part to take you through the whole journey and for you to learn how to properly use them and create proper mixes. We are going to give a brief review of each model, give you some details about each one of them, and also we will give you some images to check the mixer and some purchasing links. So without any further ado, let's begin.
Top 17 Beginner DJ Mixers
1. Allen & Heath Xone 23
Firstly, we are going to look deeply into the Allen & Heat Xone:23, which is modern and very clean in terms of appearance mixer that really reminds us of the DB:2. This mixer is completely created from metal parts, which add to its sturdiness and weight, but it's better to have a sturdy unit, then a breakable one.
On the top, you will find the brand logo, and on the bottom, you can find the model logo. In the package that you will receive when purchasing this mixer, you will get the user manual, pair of cables, USB cable, and software which is MixVibes Cross lite edition.
When it comes to the crossfader, you will be able to adjust the shapes and the curve to the crossfader, which means that you can pick from linear, sharp, and also you can pick a hamster style if that is your preference. Even though the model is mainly created from metallic parts, the mixer is really light which is a perfect choice if you are a DJ who goes on the road really often. Additionally, there is no power supply integrated into it and that also adds to its lightness.
Even though it's smaller in size and it's pretty affordable, the Xone:23 gives amazing features. Some of them include dual headphone output with small and large jacks, XLR outputs, XLR microphone input, record out, booth feature and FX sent/return loop. Based on all of these features that are included in this one, it comes for an amazing price that it's pretty affordable and that can every beginner get without emptying the wallet.
This is an amazing mixer overall and to summarize, if you are in the market for something that is built by a dedicated developer and you love the simplistic appearance full of amazing features, then look no further and go for this one.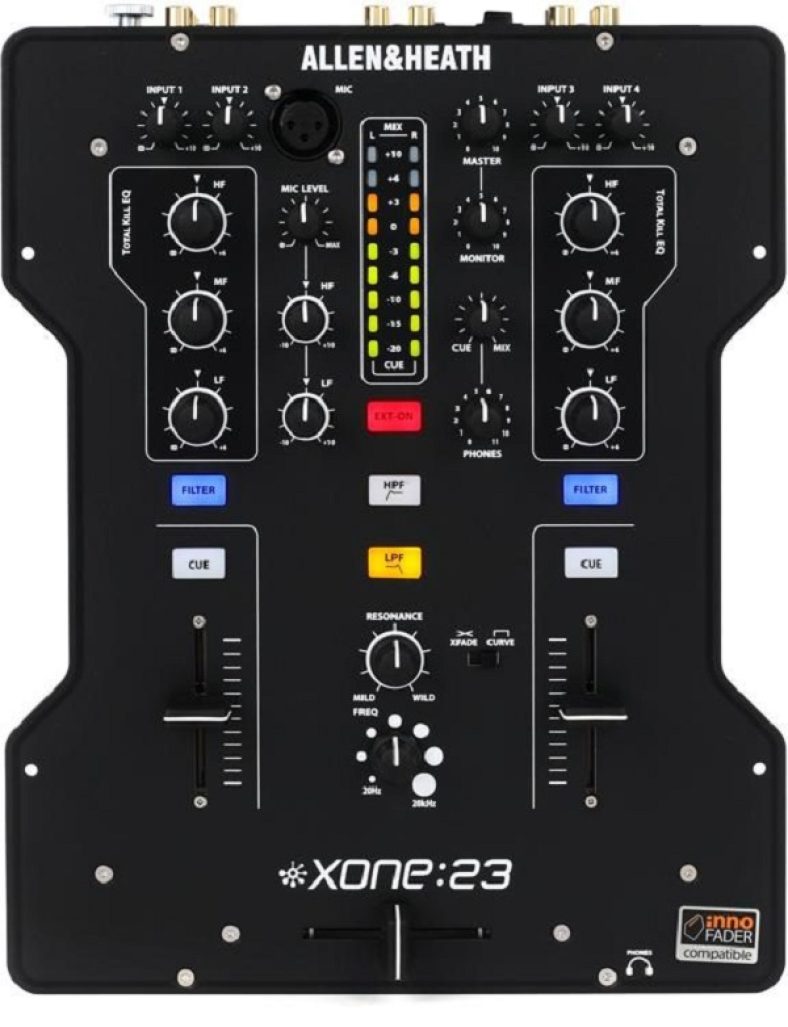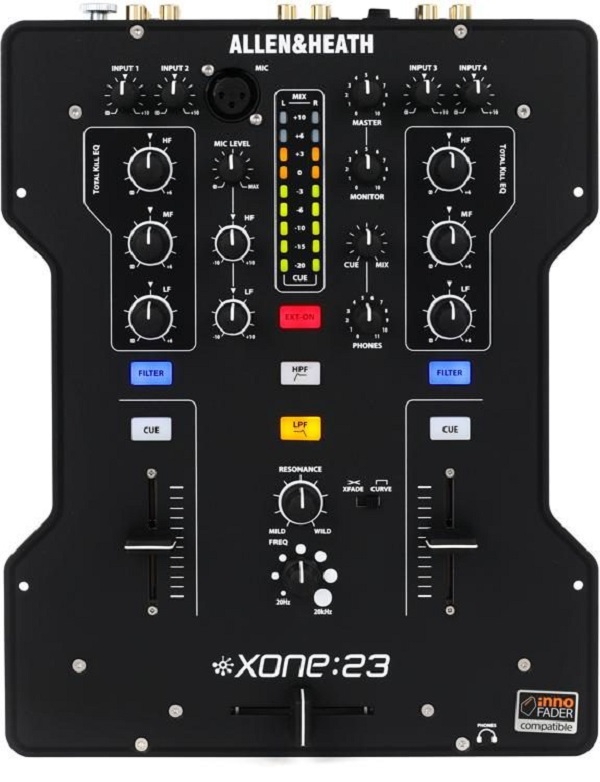 ---
2. Behringer DJX900USB
The Behringer DJX 900 USB mixer is a 5 Channel mixer with amazing performance and it is a professionally built beginner mixer. Some of the features that are included in this amazing DJ mixer from Behringer are the non-contact 45 mm Infinium crossfader, improved and upgraded 24-bit digital effects that you can use for creative moments in your mixing, an audio interface that can directly communicate with your computer for some additional features that this mixer can provide.
Infinium VCA crossfaders are really great and are very smooth in terms of transitions, and that is something that basically sells the most about this beginner mixer. Also, you will be able to adjust the curve onto this one if you are a battle DJ scratching guy or a regular mixing DJ as well.
Onto the DJX 900 USB mixer, you can find two stereo channels, both for phono and line inputs, a stereo channel for CDs, a dedicated microphone channel that you can include in your DJ sets, and some other basic features. For each of the channels found on this mixer, you have independent three-band equalizers and gain controls, and each of the channels has 10-point LED metering that will give you some visuals of how hot you are driving your signal.
The Behringer mixer also includes pre-amplifiers to feed up to three turntables. The final feature that we will talk about is the built-in audio interface that will allow the user to add the digital music library from the computer into the DJing setup.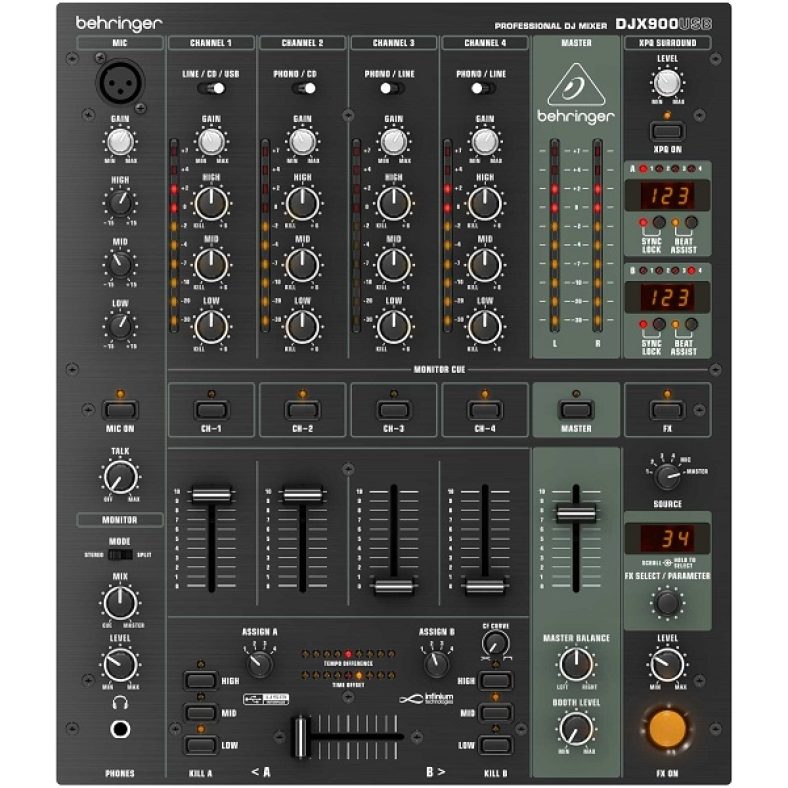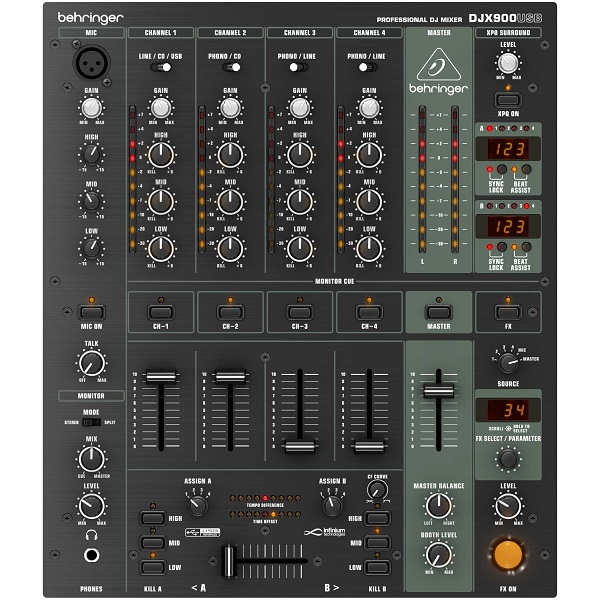 ---
3. Reloop RMX-10BT
When it comes to beginner DJ mixers, the developers tend to play safe and that is all for a good reason because they do not want to overwhelm their users with features that are not needed at the beginner stage.
The Reloop RMX 10 BT model boasts that type of philosophy and this is a mixer that is really straightforward to use, it has only two channels are more than needed when you're starting out, and you will find three band equalizers that will help you shape the frequency of each signal for both of the separate channels.
This mixer can accommodate both digital and analog units meaning that you can connect a CD player or a turntable on each channel. In terms of the equalizers that are used on the channels, they are made very simplistically meaning that you can boost up to 15 decibels or cut down to -24 decibels.
We really like how simple yet effective this DJ mixer from Reloop is, and we can highly suggest it to everybody that is just coming into the DJing world. Even though it is really beginner friendly, that doesn't mean that it lacks sound quality. The mixer delivers a very clear signal which cannot be found in many beginner rate mixers that were produced in the past.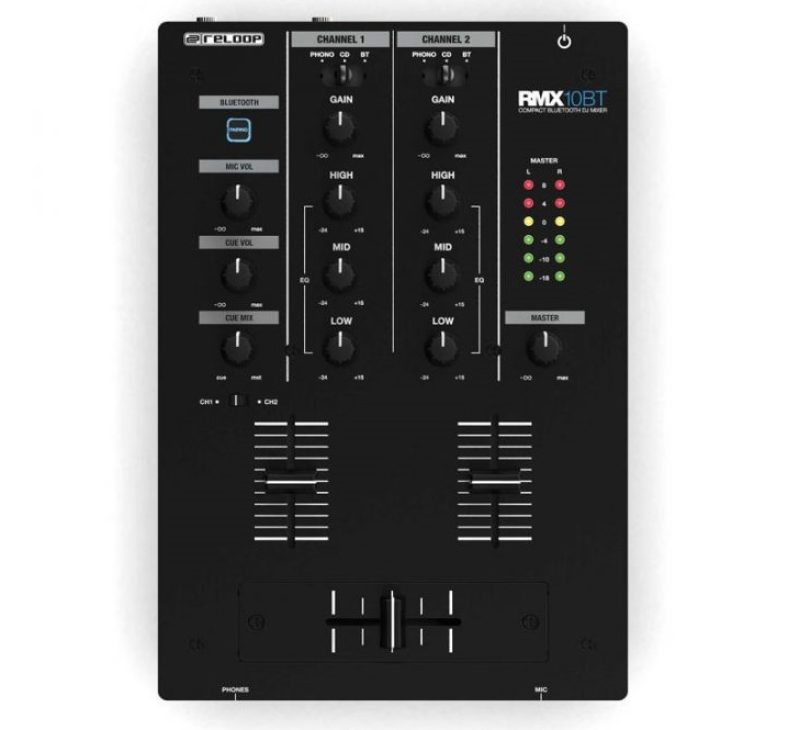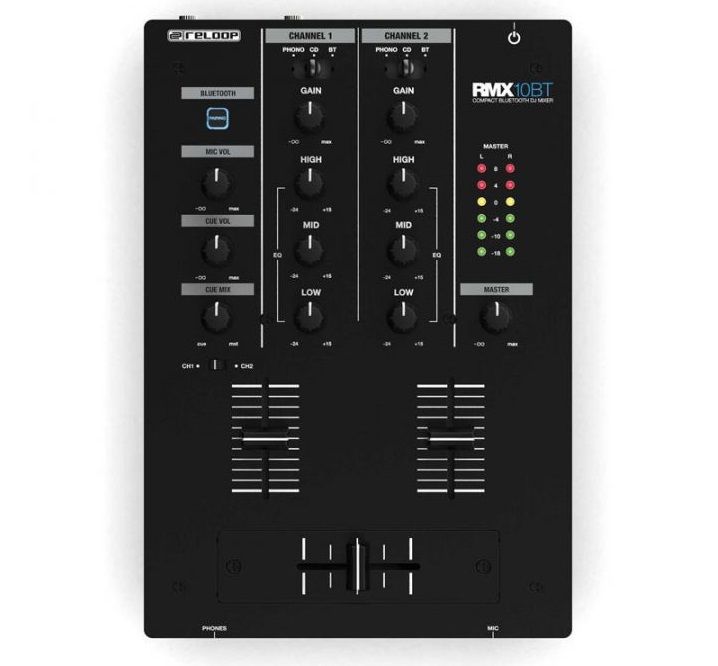 ---
4. DAP-Audio CORE Beat
This DAP audio Core Beat DJ mixer has six line inputs, Bluetooth capabilities, and microphone input, and it's a little brother of the Core Mix 3 USB DJ mixer. The interesting thing about it is that you can playback music that is connected to players that are wireless, such as tablets or phones with the Bluetooth feature that it has. Even though that is something that we do not advise using in terms of connection quality if you are satisfied or in need of how this feature works, you will be able to use it.
The inputs of this mixer can be picked from Line inputs and from the MP3 level. When it is set to MP3 level, that means that the Bluetooth functionality is activated and you will be able to pick the input sensitivity from the players that you will connect through this feature. Even though the company promotes that there is no loss in the signal, that is something that you will need to try out on yourself and if you're satisfied, to go with this option.
In terms of build quality, this is really nice DJ mixer for beginners and the fades feel really nice when you are using them. All of the basic features needed for the beginner DJ can be found there, such as LED level indicators, 3 points EQ section for the three channels, and the gain control for each section.
You can also connect a microphone to it, where you will have a knob for the level of the microphone and you will have 2 point EQ section for the mic as well. All in all, an amazing beginner DJ mixer that will not break the bank and get you started in the craft + it has a booth feature included if you decide to take it out on a road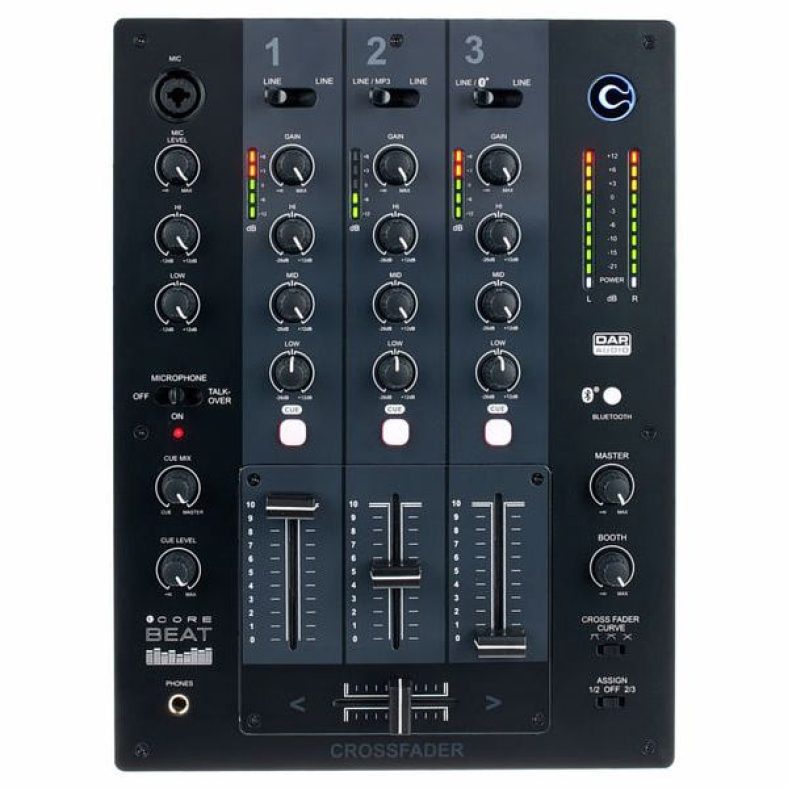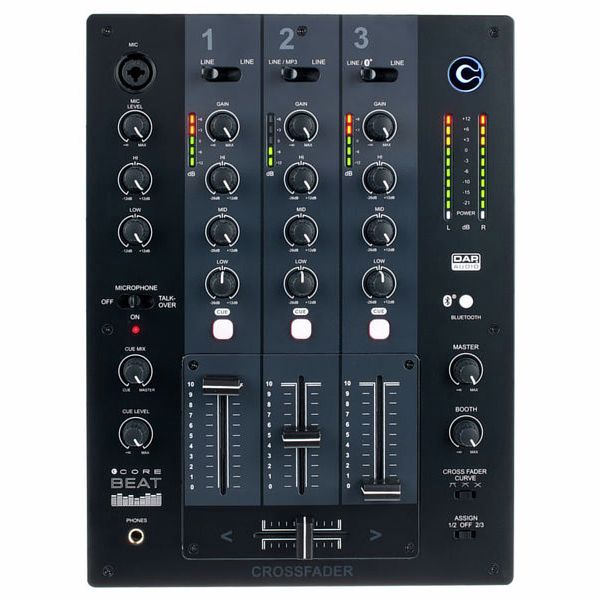 ---
5. Omnitronic PM-422P
This Omnitronic PM 422 P DJ mixer has four channels and it's a great choice for DJs that are limited in their budget. In terms of features, this mixer offers LED level matters, gain controls for each channel,l three band equalizers. cue buttons and the regular crossfader in the center.
This mixer has a total of 8 inputs which are line inputs and two phono inputs provided through cinch sockets. With the four-channel functionality, the PM 422P allows its users to switch between their players without any notice, which will improve their performance hugely.
In terms of monitoring the master outputs, you can do it through the balanced RCA and XLR connectors which are pretty standard. One other interesting feature that this mixer has is the record out if you want to live record your set.
One other thing that this mixer has is Bluetooth functionality and also you can find a USB port on the top left part of it. This means that you can use a Bluetooth player device if you wish or play some songs through it. Another thing that can be found is the microphone input that has a two-band equalizer to it and a talk-over switch to make any announcements if you wish.
So this Omnitronic DJ mixer can be plugged and played straight away without any hustle of connection. As per all the beginner-level mixers, this one also has all the basic features that any DJ needs to get started without any trouble or confusion.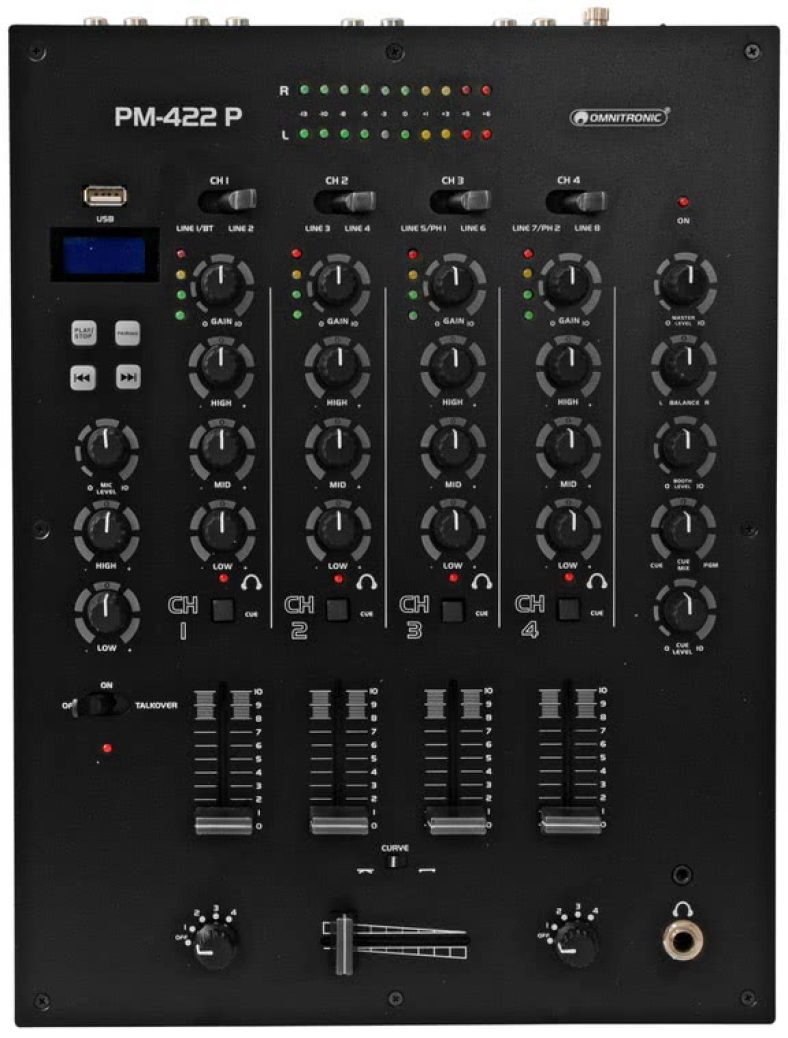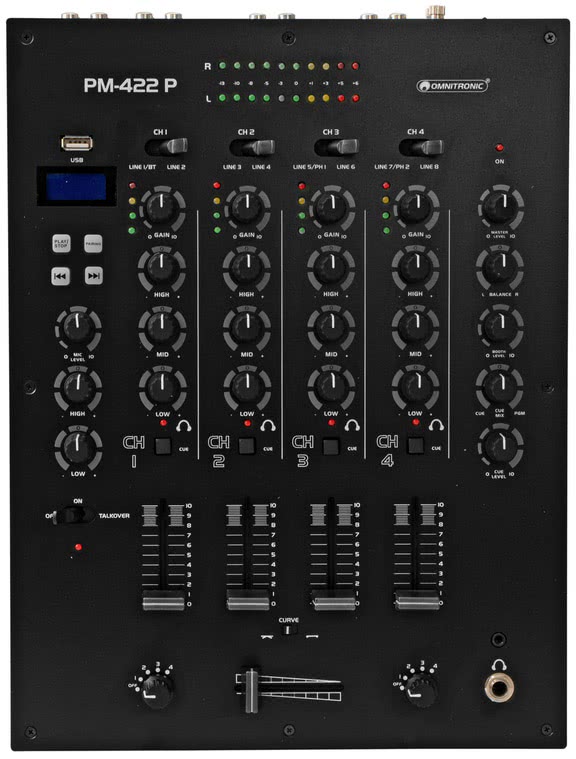 ---
6. Gemini Sound MM1
With an extremely compact design, the Gemini Sound MM1 even though it's small it gives amazing and practical features. The price of this DJ mixer is pretty affordable and with the portability that it boasts, you will be able to take it on the road and still perform without any flaws. In terms of connectivity, the MM1 provides two line RCA inputs in an RCA master output and these are all the connections that you need to connect your music players.
When it comes to the EQ section for both of the separate channels, you can find two bands of rotary knobs that will adjust the highs in the lows of each track to get a more customized outcome of your songs. Each channel also has individual gain controls, which will give you additional control over the overall volume of your mix. If you want to lead your show, you will be able to do it through the microphone input and be your own MC as well.
Just right below the B channel or the right one, you can find the level for your headphones in order to adjust it to your liking. And the last thing that we want to mention about it is the crossfader. Even though this is a beginner DJ mixer it feels really nice and you will be able to perform all the basic functions with it.
Probably the most important thing about it is that it's really affordable and it is a nice choice for DJs that are traveling a lot and are in need of something really light and small. Overall, a nice choice for every beginner DJ if you want to learn the way around DJ mixer.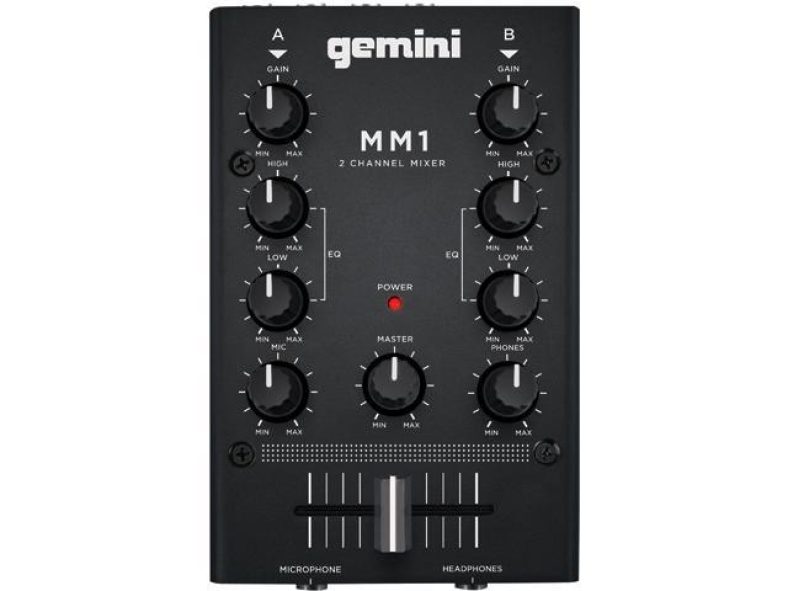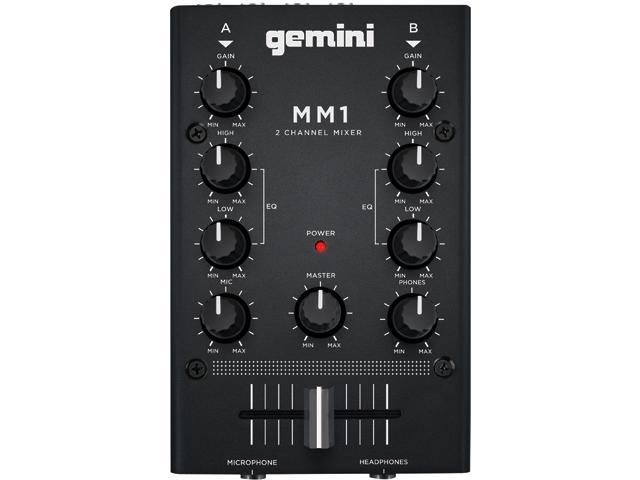 ---
7. Native Instruments Traktor Kontrol Z1
This is a very nice combination of a DJ mixer and MIDI controller and it's produced by a very well-known brand the Native Instruments. When compared to its competitive siblings the X1 and F1, the Z1 tractor control from NI has some additional features.
This is a DJ mixer that is the only one in the series that has a two-channel audio card, it is probably one of a very little pool of DJ mixers that can control the Traktor DJ iOS application. Even though when you first check the top panel of this mixer you will notice that there are not many nobs and features included but actually you will be able to control all d essential functions in the tractor DJ software which are really important for music mixing.
As you will be able to notice from the image below, this Traktor Kontrol Z1 DJ mixer has a dedicated fader for each channel, and above the faders, you can find the three-band EQ with the addition of a gain control and high pass/low pass filter knob as well. When you compare the crossfader to the other Kontrol S4 and S2 units there is totally no difference at all.
On the back of this unit, you can find the knobs to manage the volume of the unbalanced RCA outputs and on the front panel of this sweet little mixer, you can find the controlling knob for the volume of the headphone output. All in all, a really nice and compact mixer for every beginner DJ.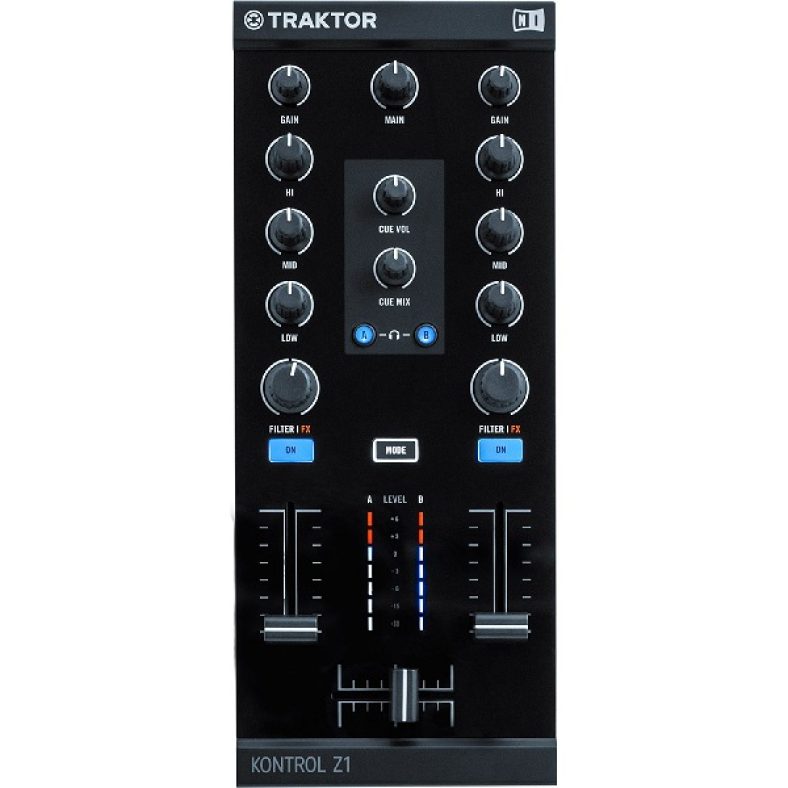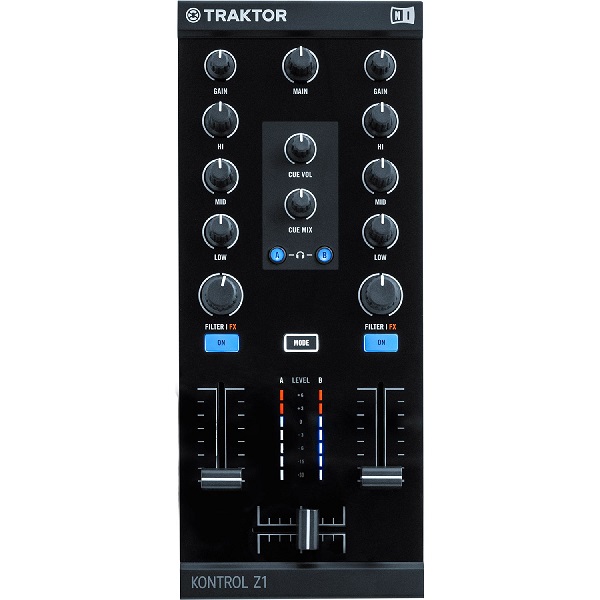 ---
8. Numark M4
The M4 DJ mixer from Numark is a three-channel DJ mixer that is designed for everybody that needs a big amount of flexibility in their playing. I want to start with the crossfader features which means that the curves can be switched from aggressive to smooth and you also have the reverse functionality. Besides that, you can find three points EQ, and a gain knob for each of those three channels, there is also microphone input with an equalizer and a lot of routing features and options for phono and line-level units.
Is it already mentioned the connection features, let's expand on this topic a little bit. The M4 has two switchable phono and line and, as well as 4 line inputs that are only line, making it a total of six inputs that the user can have. Besides that, you can find additional connections like the master output and the record output if you want to record your live set as well.
To finalize this brief review of this nice DJ mixer from Numark. We just want to say that is really easy to use, it has very simple connection features that will not confuse you at all, and you have all the proper features for basic mixing and even some battle scratching as well – meaning that this is a nice unit that you can benefit from no matter the stage of your beginning DJ journey.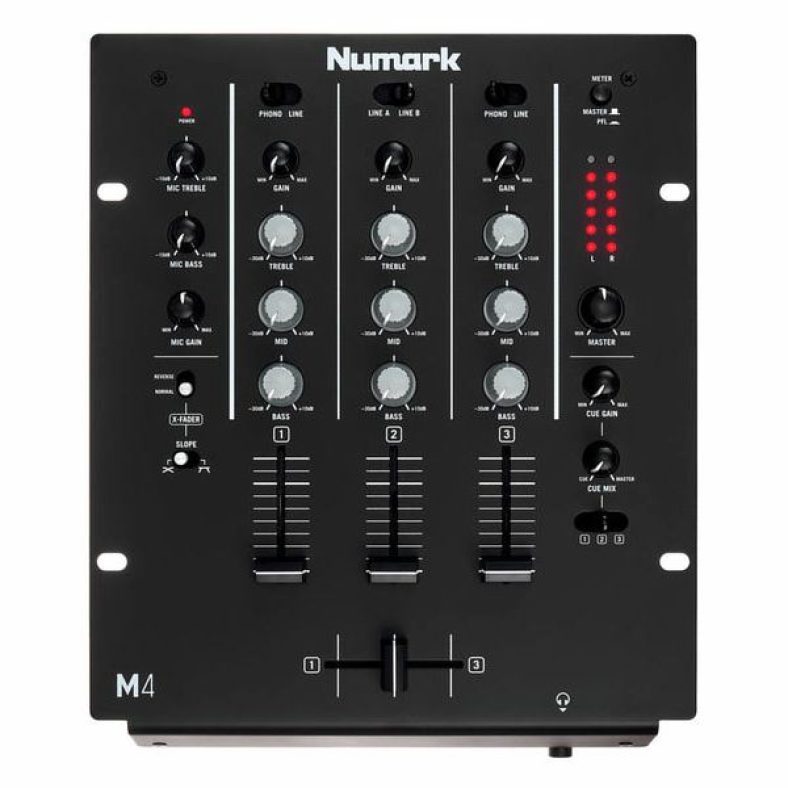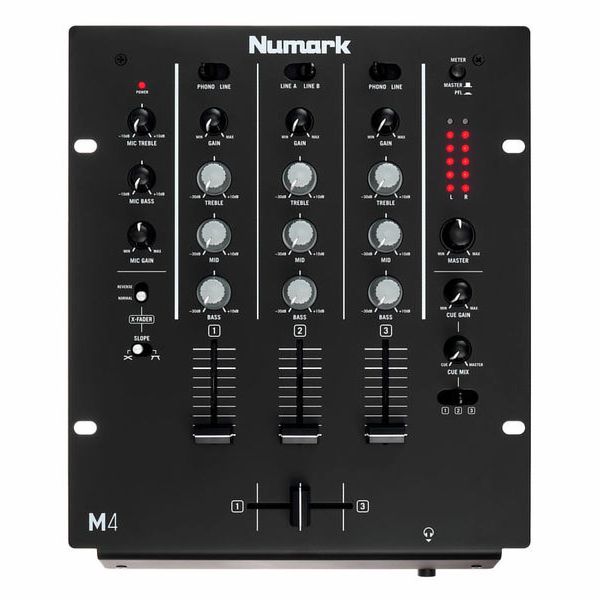 ---
9. Behringer NOX101
The NOX101 DJ mixer from Behringer has a really nice Ultraglide VCA crossfader that will guarantee smooth movement and performance when mixing some music or when scratching. This mixer has a really nice and sturdy build that will guarantee its durability, meaning it will last you for some time without a need to change to a newer model.
One of the interesting features that this mixer has is the microphone input preamp which is a Xenyx type of preamp owned by Behringer and also includes two points EQ. In terms of player connectivity, the two channels are powered by a premium phone preamp and each channel has three-band EQs.
Besides the regular RCA inputs for tape decks, CD players, and turntables, the Behringer NOX101 has balanced and unbalanced outputs that can be used with power amps or some active speaker systems to connect directly to the audience.
This is a pretty cool DJ mixer that you should look into because once we went over, it we weren't able to find something to complain about. In terms of price, it is truly affordable for everybody and if you are at the beginning stages of your career, maybe you should look more deeply into this DJ mixer as well.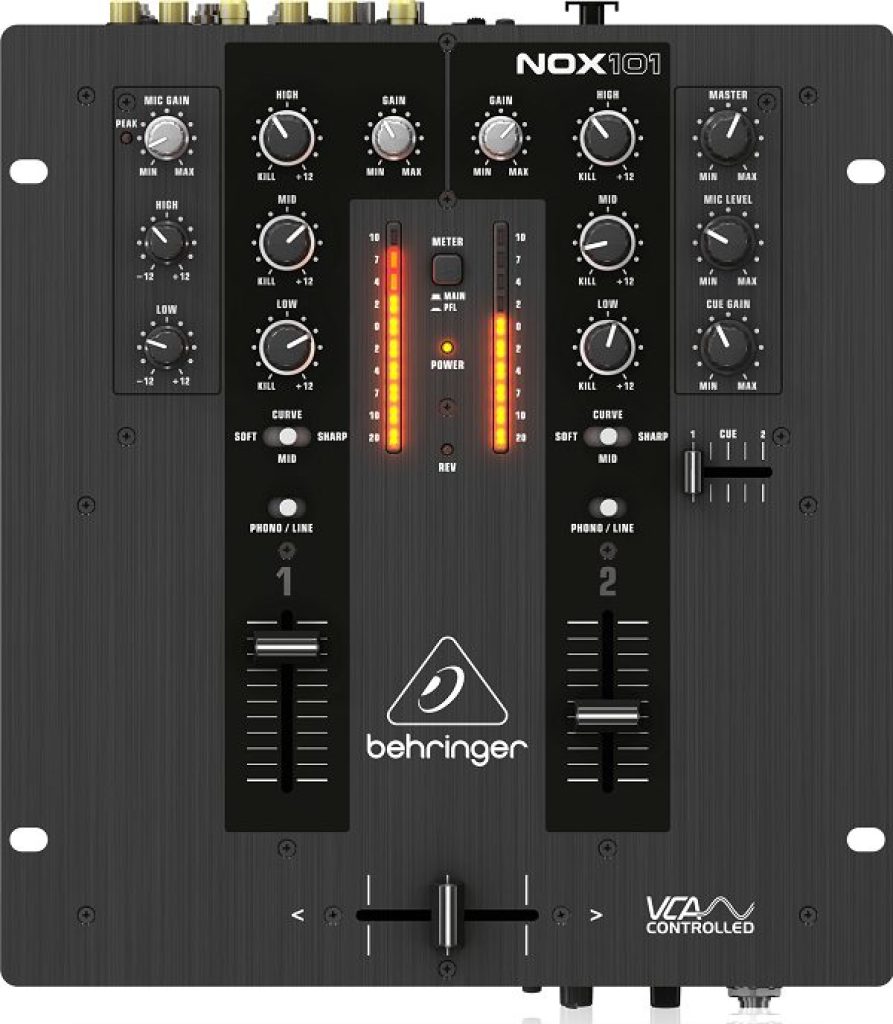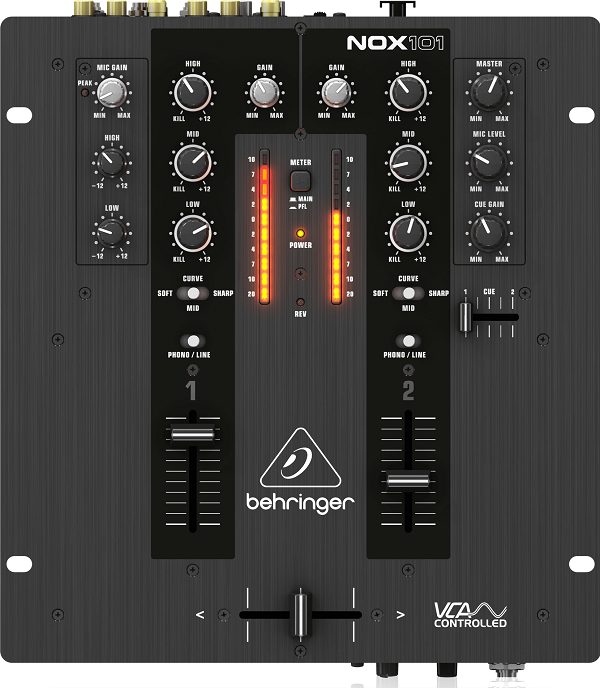 ---
10. Gemini Sound PMX-20
The PMX-20 is a four-channel DJ mixer from Gemini Sound and it has 8 performance pads on each side. Besides that, this DJ mixer is equipped with high-quality inputs and outputs and also it has booth output if you need to connect to the monitoring system around your DJ set. Even though it will serve you well if you are an EDM DJ, there is nothing that can stop you if you are a scratch DJ as well, since this DJ mixer will perform in that field amazingly.
The PMX-20 has all metal housing and that will guarantee its longevity and durability as a professional DJ mixer. The interesting part about this mixer from Gemini Sounds is the MIDI and audio interface functionality since you will be able to control all of the digital points of this mixer and also sent MIDI data.
So if you're looking for a DJ mixer that can also serve as a MIDI controller, then this is the right one for you. Besides all the interesting and useful features that this mixer has, when you put the price into question, you will see that it's totally worth it and it's really affordable. You will be able to find everything that you will need to start into playing some music and connect your music players truly without any connectivity issues.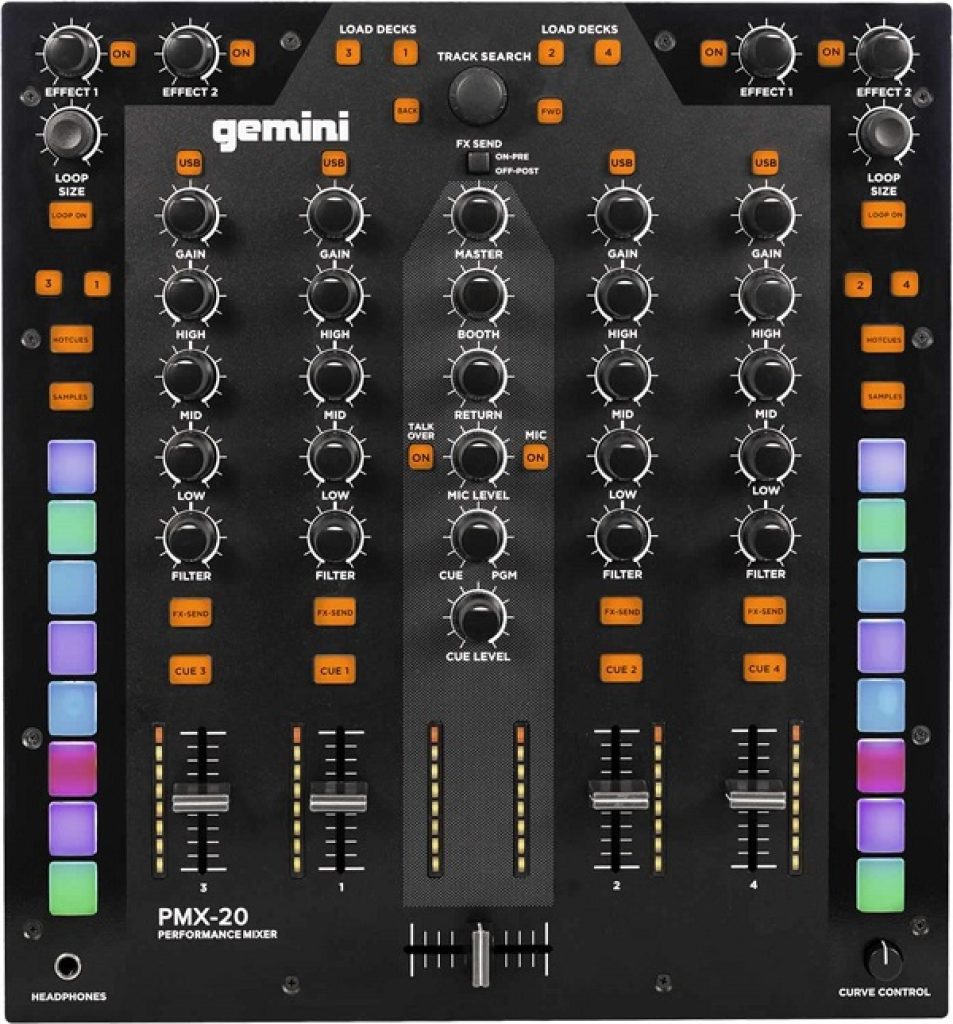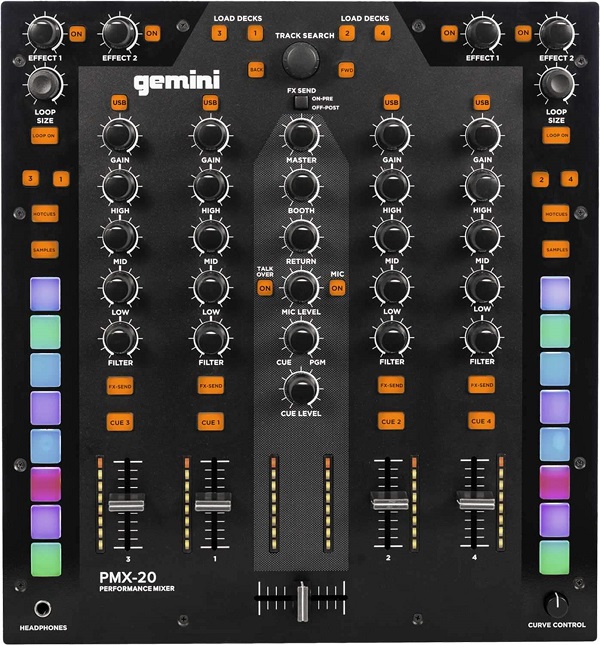 ---
11. Reloop RMX-22I
On first look, the Reloop RMX-22I might appear very simple, but you will be amazed to find out that it has everything that you will need if you want to perform all the necessary DJing tasks. This is yet another amazing 2 channel DJ mixer that is great for beginners and scratch DJs as well. What we can separate and state that really stands out about this mixer is the in-built effects that are something of a rarity for entry-level DJ mixers.
You will be able to find all the basic effects is we mentioned above, like the regular filter, bit crushing, gating, and you can apply white noise if you wish. On the left side of this mixer, you can find the mic section that also has two-point EQ, and below that you can find the cue section and the crossfader curves to shape it to your requirements.
One of the features that stand out about this mixer is iPad additions which means that you can connect your iPads in conjunction with the mixer and you will be able to play music with it without any problems. So if you are into something that is really flexible yet simple and effective, double-check the RMX-22I from Reloop and we guarantee you that you will have a fun time with it.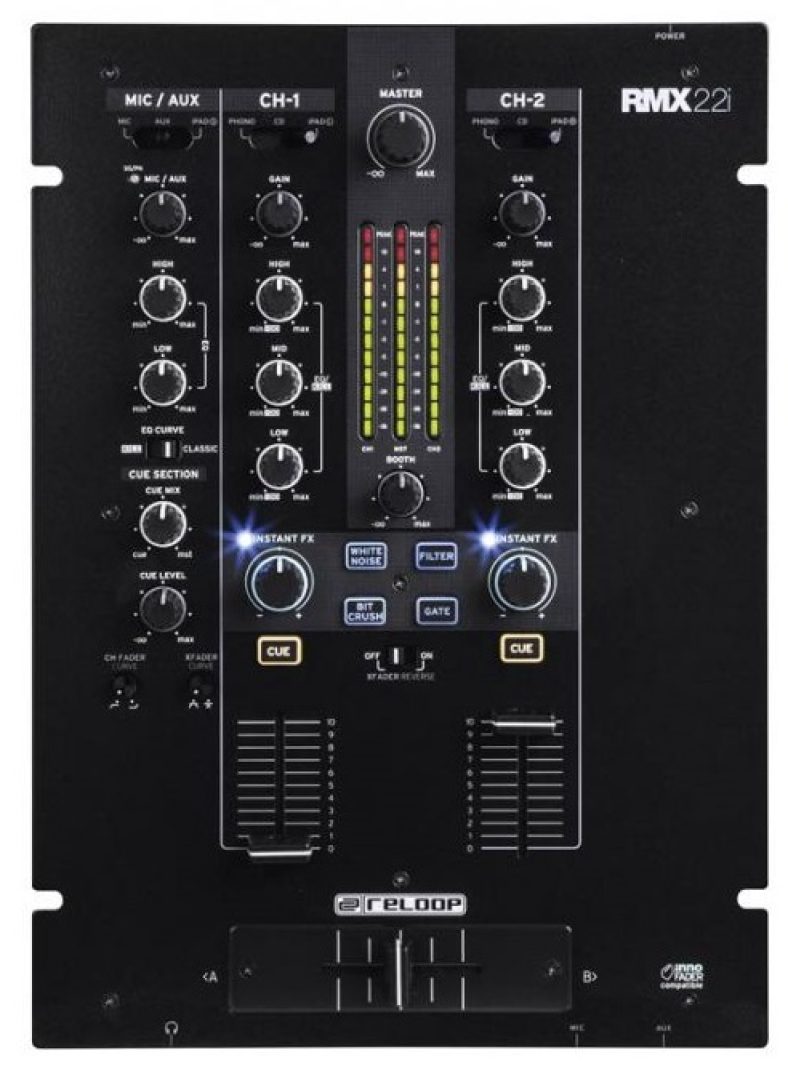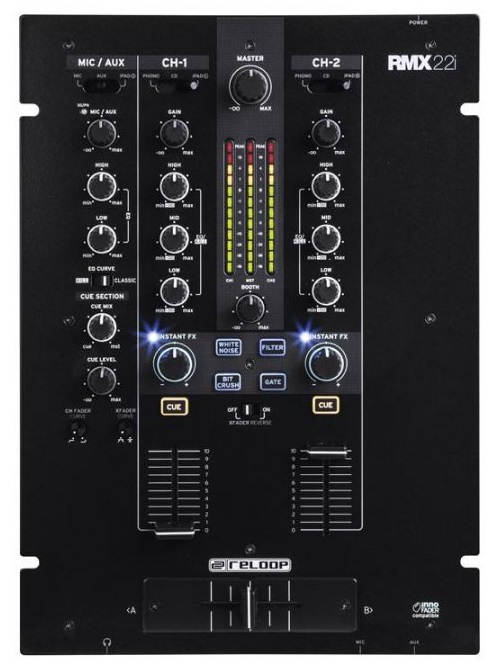 ---
12. Numark M101
The Numark M101 is another 2-channel DJ mixer that will deliver everything that you need to get started. This is an amazing device that can be used both on a desktop or can be mounted in a rack, since it has all the features for that.
Some of the nice features that this mixer have is that you can plug it into a computer, connect a turntable/CD player and decide how to use it to fit all your needs. So if you are a DJ that looks for a sturdly built DJ mixer that can be connected via USB, no matter your level of professionalism, this choice might be fitting you well.
For each of the channels, you can find 2-band EQ section to shape the frequencies of the songs or use them for some creative mixing. If you are in need to record your mixes, you will be able to do it via the USB port as well, another feature that we like.
You can switch between the options of phono and line inputs, you have a mic input with 2 point EQ and you have a cue gain and mix knob to additionally ease your playing. It is a sweet little thing that might give you the needed wind in the back to becoming more professional DJ.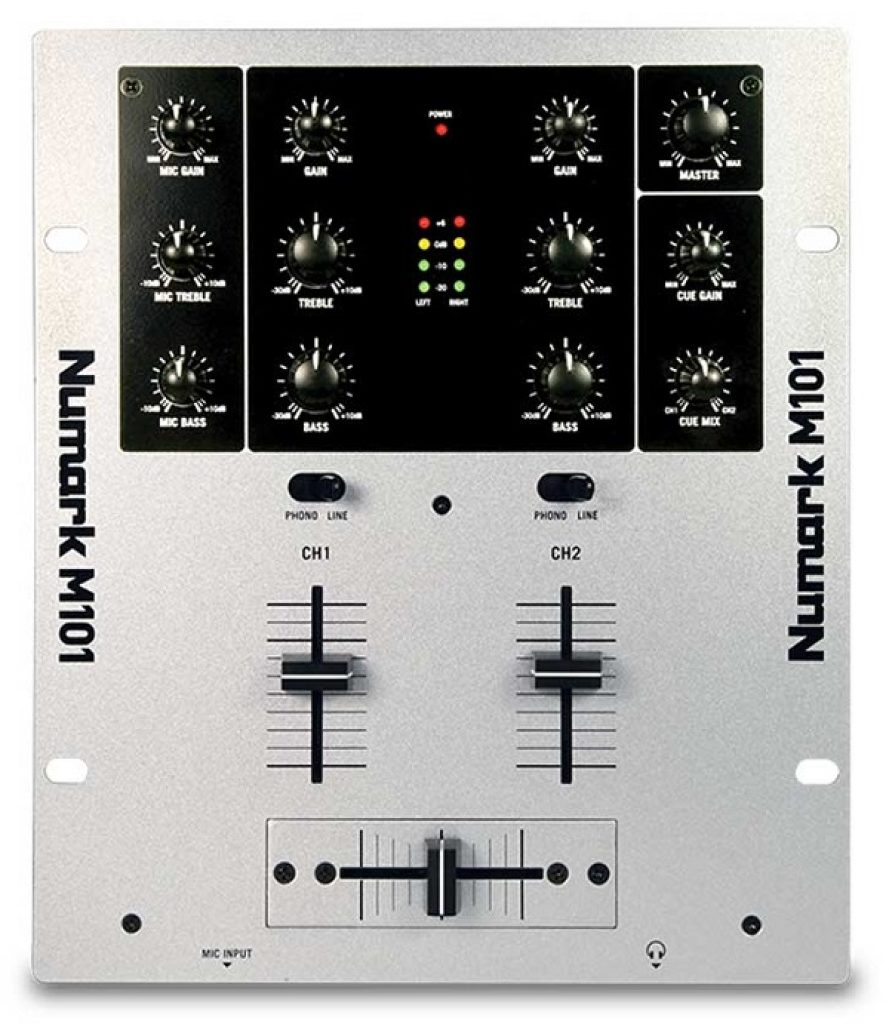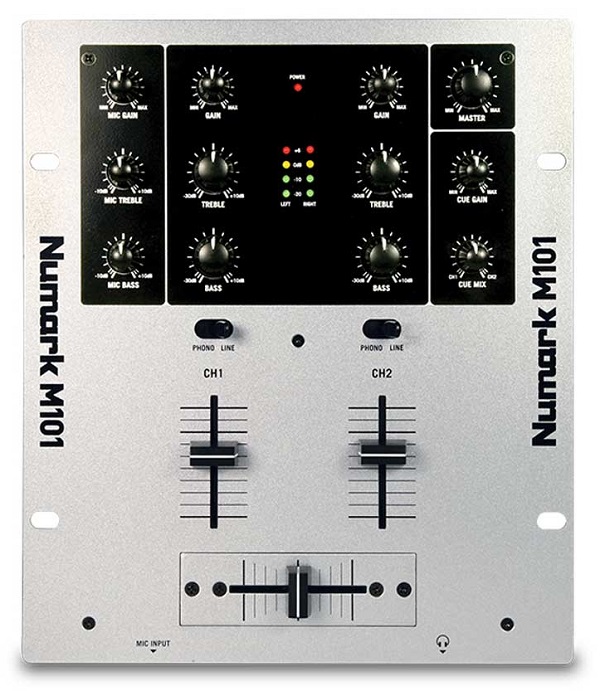 ---
13. Reloop RMX-44-BT
If you are after a beginner level DJ mixer but you are in need of 4 channel one, then the Reloop RMX 44 BT is the one for you. It looks really nice, it has all the features that one DJ might need and it's build is truly great with sturdy appearance.
On this mixer you will be able to find total of 9 stereo inputs, 4 of which are found on the channels. It has a dedicated microphone input with gain control and 2-point EQ part. On the channels, you have 3-band EQ and gain knob for each channel + a filter knob for some creative elements in your mixing. For the crossfader, you have the adjustable curve feature to shape it to your liking.
The response on the mixer is amazing and there is no latency at all, meaning that you can easily make fast changes and they will take place straight away. This mixer falls in the section of 100% digital mixers, and when it comes to the price, it is affordable when compared to 100% analog models with same functionality.
When we are at the point to talk of some additional features that this mixer offers, we can only say that it only provides the user with the Bluetooth streaming feature. If you are in need for such feature, you will have it with this mixer from Reloop, but we prefer to do it the old-school way. If you are serious for getting a nice 4 channel mixer that will be affordable and worth the cash, check this one out.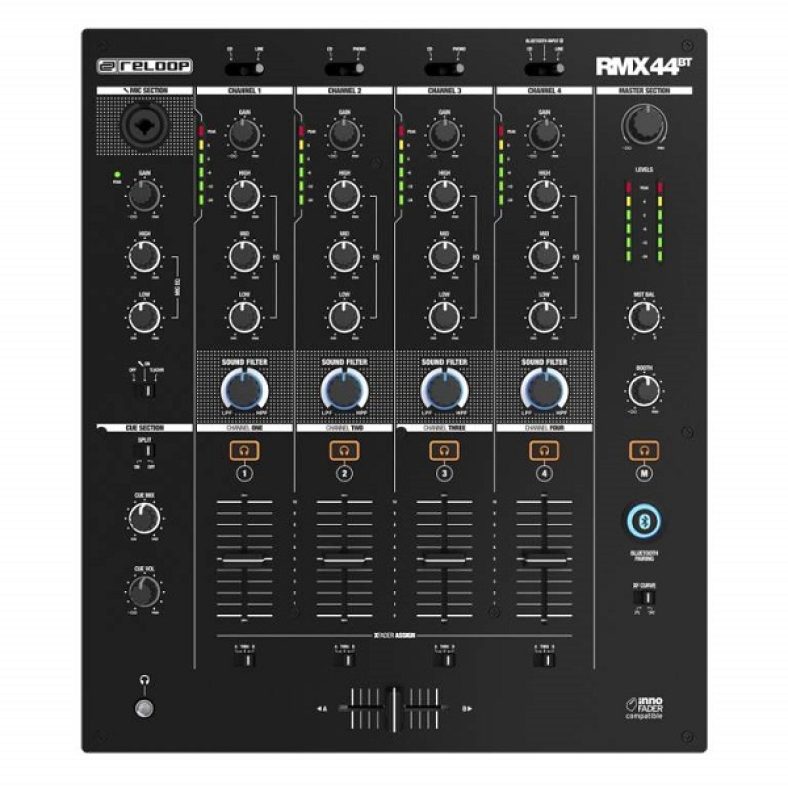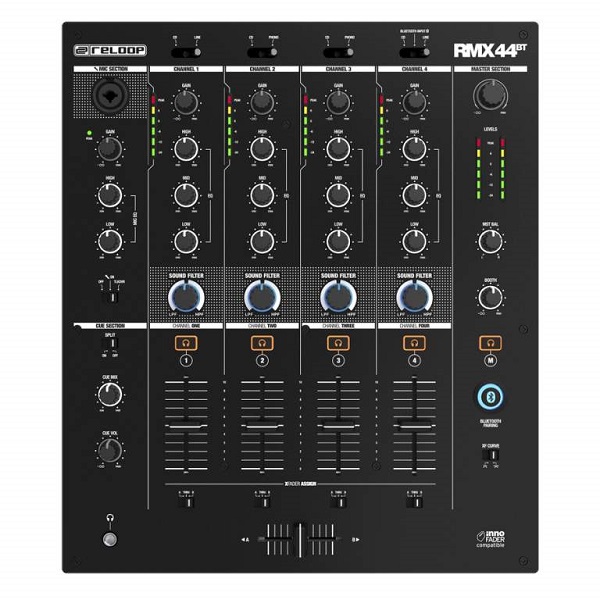 ---
14. Pioneer DJ DJM-250MK2
This amazing mixer from Pioneer, the DJ DJM-250MK2 is built to be used by both scratching and mixing DJs with ease. This unit gives the user 2 channels to use, both equipped with a 3-band EQ section and the great Magvel faders. Even though Pioneer tends to produce mixers with a lot of features and buttons/knobs, this one looks really simple and easy to use.
With the Magvel crossfader, scratch DJs will have no issues performing even the hardest of processes. Also, when it comes to the audio quality, you do not need to be concerned, because the mixer has advanced dithering technology used in it and will give you the best audio quality possible from both analog and digital sources.
Another interesting fact about it is the price because even if the budget is tight, you will be able to get it and it's really affordable for everybody. The DJM-250MK2 is a really nice choice for a beginner mixer since it comes from a trusted developer and you can expect only greatness from them. In our brief experience with this lovely mixer, we can freely say that is probably one of the best beginner mixers you can get for yourself.
In terms of build and size, this mixer is practical to be taken on the road, and even if used at home, it won't take up a lot of space on your desk. The build is good and the mixer will be able to take all the hardships that you are ready to give to it, in terms of usage. Turntablists, this one is for you.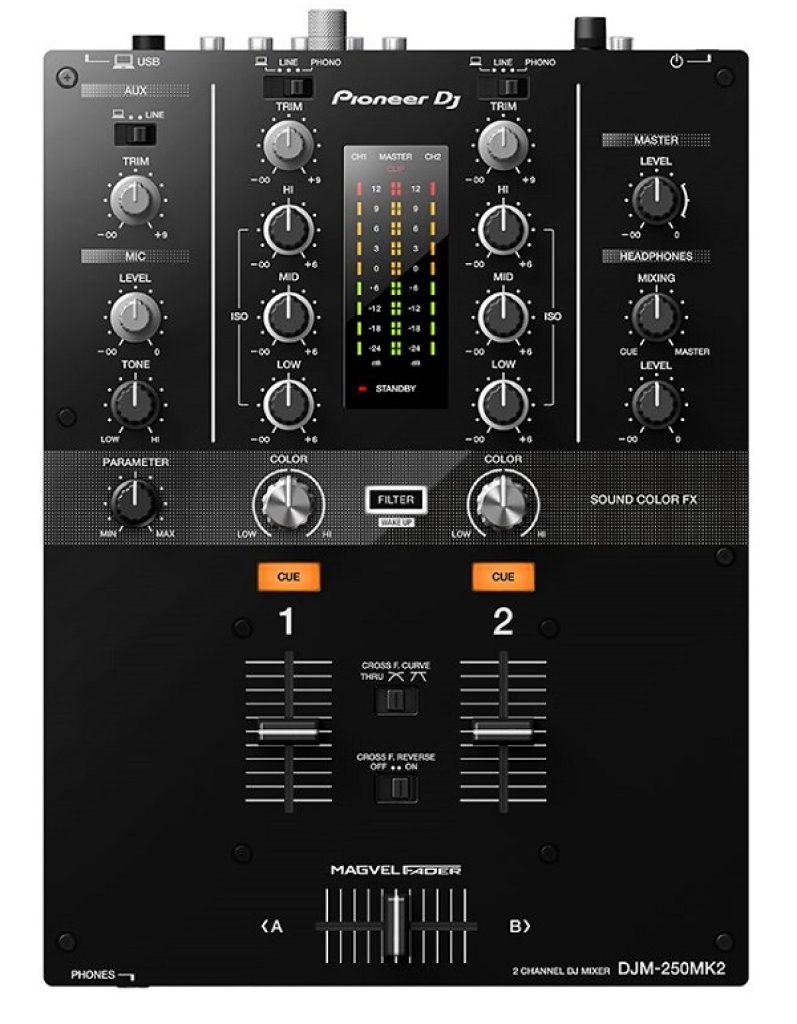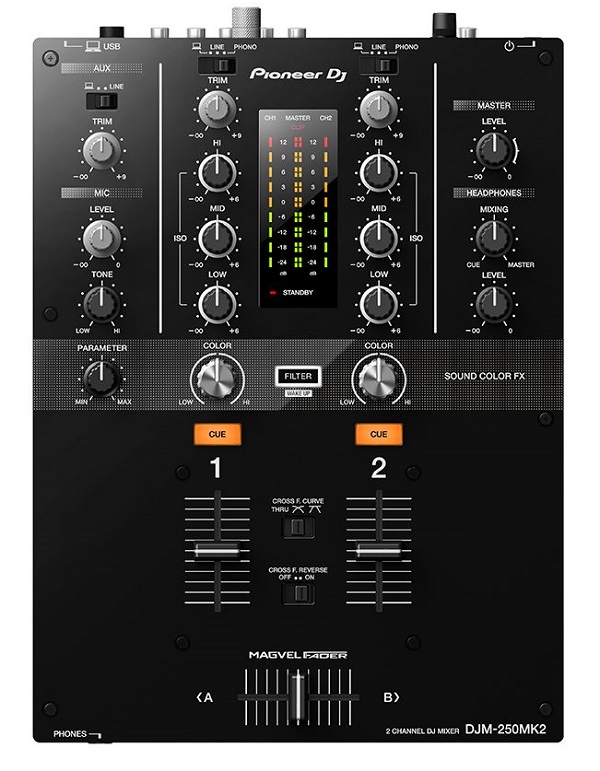 ---
15. Behringer DX626
The Behringer DX626 is a nice 3-channel DJ mixer that will give you peace of mind when it comes to comfortably mixing and scratching. The mixer itself will provide you with a nice BPM counter that will be really helpful if you need to mix music and match its tempo. As per usual, you can find the extra nice Ultraglide crossfader that is made to be really durable, which guarantees that will stay in your possession for many years.
When it comes to the other features that this mixer offers, we can say that it has 3-band EQ for each channel with -32dB of cutting level, it has 3 dual input stereo features and one of those channels can be turned and be a mic input channel with a talkback function, having all the EQ knobs from the channel on it. Amazing right?
It also has the PFL feature with the option to mix the PFL and the master and a nice and really helpful LED metering at the top of the panel. Using this mixer is really easy since it doesn't have all the fancy buttons and knobs, but you will need to do it all manually, which in my opinion is great to get you started in a harder way compared to a simpler start.
In terms of sound quality, you can expect a good sound out of it and it won't lack quality at all. We suggest this mixer, and if you have the chance to try it out, feel free to do it and you will see what we are talking about.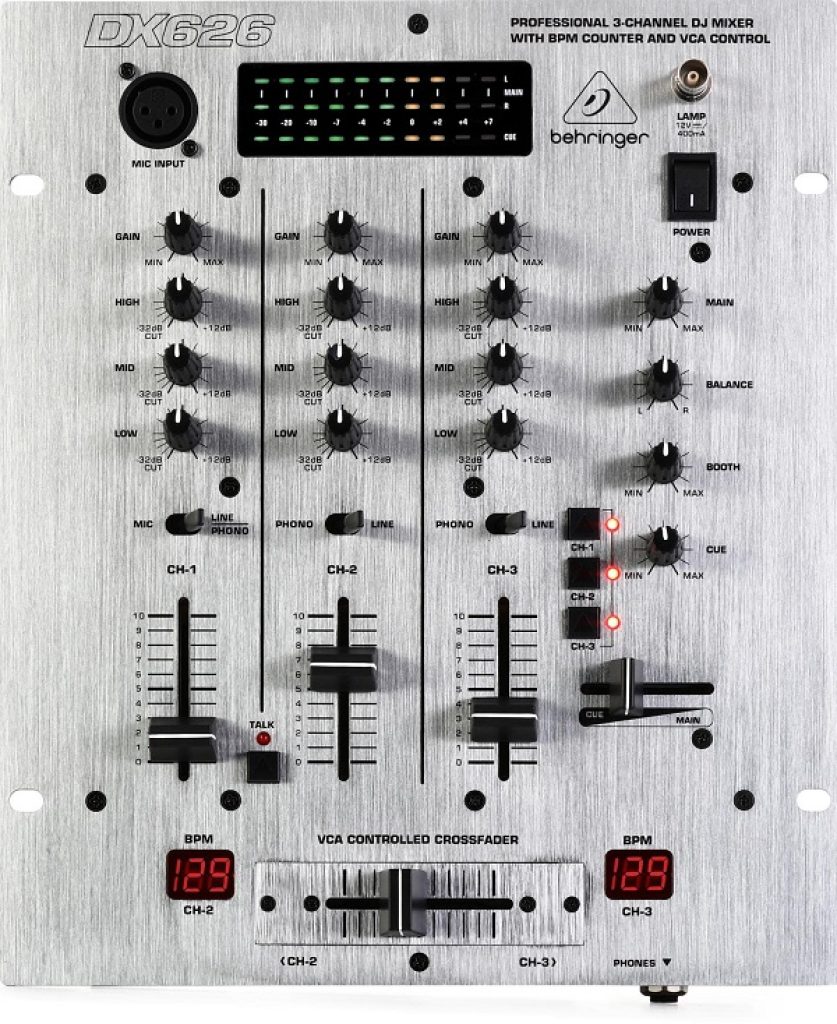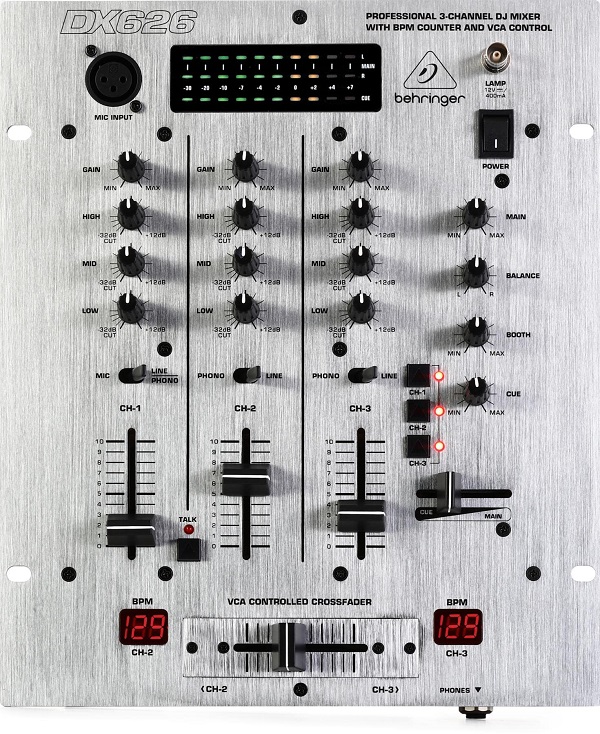 ---
16. Omnitronic GNOME 202P
This sweet little mixer from Omnitronic will give you access to a mixer that you will be able to use to learn the DJ craft and take it on the road for surprise party happenings. This mini mixer has Bluetooth and an MP3 player that will help you play very easily and fast. The GNOME 202P has 2 band EQ section per channel and a gain knob. The other features that you can find are the master volume knob, the mic level, and the headphone level. That's it.
With the crossfader, you will easily be able to mix between channels, but the style of it is not made to be used as a scratch mixer, which probably you already figured out just by looking at it.
Nothing much to say about it. We tried it briefly and we do not have positive or negative thoughts about it. I personally think it is a mixer that is completely beginner and probably the simplest one on this list. If you want to have something to play with or learn your kid how to mix music, you can get it.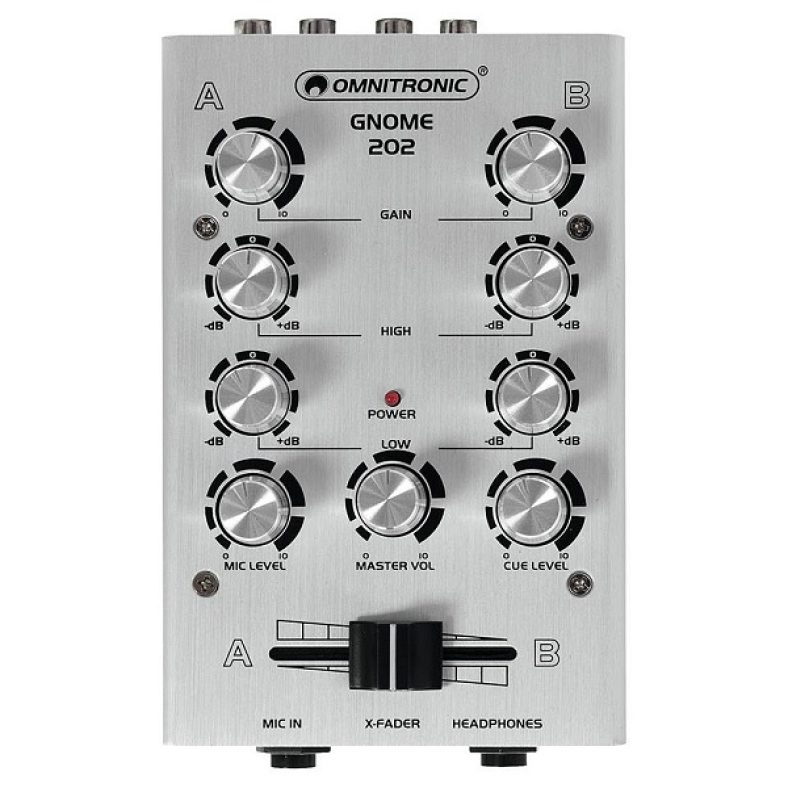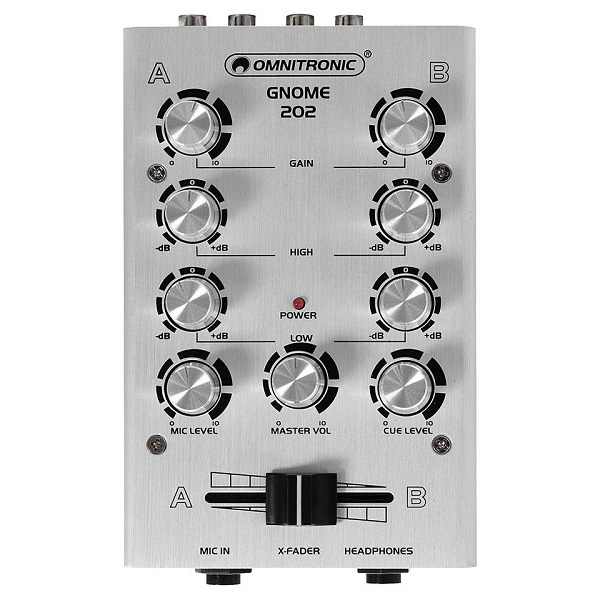 ---
17. the t.mix 201-USB Play
And we are at our last choice for this selection is the t.mix 201-USB Play. This is yet another DJ mixer that doesn't look any similar to the other choices above, but will give you nice functionality and choice to learn how to play music as a DJ. In terms of price, it comes at around 100$ which is really affordable if you want to try yourself out and see if you will be good as DJ.
When it comes to features that this little mixer packs, you will have two phono and two line inputs, mic input with talkback functionality, nice crossfader and 3-band EQ section to shape the sound of the songs you are playing. Besides that, you can connect two players that support USB, SD cards and Bluetooth.
All of these features can be found on the top panel of the mixer and with a little bit of work, you will be able to get around it and actually play some music. We believe even beginners will find this one useful and easy to use, since it is not complicated at all.
Again, if you have a chance, try it out in a local store like we did, to see if this mixer will suit your DJ needs or no. But for the price that it comes and the neat little features that it has, we believe that it's worth trying it out if you are at your beginner DJ stages.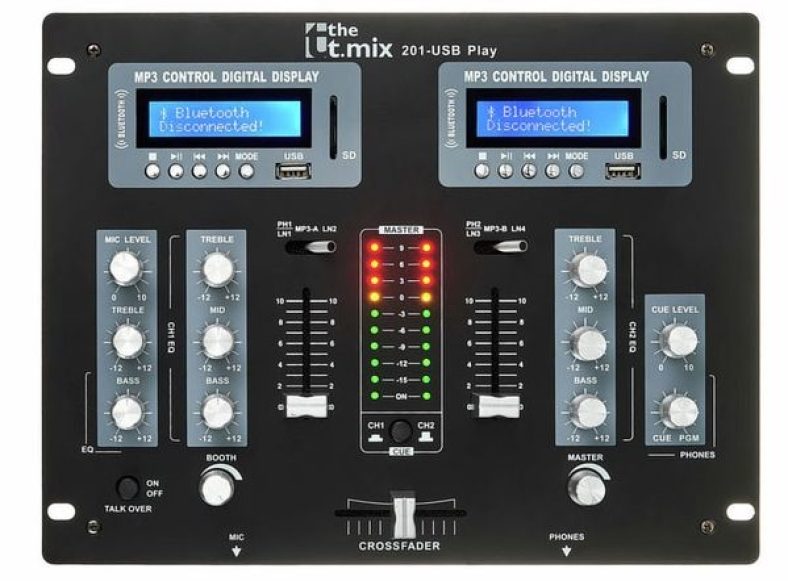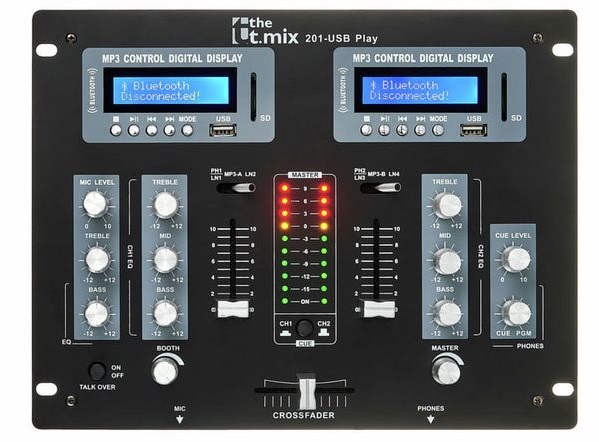 ---
Conclusion on Best Beginner DJ Mixer
Well, this is the end of this nice listicle of 17 beginner-level DJ mixers that you can go for if you wanna be a DJ and start playing music. All of these models will give you the features that you will need to start out and learn the craft, and not break your wallet and leave you cashless.
Practice DJing with some famous and easy-to-use software, use some of these mixers, and get started.
So, if you have any questions or concerns about any of these models, reach out to us for more answers or to the developers who produced the model you liked. Until next time fellow DJs!