Best Beginner DJ Mixers
Introduction
Well, up until now we covered everything that there was to say about the best DJ mixer and mixers and how to properly use them, connect them, and get the best out of them. And now we decided it is time to provide you with some models that you can choose from.
In this article, we are going to focus mainly on the DJ equipment and mixers that are for beginners and that are more affordable in terms of budget. We are not going to go over a certain price and keep it below that for all aspiring DJs that are on the budget.
These models might not be the best ones for professional and big venue uses, but they will certainly do their part and not fail you in the middle of your set. So without any further ado, let's dive deep into the models, while we provide a brief review of each before you head out to the markets and read more before purchasing. Let's start!
Top 17 Beginner DJ Mixers
1. Allen & Heath Xone 23
This mixer has a modern and clean appearance, which is reminiscent of the DB:2. In addition to its metal finish, there are large logos that read "XONE" and "ALLEN & HEATH". As well as the MixVibes Cross LE software, a USB cable, a user manual, and a pair of jumper cables are included in the box.
In addition to linear and sharp crossfader curves, scratch DJs who prefer "hamster style" can select from a crossfader reverse option. In general, the unit is actually quite light for something so sturdy, partly due to the fact that the power supply has not been integrated. The build quality is of the highest quality you would expect of a company such as Allen & Heath.
With such a small and affordable mixer, the 23 provides a nice set of features: dual headphone outputs (small and large), XLR outputs, XLR mic inputs, booth outputs, record out, and an FX send/return loop. Considering the context of the features that are included, the XONE:23C is an excellent mixer for the price.
This is a well-built piece of equipment that performs a few functions well. There is no doubt that the XONE filter alone is enough to persuade many DJs to choose it over other entry-level mixers.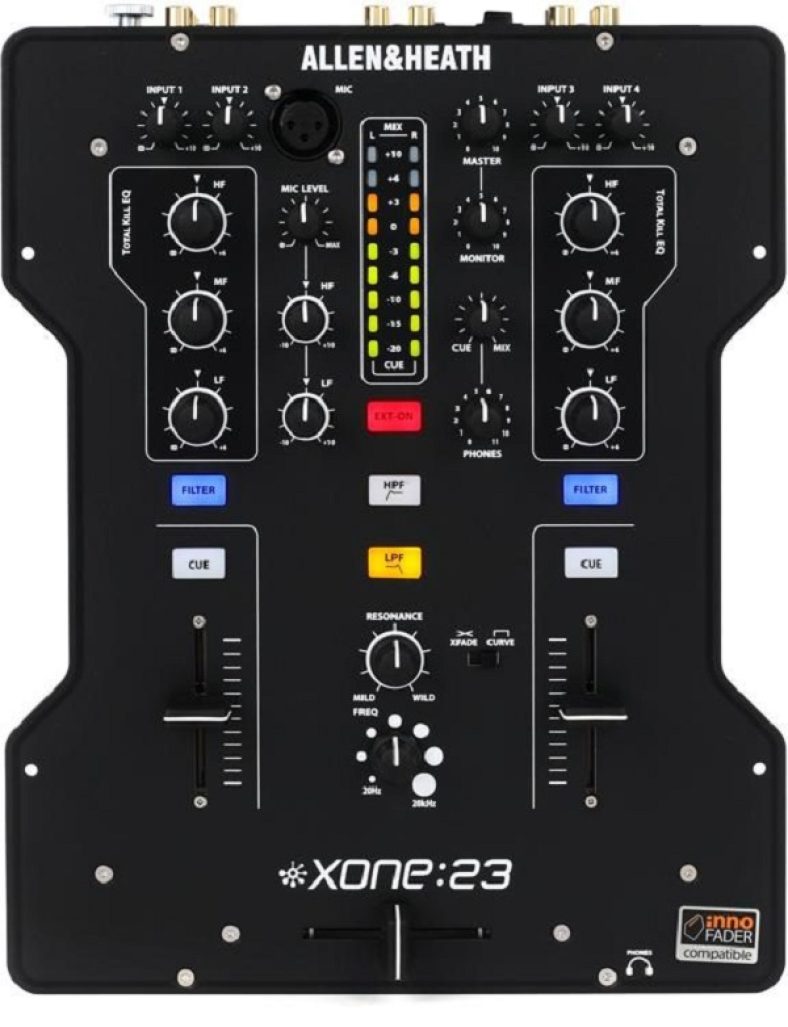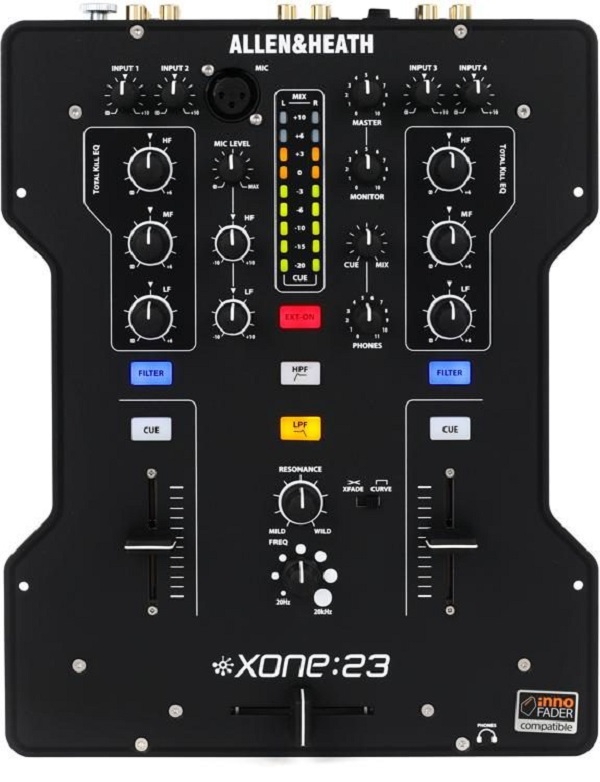 ---
2. Behringer DJX900USB
Featuring five channels of ultra-low noise performance, the Behringer DJX900USB is a professional DJ mixer.
There are many professional features included with the professional DJ mixer, including a non-contact 45mm Infinium crossfader, advanced 24-bit digital effects controlled by advanced parameter controls, a built-in USB audio interface for direct communication with a PC or Mac, and a built-in USB audio interface for direct communication with a computer.
Infinium VCA-controlled optical crossfaders and super-smooth channel faders are included with the Behringer DJX900USB. The CF-Curve-Control allows you to customize the crossfader's control characteristics individually.
There are two stereo phono/line channels, a stereo CD channel, a line/CD/USB channel, and a dedicated microphone channel with a microphone and talk level controls on this professional DJ mixer. There are independent gain controls and 3-band EQs on channels 1 – 4, which also feature 10-LED metering, as well as full-kill functions on channels 1 – 4.
The Behringer DJX900USB also includes enough built-in phono preamps to accommodate three turntables. As a final feature, the built-in USB audio interface allows the user to integrate the digital music library of a computer into the system.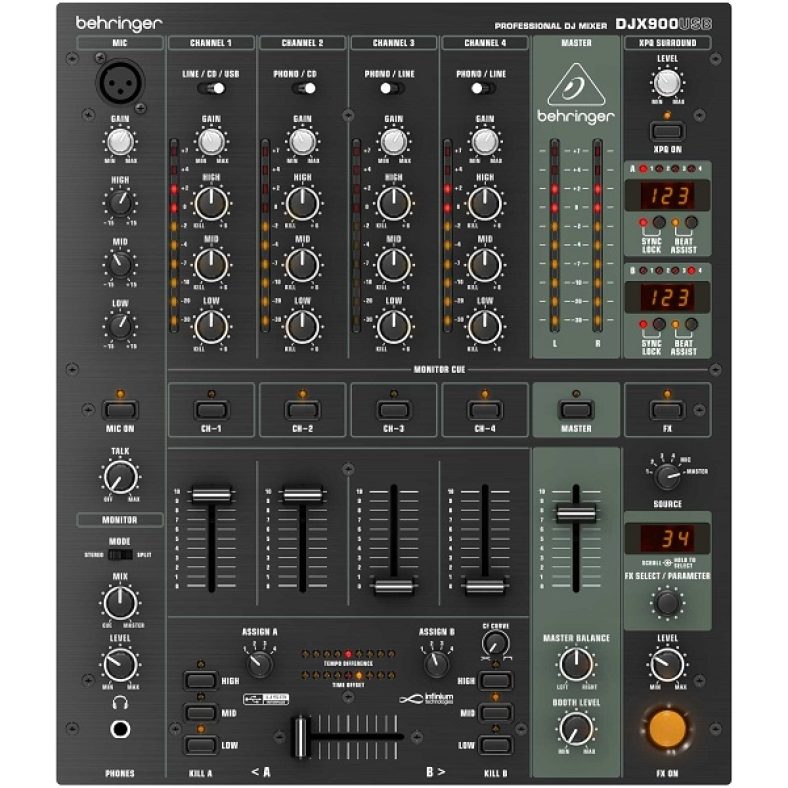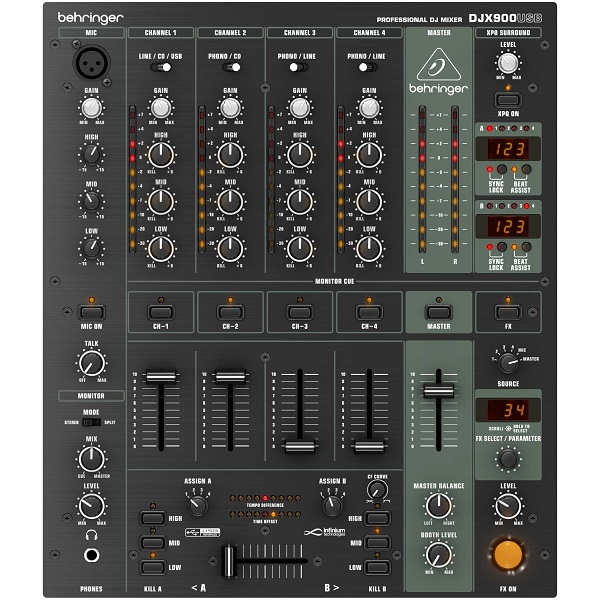 ---
3. Reloop RMX-10BT
In terms of entry-level DJ mixers, manufacturers tend to play it safe, and for good reason. With the RMX-10 BT, Reloop has applied the same philosophy to a new design priced at a beginner-friendly £101: this is as straightforward as it gets, with a conventional two-channel design, a three-band equalizer and very few bells and whistles to complicate things.
You will find all the features you need to get started mixing on the 10 BT, including CD and turntable inputs on each channel, switchable cueing, and a master-level meter. There is a good three-band EQ on the unit, albeit without the character of more expensive mixers, but it is sufficient to tweak frequencies thanks to its -24 dB cut and + 15 dB boost.
Overall, this is a straightforward approach that is very effective in practice. As a result of the high sound quality and clear signal, the signal does not feel degraded as it often does with cheaper mixers in the past.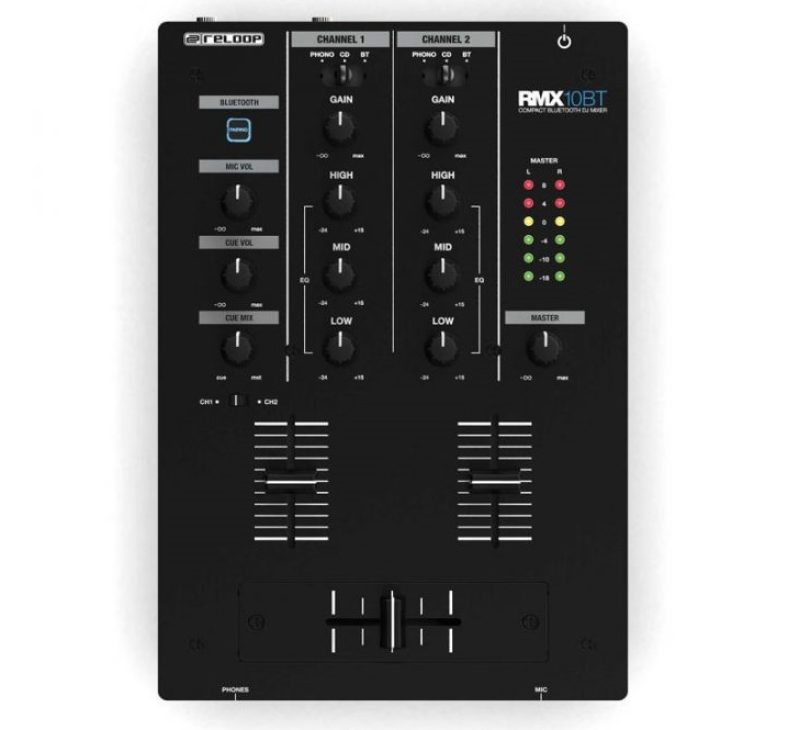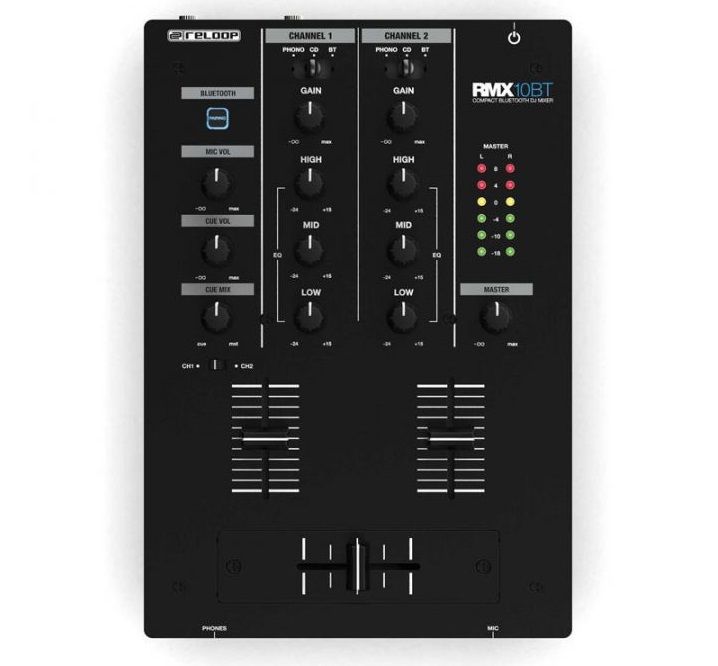 ---
4. DAP-Audio CORE Beat
Featuring six line inputs, a microphone input, and Bluetooth playback capabilities, Core Beat is the little brother of the Core MIX-3 USB. It is possible to playback music from your connected players using a wireless device, such as a smartphone or tablet, through the Bluetooth playback module.
The input can also be switched between the line level and the MP3 level. By adjusting the MP3 level, you can adjust the input sensitivity to the correct level for MP3 players, smartphones, and tablets. You can now playback MP3 files directly from your MP3 devices without experiencing any signal loss.
There is a separate fader board for easy maintenance and a high-quality component build to ensure the best performance. The Core Beat has all the functionality you need to get started as a beginner DJ mixer. A VU indication is provided on each channel, cross-fader curves are selectable, a talk-over is provided, outputs for master and booth are provided, and with -26dB tone control you can create any beat you desire.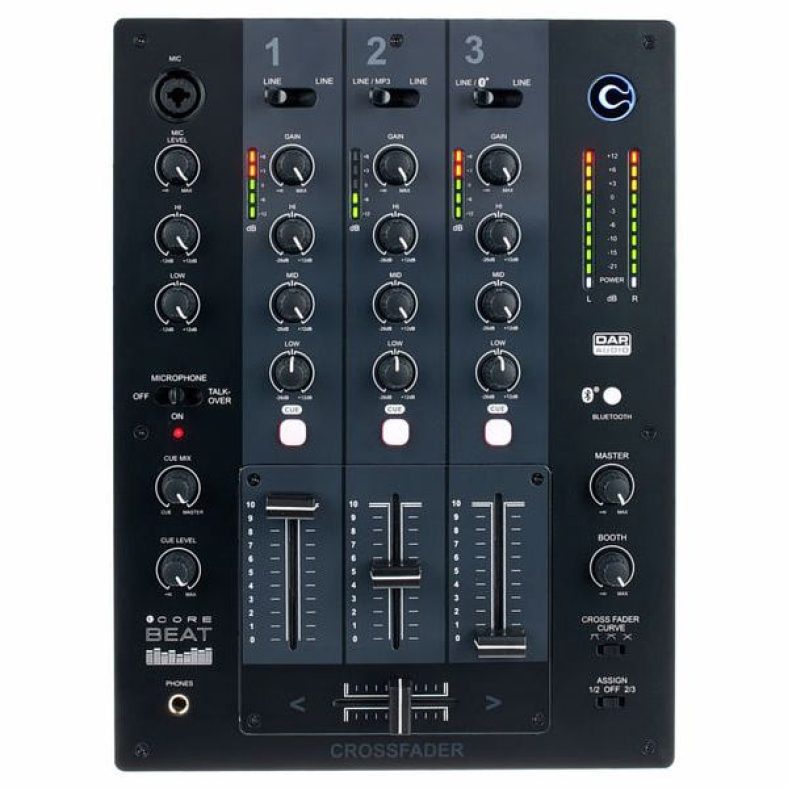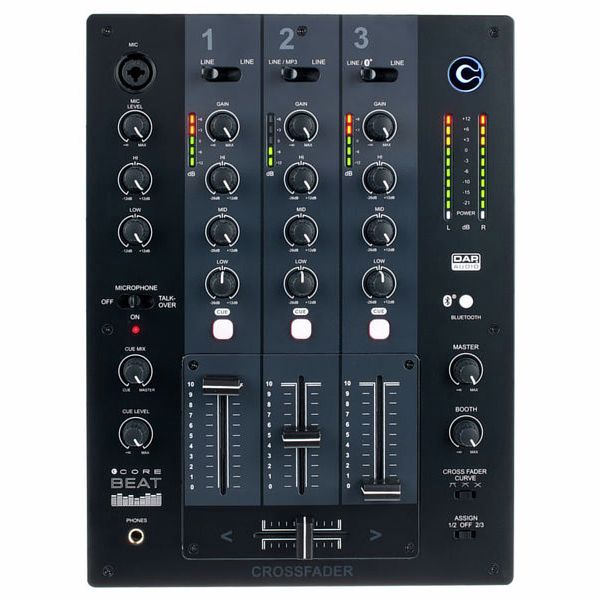 ---
5. Omnitronic PM-422P
With its 4-channel configuration, the PM-422P is an excellent choice for DJs on a limited budget. The PM-422P offers a wide range of features, including gain control, LED level meter, 3-band equalizer, cue button, and channel fader, as well as:
A total of eight line inputs and two phono inputs are provided via cinch sockets. With its four channels, the PM-422P allows DJs to switch between multiple DJs rapidly during the course of the DJ set. It is possible to monitor the master output via balanced RCA and XLR connections. Live recording of DJ mixes is also possible due to the independent master rec-out.
Moreover, the PM-422P features an MP3 player with a USB port and a blue LCD display. Mobile phones, tablets, and laptops can wirelessly transmit music through the Bluetooth feature integrated into the device. Including a microphone input, a 2-band equalizer, and a talk over switch for announcements, the complete equipment package includes a microphone input, volume control, and a 2-band equalizer.
The Omnitronic PM-422P mixer is the type that can be plugged in and used immediately. In one sense, because of familiarity with the basic functions. In another sense, because of the wide range of functions that are almost self-explanatory.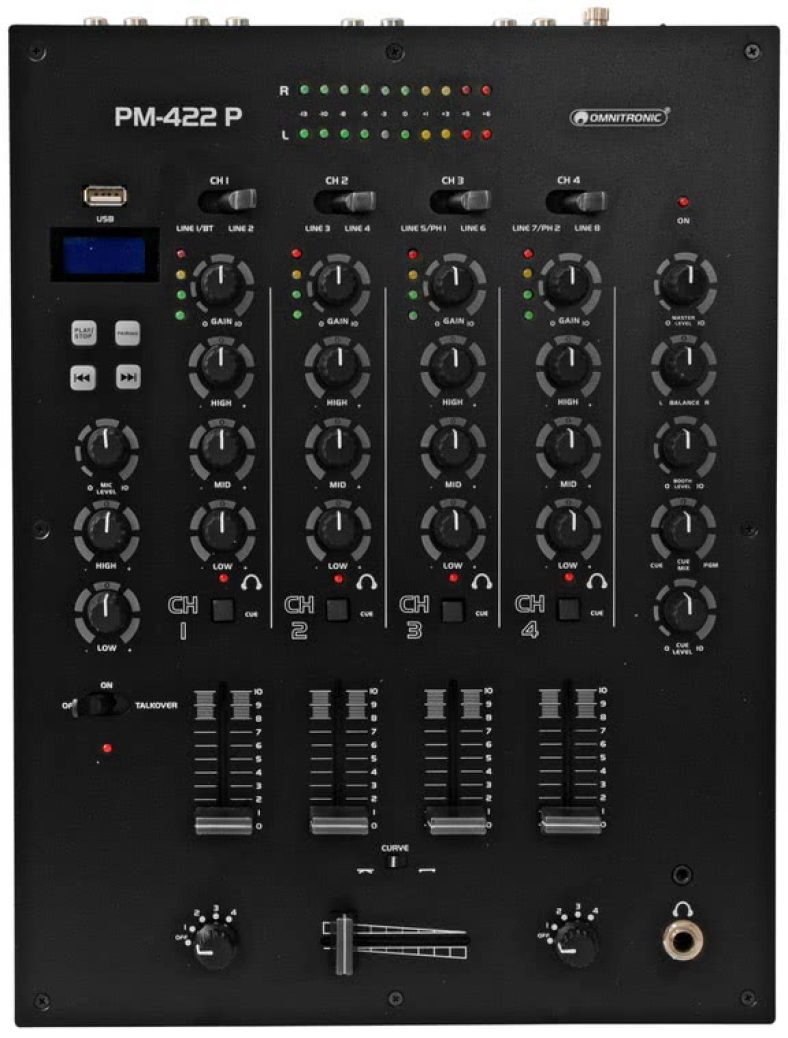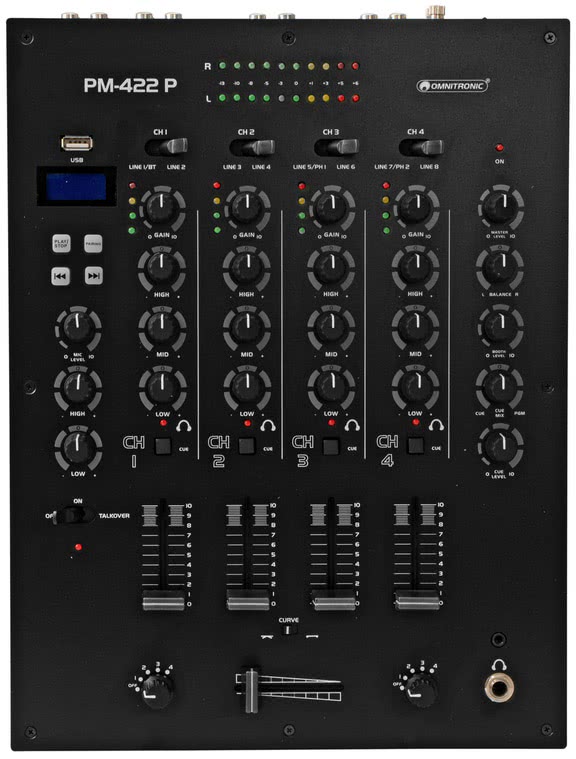 ---
6. Gemini Sound MM1
An extremely compact design, the MM1 offers a wide range of practical features. At an affordable price, this highly portable 2-channel stereo mixer gives DJs the control they need. The MM1 provides two line RCA inputs and a master RCA output for all the connections that may be required.
The mixer offers two bands of rotary EQ on each channel so you can blend the lows and highs of your tracks to create a customized sound. With individual gain controls, you have even greater control over the composition of your mix. Also included in the MM1 is a mic input with dedicated volume control.
By adjusting the Headphone Volume on the MM1, you can control the levels heard through the headphone without altering the overall mix. When you use the preview functions, you will be able to ensure that your mix sounds professional and tight. There is a smooth and robust crossfader on the MM1 that ensures seamless transitions and clean mixing between sources.
MM1 offers valuable features and reliable performance at an affordable price and is ideal for DJs and consumers looking to keep their rig light and compact, along with beginners who are seeking an easy-to-use, reliable mixing solution.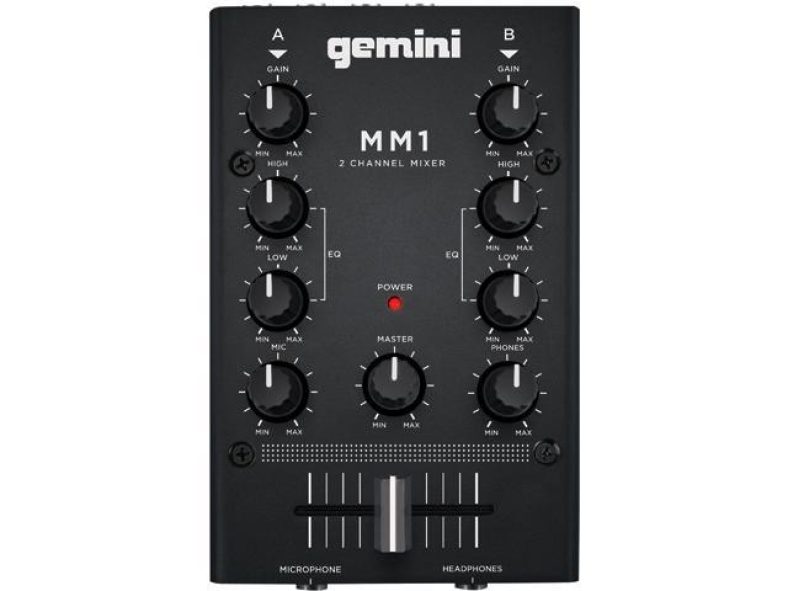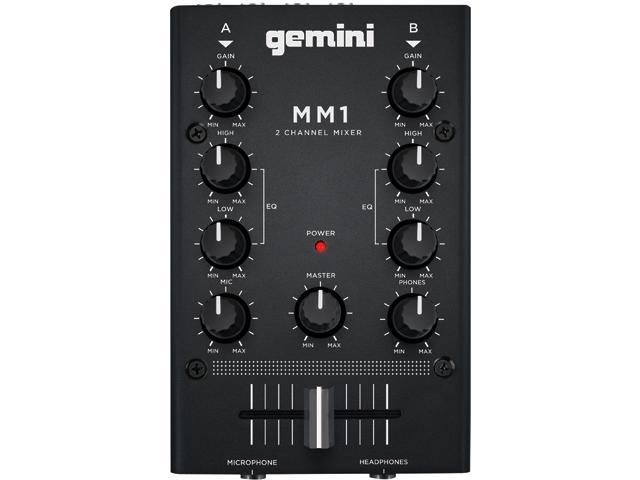 ---
7. Native Instruments Traktor Kontrol Z1
It is the mixer and MIDI controller version of the series. However, unlike its Kontrol X1 and F1 siblings, the Z1 features a few additional features.
Aside from being the only one in the series to have a 2-channel soundcard, it is also the only one (to date) that can control the Traktor DJ iOS app. Even though the Z1 has a relatively limited number of features, it provides you with fine and smooth control over many of the essential Traktor DJ software mixing functions which may not be suitable for touchscreen controls.
In addition to the two-channel mixing layout of the Kontrol Z1, the device features a dedicated volume fader for each channel as well as a 3-band EQ with center detent and a dedicated Filter/FX knob with center detent. There is no difference between the crossfader on the Kontrol S4 and S2 units in appearance or functionality.
On the back are knobs for managing the volume of the unbalanced RCA stereo output, and on the front are knobs for controlling the volume of the 1/8-inch headphone jack.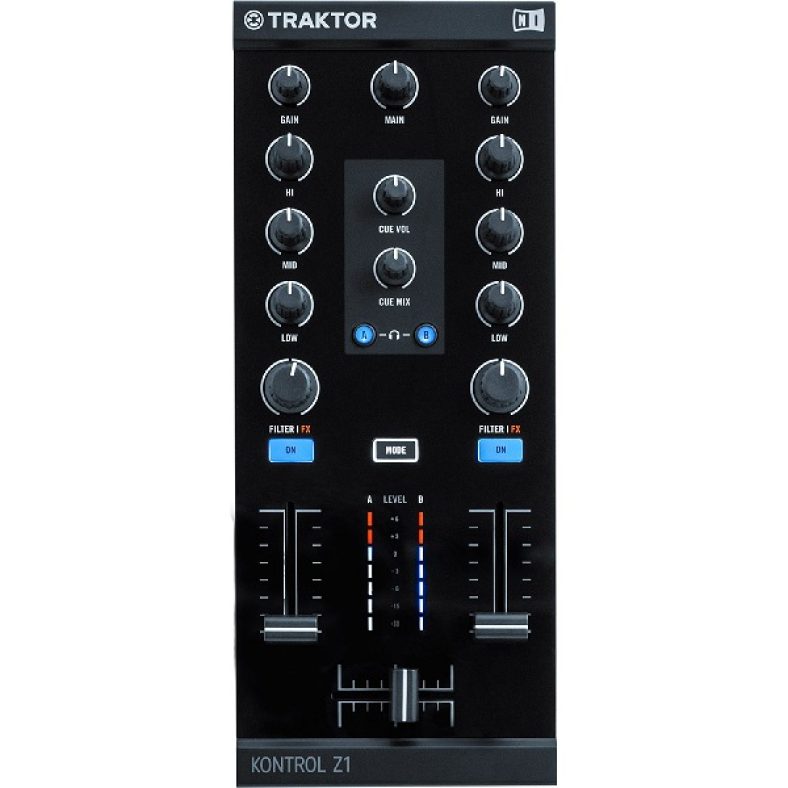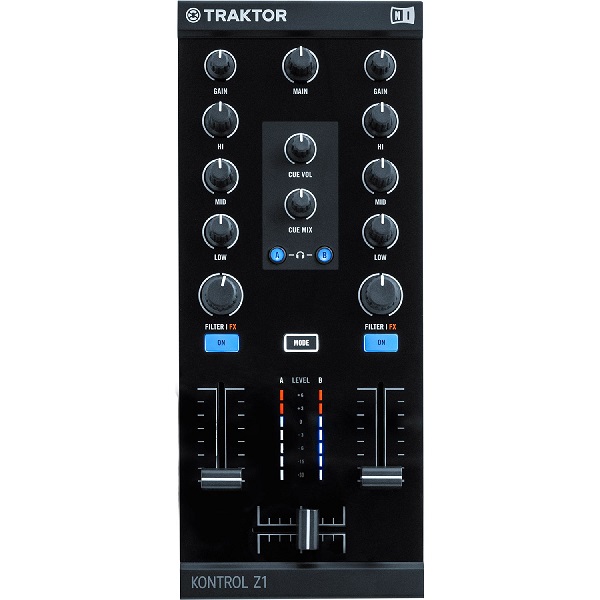 ---
8. Numark M4
The M4 is a three-channel tabletop mixer designed for DJs who require the maximum amount of flexibility. There is a crossfader that can be replaced with a reverse and slope control, a 1/4″ microphone input with EQ, and plenty of routing for phono and line-level devices.
M4 excels in its input section, which offers two switchable phono/line inputs, as well as four dedicated line inputs, giving it a total of SIX inputs. You've got a powerful package that's ready for whatever the gig throws at you when you add Master and Record outputs, steep three-band EQs, and rotary kills for each channel, and it's ready to handle anything.
Using M4, you will be able to turn what would otherwise be a problem for the average mixer into a simple plug-in. Don't let your next gig go without enough input. It is possible to spend this much on just a crossfader, but you will not be able to compare the effortless response and smooth glide provided by the M4 Scratch.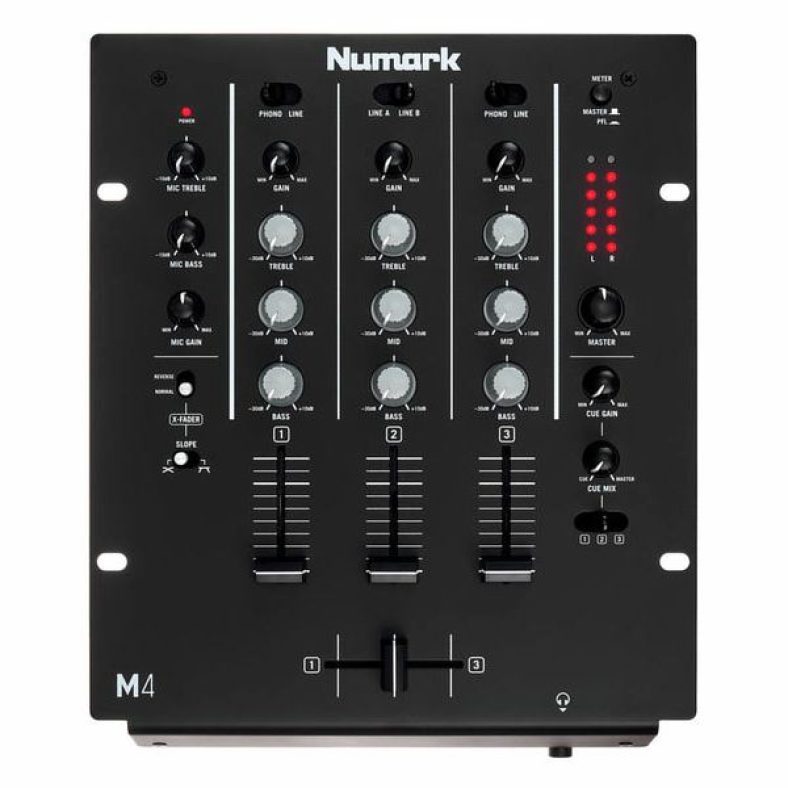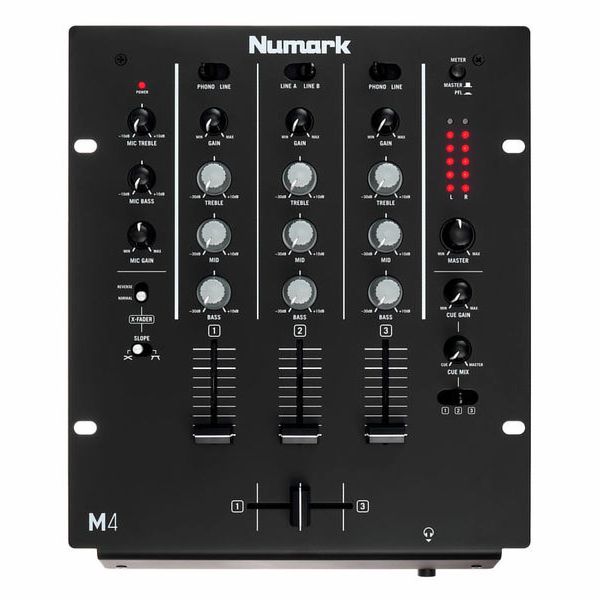 ---
9. Behringer NOX101
This Behringer NOX101 battle DJ mixer features an Ultraglide VCA crossfader that can be exchanged for long-term use and is easy to use. The Behringer NOX101 is designed to last a lifetime due to its rugged construction and high-quality components.
Among its highlights is a microphone input that includes a XENYX mic preamp and two-fold EQ, a premium phono preamp, a three-band EQ that includes kill filters and cue functions, and 6.3mm jack and RCA outputs.
In addition to RCA inputs for turntables, tape decks, and CD players, the Behringer NOX101 offers professional features such as a balanced TRS microphone input with XENYX Mic Preamp, as well as balanced (and unbalanced) outputs that can be utilized with power amplifiers or active speaker systems.
There is a sense of solidity and reliability about this mixer. As we searched for something to complain about, we found only that even though there is a fader to connect your Cue mix to channel 1 and channel 2, there is no Master/Cue switch. Despite this being a frustration to us, we are more than willing to forgive them for leaving it out at such an affordable price.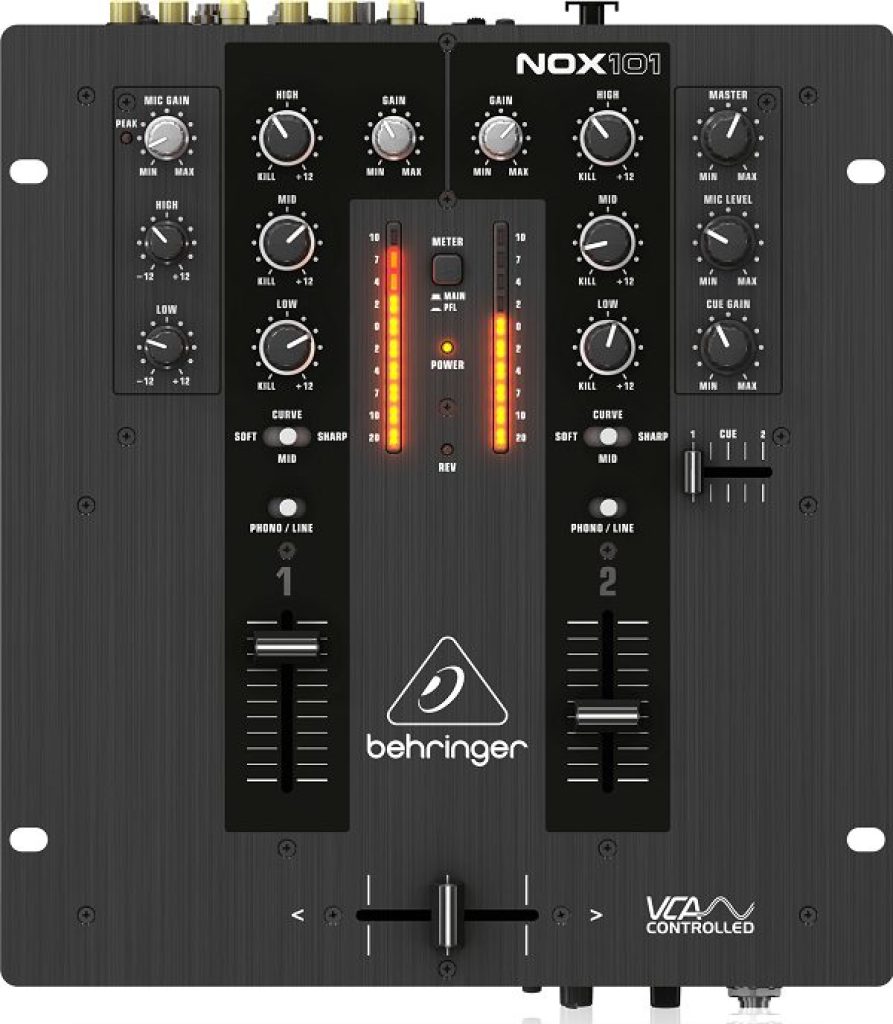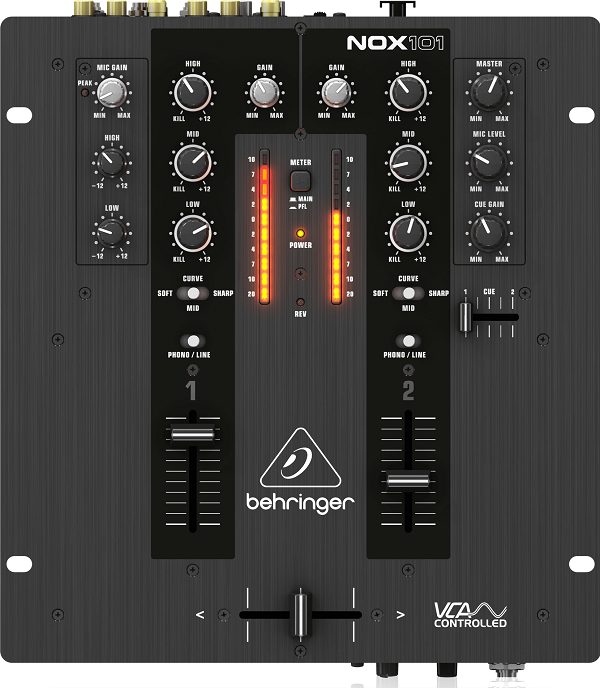 ---
10. Gemini Sound PMX-20
PMX-20 is a four-channel mixer with 8 RGB performance pads per side and professional inputs and outputs (including booth output) that is designed to meet the needs of the most demanding scratch addicts.
Its rugged all-metal chassis guarantees that the PMX-20 will serve you for years to come as a professional DJ mixer. It is the MIDI and audio interface functionality that is the real secret sauce of the PMX-20. In addition to the dedicated MIDI functions, every control on this digital DJ mixer also sends MIDI data.
In conjunction with the PMX-20's built-in audio interface, it is also possible to use it as a standalone MIDI controller. It is possible to get a lot for a relatively small price with the PMX-20.
If you are looking for a MIDI controller that is similar to a DJ mixer, then look no further. As a DJ mixer controller, it provides flexible creative control for the ultimate DJ mixer experience for beginners or studio professionals. A truly integrated performer, the PMX-20 features faders, hot cues, effects, and loops at the right price point.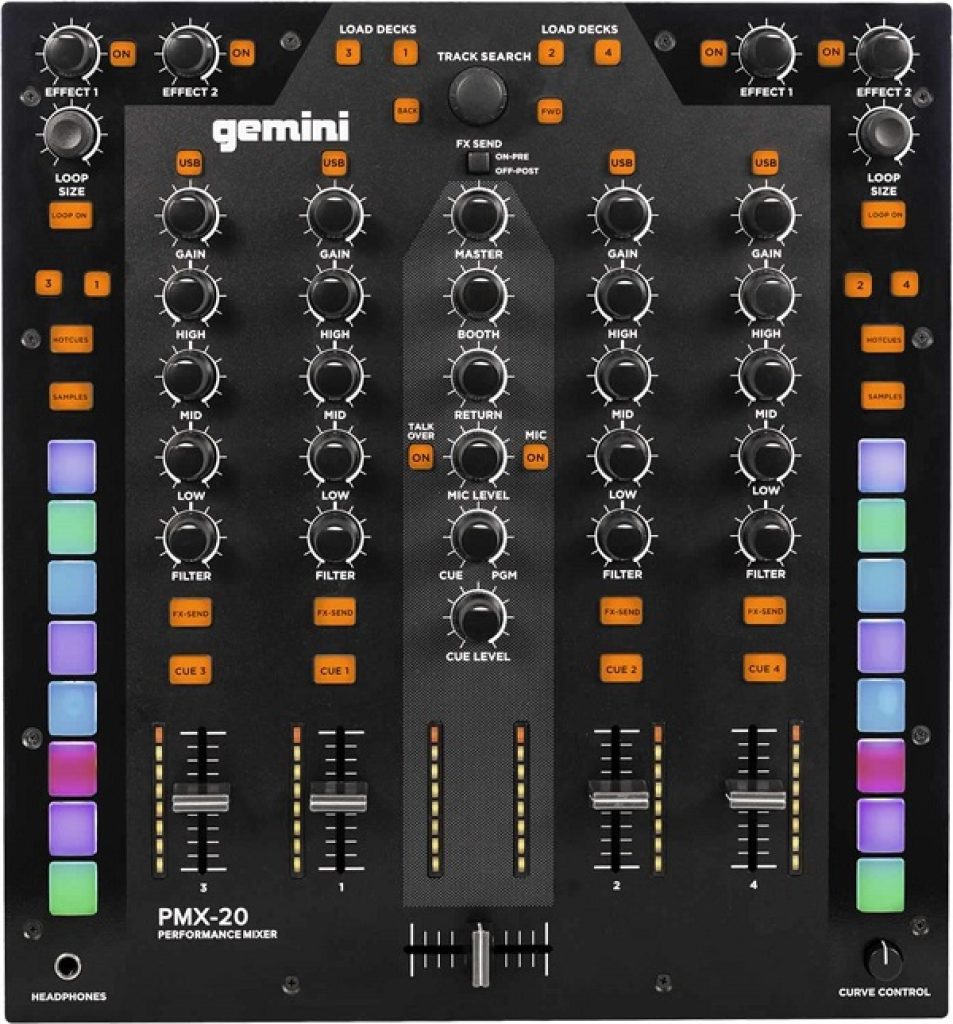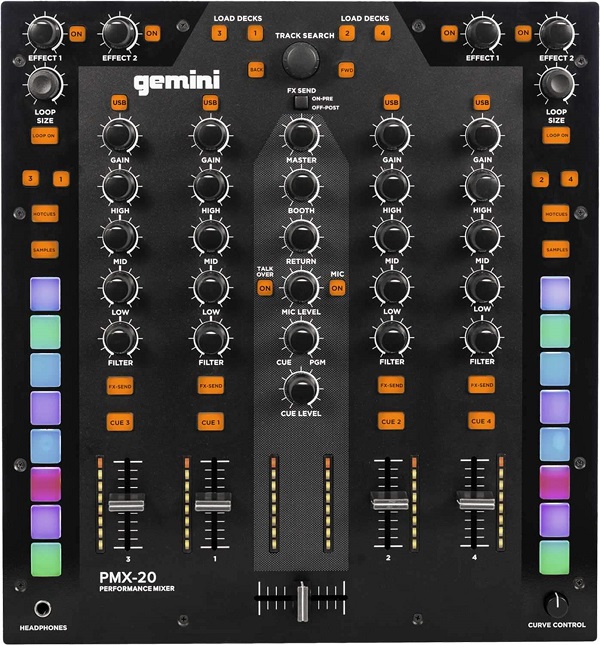 ---
11. Reloop RMX-22I
In addition to serving as a two-channel mixer, it has a nice selection of onboard effects, including the almost obligatory one-knob filter. In terms of iPad additions, a splitter cable and mono headphone output both work well, but the stereo iPad option on the Mic/Aux channel is hindered by the absence of headphones cueing, and a stereo/mono output would have been helpful.
Whether you are a scratch DJ, mobile DJ with CDJs, or anyone else who requires a two-channel mixer for their set-up, it is definitely worth considering. However, for bar DJs, lounge DJs, and indeed anyone else who DJs from an iPad in conjunction with traditional gear and is satisfied with mono output from the iPad, this is an excellent choice.
You could replace the splitter lead with some cables and achieve the same result with any two-channel mixer, but the fact that this has been specifically designed for this purpose (and includes that handy 1/8-inch Aux) makes the process a bit easier and more convenient.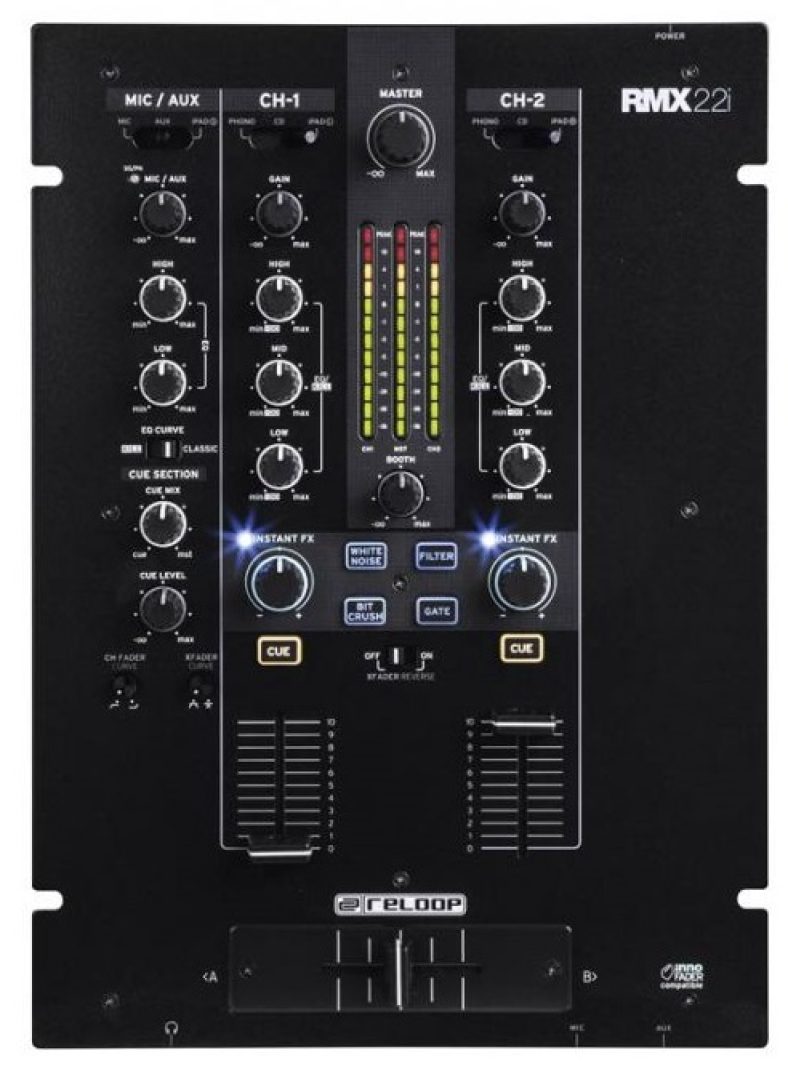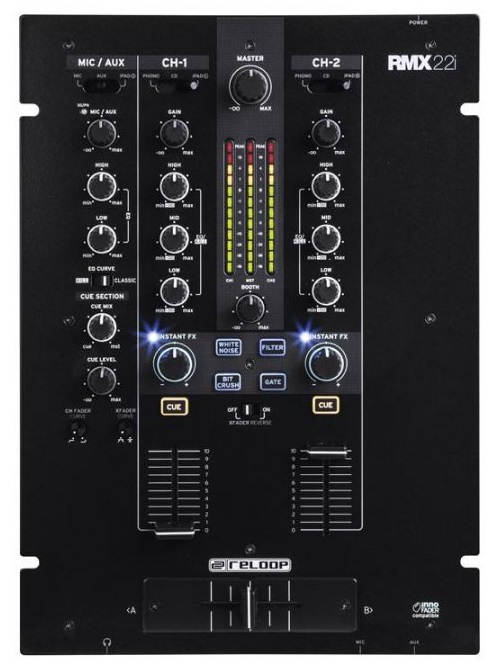 ---
12. Numark M101
In terms of features, the Numark M101 USB Black is well equipped and well suited for those in search of a simple two-channel mixer with a variety of functionality. This device provides a great performance, whether it is mounted in a rack or used as a desktop device.
With the Numark M101 USB Black, it is effortless to connect a computer, turntable, or CD player to the device. DJs looking for a robust 2-channel USB mixer, whether they are beginners or experienced DJs, will find it to be the ideal solution.
There is an integrated 2-band EQ, which provides effective sound manipulation so that tracks can be easily adapted to any room or given a particular tone. In order to record your live performance or edit it further, you can connect the USB port to a Mac or Windows computer.
Featuring two switchable stereo phono/line inputs, a cross-fader, a 6.3mm microphone input, as well as stereo RCA connections, this unit offers a wide range of possibilities.
In addition, it can also be reversed. Using the Numark M101 USB Black, you can transmit audio signals from your computer to the Numark M101 USB Black. Numark's M101 USB Black is a real workhorse thanks to its compact dimensions, robust construction, and flexible features.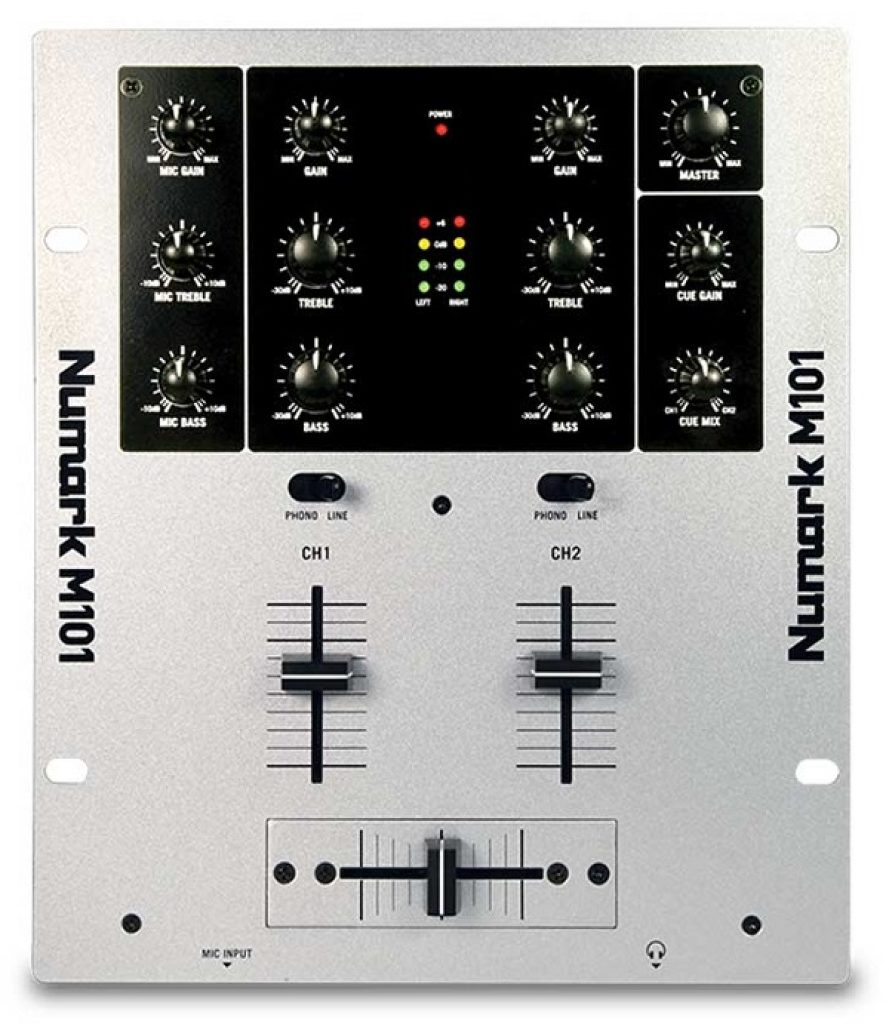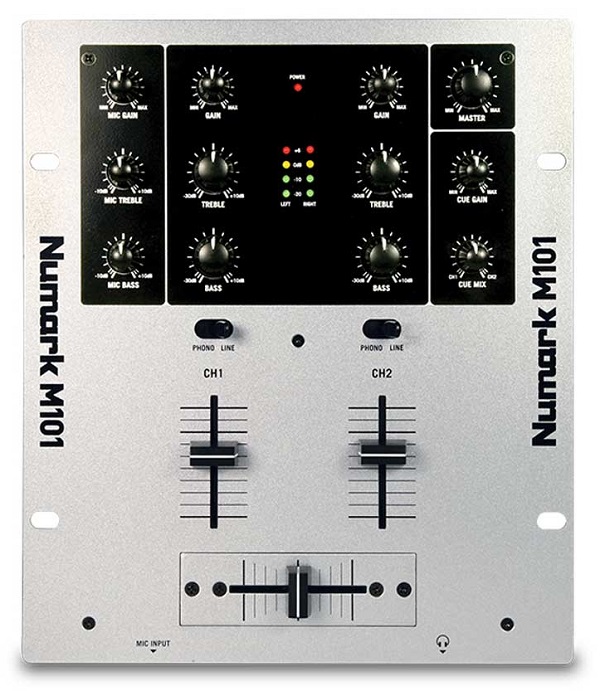 ---
13. Reloop RMX-44-BT
With the RMX-44 BT, Reloop provides a four-channel mixer that nicely summarizes what makes its products so impressive. There are four channels in this mixer, and it has a professional design and many nice features.
A total of nine stereo inputs are available on the four channels, along with a microphone input, a three-band EQ, and high-pass/low-pass filters, as well as other advanced features, such as an adjustable crossfader curve and multiple cueing options.
There is an excellent response to the EQ pots and channel faders, with all controls being solid and tactile. Everything in this mixer is digital, which doesn't make much difference in terms of how you use it, but allows it to be more affordable than traditional analog mixers.
As far as additional bells and whistles are concerned, Reloop has kept it relatively simple, offering only Bluetooth streaming. Whenever Bluetooth connectivity is presented as a DJ feature, we are a little skeptical because the compromised sound quality does not lend itself to serious use in a club setting, and it is hard to understand why you would prefer to use a streaming device over a turntable, a laptop, or a media player in such a situation.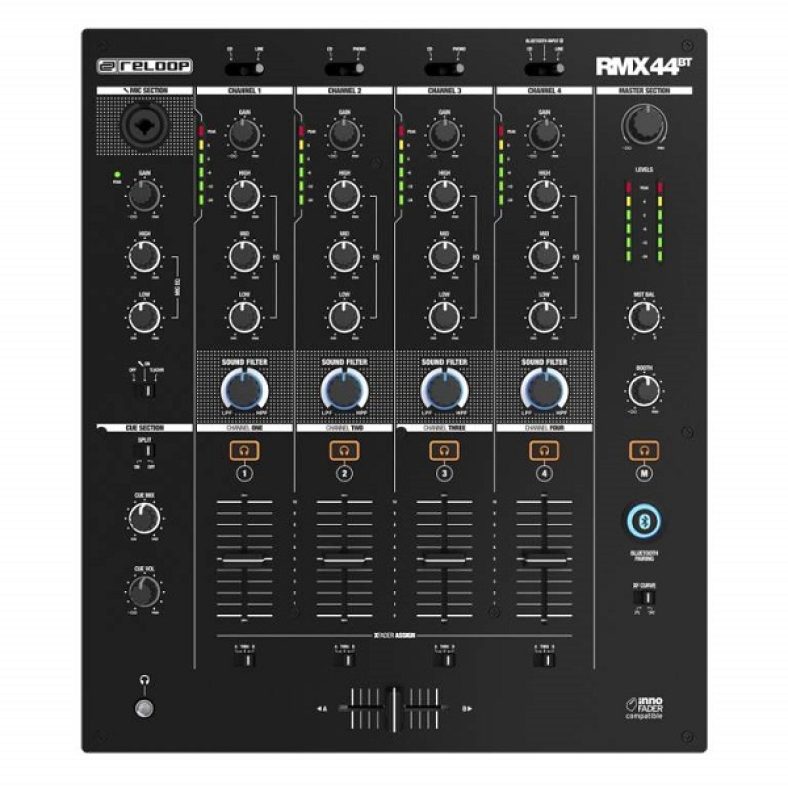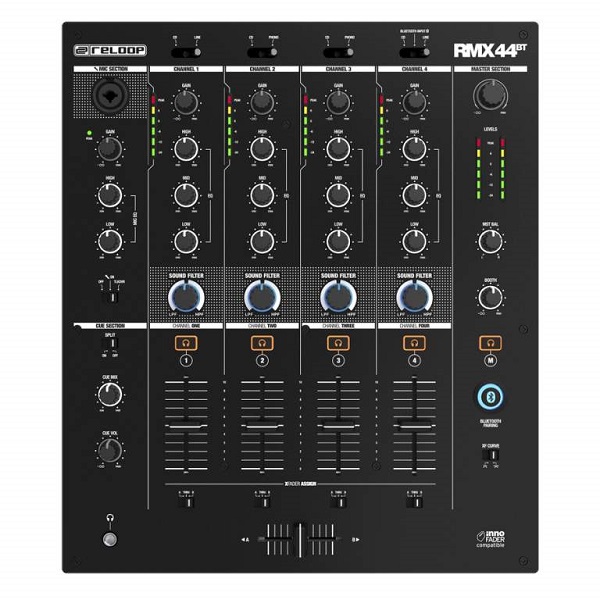 ---
14. Pioneer DJ DJM-250MK2
Designed for scratching and mixing, the Pioneer DJ DJM-250MK2 mixer provides two channels. This device offers two channels with three-band EQs, Magvel crossfaders, and Sound Color FXs. We were impressed with the simplicity of the layout; all controls are clearly visible and located in a traditional manner.
On the mixer, there is a crossfader area that allows turntablists to scratch comfortably. As far as audio quality is concerned, the mixer features dithering technology that produces high-quality audio from digital and analog sources.
Despite its affordable price, you will be able to purchase a DJM-250MK2 even if you are on a tight budget. In my opinion, this mixer is a great choice for beginner DJs, scratch and mix DJs, and DJs who are looking for the features of Pioneer DJ's mixer in a smaller form factor.
As a two-channel mixer, the Pioneer DJM-250MK2 is the perfect choice for the studio or for smaller gigs on the road, providing Pioneer DJ's legendary high quality. Overall, we are very pleased with this mixer, and it will be difficult to pack it up to return to Pioneer DJ. We recommend it highly, especially for those who partake in turntablism.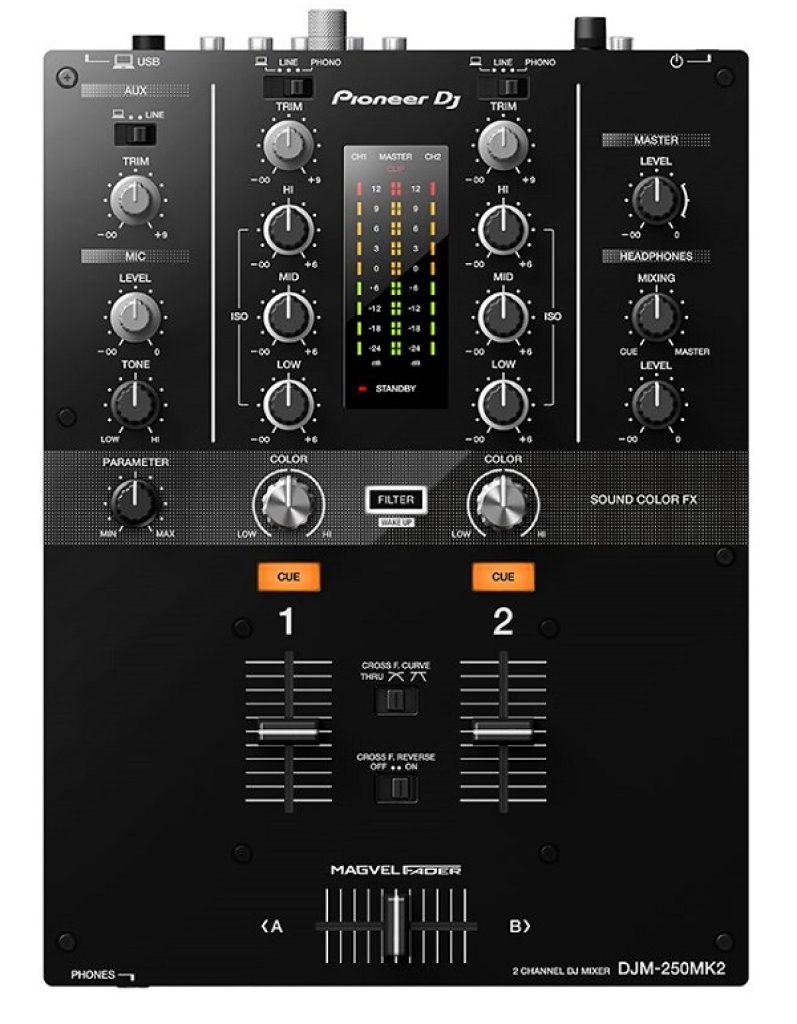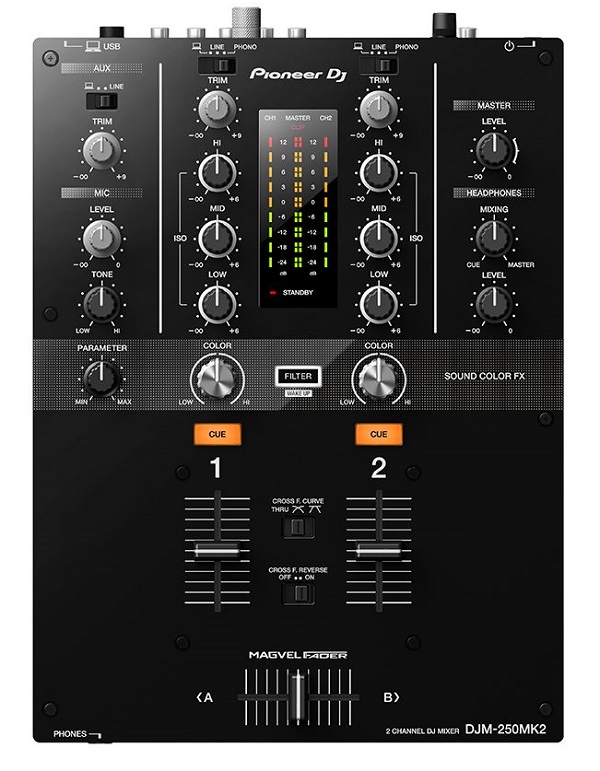 ---
15. Behringer DX626
A professional 3-channel DJ mixer, the PRO MIXER DX626 features an integrated Beat-Per-Minute (BPM) counter and is loved by novice and professional DJs worldwide. Featuring a smooth, dual-rail "Ultraglide" crossfader with up to 500,000 life cycles, this product is guaranteed to perform flawlessly for many years to come.
This product has a number of features including three dual-input stereo channels, a 3-band kill EQ (-32 dB), one channel that can be switched to a studio-grade ULN microphone input, and a manual Talkover function.
PFL function with a mix option of Master/PFL and a peak-hold Level meter with a dedicated PFL bar graph are additional features. As well as the gooseneck lamp socket, there is a BNC socket. Using the DX626 is a breeze, allowing you to express your creativity with ease.
In the absence of a truly exceptional sound, none of the above-mentioned features would matter much. To ensure that everything comes out in pristine condition, we equip each unit with ULN (Ultra Low-Noise) Mic Preamps. In your rig, the DX626 ensures maximum headroom while minimizing noise and providing ultra-transparent sound.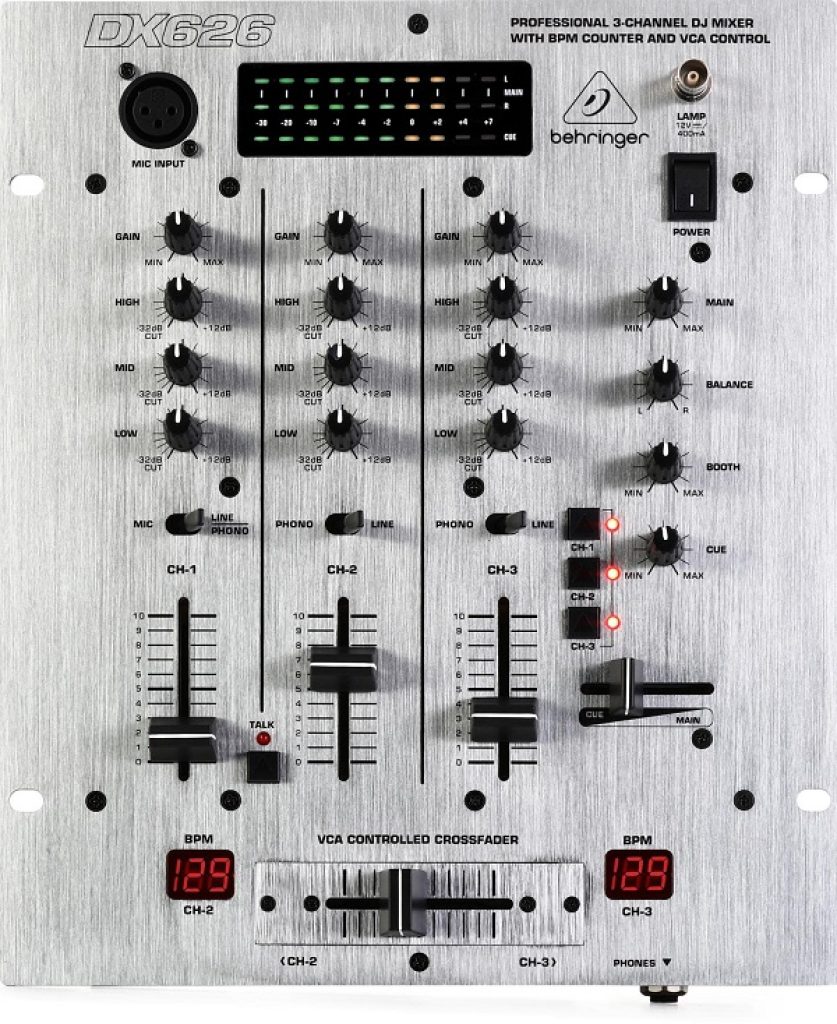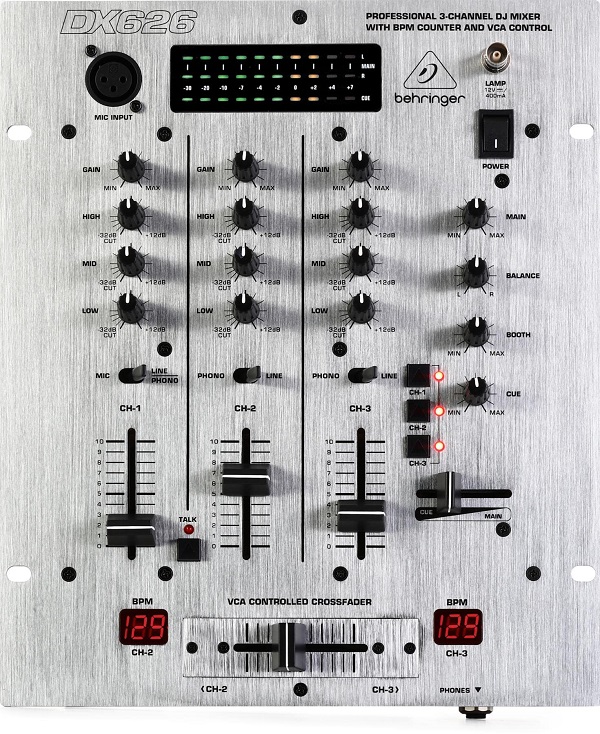 ---
16. Omnitronic GNOME 202P
With Bluetooth and an MP3 player built-in, the GNOME-202P takes the popular mini mixer series to a whole new level. Despite its extremely light and compact dimensions, this DJ mixer has a place everywhere. A 2-band EQ and gain control are included on both stereo channels. It is also equipped with a microphone input for making announcements during a DJ performance.
It is possible to generate signal crossfades that are typical of Gnome DJ by utilizing virtually everything on the user interface. The poti cap could have been colored-coded, for example, red or white, in the center notch of each channel's gain control and two-band EQ for sound adjustment. A crossfader is also included.
Located at the 12 o'clock position, the MP3/BT player has a display and a USB socket, type A, which can be used instead of Line on channel 1 and has buttons for starting and stopping playback, selecting tracks, and fast forwarding. A Bluetooth module is also included. It supports version 4.1 of the protocol with A2DP.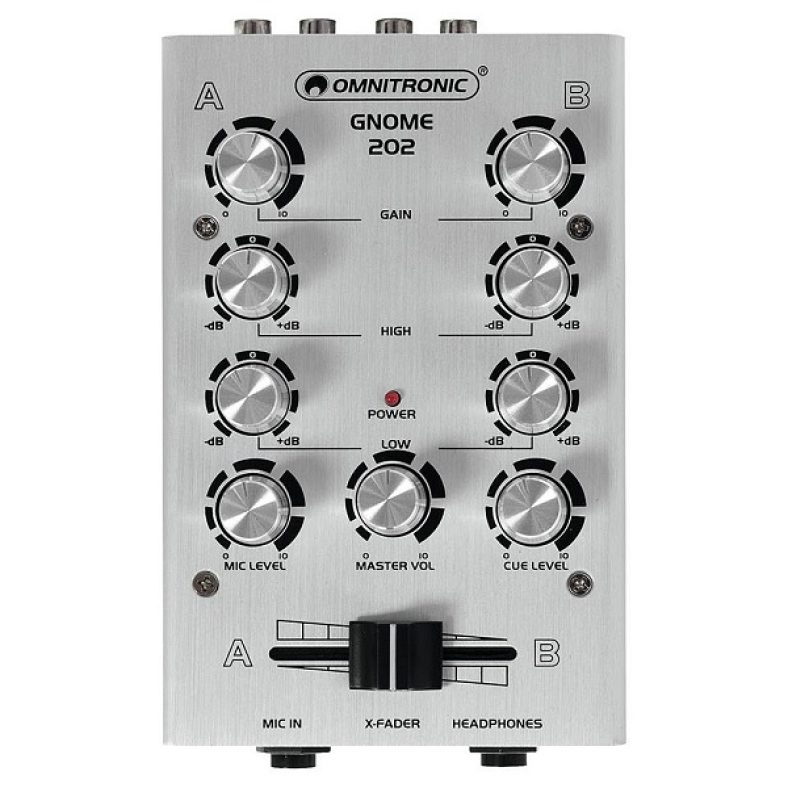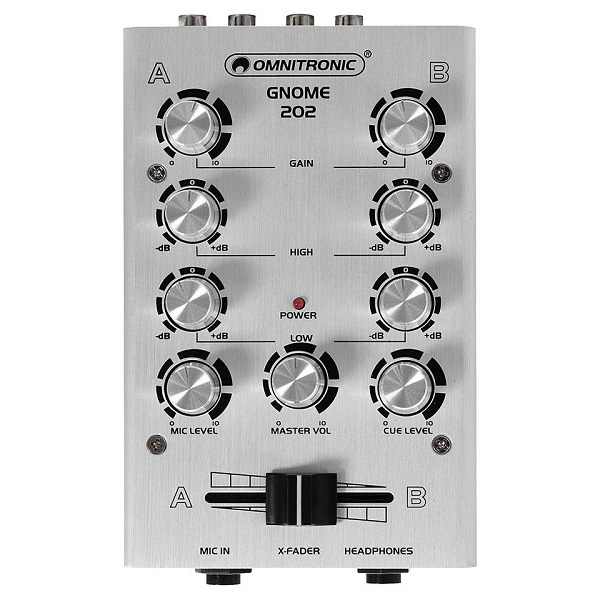 ---
17. the t.mix 201-USB Play
Sometimes DJ mixers from manufacturers such as Allen & Heath or Pioneer DJ are not necessary for certain situations in the life of a DJ or sound reinforcement. The answer is no, sometimes the device also functions as a cheap mixer, equipped with only the most essential features.
This is where the t.mix 201-USB Play comes in. A current price of approximately 100 dollars makes the "little one" very affordable and still provides the essential functions for your party cellar or clubhouse.
Do you have two phono inputs and two line inputs? Check. Does the microphone have a jack for a talk-over and a microphone? Check. The crossfader? Check. Are there channel strips with band EQs? Check. Is it possible to have two media players that support USB media, SD cards, and Bluetooth? It is included in the price as well!
There is a processing section on the left side that processes the microphone signal. For sound coloring, there is a two-band EQ, and "Gain" determines the level of amplification as before. There is a black, round push button below that can be used to activate the talk-over function.
There are two pots on the opposite right side that control the volume of the headphone signal as well as the amount of mix. Each channel has a three-band EQ, a 4.5 cm line fader, and a three-position toggle switch allowing the user to switch between line/phono, media player, and line.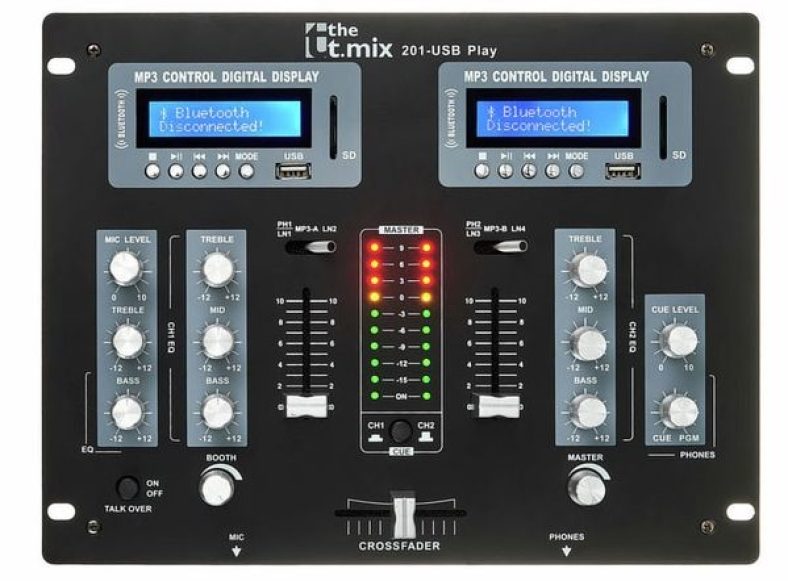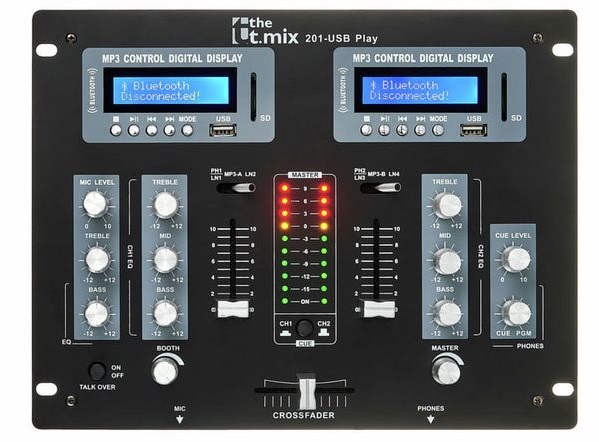 ---
Conclusion on Best Beginner DJ Mixer
Well, we listed a bunch of what we think are the best DJ mixers for newcomers that will suit any DJ setup that will be good for both house parties and small venues. Here we have only DJ mixers and we swayed away from DJ controllers because we will leave that for some other article.
When it comes to using it with a laptop, you can go with the most famous DJ software options out there such as Serato DJ lite software, Traktor, and even Virtual DJ.
Most of them have microphone inputs, some are USB bus-powered, some have more audio channels some less. But all are good for every beginner DJ and you will be able to carry out a party with no problems.
If you have any questions about this topic, please let us know and we will try to help out. Also, we just provided brief reviews on each model, and if you need more details, head over to the links we included below the mixers for more in-depth features.