Best 4 Channel DJ Mixers
Introduction
If you go over our website, you will be able to find an article of ours on the best 2-channel mixers and now it is time to cover what we think are the best 4-channel ones. Not everybody is a scratch DJ now and is more into the double drops and mixing multiple songs at once.
This is where these mixers come in handy since you will have the opportunity to have hands-on control over the songs and make your perfect mix. As stated above and in all our articles of this type, we are going to share what we can on the selection with brief reviews, images, and videos to ease up your decision.
Also, we are going to provide several online purchasing options if you are ready to get them straight away. So let's check the models below and dive deeper into the features.
Top 8 Best 4 Channel DJ Mixers
1. Reloop RMX-95
There's no line between analog and digital with the Reloop RMX-95, a professional club mixer with 4+1 channels. With its dual-USB 2.0 interface, new effects section, optional MIDI mapping of all controls, and seamless integration with the DJay PRO AI DJ software, the RMX-95 is an incredibly versatile creative tool. Professional DJs and hobbyists can both use the club mixer due to its familiar and user-friendly interface.
Connectivity is another strength of the RMX-95: Four CD inputs are provided on each of the four input channels, as well as two line inputs and two phono inputs. One jack and one jack/XLR combination jack are on the separate microphone channel, and there is an additional audible input as well.
There are RCA and balanced XLR connections on the master output. Stereo output is provided by two jacks on the booth output. However, it is also capable of being used in mono mode. In spite of the master output level, recording devices can be connected to the Rec output via RCA jacks for recording DJ sets. As a final note, the DJ mixer has two headphones jacks.
A DJ mixer can be transformed into an individually mappable MIDI controller with the RMX-95's digital architecture. This includes customizing the EQ frequency range, the Neural MixTM EQ mode, audio interface routing, and booth output zone routing as part of the setup menu.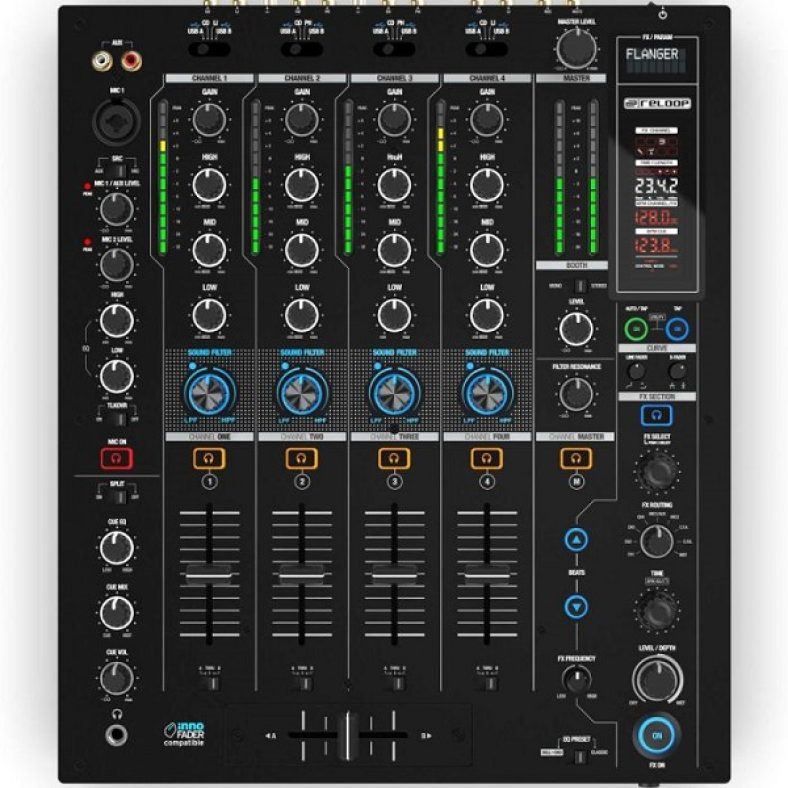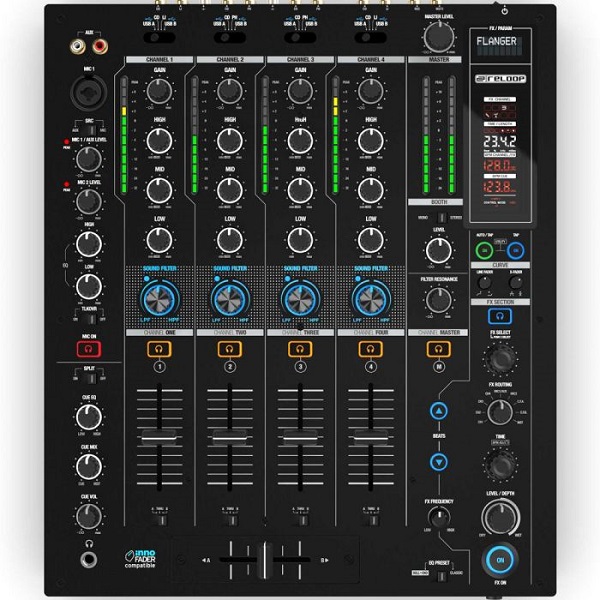 Features
Channels: 4 + Mic/Aux
Audio Interface: 24-bit
Screen : 2 x OLED Displays
MIDI Control: Yes
IMAGE
PRODUCT
For US
Customers
Amazon
Store
---
2. Pioneer DJ DJM-A9
At first glance, the mixer looks like a typical Pioneer DJ mixer. With the same depth and height, the same black metal design, and the same four channels on the right, effects on the left, mic on the right, it is the typical mixer.
The Sound Color FX is a bit wider (which could pose problems in some setups), but once you get started, it's easy to spot the changes: a new "center lock" button, Bluetooth, additional headphone controls, a shiny new display, and modern USB-C inputs along with older USB-B ones.
All the Sound Color FX knobs are locked mechanically to the new switch that is there. To prevent the DJs from misplacing the position of the knob on the "12 o'clock" that means the effect is off, with the switch they will be able to fast and easily make creative decisions and switch between effects, turn them off and on, and more. Unfortunately, you will not be able to turn the knob further since it is locked down in place.
There is also a new display that can be found above the effects section and that is an improvement over the DJM-900NXS2. This is a nice improvement since you will be able to check out the settings of the effects and go through the Utility menu, which is really convenient. Really nice feature that caught our attention when we first saw it.
This mixer is a great tool for DJs that play professionally and outside in big venues. You will fall in love with it the first time you lay your hands on it and that is something that is great for both you and the brand.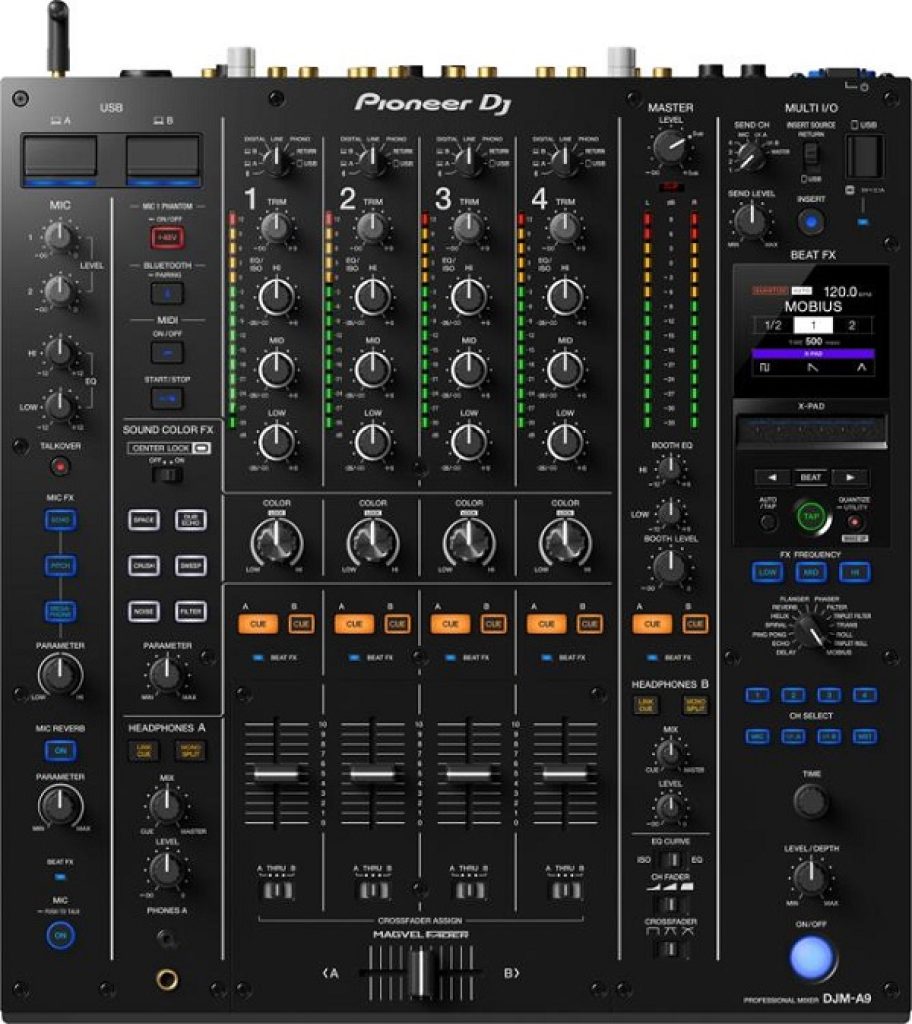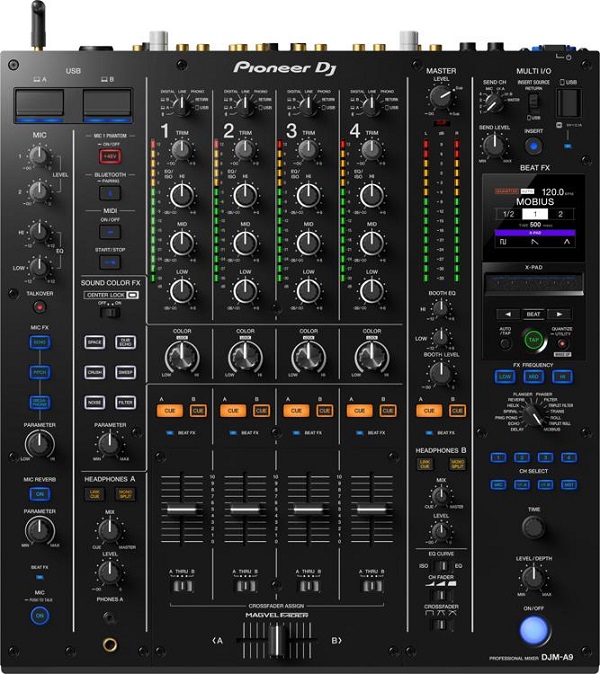 Features
Channels: 4 channels
Audio Interface: 32-bit/96kHz (4 x 4)
Effects: 6 x Sound Color FX, 14 x Beat FX
Headphones: 1 x 1/4″, 1 x 1/8″
IMAGE
PRODUCT
For US
Customers
Amazon
Store
---
3. Denon DJ X1850 Prime
The Denon DJ X1850 Prime is a 4-channel DJ mixer that has 24-Bit/96kHz output, dedicated sweep, and BPM FX that is mainly built over the fame that the original X1800 Prime has. The unit also features a built-in LAN hub that can connect up to four SC5000 or SC6000 Prime players, which makes it great for pro DJs that play festivals and festival organizers as well, to accommodate their guest DJs.
In this new model, there is improved visibility on the EQs and all other effects which trigger LFO effects according to the software grid by Engine software. The time-division touch strip will help you to adjust the mix and improve your performance.
If you want to add additional drum machines, you will be able to sync and connect them up with the MIDI connections that are also found on the unit and they support real-time info that includes a clock, position pointer with ability to program other features as well, such as FX or headphones. There is also a safety fader on the mixer for the sake to avoid hearing cued sounds by accident.
This amazing DJ mixer has four inputs all with a volume control, fader, and a 3-band EQ section with the classic and isolation modes on it. It also has a dedicated filter for each channel and also has the sweep effects like echo, noise, washout, and gate. With the nice lightning functionality that is made easier with the OLED brightness, you will have an easy time playing with it in a darker setting. All in all, amazing mixer with great features!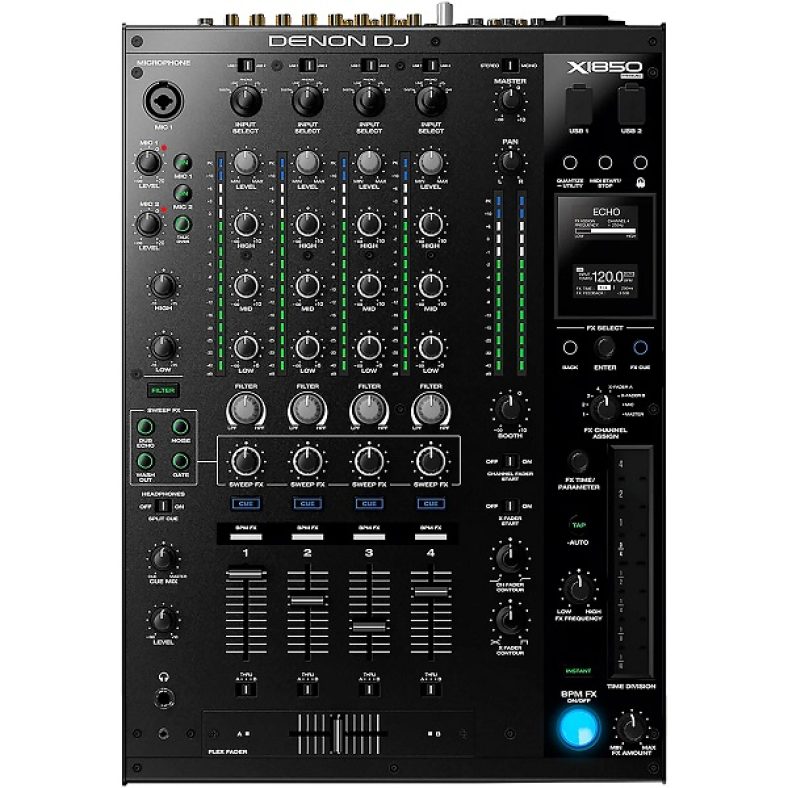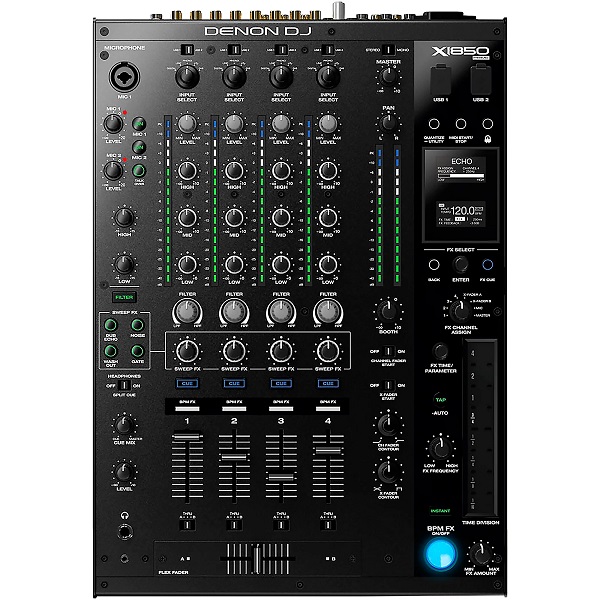 Features
Channels: 4 + Mic
Audio Interface: 24-bit/96kHz
Screen : 1.6″ Monochromatic LED Display
MIDI Control: Yes
IMAGE
PRODUCT
For US
Customers
---
4. Allen & Heath Xone:96
The Xone:92 was released back in 2003 and after that, we all awaited for the new Xone:96 to appear. Drawing it's inspiration from the Richie Hawtin 1996 mixer, the Xone:92 was a dry mixer without effects, but had very powerful and smooth VCF filters. Even thought the competitors of this brand improved the design and functionality of their mixers, Allen & Heath decided to stick to the roots and focus on giving their users functional mixer with smooth and simple design.
This new mixer from them, the Xone:96 quickly was check by all the EDM DJs for the simplicity it offers since that was everything they needed to perform properly. The nice symmetrical knobs just offer easiness of learning the way around this mixer. When compared to the previous model, this one is upgraded in terms of stereo channels, that are now in total of four, along with two stereo return channels that just add to the functionality of this mixer.
With the additional return channels, the Xone:96 now has a total of 8 inputs and outputs, which is truly amazing. Featuring 32-bit soundcard, and with the software control from the Traktor Scratch, you will be able to connect various units that can assist your DJing skill such as FX pedals, FX modules, drum machines and more.
In terms of durability, the Xone:96 is build like a locomotive and will last you for years, without any need to upgrade from it. With the analog sound that it gives and all the new digital connectivity, this is a really wanted mixer among the DJs that are after something unique. Highly suggested to try it out.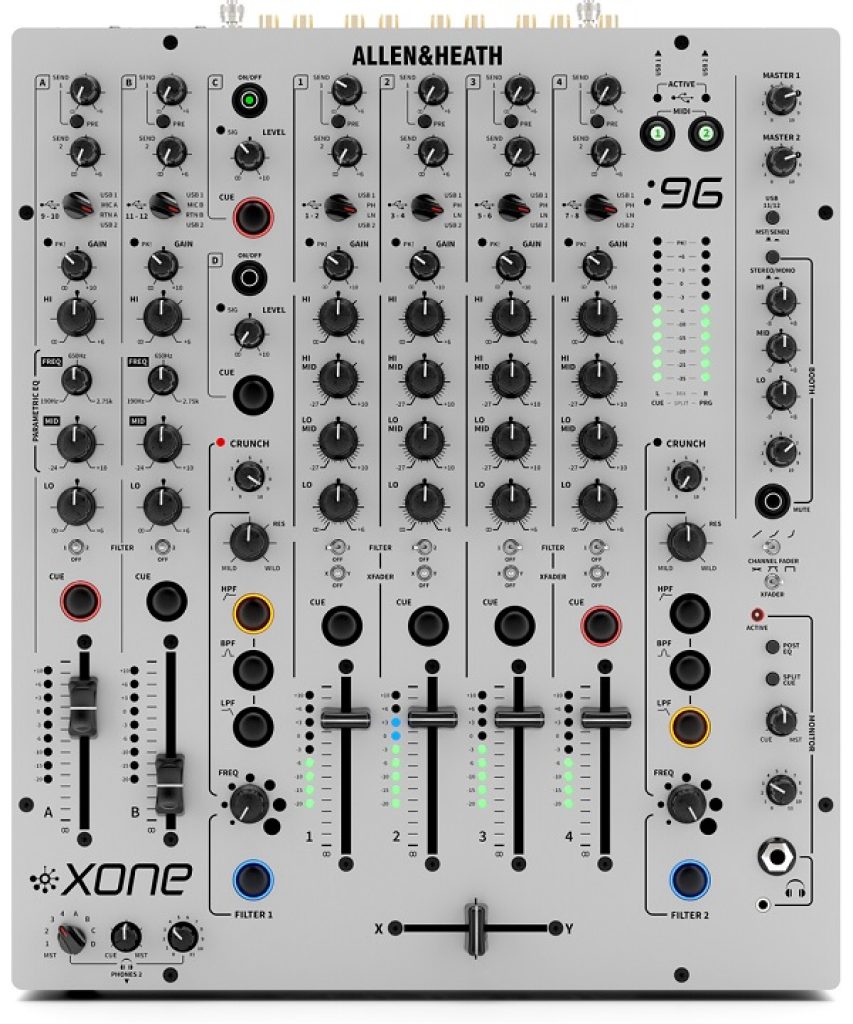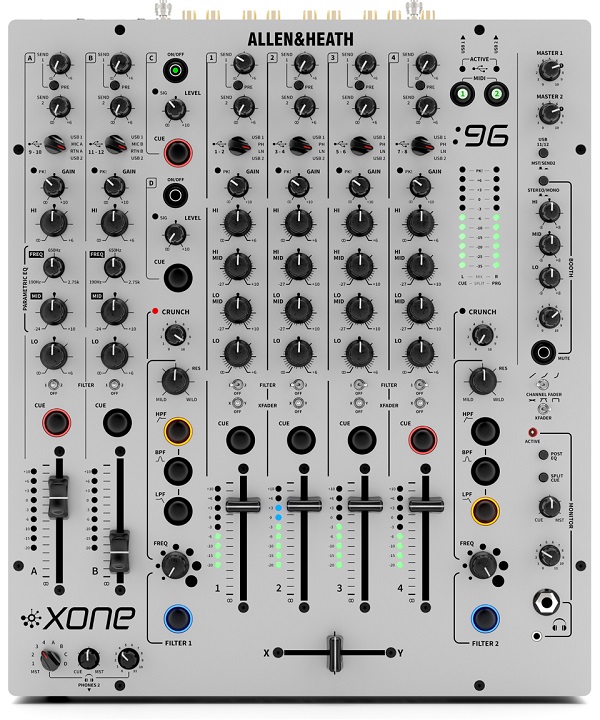 Features
Channels: 6 + 2 (USB)
Audio Interface: 32-bit/96kHz (12 x 12)
MIDI I/O: Out/USB
USB: 2 x Type B
IMAGE
PRODUCT
For US
Customers
For EU
Customers
Amazon
Store
---
5. Behringer DDM4000
The Behringer DDM4000 boasts a really nice and modern appearance and we really like how they are now competitive with other brands in terms of looks. When it comes to placement of the knobs and faders, they are positioned really well and will not confuse the user. Build quality? Well, yeah – it's really nice and will last long!
The build of the faders is amazing and they now provide a silky and smooth transition and movement which every DJ is after. Now, you will be able to control the curve of the faders, which means that you can now use this DJ mixer for both scratching and regular mixing.
Each of the channels has 3 bands of EQ, which is pretty standard. In terms of the microphone channel, now you have a separate EQ section for it as well. This means that now you will be able to shape the frequencies of the microphone and end up with a clearer signal. Also, each of the channels has a small meter in order to track the loudness of the channel and see if the signal is clipped or not.
The DDM4000 DJ mixer has a lot of built-in effects that are available for each of the channels if you want to creatively spice up your mixing. All of them are beat-synced for seamless integration into the music.
This will smooth out the performance and not make the effects stand out when mixed with the music, which you definitively do not want to happen as a DJ. Also, you can track what happens with the effects from the large display that is found below the EQ section of each channel.
I know that many of you see Behringer as a developer that provides lower-quality products, but that is not true at all. Check this mixer if you can and you will change your opinion on this brand. We already own several of their products and love them!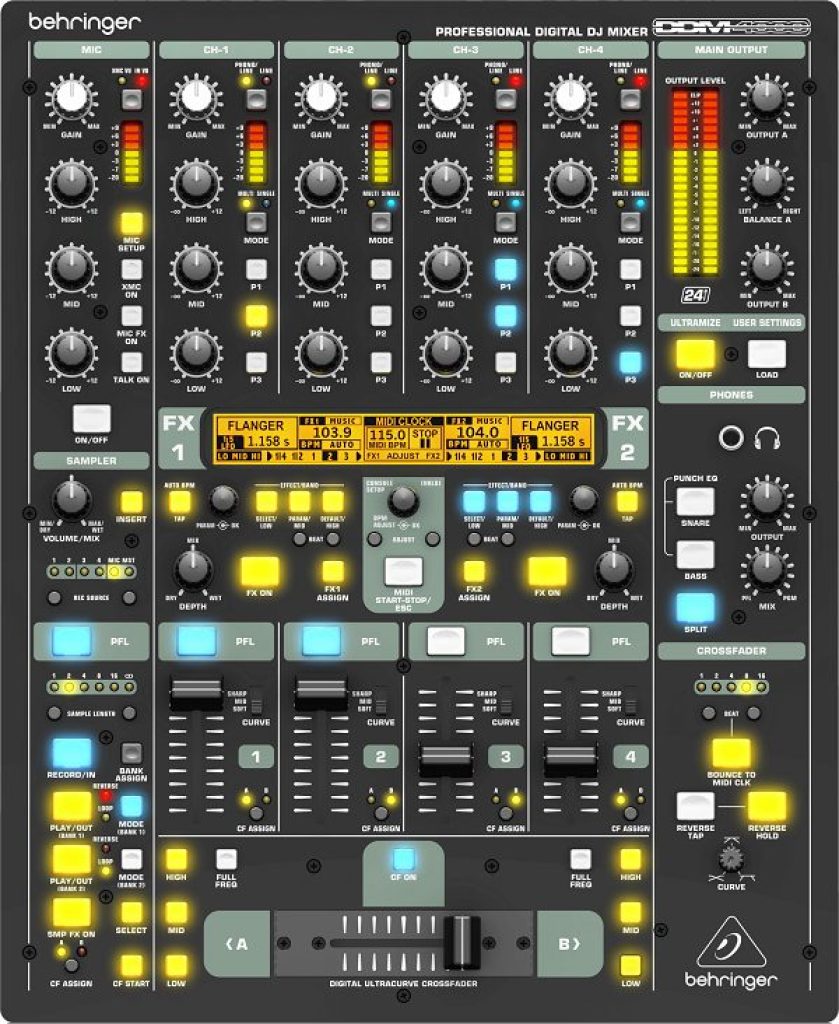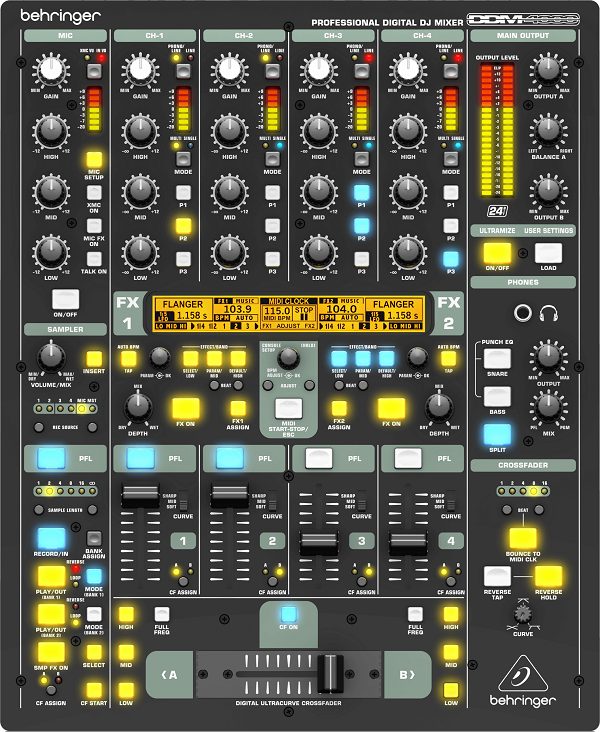 Features
Channels: 4 + mic
MIDI Control: Yes
MIDI I/O: In/Out/Thru
Headphones: 1 x 1/4″ TRS
IMAGE
PRODUCT
For US
Customers
For EU
Customers
Amazon
Store
---
6. PLAYdifferently Model 1.4
The PLAYdifferently Model 1.4 is a model that is not widely known, but that doesn't mean that this product lacks quality or performance when compared to the other models in this list. For DJs that play minimalistic styles of music, this is an amazing mixer that will provide with the simplicity they are after. The interesting thing is that this mixer doesn't have the regular A/B crossfader, but you will need to control everything from the channel faders.
As per usual, the mixer has a 3-band EQ section for each channel and a one-knob filter to use for some creative moments in mixing. The mixer has really nice looks and we really like how the knobs look like and feel when turning them. They remind us of a studio-scale mixing console, which we kind of connect with the quality those knobs give.
This amazing DJ mixer is 100% analog, but the unit also has DSUB connectors that can be used to connect any audio interface and integrate the mixer in a more digital setting. When it comes to visual help, in the top right corner, you can find nice LED meters that will show you how hot you are outing your signal.
The mixer also has two headphone outputs that come with 1/4" and 1/8" jacks, which means that two DJs at the same time can mix back to back without a problem. They can be found on the bottom left and right of the mixer.
All in all, amazing mixer if you are after something more unique. The audio quality that comes out of this mixer is also great and you will not lack anything in terms of audio performance. The only thing is that we are used to having a crossfader, but if that is not a problem for you, go for it!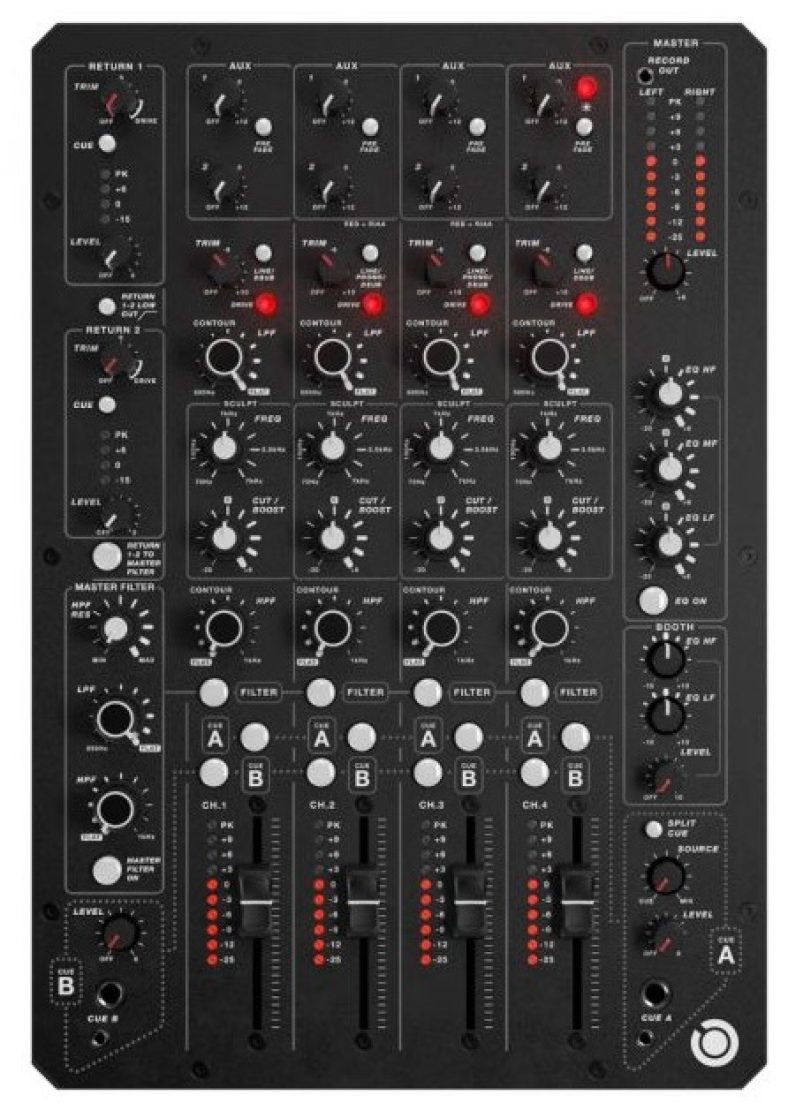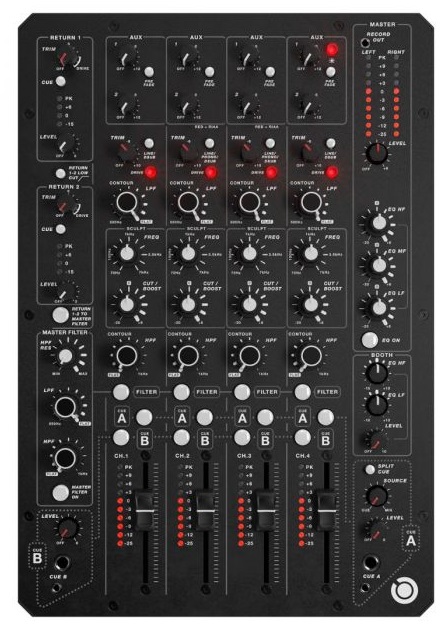 Features
Channels: 4
Effects: Analog Overdrive
Headphones: 2 x 1/4″, 2 x 1/8″
Faders: 4 x 60mm
IMAGE
PRODUCT
For US
Customers
For EU
Customers

PLAYdifferently Model 1.4
---
7. Allen & Heath Xone:92
Probably one of the most used 4-channel analog DJ mixers around the globe, the Xone:92 gives a warm sound, great build quality, and a nice user interface. This mixer is so respected around the globe, that at one point was the most famous mixer that one DJ can have on their gear list. Many world-class venues and clubs already had this mixer in there to have it ready for their DJ guests.
Even though this unit is completely analog, there is support for external devices, and probably was one of the first mixers that can send MIDI information to a DJ software. The mixer also has a VCF filter that was also seen for the first time here. This mixer was very appreciated when it came out since it had dual mic returns, FX sends with stereo capability, and an amazing EQ section.
The interesting feature that this unit has is the additional control over the frequencies, with the 4-band EQ section for each channel, instead of the regular 3-band setting. The boost is up to 6dB for each band, -12dB for the low and high bands, and -30dB for the two mid-section bands. So, complete control over the spectrum which is a really nice feature that we liked about it.
To summarize, the Allen & Heath Xone:92 has a total of 6 stereo channels, 10 inputs, including 2 mic outputs, and more. Very nice connectivity control overall. We highly recommend it to everyone that is after something more simple and analog in general.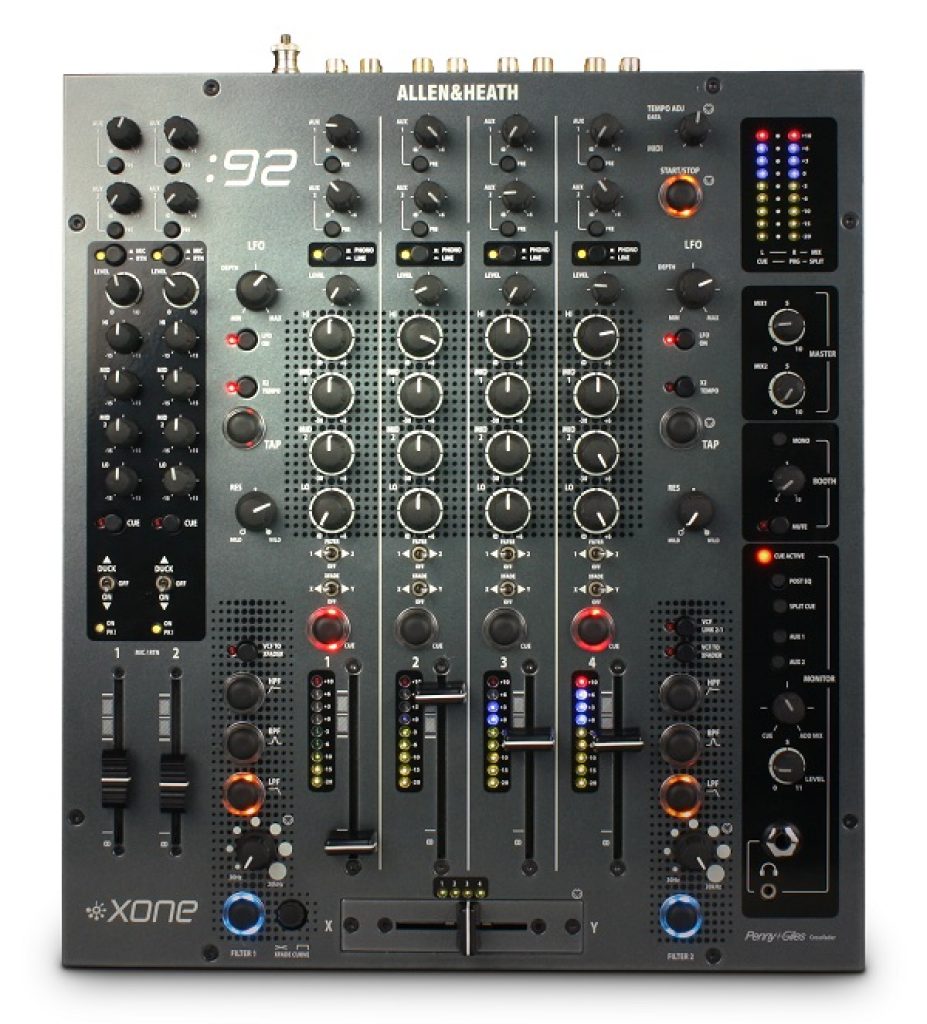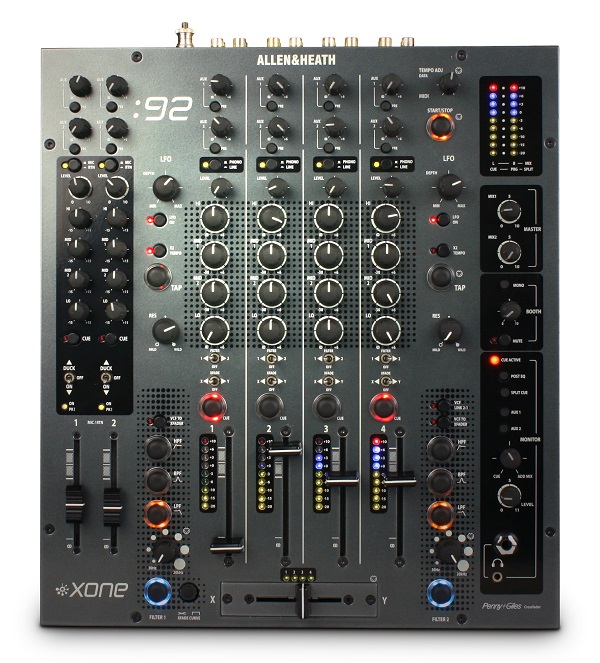 Features
Channels: 4 + 2 mic/stereo return
Effects: X-FX engine plus 2 x LFO
Headphones: 2 x 1/4″
MIDI I/O: Out
IMAGE
PRODUCT
For US
Customers
For EU
Customers
Amazon
Store
---
8. Pioneer DJ DJM-750MK2
The Pioneer DJM-750MK2 DJ mixer is a four-channel standalone DJ mixer that can be connected with line-level units such as CDJs, drum machines, and turntables – each on a separate channel. Another interesting functionality that this mixer has is that can be connected to a laptop that can run with Recordbox DJ in order to control up to four mixer channels.
Will you check the right side of the unit you can find the send/return channels where you can assign different external devices to it. Also, it has a separate microphone input with its own EQs in order to shape the frequencies of the microphone signal.
You can also plug in an iOS device through the USB for added effect processing if you have the need for it. The mixer is also equipped with two headphone jacks; one is 1/4″ and one is 1/8″, along with three volume knobs and a cue knob for the headphone section.
As you can expect from a big brand like Pioneer, this DJ mixer has EQ knobs that are very smooth and have a nice frequency response to them. Besides that, they are very easy to use and are very responsive to a touch of a DJ. Probably one of the best features on this mixer is the Magvel fader from Pioneer which is very smooth and will give you a great experience when both mixing and scratching.
When you compare the DJM 750MK2 and the DJM 900NXS2, they are very similar in many ways in terms of layouts and features. Both of the mixers are separate units and you will be able to perform a set without any problems with them. We highly recommend this one if you have the chance to try it out and we can guarantee that you will fall in love at a first sight.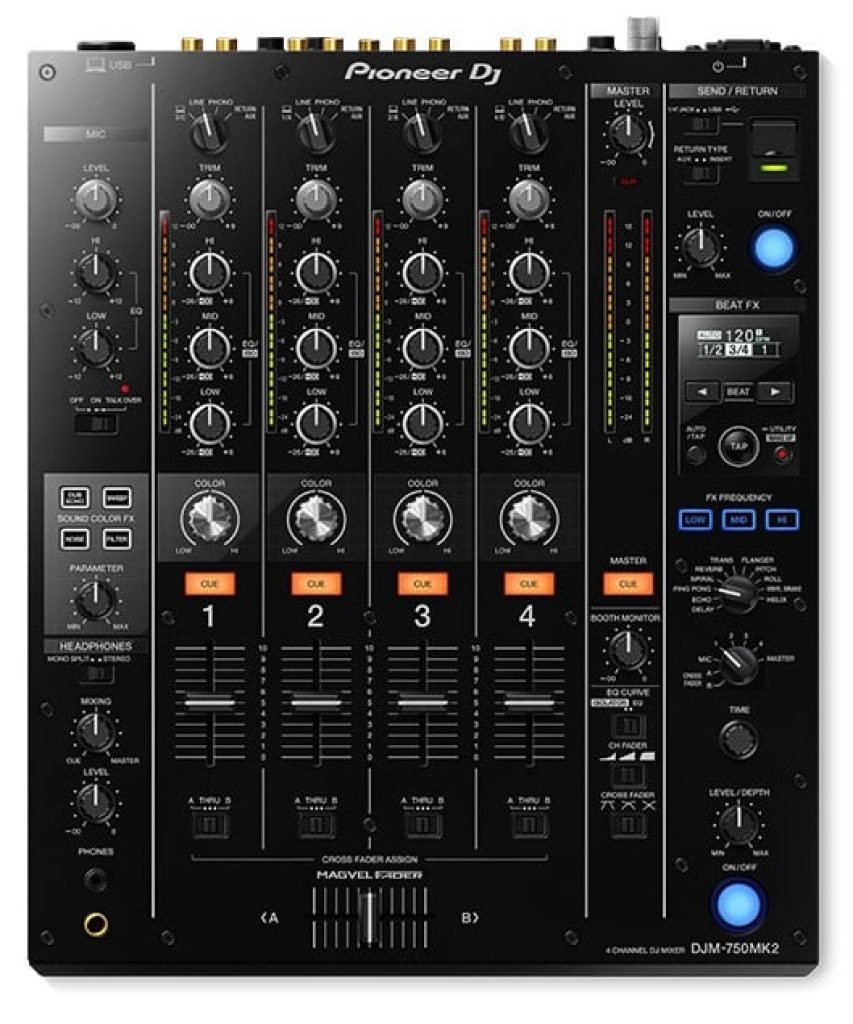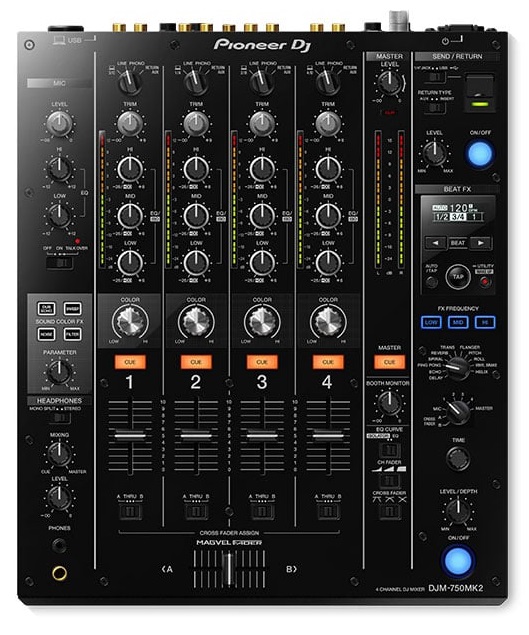 Features
Channels: 4 + mic
Effects: Echo, Delay, Reverb, Flanger, Pitch, Roll, Ping Pong, Beat FX
Headphones: 1 x 1/8″, 1 x 1/4″
Crossfader: Magvel
IMAGE
PRODUCT
For US
Customers
Amazon
Store
---
Conclusion
So we summarized what we think are the best 4- channel DJ mixers around and we provided you with purchasing options on each one of them. You just need to press the buttons below our brief review and besides purchasing features, you will also be able to double-check additionally some other technical specifications and decide which mixer will benefit you the most.
Each one of those mixers has something special about it and that will probably be the thing that will separate them from each other. All of them are rich in features connectivity options and effects and we believe that you will be able to find something that will suit you.
If you are having any questions about any of those mixers that are listed in this article, feel free to reach out in the comments section below or try to contact the respected developers for additional details.