Best Rotary DJ Mixers
Introduction
Rotary mixers are taking over a little bit more and more by the day and they are getting their fame back very fast. Even though they were used back in the past, new DJs that are after some authentic DJ setup are getting them again.
They still have a long road to walk to become even with the digital mixers and there are a few models available for the users now, but we are going to cover these models that you can order online and provide you with brief reviews on them.
So we were able to find only 5 models that you can purchase online, but fret not, we are going to mention some of the legendary models below the reviews to have the idea of what were the roots of rotary faders and which models started the whole idea of rotary mixers.
Top 5 Rotary DJ Mixers
1. Ecler Warm2
WARM2 is now a rotary DJ mixer and it shares some similarities with the established Ecler Nuo 2 in terms of hardware layout. The flat track knobs almost seem to have been replaced with Japanese ALPS Blue Velvet pots and all fader-related functions removed. Additionally, the control panel layout has been changed.
However, the situation is not as straightforward as it seems. The manufacturer promises crystal-clear analog sound and razor-sharp filters – packaged in a classy slim form factor case with wood paneling. Visually, the mixer is an eye-catcher.
A sum signal is transmitted via XLR connectors to professional sound systems, for DJ booths, equipment, monitors, etc. As an alternative, there are RCA outputs available. Additionally, two RCA pairs are provided for recording the mix (REC-Out) as well as the booth system. Furthermore, the effects loop is RCA formatted – as you may have guessed. Ecler WARM2 does not offer a booth jack or a mic input.
In the Ecler WARM2 Rotary DJ mixer, there are three sections in the user interface. Below the volume pots is the level meter, above it is the isolator EQ, and above that are the channel and volume controls as well as control switches.
In addition to two channel strips with faders, the DJ also gets a third channel strip with EQ for mic/line with two bands, a send and return path, a master isolator, and two large pots to control instead of line faders. Technically, the mixer is complete with a tuning metering that complements its visual appearance as well.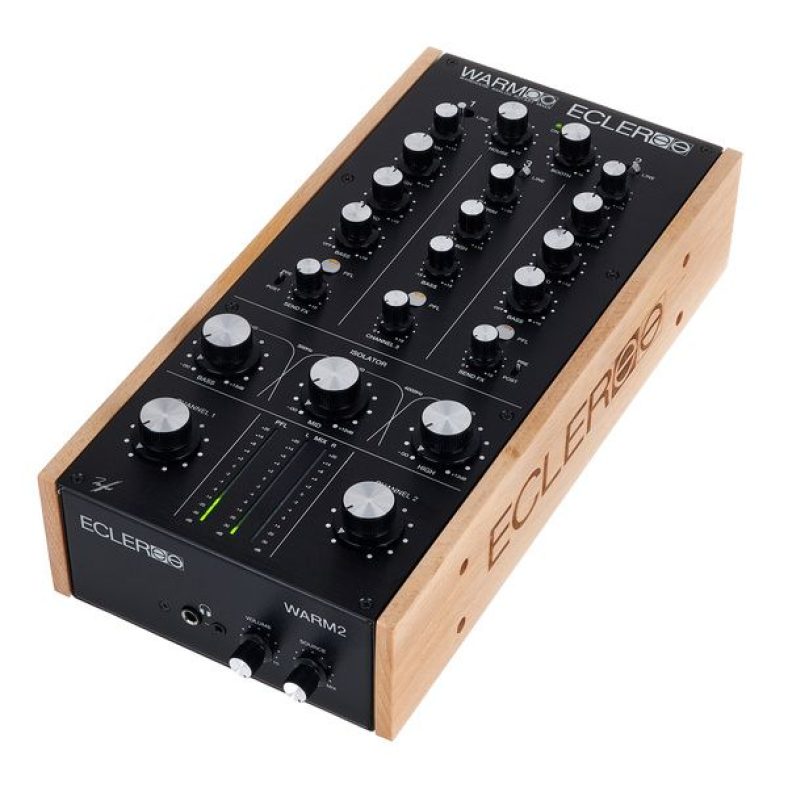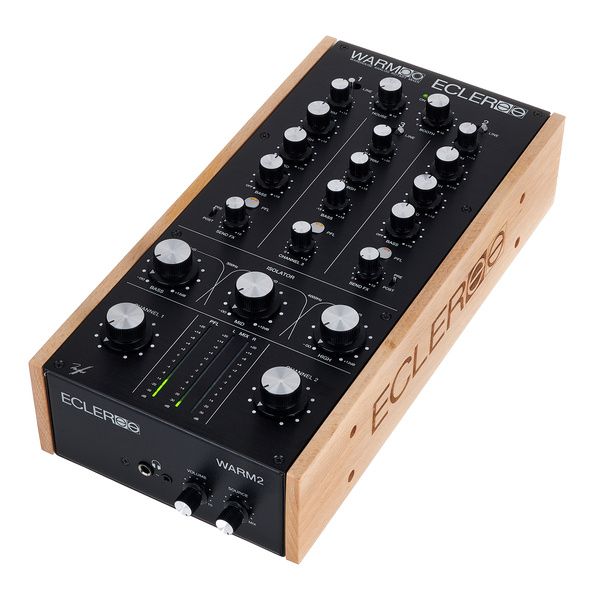 Features
3-Band EQ per channel
2-Band EQ for microphone channel
3-Band isolator
FX send control and pre/post fader selector switch
LED 12-segment mix and PFL VU meter
Alps Blue Velvet potentiometer
| IMAGE | PRODUCT | Thomann Store |
| --- | --- | --- |
| | | |
---
2. Omnitronic TRM-202 MK3
In addition to a three-band frequency isolator and a two-way EQ, the Omnitronic TRM-202MK3 rotary mixer features a 10-digit LED level meter and a DJ mic input. With this rotary mixer, you will be able to choose from two input channels, a 3-band frequency isolator for DJs with gain control and a 2-way equalizer (Highs/Lows) for each channel.
DJs can remove low, mid, and high frequencies with dedicated boosts and kill cuts to ensure quality mixing. Components of high quality ensure a long life as well as excellent sound quality. There is a separate level control on the DJ microphone input, and prefader listening is enabled on the input channels and the master output via an adjustable headphone output with cue mix/split functionality.
In addition to its reliability and intuitive user interface, the TRM-202 MK3 builds upon the success of the previous two models of the TRM-202. In comparison to the previous generations of rotary mixers, the new layout adopts a more rectangular shape with a streamlined layout that is immediately apparent.
To the left and right of the console are the two channels of the mixer, with the master controls in the center and the master EQ control at the top. There are only two phono/line inputs, and two additional phono inputs on the mixer, which is connected only by phono connections. The phono and XLR output options offer extended flexibility in terms of output.
It is certainly a sensible and attractive option for anyone interested in either becoming a DJ or stepping back to more simplistic and even "musical" methods of working.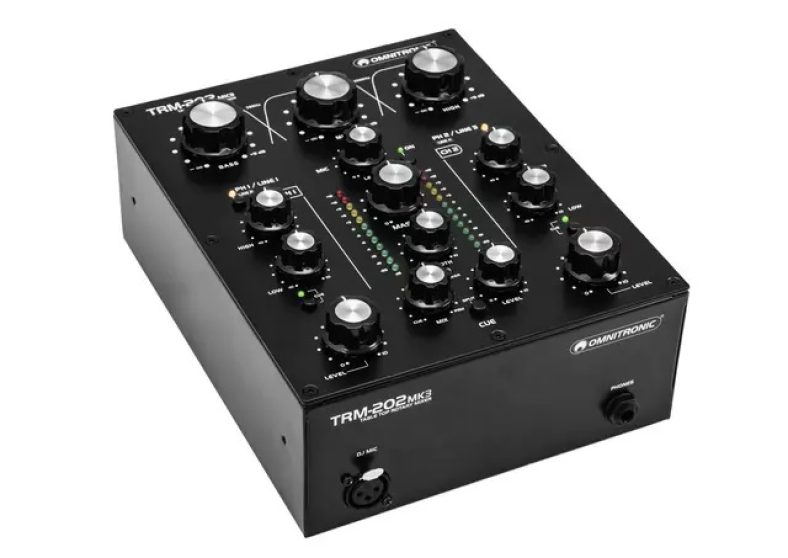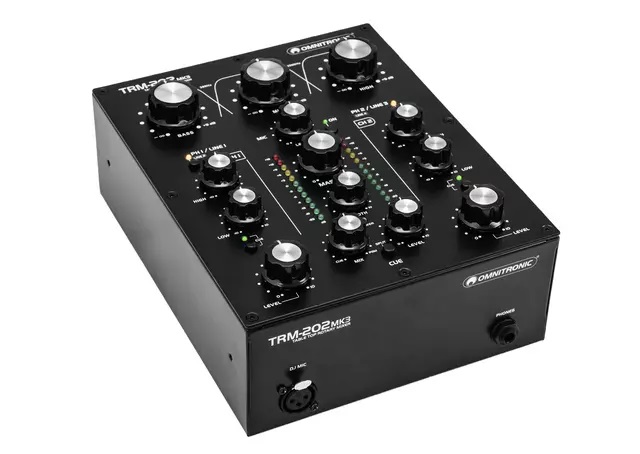 Features
Classic rotary mixer with 2 input channels and integrated 3-band frequency isolator for DJs
Gain control, 2-band equalizer (treble / bass) and phono / line switching per channel
Effective boost and kill function
Kill characteristics allow bass, mids and treble to be completely eliminated for creative mixing
Classic ALPS rotary potentiometer (Blue Velvet RK27)
High quality components guarantee a long service life and excellent sound properties
| IMAGE | PRODUCT | Thomann Store |
| --- | --- | --- |
| | | |
---
3. Omnitronic TRM-402
Among DJs of electronic music all over the world, the TRM-202 MK3 from Omnitronic proved to be a particularly popular mixer. This 4-channel rotary mixer extends the popular concept by 2 channels: Now anything can be accomplished during a gig, no matter what decks you're playing. Additionally, this version has ALPS rotary controls (Blue Velvet RK27) and a 3-band frequency isolator, which are classic features of rotary mixers.
In Omnitronics' rotary mixer range, the TRM 422 is the largest mixer. With just a 2-band EQ on each channel and the isolator knobs, the TRM 202 and TRM 402 didn't offer much in the way of sound-shaping capabilities. In addition to the TRM 422, the TRM 422 features a filter section with a high pass, band pass, low pass, resonance, and sweep controls, allowing for creative mixing.
The TRM-402 provides an appealing sound image due to its high-quality components. In comparison to a conventional mixer (which has faders), the large rotary knobs on the four channels allow the DJ to create very smooth transitions between tracks. You can switch between line and phono inputs on all channels.
In addition, there is a microphone input. By killing bass, midrange, and treble, the isolator ensures creative mixing. Besides the booth output, the TRM-402 also includes a separate volume control. The mixer can therefore be used at the club without any problems. Recording your DJ set is also possible using the record out.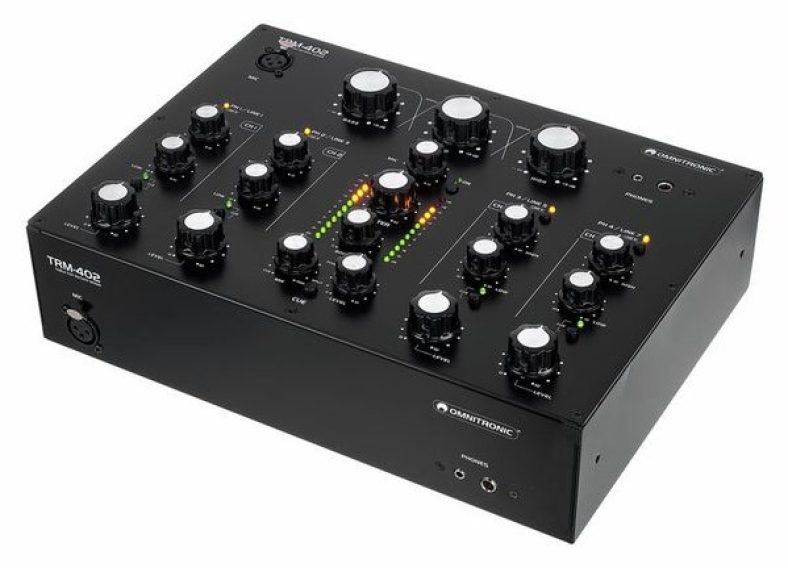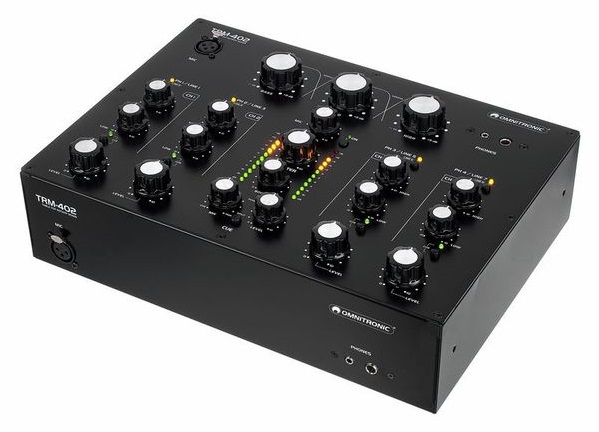 Features
Classic rotary mixer with 4 input channels and integrated 3-band frequency isolator for DJs
DJ microphone input with separate volume control
Pre-listening to the input channels and the master sum via adjustable headphone output
With cue mix / split function
12-Digit stereo LED level display and master control
Booth output with separate volume control
| IMAGE | PRODUCT | Thomann Store |
| --- | --- | --- |
| | | |
---
4. Omnitronic TRM-422
Featuring fantastic sound characteristics, the Omnitronic TRM-422 is a professional 4-channel rotary mixer. Omnitronic has launched a completely new rotary mixer, the TRM-422, to complement its popular TRM-202 MK3 and TRM-402.
A long-lasting ALPS rotary potentiometer is used in the table-top DJ mixer (Blue Velvet RK27). Its compact form factor and built-in 3-band frequency isolator are both similar to its predecessors, allowing bass, mids, and treble to be canceled completely. Also included are gain controls, 3-band equalizers, an additional phono/line switch, and channels that can be assigned to an integrated filter or crossfader.
A highlight of the TRM-422 is its four direct outputs, which are used for the integration of time code / DVS systems, greatly simplifying operation! The dual 16-digit stereo LED level meters ensure that the master signal and headphone signal are always visible to prevent signal overload. An Omnitronic TRM-422 rotary mixer has a remarkable sound, excellent workmanship, and intuitive design.
Stop reading this if you are a battle-scratch DJ seeking a new mixer. The TRM-422 might be the right mixer for you if you want long, clean mixes and don't want to pay a lot for a boutique rotary mixer.
There's plenty of room between the pots and switches on the 422 to move between them without accidentally hitting anything. It's a well-built mixer with rotary knobs for precise control. It is possible to use this mixer in an endless number of ways if you are able to get the DVS outputs to work.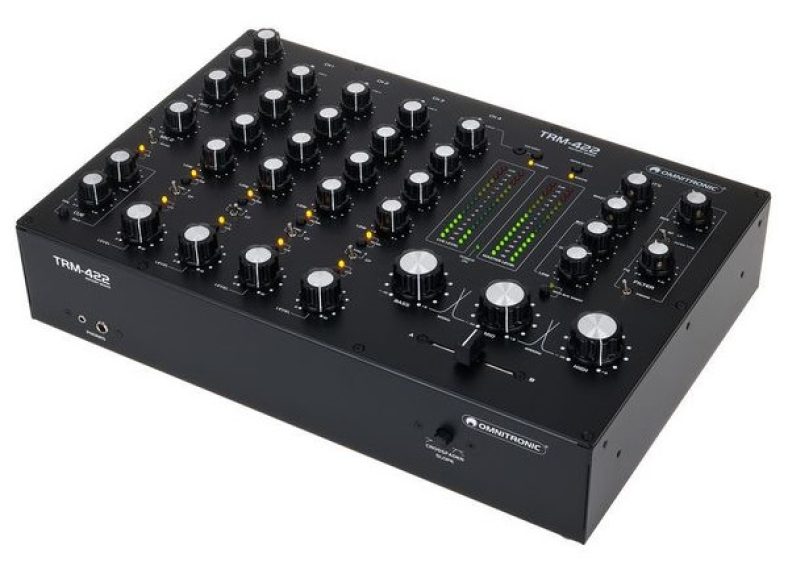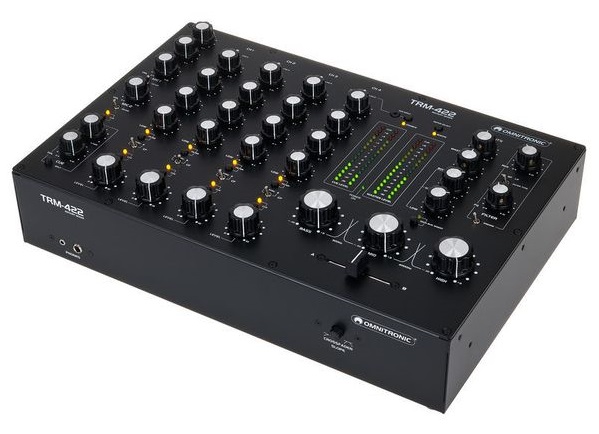 Features
With 3-band master frequency isolator (with kill characteristic) with ALPS pots
Filter with HPF, BPF, LPF as well as resonance and sweep controls
4 Stereo channels with gain, 3-band EQ, clip LED and phono/line switching
2 Mic XLR inputs with gain and 2-band EQ
16-Digit level meter (switchable master/booth)
Booth output with 2-band EQ
| IMAGE | PRODUCT | Thomann Store |
| --- | --- | --- |
| | | |
---
5. Superstereo DN78ADB
There are two channels on the DN78, with an audio interface and valve stage, which should be enough to interest anyone with a passing interest in mixers. DN78 boxes are not mass-produced boxes on pallets; they are made to order and delivered within 6-8 weeks. Its price is also commensurate with its handmade status.
For audiophiles who demand the highest quality sound, DN78ADB provides high-end audio equipment. High-quality DJ mixers like this feature separate outputs, bakelite-style volume knobs, and discrete outputs.
Featuring a rotary cross-fader and a 3-band Baxandall EQ, this compact system allows for precise sound control, as well as 2x line inputs (RCA) and 2x phono inputs (RCA). Switching between different sources is made easy with input selection switches (phono/line).
Besides mic inputs (combo XLRs and jacks), the mixer also features stereo effects send and returns (jacks) for adding external effects. Various systems can be connected via the mix-out (XLR/RCA) and booth-out (XLR/RCA) of the 2×2 studio-grade sound card, which ensures high-quality recording and playback. For audiophiles and DJs alike, the DN78 offers exceptional sound quality and versatile functionality.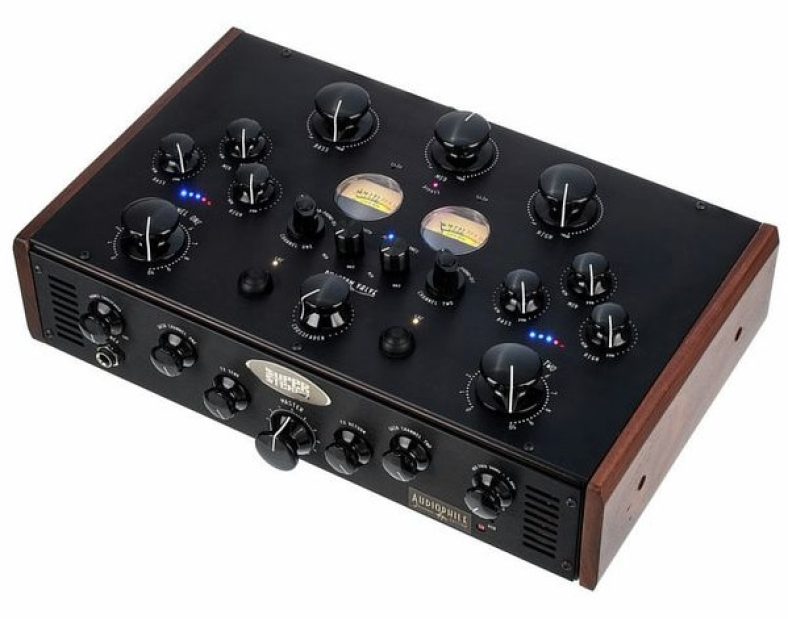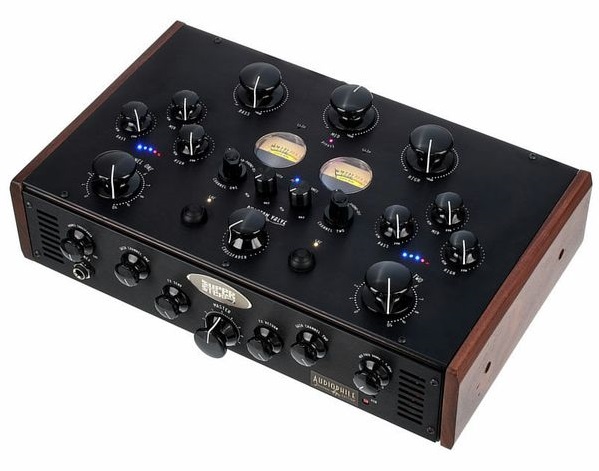 Features
DN78 Phantom Valve – Audiophile Edition
Discrete output
Bakelite-style controls
Round cross fader
3-Band Baxandall EQ on each channel
Switch for input selection: Phono/Line
| IMAGE | PRODUCT | Thomann Store |
| --- | --- | --- |
| | | |
---
Honorable Mentions
Urei 1620
Bozak CMA 10 DL2
Condesa Lucia
Can Electric Taula 4
MasterSounds Radius 4V
Varia Instruments RDM40
E&S DJR 400
Audio-DJ SP-2
Bozak AR-6
Bozak AR-4
MasterSounds Radius 2
ARS Model 9900 STD
If you want to read more about these models, you will be able to check out this MusicTech guide here. We are not going to include more details on the honorable mentions since you can find everything there with images and features of those mixers.
Conclusion
We hope that we are going to see more of these mixers in the future and that they will gain back the fame they deserve since they all have above-decent sound quality that is more than satisfactory for mixing purposes.
If you are having any questions about these models, please let us know in the comments or click on the links to read more about them and make an immediate purchase from our partner. Happy mixing!