Best Rotary DJ Mixers
Introduction
Rotary mixers are taking over a little bit more and more by the day and they are getting their fame back very fast. Even though they were used back in the past, new DJs that are after some authentic DJ setup are getting them again.
They still have a long road to walk to become even with the digital mixers and there are a few models available for the users now, but we are going to cover these models that you can order online and provide you with brief reviews on them.
So we were able to find only 5 models that you can purchase online, but fret not, we are going to mention some of the legendary models below the reviews to have the idea of what were the roots of rotary faders and which models started the whole idea of rotary mixers.
Top 5 Rotary DJ Mixers
1. Ecler Warm2
WARM2 is now a rotary DJ mixer and it shares some similarities with the established Ecler Nuo 2 in terms of hardware layout. The flat track knobs almost seem to have been replaced with Japanese ALPS Blue Velvet pots and all fader-related functions removed. Additionally, the control panel layout has been changed.
However, the situation is not as straightforward as it seems. The manufacturer promises crystal-clear analog sound and razor-sharp filters – packaged in a classy slim form factor case with wood paneling. Visually, the mixer is an eye-catcher.
A sum signal is transmitted via XLR connectors to professional sound systems, for DJ booths, equipment, monitors, etc. As an alternative, there are RCA outputs available. Additionally, two RCA pairs are provided for recording the mix (REC-Out) as well as the booth system. Furthermore, the effects loop is RCA formatted – as you may have guessed. Ecler WARM2 does not offer a booth jack or a mic input.
In the Ecler WARM2 Rotary DJ mixer, there are three sections in the user interface. Below the volume pots is the level meter, above it is the isolator EQ, and above that are the channel and volume controls as well as control switches.
In addition to two channel strips with faders, the DJ also gets a third channel strip with EQ for mic/line with two bands, a send and return path, a master isolator, and two large pots to control instead of line faders. Technically, the mixer is complete with a tuning metering that complements its visual appearance as well.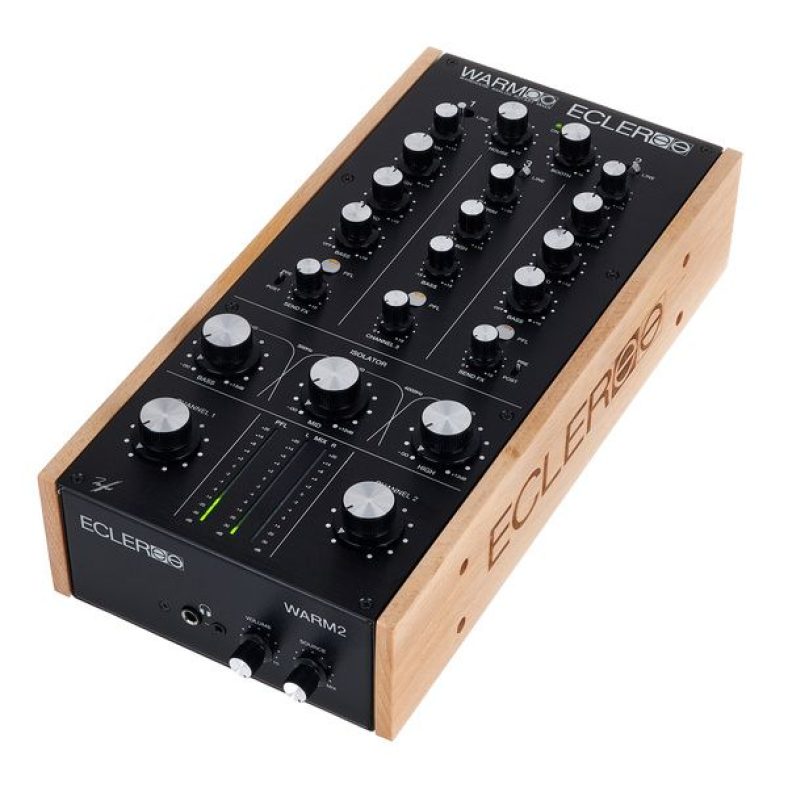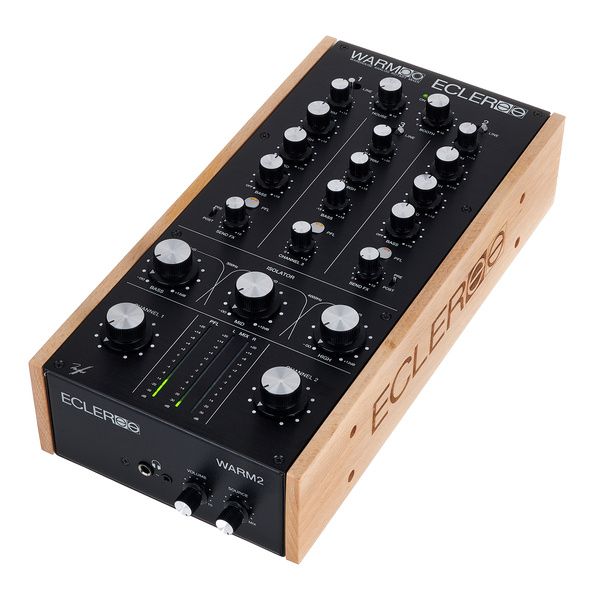 Features
3-Band EQ per channel
2-Band EQ for microphone channel
3-Band isolator
FX send control and pre/post fader selector switch
LED 12-segment mix and PFL VU meter
Alps Blue Velvet potentiometer
| IMAGE | PRODUCT | Thomann Store |
| --- | --- | --- |
| | | |
---
2. Omnitronic TRM-202 MK3
This Omnitronic TRM-202MK3 has three band frequencies later in two-way EQ and also features 10-digit lead leveling metal including a microphone input for the DJ. With this mixer, you will be able to pick between two input channels and three-band frequency isolators for DJs that like to have control over the gain and with two-way equalizers for both highs and lows for each channel.
Users of this mixer will be able to remove the low, mid, and high frequencies with dedicated boosts or kill cuts to improve their mixing quality. Also, components of very high quality are included inside this mixer that will ensure longevity and excellent sound quality that will satisfy your needs.
There is also a separate control over the gain for the microphone input and pre-fader listening is also enabled for the input channels and for the master output with adjustable headphone output with the cue mix and splits of functionality.
The TRM 202 MK3 is also drawing inspiration from its previous two models and they improved reliability in the intuitiveness of the user interface of the mixer. Besides the regular updates, there are also touches on the design of the top panel in order to separate it from its predecessors.
On both the left and right sides of the mixer, you will find the two channels with the master controls in the center and EQ at the top. You can find only two phono and line inputs and two additional phono inputs on the mixer that can be connected only by phono connectors and nothing else.
This is really sensible and attractive option for every user that is interested in becoming a DJ in a more unique way and playing music in a simplistic way and achieving musicality in the work.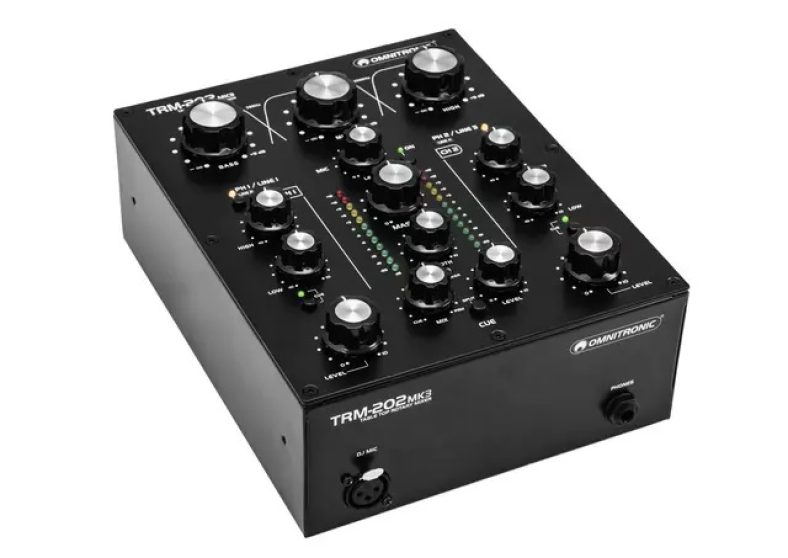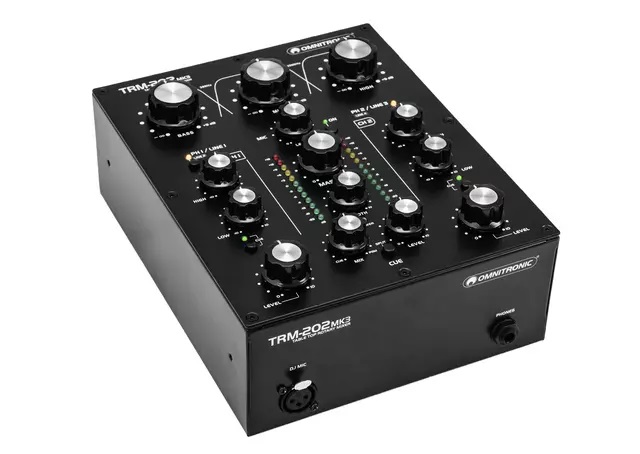 Features
Classic rotary mixer with 2 input channels and integrated 3-band frequency isolator for DJs
Gain control, 2-band equalizer (treble / bass) and phono / line switching per channel
Effective boost and kill function
Kill characteristics allow bass, mids and treble to be completely eliminated for creative mixing
Classic ALPS rotary potentiometer (Blue Velvet RK27)
High quality components guarantee a long service life and excellent sound properties
| IMAGE | PRODUCT | Thomann Store |
| --- | --- | --- |
| | | |
---
3. Omnitronic TRM-402
When it comes to DJs around the world that play electronic music, the TRM 202 MK3 from Omnitronic proved that is a particularly cool and wanted mixer. Well now instead of having two channels only, the TRM 402 adds two more additional channels and now you can be more complete if you want to play with four decks at the same time. Also to add, this version has ALPS rotary controls also known as Blue Velvet RK27 which is a very vintage feature on such rotary mixers.
In terms of size, the TRM 422 is the largest mixer from Omnitronics. Next in line probably would be this one. We are mentioning the size just to inform you that probably everything that one rotary mixer should have is included in this one.
The TRM 402 gives us an amazing sound stage and high quality because of the components that are used inside. When compared to the standard mixer with faders, the large rotary nopes on the four channels allow the DJs to create very nice and smooth transitions between the tracks they are playing in their mixes.
Also to add the inside of this mixer, you will have a microphone input to connect a DJ microphone if you need to hype up your audience. Some of the other features that are there are the booth output with a separate volume control. That means that you will have an easy time connecting it and using it in a club without any problems. Besides that, you can also record your mixes if you use the record-out feature on it.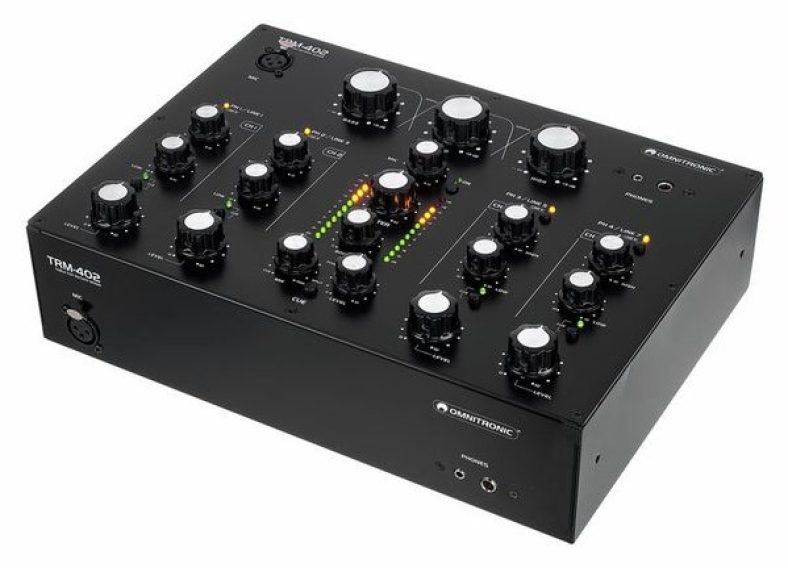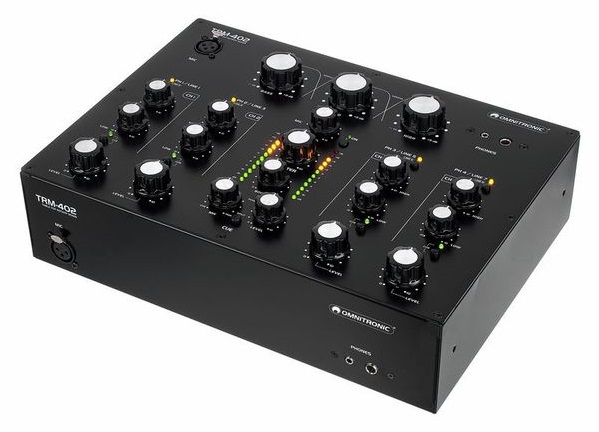 Features
Classic rotary mixer with 4 input channels and integrated 3-band frequency isolator for DJs
DJ microphone input with separate volume control
Pre-listening to the input channels and the master sum via adjustable headphone output
With cue mix / split function
12-Digit stereo LED level display and master control
Booth output with separate volume control
| IMAGE | PRODUCT | Thomann Store |
| --- | --- | --- |
| | | |
---
4. Omnitronic TRM-422
If you are after a fantastic rotary mixer that has four channels then the Omnitronic TRM 422 is for you. This is probably the best in the line of the Omnitronic rotary mixers and it's there just to add on the already popular models that are TRM 202 MK3 and the TRM 402 did we already covered above.
This mixer also held the ALPS potentiometers for the rotary knobs. On the top panel, you will be able to find the built-in three-band frequency knobs that are very similar to the other models. They allow you to control the bass, the mids, and the treble frequencies of the songs you are having. Also, you will get the gain controls in additional phono and line switches to select your desired decks.
Probably the best feature that can be found on the TRM 422 is the four direct outputs that can be used to integrate the time code or DVS systems which are simplifying this operation completely. In terms of monitoring, you have 16-digit stereo LED level meters to follow your gain structure of the mix. When it comes to sound, this mixer will not disappoint you because it will deliver high-quality audio that satisfies the listeners' needs.
The interface on the top panel is pretty neatly created and there is plenty of room between the knobs. You will not have a hard time turning them around or accidentally hitting something that you didn't want. All in all, this is probably the best mixer in the Omnitronic rotary mixers and we highly suggested it if you are interested in getting a rotary mixer for yourself.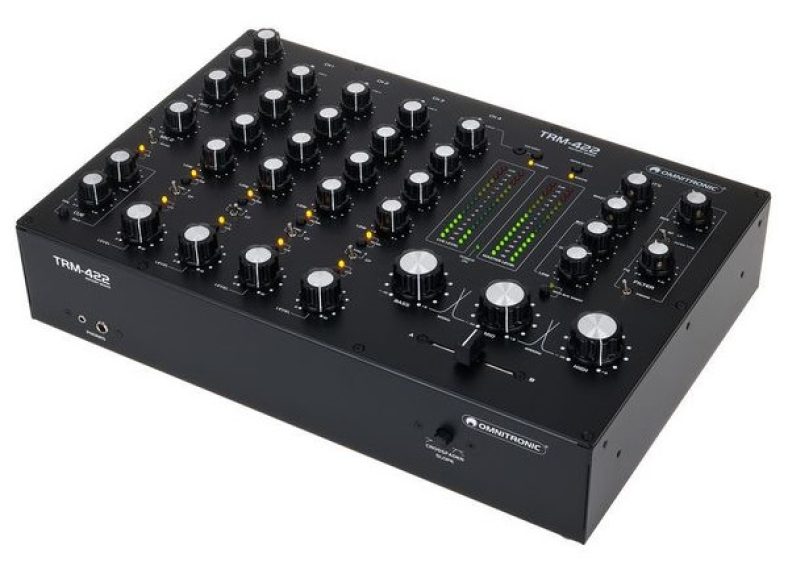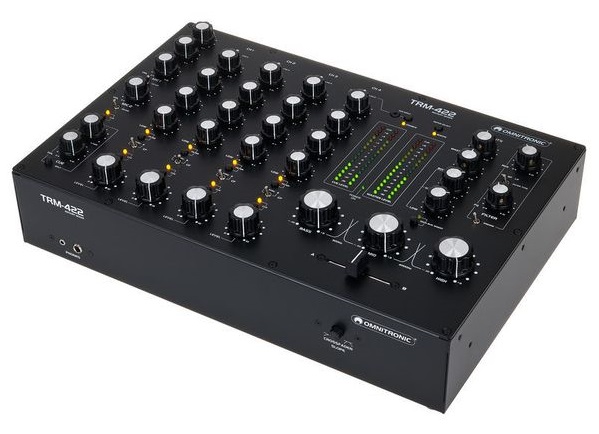 Features
With 3-band master frequency isolator (with kill characteristic) with ALPS pots
Filter with HPF, BPF, LPF as well as resonance and sweep controls
4 Stereo channels with gain, 3-band EQ, clip LED and phono/line switching
2 Mic XLR inputs with gain and 2-band EQ
16-Digit level meter (switchable master/booth)
Booth output with 2-band EQ
| IMAGE | PRODUCT | Thomann Store |
| --- | --- | --- |
| | | |
---
5. Superstereo DN78ADB
Now we are going to look more deeply into the Superstereo DN78ADB rotary mixer. This is a mixer that has only two channels and it has an audio interface with a valve stage that is probably enough for someone that is having an interest in such mixers. The thing with this mixer is that they are not mass produced and you will need to wait probably six to eight weeks before getting it but believe us it's worthwhile the time.
For audiophiles that are after the highest possible quality of sound, this Superstereo DN78ADB delivers everything because of all of the components that are included inside, such as the bakelite style volume knobs and discrete outputs.
The mixer has a rotary crossfader and a three-band Baxandall EQ the laws the user to have precise control over the frequencies. Also, you can find two line inputs in RCA and phono inputs in RCA as well. As per usual you can switch between sources with a simple phono/line switch.
Additionally, there is a mic input with combo XLR and Jacks and the mixer features stereo effects sends and returns if you are adding some external effects to your mix. You can connect various systems through the mix-out and the booth-out features both in XLR RCA, with the 2×2 studio-grade sound card that will ensure high quality in terms of recording and playback.
We really like how this rotary mixer looks and we really love how the big rotary knobs feel. We highly suggested it to everybody that has a love for high-quality audio in their mixes.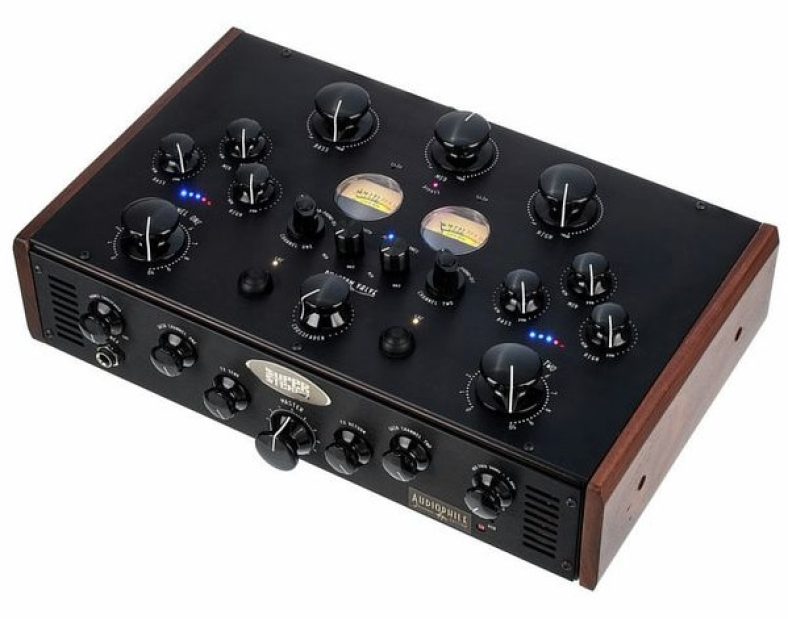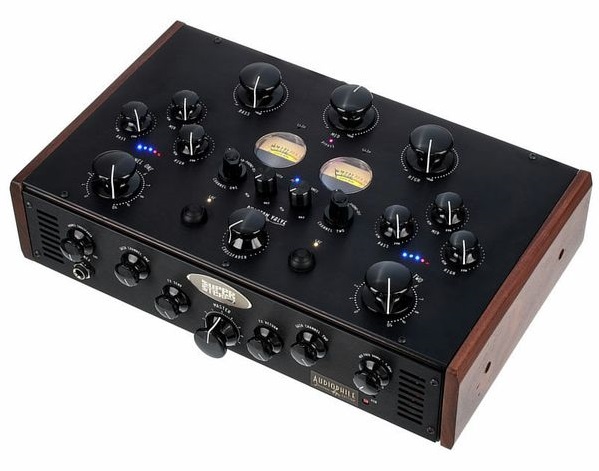 Features
DN78 Phantom Valve – Audiophile Edition
Discrete output
Bakelite-style controls
Round cross fader
3-Band Baxandall EQ on each channel
Switch for input selection: Phono/Line
| IMAGE | PRODUCT | Thomann Store |
| --- | --- | --- |
| | | |
---
Honorable Mentions
Urei 1620
Bozak CMA 10 DL2
Condesa Lucia
Can Electric Taula 4
MasterSounds Radius 4V
Varia Instruments RDM40
E&S DJR 400
Audio-DJ SP-2
Bozak AR-6
Bozak AR-4
MasterSounds Radius 2
ARS Model 9900 STD
So in case you want to read more about the models that we mentioned above, you will be able to check out this MusicTech guide here. So in case you want to read more about the models that we mentioned above feel free to check this guide. Unfortunately, we are not going to dive deeper into these models because everything is covered in the guide and we do not have enough experience with those models that are listed there.
Conclusion
Well, that is the end of our review of those five rotary DJ mixer models. We really hope that we are going to see more and more rotary mixers around and that people will adopt them as the new standard if they are after some high quality and uniqueness in their mixing style.
Go through our website and you will be able to find more details about DJ mixers. We also listed some of the related articles here in this one and head over to those one that interest you to read more about the whole DJ mixer shebang.