Best 2-Channel DJ Mixers
Introduction
Sometimes we do not need complex mixers and features and what we only need is a simple 2-channel DJ mixer that will be good for mixing and scratching that will fit any DJ setup without any issues.
Well, the time has come to share what we think are the best 2 channel DJ mixers and as with everything else that can be found in terms of reviews on our website, we are going to provide you images, brief reviews, and purchase links to the models we will select in this guide.
We are not going to give you buyer guides here, as you are able to find other articles on our web about that, and we decided to share only the essential stuff about those mixers. So without any waiting and hassling you around, let's start.
1. Pioneer DJ DJM-S11 – Best Choice
You will want the Pioneer DJM S11 whether you are just getting started with scratch mixers or you only mix scratch. Pioneer has shown that it understands the needs of its fans when it comes to scratch DJs with the DJM S11. In our opinion, this is probably the best DJ mixer on the list when it comes to this centerpiece of DJ equipment.
Featuring controls over the curve, the resistance, a reverse switch on the front, as well as more in-depth lag and "smoothness" settings, the crossfader feels fantastic. Crossfader settings can be found to suit a variety of scratch and digital DJing styles.
When Pioneer DJ shipped the Magvel Pro with the S9, it made waves in the scratch world. One of the main reasons for the S9's success is its light, smooth, fully customizable fader that cuts like butter. The fader on the S9 has always been a favorite of ours and our other DJ mixers and colleagues. My love for this fader began with the S11 when I had extended scratch time on it.
The DJM-S11 follows in the footsteps of the Rane Seventy-Two and has acquired a screen. In retrospect, we wish the screen had been larger but – as you'll see later – the software designers have done a great job making a small amount of space both intuitive and useful.
With the S11, you can customize everything to your heart's content. A range of effects banks can be combined in any way you wish, as well as endless configuration options for default control layouts, information displayed, performance behavior, and much more. Adjust the S11 to your optimal play style by tweaking and adjusting the settings.
There is no doubt that the DJM-S11 has become the new ruler of 2-channel mixers. When it comes to features and workflow, it blows the competition out of the water. Look no further than this mixer if you want a well-built, sturdy mixer with a strong crossfader.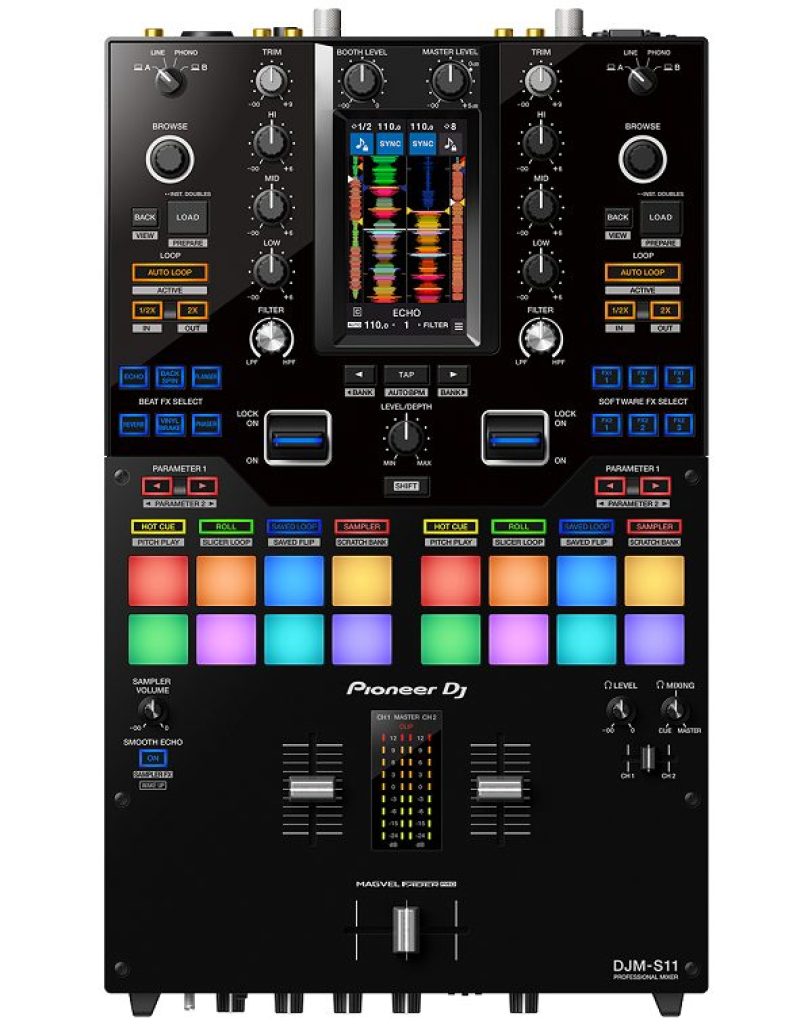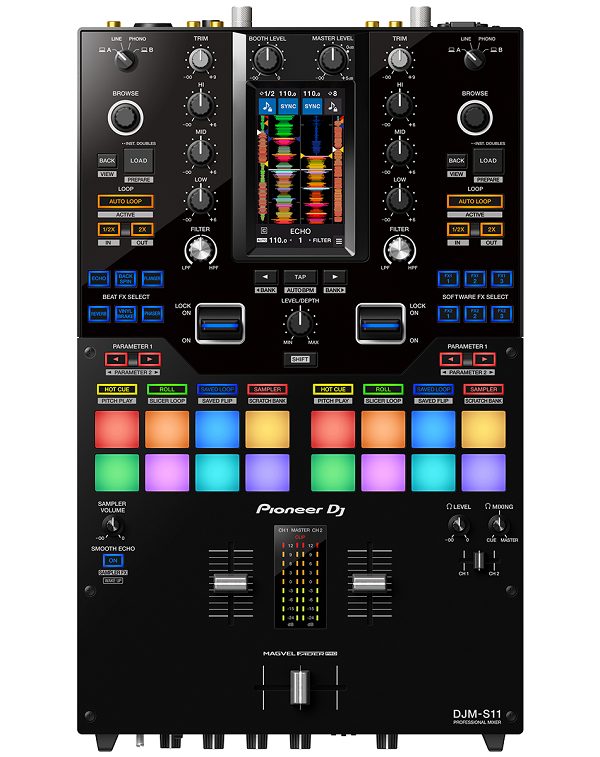 IMAGE
PRODUCT
For US
Customers
Amazon
Store
---
2. Native Instruments Traktor Kontrol Z2
The whole point of this tool is to see if Native Instruments can create the definitive hybrid mixer of the digital age by combining everything they've done over the last three or four years. My focus was on figuring out where they had succeeded since it was a tall order.
In classical DJing, the Z2 can be used as an analog mixer with two channels. In addition to functioning as a mixer, the Traktor Scratch compatible soundcard can also be used as a DJ soundcard. With this mixer, you can control your digital music and Traktor Scratch software using Traktor control CDs and vinyl.
Furthermore, Traktor Scratch can be controlled using the Z2 as a MIDI controller. Advanced CDJ integration also comes standard with the Z2, making it a great choice for DJs with a forward-looking attitude.
There's a lot of work involved in setting up Traktor, but I've always seen it that way. It's necessary to register with Native Instruments' "Service Center" to authenticate yourself and to obtain upgrades and so on.
There are a few nice tricks in it, and it's pretty much a perfect standalone mixer experience. In the case of a filter being returned to the center position while Shift is held, nothing happens (i.e. the filter remains engaged). You can filter the track up until you take your finger off the Shift buttons, at which point it "jumps" back into the unfiltered state.
Furthermore, if you press "Shift" while selecting "Traktor", Traktor turns into Live Deck mode, which lets you listen to vinyl and CDs while using all of Traktor's effects, and you can record analog mic inputs as well.
The entire mixer is MIDI mappable, which means that all buttons, knobs, and faders send MIDI information over USB, so you can use it with any other software of your choice or you can remap it completely in Traktor.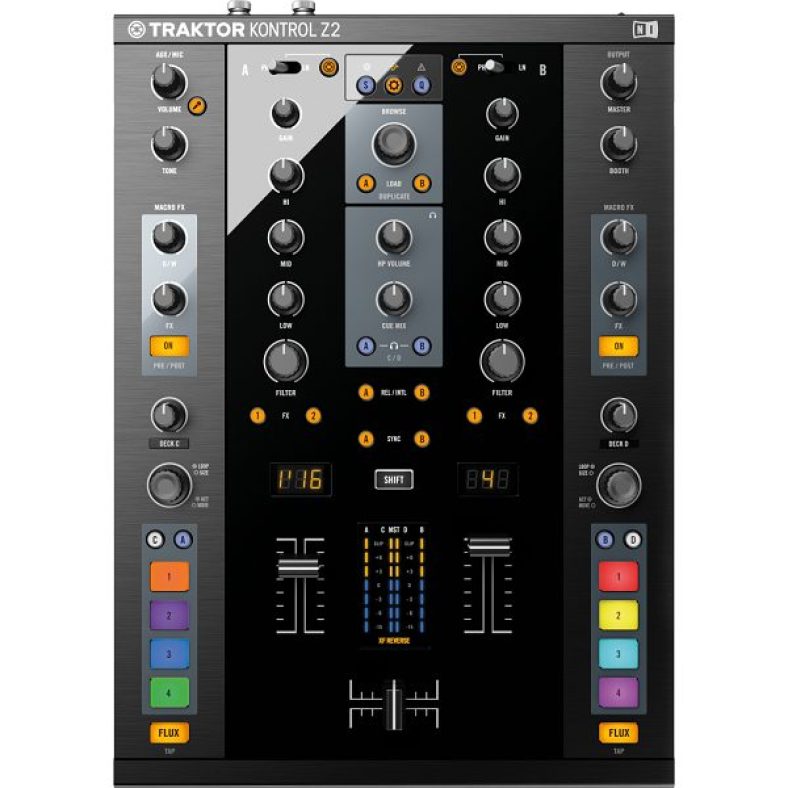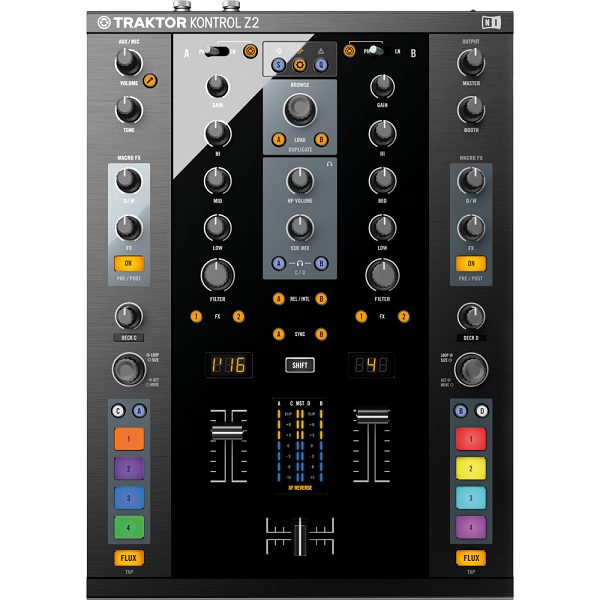 IMAGE
PRODUCT
Amazon
Store

Native Instruments Traktor Kontrol Z2
---
3. Allen & Heath Xone 23C
Basically, it looks identical to the Xone:23 except for a few transfers on the faceplate. With the Xone:23C mixer, you have the possibility to experiment to your heart's content; it has a high-pass and low-pass analog voltage-controlled filter, as well as frequency sweep and "mild to wild" resonance, offering you endless possibilities.
The digital side of things is covered by the addition of USB and X:Link inputs and outputs. USB is self-explanatory (you just need a computer), but X:Link is Allen & Heath's proprietary networking protocol, so you don't have to run multiple USBs back to your computer from other compatible hardware.
As part of its Traktor Pro certification, the Xone:23C is also USB-compatible with Traktor Pro 3. This modular setup is very compact and affordable for the modular-minded DJ if combined with an Allen & Heath Xone:K2 or Native Instruments Traktor Kontrol X1. Traktor's sound output on the Xone:23C cannot be controlled by means of the gain knob.
Overall, the Allen and Heath Xone:23C is a worthy successor to the original Xone:22 and deserves to be branded with the Xone badge. A sturdy, solid build quality characterizes the Xone:23C, with everything feeling like it was built to last. As well as excellent high-pass and low-pass filters, the 23C has superb sound quality.
A separate gain control knob is available for each channel input of the Xone:23C, which allows the mixing and playing of multiple inputs simultaneously. Easily compatible with many DJ software programs, the internal DVS (timecode) USB DJ soundcard adds icing to the cake.
As part of its MIDI timecode functionality, the Xone:23C ships with Mixvibes LE DJ software, which enables users to connect external turntables and CD decks for mixing and playback of songs.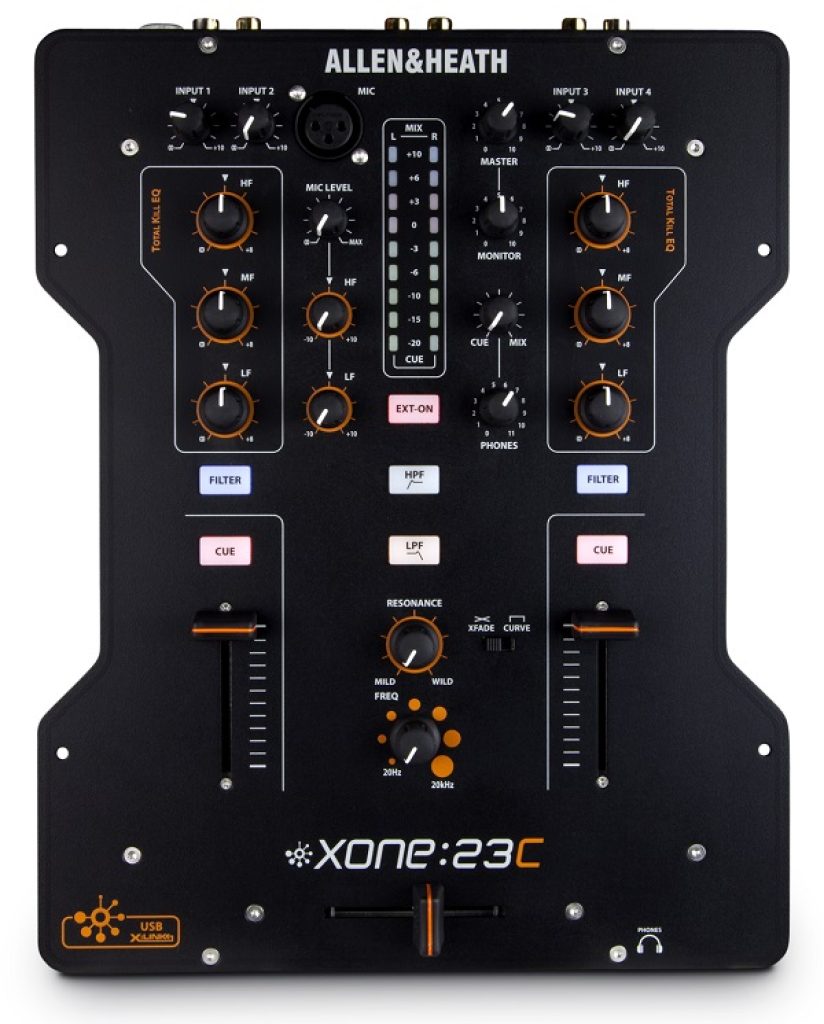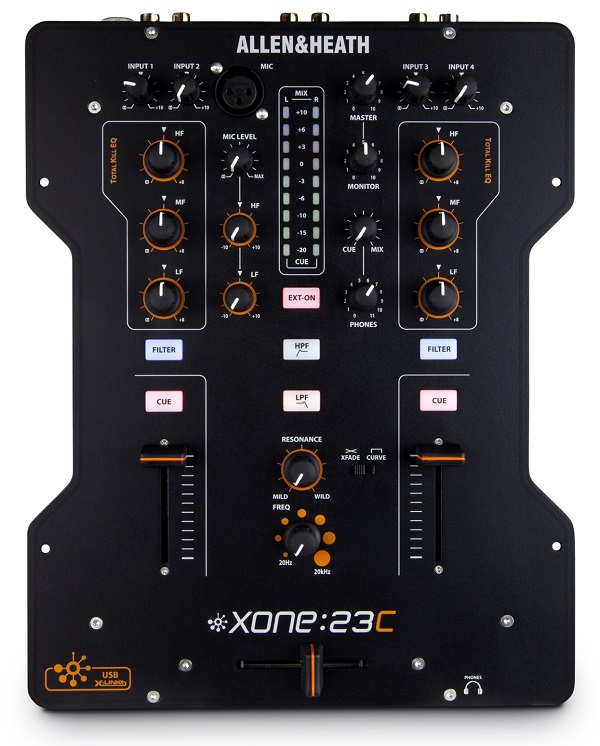 IMAGE
PRODUCT
For US
Customers
For EU
Customers
Amazon
Store
---
4. Formula Sound FF2.2 L
It is hardly possible to imagine a mixer more beautiful than one created by Formula Sound and Funktion-One. Is there anyone interested in having a model of this collaboration from the well-known purple-gray horn systems manufacturer and the British mixer builder?
Formula Sound's FF2.2.L is a 2-channel DJ mixer, which is logically the next step after 4 and 6 channels. There are headphone outputs and two channel strips on the small mixer, which is less of a battle mixer than a full-fledged DJ mixer in the upper class, but costs around €2,000.
In the same vein as its larger brothers, this one is solid. In addition to its steel housing, the Formula Sound FF2.2L has excellent sound. In terms of size and weight, the mixer measures just 21 x 35 x 11 cm, weighing 4.2 kg. As you will notice later in the setup, the surface of the turntable is a few centimeters higher than the surface of a Pioneer CDJ or a Technics CD player.
The slim mixer contains inputs and outputs on the back. The number of channels and XLR outs are quite high here, indicating that we will not remain at 2 channels and an XLR out. I am referring to the master output here. Despite its small dimensions, the Formula Sound FF2.2L performs like a battleship in practice. There is a devil in the details, as well as in the dimensions in this instance.
It is without a doubt that the Formula Sound FF2.2L is a premium product, designed consistently to meet the highest standards of vinyl DJs, for whom it is an extremely good product without question.
Despite its name, the mixer is not a mediocre battle mixer that can be used to play a few rounds of battle. Rather, it breaks the price-user-necessity ratio rather than the price-performance ratio of most mixers. There are some features that are not offered by any other mixer in the upper league.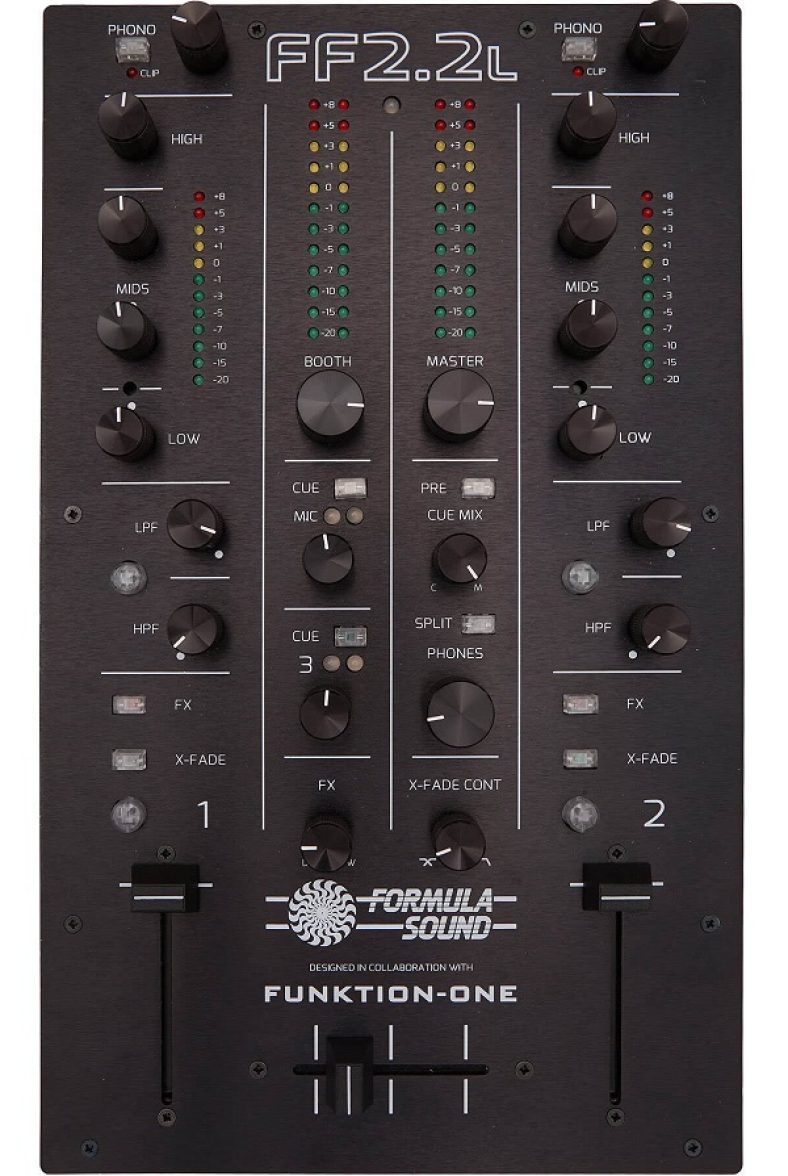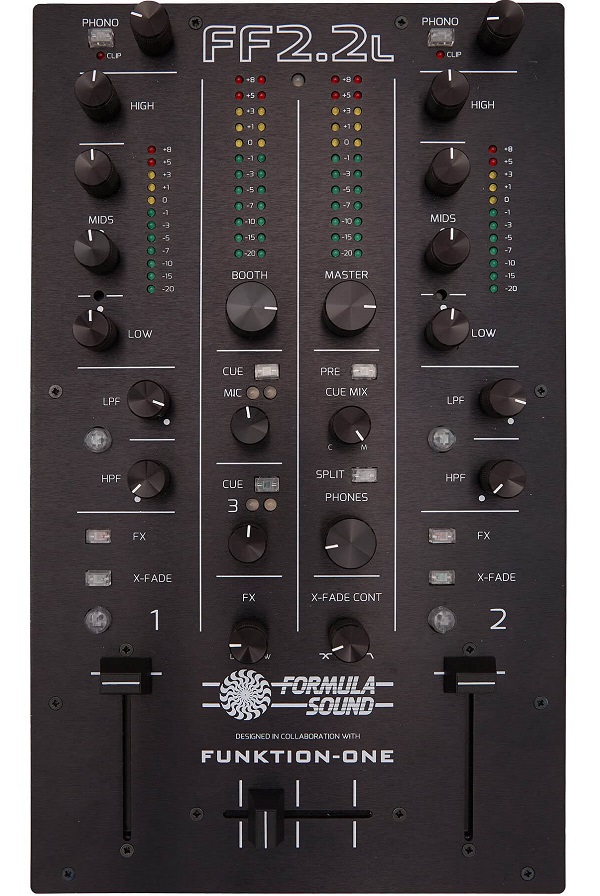 IMAGE
PRODUCT
For EU
Customers
---
5. Pioneer DJ DJM-S7
With two channels (for use with Serato DJ and/or Rekordbox software), this 2-channel mixer has a very similar layout to the rest of the DJM mixer family, but with some changes that make it stand out and make it easier to use.
DJs can change things up on the fly just by tapping a pad or turning a knob with this mixer because it's built for DJs who want to play whatever they want, whenever they want. There's a lot of comfort built into this mixer, but there's also a lot of performance.
It's no secret that the S7 falls short of the S11 in terms of features and functionality, but it inherits some of the top-of-the-line features such as Combo Pad mode, Scratch Bank, and Gate Cue, which are among its most unique features.
Fader Pro by Magvel is amazing. Your tension adjustment on the front is great, and it is a no-contact crossfader that will survive intense scratch and juggle DJing. Here you have access to everything you need as a battle DJ. There is no direct connection between that and performance, you know.
A new feature of DJMS7 is the Bluetooth pairing mode, which is also located up front. Pioneer frequently introduces new features to its mixer line when it releases a new mixer, even when it is not its top-line flagship mixer, to see how it performs. There will be a lag with this connection, so you won't be using it in a live DJing environment and scratching gigs.
In terms of scratching and mixing, the Pioneer DJM S7 is a great mixer for Serato DJ and Rekordbox users. It is certainly worth considering if you are interested in scratching and Rekordbox. This follows almost verbatim from the DJM S9, with the only differences being those you would like to see.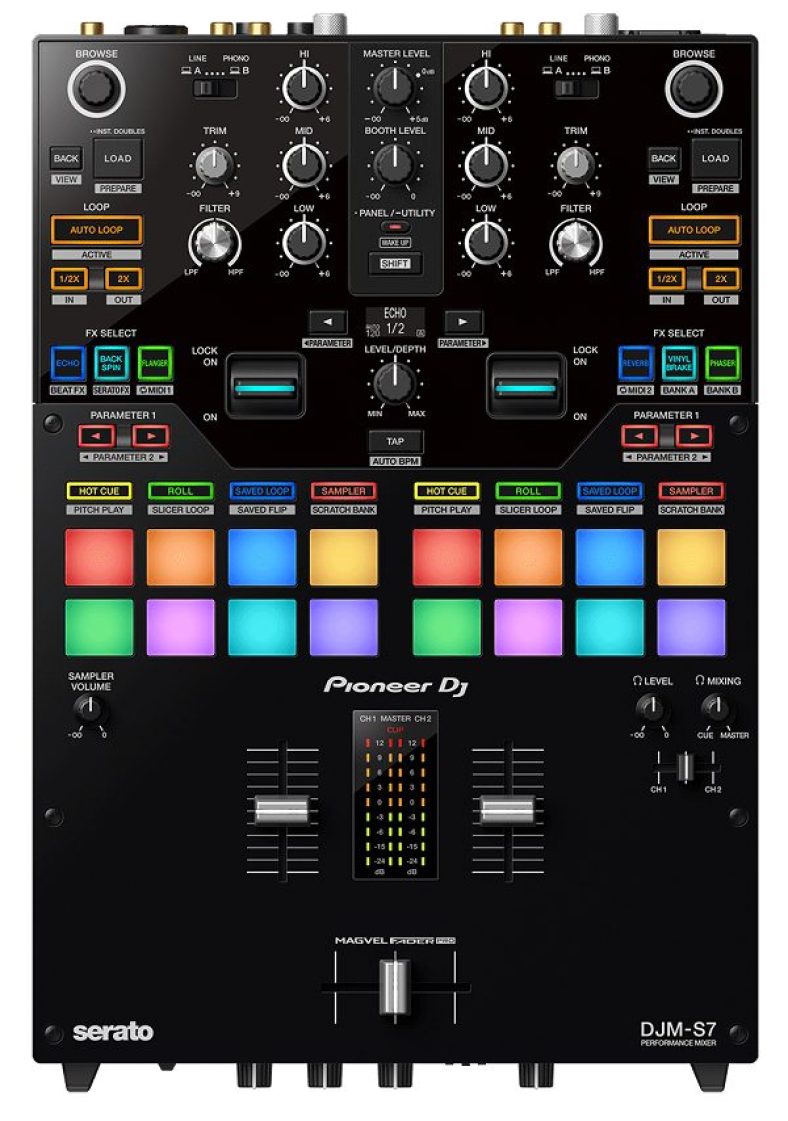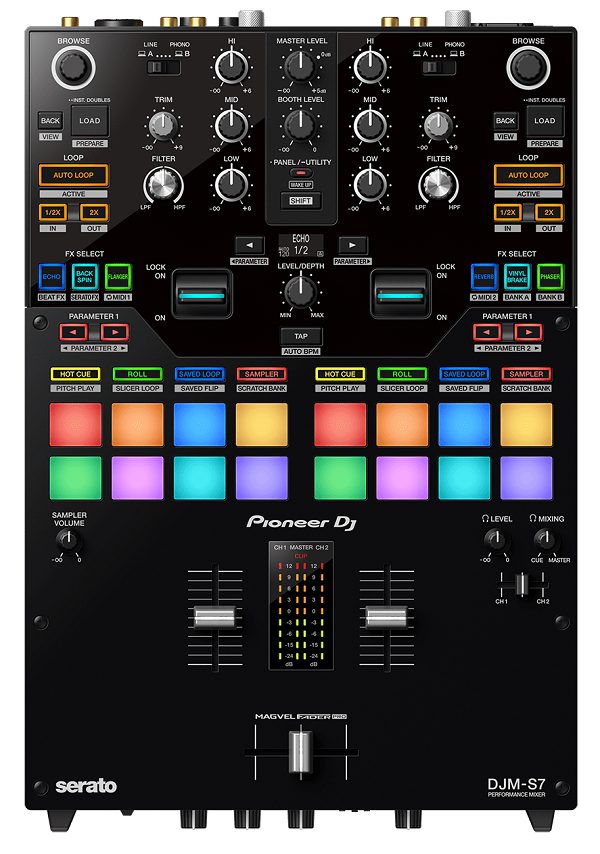 IMAGE
PRODUCT
For US
Customers
Amazon
Store
---
6. Ecler NUO 2.0
There is nothing unusual about Ecler in the DJ scene. Ecler only makes mixers, while other companies aim to diversify by producing (or sourcing) a variety of different products. The first thing that sets them apart is that they make all of them themselves rather than getting them made overseas.
Rather than hoping they come off the boat from China in one piece, they can have a very hands-on approach in the design and build. There are three kill switches: one for treble, one for midrange, and one for bass frequencies on the ECLER NU0 2 stereo mixer. This mixer has faders and crossfaders with shape adjustment, as well as send and return for effects.
There is a great deal of depth and clarity in the sound quality of this mixer. There is a clear distinction between high frequencies and low frequencies. In general, the mid-range encompasses pretty much the entirety of the vocal frequency spectrum and sounds great. It is the bass that I find most noticeable between this mixer and others.
This mixer's bass response is stellar, as opposed to other analog mixers with which I've worked – the bass tone is crisp and rich, allowing the listener to clearly distinguish between instruments playing in that range without using a crossover or processor.
As far as aesthetics and sound are concerned, this mixer is simply amazing. Despite the very simple layout, this mixer offers all the functions you could hope for in a two-channel high-end mixer: Gain control on each channel, plus a mic channel, 3-band EQs, kill switches (they call them "isolators"), and pre/post FX sends.
Ecler kept this mixer very basic and didn't include anything that wasn't absolutely necessary for mixing. I really admire this. In addition to the fader curves, the mixer also contains fully adjustable controls on the front, keeping the controls well out of the way of the main controls.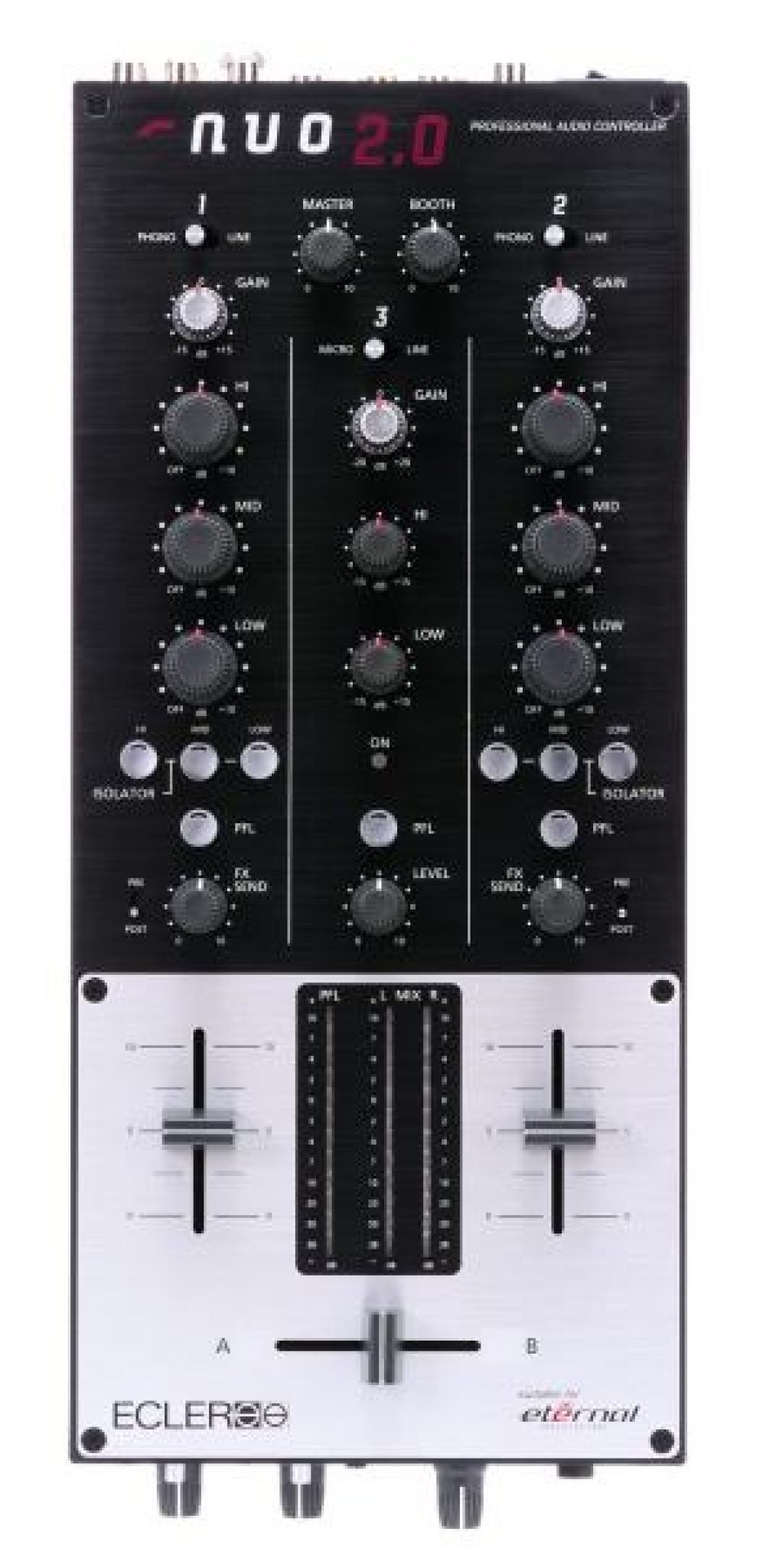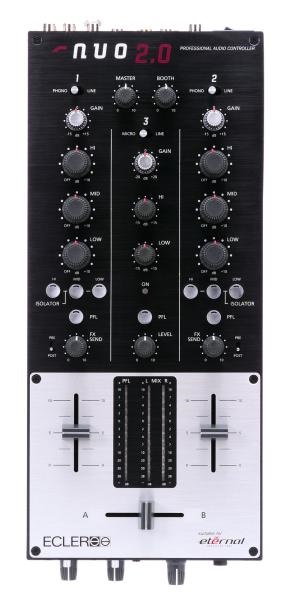 IMAGE
PRODUCT
For EU
Customers
---
7. Rane Seventy-Two MKII
This mixer lets you unleash the full creative power of Serato DJ Pro with its 2-channel, advanced control, and performance features. A feature set geared towards liberated performance capability redefines the scope and possibilities for Pro, Club, and Scratch DJs/Turntablists using the RANE Seventy-Two MKII.
A full-color touchscreen for immediate feedback of all critical performance functions, stackable Serato and Flex FX, MAG FOUR Faders, tension controls for crossfaders both external & internal, custom parameter control for instant doubles, silent cues, and syncs, dual DVS inputs, and 16 multi-function trigger pads to control playback expressively. You expect nothing less than perfection from your performance, so take your performance to new heights with RANE's latest evolution of your DJ gear and battle tools.
The Seventy-Two MKII does not disappoint when it comes to the faders, arguably the most important part of any battle mixer. On the front of the unit, there are almost an unlimited number of options for modifying both the line and crossfader faders using RANE's contactless Mag Four faders. There are three faders that can be controlled by DJs, including contouring and reversing the direction of the faders.
It isn't a good idea to bring a flimsy, plastic mixer on the road with your DJ setup. Fortunately, the Rane Seventy-Two MKII has sturdy steel housing that makes it ideal for the road. Including the die-cast paddles, the sturdy knobs, and the durable performance pads, every component is made with durability in mind.
This is more of an update than anything else, so there aren't a lot of things to get excited about. There are few changes to the Seventy-Two except for new faders that nobody asked for. As far as the essence is concerned, the TWELVE MKII (which should have been called the TWELVE.2) remains the same.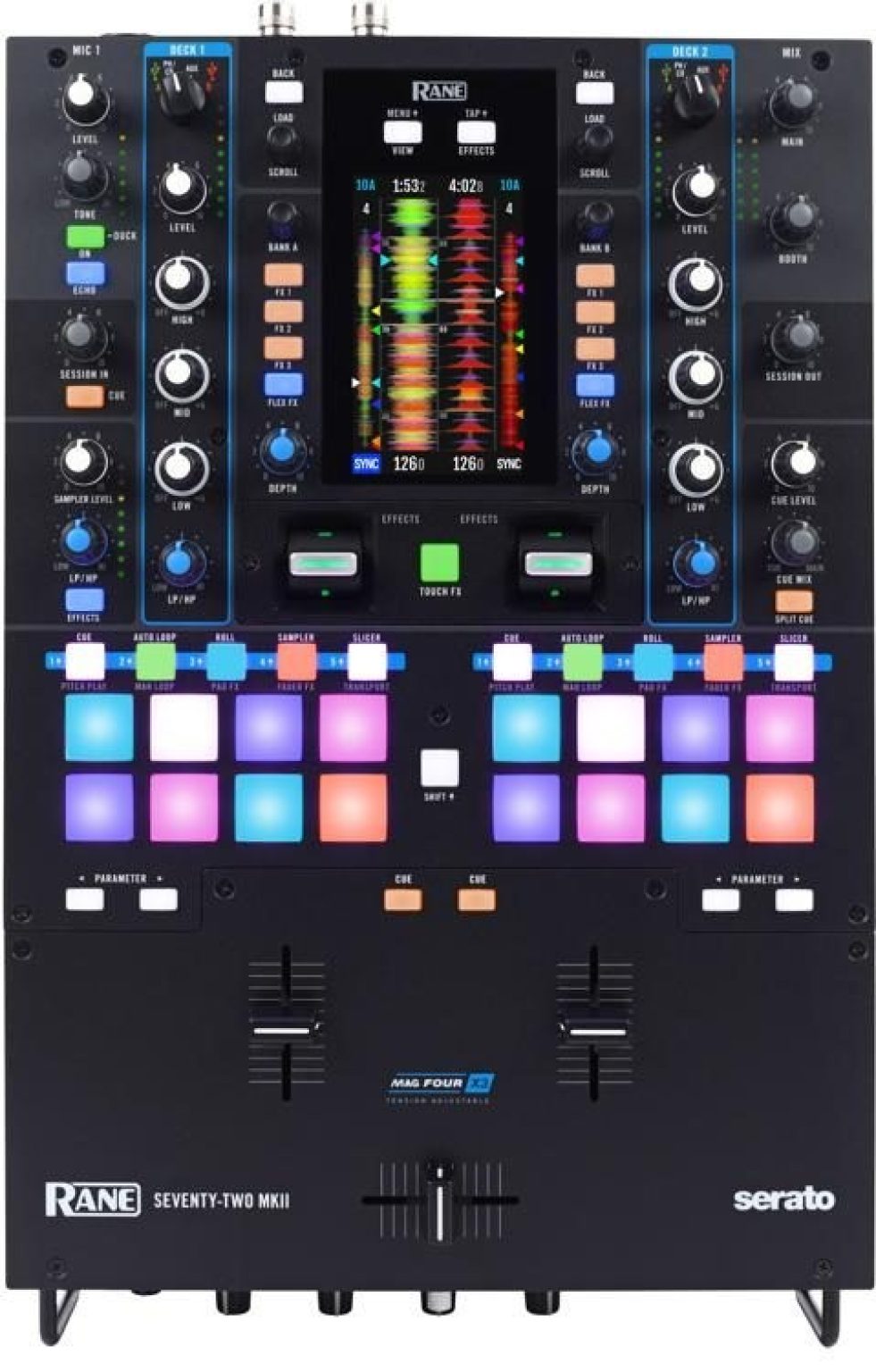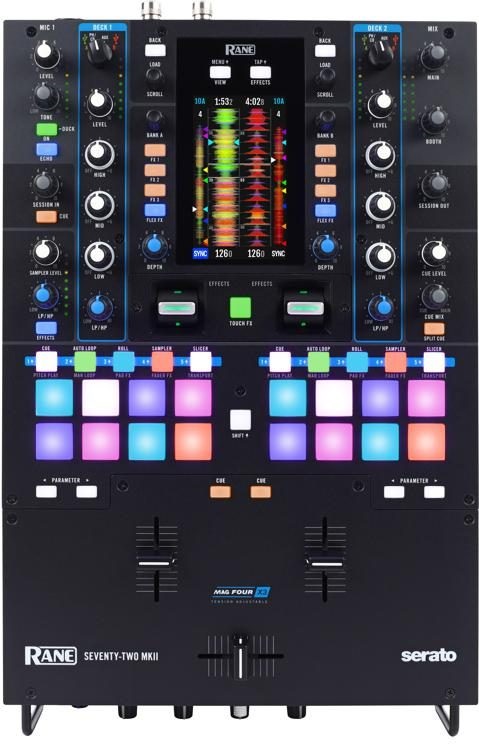 IMAGE
PRODUCT
For US
Customers
For EU
Customers
Amazon
Store
---
8. Pioneer DJ DJM-S5
In the market for scratch-style DJ mixers, new and professional DJs will be impressed with the Pioneer DJ DJM-S5, a two-channel battle mixer that delivers professional and personalized performance in clubs, concerts, studios, and live events for DJs, remixers, and artists alike.
57 Serato effects can be controlled by two large effect levers on the mixer, which is bundled with Serato DJ Pro. With the DJM-S5, Pioneer has released a DJ mixer with USB bus power for added flexibility.
A dedicated stereo RCA auxiliary input, a stereo RCA line/phono input, and a combo XLR-1/4″ microphone input are included in the DJM-S5. As well as two headphone jacks (1/4″ and 3.5mm), the mixer has two stereo balanced XLR master outputs, one stereo RCA booth/master output, and a stereo RCA booth/master output.
A variety of controls are available on the mixer's front panel, including trim, three-band EQ, a high-pass/low-pass filter knob, and a mute knob. The four multicolored pads on each deck allow you to navigate through Hot Cues, Rolls, Saved Loops, Samplers, and more for dynamic live mixing.
You can customize your scratch feeling with the MAGVEL FADER PRO crossfader, with Feeling Adjust, so that you can get the right level of resistance for you. Additionally, this fader is designed to withstand energetic scratching due to its rigid knob mounting axis.
No matter how much experience you have with scratching, you can start scratching immediately. The DJM-S5 can be controlled by moving the control vinyl or jog wheel (when using DVS control) forward and backward on the deck while executing one of its 6 cutting patterns.
It emulates transformer scratching without you moving the crossfader by applying a cutting effect in perfect time to the music. With this feature, you can begin learning how to scratch by getting your timing right using the control vinyl before moving on to more challenging crossfader techniques.
While the DJM-S5 is over 1,000$ cheaper than the flagship S11, it still feels like a professional mixer. Scratch DJs on a tight budget can use the S5 as a serious mixer rather than a cheap entry-level mixer.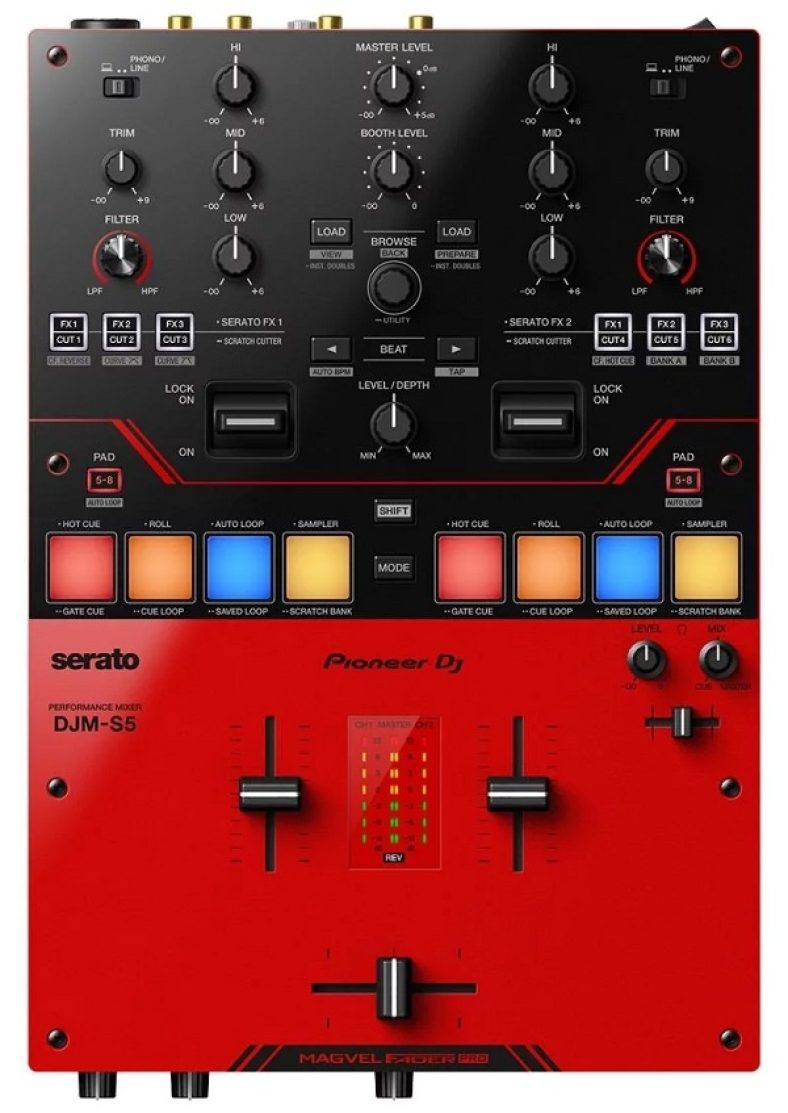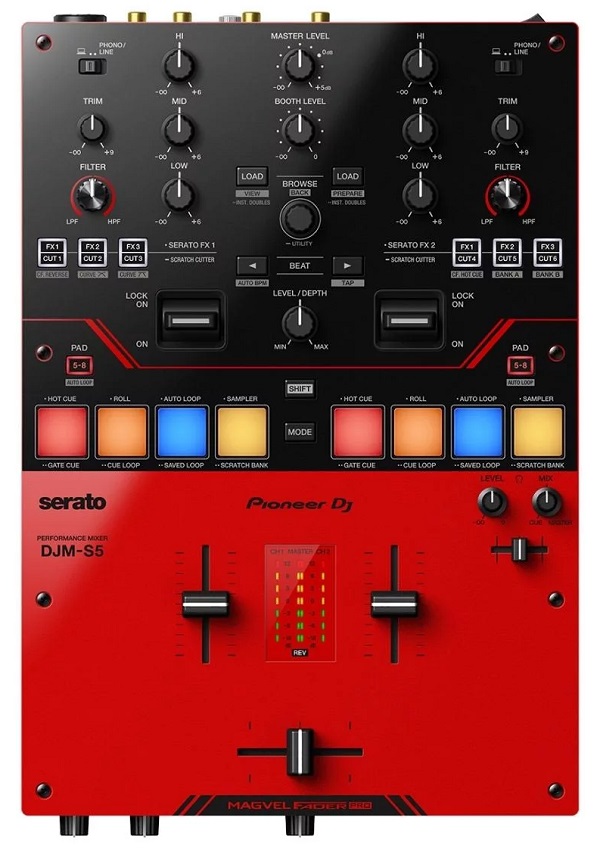 IMAGE
PRODUCT
For US
Customers
Amazon
Store
---
9. Rane Seventy
Initially, the technology looks much the same as its predecessor, though it is missing the high-res display for displaying Serato DJ waveforms and information. Using Serato DJ software, the Rane Seventy mixer allows DJs to mix music.
As a result, it shouldn't surprise you to find two USB B inputs on the back for seamless back-to-back DJing. In addition to the USB A ports, the seventy comes with two ports for connecting the Rane Twelve controllers. There are two channels on the mixer, along with line-level auxiliary inputs and switchable phono/line-level dual RCA stereo inputs.
In the Session inputs and outputs, there is an additional auxiliary channel. They provide volume controls on top of mic input and the mixer and are often used for daisy-chaining mixers together, but they can also serve as basic third channels.
Unlike the Seventy-Two, the Seventy's control layout is slightly simpler on the front, but its performance controls are still there. FX panels and performance pads can still be manipulated. Throughout its history, Rane mixers have always produced high-quality equipment, and the Seventy is no exception.
This steel desk is made of durable steel with a textured black finish that screams professionalism. This tech is made tough thanks to a big front panel and chunky grab handles. A quick glance at the layout and overall design reveals that it is clearly a "Rane" design. As with the previous 72 great mixer version, the Seventy comes with the same diecast aluminum effect paddles customers loved.
In summary, the Rane Seventy is a powerful battle mixer that has a lot of potentials. In spite of its early arrival on the market, its high-quality design, intuitive layout, and fantastic performance capabilities are sure to make a splash. The company is doing everything in its power to deliver results with this mixer, which clearly meets the needs of the market.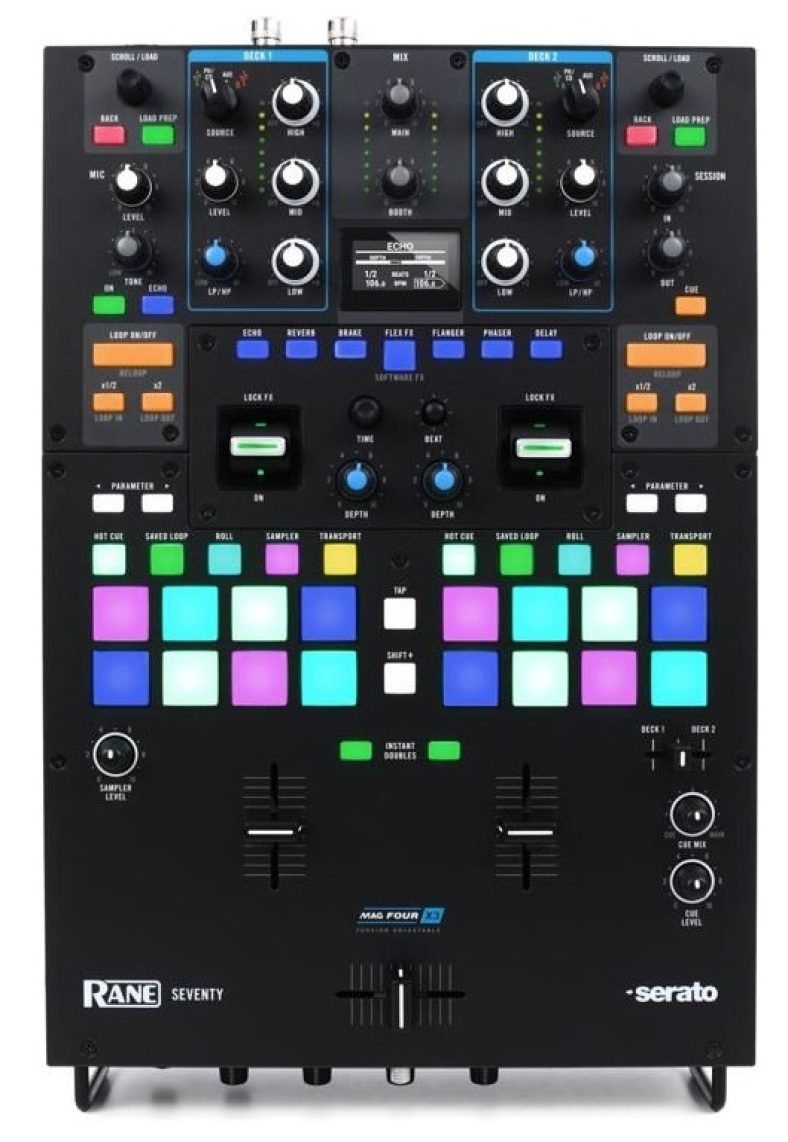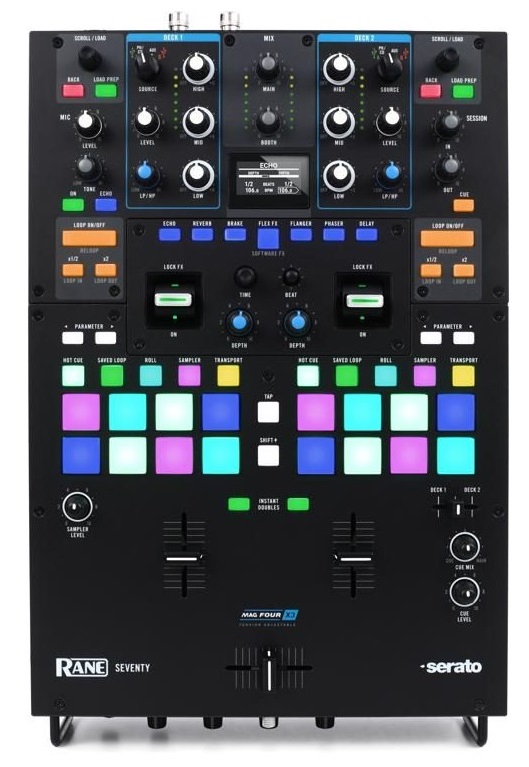 IMAGE
PRODUCT
For US
Customers
For EU
Customers
Amazon
Store
---
10. Reloop Elite
Professional DJs can realize their full performance potential with Reloop ELITE, a DVS mixer developed in close collaboration with international turntable artists. The mixer leverages its performance-oriented layout and powerful features.
A total of 12 performance modes, including two user modes, can be controlled with the 16 RGB velocity-sensitive pads in Serato DJ Pro. Individually adjust parameters over three layers and independently control pad modes on each deck using the parameter and mode selector buttons.
There are three Mini Innofader Pro faders on this ELITE that have non-contact technology to provide a smooth and precise cutting experience. Fade curves can be customized and reverse functions can be set (hamster switch). Additionally, the setup menu allows digital adjustment of the cut-in and cut-out points.
There are three assignable effects slots on the ELITE, with separate activation buttons for each deck. You can implement effects through a momentary trigger or by using a toggle switch. As well, each FX section includes a high-resolution mini fader for controlling intensity, allowing ultra-fast fades and cuts.
Tweak FX is available as separate plugins. They include filters, crushes, flanges, and white noises, along with user-defined modes, and offer up to four color-coded options. Bipolar knobs allow you to adjust different characteristics based on the effect you are using.
EQ and gain for each deck are provided in the channel section. With the EQ, the individual frequencies can be eliminated via the kill function. The pre-fader cue-listening system includes two headphones with separate volume and mix controls, each connected to a cue fader. Mic/line inputs are available with 2-band channel EQs, independent echo effects, and talkovers.
Two computers can be connected simultaneously through the dual USB ports, allowing two DJs to seamlessly switch between sets or perform fierce back-to-back sets. Using the Focus computer control, you can select and control which source is on which deck using an ergonomically designed browse section.
In addition to the setup menu, there are two OLED displays that show real-time information regarding effects, BPM, and beat parameters. In addition to a push encoder-controlled loop section, each deck offers an optional manual loop function.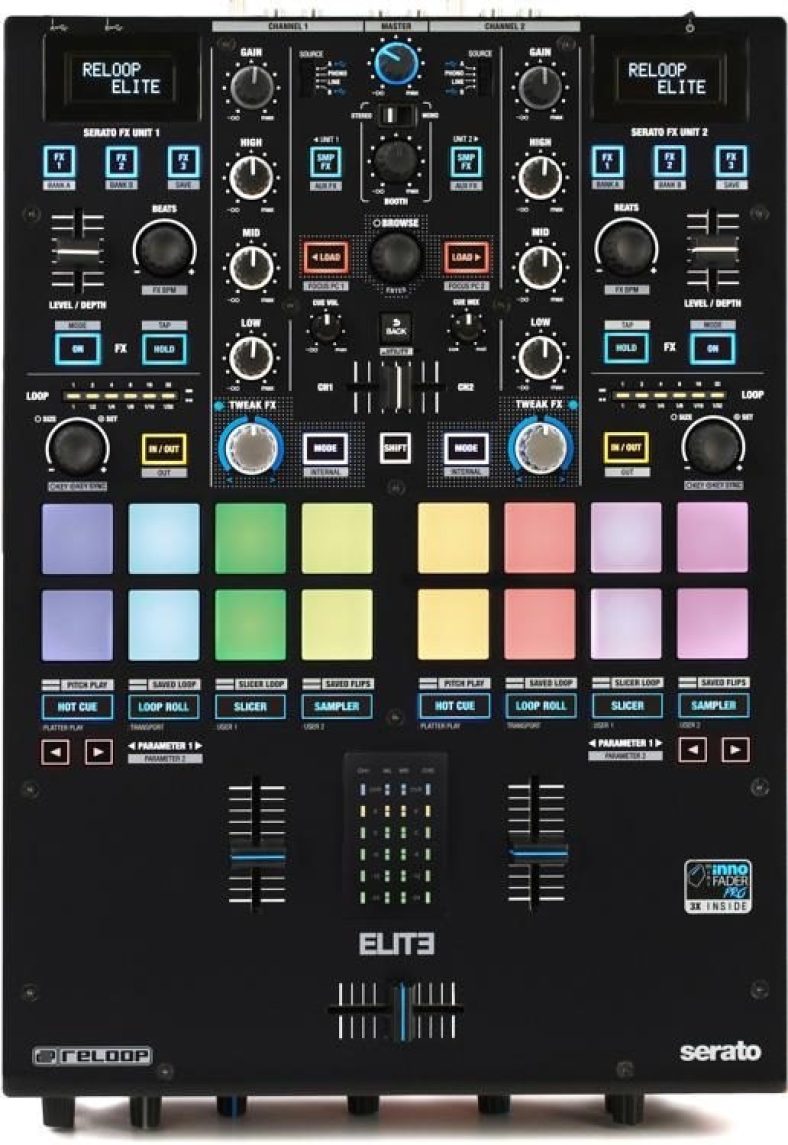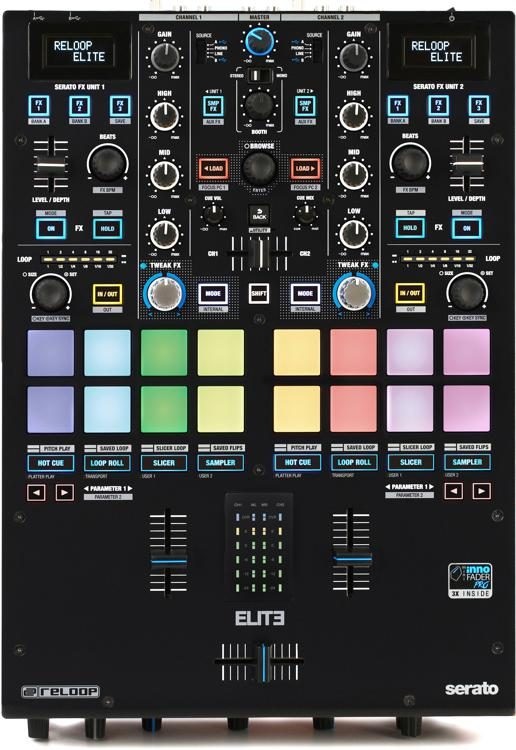 IMAGE
PRODUCT
For US
Customers
Amazon
Store
---
Conclusion on the Best 2 Channel DJ Mixer
Can we point out which DJ mixer is the best from the list? Well for our usage we can, but we cannot predict what you actually need. That is the reason we shared the 10 very best mixers so you can actually buy and find the one that fits you.
All in all, these mixers can provide you with high-quality audio, and a bunch of features that you need from a two-channel mixer, and be satisfied at the end with the outcome. So if you have any questions in regards to any of those units, please let us know in the comments and we will be happy to help you out.