Best 2 Channel DJ Mixers
Introduction
Most of the time we do not need complicated DJ mixers with unique features. Sometimes the only thing that we need is a simple two-channel mixer in order to perform good mixing and scratching that will fit every hip-hop DJ.
Well, today's the day when we are going to review some of the best two-channel mixers for DJs out there that we were able to get our hands on. Also based on some research, we are going to share what we think of some of those mixers and we are going to give our honest opinion on each one of those models.
Just to let all of our readers know that in this listing we are not going to give you a buyer's guide and tell you what is good and what is bad in terms of two-channel DJ mixers. We are going to share our personal experience in terms of brief reviews, we will also give you some images and videos to double-check and give you quick purchase links to each model on some world-renowned markets.
We really hope that you are going to enjoy the rest of this review article and that we will help you out with the decision on how to pick the best 2-channel DJ mixer for your own needs, so without any further ado let's get started.
1. Pioneer DJ DJM-S11 – Best Choice
Of course, we are going to start with probably the best model that is out at this time and that is the Pioneer DJ DJM S11 2-channel mixer. Pioneer has proven itself as a brand that cares for its customers and that's why they updated their last model creating a brand new DJ mixer that is amazing for both precise mixing and scratching that will be a centerpiece of your DJ gear.
This mixer has some control over the curve, and the resistance, and there is the reverse switch on the front, as well as more in-depth smoothness settings when it comes to the feeling of the crossfader. As per usual, the crossfader has some settings that can be found, no matter if you want to perform regular mixing or if you are a scratch DJ.
In this model as well you can find the Magvel Pro crossfader did make a really big impact in the scratching world. As with the S9 model from Pioneer, the huge thing that gave probably the biggest impact on the sales when it comes to purchasing these models of DJ mixers.
The reason that this crossfader is favored by the scratch mixing community is that it has really light, smooth, and fully customizable settings in terms of the resistance of the crossfader and this is something that is truly appreciated among those guys.
The DJM S11 model from Pioneer follows the footsteps of the Rane 72 model when they decided to add the screen at the center of the mixer. Many people would like to have the screen to be a little bit bigger, but after some time you will get used to it and you will see that even with this size it is more than enough.
Compared to the previous models. the screen is probably the biggest upgrade. And as per usual, you will be able to expect a big array of effects that you can use, with endless configuration options, complete control over the layouts, and much more. There is nothing about this mixer that will give you an idea that it's not good, but this is a mixer that will give amazing results no matter the style of your DJ mixing.
In our opinion, this mixer will probably be one of the best mixers for some time, and all for a good reason. In terms of workflow and features, this mixer has it all and there is no reason for you to believe that you are not making the right choice if you decide to go with this one.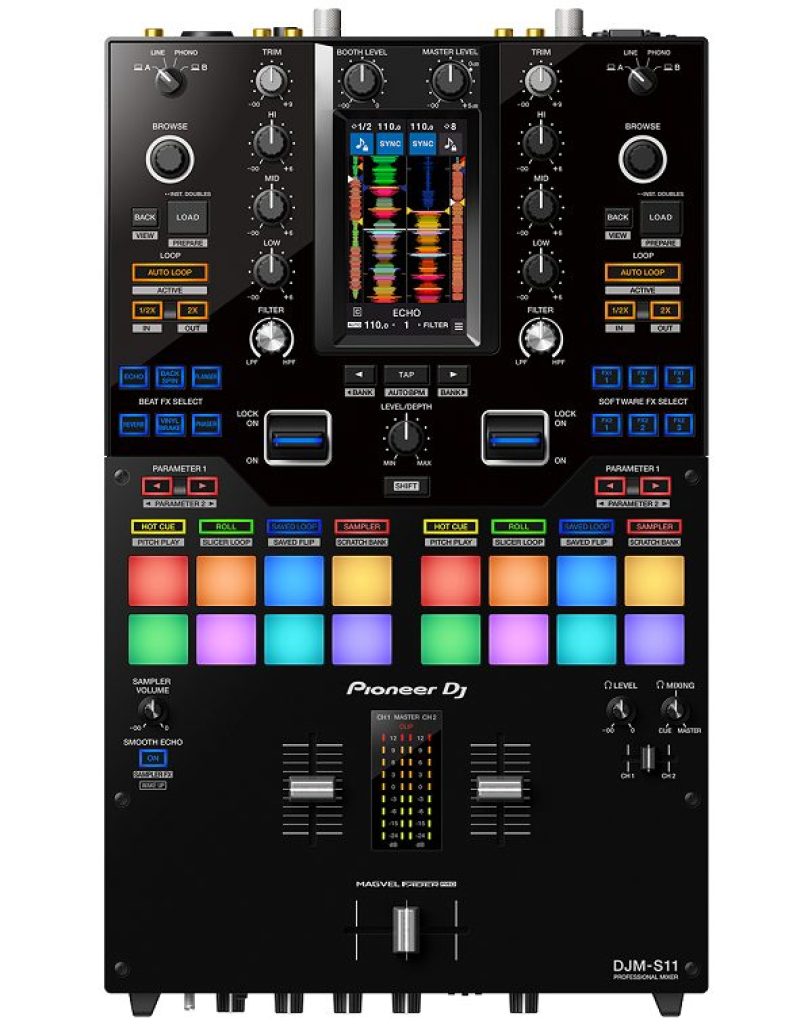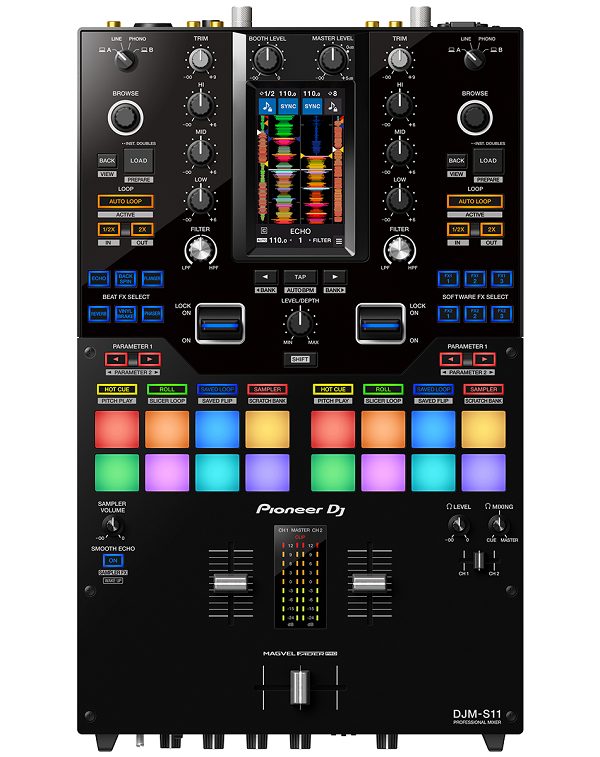 IMAGE
PRODUCT
For US
Customers
Amazon
Store
---
2. Native Instruments Traktor Kontrol Z2
This DJ mixer from Native Instruments is proof that this developer is able to create a hybrid mixer that can mix best of the both worlds when it comes to giving high-quality products to its customers. Well, after playing with it for a while, we can completely agree with the majority of opinions among the people that this is a really great DJ mixer after all.
When it comes to Classic DJing, the Z2 mixer from Native Instruments can be used as an analog DJ mixer that has two channels. Additionally to functioning as a mixer, the Traktor Scratch sound card can also be used as a sound card to improve the functionality of the mixer itself. That means that with this mixer, you will be able to control the digital music in the Traktor scratch software only by using control CDs and records from Traktor.
Also to add, the Traktor Scratch software can be controlled using this mixer as a MIDI controller as well. That means that this mixer is also flexible for DJs, no matter if they practically use only CDJs or if they are more keen on using turntables.
There is no doubt that there is a lot of work included in setting up this DJ mixer, but that is something we expect from a developer like Native Instruments. The other good thing about it is that you can register your unit online and always be up to date with some upgrades on it as well.
This mixer packs some nice tricks, and it gives a perfectly fine standalone mixer experience to everybody. So here is one trick; in the case that the filter is being returned to the middle or in the initiative position while the shift button is pressed, nothing will be happening and the filter will remain activated. Then, you can filter the track up until you decide not to press the button anymore, at which point the song will jump back into the unfiltered audible state.
Also if you press the shift button and you select Trakto at the same time, the software will turn into live deck mode which will let you listen to the vinyl or the CDs while using all of the Traktor effects, and additionally, you will be able to record the microphone inputs as well.
All the buttons and knobs on this Z2 mixer from Native Instruments are mappable, and you will be able to manually add desired functions to each knob. Meaning that you can completely remap every button, and knob, and switch on the mixer up to your liking and to what will suit your mixing style the best.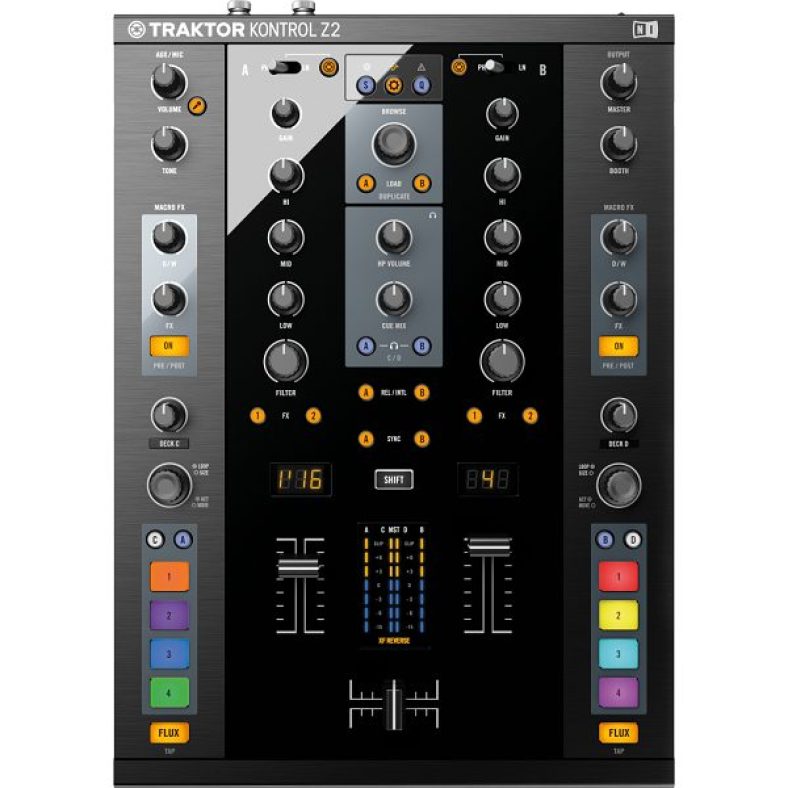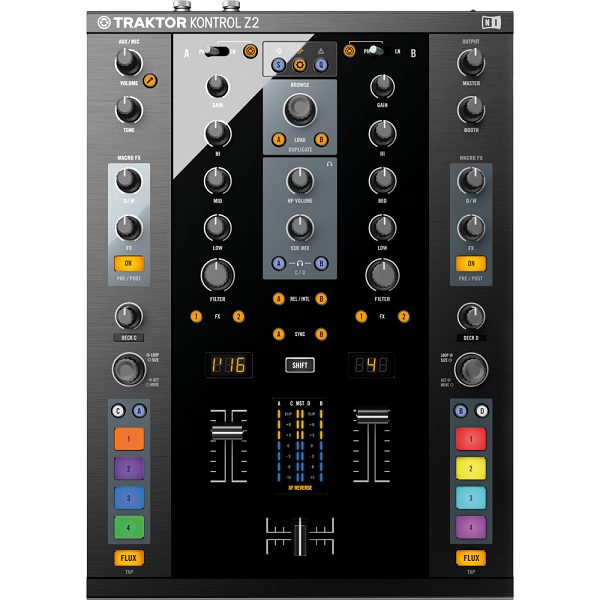 IMAGE
PRODUCT
Amazon
Store

Native Instruments Traktor Kontrol Z2
---
3. Allen & Heath Xone 23C
In terms of looks, this new Allen & Heath Xone 23C looks pretty much like the Xone 23, except for the few transfers on the top panel. With this amazing two-channel mixer, you have the ability to experiment with your material no matter if you want to apply some high-pass or low-pass analog voltage-controlled filters or you want to do the regular frequency sweep from mild to wild resonance that offers some nice functionality to the consumer.
When it comes to the digital availability of this mixer, it offers connection through USB and X-link inputs and outputs. The USBs are pretty clear we believe, and the X-link is their native proprietary networking connection protocol, meaning that you do not need to connect multiple USBs back to your computer and with the compatible hardware.
Being part of the tractor pro certification the Xone 23C mixer is very compatible with the Traktor Pro 3, which is really good. This modular way of setup is truly easy and affordable if you have some experimental setups in mind for your DJ set. That means you can connect it with the Xone K2 or with the NI Traktor Kontrol X1 – both amazing units.
All in all, the Allen & Heath Xone:23C is a very good unit even though it's really close to this predecessor, and it should proudly wear the Xone logo on it. In terms of build, this is a very sturdy-looking and feeling DJ mixer, and believe us when we say it's a mixer that was built to travel. Also when it comes to sound quality, we were really satisfied with how it sounded and we have no remarks about that point.
As per usual, a separate gain control knob is available for every channel that is found on this mixer, which means you will be able to mix several channels simultaneously without any trouble. Easily connectable with many various DJ programs, the internal DVS USB sound card just adds the icing to the cake which is something we really love.
Being a part of the MIDI functionality time codes, this DJ mixer comes with MIxvibes LED DJ software that will give the ability to the users to connect external turntables and CD players for mixing and playing songs on their DJ sets.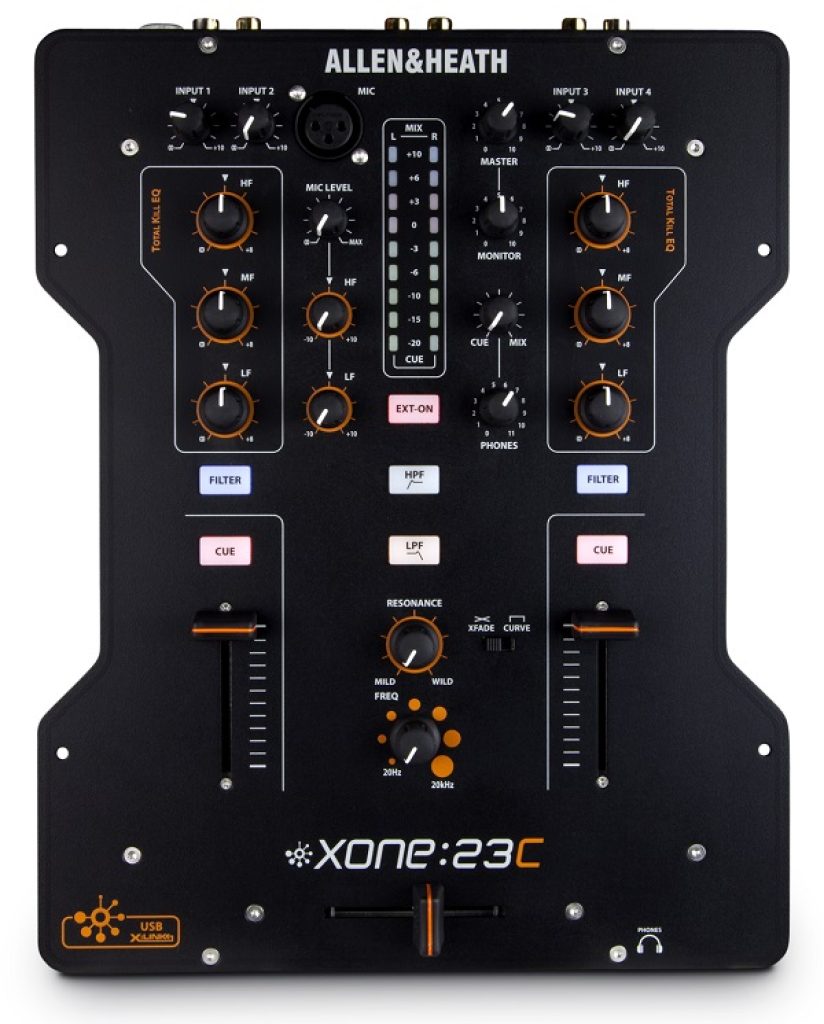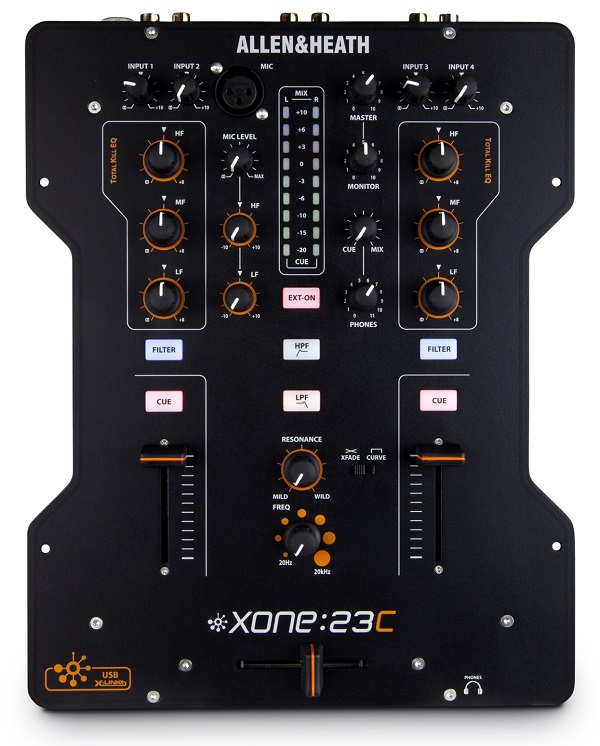 IMAGE
PRODUCT
For US
Customers
For EU
Customers
Amazon
Store
---
4. Formula Sound FF2.2 L
It is very hard to imagine a mixer that is more simple and more beautiful than the one that we are reviewing now – the Formula Sound FF2.2 L or the Function One. So if you are interested in having a model of this mixer, you just need to head down and press the button to make the purchase straight away.
But before you make any purchasing decision, let's dive deeply into the features that this DJ mixer has. As with the other models in this listing, this is also a two-channel DJ mixer. This mixer has a regular headphone output in it and has two small channel strips for each channel, making it less to be a battle mixer and more of a full-feature DJ mixer of the upper class.
If you are familiar with the other models from this brand, there are the four and the sixth channel models – this one is also pretty solid no matter if it only has two channels. When it comes to sound, it gives an amazing sound and there is nothing wrong in terms of audio quality.
And in terms of size and weight, this mixer is 21 x 35 x 11 centimeters and it weighs only 4.2 kilos. As you can notice from the size specification compared to the other models, this might be a little bit higher compared to the other models on this list.
This small mixer has all the inputs and outputs on the back, something that is pretty regular for DJ mixer models. Since we cannot go wild and need to keep it brief with each model, we can freely say – even despite the small dimensions that the Formula Sound FF2.2L has – this is an amazing mixer for everybody that wants something simple yet highly effective.
We can freely say this DJ mixer is a premium product and premium model designed to meet the higher standards of every vinyl DJ who really has sound quality and build quality in mind. Again, this is not a mediocre battle mixer and a mixer that can be used for a while and then set aside before stepping up to a more professional one.
This is a mixer that will surprise you with all the features and smoothness of playing that will give you, making it one of the best choices for DJ mixers out of the very well-known brand names out there.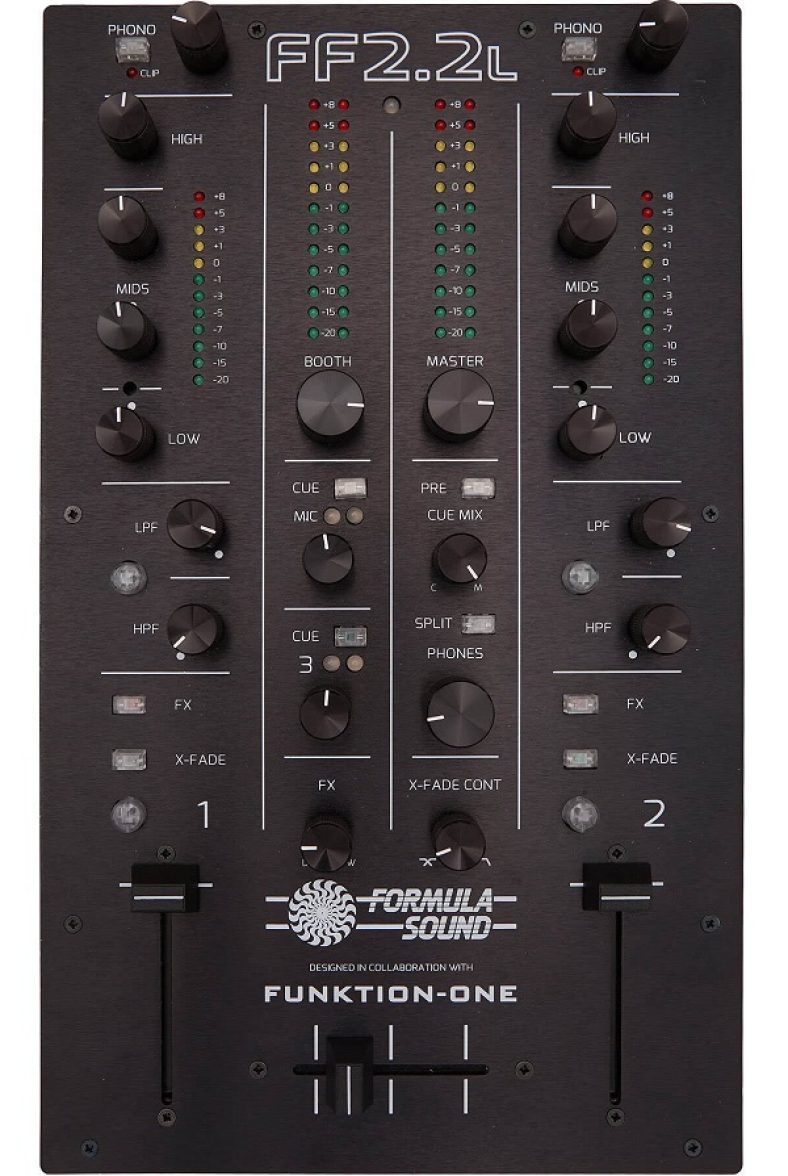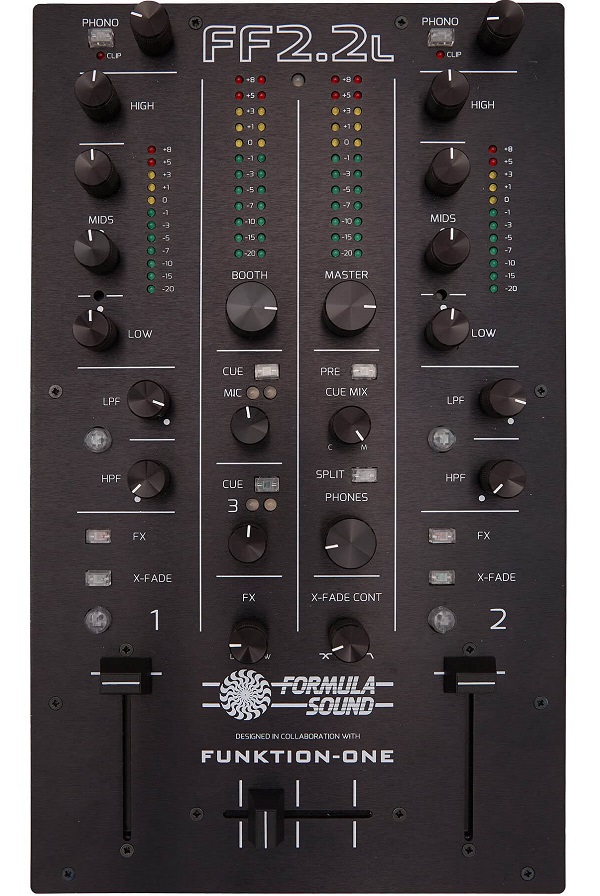 IMAGE
PRODUCT
For EU
Customers
---
5. Pioneer DJ DJM-S7
Having only two channels that can be used with Serato DJ or Recordbox DJ software, this amazing 2 channel DJ mixer from Pioneer is really similar when it comes to the user interface when compared to the other models from this very well-known brand. Being similar does not means it's the same, and it has some significant variations compared to both the older and newer models.
DJs can now change things while playing their sets, simply by tapping or turning a knob, because this mixer has this built-in in order to provide a seamless application of effects and transitions, no matter what kind of DJ you are. Besides all the comfort that is built into this DJ mixer, there is also functionality and performance that goes in hand when we are talking about models from Pioneer.
It also should be pretty clear that this mixer is not equal to the S11 model in terms of functionality and features, but do have all the best features such as the combo pad mode, scratch banks, and gate cue, which are probably one of the most unique features that these mixers have.
As we mentioned earlier for the other model, the S7 also has the Magvel Pro crossfader, and DJs initially fell in love with it when they used it on this mixer for the first time. This is a crossfader that should handle fast and intense scratching and juggling techniques from advanced DJs. This DJ mixer will provide you with everything that you need to have as a battle DJ and there is a direct connection between that and the performance you will have.
Something new in terms of features that can be found on the DJM S7 mixer by Pioneer is the Bluetooth pairing mode which can be found up front. It is a common practice from Pioneer to frequently add new things to every new mixer line when they release it, even if the mixer is not in the line of the best mixers they produce but some lower-tier mixers as well. So if you have the need to use the Bluetooth pairing mode you will have this functionality, but you might find that there is a slight lag in the connection so you might not be using it frequently.
From first-hand experience, we can freely say that the DJM S7 mixer from Pioneer is an excellent mixer when it comes to scratching. We were witnessing amazing scratching sessions when this mixer was at the centerpiece of the gear and because of that, we can highly recommend it to everybody that is in need of a mixer that will endure all of that.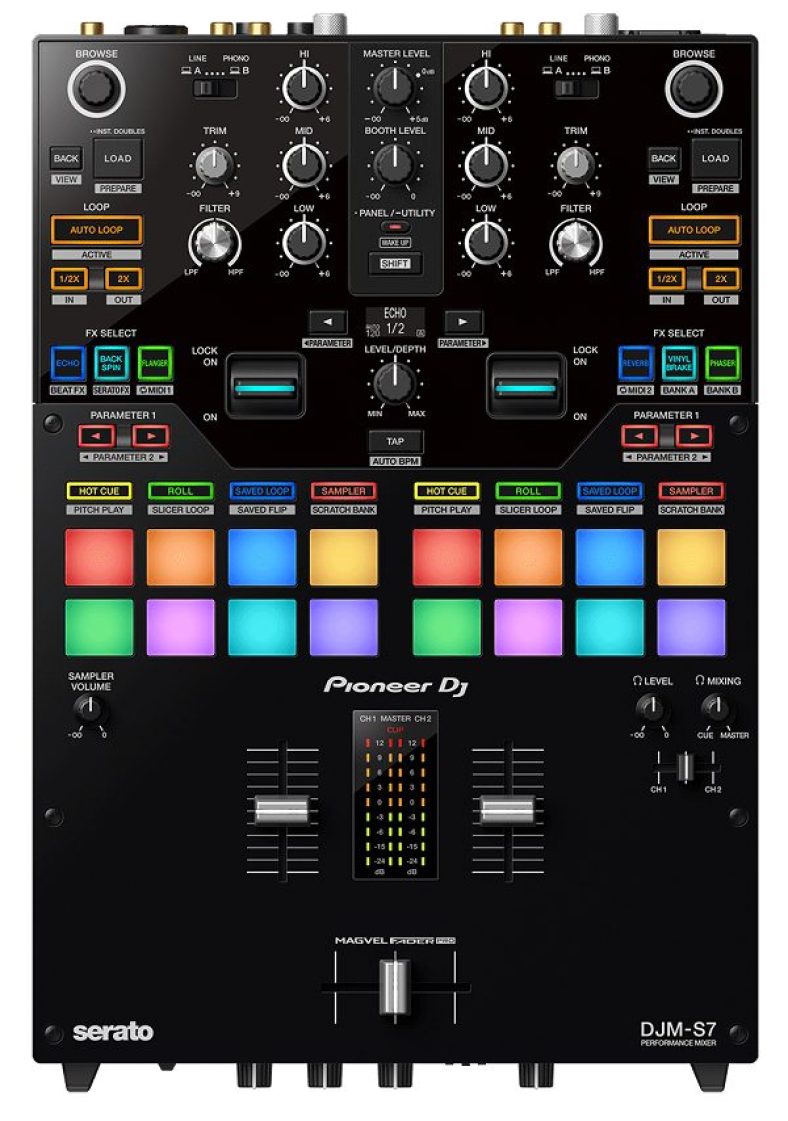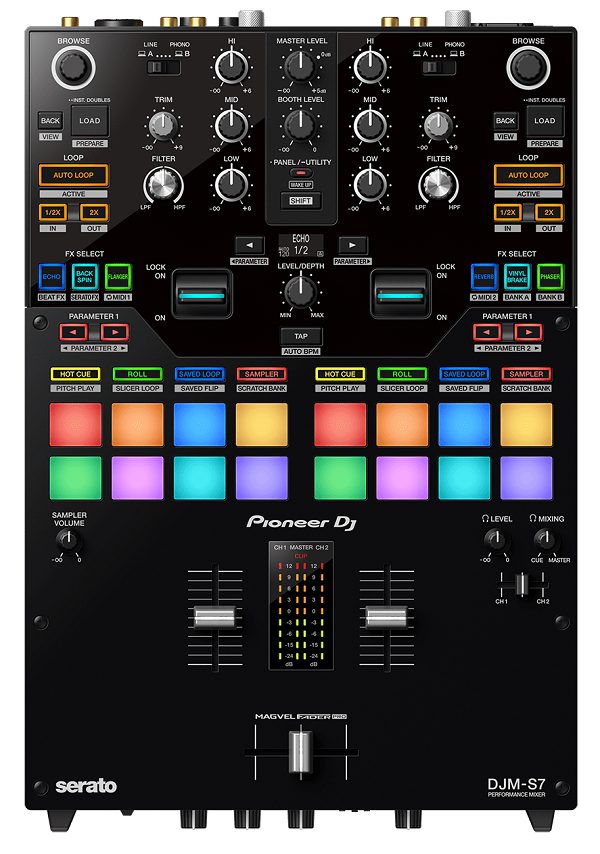 IMAGE
PRODUCT
For US
Customers
Amazon
Store
---
6. Ecler NUO 2.0
Now it is time to talk about the Ecler NUO 2.0. This is a brand that produces only mixers and it's not like the other brands then develop other equipment as well. This is probably the only thing that sets them apart from other developers and another interesting thing about it is that they are making all the parts by themselves and not getting them made from overseas.
So without any worries about the components that are needed for the assembly of the mixer, they have a really nice hands-on approach for both the design and the build of those mixers. On this mixer, you will be able to find three kill switches: one for the treble, one for the mid-range, and one for the base frequencies. Also, all of the faders and crossfaders have a shape adjustment + they have really nice send and return connections for external effects as well.
When it comes to the sound quality of this mixer, there is really good depth and clarity to the sound and there is a very clear distinction between both the high and the low frequencies overall. We really love how the mid-range sounds on this mixer, because it expands on the vocal and it sounds pretty clear when it goes out from the speakers
The bass response of this mixer is really amazing and compared to the other analog mixes that we had a chance to try, the bass sound is really crisp. That allows the consumer of the music to clearly recognize all the elements that are playing in this range, without the need to use any type of processing to improve that.
When it comes to the appearance of this mixer, we really do not have any bad words about it. With its simplistic appearance and simple layout, the mixer offers all the important features that you can get from a two-channel mixer that is in the higher tier developments. You have the gain control on each channel plus you will be able to get a mic channel as well, three-band EQs and kill switches, and pre and post-FX sends.
The brand decided to keep this mixer very basic and simplistic and not include any stuff that is not necessary for some basic mixing techniques. We really love this and in addition to the fader curves, this DJ mixer also has fully adjustable controls on the front, making enough way for the important controls that are found on the top panel.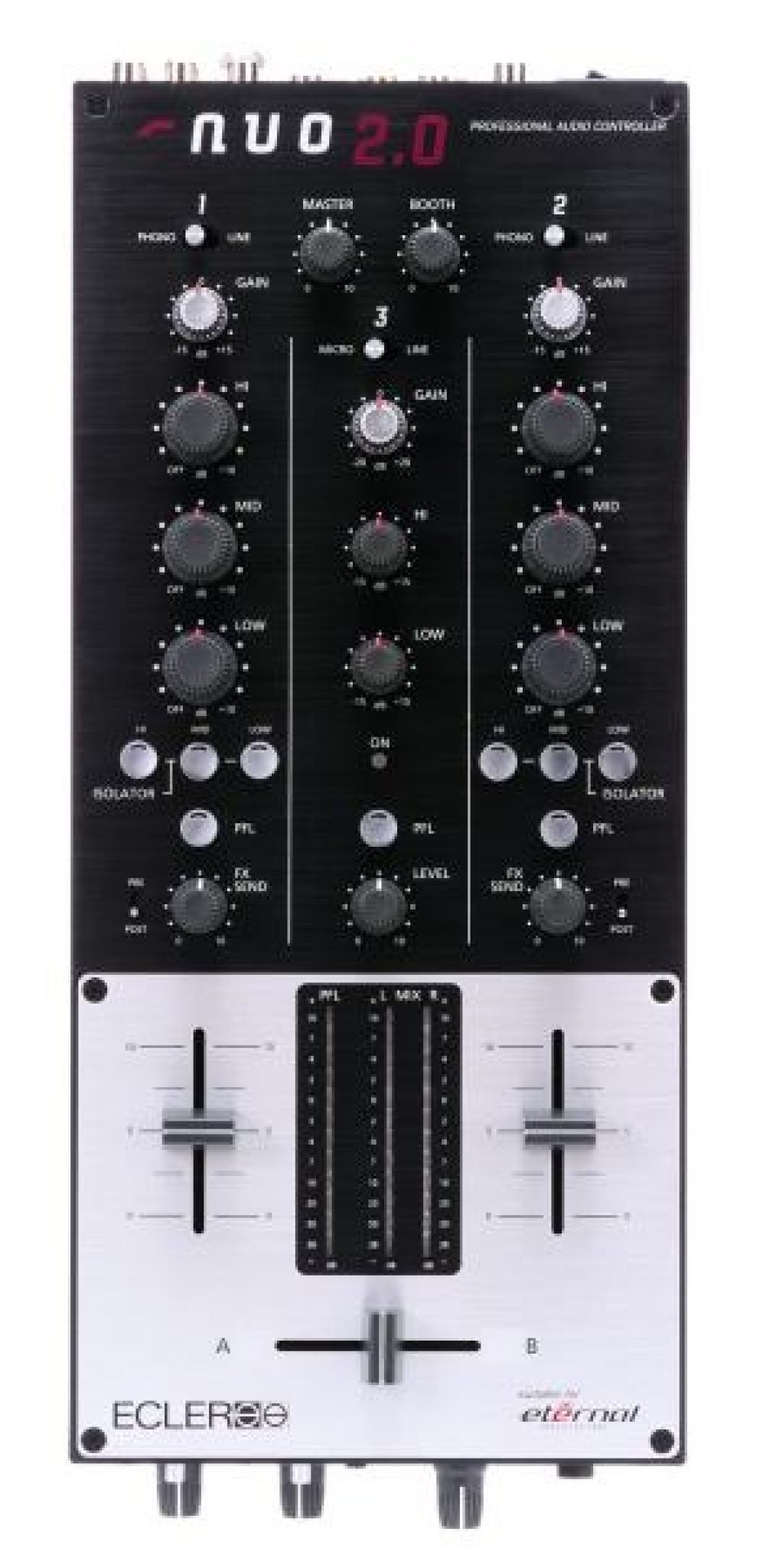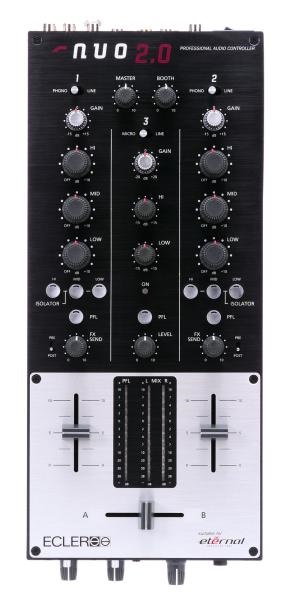 IMAGE
PRODUCT
For EU
Customers
---
7. Rane Seventy-Two MKII
Another giant from a great developer that made its mark in the two-channel mixing World. The Rane 72 Mk2 is an amazing two-channel DJ mixer that is fully controllable with the Serato DJ Pro and yet another DJ mixer that is great for turntable lists and scratch DJs.
You get a full-color touchscreen with immediate feedback for all the important performance features that are stackable with Serato and Flex FX. You get the amazing Mag Four faders, that are having a customizable tension on each of the faders, you get custom parameter control for instant doubles, cues, and syncs, with dual DVS inputs and 16 multifunction pads to control your mixing performance.
You can expect all the best features in functionalities to improve your DJing performance since that is Rane's ultimate goal – to update their products with the latest innovations in terms of DJ gear and battle DJing tools.
The 72 Mk2 will do its best to satisfy all your DJing needs, and when it comes to faders they are probably one of the best out there that can be found on any battle mixer. When you are in front of the unit there are almost infinite options to modify the sound in the shape of your mix especially when it comes to the contactless faders that are Mag Four.
If you're a road DJ or a professional one, it is always best to get an amazing mixer that will not fail you in any way, and fortunately, the Rane72 Mk2 is one of those mixers that will always guarantee the best performance. In terms of sound and build, this amazing DJ mixer excels in both, being made from sturdy steel and high-quality inputs and outputs that guarantee an amazing sound output.
This is yet another mixture that will not surprise you in terms of high quality, since you will get everything that the brand can be accountable for. As is found in many setups, that only says that this is a mixer that will not disappoint you. My personal experience with it was brief, but it was enough to tell that there are no downsides to this unit.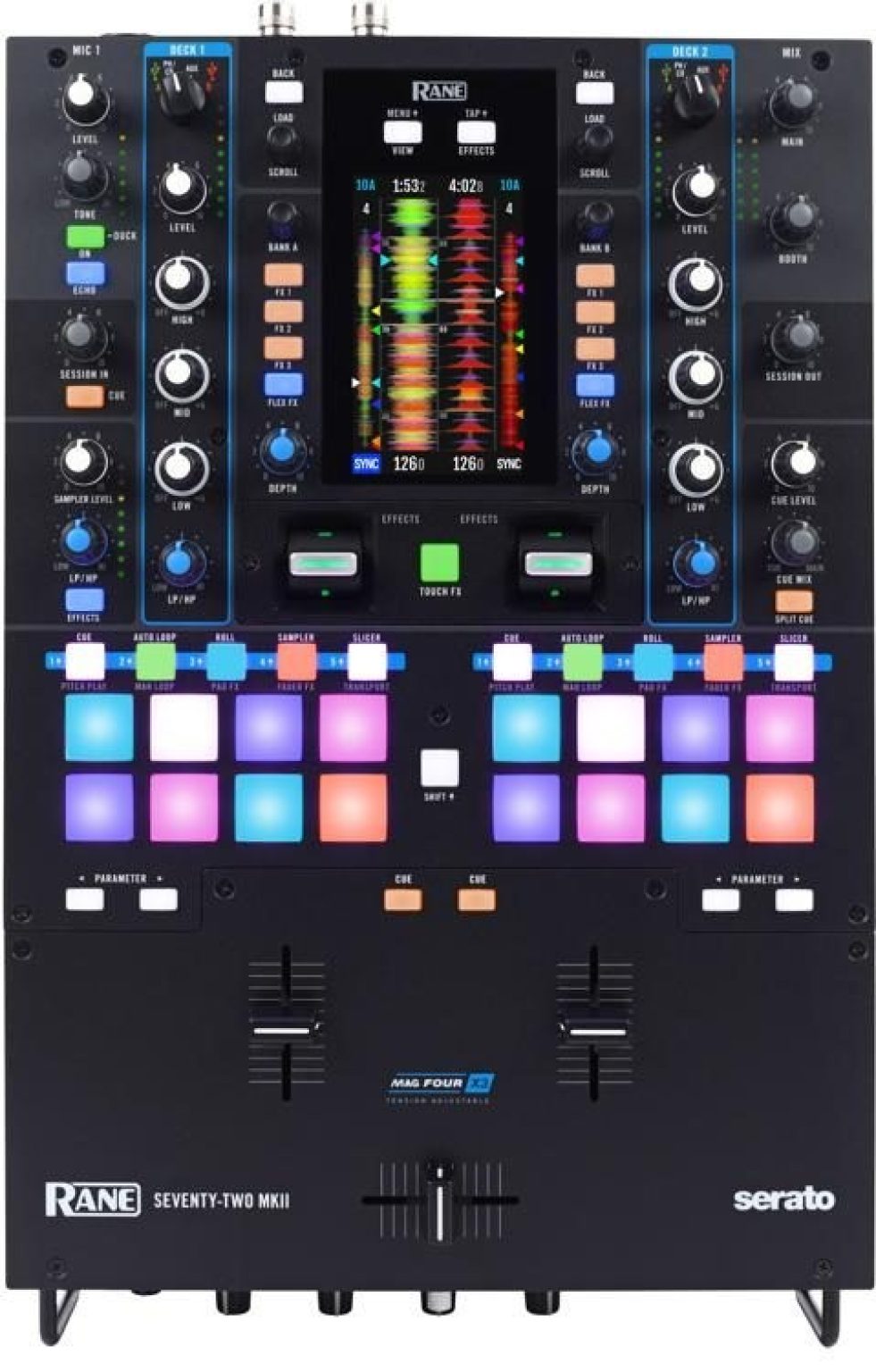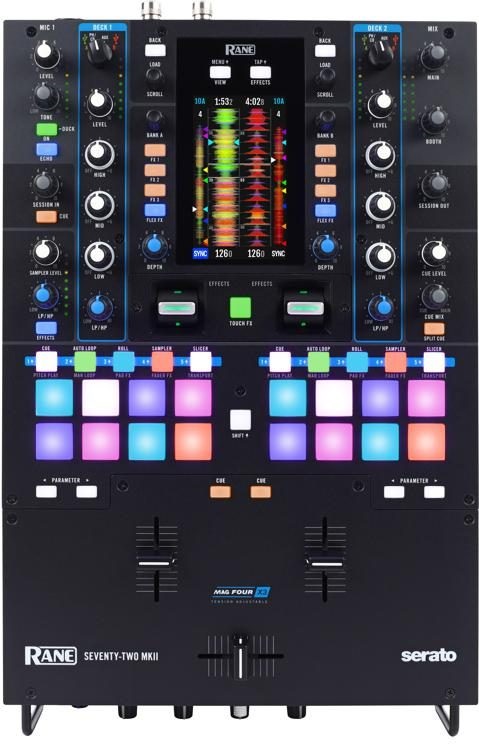 IMAGE
PRODUCT
For US
Customers
For EU
Customers
Amazon
Store
---
8. Pioneer DJ DJM-S5
Since we already covered this mixer's latest editions, it would be a shame not to mention it, since they are based on this one. The Pioneer DJ DJM-S5 is an amazing DJ mixer that impressed many DJs worldwide when it appeared on the market. Being a trustworthy battle mixer that always delivers professional and personalized performance, it was a choice for many high-end DJs to be the unit that will be between their turntables.
This mixer has a USB connection flexibility that will open up some other features in order of connections and transferring the data from the mixer. Also, you will be able to find 57 Serato effects that can be controlled through the two big knobs that are found on the top panel of this mixer, which are truly amazing. You will find yourself using them regularly.
There is also a dedicated stereo RCA Aux input, a stereo RCA line/phono input, and a combination XLR 1/4″ microphone input that you can use to connect your microphone for your gigs. There are also you can connect to headphones and play back-to-back with your fellow DJ. A couple of stereo-balanced XLR master outputs and one stereo RCA Booth master output, to increase the control of your mix in your mixing booth.
With a lot of features found on this mixer, we can separate the most important ones. You have a three-band EQ for each channel with a high-pass and low-pass filter knob and additionally, you can find a mute knob. There are also four colored pads for each channel that you can use to go through your rolls, saved loops, sound effects, hot cues, and any other feature that you can access for live mixing.
Another feature that most battle-scratch DJs love is the Magvek Pro crossfader. We already explained and gave more details about it in the two models we covered from Pioneer above, but to go over it briefly, it is a crossfader that is very smooth and that you can adjust the tension and the resistance of the movement for seamless mixing.
No matter if you are a newcomer or an experienced scratch DJ, you can go ahead and use the crossfader right away because it will be very easy to get started in this craft. The DJM S5 is one other amazing two-channel DJ mixer that will satisfy all your needs in terms of mixing and scratching as well.
Being around $1000 cheaper than the newest S11, this is a great option for DJs that have a limited budget but still want to have an original unit that will not lack in terms of quality and performance as well. We briefly had a chance to work with this DJ mixer and we only have complementary words about it, meaning that if you are in the market for a battle mixer for a lower price, then probably this is the one for you.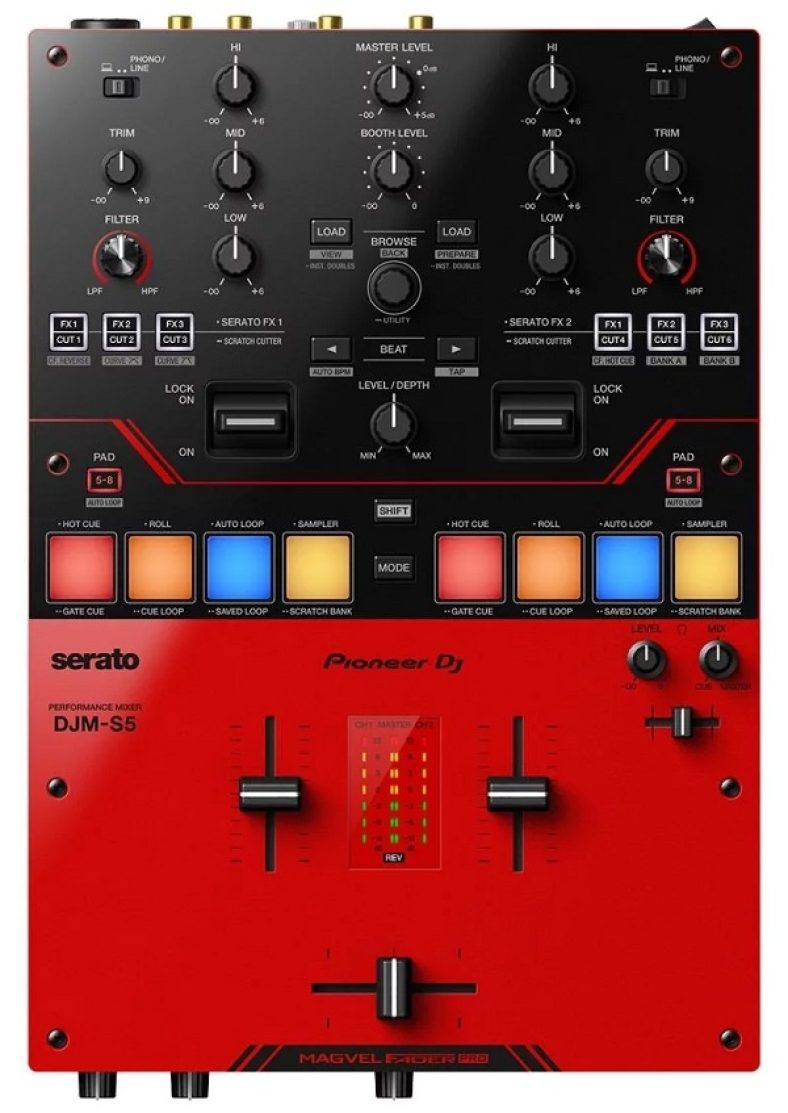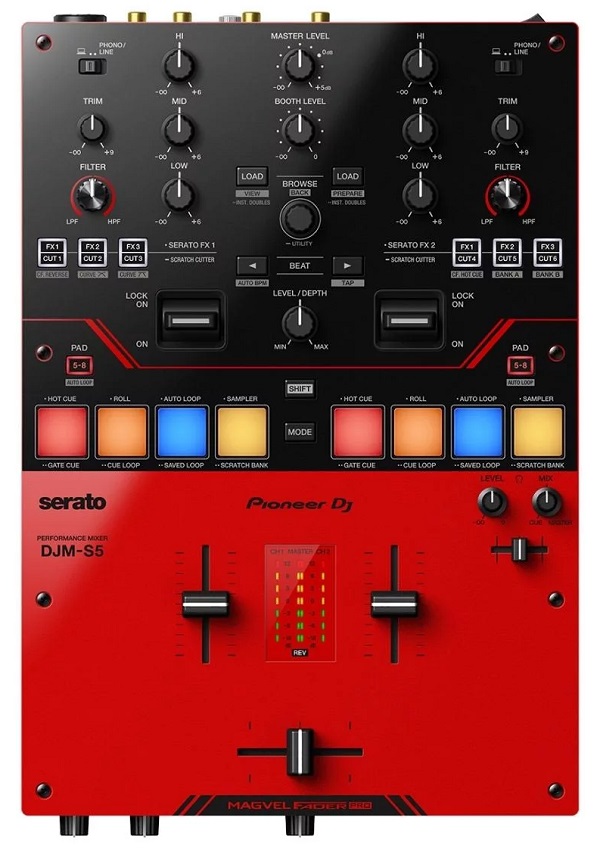 IMAGE
PRODUCT
For US
Customers
Amazon
Store
---
9. Rane Seventy
When you compare it to its predecessor the Technologies look pretty much the same the only thing that is mixing is the higher resolution display for Serato DJ waveforms and additional details. Using the Serato DJ software the Rane 70 mixer will allow the DJs to have an amazing experience no matter if they are in for scratching or for just the regular mixing of songs.
With this mixer as well, you can find two USB-b inputs for easy integration for back-to-back DJing. In addition to the USB ports, you can find two additional ports to connect Rane Twelve controllers. As you know, this review is only for DJ mixers that have two channels and this one goes into that group as well. Besides the regular stuff, you can find line-level Aux inputs and a feature to switch between phono and line-level stereo inputs.
Together with the session inputs and outputs you can find an auxiliary channel that will provide you additional control and opportunity to Daisy Chain multiple mixers together and they can also serve as a basic extension of channels as well.
Compared again with the Seventy Two model, the Rane Seventy control layout is much simpler and easy to understand, but that doesn't mean that there is some lacking in performance. Additionally, you can find eight pads on each channel that will be there to trigger the rolls, the hot cues, samples, and extra.
In terms of build quality, you can easily notice that the top panel is made from durable metal, and it is textured with a black finish that oozes professionalism and elegance. It can add a little bit of weight, but it is better to have a heavier unit than a breakable one, so we totally agree with their decision to make a durable unit. In terms of appearance, the first time you lay your eyes on it, you will immediately know that it is a unit that was developed by Rane.
To summarize, we can freely state that the Rane Seventy is another amazing battle mixer with a lot of features and functionality on it. It has a high-quality design, a very intuitive layout, and performance capabilities that will satisfy all the needs you will have as a professional scratch or mixing DJ. It's a goal for this company, as with many others, to satisfy the needs of their customers and they delivered that with this mixer as well.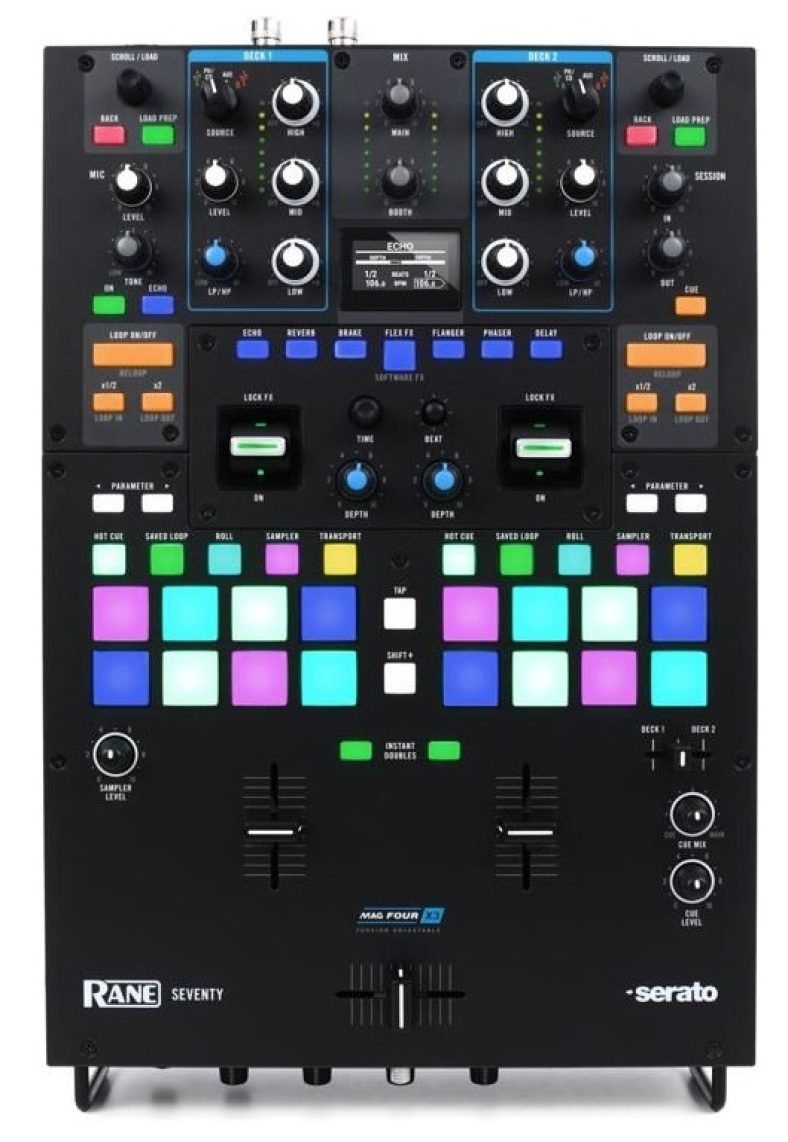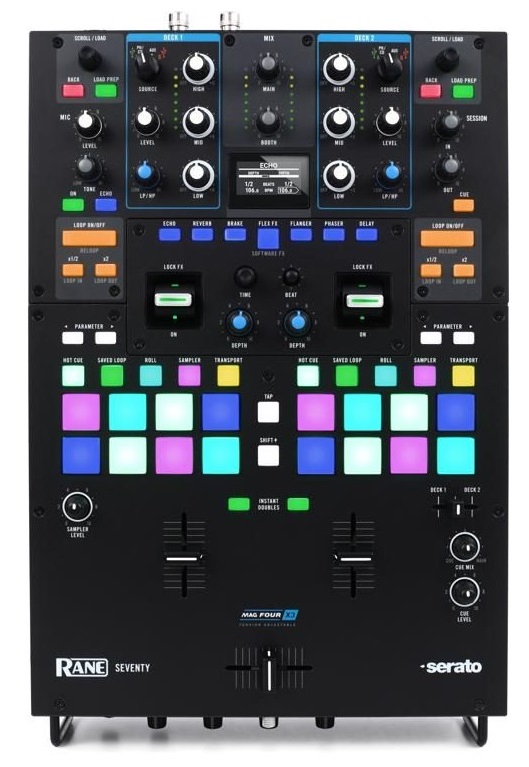 IMAGE
PRODUCT
For US
Customers
For EU
Customers
Amazon
Store
---
10. Reloop Elite
This is the first time we are reviewing the Reloop Elite units from this very well-known brand now and we can freely say that now this is a unit that can compete with all the best sellers that are released already. It's we can freely say this mixer is very performance oriented and it has a lot of powerful features on it as well.
It has a total of 12 performance modes that include two user modes and can be controlled with the 16 colored sensitive pets through Serato DJ Pro. This is really something that now most of the new DJ mixers have and all for a good reason – it eases up the mixing process and adds more freedom to focus on the creative process.
You can find three Mini Innofader Pro faders on this ELITE mixer that are there to provide its users with a nice and smooth experience when using both the channel faders and the crossfader. In terms of fade curves, they can be adjusted to your liking and it even has the reverse function if you are that type of DJ.
You can also find 3 assignable effects positions on this mixer, all with dedicated activation buttons that can be found on each channel/side. Another interesting point is that you can add effects via the momentary trigger or by using the toggle switch, which is something really easy to use and we love it. Additionally, you can find a mini-fader that controls the intensity, which gives us additional control over the FX.
As a separate and different plugin, you can tweak FX, including all the crushers, flangers, filters, and everything that is helpful for one DJ to perform to its best capability. The bipolar switches are giving you the chance to adjust different characteristics of the effect, depending on what you are using at the moment.
The regular EQ and gain knobs can be found for each channel. Besides the knobs for turning on and off frequencies, you can eliminate them with the kill function instantly as well. There is also a pre-fader cue listening system that includes adding 2 headphones in combination with separate controls on them. Besides that, you can find a microphone input with a dedicated 2-band EQ section to shape the frequencies + extra added FX for the mic as well.
You will be able to connect two separate computers to the mixer, which is a feature that we really love, meaning that you can switch between DJs and sets without making any pause in the performance. Using the focus PC control, you can select which will be the primary source for signals, easily enough.
Also, you can find two OLED displays for each channel, that will show you some basic information in regards to the effects, BPM of the song, and some other parameters. To summarize, an amazing DJ mixer that is really great and has some really unique features that separate it from the rest.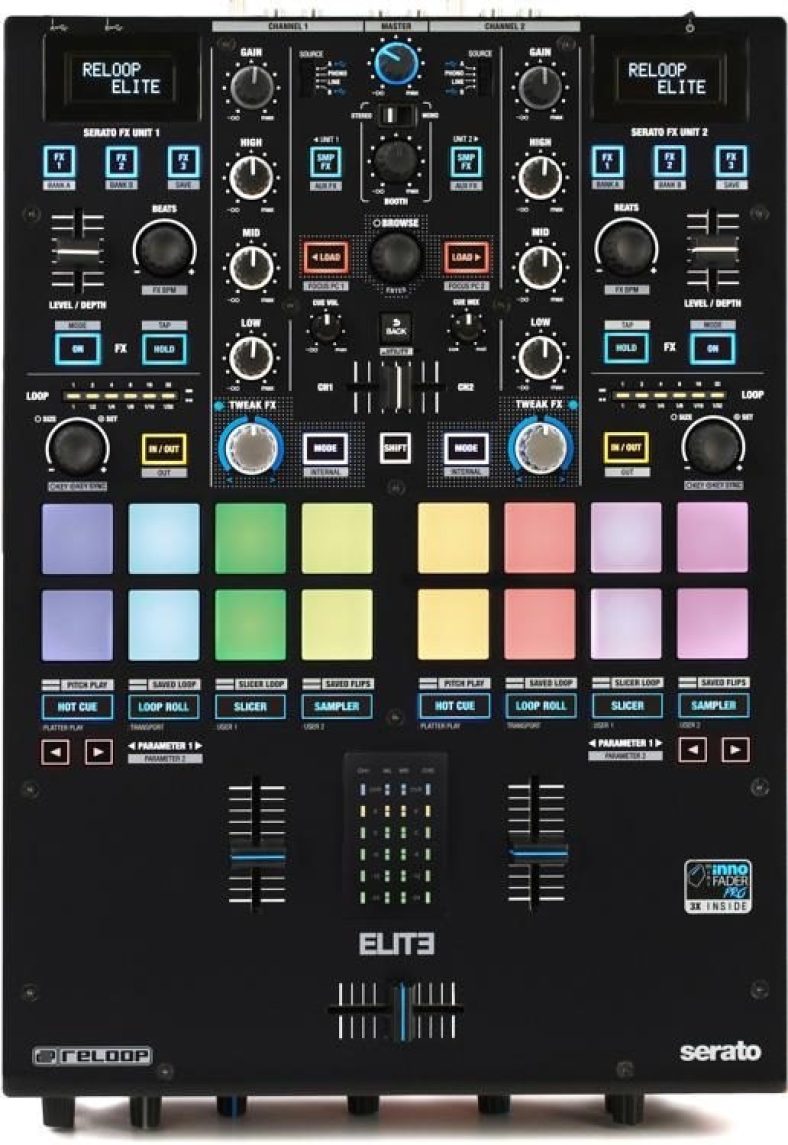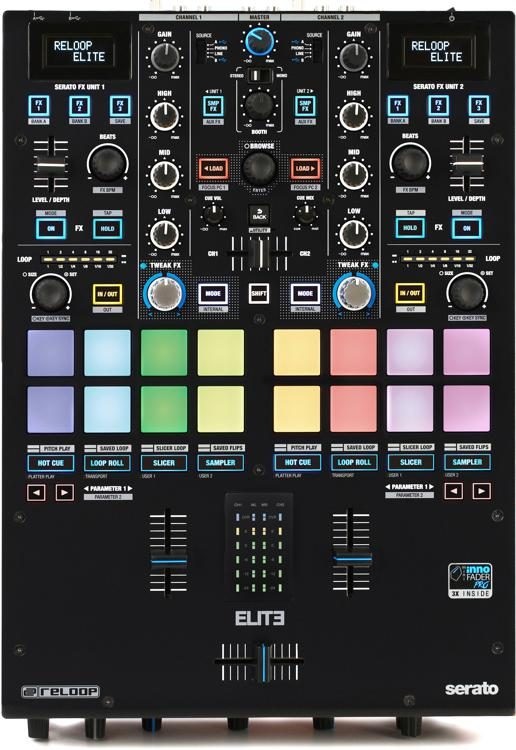 IMAGE
PRODUCT
For US
Customers
Amazon
Store
---
Conclusion on the Best 2 Channel DJ Mixer
Well, we showed and presented what we think are the best 2-channel DJ mixers around and guide you to spend your money on the right unit. We hope that based on what we provided here, you will be able to make the right decision and get the mixer that will suit you the most.
All of them are high-quality mixers, the only thing that is up to you to decide is which one will be of best usage to you and actually improve your workflow. If in case you have some unanswered questions about each model, feel free to reach out to us or to the respected developer for the particular mixer you have in mind. Until next time!