Best Analog Microphone Preamps For Vocals!
Introduction
The microphone preamp is a device that prepares the signal to be processed by different gear. Microphone signals are sometimes too weak to be transmitted to mixing consoles. multi-track recorders and alternative recording devices with adequate quality.
Microphone preamps are not "100% transparent". They'll change the tonal core of microphones and are vital a part of the recording method. An inexpensive microphone preamp might add an extra amount of hiss if you switch the gain up. While, with a good preamp, you'll barely hear any hiss. Besides the fact, its very own tonal qualities may add goodness to the recording. improving the sound.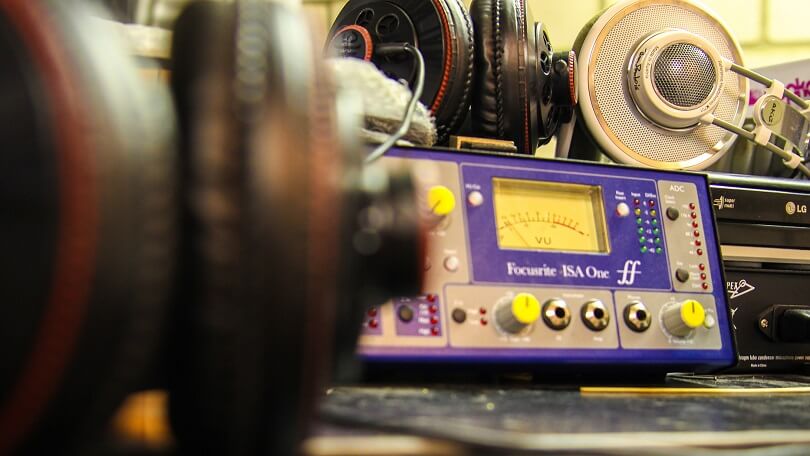 In most cases nowadays, any low-cost audio interface features inbuilt preamps already. That does not mean you do not need an external pre-amplifier with its own phantom power. For one reason – a dedicated mic preamp like the Focusrite ISA One can give a far better sound output! If you would like to get the most out of your microphone and succeed in the best sound quality, use a clean mic preamp.
Let's dig into the Top 10 microphone preamps that you can afford and have great results.
1. Focusrite ISA One
The desktop ISA One mic preamp with stereo cues and optional A/D device uses a similar power section found in Focusrite's ISA 110. Also the channel strips within the million-dollar Forte studio console.
With ISA One, the company improves with a completely different range of microphone gain settings and variable input. The unit measures 11.25×9×4.5 inches (D×W×H) and includes a flight case. Made for easy access, its front panel has bright backlit push buttons and a lighted VU meter.
The main input includes a four-position switch that changes the microphone and line gain in coarse 10dB steps. Mic gain range is switched between low (0 to 30dB) or high (30 to 60dB) ranges. The line input includes a -20/-10/0/+10dB gain position. Each mic and line inputs have up to 20 dB of extra gain accessible from a pot for up to 80 dB of mic gain.
The main input has a switchable microphone impedance (600/1.4k/2.4k/6.8k ohm). Also, it has a 48-volt phantom power, phase (polarity) flip, and switchable 75 Hz, 18 dB/octave highpass filter. Not to forget, an insert in/out jack for connecting an outboard processor.
The Focusrite ISA One could be a nice pick for those trying to find a nice single-channel mic preamp. With a lot of amenities that you won't usually see in a single-channel preamp. The sound is nice and the price is the better part of this.
As it's one of the most complete microphone preamps that you can notice for the worth. Definitely, worth a test drive for anyone within the marketplace. This one-channel preamp is on a budget while not sacrificing choices and quality in your audio gear.
We love how our recordings sound when they are done with this preamp because we are ending up with really transparent recordings that are significant to this model. It has a really unique appearance compared to other models from its competitors which separates it from the bunch and makes it recognizable.
In terms of benefits from it, we can freely say that is a good desktop model, so no need for a rack to place it properly, great sound quality that excels in every way and it is super affordable. The only thing that we can say can be better is the knobs. We found them a bit hard to turn, but that is our take.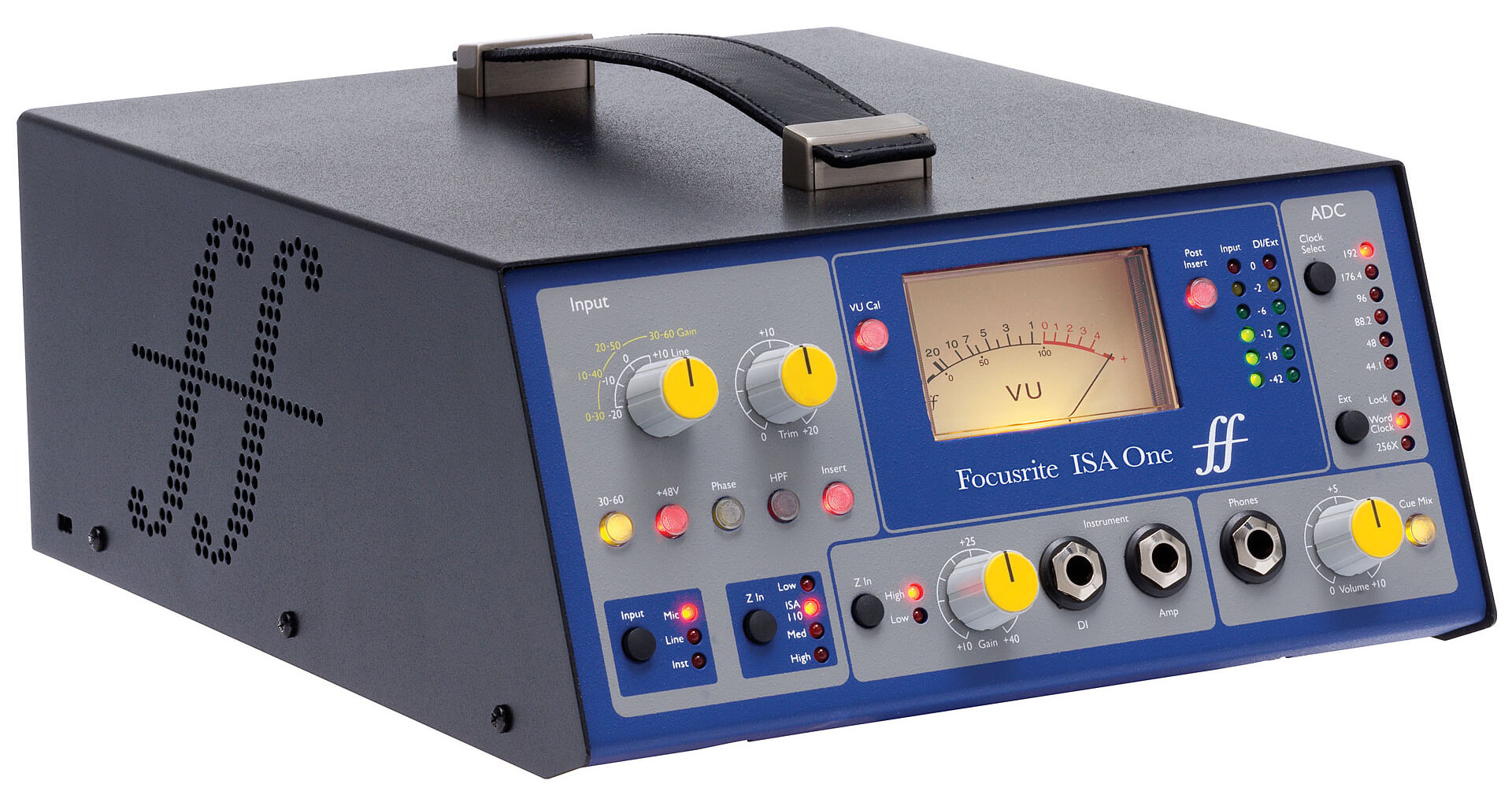 IMAGE
PRODUCT
For US
Customers
For EU Customers
Amazon Store
Pros
Great sound quality
Affordable
Pristine Sound
Amazing Design
Cons
"Turnability" of the knobs
---
2. The Universal Audio SOLO/610
The Universal Audio SOLO/610 is a mic pre-amp with a handle, not the standard rack-mounted kind. It has that vintage look. It's about the dimensions of 2 long bricks stacked one atop the other. It's a form factor roughly utilized by many different standard mono-preamps or DIs.
It is based on the initial Bill Putnam style that was a part of the first UA 610 console. It's trendy and clean, yet in a great way in the reviewer's opinion. It has what it must do to add the task to steer clear of any extraneous options.
I find the 610 to be a great preamp for my specific desires. It leans towards a more vintagey sort of material that could fit in every studio. It is a great microphone preamp and finds some old-fashioned distortion in it.
It's cheap value, compared to the best mono pre-amps out there, it's a bang for the buck for your recording studio. New on the road, it runs around $800. Used they are going for around $500, which makes them a good deal.
This is yet another great desktop model that doesn't take up much time on our desk and it is pretty great in regards to the sound output. You can expect a classical and vintage sound out of it, for both the input and DI. The preamp only lacks metering and this is the only downside to it.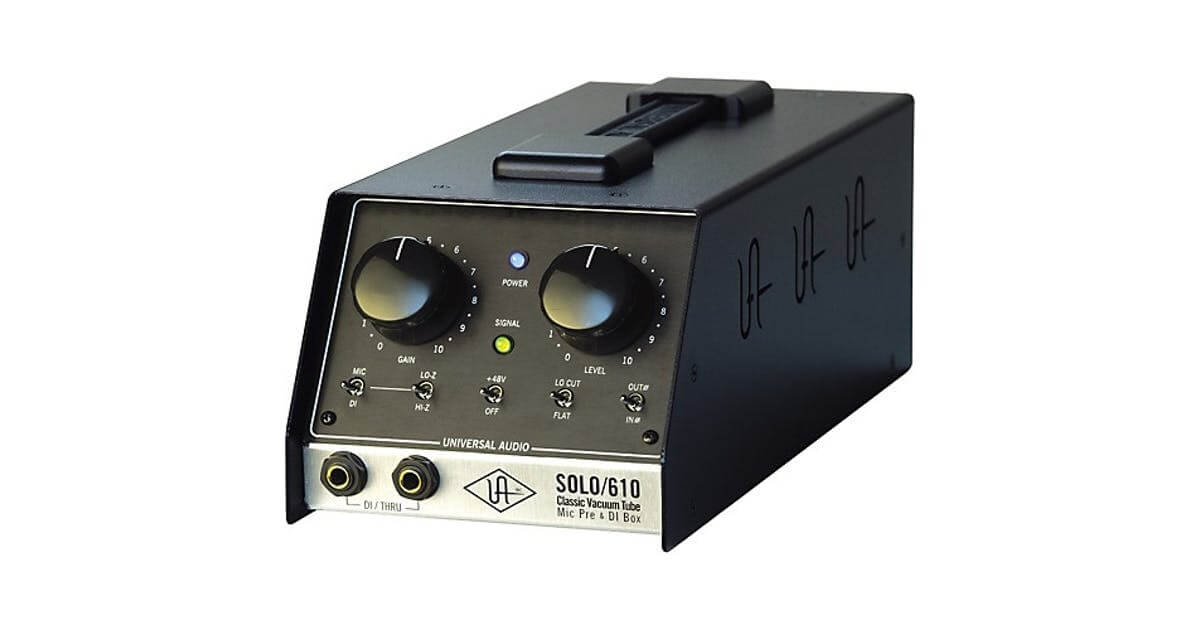 IMAGE
PRODUCT
For EU
Customers
Pros
Great Design and Sound
Vintage Recordings
All Needed Features
---
3. Avalon vt-737sp
The Avalon 737 is one of the first channel strip boxes that were designed. It was released in the late 1990s. Once it came out, it received great reviews from various engineers and artists. It is still used nowadays on heaps of session work circling on the radio.
There are many new pre's and channel strips that have started since then with larger and punchier sounds. But, the Avalon still stands against the new ones and it brings the best out of modern recordings.
The 737 SP combines a tube pre, an optic compressor, and a four-band equalizer. In the front panel beginning from the left, there's a preamp gain and instrument input. An input control knobs that provide a choice of line, instrument, or mic.
There are push buttons for high gain, phase, phantom power, and filter. The high pass filter features a knob that starts from 30 Hz and goes to 140 Hz. Avalon additionally has recall sheets which will be useful in remembering your settings.
In regards to the mic pre, it has two twin vacuum tube preamps designed with small negative feedback. The mic pre includes a clean but sleek sound that's pleasant. As compared with a Neve Portico, the 737 mic pre is more even sounding and not as huge. While this is often all subjective, I still like the sound of the 737 preamps. But on its own, it lacks some of the punch or sparkle that several alternative mic preamps have.
Fortunately, the 737 mic pre doesn't stop there. After the microphone preamp, there is a very nice optic compressor. I found up to -3db it performed well on vocal tracks and it didn't alter the sound of the performing artist.
The compressor was able to control the peaks and assist in giving an even performance and sound. As you begin to use it, the graceful character starts to get stronger in a very nice manner while you are recording.
This one is a bit more expensive than the other two, but its one great microphone preamp. Including a full channel strip after it. If you can stretch your budget and get the Avalon. You cannot go wrong with this microphone preamp for your recording studio.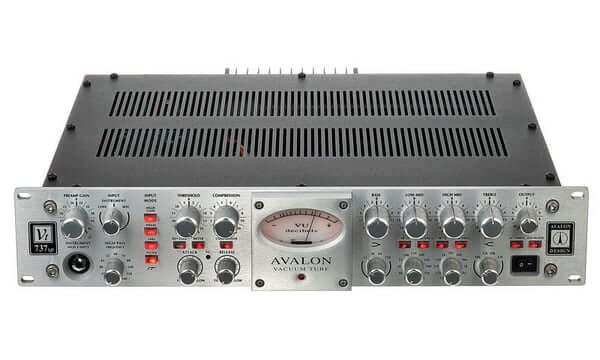 IMAGE
PRODUCT
For EU
Customers
Amazon Store
Pros
Complete Channel Strip
Valued Preamp Section
Very Modern Sound
A staple for Hip Hop
---
4. Neve 1073DPX
The Neve 1073 traditional is among the hottest mic preamps on the earth. The Neve 1073DPX is the brand new, modern-day model of that best-selling preamp. Constructed with identical specs as the unique 1073, the 1073DPX is a really high-quality preamp that provides you with a similar sound to the original.
The 1073DPX has two microphone preamp channels. Every channel has a three-band EQ and a high-pass filter that provides warmth and depth to recordings. It's very simple to carry out delicate details with this preamp all while protecting the spatial picture and positioning, which is what the unique Neve 1073 preamp was all about.
As it's a modern-day model, the 1073DPX additionally provides a direct injection input, phantom power capabilities, stage meters, and even headphone monitoring capabilities. You may also conveniently plug your wires into the frontal input connectors.
In our personal experience, we had nothing but good words about this model. Compared to other models, this one has a bit more parameters that are there to help us shape the sound to our taste, so that is a huge bonus with it.
The benefits are great, the sound quality and recognizable coloring that the Neve provides is there. You will be able to find instrument inputs, great metering, and balanced ins and outs. The only downside again is expensive and engineers on a budget might not be able to get it.

IMAGE
PRODUCT
For US
Customers
For EU Customers
Amazon Store
Pros
Revered Developer
Amazing Sound
Really Versatile
---
5. Universal Audio 710 Twin-Finity
The 710 Twin-Finity microphone preamp for vocals from Universal Audio is an actual bargain. You get the most effective of both worlds, with tube and solid-state tones, and you'll even mix them collectively.
The Twin-Finity has a microphone input entrance, balanced line, and instrument input to be used with vocals, bass, guitar, and extra. The 710 has a Class A FET mic preamp as well as a Class A tube preamp.
A tone mixing knob allows you to mix the chunk from the solid state with the wealthy saturation from the classic tube circuit as much as you wish to get the tone you're in search of. The 710 Twin-Finity additionally features twin gain controls to gain stage your audio whereas throwing in additional classic coloration.
When we first tried the twin-finity, we were blown away by the power it brings to the recordings, especially the vocals. The metering is great and really helpful and its simple interface is great to be understood easily.
The biggest benefit from this preamp is the combination that you can make between transistors and tubes, which makes it probably one of the few on the market that has this ability compared to its competitors.
The only thing that lacks is there are no independent controls for the drive in the signal path, but we think that this is something that we can look past and enjoy this great preamp.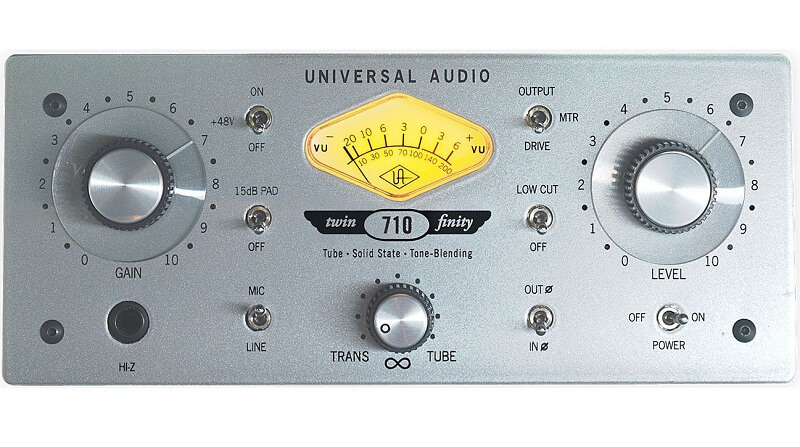 IMAGE
PRODUCT
For EU
Customers
Amazon Store
Pros
Great Sound and Simple Interface
Blending Tubes and Solid State
Good Instrument DI
Negatives
No Separate Drive Controls
---
6.
DBX 286s
DBX are godfathers of the audio tools and recording business. Established way back in 1971 they've launched numerous preamps and have been answerable for pushing the boundaries of this subject for years. Lots of their releases have been groundbreaking throughout the early days of some of the related technology and their title is synonymous with high-quality mic preamplification.
They first began only creating single signal audio tools however via varied mergers and acquisitions over time their product vary has expanded significantly. They had been best identified in the '70s for releasing among the finest Compressors in the youth of the expertise, nonetheless, they now have a formidable and enviable back catalog.
The 286s is certainly one of their flagship preamps and it's straightforward to see why. Identified for including an unmatched high quality and readability to vocals, particularly, it's a vital piece of kit for singers and voiceover artists.
Probably one of the first preamps that we had our hands on when we started this game, and that's why we needed to add it to the list. This is a great sounding preamp considering its price and it is a good starting point for every producer. Besides the preamp, there are more features to it that separate this preamp from its competition in a good manner.
The big benefit is the whole strip that you have and the price and the only downside we can find on it is the controls could be a little better placed. Everything else on it is good and you can expect nice outcomes from it.

IMAGE
PRODUCT
For US
Customers
For EU Customers
Amazon Store

dbx 286s Channel Strip with De-esser
Pros
Great Price
Amazing Sound
Versatile EQ and Dynamics
---
7.
Solid State Logic Alpha VHD
Solid State Logic is a small outfit from Oxford, England that's all concerning the quality over quantity method. Their items are at all times some of the finest and boast a few of the most spectacular know-how of any in the marketplace.
That is highlighted by a few of the greatest names in music utilizing Solid State gear over time for their live sound engineering similar to Blink 182 and Depeche Mode. Their releases are additionally broadly featured within the TV and broadcast news fields.
The Alpha VHD boasts a few of the most spectacular options of their well-known back catalog resembling their flagship Duality console and constructed on it. It features Solid State Logic's well-known VHD Pre Circuits in 1U. Wealthy harmonic distortion can be achieved through the variable harmonic drive circuit. This can be a unit filled with unimaginable and distinctive options.
By means of the preamp, your sound will probably be immaculate and flawless. Impressively, whereas retaining this clarity of output the Alpha VHD also can attain gain levels of +75db which is excellent. On the low gain end an easy, analog warmth will wash over your sound and convey out every individual layer completely.
When we first lay our hands on this model, we were blown away because evidently, this was one item that was crafted with great care. To be honest, this is the first SSL unit that we used and we can freely say that it was a good start. Everything about it screams "quality", and that is what you expect from SSL in the first place.
The biggest benefit is the great versatility and amazing sound. The EQ section is great and can be used to further shape the tone of the recording. If we were recording pop songs, this would be our go-to model. Again with this one, the big downside is its price, but it is well worth it for everyone that can afford it.

IMAGE
PRODUCT
For US
Customers
Pros
Amazing Sound
Great Versatility
Recognizable SSL Quality
---
8. ART Pro MPA-II
The ART Pro MPA-II is certainly one of many preamps on this record with the best worth. The MPA II is a 2-channel tube microphone preamp and comes loaded with skilled features to be able to offer you an enormous sonic benefit over those that don't have this piece of gear in their home studio.
The MPA-II is extraordinarily versatile, allowing for variable input impedance to match the microphone you're utilizing so as to get a bunch of various tube tones. The MPA II supports twin mono and stereo recording, and there may be additionally a mid-side micing switch that offers you much more flexibility when recording, which is particularly helpful when recording vocals, guitar, and even things like pianos.
You can use a wide range of microphones with the MPA-II, from dynamic ribbon mics to condenser mics because of the phantom power switch. Onboard gain management can be accessible for bringing up the levels of ribbon microphones so as to truly record with them.
A friend of ours actually had this unit and we went into the studio to check it out to be honest, this is probably the best unit at this price and for entry-level engineers that just start the game. Compared to the other models on the list, this is the cheapest one, which makes it affordable for everybody.
Obviously, the two channels can be used for stereo recordings which is a nice feature and the power that it brings to the recording is what you need if you need to bring up your recordings. For the price that comes, there are drawbacks as well. The only thing that you can expect from it is to boost the sound and elevate it a bit. No huge coloring that will smash you away.

IMAGE
PRODUCT
For US
Customers
For EU Customers
Amazon Store
Pros
Really Affordable
Does the Job Properly
Two Channels
Cons
Simple Boost and nothing more
---
9. Millennia HV-3C
The Millennia HV-3C Microphone Preamp for vocals is the preamp that you just go to when a mistake just isn't a possibility and it absolutely should be right from the start. The Millennia HV-3C is the preamp that pros entrust for a long time.
The developers at Millennia Media provide the HV-3C as a 2-channel/stereo model of the wildly well-liked HV-3D that may be configured to accommodate quite a lot of obtainable choices. An extra input slot on every channel can house both the DC input possibility (Direct Coupled – good for Ribbon mics and all Dynamic microphones) or the +130V Input possibility which works for some particular DPA microphones.
Even though it has a simple interface, the power that Millennia brings is amazing, and that is what one preamp should do in the first place. From our experience, this model is really transparent and we saw it used for classical recordings where it truly excels.
The big advantage of this preamp is that is shaped to power up high-end microphones and when paired with one, you cannot expect anything less than perfection. It has a great headroom for the recordings and provides really balanced signal. When compared to the other models on this list that are of the highest quality, only one thing can be said as a con – it's price.

IMAGE
PRODUCT
For US
Customers
For EU Customers
Pros
Simple yet Effective
Amazing Sound Quality
Made for Professional Uses
10. Chandler Limited TG2 Pre Amp/DI
The Chandler Limited TG2 Pre Amp/DI is a recreation of the uncommon EMI TG12428 pre amp utilized in EMI/Abbey Road recording and mastering consoles within the late 60s and early 70s. The sound was used on many well-known recordings accomplished at Abbey Road including The Beatles' "Abbey Road" and Pink Floyd's "Dark Side of the Moon.
The sound, as defined by many customers, has "heat" and punch, however with a "lovely" expanded top end. In truth, the unit does have a small rise in its top-end frequency response and some heat-inducing distortion which contributes to its sound.
All TG items require and function on the PSU-1, Chandler Limited energy supply. The PSU-1 has an inside switch for setting voltage to 120V or 220V (115V/230V). We think that this is great and this is what really separates it from its competition. Aside from that, this preamp is what should be considered a staple for recordings of that era.
We truly never used this one, but after talking with an engineer friend of ours that has it, we concluded that when used on vintage recordings, it really gives the authentic sound. Used on reggae vocals and as DI for the bass, gave that authentic sound.
The only downside is that is out of reach to many of us for the price, but for those who can afford it, it is a truly special unit that will surely improve the sound quality and leave you in awe.

IMAGE
PRODUCT
For US
Customers
For EU Customers
Amazon Store
Pros
Recognizable Vintage Sound
Great DI Function as well
Two Channels for Stereo
---
Microphone Preamps – New 2023 Additions
11. Warm Audio WA-MPX
This WA-MPX from Warm Audio injects legendary tube warmth from one of the most influential eras in music history, an authentic reproduction of the preamp used by the AMPEX 351 tape machine, one of the most influential microphone preamps in the history of audio. A history-changing microphone pre-used by such famous artists as Les Paul, Elvis Presley, Nat King Cole, Roy Orbison, and many others.
In addition to the three warm vacuum tubes (two 12AX7 tubes, one 12AU7), the WA-MPX possesses an additional 20 dB of high gain boost for low-output sources, as well as a vintage appearance with its brushed aluminum faceplate and Bakelite knobs.
As part of the WA-MPX, you are able to adjust the input quality using high- and low-pass filters, select polarity, switchable +48V phantom, change impedance and add color to your signal by changing the tone, and select tape saturation to add harmonic distortion and natural compression.
From Mark Ronson and John Mayer to St. Vincent and Amy Winehouse and others, the custom-wound, large-core CineMag transformer offers reliable performance. We are still waiting to use this one, but if it is like the other units that Warm Audio provides, we believe that it's going to blow us away.
When we compare it with other units, at least visually, we have a neat design that is easy to understand. And what takes the most attention are the big preamp gain and output level knobs with the VU meter in the middle of them. At this stage, we cannot really add a drawback to this brief review, but we can surely say that if it lives up to the original model, then we are all in for a treat!


IMAGE
PRODUCT
For US
Customers
For EU Customers
Amazon Store
Pros
Amazing Design
Great Original Unit to Clone From
Great VU Metering
12. Focusrite Clarett+ OctoPre
We already reviewed this unit, so we are going to give brief details here and redirect you there after the text:
"Focusrite is expanding the Clarett+ variety of premium-quality USB audio interfaces for PC and Mac with the addition of the Clarett+ OctoPre, which builds on the strengths of the favored Focusrite Clarett OctoPre, providing improved converters and highly effective professional-quality mic preamps.
The Clarett+ OctoPre provides eight high-quality mic preamps or line-ins/outs to any ADAT-equipped recording interface and affords a huge improvement to the AD/DA converter chips in comparison with the earlier OctoPre.
This implies a higher dynamic range, ultra-low noise floor, ultra-low distortion, and overall some of the clearest recording high quality in the marketplace, even in comparison with opponents' products costing three or 4 times the price per channel. A technique that Focusrite has achieved is by specializing in the elements that have an effect on recording quality the most: the converter chips and mic preamps."
"If you need to record the whole band, track their performance or use more ins and outs for a concert or life act, this unit will most certainly help you out. With the high-quality build that comes with it, you will have a pristine sound no matter the application.
Being compact as it is, you will have no issues storing it or moving it out with you. And in case you are going to use it only in your studio, then the rack mount size will perfectly suit your setting. "
So there is that, great preamp that is an amazing choice when it comes to recording multiple sources at ones, and coming from a trusted developer, you know that there is nothing to be worried about. Compared to the other models on this list, the multiple inputs is what separates it from the rest.


IMAGE
PRODUCT
For US
Customers
For EU Customers
Amazon Store
Pros
Amazing Sound Quality
Sturdy Build
Air Emulation on Preamps
Cons
Great Value but not a Budget Pick
You can check our full review of the OctoPre Here!
---
Do you want a unit for a home studio? Are you a sound engineer working in a massive, huge-budget recording universal studio? Are you a sound engineer who mixes sound for live shows and concerts? These are all questions that have to be asked once picking the simplest microphone preamp.
Do you need to check alternatives to analog gear? Here are the top 3 choices for VST preamps!