Best Recording Consoles
Introduction
An audio recording studio is not complete without a recording console. You can consider it one of the most important pieces of audio recording equipment that you own. Whatever your engineering style is, the sound quality of your recordings is heavily influenced by your recording console.
Taking advantage of the flexibility, fidelity, and power of digital audio, as well as the ability to utilize real-life analog gear (or emulated analog gear), recording and mixing have never been easier. First, let's look at some basic information about recording and mixing consoles, and then we'll talk about some of the unit features of the most popular brands and models.
What Is A Recording Console?
You connect your incoming audio sources to a console, which is essentially an audio interface. Therefore, it will come with built-in preamps, although you can also route the audio through external preamps before entering the console. As a next feature, there are those faders and knobs on the console that enable you to control your DAW directly from the hardware.
Essentially, a mixing console is a piece of electronic equipment that is designed for the purpose of mixing and controlling sounds. In broadcasting, live events, post-production for film and television, as well as recording music, mixing consoles are used for a variety of purposes.
A mixing console serves as a means of organizing, controlling, and modifying audio signals. Let's take a closer look at a few key features you'll find on a mixing console so that you can better understand what we are talking about.
Most people associate recording studio mixing consoles with large desks covered with faders. There are several faders or "channels" that each control a different aspect of the audio. An instrument or element of a piece of music is usually assigned a channel in a recording studio mixer or mixing studio.
It is possible for mixing consoles utilized in recording studios to have their channel controls automated in order to help certain sections of a song stand out to the listener at certain points during the song.
There are mixing consoles that have audio inputs and outputs that can receive and transmit audio signals directly into their circuits, while there are others that serve as a remote control units for a DAW (Digital Audio Workstation).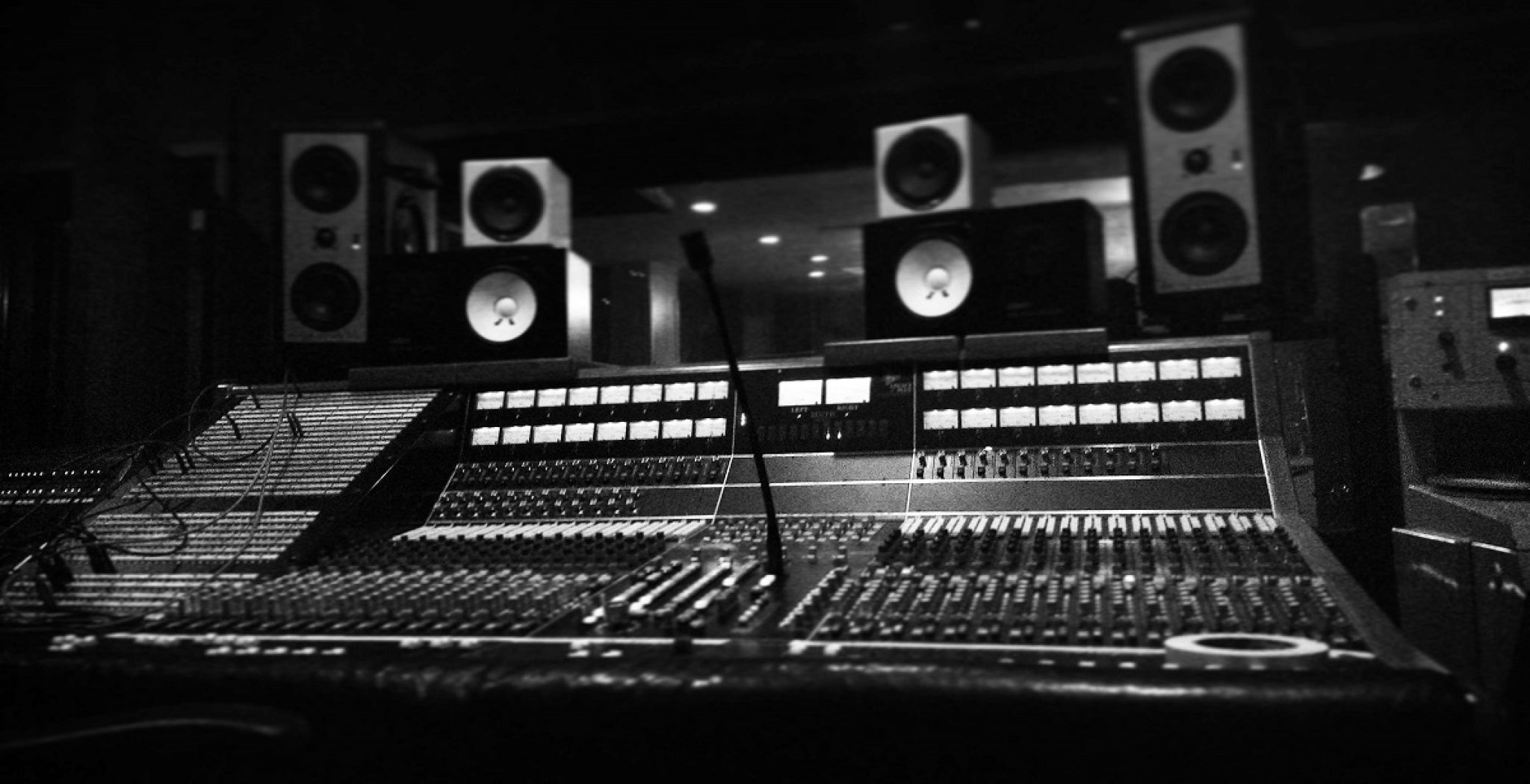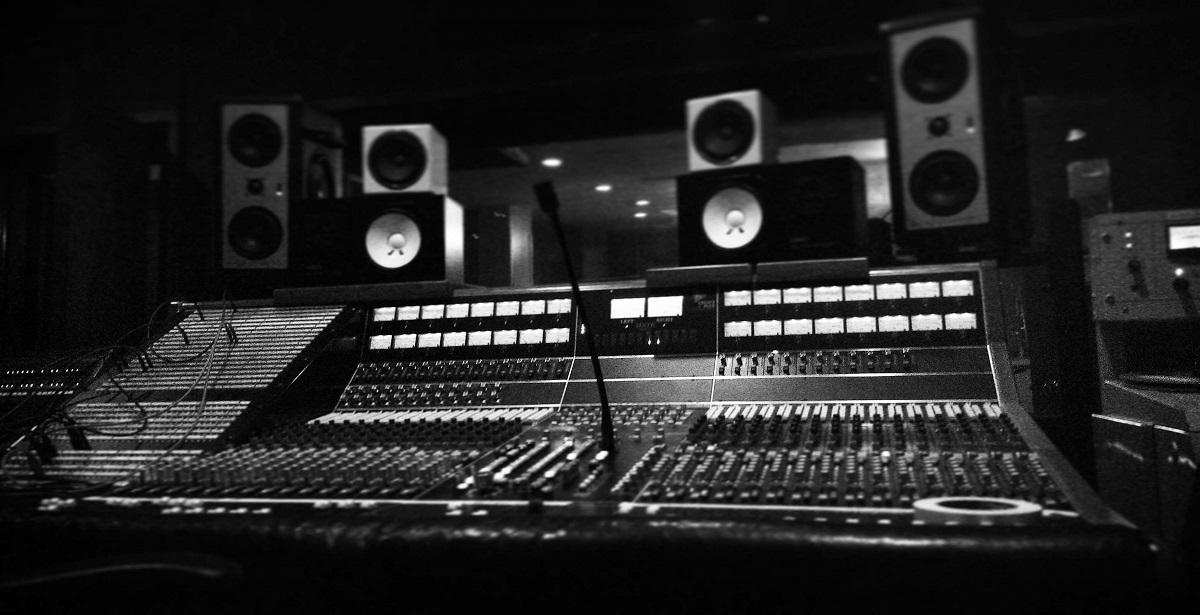 Do You Need One?
If you are serious about your music production and you have a bunch of high-quality clients that require the best possible outcomes for their music, then we can suggest to you get a recording and mixing console.
This will enable you to approach the recording and mixing process easier, but you need to be prepared because there are a lot of other units that you will need to get in order to have your console up and running. AD/DA converters, patch bays, and gazillion cables + some other outboard gear to accompany the console of your choosing.
In case you are a beginning engineer, then you will be able to start without it and get a simpler setup to get you started in the craft. There are other units that you need to take care of first before reaching out to a recording or mixing console, even though there are some more affordable units with great prices.
As stated in the title of this article, we are going to honor the greats here and go with the high-end units and consoles that you are able to find in the biggest and most famous recording studios around the globe. Units from developers that are synonyms for manufacturing audio gear. Let's start with our selection now.
Also, we will provide you with links to vendors from where you can get one of these giants and there you will be able to find some additional details about them because here we will go briefly over the features.
1. Solid State Logic Origin 16-channel Analog Studio Console
An appreciation for SSL's analog workflow and high-end production capabilities is evidently still in demand. Regardless of your budget or area of focus within the audio industry, space and energy restrictions are problems you may face.
The ORIGIN 16 is a compact console that covers a wide range of applications, including large-format projects, educational institutions, production rooms, professional studios, and smaller mixing and recording facilities.
Even though it appears to be smaller, it still has 56 inputs, including 16 mono in-line channels, 16 track buses, and 8 stereo subgroups. There is an incredible amount of flexibility, whether you are using it for tracking or for mixing, thanks to SSL's analog summing and routing options.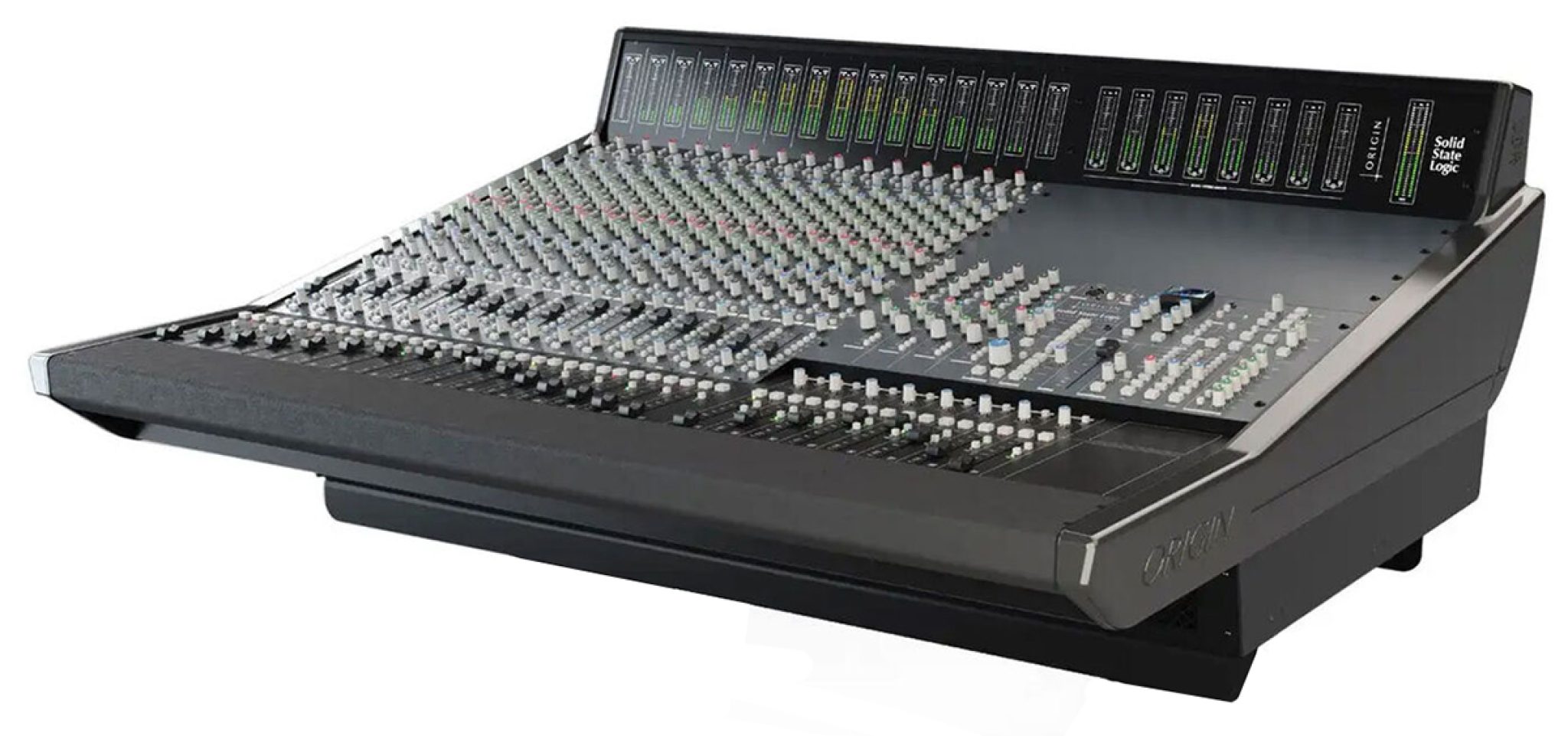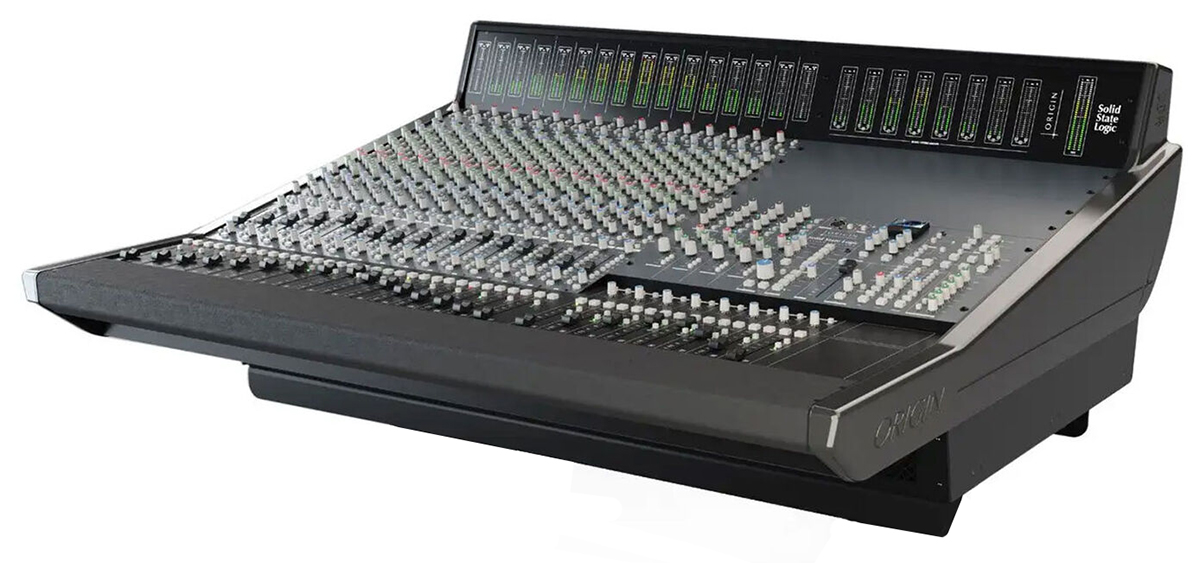 IMAGE
PRODUCT
For US
Customers

Solid State Logic Origin 16-channel Analog Studio Console
---
2. Neve 8424 24-channel Analog Mixing Console
Neve brings together a storied professional audio brand's best analog and digital technologies once again with the release of the 8424 24-Channel Analog Recording and Mixing Console. A 24-channel analog console like this can be the centerpiece of a hybrid studio and provide the feel of a large-format desk for your workflow.
With 16 input channels on the left side of the desk and eight other channels on the right side, it is set up with a classic console master section in the middle. A third channel strip input allows the Neve 8424 to simultaneously process 48 mono signals and 24 switchable channel inserts on each channel. Marinair transformers are used on Mix, AFL, and Cue busses to give the desk its iconic Neve sound.
Additionally, the Neve 8424 is fitted with two handcrafted 1073 preamps that meet the original specs. Known for its thick, warm presence, mid-forward character, and smooth top end, the Neve 1073 is one of the most beloved mic preamps in recording history. There is the option to hard patch the 1073s to any channel on the 8424 consoles.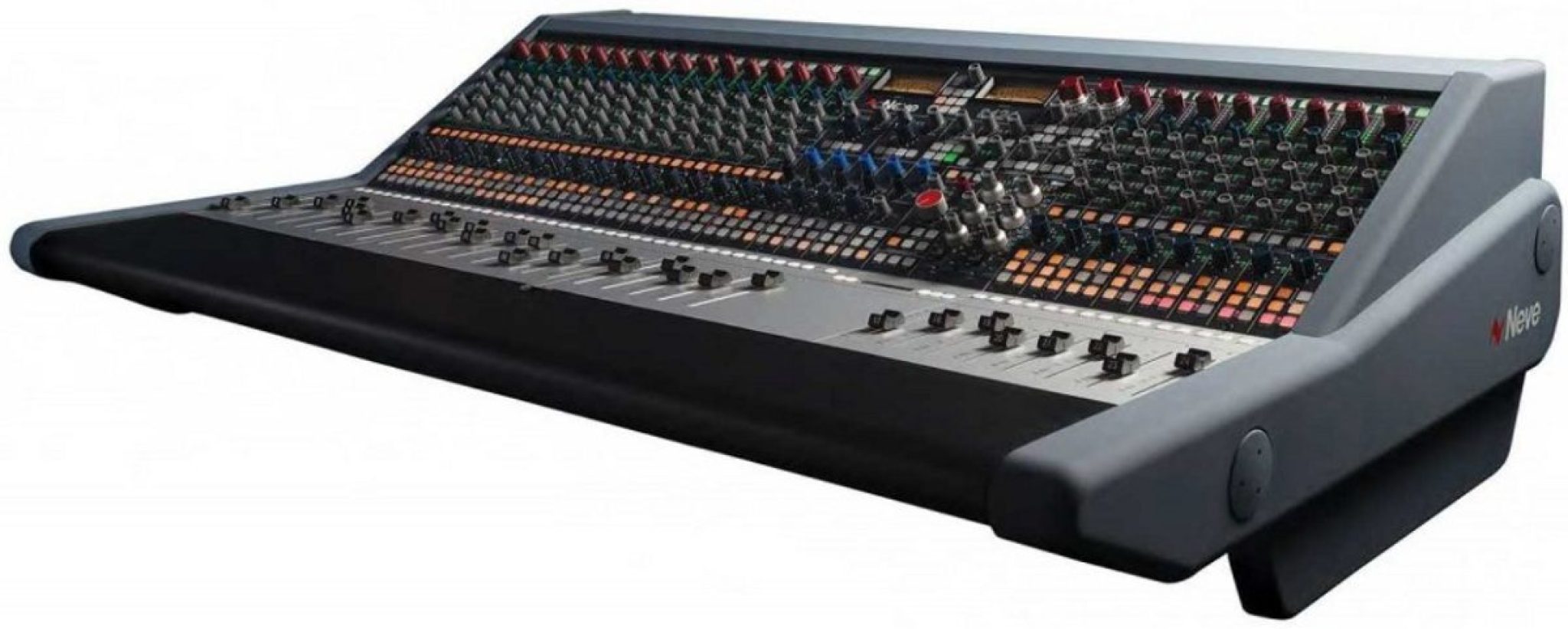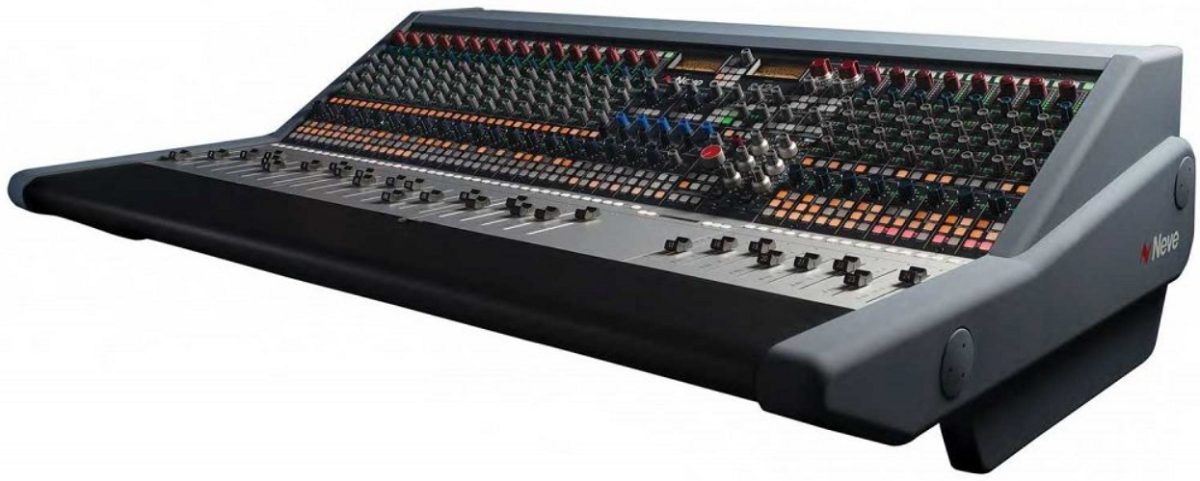 IMAGE
PRODUCT
For US
Customers
For EU
Customers

Neve 8424 24-channel Analog Mixing Console
---
3. API The Box 2 Summing Mixer and Recording Console
In addition to its unique sound, The Box 2 combines the ease and flexibility of 500 series processing with the distinctive sound of analog summing. An unprecedented amount of flexibility is provided by The Box 2 thanks to its eight input channels, eight 500 Series signal processor slots, and 24 analog summing channels.
There are eight input channels on the Box 2 Console, each with a built-in mic preamp, so you can record dynamic, condenser, or ribbon microphones. A line input is provided on each input to record or mix line-level signals, as well as a high-pass filter to remove unwanted low-end frequencies. This console features a dedicated direct output for each input channel, making it the ideal choice for recording in an all-analog environment.
Mix down sterile digital productions with up to 24 channels while recording or up to 16 tracks during recording. Give your mixes the legendary API sound by gluing them together with the onboard stereo bus compressor. With a range of monitoring options, a talkback system, and a stereo program bus with an insert, you have everything you need for an efficient and cost-effective analog recording experience.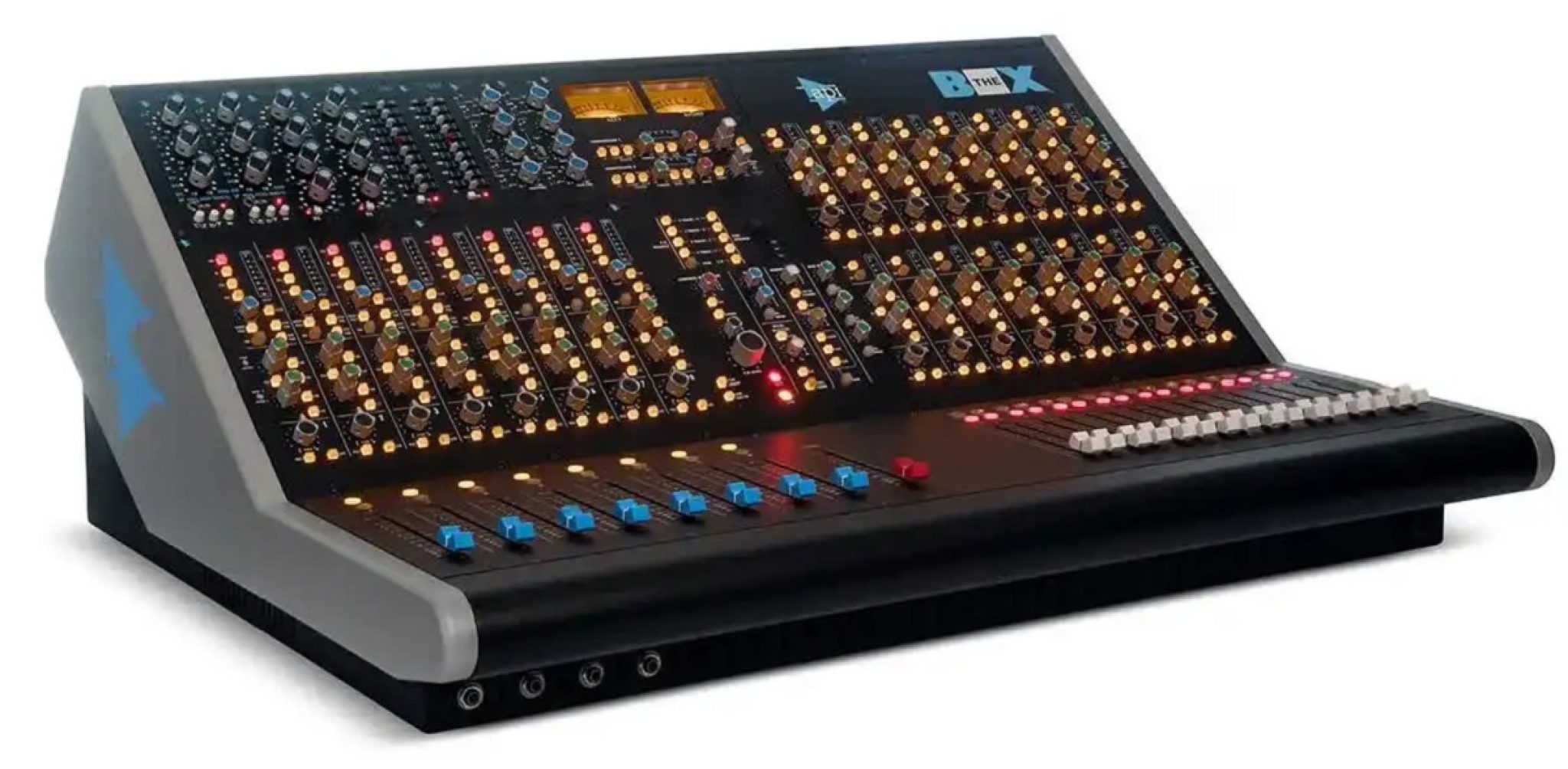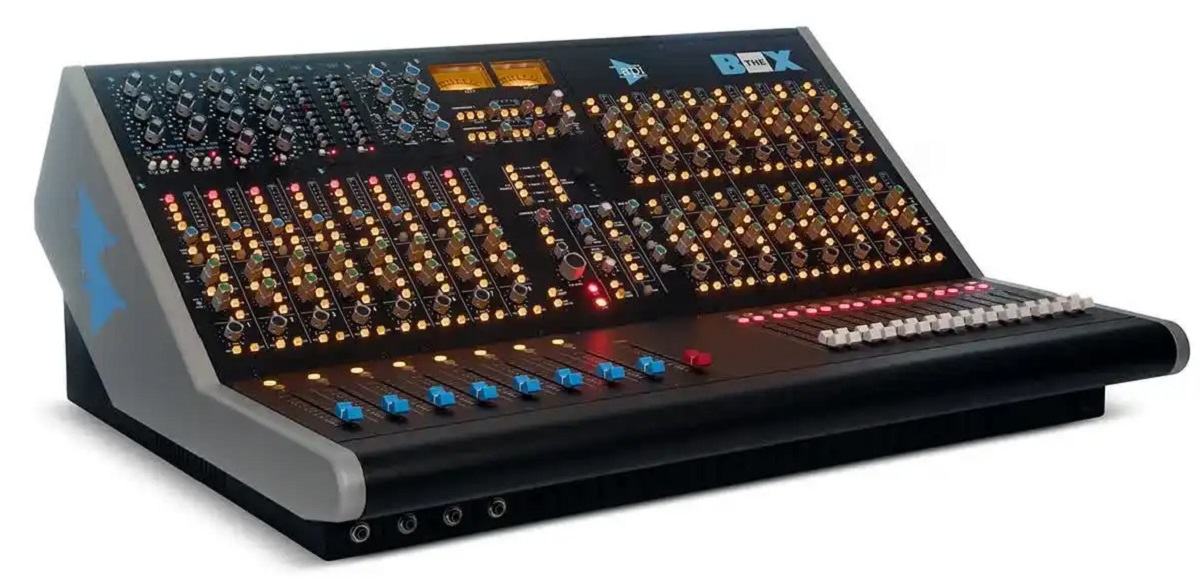 IMAGE
PRODUCT
For US
Customers
For EU
Customers

API The Box 2 Summing Mixer and Recording Console
---
4. Audient ASP4816-HE 16-channel Recording Console – Heritage Edition
With the Audient ASP4816-HE Heritage Edition, audio professionals will be able to get the mojo of large-frame consoles in a compact size. It is a fully analog in-line recording and mixing console that offers all the features and functionality of large-format recording consoles without taking up too much space.
A four-band equalization can be splittable on the ASP4816-HE, offering two parametric bell-curve bands ranging from 50Hz to 20kHz. In addition to these, there is a limited signal path LF and HF shelving band (with a minimal signal path) which can be selected at 50Hz or 100Hz and 10kHz or 18kHz (depending on whether the Air switch is engaged).
This is a great way to give your material some body and air. By combining the parametric bands and the enveloping effect, you can create a highly musical sculpting tool that allows you to achieve your desired results in a short period of time.
Incorporating David Dearden's legendary analog circuitry, this console was built from the ground up. A number of features are included in the Heritage Edition, such as a vintage mix bus processor, John Hardy Op-amps, a powerful new addition to the mix bus compressor, as well as other notable features. There is no question that the ASP4816-HE is the perfect centerpiece for any production studio.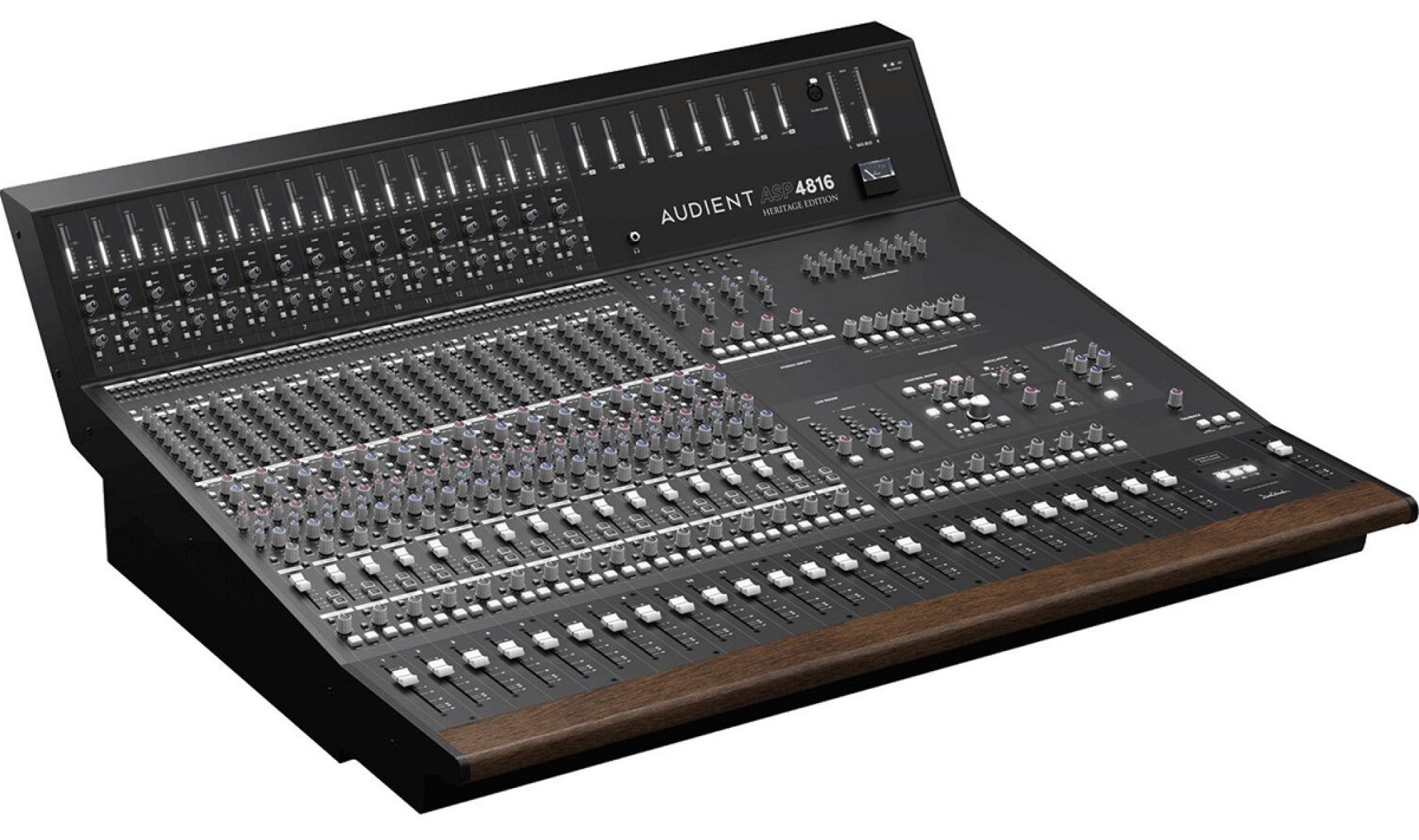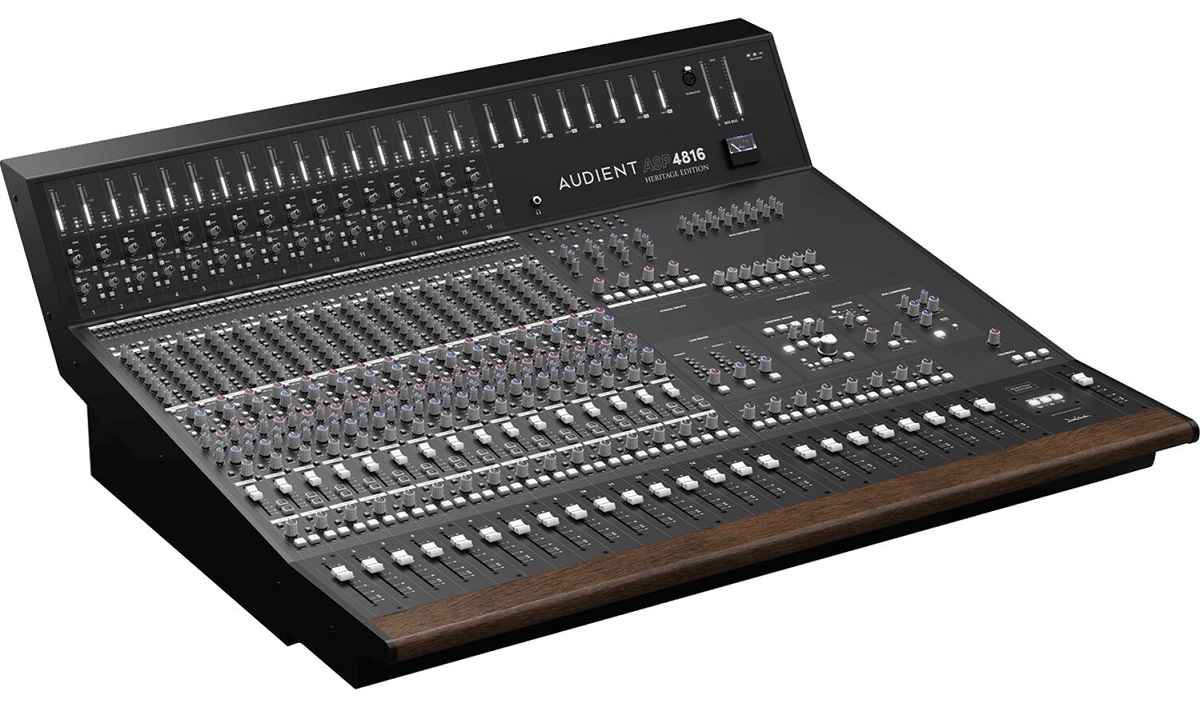 IMAGE
PRODUCT
For US
Customers

Audient ASP4816-HE 16-channel Recording Console – Heritage Edition
---
5. Trident Audio Developments Trident 78 16-channel Analog Mixing Console
Designed for engineers, studio owners, educational facilities, and live sound applications, Trident Audio's 32-channel Series 78 is a cost-effective, professional split/inline mixing console. With the split/inline design, channels are divided into four-way panels. With eight subgroups and six auxiliary sends, the eight-subgroup configuration offers extensive routing options. DB25 connections are used for all connections, and XLR pairs are used for the speaker and main outputs.
As a result of the console's 80B EQ, the sound is polished, professional, and instantly recognizable. It offers an array of summing and mixing options with uncompromising sonic quality and a compact footprint thanks to the selectable channel inserts and discrete preamps driving the inputs.
A microphone level and a line-level signal can be accepted by the input module. As a result, the user is able to obtain a discrete, Class A microphone preamp with a gain range of up to 60 dB. Featuring fixed high and low shelving as well as variable mids, the Trident EQ has four bands. A monitor input is available on every channel with the option of swapping the entire EQ between the input and monitor paths.
The 78 is equipped with a number of features that make it a straightforward and powerful package, but the sound is ultimately what makes the 78 stand out. In spite of the many styles, preferences, and methods of recording, there is a requirement that a board must be able to handle hard pressure and produce a large sound. Series 80 consoles were known for this feature, and the 78 continues that tradition.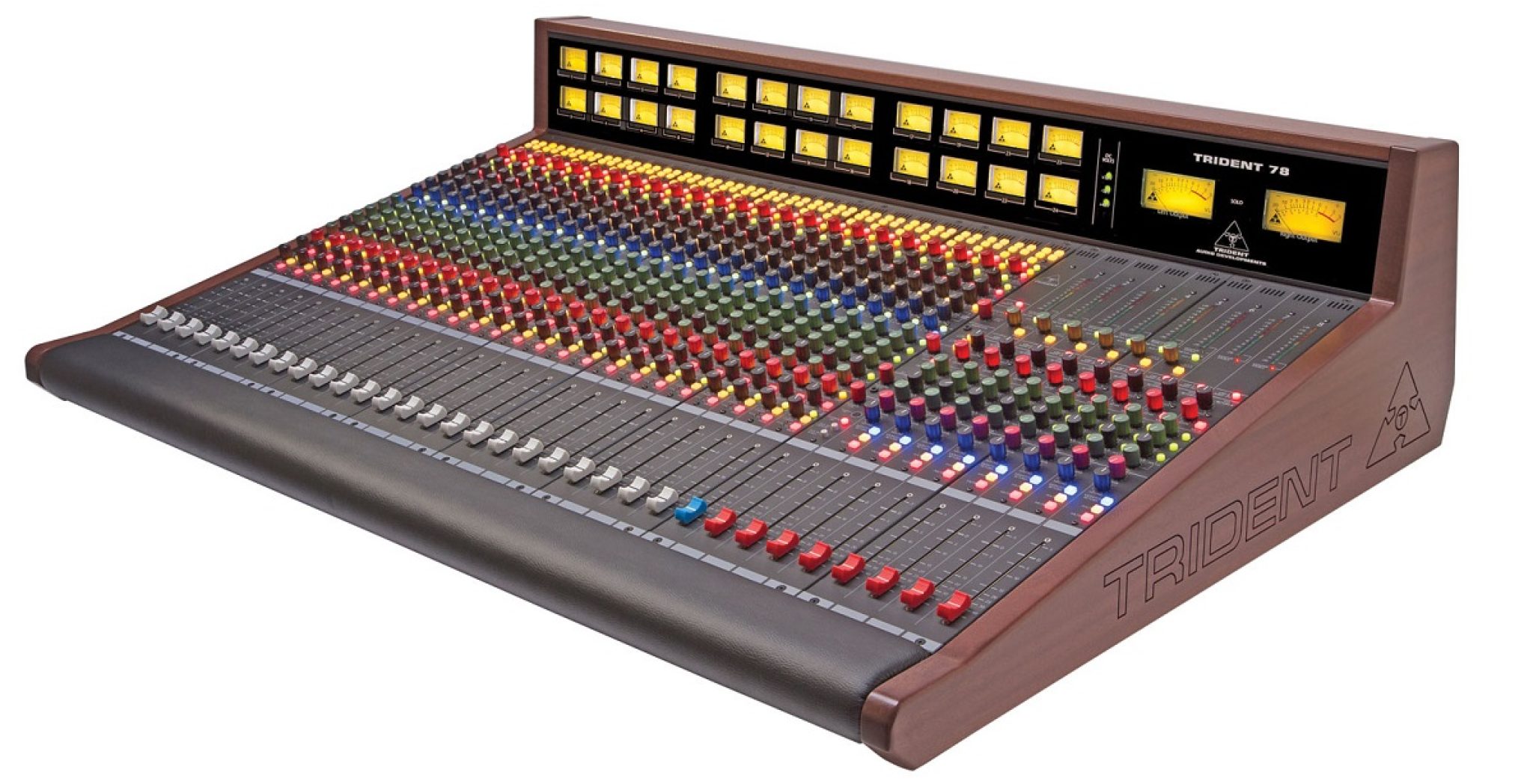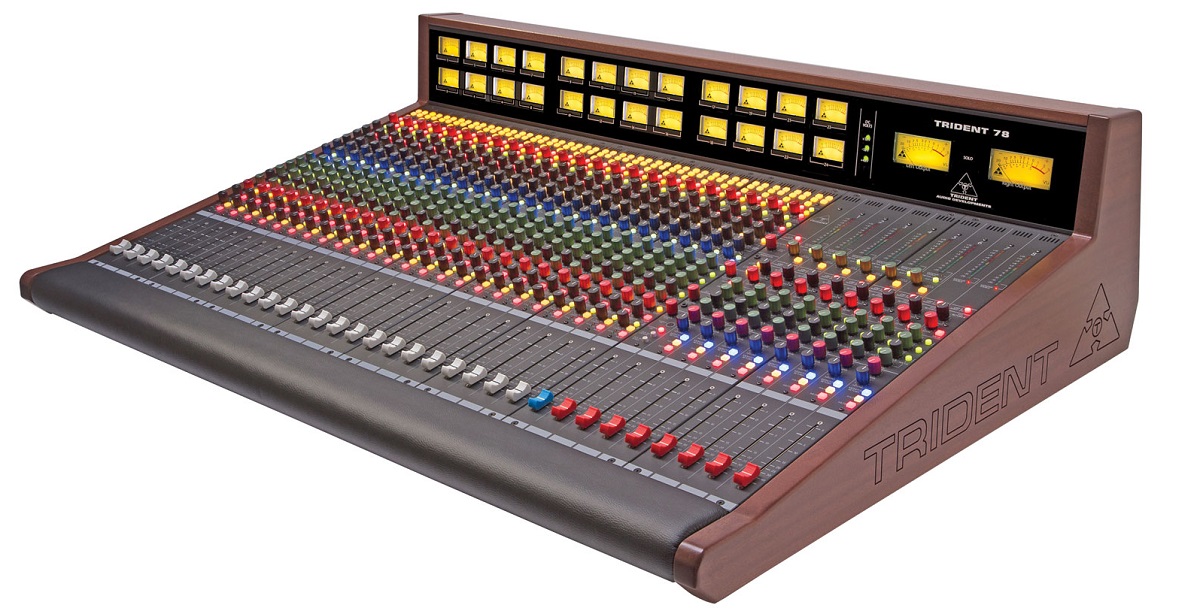 IMAGE
PRODUCT
For US
Customers

Trident Audio Developments Trident 78 16-channel Analog Mixing Console
---
Conclusion
For high-quality studio recording, a recording and mixing console is a necessity. Not that you will not be able to get quality recordings with lower-tier gear, but this is the creme de la creme of equipment.
We already created an article for analog and digital mixer choices with more affordable prices, so if you want to check it, you will be able to do it on this link here. The huge benefit of those consoles above is the complete channel strips, great mic preamps, mic inputs, and components that are of great quality.
If you are having any questions about the topic or the models that we listed in this article, please let us know in the comment section below and we will be more than happy to answer them.