Top 8 Best Patchbays
Introduction
The process of changing cables to adjust the signal path chain becomes more time-consuming as your recording setup grows from a laptop with a few plugins to a desk with more outboard gear.
Audio patch bays are ideal for recording professionals as well as amateurs since they allow quick and easy connections to be made on the fly. This article will provide you with an overview of what patch bays are, how they function, and what types of patch bays are available.
The best way to set up your patchbay is to determine how many inputs and outputs you will need, then determine what normalization is required, and finally draw out a wiring diagram to determine how your connections will be made.
You can even download blank templates from some patch bay manufacturers to assist you in visualizing and planning your signal routing. A patch bay should also be selected according to whether you intend to run any microphones that require phantom power.
In addition to keeping your signals clean, patch bays also reduce the clutter of cables in the physical environment. Don't underestimate the value of simple organizational tools in solving headaches on the spot. One obvious method of labeling the equipment or output assigned to each jack is to use scribble-strip tape.
In addition to labeling the cables, you can also label the connections themselves. Additionally, split looms and cable ties can be used to reduce cable clutter behind the desk. It is easier to keep your space tidy and your cables easily accessible by investing in a cable holder for cables that are not in use yet.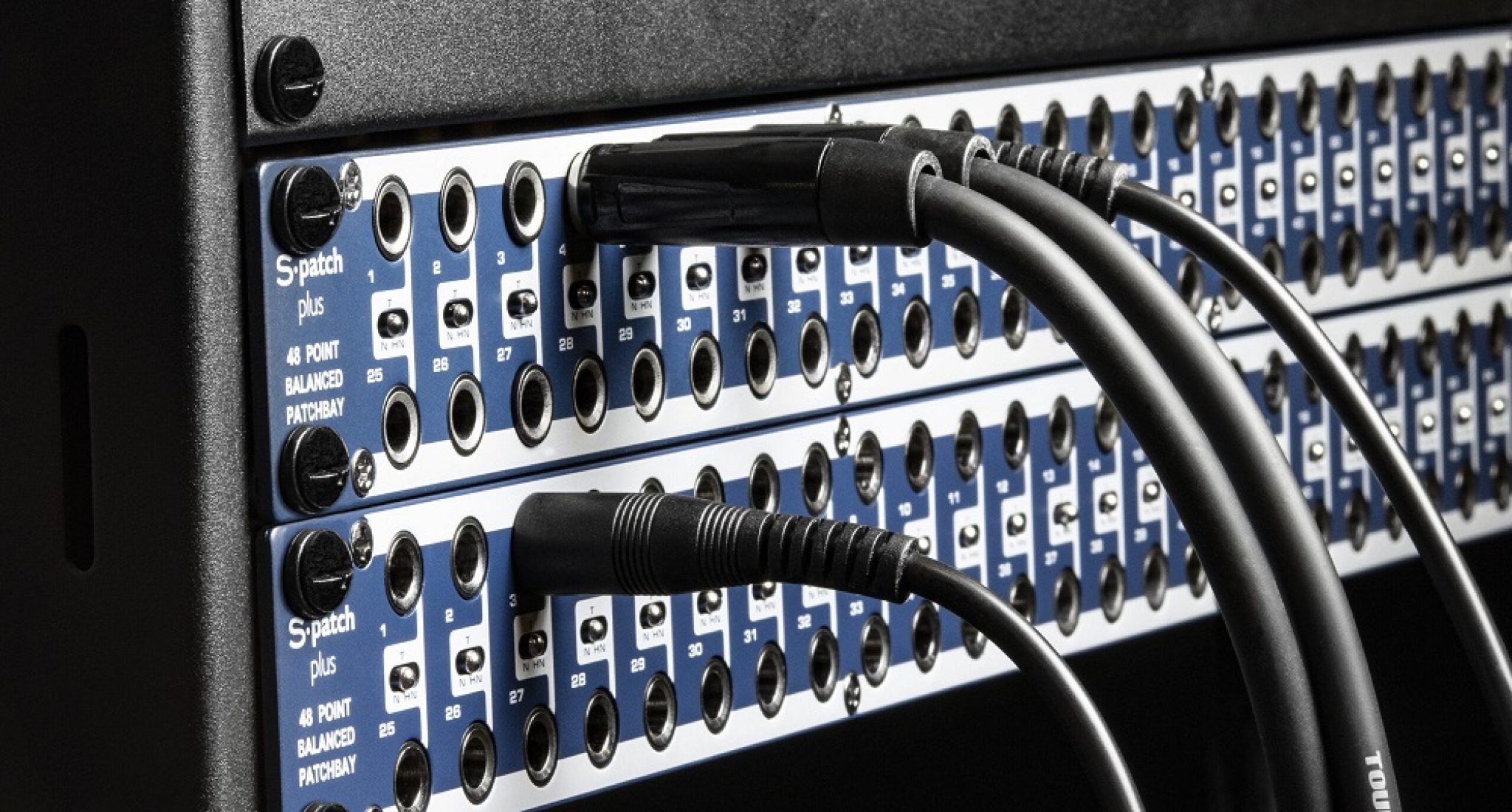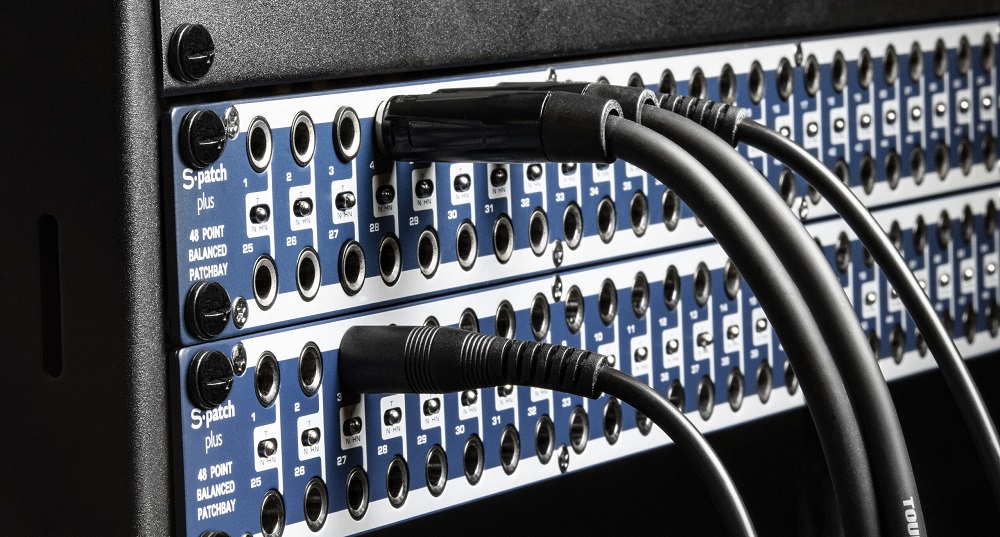 The Patching Process
Input/output conventions can be confusing when it comes to patchbays. Synths and microphones produce signals, but then connect to "inputs" on a patchbay and become "outputs" at the other end, but this conceals the fact that no connections are exclusive inputs or outputs, they are just that: connections.
As far as technical considerations are concerned, any of them could be considered inputs or outputs! As an alternative, let us establish a few general terms that will assist in explaining the patching system:
The term "sound source" refers to anything that transmits sound. This may consist of sound generators (for example, synthesizers, drum machines), sound transformers (for example, microphones, preamps, effects), or simply a sound carrier (for example, the line out on an audio interface). In general, any device that transmits sound via cables can be considered a sound source.
Any device that is capable of receiving sound through an input is considered an input. An example of this would be a channel on a mixer, an audio interface, effects, or even speakers. Sound sources in patchbays are also effects that process sounds, although they are not themselves sound sources.
It is important to note that a reverb unit takes input from a source of sound and then becomes a source of sound itself, therefore it must have both an input and an output. As a result, an interface or mixer's input can be considered to be only an input since it does not process or change the sound in the same manner as an effects unit. Sound often ends up at these types of inputs.
A connection (jack) is anywhere you can plug something in. Patchbays are only capable of connecting one thing to another. The source and destination are therefore responsible for determining inputs and outputs.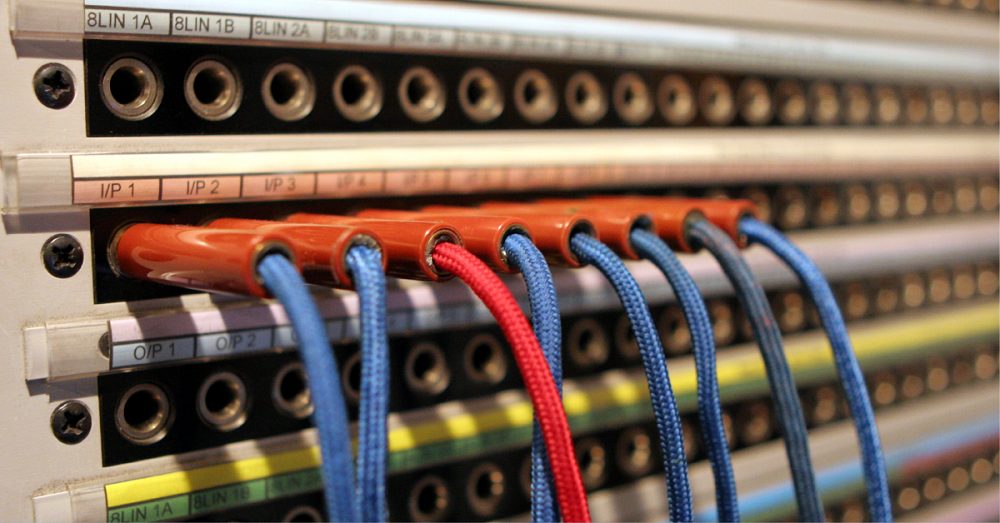 Configuring Patchbays
If everything in the patchbay had to be manually connected, we might end up with a messy mess of cables. Fortunately, patchbays can be configured in a variety of ways to make things even easier. It is typically necessary to set the configuration of each pair of vertical connections through a switch. In general, there are three types:
Full-normal
If there's no sound source connected to the front connection, any sound source connected to the top of the patchbay will automatically connect to the rear connection directly below it.
The first top jack on the rear will be routed to channel 1 on the interface if the jack below it is connected to channel 1 on our interface, meaning that if we have our favorite synth on the first top jack, it will be routed to channel 1 on our interface without us having to do anything!
In this way, we can maintain our default routing without adding any cables to it. By plugging into the patchbay top jack, we can "break" the connection.
Half-normal
As long as you don't connect to the top front jack, this configuration behaves the same as full-normal. The signal flows to both connections instead of being removed from the jack below when half-normal is used. Using this method, you can send the dry signal as well as a separate, fully affected signal to an effect.
Non-normal (Thru)
Signals can only be transmitted when cables are connected. Usually used when there is no relation between the top row and the bottom row. A studio microphone line and a channel mic input are usually normalized. The mic will always be plugged into a preamp, so there's no need to multiply it yet.
Returns from multi tracks are typically half-normalized compared to channel line or monitor inputs since they might need to be multiplied when mixed. Half-normalizing insert sends to insert returns ensures the signal continues to flow as you complete your patch.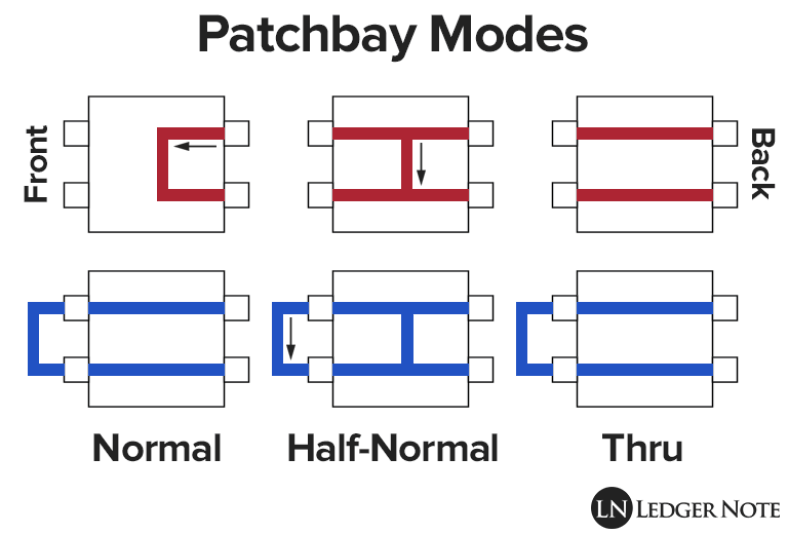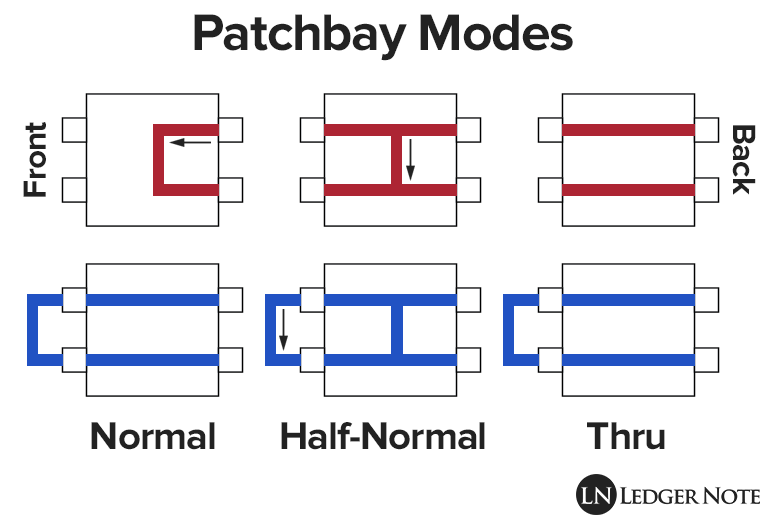 Design of a Patchbay
There are typically 24 channels in a patchbay. Inputs and outputs are handled by each channel, resulting in 48 "points". TT connectors or bantam connectors are used on most modern patchbays. It is important to note, however, that some patch bays utilize 1/4″ TRS or even XLR connectors. In order to save space, most units use DB-25 connectors on the rear, however some units utilize 1/4″ TRS or XLR connectors instead.
A DB-25 cable (or D-sub) is a multi-pin connector that can carry eight analog audio signals at the same time. There is a single DB-25 connector on one end of the D-sub cable. There is also an 8-channel whip with XLR or 1/4″ TRS connectors. This is a great space-saving feature. As an example, console channel outputs 1 through 8 are connected to the patch bay using a single cable instead of eight TRS cables.
Every patchbay is set up differently based on the needs of the studio, so no two patchbays are the same. By enabling you to make common connections quickly, you will be able to speed up your workflow. You may wish to set up patches for cue sends (headphones) or synthesizers if your studio is set up for recording.
You will probably need inserts and outboard compressors if you are set up for mixing. As a general rule, patchbays are arranged according to signal flow. Inputs are usually placed on the bottom row, while outputs are usually found on the top row. As a result, it is easier to connect one piece of equipment to another.
It is not uncommon for studios to color-code their patchbays in order to assist in separating the various sections. A preamp, an EQ, a compressor, and an effect unit, for example, might be painted a different color. Alternatively, you could use one color for the outboard gear and another for the console connections. Inputs and outputs can even be distinguished by different colors.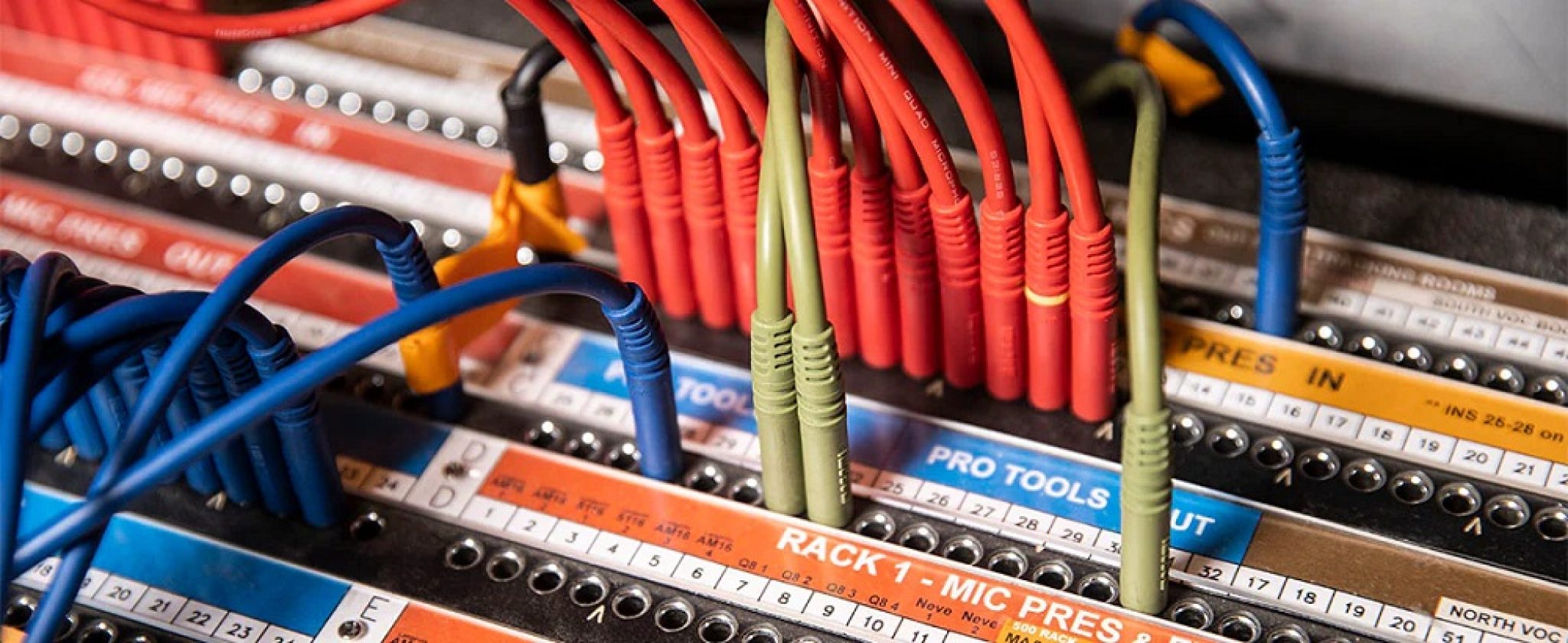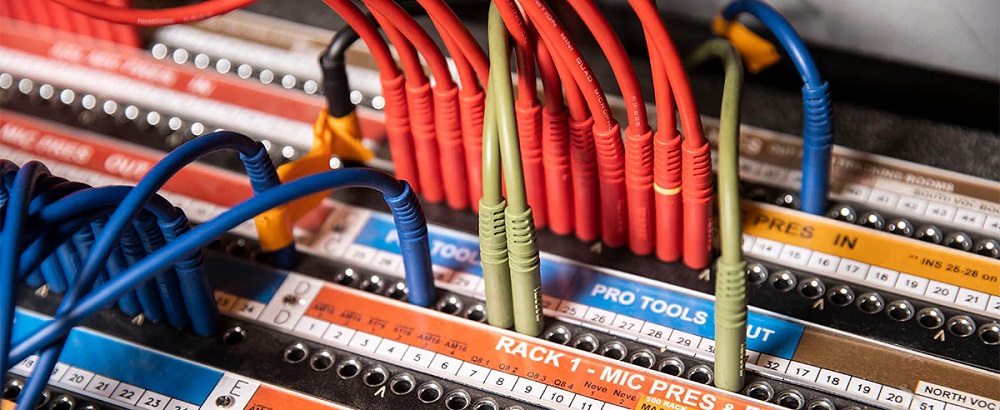 ---
Since now we basically explained what are the patchbays and how they work, we are going to provide you with the 8 options we mentioned earlier and give you direct purchase links to get them easily.
So let's check the Top 8 Best Patch bays with brief reviews on each model.
1. Black Lion Audio PBR XLR Patchbay
In order to achieve high audio quality throughout every signal chain, your studio requires more than simple patching. The Black Lion Audio PBR XLR Patchbay is a product of Black Lion Audio's longstanding commitment to improving gear. The PBR XLR patchbay is a 16-point XLR patchbay with 32 audiophile-grade gold-plated XLR connectors, designed for studios with the highest expectations.
There are 12 female XLR connectors and four male XLR connectors on the front panel. This makes it easy to patch devices without digging behind the rack. In order to ensure that the PBR XLR provides proper quality throughout, Black Lion's engineers have worked tirelessly. In addition to being built Black Lion-tough, the PBR XLR has black-anodized aluminum faceplates that add a sleek and sophisticated look to the overall design.
A total of 32 gold-plated XLR connectors designed for audiophiles
A front panel with 4 male XLR connectors simplifies hardware patching
Faceplate is made of aluminum anodized black
Labels on the front panel are included


IMAGE
PRODUCT
For US
Customers
Amazon
Store

Black Lion Audio PBR XLR Patchbay
---
2. Samson S-Patch Plus 48-point Balanced Patchbay
Providing a central location to connect all your audio components, the Samson S-Patch Plus 48-point patch bay is extremely solid and durable with fully balanced 1/4-inch TRS connections throughout.
Do not worry about disassembling every other 1/4-inch patchbay in order to change the operational mode by flipping connector cards around. In the S-Patch Plus, each channel can be configured to operate as a normalled, half-normalled, or a through operation using high-quality, miniature toggle switches.
A 48-point patchbay that is fully balanced and extremely durable
Switches with three modes on the front panel
A 1/4″ TRS connector is available
Chassis with 19-inch rack mount
The configuration mode is switchable between Normal, Half-Normal, and Through


IMAGE
PRODUCT
For US
Customers
Amazon
Store

Samson S-Patch Plus 48-point Balanced Patchbay
---
3. Hosa PDR-369 12-point XLR Balanced Patchbay
A balanced XLR male and female connector is provided on the Hosa PDR-369 Patch Module, which facilitates easy routing between audio sources. There are twelve points on this patchbay, including female-balanced XLR inputs on the front and male XLR outputs on the back.
You can use the PDR-369 for any application, whether it is a small live or studio application, updating your house of worship's sound system, or wanting to maximize the performance of your DJ setup. Patchbays have female XLR jacks on the front and male XLR jacks on the rear, but you can easily reverse this configuration to suit your needs.
With its durability, ease of use, and adaptability to a variety of applications, the PDR-369 is a superb value. A balanced XLR line input, as well as a microphone input, are easily accessible with the PDR-369 with no need to rewire the equipment.
Patchbay with 12 XLR connectors
Male XLR connections are located on the back, while female XLR connections are located on the front
The configuration is reversible
This product is ideal for live sound applications, DJs, and churches


IMAGE
PRODUCT
For US
Customers
Amazon
Store

Hosa PDR-369 12-point XLR Balanced Patchbay
---
4. Behringer Ultrapatch Pro PX3000
The PX3000 by Behringer is an ideal option for accomplishing this task because it is affordable, economical, and of high quality. On the front and rear of the PX3000, there are 48 balanced 14″ TRS connectors. In order to switch modes, you must prepare ahead of time since the unit can only be switched when it is not mounted on a rack.
Considering Behringer's reputation, the build quality on the PX3000 is excellent. Despite the unit's small size, it is quite heavy. It is important to note one caution, however. In the case of using phantom power through any of the connections, please ensure that the power is switched off before making the connection (e.g. an XLR to TRS cable).
In the event that the cable is inserted incorrectly, there will be a temporary short due to grounding, which can seriously damage your equipment. Consequently, if you will be using phantom power regularly, it is best to use an XLR patchbay. The 48V should be switched off, however, if you are careful. It is entirely up to you.
A total of 48 patch points with TRS connectors are fully balanced
Patchbay configurations can be easily customized using top-side switches
Durable design with all metal components
Reduces the clutter caused by cables by consolidating all inputs and outputs in your studio


IMAGE
PRODUCT
For US
Customers
For EU
Customers
Amazon
Store

Behringer Ultrapatch Pro PX3000
---
5. ART P16 16-channel XLR Balanced Patchbay
In addition to power conditioners and microphones, Applied Research and Technology (ART) also produces outboard gear at an affordable price. As part of this review, we will examine the ART P16 patchbay and how it can simplify studio connectivity.
It is easy and convenient to manage your I/O with XLR patchbays, whether you are installing them on a PA rack, on a studio rack, or in a fixed location. By using the ART P16 Patchbay, you are able to connect gear with inputs that are otherwise located on the rear panel to gear that has front-facing inputs.
In order to make the P16 robust and reliable, ART utilized all PCB wiring. After lots of plugging in and plugging out, there is little concern that the internal components may become loose or otherwise malfunction. The enclosure is made of steel, which makes it extremely durable. As long as the device is mounted safely in a rack, it is unlikely to suffer any damage.
Features a high-quality passive interface and 16 balanced channels of direct audio
For long-lasting quality and durability, the chassis is made entirely of black anodized steel.
PCB wiring is used for the internal connections of the high-quality XLR connectors
For additional mounting flexibility, the rack ears can be reversed


IMAGE
PRODUCT
For US
Customers
For EU
Customers
Amazon
Store

ART P16 16-channel XLR Balanced Patchbay
---
6. Neutrik NYS-SPP-L1 48-point 1/4″ TRS Balanced Patchbay
There is a single-unit, 19″ rack mountable Neutrik Modular 48-Point 1/4″ TRS Balanced Patch Bay with a reinforced metal enclosure. 48 PCB channels are divided into 24 pairs for the front and 24 pairs for the rear of the patch bay.
Simply attach the supplied grounding clips to the grounding pad of each channel to ground each pair individually or in groups according to your preference. Between the front and back panels of the rack enclosure, the PCBs are clamped without bolts or nuts.
There are improved non-tarnishing contacts in the patch bay to minimize long-term wear, as well as flippable PC boards that enable the patch bay to be configured easily. This device has an easy-to-identify gray normalling jack, which can be used to connect the unit to a normalled, half-normalled, or isolated configuration.
48-point Neutrik TRS patchbay
In order to utilize the product in half-normaled, split, or isolated modes, the front panel can be removed while it is being stacked
Featuring Neutrik connectors for reliability


IMAGE
PRODUCT
For US
Customers
For EU
Customers
Amazon
Store

Neutrik NYS-SPP-L1 48-point 1/4″ TRS Balanced Patchbay
---
7. Switchcraft PT16TRS2DB25 16-point 1/4″ TRS Patchbay
With sixteen 1/4″ TRS jacks connected to two DB25 connectors, the Switchcraft PT16TRS2DB25 Audio Pass-Through Panel is a rack-mounted I/O panel. A Switchcraft PT Series audio pass-through I/O panel is a perfect solution for those who require front-of-rack access to their I/Os in any permanent or mobile studio environment. A standard TASCAM DTRS pinout is used for all versions of the TASCAM DTRS, which are hardwired to two DB25 connectors on the back panel.
With the addition of the five Audio Pass-Through Panels to our StudioPatch Series, Switchcraft is pleased to introduce the newest addition to its product line. The anodized extruded aluminum panels, the 110 Ohm AES/EBU digital audio cable, as well as the top-of-the-line XLR connectors and TRS jacks have all been precision engineered to ensure long-term quality, durability, and reliability.
The connectors are all wired according to the TASCAM DTRS standard pinout. This product is ideal for anyone who needs easy access to their inputs and outputs in a studio or broadcast environment, either permanent or mobile.
Rack format
The following connector types are available on the front: 1/4″ TRS
Back:DB-25 connectors
Modes of operation: Normal, Half Normal


IMAGE
PRODUCT
For US
Customers
Amazon
Store

Switchcraft PT16TRS2DB25 16-point 1/4″ TRS
---
8. dbx PB-48 48-point 1/4 inch TRS Balanced Patchbay
With dbx PB48, you get a patch bay that works every time, all the time. There are two different types: half-normalled and de-normalled. The front panel includes 48 1/4″ points and the rear panel has 48 1/4″ points.
With the PB 48 patch bay, you will have access to your mixer and other studio gear easily and clearly, reducing wear and tear on their jacks, and facilitating quick and precise rerouting of devices within your studio setup through its rugged, noise-free, versatile design.
48 Patch points
A total of 24 pairs are presented on 24 cards
There are two configuration options available for each pair/card: half-normalized and de-normalized
The connections are all 1/4″ TRS
Nickel-silver contacts


IMAGE
PRODUCT
For US
Customers
Amazon
Store

dbx PB-48 48-point 1/4 inch TRS Balanced Patchbay
---
Conclusion
If you have a complicated studio, a patchbay can be a very useful piece of equipment. Although it is not essential, you may find that using one makes your workflow more efficient. As a result, you will need to become familiar with how they function and determine which one is most appropriate for you.
By the time you have read this article, you will have all the information you require to begin working with patchbays. In case you are having any questions in regards to this topic, please let us know in the comment section below and we will be more than happy to elaborate with all of you!