Best Audient Audio Interfaces
Introduction
When it comes to high-quality development of audio interfaces, the Audient name is always among the ones that are doing it professionally and for many years.
Founded by David Dearden and Gareth Davies, Audient designs, manufactures, and markets mixing consoles, audio interfaces, microphone preamplifiers, signal processors, and microphone preamplifiers.
With the first iD Series interface, the iD22, Audient entered the audio interface market in 2013, followed by the iD14 in 2014, the iD4 in 2016, and the iD44 in 2019.
So in this article, we decided to cover some of their most successful units that took over the market and made a boom in the audio world and we are going to provide you with the option to purchase them online.
Below you will be able to find brief reviews of what we think are the best Audient audio interfaces, but have in mind that we are not going to list them in any manner, and the order will be randomized.


1. Audient iD4 MKII USB-C Audio Interface
This high-performance USB Type-C audio interface is designed by respected experts for musicians, producers, voiceover artists, and more to simplify the recording process and give you the audio performance of a large-format console in a compact, elegant desktop package. As well as an updated exterior, the MKII edition has improved sonics and audio loopback.
Audient's iD4 features a class-A mic preamp, the same design as its top-of-the-line consoles, so your dynamic or phantom-powered condenser microphones will be treated like gold. The interface also has a harmonically rich 1/4″ instrument input, so you can plug in your guitar or bass and get the valve sound.
A 24-bit / 96 kHz AD/DA converter makes the iD4 incredibly accurate, natural, and musical without distortions or clocking problems. Monitoring with zero latency is possible with the monitor mix, which lets you set the balance between the live input signal and the DAW output.
This interface lets you listen to your content in high quality, adjust your levels smoothly, and access dim, cut, and more with stereo 1/4″ monitor outputs, two headphone outputs, and console-style monitor control. In addition, there's the new ScrollControl, a way to control anything hovering over your mouse pointer.
Getting started on your path to polished productions is easy with DAW software, virtual instruments, samples, and more. USB power is all it takes to power the iD4, so no external power supply is necessary. A powered USB hub and an Apple Camera Adapter Kit (available separately) are all you need to start recording anywhere you have an iOS mobile device like an iPad or iPhone.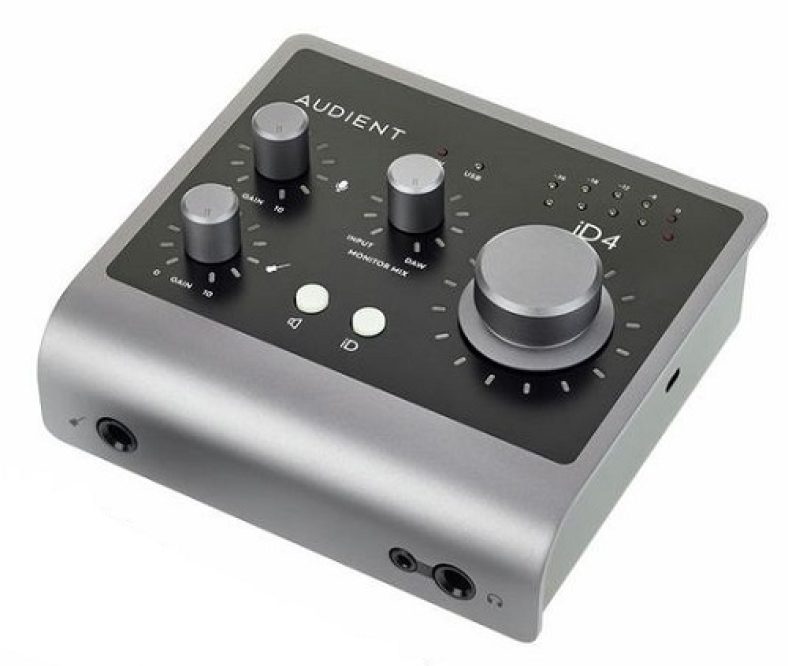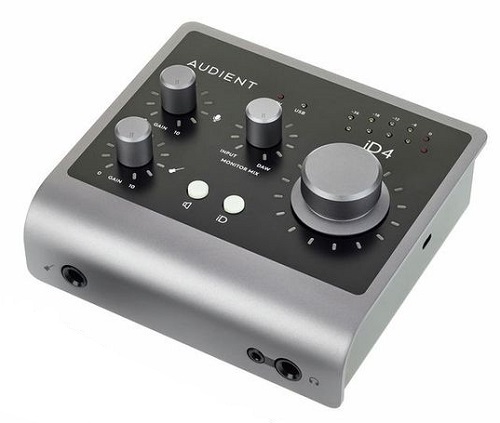 Features
24 bit / 44.1 – 96 kHz
Class A Audient console microphone preamplifier
48 Volt phantom power
Discrete JFET instrument input on the front
D.I. Gain: -5 to 45 dB (incl. +10 dB software boost)
Main speaker output: 6.3 mm jack
IMAGE
PRODUCT
For US
Customers
For EU
Customers
Amazon
Store

Audient iD4 MKII USB-C Audio Interface
---
2. Audient iD22 USB Audio Interface
With the ID22, you get "the best mic preamps on an audio interface" and top-notch converters that will satisfy audiophiles. Featuring 2 dual mic/line inputs and a sleek and intuitive design, the ID22 transforms your DAW into a world-class recording system.
Providing a variety of outputs, and sends, and the ability to expand through optical connections, the ID22 is equipped for any application. Regardless of whether you are using a Mac or PC, Pro Tools, or Logic, the setup is simple and you can start recording right away.
You will find 2 classic Audient Class-A microphone preamplifiers under the rugged all-metal construction, as well as 2 discrete JFET instrument inputs on channel 2 as well as 2 analog aux, send/returns, and 4 analog outputs, all powered by high-performance 24-bit/96KHz converters. For pristine audio playback, you also receive a dedicated headphone amplifier with a high current.
In addition to the ID22, you will also find an easy-to-use mixer app that enables you to route your audio efficiently, save your settings for subsequent sessions or re-assign the three function buttons on the ID22 as you see fit. In terms of audio quality, the ID22 provides excellent value for money.
There is plenty of room for improvement in the software and user interface implementation of the iD22 as it is the first in a new family of products. While the interface does provide average stability under a serious processing load at the lowest buffer settings, it is not alone in this regard, and it is simply not suitable for live usage.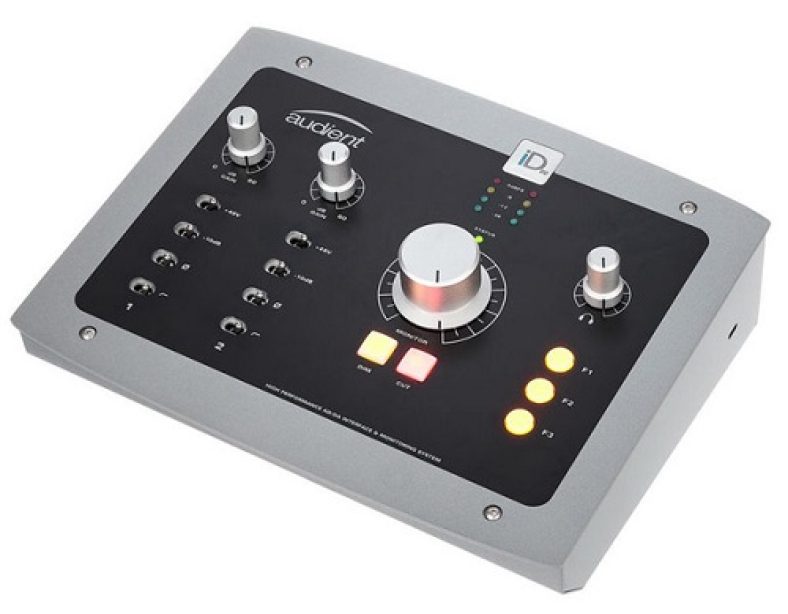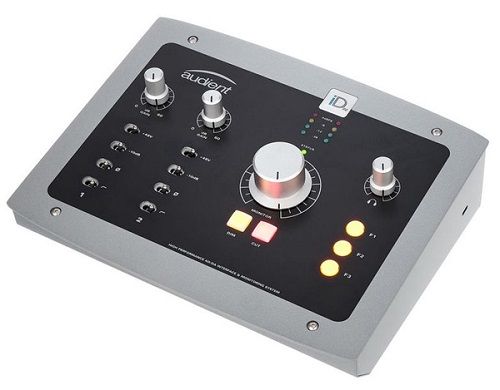 Features
24-Bit / 96 kHz
2 Combined mic/line inputs XLR/jack
Input 2 switchable to instrument level
4x Line output 6.3 mm jack (2x Main + 2x Alt Out L/R)
2x AUX Send/Return
S/PDIF / ADAT Digital input and output optical
IMAGE
PRODUCT
For US
Customers
For EU
Customers
Amazon
Store

Audient iD22 USB Audio Interface
---
3. Audient iD14 MKII USB-C Audio Interface
There has been an increasing availability of affordable, high-quality recording equipment in the past decade, leading to a saturation of the home studio market. Manufacturers are competing for your attention and ultimately your hard-earned money as there is an abundance of small format recording interfaces with high functionality. ID14 is one of those interfaces.
Despite its sleek minimalistic design, the ID14 MkII is not merely another desktop recording interface. There is an impressive feature set contained within its compact chassis, making it the ideal recording studio centerpiece for any home recording environment.
The ID14 MkII is a 10 input/6 output USB-C interface that includes two microphone preamps that are similar to Audient's flagship large format console, the ASP8024 heritage edition. A pleasingly transparent yet not sterile 58dB of gain is provided by these preamps, which are very similar to the input stage of the ASP8024HE.
The addition of this interface's ADAT/SPDIF input significantly increases its input capabilities, enabling the addition of up to eight additional channels at a sample rate of 48kHz. If you are a mobile producer in need of a high-quality interface for on-the-go recording, this will certainly be useful to you. Additionally, the ID14 MkII can be expanded with ADAT to accommodate additional inputs should the need arise to track a drummer or small live ensemble when you are away from your studio.
There is no doubt that Audient's design team has gone beyond functionality in the creation of a high-quality and satisfying user experience. Overall, another successful product offering from Audient, shows that the company is doing everything right for today's audio consumer.
Features
24 bit / 44.1 – 96 kHz
2 x Audient Class A console microphone preamps
2 Combined mic / line inputs: XLR / jack combination socket
Mic Gain 58 dB, <0.002% THD + N
48 Volt phantom power
Discrete JFET instrument input on the front
IMAGE
PRODUCT
For US
Customers
For EU
Customers
Amazon
Store

Audient iD14 MKII USB-C Audio Interface
---
4. Audient iD44 MKii USB Audio Interface
In the form of the iD44 MkII, Audient has recently updated their iD44 "console on your desktop" experience. Featuring a 6-in/4-out design and a 24-bit/96kHz sample rate, the Audient iD44 MKII USB Audio Interface combines warm analog charm with optimized digital audio sharpness to deliver an effortless recording experience.
A wide variety of connections are provided with the iD44 MKII, including the digital ADAT expansion, dual stereo outputs, dual JFET instruments, dual headphone outputs, and four class-A microphone preamp inputs. This interface provides world-class flexibility for content creators seeking an interface that can keep up with their hectic schedules.
Its innovative software suite includes a newly developed loopback feature that allows users to record audio inputs from virtually any source within your signal chain and then records them back through their preferred streaming application.
With the handy Tactile Control, you can tweak and adjust the iD44 MKII to meet your specific requirements via three user-customized hardware buttons as well as dedicated cut, pad, and talkback controls.
A workhorse interface with an all-metal exterior and durable components, the Audient iD44 MKII provides durability and performance to meet the needs of modern creatives.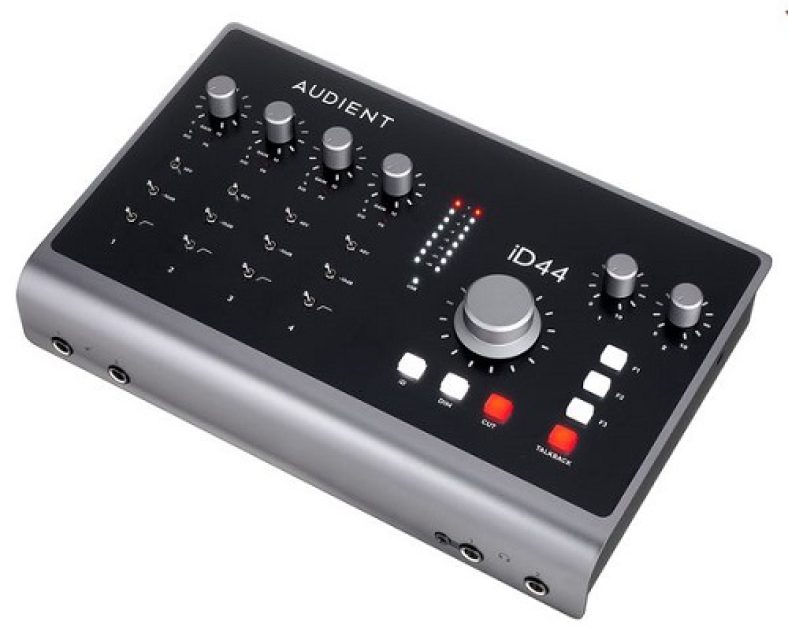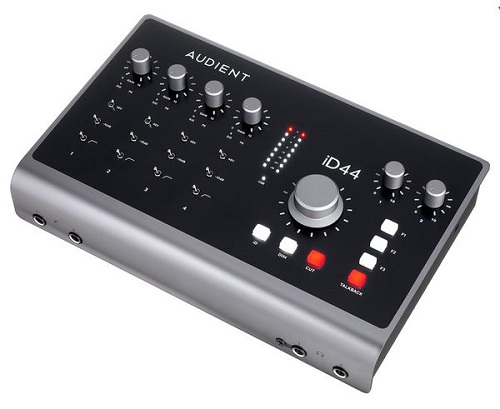 Features
20 In / 24 Out
USB-C connector
4 Class-A Audient console microphone preamps
Gain: 60 dB
2 ADAT inputs and outputs for digital expansion
24 Bit / 96 kHz
IMAGE
PRODUCT
For US
Customers
For EU
Customers
Amazon
Store

Audient iD44 MKii USB Audio Interface
Check our full review of iD44 MKII Here!
---
---
Audient Evo Series
In this section, we are going to summarize our thoughts on the Evo series from Audient and give you more insights about those audio interfaces that are one of the last they produced.
Their appearance is more reminiscent of a HiFi receiver than the usual 1U pro audio interface. Only one large knob protrudes from the top, and no other gain or volume controls are visible on any other side of the device.
Throughout the device, the buttons are flush to the surface and illuminate dimly white against a cool black background, blending into the device's own dark aesthetic. In spite of the otherwise flawless first impression, the large bright green button with the microphone icon slightly marries the cool effect.
EVO interfaces are designed to be easy to use, so it's time to plug some things in and see how quickly you can record. A sense of simplicity is achieved by removing things from the environment. There are not a lot of knobs or connections to contend with, giving it a calm and serene atmosphere.
It seems counterintuitive to have all microphone connections on the back when all other interfaces place them on the front. It is actually more common for you to pick up the EVOs to plug things in due to their size and shape, so the location of the sockets is not of great importance.
Compared to similar-priced audio interfaces, the specifications of the EVO are very competitive. There is a dynamic range of 115 dB, a signal-to-noise ratio of 100 dB, and a recording capacity of 24 bits at 96 kHz.
If you are recording for the first time, the audio interface includes everything you need, but far more importantly, it makes it easier for you to achieve good-sounding results (which can be frustrating when you are just starting out and learning on your own).
1. Audient EVO 4
The Evo 4 interface has two inputs and two outputs.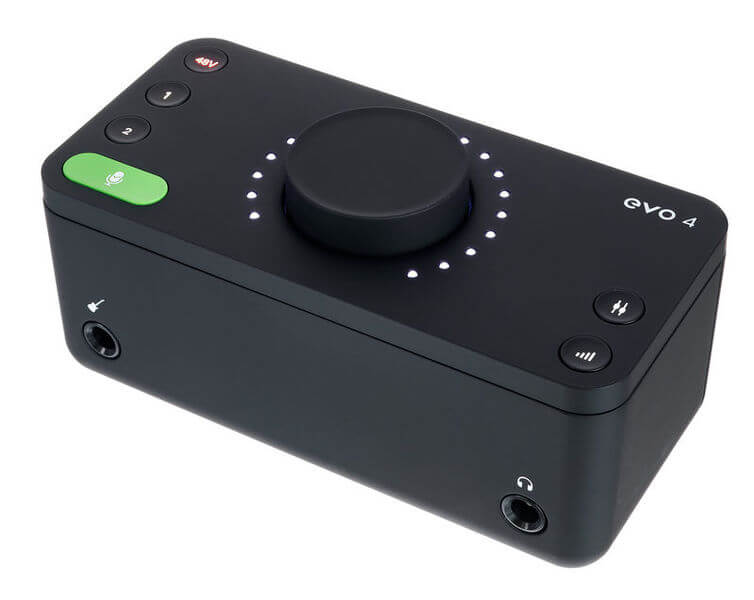 IMAGE
PRODUCT
For US
Customers
For EU
Customers
Amazon
Store
Check our full review of EVO 4 here!
---
2. Audient EVO 8
The Evo 8 interface has four inputs and four outputs.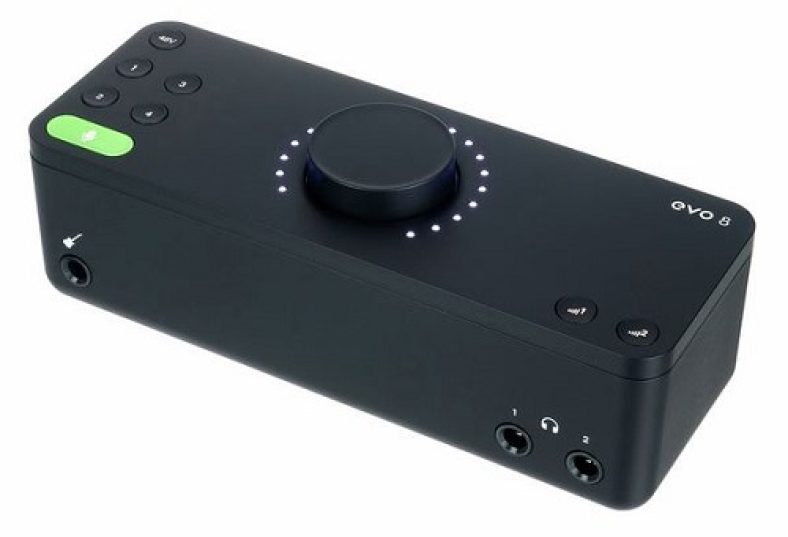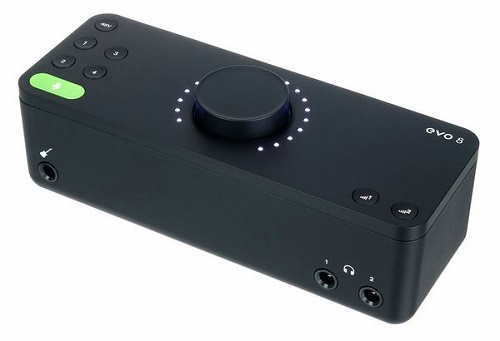 IMAGE
PRODUCT
For US
Customers
For EU
Customers
Amazon
Store
---
3. Audient EVO 16
In addition to having eight mic/line inputs and eight balanced TRS outputs, the EVO 16 is a 24 in / 24 out design up to 24-bit 96 kHz. There are also JFET instrument DIs on the first two inputs, and the first two outputs are designated as monitor outputs following the main volume control.
A further two pairs of optical connectors are used for the remaining I/O, allowing the transmission of 16 streams at 44.1/48kHz, eight streams at 88.2/96kHz, or two stereo streams in S/PDIF mode. In addition, two headphone outputs are provided.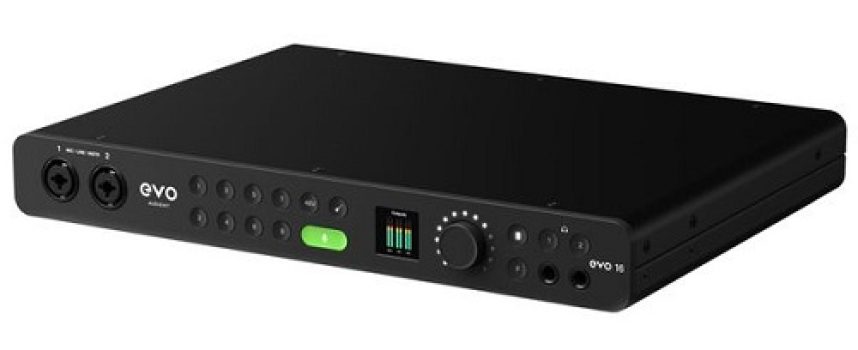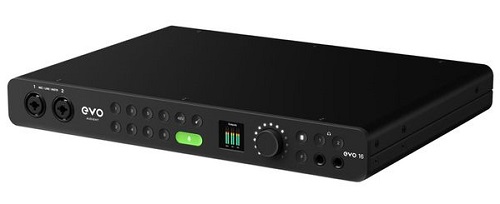 IMAGE
PRODUCT
For US
Customers
For EU
Customers
Amazon
Store
Check our full review of EVO 16 here!
---
Conclusion
Well, in summary, from this review you will be able to draw a conclusion that Audient is providing audio interfaces with great sound quality, and many great features like high-class preamps, phantom power, ease of use, professional headphone output, and mic input.
On top of that, you will find an improved dynamic range for increased recording quality, and dedicated instrument inputs, and outputs – making them one of the best audio interface developers out there.
Mainly they have USB connectivity for their audio gear, so it is one headache less for connecting them since USB audio interfaces are the easiest to handle. Many audio interfaces do not have perks like the ones from Audient, that's why we put them high on our list.
In case you are having any questions about these models we listed or for the developer itself, please let us know in the comment section below and we will be more than happy to elaborate with you!