MOTU M6 6×4 USB-C Audio Interface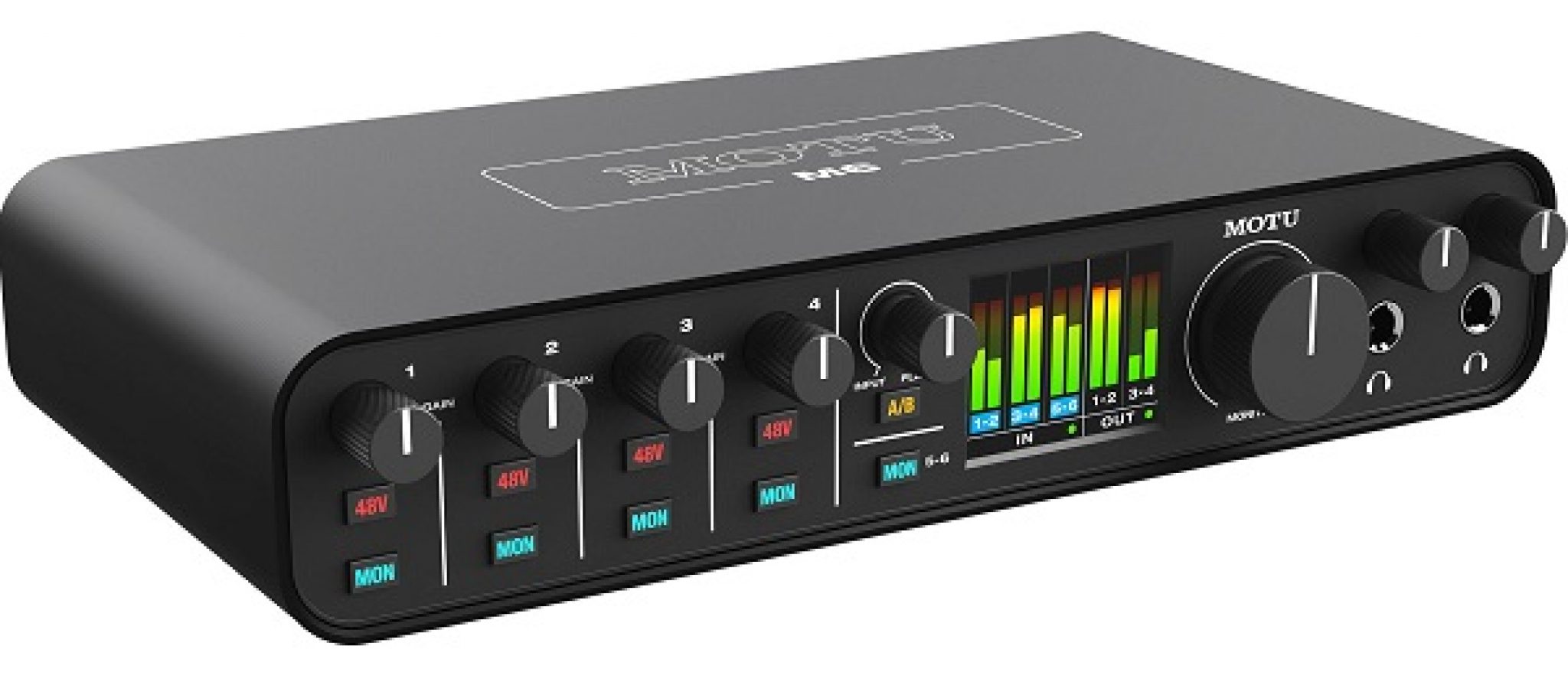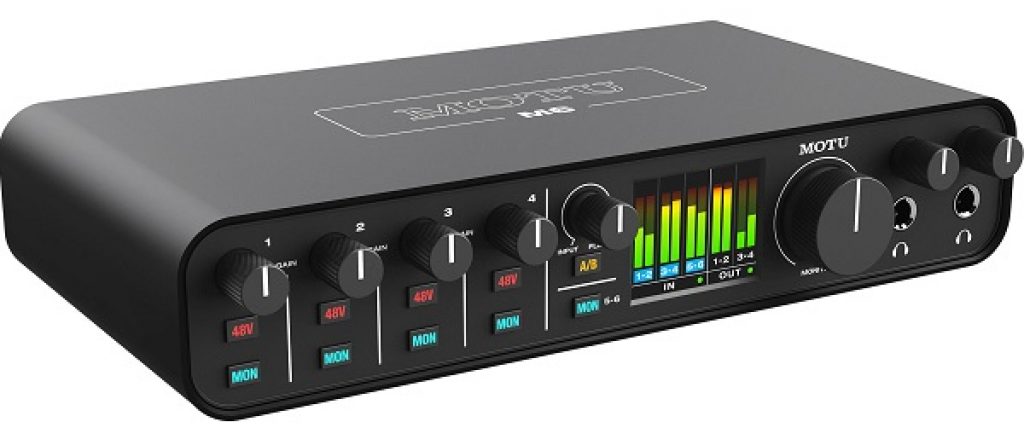 USB-C connection
Dimensions (W x D x H): 234 x 120 x 46 mm
Weight: 0.975 kg
---
MOTU M6 Review
A brand new audio interface comes from MOTU, the M6 unit that is a USB-C model compatible with Mac and Windows. This unit will provide the best audio quality and speed in terms of latency and has a really nice metering on it with a full-color LCD display to additionally help you with monitoring levels.
Compared to the earlier models, the M2 and M4, the ports for the microphones are placed on the back for the sake to reduce clutter on the front panel of the interface. Also, this will allow the audio interface to remain compact since you will not have four knobs on the front as well.


MOTU M6 Features
In this interface, you will be able to find 6 inputs. Four of them can be used with combined XLR/TRS jacks and two can accept 1/4 inch line units. As said above, MOTU decided to place all the inputs on the back of the unit, which we found to be really nice to avoid clutter and reduce cables on the front.
Another useful thing that is found here is that the audio interface has outputs to place 2 sets of studio monitors and you can easily switch between them with the knob that is found on the front panel.
An ESS Sabre32 Ultra DAC technology was used to drive both of the headphone outputs, which is really great – and also you will be able to find a separate volume knob for each output. This DAC technology can give up to 120dB of dynamic range which will ensure that the headphones will deliver nice audio quality up to studio standards.
The MOTU M6 also supports up to 32-sample buffer with a round trip latency low down to 2.5ms at 24-bit/96kHz which is spectacular. All of the necessary connections can be found on the interface, so you will lack no flexibility in terms of that. Even MIDI ins and outs are there.

You will also have the chance to use the M6 as a standalone, meaning that can be used as a preamp or a mixer without a computer. You just need to use the multi-blade international DC power adapter and you are good to go.
By activating the monitor button, you will be able to track and monitor the 6 inputs and 48v phantom power if necessary to adjust the levels as needed. You will also have the option to connect the main outputs to a line-level receiver similar to PA or a patch-bay.
As stated by their marketing director, the MOTU M6 will give the sonic quality as its younglings, the M2 and M4, and even will provide additional features for a similar price.
Loopback functionality
In case you are a person that works as a streamer or podcaster, the loopback functionality on the interface will come in handy to you. If you use the loopback, you can mix the microphone signal with any other input signals from the computer and get it mixed back into the computer as well.
You will be able to control this with a mix knob that is found on the interface and end up with a balanced signal that will be ready for your podcasts or reaction videos.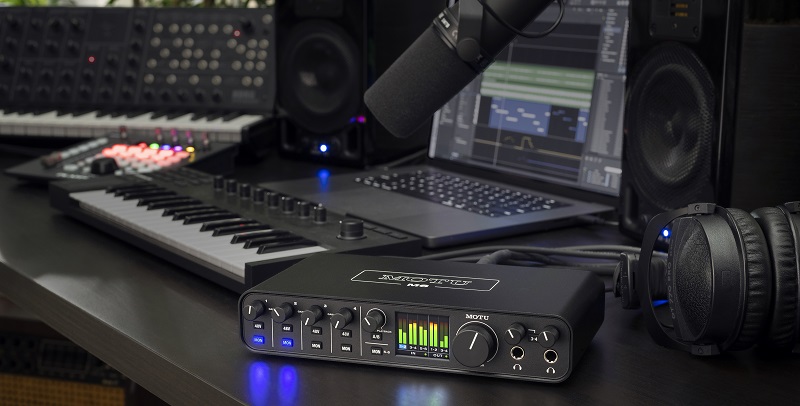 Software Bundle
With this unit, you will also be getting some freebies in terms of software like the Performer Lite or Live Lite + you will get a lot of loops and one-shot sound effects from brands like Big Fish Audio, Lucidsamples, and Loopmasters.
The MOTU Performer Lite
The Performer Lite gives the user all the required elements to record, mix, trim and edit and post-process a complete song or a recording done with the M6. It has over 100 virtual instruments, and lots of audio-processing plugins for vocals, guitars, drums, etc.
Ableton Live Lite
The Live Lite 11 that comes with this interface is already known to the world and many beginner engineers and producers are already using it. This DAW will also get you started in the production process and will give you all the necessary tools to work on your craft.
Over 100 VST Instruments
The interesting part starts here. You will have over 100 Virtual Instruments that come with Performer Lite of many various backgrounds. Not to list them all, but you will have anything that you need – from acoustic instruments to synths and basses + drums included. It will be only up to you which you prefer to use to improve your production.
Sounds and Loops
To further provide you with ways to create music and get you started, you will also get 6GB of free loops and samples from trusted and leading developers. You will be able to easily use them in your DAW, but we will leave that up to your imagination.
Motu M6 Brief Features
6-in/4-out USB-C audio interface
ESS Sabre32 Ultra DAC technology delivers 120dB of dynamic range
Optimized drivers yield round-trip latency as low as 2.5ms at 24-bit/96kHz with a 32 sample buffer
Full-color LCD screen
4 great-sounding microphone preamps
1-touch hardware monitoring on all inputs
Loopback for live streaming and podcasting
USB bus-powered for the ultimate in portability
6+GB of free loops, samples, and 1-shots from industry-leading libraries
---
Why You Need the Motu M6
So you think it's time for a new audio interface and you are still choosing between models? Do you want something innovative and easy to use to improve your workflow? Well, we think that the MOTU M6 is a unit that you will need to give attention to.
With all the best and newest technologies included in it, you are getting a really complete unit that will serve many uses. You can be a podcaster, streamer, recording, or mixing engineer – you will find your way around this audio interface and record the audio signal to the utmost quality.
Also to mention, if you are a beat maker, this interface is really compatible with all the software that is known for beat making, and with the freebies that you will get, you will expand your horizons even more. The only thing that we can say about it is that it doesn't have optical ins or outs, but we can get past that without any issues.
MOTU M6 Review
There are six inputs on the MOTU M6, four of which accept mic, line, and Hi-Z instrument signals, and two of which accept 1/4″ line signals.
Positives
Latest Technologies Used
Great Latency Response
Amazing Preamps
Versatile
Negatives
Cannot be fitted in a rack
A learning curve with the loopback
Conclusion
MOTU is a brand that was around for a long time and with longevity comes experience and improvement. Well, that is the case with this unit and we have no bad word about it. With a nice price, full of crucial features, and a load of freebies, the M6 by MOTU is a unit for everybody.