MOTU M6 6×4 USB-C Audio Interface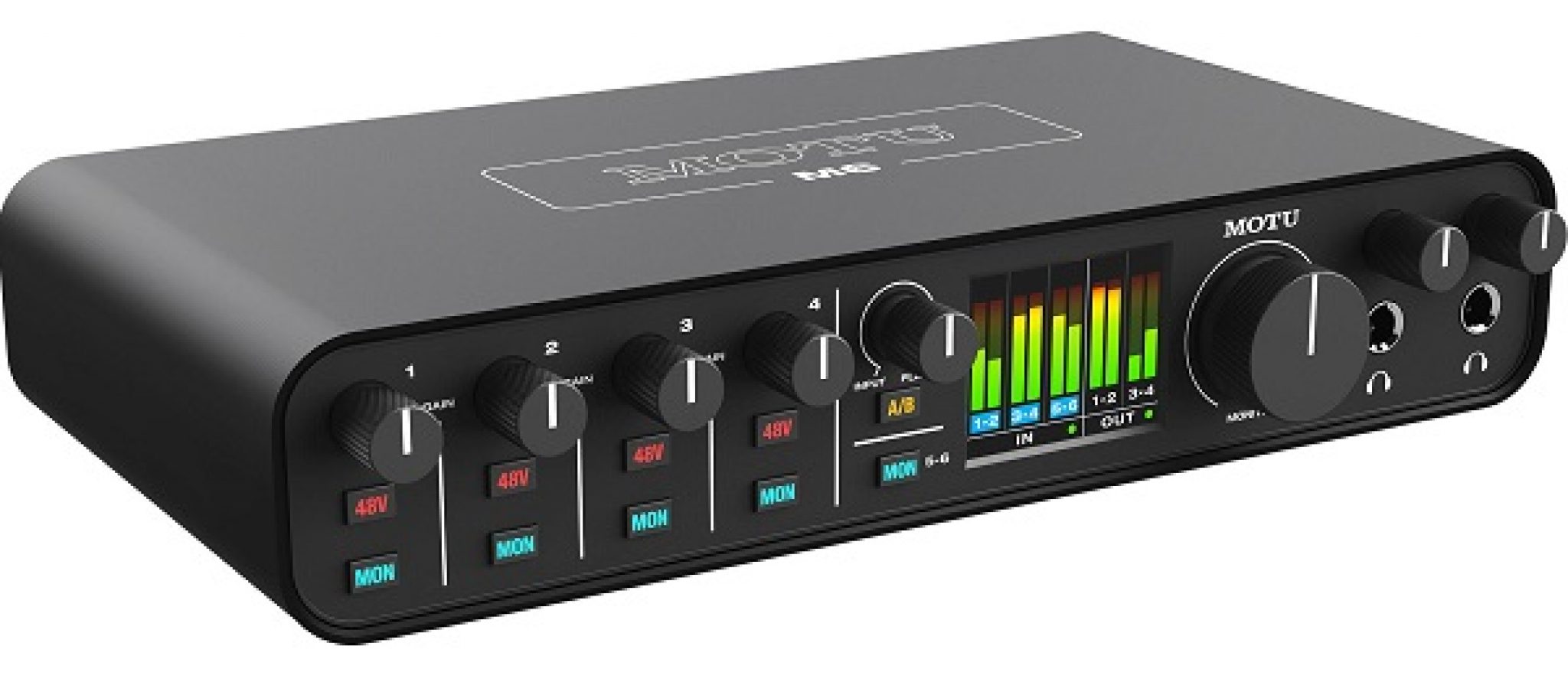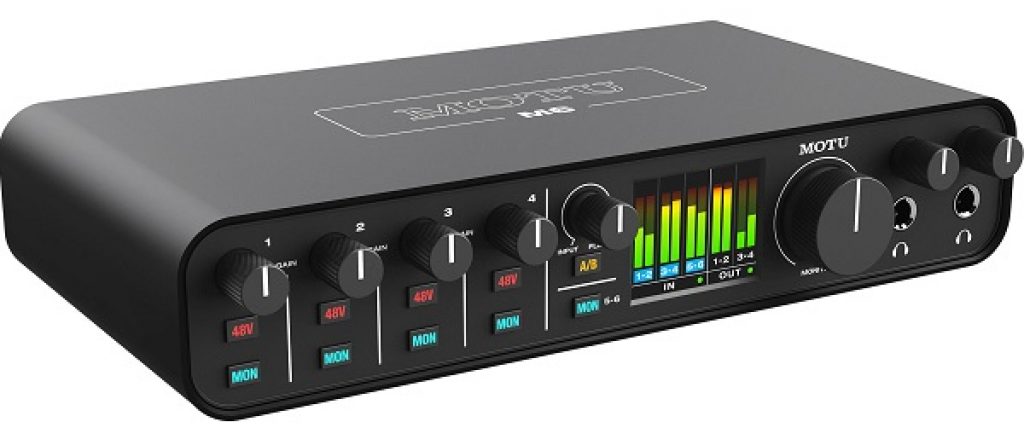 USB-C connection
Dimensions (W x D x H): 234 x 120 x 46 mm
Weight: 0.975 kg
---
MOTU M6 Review
It has now been announced that MOTU will be shipping the M6, a new USB-C audio interface for Mac, Windows, and iOS. The M6 offers best-in-class audio quality as well as best-in-class speed (ultra-low latency) and best-in-class metering with a full-color LCD display.
Although the M2 and M4 have microphone inputs on the front panel, the manufacturer decided to put the jacks on the back of the M6 in order to reduce the clutter on the front panel. Furthermore, this allows the interface to remain compact since it would have been necessary to cover four combo jacks with gain knobs on the front of the enclosure.


MOTU M6 Features
There are six inputs on the MOTU M6, four of which accept mic, line, and Hi-Z instrument signals, and two of which accept 1/4″ line signals. The first thing that strikes the eye is that MOTU has positioned all of the inputs at the back of the unit.
In addition, the M6 features an A/B monitor switch, which is unique in its class, and allows users to compare mix output on two sets of studio monitors at the same time. ESS Sabre32 Ultra DAC Technology drives both headphone outputs and features independent volume control for each.
The ESS Sabre32 Ultra DAC technology provides 120dB of dynamic range, ensuring that the M6's analog audio quality will stand up to the most sophisticated equipment on the market.
With a 32-sample buffer, optimized drivers provide a round-trip latency as low as 2.5ms at 24-bit/96kHz. In addition to four mic/line/high-Z guitar inputs on combo XLR/TRS jacks, four DC-coupled analog outputs, and an ESS-driven stereo headphone output, the M6 includes all the necessary connections. Additionally, MIDI I/O is provided.

It is possible to use the M6 standalone as a preamp and mixer without the use of a host computer by using the included multiblade international DC power adapter. Activate the monitor button to monitor all six inputs (and 48V phantom power if necessary) and adjust the preamp gain as needed. It is possible to connect the main outs to any line-level destination, such as a PA or patch bay.
According to Jim Cooper, Director of Marketing at MOTU: "Similar to the M2 and M4, the M6 provides unmatched audio performance and features at this price."
Loopback functionality
If you are a live streamer or podcaster, you will appreciate the loopback functionality of the MOTU M6. By using loopback, you can blend your microphone or other input signals with the output from your computer and then send the blended signal back to the computer.
By using this method, you are able to record both the output of your computer and the inputted material. There is also a mix knob on the M6 that allows you to balance your live input with the playback from your computer.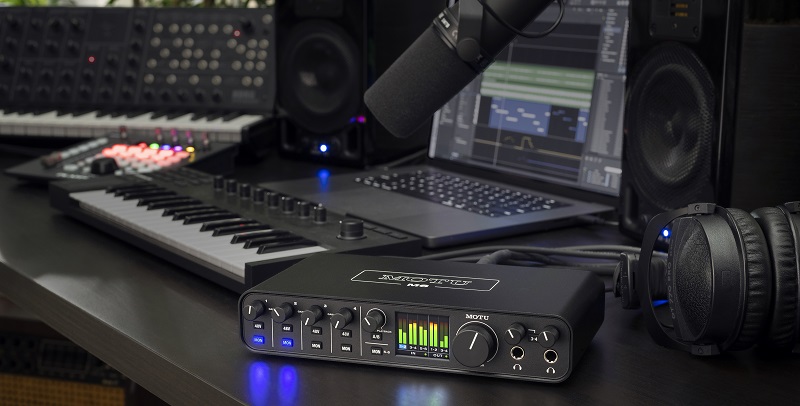 Software Bundle
With the M6, you can create tracks with the included Performer Lite or Live Lite software, as well as thousands of loops and one-shots from industry leaders Big Fish Audio, Lucidsamples, and Loopmasters.
The MOTU Performer Light
Performer Lite provides all the tools you need to easily record, edit, mix, process, and master your own music tracks. Over 100 virtual instruments, dozens of effects plug-ins, guitar FX processing, and more are available when you plug in your microphone, guitar, and MIDI keyboard.
Ableton Live Lite
The Ableton Live Lite 11 application is a lightweight version of the Ableton Live 11. This bundle includes all the essential workflows, instruments, and effects for recording songs, creating music with your controller, taking music created in your apps further, and much more.
Over 100 VST Instruments
There are over 100 virtual instruments included with Performer Lite, including acoustic and electric pianos, guitars, basses, drum machines, organ synths, orchestral instruments, choirs, world instruments, and many others. Let your musical muse lead you wherever it wishes.
Sounds and Loops
To assist you in starting to create music right away, you receive 6 GB of free loops and sample packs from leading sample content providers. Build your track quickly by dragging and dropping between dozens of musical styles on your project's timeline.
Motu M6 Brief Features
6-in/4-out USB-C audio interface
ESS Sabre32 Ultra DAC technology delivers 120dB of dynamic range
Optimized drivers yield round-trip latency as low as 2.5ms at 24-bit/96kHz with a 32 sample buffer
Full-color LCD screen
4 great-sounding microphone preamps
1-touch hardware monitoring on all inputs
Loopback for live streaming and podcasting
USB bus-powered for the ultimate in portability
6+GB of free loops, samples, and 1-shots from industry-leading libraries
---
Why You Need the Motu M6
If you are after a trusted unit built by a trusted developer and on top of that to get something that is built not a while ago with the best and newest of technologies then Motu is a great choice for you.
No matter if you are after a streaming interface or if you need to record yourself at home or even a small band, you will be able to do it with this audio unit without any hassle. Also, with the freebies that are coming with this device, you will be ready to start and produce your own music!
Also, if you are a beginner beat maker, this one counts as the best audio interface for beat making since it is really compatible with all beat-making software. One thing that lacks is that this is not an audio interface with optical input or output, but we believe that you can go over that.
MOTU M6 Review
There are six inputs on the MOTU M6, four of which accept mic, line, and Hi-Z instrument signals, and two of which accept 1/4″ line signals.
Positives
Latest Technologies Used
Great Latency Response
Amazing Preamps
Versatile
Negatives
Cannot be fitted in a rack
A learning curve with the loopback
Conclusion
Motu was always a brand that was out there providing us with some great units. Not only audio interfaces, but other devices as well, which can be noticed on their website and portfolio. And Motu M6 is no exclusion to that – amazing sound and amazing features great for every music lover.
If you are having any questions in regard to this great interface, please let us know in the comment section below or reach out to the Motu customer service page.