Avid MBOX Studio USB-C Audio Interface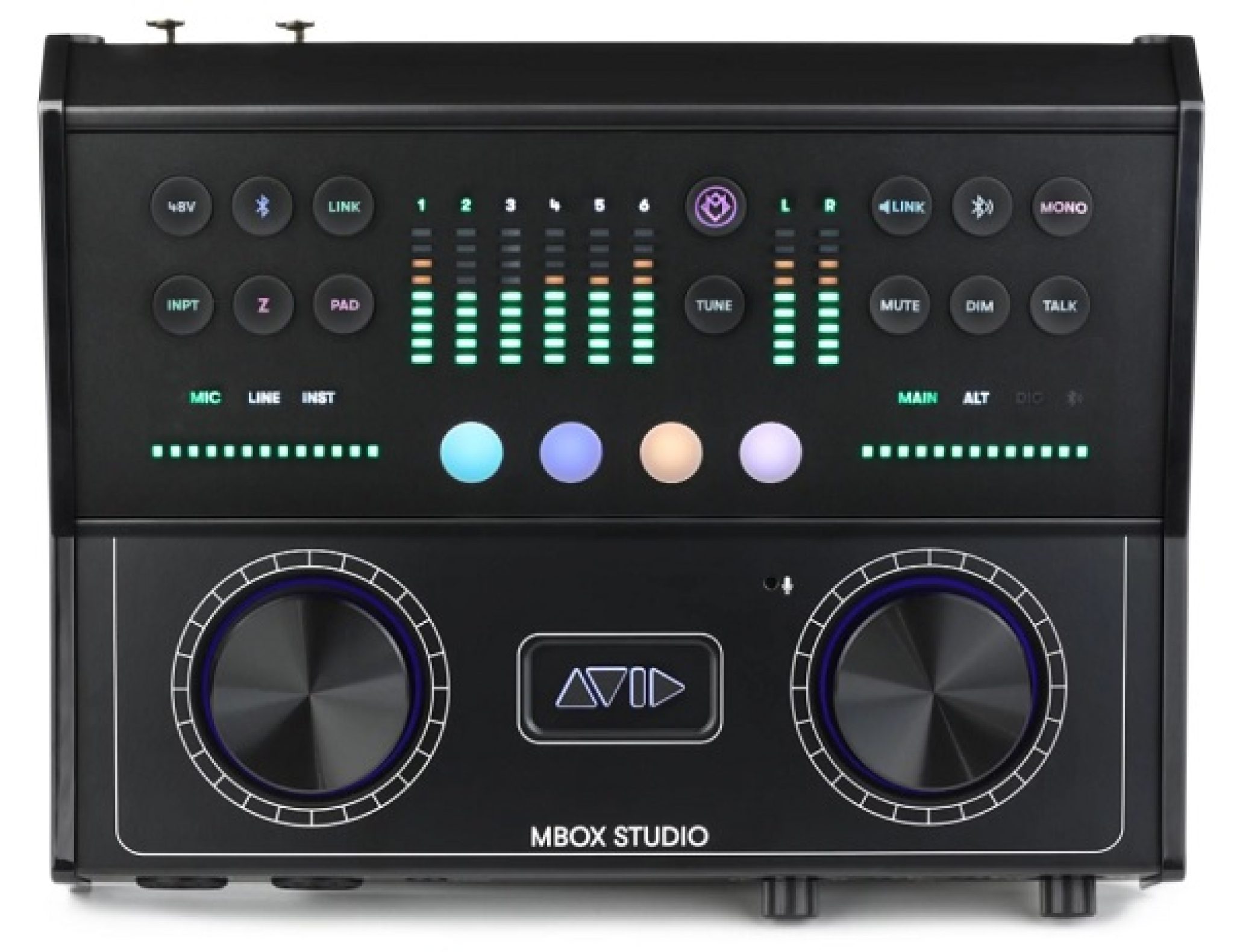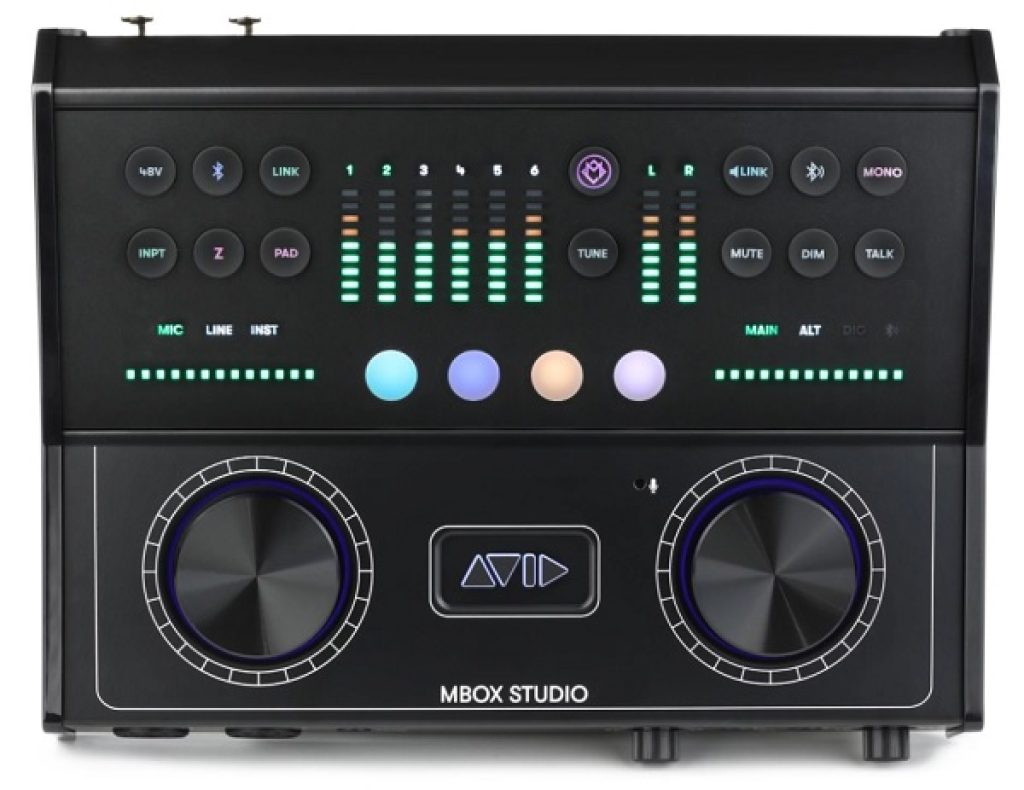 USB-C 2.0 Audio Interface
Dimensions (WxDxH): 288 x 225,3 x 105,2 mm;
Weight: 2,8 kg
---
Avid MBOX Studio Review
Take your studio equipment to the next level with the most comprehensive desktop interface ever created. MBOX Studio is powered by Pro Tools Interface Studio and includes all you need to create, record, edit, mix, and podcast music and audio.
You can turn your ideas into the next big hits with ease using low-latency tracking, real-time effects, and 21 x 22 simultaneous inputs/outputs (including four Variable Z mic/line inputs).
Take your mixing to the next level with loopback mixing, guitar reamplifying, and multi-monitor control. Also, with the MBOX Ignition Pack, you will have access to a remarkable collection of instruments, plugins, and loops.

MBOX Studio Design and Controls
On the left side, you control the input section, where you can indent the large encoder knob to select a channel, then adjust the gain. Above the encoder are dedicated buttons for selecting input type, adjusting impedance settings, turning on phantom power, and engaging the wireless Bluetooth input.
There is a 13-segment display above each encoder that displays the current parameter settings, while nine-segment meters indicate the level of the incoming signal and the level of stereo output.
Monitor controls on the right side enable you to select the output and then adjust its level by indenting the large encoder. There are buttons available for muting or dimming the outputs, summing to mono, and linking the main and alternate outputs so that abrupt volume jumps do not occur when switching between monitors.
Talkback is activated by the talkback button and can be routed to your audio editing software for recording. The Bluetooth button allows you to transmit the output wirelessly to compatible devices, and the MBOX Studio is equipped with two Bluetooth chips, enabling you to connect one device as a source of input and a second device for monitoring and recording.
In the center section of the controller, there are four dual-function user-action buttons with which you can recall MBOX Control presets with EQ, gain, and routing settings with a single touch. There are also additional MBOX and Pro Tools functions available here.
The buttons are assigned in the MBOX Control software on your Mac or Windows computer. It is possible for podcasters to record incoming calls, music, or video dialog back to their computers using loopback capabilities.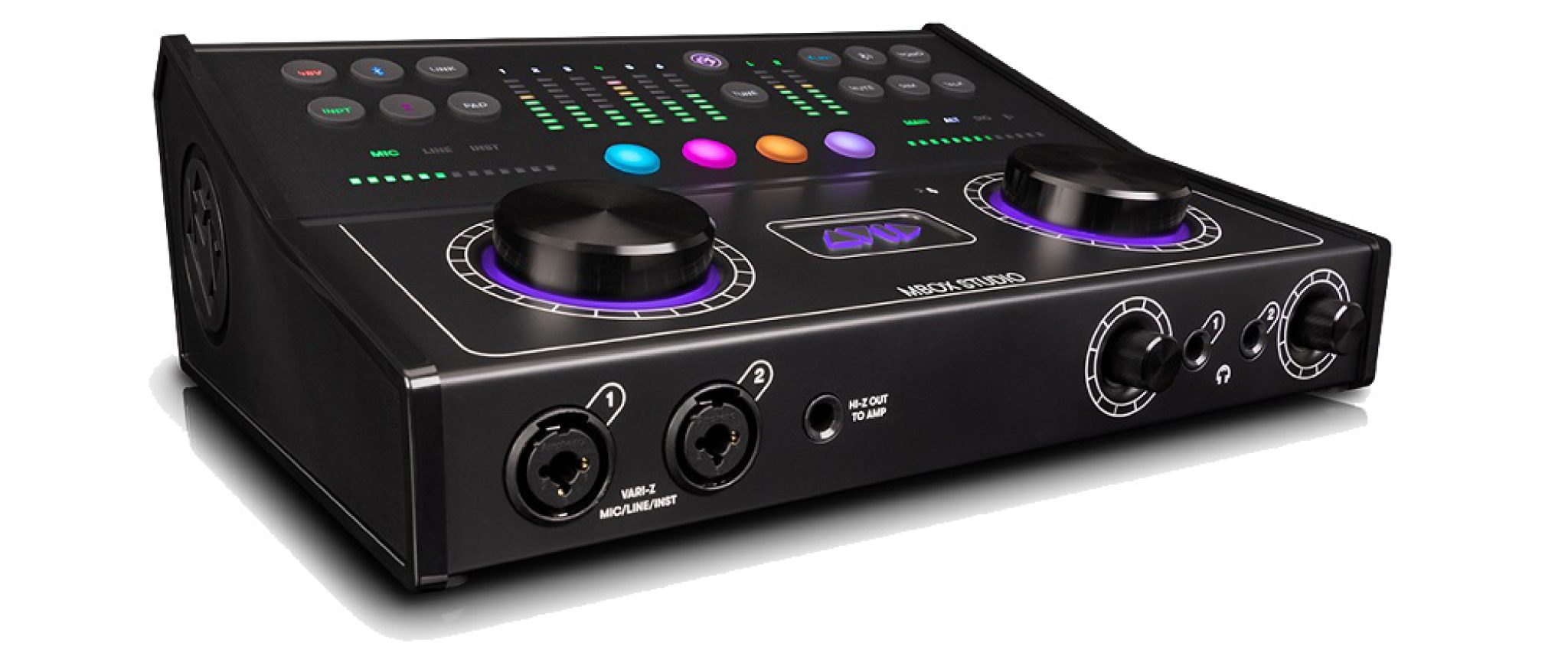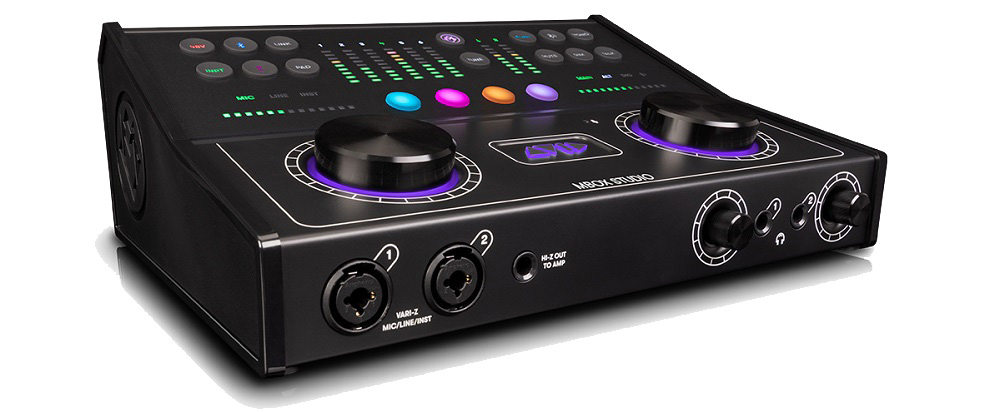 Avid MBOX Studio Features
Inputs and outputs are plentiful on the MBOX Studio, making it suitable for a wide range of studio setups. In addition, there are two sets of monitor outputs and two headphone outputs with independent cue mix controls, along with four additional line inputs that can be used to connect multiple synths or other line-level sources.
Among the additional I/O options are eight channels of ADAT optical, two channels of S/PDIF via coaxial cable, MIDI input and output, and two footswitch/expression pedal inputs.
It is true that the MBOX Studio is packed with features, but it does not compromise on the most important aspect – sound quality. In addition to Avid's latest generation of ultra-clean preamps and high-performance D/A and A/D converters, this interface supports 24-bit, 192 kHz quality, so anything you record using this interface will sound exactly the way you intended it to sound.
Variable Z instrument inputs are ideal for guitarists, as they allow you to adjust the impedance for optimal tone when using different guitars and pedals. An impedance-matched Hi-Z output lets you send your signal back to an amplifier for further amplification, and dual effects loops make integrating your own outboard effects a breeze.
Included are Eleven MK II and Brainworx bx_rockrack amp simulators, which feature a wide range of classic and modern amplifiers and effects, and a built-in tuner to ensure each take is accurate.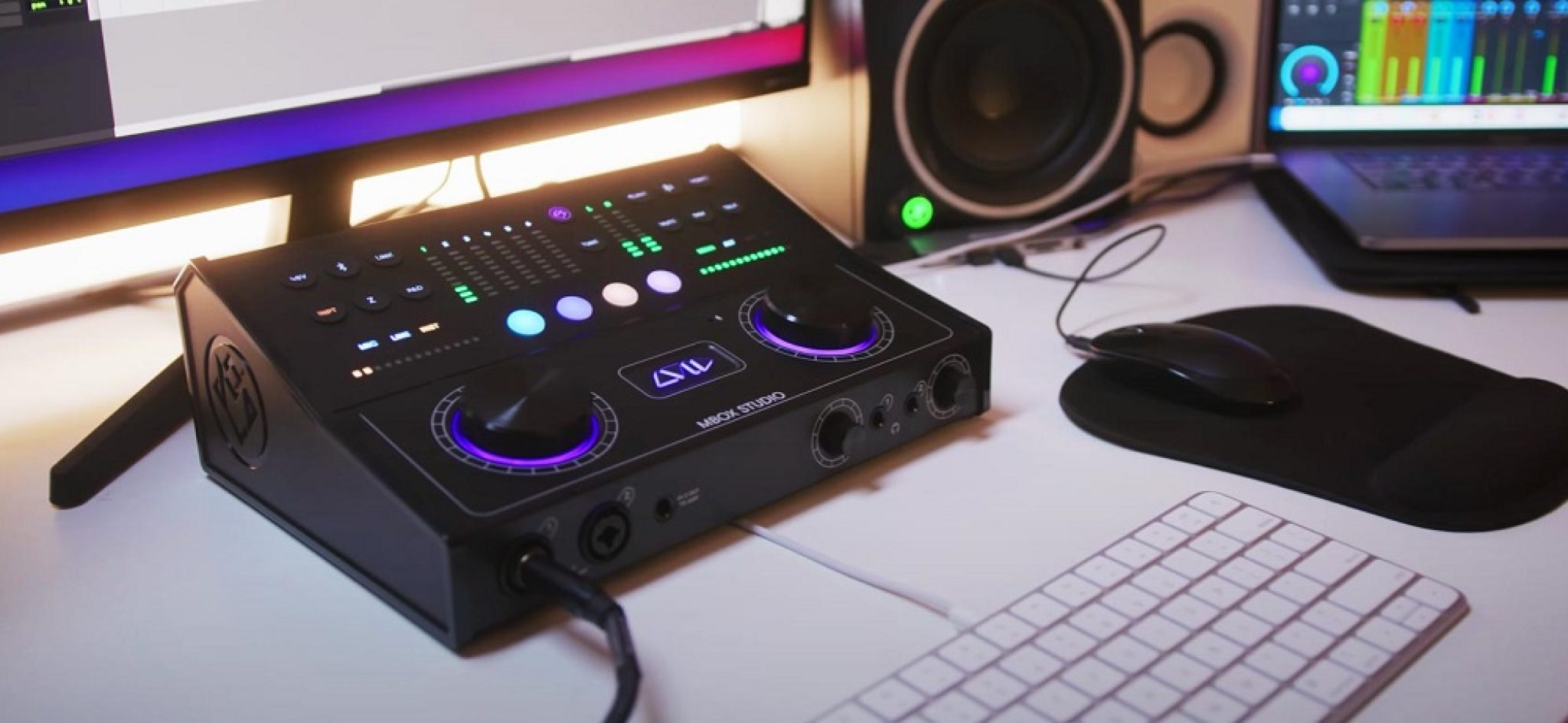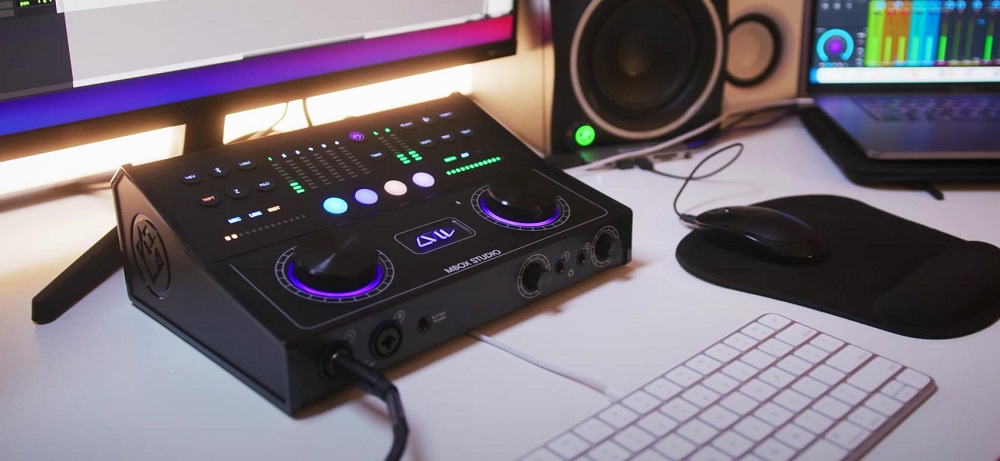 Podcasting Features
Using MBOX Studio, you will be able to produce podcasts and live streams in broadcast quality easily. You can record yourself and your guests using four Variable Z mic preamps, optimize each mic tone, and add real-time EQ, reverb, and delay to each microphone.
With Loopback, you can capture your dialog, as well as the audio from a video game or YouTube video, for gameplay and reaction videos. You will also have access to a large library of plug-ins, sound effects, and loops to enhance the quality and excitement of your productions with Pro Tools Studio and MBOX Ignition Pack included.
---
In contrast to the simple audio interfaces of the past, MBOX Studio expands and accelerates your workflow. Easily access your favorite functions by mapping its buttons. It is possible to work with audio, MIDI, notation, and 4K video. You can jam with your iPhone.
Providing voiceovers and sound design for pictures. Podcasts and live streams with loopback mixing are available. You may even use it as a standalone monitor controller.
An intuitive desktop interface makes it easy to create music with the recording power of a professional studio
Beat-making and recording studio-quality music was never easier than with real-time effects and low-latency monitoring
A/D and D/A conversions ensure pristine sound quality when recording and mixing music
A vast library of virtual instruments, samples, and loops, as well as easy-to-use recording and MIDI tools, will inspire your creativity
An intuitive interface and software bundle enable guitarists to capture the perfect guitar tone
Using independent cue and monitor mixes with monitor switching, record voiceovers and perform sound editing
Your guests and you will be able to produce great-sounding podcasts and live streams with four high-quality mic preamps with tonal options each
You can easily capture your dialog as well as audio from a video game, YouTube, or other sources using Loopback mixing
Easily perform frequently used actions with user-assignable buttons
With a wide selection of sound effects and tools to create music intros and outros, you can enhance recordings and make them shine
Monitor and record sources using your iPhone, AirPods, and other Bluetooth-enabled devices


MBOX Studio Brief Features
Producers, Artists, and Content Creators
USB-C for Computer Connectivity
4 Variable Z Mic Preamps (2 with Hi-Z)
Main & Alt Monitor Outs, 2 Headphone Out
24-Bit / 192 kHz AD/DA Conversion
External PSU / Mac & Windows Compatible
2 Hi-Z / Line Out FX Loops, 1 Reamp Out
Monitor Control, Loopback & Talkback
Pro Tools, Sibelius, Plug-Ins & Samples
---
Why You Need the MBOX Studio by Avid
Avid is widely known for its high-quality products. You will be able to find Avid units in almost all of the professional studios and that is for a good reason. They produce units that are up to the industry standards, easy to use, and most important of all – give great sounds.
Well, the MBox is such a unit. With a price of around $900, this can be the centerpiece of your home project studio or your professional setting as well. And with the features that it comes with, you will not need to worry for some time, since you will be covered for a longer period of time. Probably the best USB audio interface among all the USB audio interfaces released in 2022! Another gem, no doubt about it!
Avid MBOX Studio
MBOX Studio is powered by Pro Tools Studio and includes all you need to create, record, edit, mix, and podcast music and audio.
Positives
Great Sound
Amazing Preamps
DSP Performance
Sturdy Built
Negatives
Might be above the budget for beginners
Conclusion
All in all, this is a great item to possess. If it's time for you to upgrade your audio interface, and you do not need to worry about the cash spent, this is a great choice. We hope that our review will convince you to get it and make yourself with a new unit.
If you are having any questions or concerns about this device, please let us know in the comment section below or reach out to the Avid customer service page for more detailed answers.
Below you will be able to find more related articles: