Avid MBOX Studio USB-C Audio Interface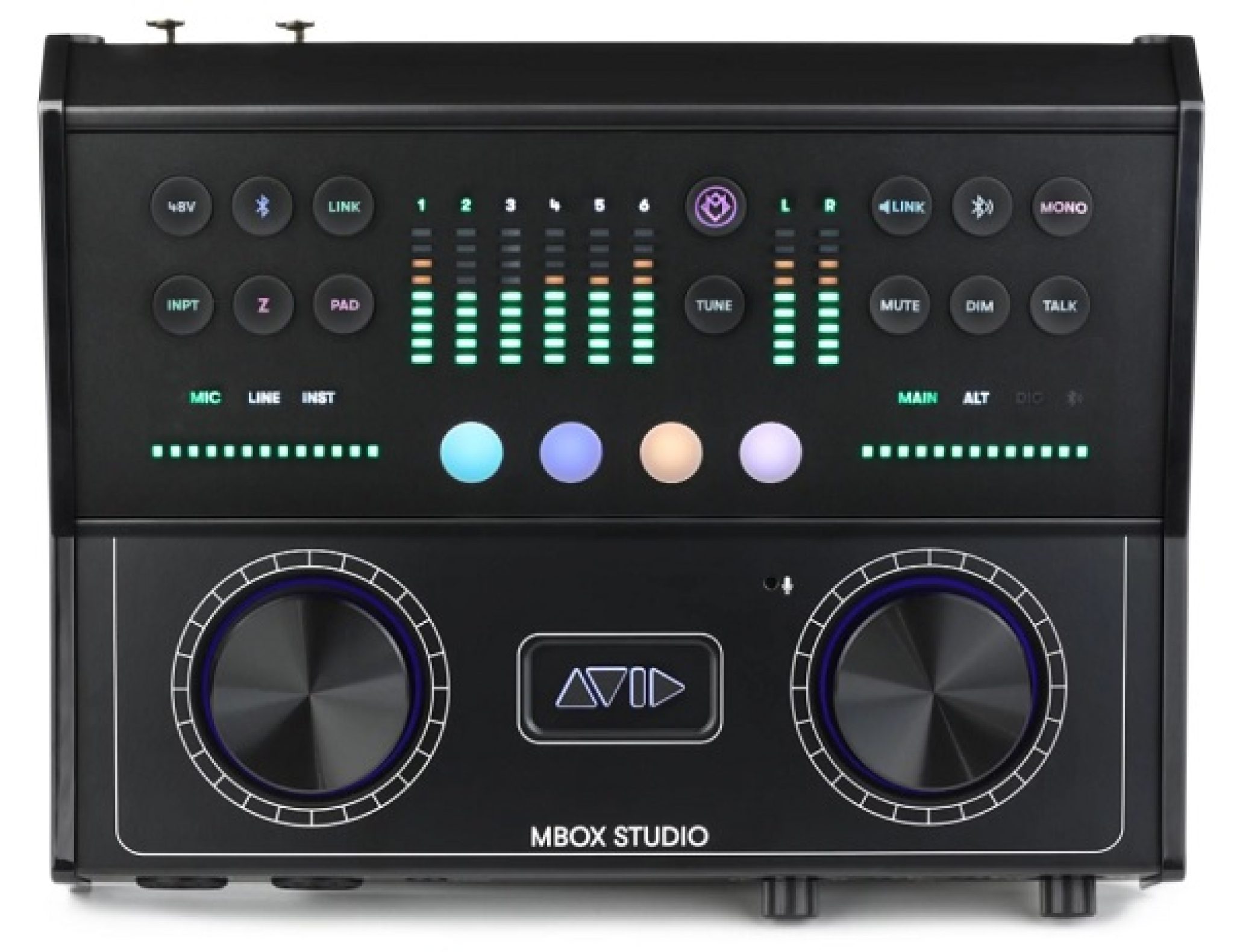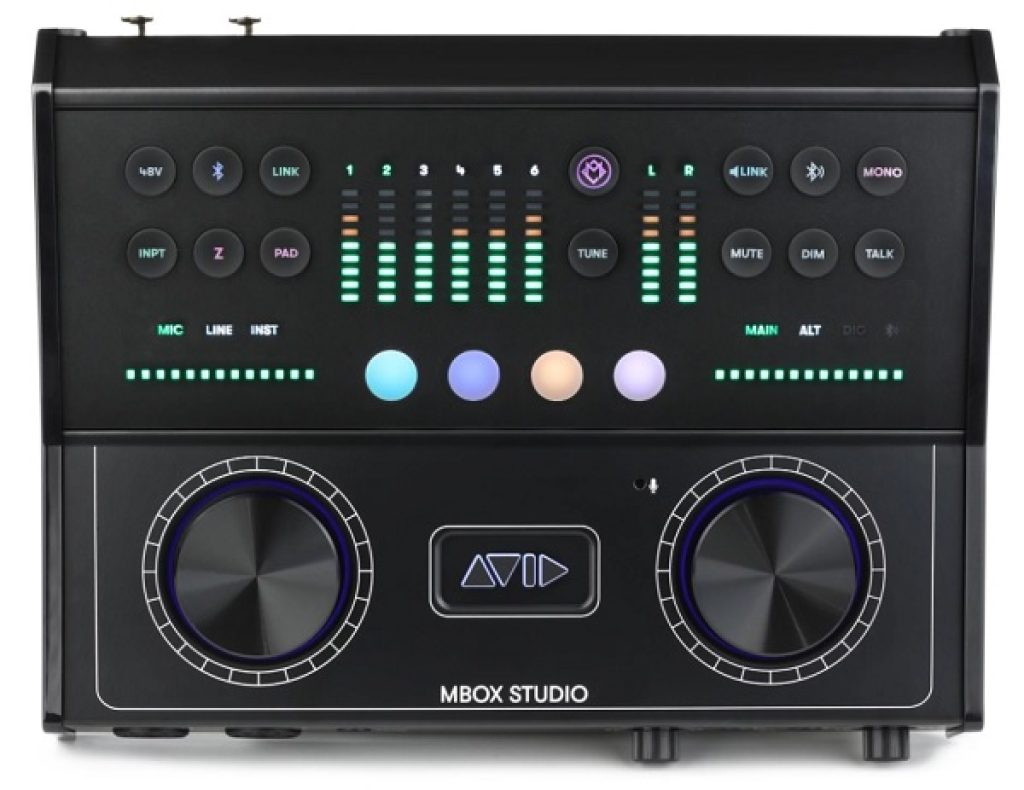 USB-C 2.0 Audio Interface
Dimensions (WxDxH): 288 x 225,3 x 105,2 mm;
Weight: 2,8 kg
---
Avid MBOX Studio Review
Take your study experience to the next level with this new and amazing desktop interface by Avid. The inbox studio is powered by the Pro Tools interface and it includes everything that one interface needs to have which is the ability to record, mix, edit, and use it as a podcasting unit.
With easy setup and high quality, you will be able to turn your ideas into something that might become the next big hit. With very low latency tracking, usage of real-time effects, and having a lot of simultaneous inputs and outputs that include the variable the mic/line inputs.
This is our pick for the audio interface for this week. The unit will be able to help you with loopback mixing, guitar re-amplifying, and as a multi-monitor control unit. Also with the MBox, you will have a remarkable collection of virtual instruments, audio effects, plugins, and sound effects that you can use for your production.

MBOX Studio Design and Controls
Let's start with the design of this unit. On the left side you will be able to control the input section, where you can find a large encoder knob to select the channel and after that adjust the gain to your liking. Above the knob, you will be able to find dedicated buttons to select the input type, the settings of the impedance, to turn off and on the phantom power, or engage the Bluetooth wireless feature.
Besides that, there is a 13-segment display above each encoder that will show you the current settings while the 9-segment meters indicate the level of the signal that is coming into the interface and show the level of the stereo output.
On the right side, you will be able to find the monitor controls that will help you with setting the level that comes out of the speakers. There are also buttons that will allow you to mute or dim the outputs, sum them down into a mono, or link the main and alternate outputs for a seamless transition between monitors.
You can also activate the TalkBack with the TalkBack button that can be routed into your audio editing software in case of recording. The unit also gives you the Bluetooth feature and if you are in need of such a feature from your audio interface you will be able to use it to your liking.
Right down at the center of the controller, there are four dual-function user action buttons that will help you to recall presets, no matter if it is an equalizer, gain, or routing settings with a single touch. Since the control software can be used on both Mac and Windows you will be able to assign the buttons to the function that you will find most useful.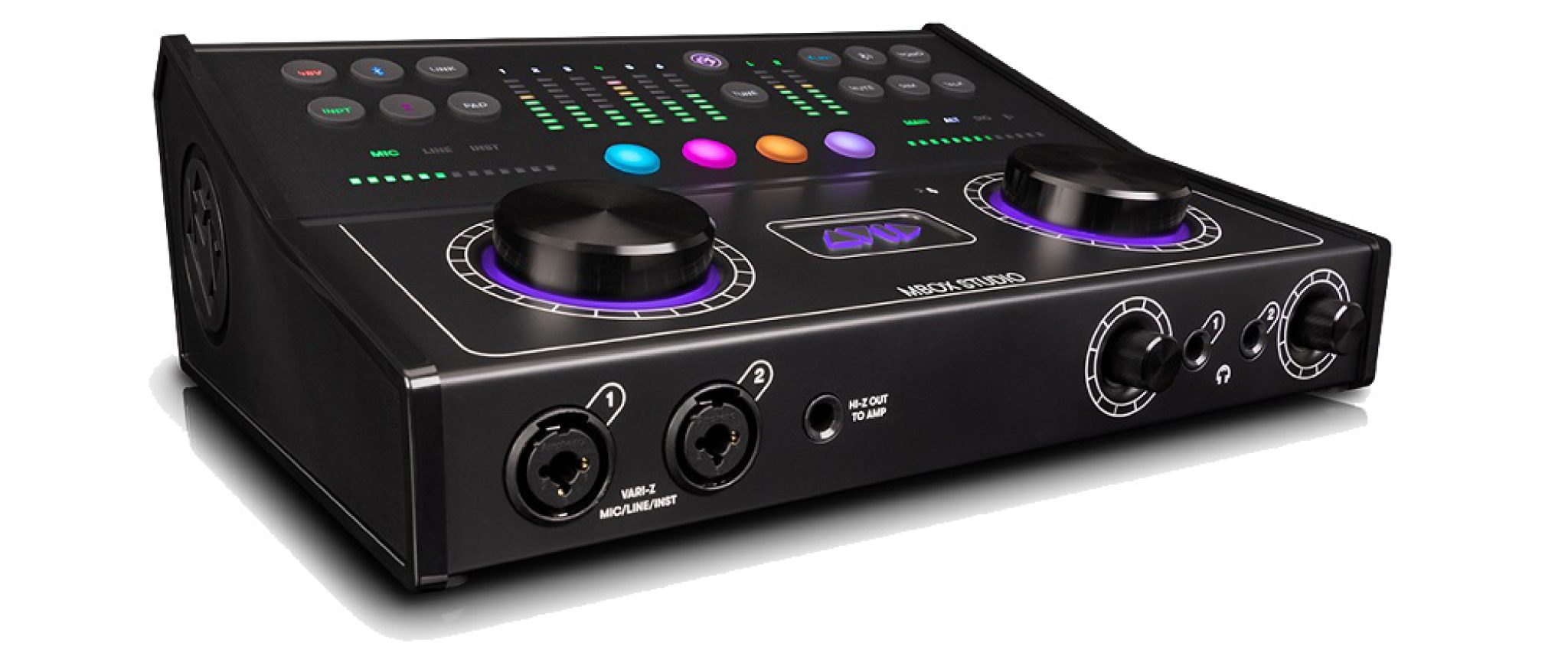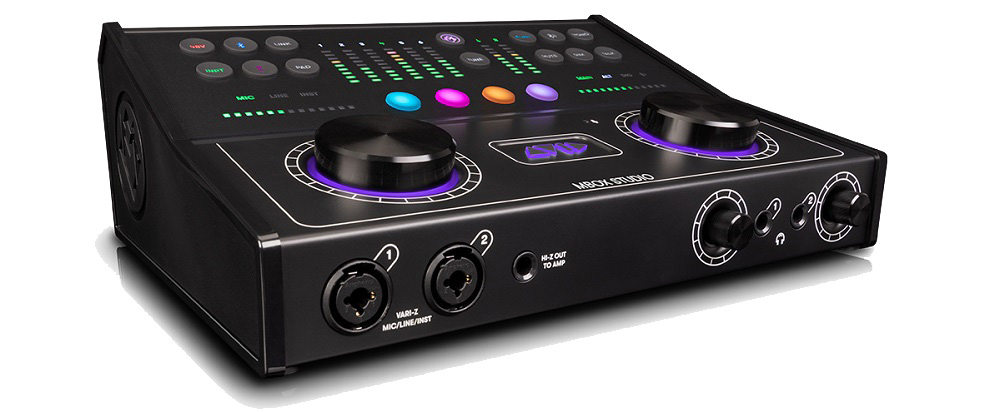 Avid MBOX Studio Features
In terms of features when it comes to inputs and outputs there are a lot in this unit, making it suitable for various studio setups. This means that this unit can be used by both beginner mixing engineers and advanced ones that really need more inputs and outputs for their production. Besides that, you will get two headphones outputs with separate controls to connect two sets of headphones for your tracking.
Besides the additional inputting and outputting options, you will be able to get 8 channels of ADAT optical, 2 channels of S/PDIF via coax cable, MIDI input and output, and 2 footswitch or expression pedal inputs.
All of those functions that this audio interface provides might be overwhelming but that doesn't mean that it lacks something. The most important point of every unit like this one is the sound quality. And we can surely say that this unit has ultra-clean preamps with high-performance analog-to-digital and digital-to-analog converters that support 24 bits and up to 192kHz of quality which is more than enough to record professionally.
With variable Z instrument inputs, you will be able to record guitars as they allow you to adjust the impedance for the standard tone that is used by various guitars and guitar pedals. Besides that, the high Z output will send the signal back to the amp without the need for further amplification, making the output connection easy as a breeze.
With the unit, you will also get various audio effect plugins that are great simulators of various amplification units for guitars – that will get you started in the production and assist you to make great recordings.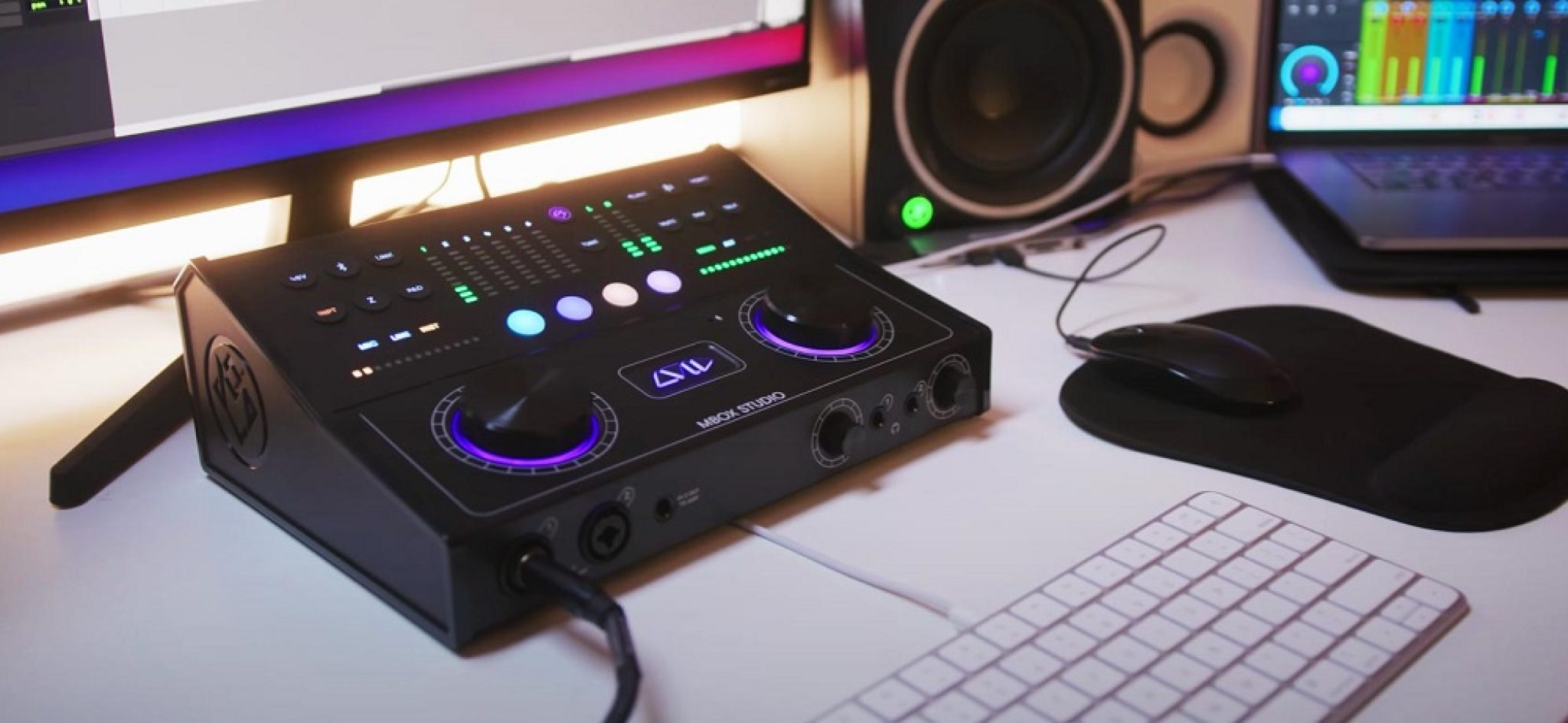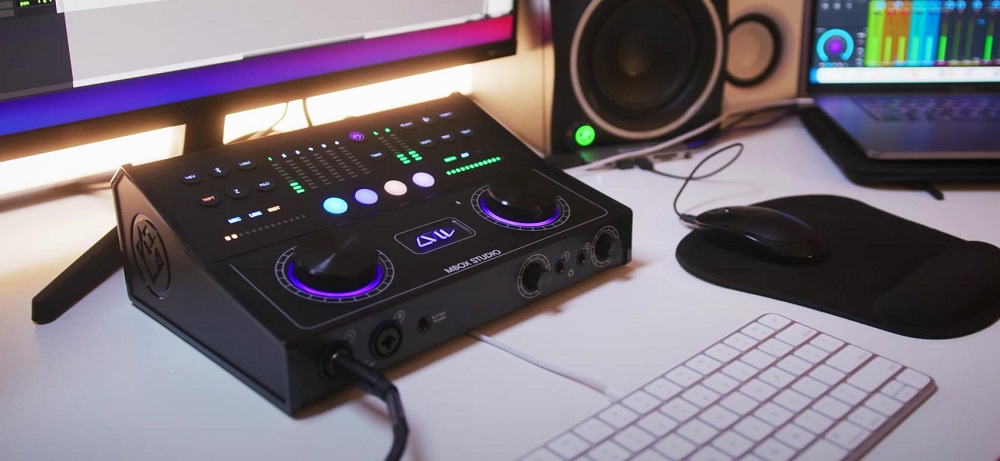 Podcasting Features
Using the MBOX Studio audio interface makes it easy to produce podcasts or live streams with a very high quality that will surpass your competitors. You can record yourself and the guests you will have in your podcast with high-quality preamps and provide very nice audio quality to your listener. Also, you can add real-time effects to the recording such as equalizer reverb or delay to each microphone separately.
With the loopback feature, you will be able to record the dialogue and also get the audio from a video game or a YouTube video for reaction videos. With the vast library that comes with plugins and sound effects, you will have the chance to improve and add excitement to your podcasts that will separate you and take you one step above everybody else.
---
Below you can find some interesting features that MBOX Studio has that might help you make a purchasing decision:
An intuitive desktop interface makes it easy to create music with the recording power of a professional studio.
Beat-making and recording studio-quality music was never easier than with real-time effects and low-latency monitoring.
A/D and D/A conversions ensure pristine sound quality when recording and mixing music.
A vast library of virtual instruments, samples, and loops, as well as easy-to-use recording and MIDI tools, will inspire your creativity.
An intuitive interface and software bundle enable guitarists to capture the perfect guitar tone.
Using independent cue and monitor mixes with monitor switching, record voiceovers and perform sound editing.
Your guests and you will be able to produce great-sounding podcasts and live streams with four high-quality mic preamps with tonal options each.
You can easily capture your dialog as well as audio from a video game, YouTube, or other sources using Loopback mixing.
Easily perform frequently used actions with user-assignable buttons.
With a wide selection of sound effects and tools to create music intros and outros, you can enhance recordings and make them shine.
Monitor and record sources using your iPhone, AirPods, and other Bluetooth-enabled devices.


MBOX Studio Brief Features
Producers, Artists, and Content Creators
USB-C for Computer Connectivity
4 Variable Z Mic Preamps (2 with Hi-Z)
Main & Alt Monitor Outs, 2 Headphone Out
24-Bit / 192 kHz AD/DA Conversion
External PSU / Mac & Windows Compatible
2 Hi-Z / Line Out FX Loops, 1 Reamp Out
Monitor Control, Loopback & Talkback
Pro Tools, Sibelius, Plug-Ins & Samples
---
Why You Need the MBOX Studio by Avid
Avid is very well known for producing high-quality products and this audio interface is no exception. The MBOX Studio is produced to deliver high-quality audio to its user no matter if the usage is for mixing for recording only or for any podcasting purposes.
For such units and for the price that it comes it's really a no-brainer because for at around 900 dollars, you will get a centerpiece for your home project studio or if you are in a professional setting as well. Since it's pretty new you will be set for some time and you will not need to think about getting an upgrade anytime soon. In our opinion, this is probably one of the best USB audio interfaces that was released in 2022 and there is no doubt about it.
Avid MBOX Studio
MBOX Studio is powered by Pro Tools Studio and includes all you need to create, record, edit, mix, and podcast music and audio.
Positives
Great Sound
Amazing Preamps
DSP Performance
Sturdy Built
Negatives
Might be above the budget for beginners
Conclusion
So to summarize our review. The MBOX Studio unit from Avid is a high-quality and high-tier unit that you can get for your studio. We really think that this is a great choice if you have the funds to go for it and we hope that our review was enough to convince you to decide and purchase this unit. If you already made up your mind at the top of our article you will be able to find three market links where you will be able to get this unit online.