Solid State Logic SSL12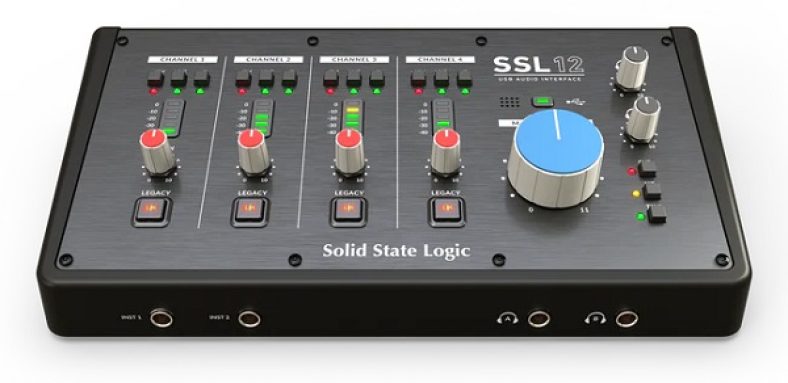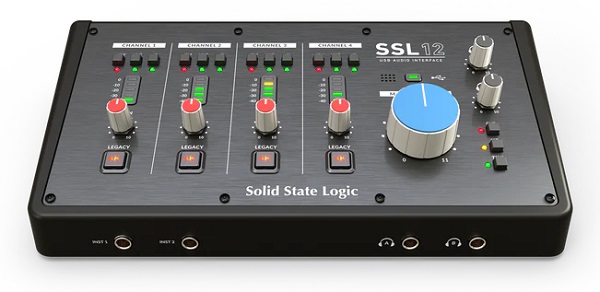 USB Audio Interface
Height: 4.04″
Width: 12.63″
Depth: 7.71″
Weight: 2.42 lbs.
---
SSL12 Review
For a long time, it was believed that SSL products are only for professionals and probably out of reach for the little amateur musicians and producers. They were known for producing large mixers and items that can be only found in high-end professional Studios with big budgets. Well, that changes now and they started producing items that are more affordable and that are accessible even to beginners.
Before the SSL 12, they also produced SSL2 and SSL2 + which are also high-quality audio interfaces with a very affordable and reasonable price. Because they were very successful with these units, they decided to follow up with them and produce the SSL 12 – which has more functionality than the other two and it's amazing in terms of price-to-feature ratio and serves as a big brother to the other two.


SSL12 Design
Some of the basic features that can be found in the SSL12 audio interface are the SSL mic preamps with mic/line and high pass filter, and two high Z instrument inputs for guitars, bass, and other instruments that you want to connect to them. Also, there are two high-fidelity headphone outputs that you can use for your headphones with 32-bit and 192-kHz analog-to-digital and digital-to-analog converters.
Because of the routing and monitoring features that this interface has you will be able to support eight additional digital audio channels or a total of 12 tracks that can be recorded at the same time in your digital audio workstation. The interface also includes a software mixer which is called SSL 360 the offers a customizable SSL controller that you can use for your recordings.
The interesting thing about this interface is that you have three front switches that can be assigned from the software and you can apply different functions to them such as monitor switching, invert phase, dim, cut, and TalkBack microphone functionality.
The user will also be able to configure the interface's loopback feed. For example, users can record the output of a player (e.g., via Playback 1-2) or create a custom sub-mix of a podcast using one of the Aux Busses (e.g., Line 3-4).
On the back of the interface, you will also be able to find MIDI inputs and outputs that you can use to connect various MIDI keyboards and MIDI units you possess.


SSL12 Sound and Features
It is however SSL's ability to incorporate so many 'professional' features and concepts from the world of large format consoles that has really impressed us. In addition to being incredibly well-designed and remarkably versatile, the mixer is presented in a way that is instantly familiar to anyone who has worked on a traditional analog desk.
Various features, including speaker switching with level trim, left channel polarity reversal, talkback, and pre/post fade switching for cues, are rare enough to be found on a desktop interface.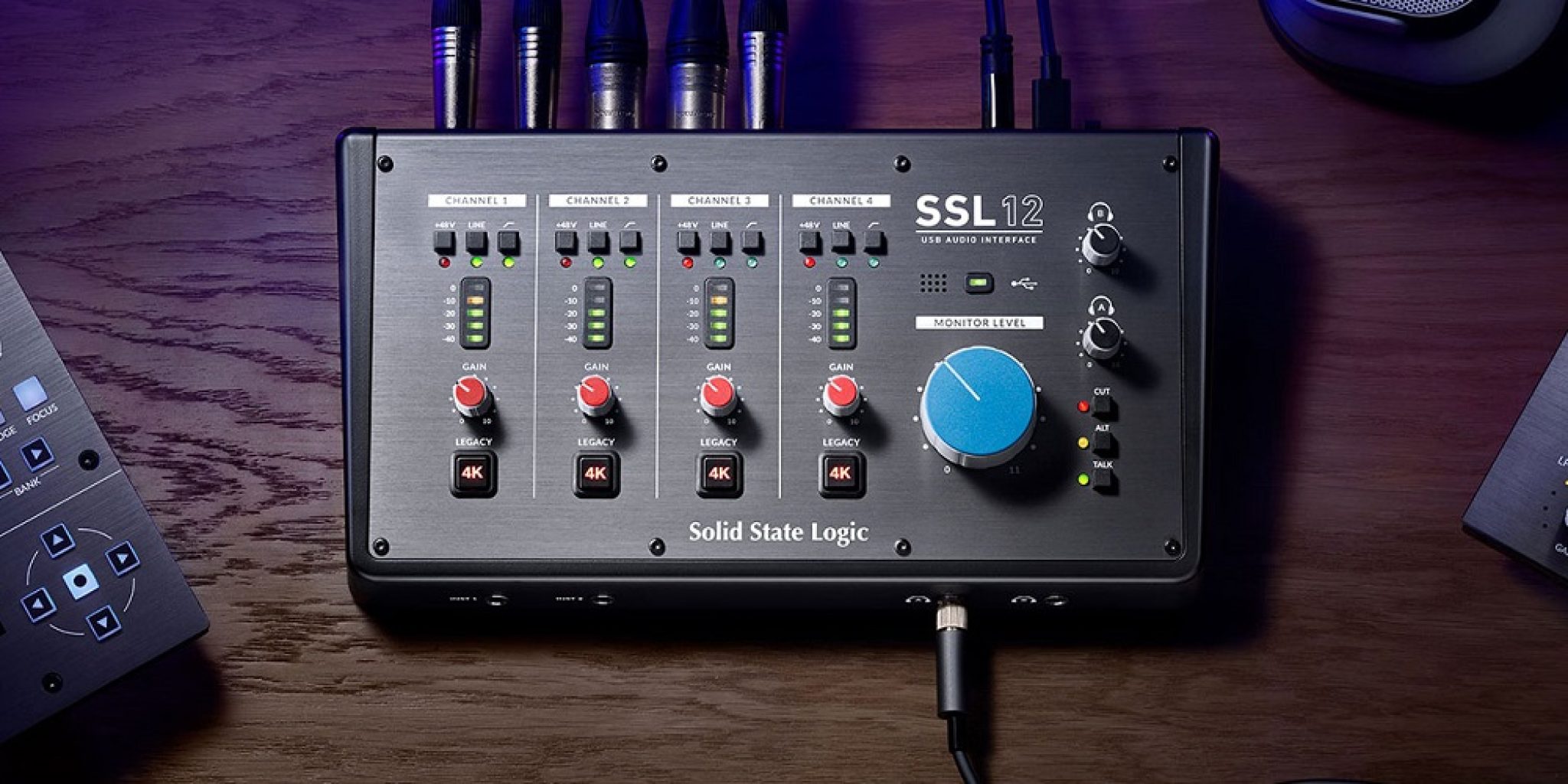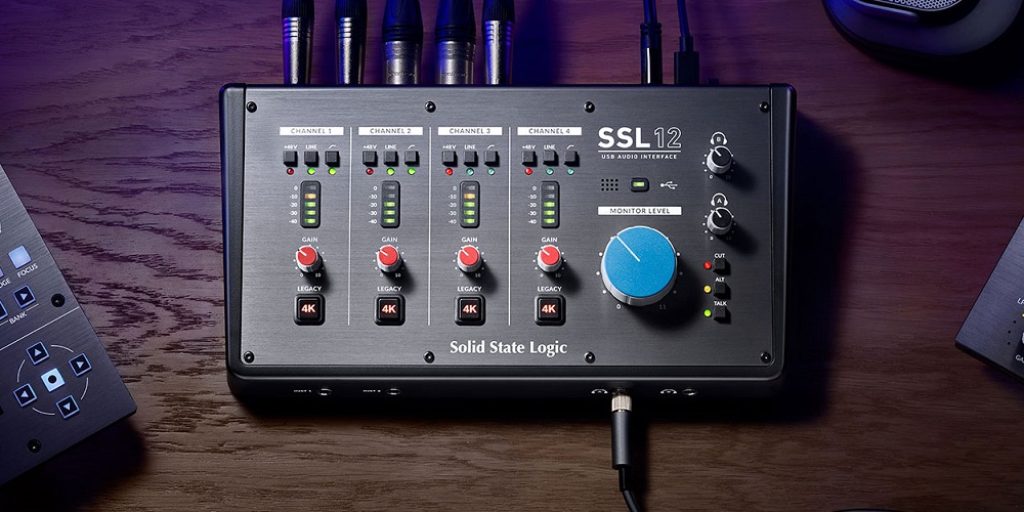 SSL12 Monitoring
We really love the feature that the interface provides control over the volume with the very nice and large volume knob that is found on the right side of the interface. And besides the big blue volume knob, you will be able to find the volume for the two outputs for the headphones, something that we really like. Also, the user will be able to mute with the cut button, switch between monitor pairs by pressing the button that is provided for that, and also activate the TalkBack functionality with the talk button that is also found on top of the interface.
Besides that, the SSL12 audio interface provides several additional monitoring functions which is a dimming and mono function that can be used as well as to be inverted to the left channels polarity which means that we can listen only in mono. Another good thing is that you will be able to assign any of these functions to some of the buttons on the interface with the software that comes with it.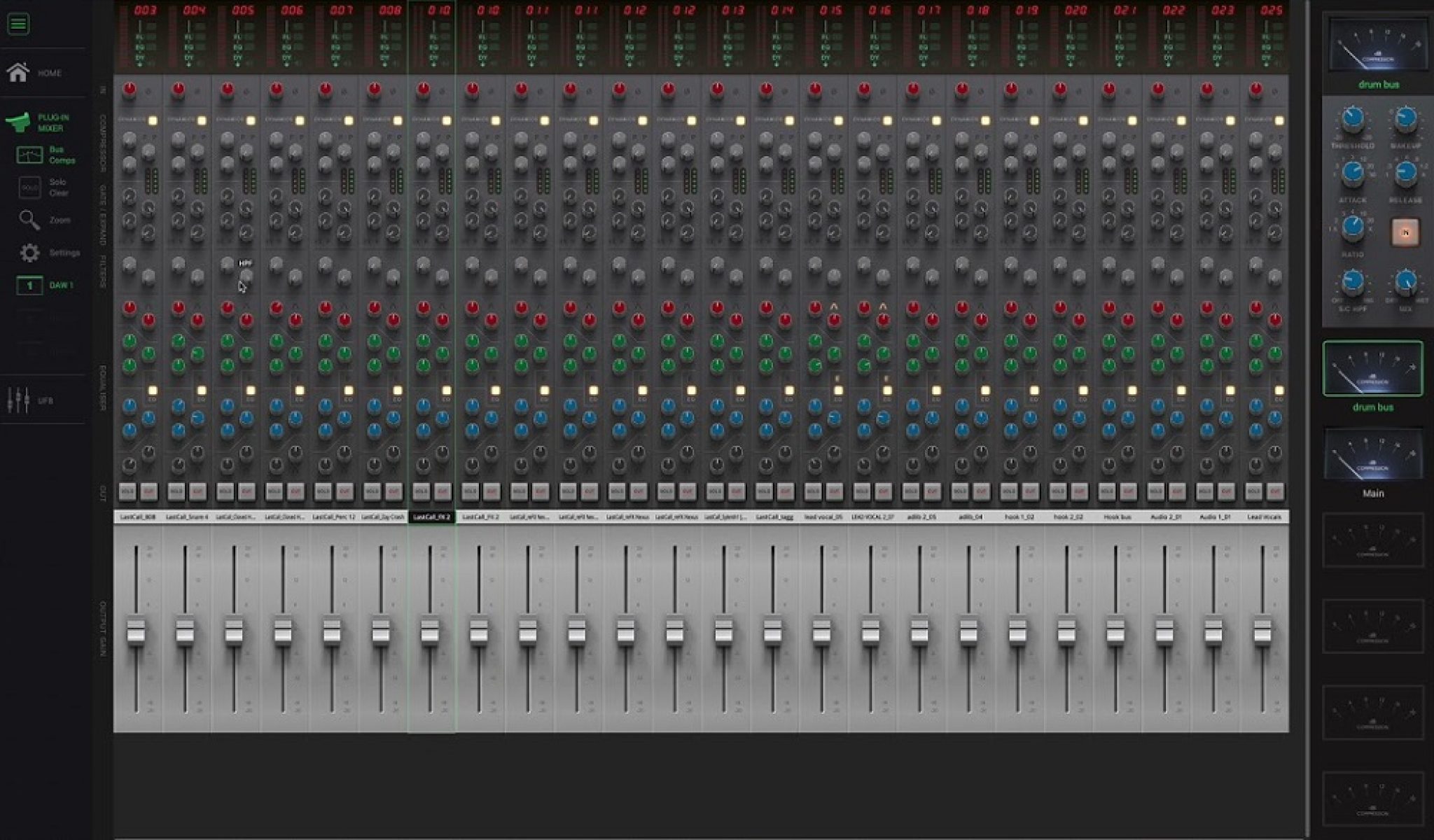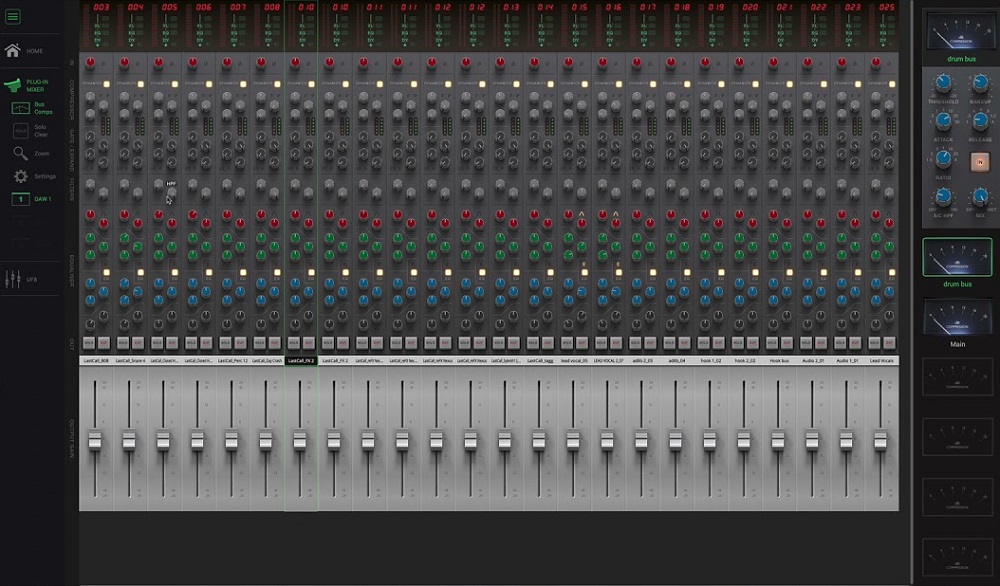 Software Included
SSL12 software mixer contains a customizable SSL control room that can be integrated with the SSL360 mixer, which is something really cool that this interface provides. You can use the front three-panel switches that can be found on the interface to assign functions such as alternative monitors switching invert phase dim cut and excess to any of the TalkBack microphones that will get instant feedback.
With the routing features of the software you will be able to easily create independent feedback mixes which are near to zero latency and also you will be able to recall the sessions that you are working on at the moment if you just save them on your computer.
Another good thing that comes with the interface is that you will get the SSL production pack which has more than 1000 virtual instruments plugins and digital audio workstations. Probably one of the most important things that you will get is all the SSL plugins for three months with the SSL complete. This will give you insights into how those plugins work and later on you will decide if you need to use them and purchase them and have them permanently on your computer.
Some of the plugins that you will get are the Celemony by Melodyne, Antares from Autotune, something from IK Multimedia, Output, and AAS that comes with the production pack and also you will get the Ableton Live lite. I really think that this is more than enough for you to get started. This will help you expand the sonic toolbox in your computer that you can use to improve your production or mixing and mastering decisions.
The Production Pack includes the following items:
A free 3-month subscription to SSL Complete is available
A free 3-month subscription to Auto-Tune Unlimited is available
A 3-month free trial of Output's Arcade subscription
Licenses for SSL Vocalstrip 2 and Drumstrip are perpetual
Amplitube 5 SE by IK Multimedia
Melodyne Essentials by Celemony
Hybrid Keys & Komplete Start by Native Instruments
Live 11 Lite version of Ableton Live
Plug-ins for AAS Session Bundle
1.5 GB of Loopcloud samples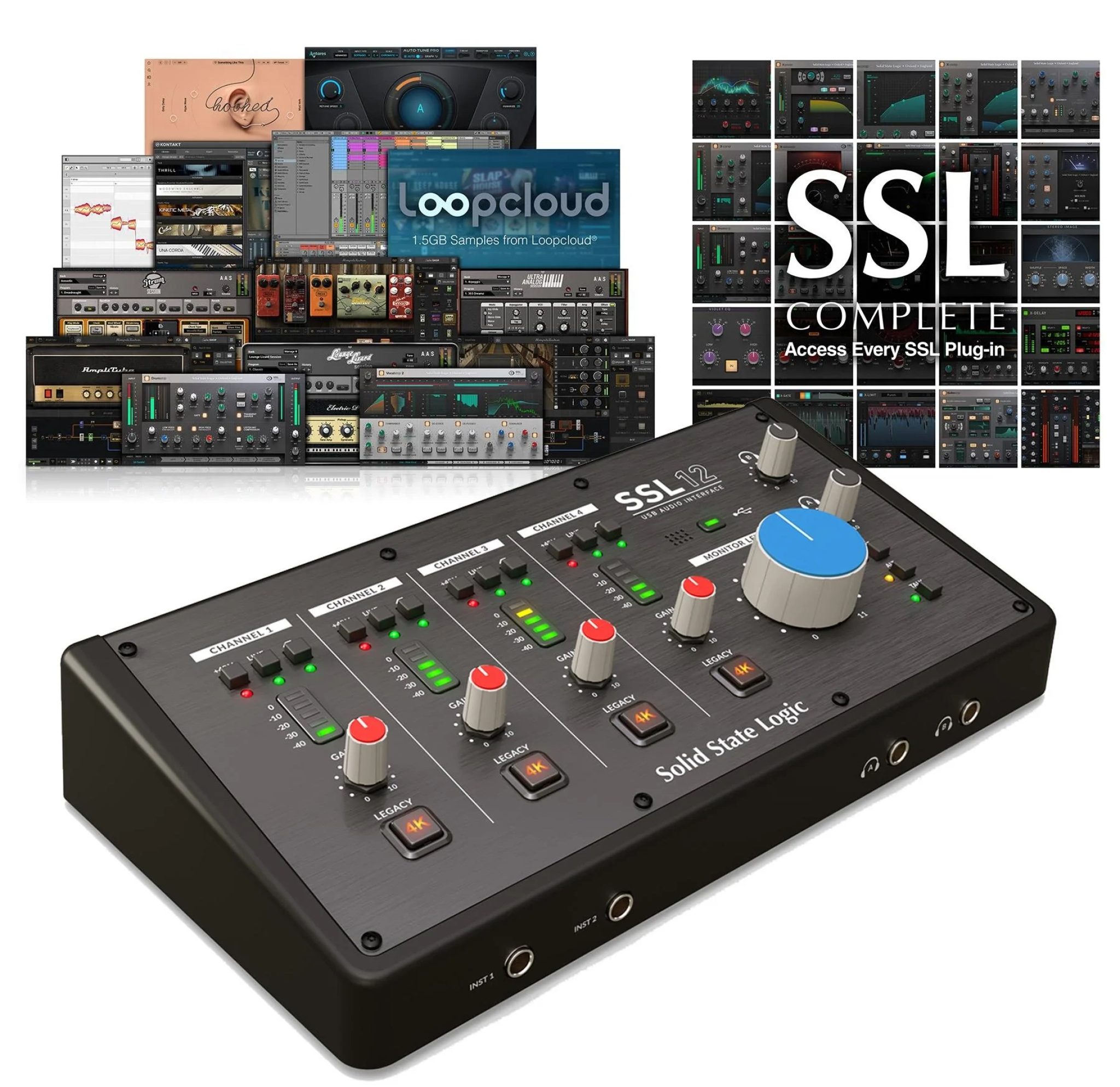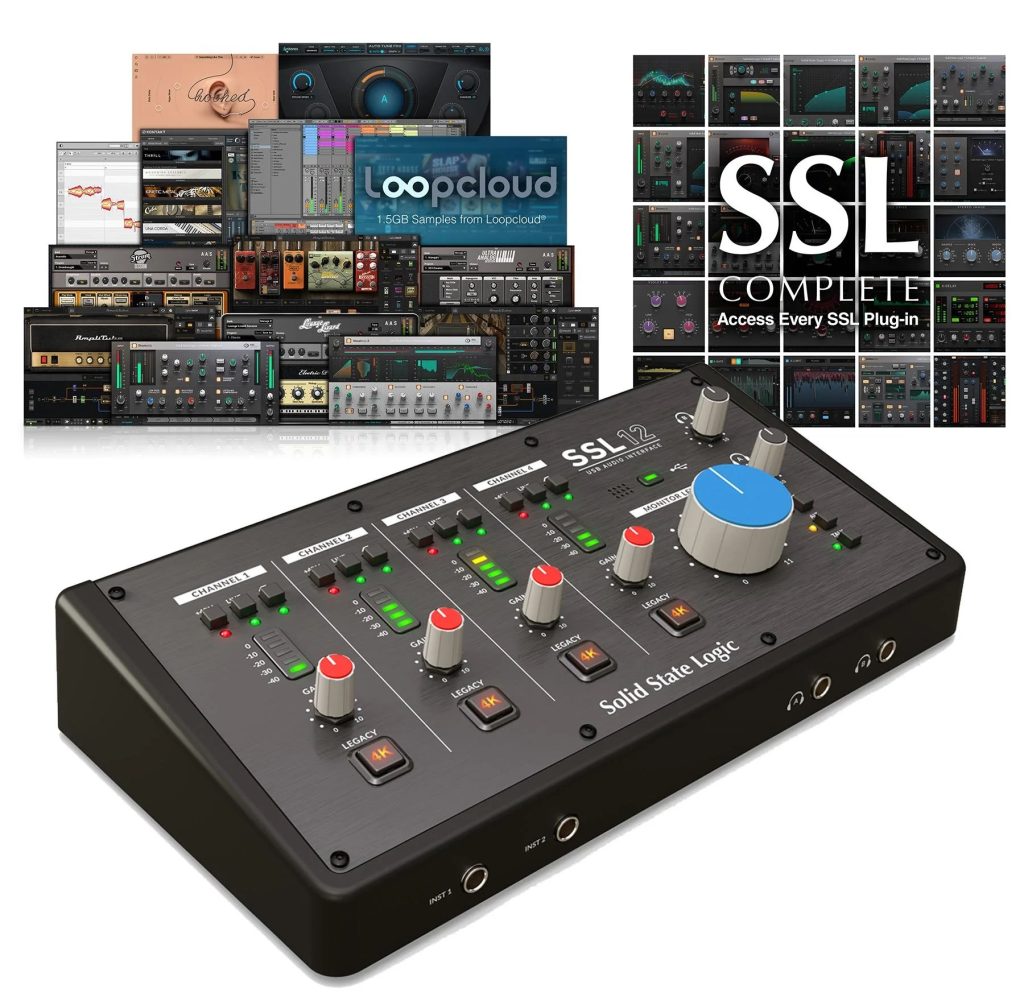 SSL12 Brief Features
4 x SSL-designed mic preamps with 62dB of gain deliver iconic SSL tone
4 x XLR combo jacks to capture any source and setup
Per-channel Legacy 4K switches impart a touch of SSL's legendary analog magic
2 studio-quality headphone outputs
Ultra-high fidelity 32-bit/192kHz AD/DA converters
4 x balanced outputs with precision Monitor Level
3 x user-assignable front panel switches
2 x high-Z inputs for easy direct guitar and bass recording
Easily control CV input instruments and FX with DC-coupled outputs
Flexible MIDI I/O
---
Why Do You Need The SSL12
With the amazing price that it comes at around 500 dollars, you will be getting an absolute monster of an audio interface produced probably by one of the best developers that are out there. All you can expect from this interface is high quality and sonic performance that cannot be surpassed by any of the interfaces in this range. The great thing is that they put the same care they put into their bigger models into this little little monster.
On top of all the functionality and performance that you can get from this interface, you are getting software that will help you build and start your music empire from scratch. And probably the most important thing when it comes to our opinion is that they will give you preamps made by SSL which are probably one of the best ever.
Solid State Logic SSL12 Review
As a result of the success of the SSL product line, the company is now following up with SSL 12. With more functionality than the other two but a great price-to-feature ratio, it is the big brother to the other two.
Positives
Great Desktop Design
The Preamps are AMAZING!
Very Professional Features
Great Value for the Money!
Negatives
The learning curve with the software
Conclusion
To be completely honest we never had an easier time reviewing a product like the SSL 12 which is a great unit for every beginner and professional to have in their arsenal. We highly suggest you have the opportunity to go ahead and check the unity in your local store and you will be able to make the purchasing decision right there on the spot.
But if you already decided to go for this unit feel free to head up and check the links we provided to the mode to the best stores you can get this unit fasting easily
If you are having any questions about this unit from SSL, please let us know in the comment section below or reach out to the SSL contact center for more in-depth answers!