Austrian Audio OC818 Studio Set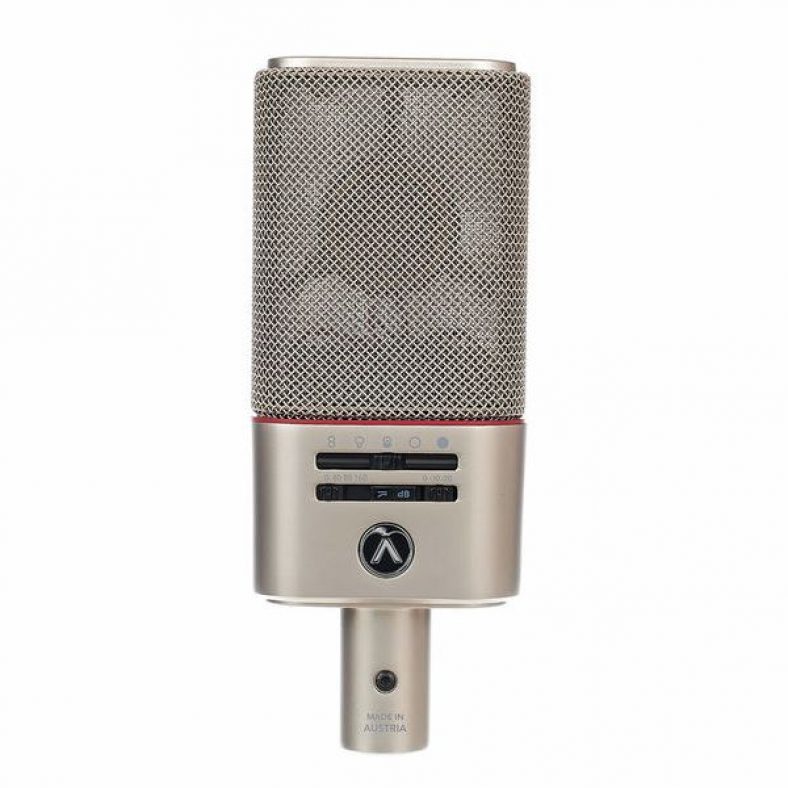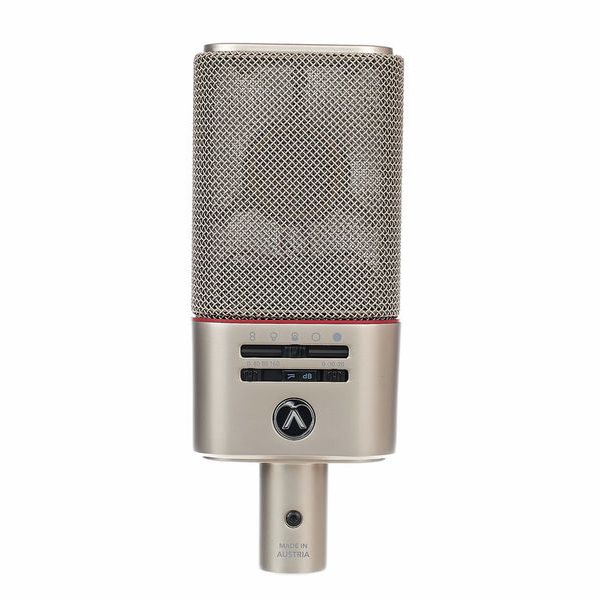 Signal-to-noise ratio:> 84 dB
Requires 48 V phantom power
Dimensions: 157 x 63 x 35 mm
Weight: 0.36 kg
---
Austrian Audio OC818 Review
Former AKG employees decided to step up and create a new brand. They name it Austrian Audio and try to recreate and improve a line of microphones that will be outstanding with very innovative features and most importantly – fair prices. Probably one of the best microphones from their line is the OC818 large diaphragm microphone that we will cover in this review.
This mic has an excellent frequency response and amazing characteristics when it's on and off-axis with a brass-ring CK12 capsule that was initially created for the AKG microphones. Because it was really hard to create this brass ring, AKG dropped its production and decided to move on with a simpler design that was easier to create.
So this famous capsule was then recreated by other brands and can be found in many other microphones but they all have been clones.

OC818 Features and Design
The design of the microphone is flat and with a rectangular body which really reminds us of the C414, even with the capsule that is included inside so it's pretty easy to compare this microphone with the probably best large diaphragm microphone that AKG created.
In terms of features, what we can say about this mic is that it has multiple polar patterns. The regular cardioid is there, along with the omnidirectional, figure, and hyper-cardioid polar pattern. Besides that, the microphone has two points of padding or attenuation which can reduce it down to -10 or -20 decibels. The final feature that can be found directly on the body is the high-passing filter where you can cut up to 40, 80, or 160 hertz.
When you compare the microphones there is one big difference in them. And that is the ceramic capsule that contains two diaphragms. The reason that the ceramics are used is because they have very low resonance, sensitivity to temperature shifts, and are very stable in terms of quality.
The OC 818 microphone from Austria Audio delivers very high quality in terms of Sound and the microphone performs even better in stereo when it's matched pair. When this mic is used in the cardioid mode, it's very compatible with the other OC18 microphone from Austrian Audio which they tend to call its little brother.
When it comes to building quality, the microphone is created with high-quality materials and futuristic electronics that include dual outputs, wireless control, and flexibility in post-production which is really important.
Also, on this microphone, you will be able to find several interesting features in terms of design. There is a mini XLR output that is available and this is a choice that if you use such a cable, you can go for it. Another interesting feature is that you will be able to record both of the diaphragms separately and then combine them later with a tailored pattern that is only available when using the cardioid mode.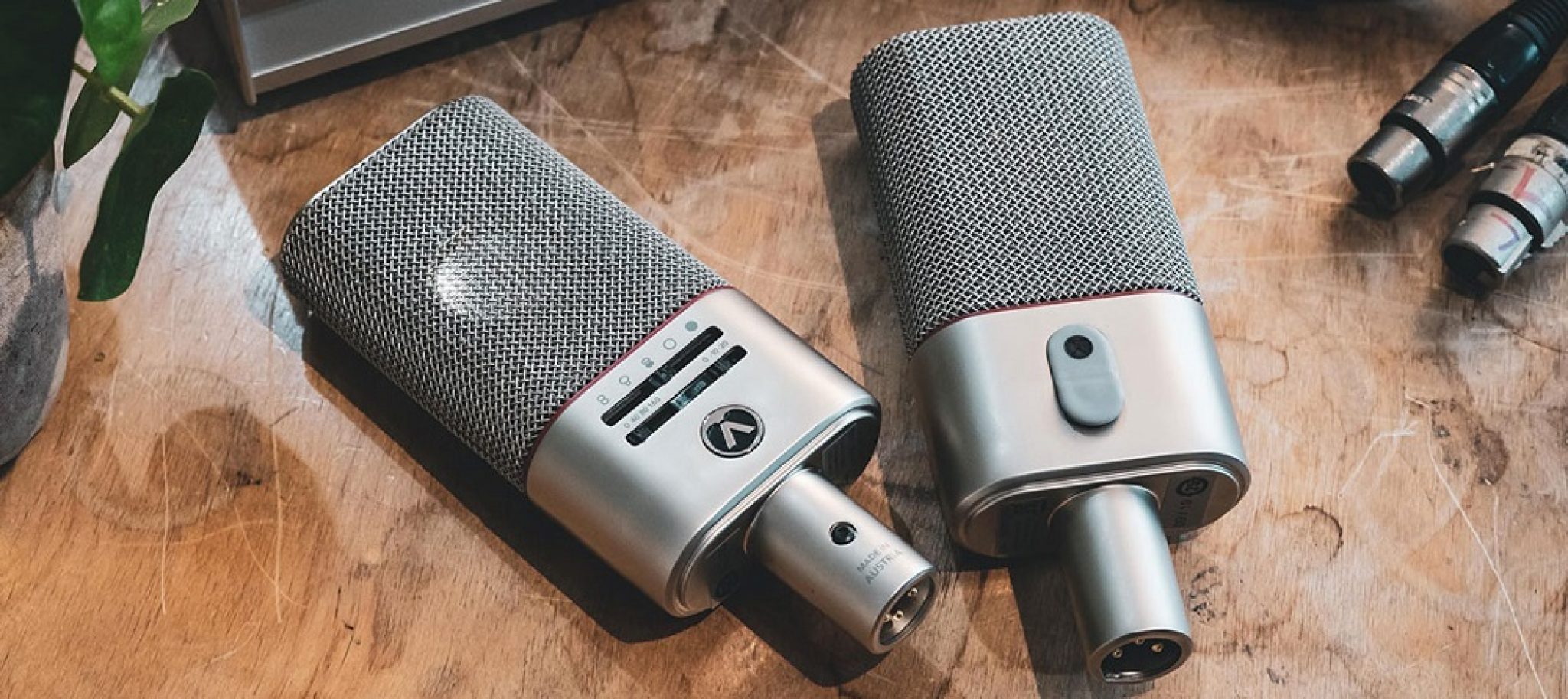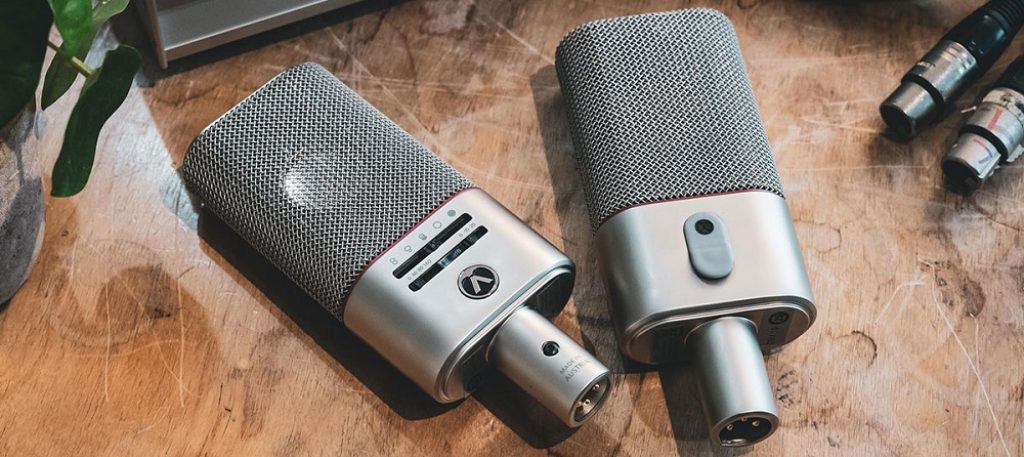 OC818 Unique Software
When using the OCR8 Bluetooth LE dongle and the PolarPilot app that is available for Android and iOS, you will be able to remotely control the pad settings the filter options, and probably the most important point – the diaphragm polarization voltages and the polar patterns.
Also in the software, there are some additional features that are included such as adjustable proximity, a couple of preset EQs that are free field or diffuse field, and polar pattern choices that can be switched depending on the source that you are recording, to easily terminate spill and maximize the recording targets to provide additional focus to the signal. Another important point here is that the presets can be saved and recalled later to use in other projects that you will work on.
The OC818 microphone from Austrian Audio can record the two capsules separately and mix them together later on with the Polar Designer plugin to create a perfect outcome for the signal you have at hand. We already mentioned this above, but this is something that is really unique to this microphone and we have never seen this before in any other model. The amazing thing is that you will be able to choose from 255 discreet polar patterns in real time if you use the OCR8 Bluetooth dongle.
Another interesting thing that you can do with the Polar Designer is that you will be able to split the mic signal into five different frequency bands, each with its own separate level response and polar pattern. This also features an automatic Terminator control that will eradicate any microphone bleed that is caused by any other sources that are around the mic, meaning the Polar Designer is such a powerful tool for shaping the sound that you're working on at the moment.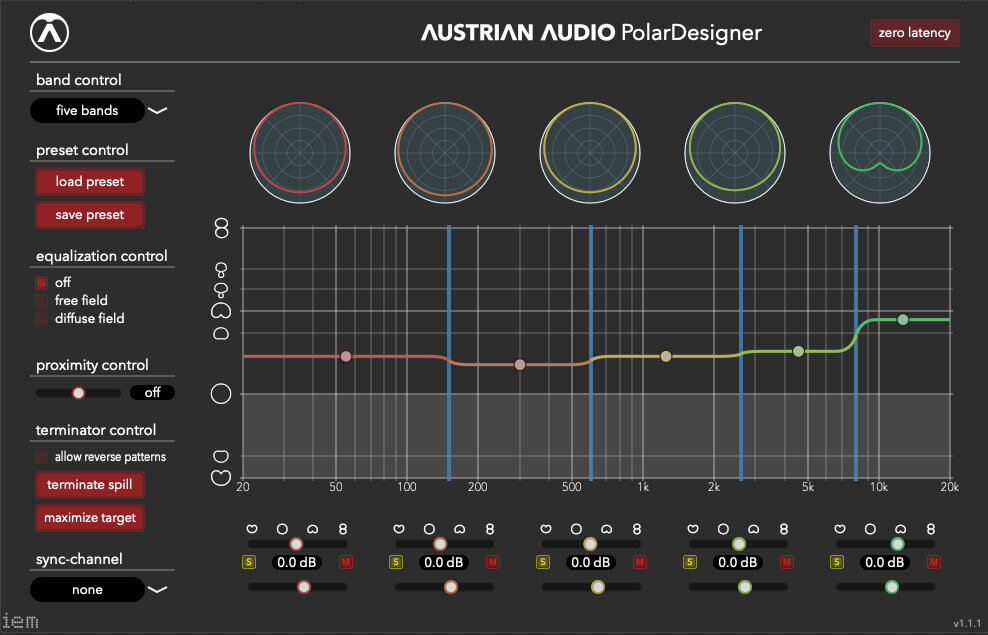 Austrian Audio OC818 Sound and Accessories
In terms of sound, the OC818 Austrian Audio is great. When you look at the frequency charts, you can notice a slight boost at around 5 kilohertz across all patterns, except in the Omni directional pattern, and also there is some air that is located around 12,000 hertz.
On the other hand, all the mid-area frequencies are pretty flat and there is no added coloring to this area. Understandably, when you play with the proximity effect of the microphone you will be able to get different outcomes in the lower area, but that is not up to the microphone but to the proximity effect itself.
Since there is a shield included, you can easily eradicate the plosives and get a very small amount of them. With the flexibility that you will have with this microphone, you can record very different sources and still end up with amazing results that you can additionally post-process to end up with industry-standard sounds.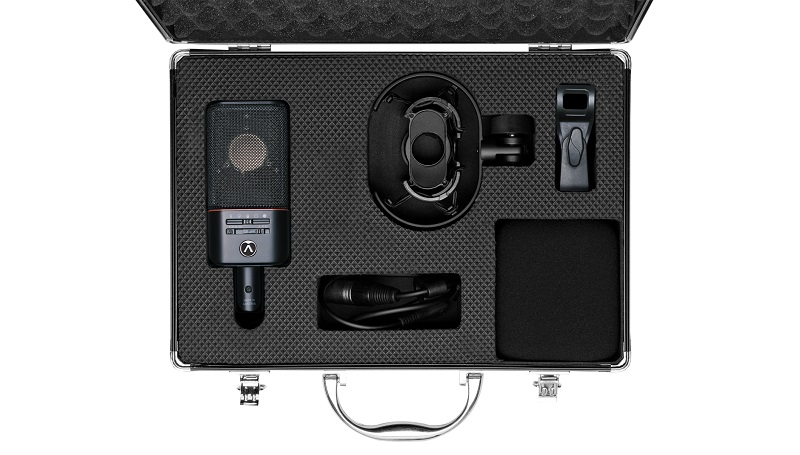 Austrian Audio OC818 Brief Features:
Frequency range: 20 – 20,000 Hz
Sensitivity: 13 mV / Pa
Output impedance: 2 x 275 ohms (balanced)
Input impedance: 1 kOhm
Max. SPL: 148 dB / 158 dB (with pad)
Noise: <10 dB SPL
Low Cut Filter: 40, 80 and 160 Hz
Pad: -10 dB and -20 dB
---
Why You Need the OC818
This part of our review is made easy by the microphone itself. With all the features, sound characteristics, accessories, and software plugins that are coming along with the microphone, for a realistic price you will be getting a mic that will probably be the centerpiece of all of your recordings. We really cannot recommend or suggest this microphone more, so at this point, everything will probably be up to you.
Go ahead and test it out in your local store if you have the chance and you will be able to make the decision right on the spot. If you already made up your mind, above we provide several different purchasing links that you can use to order the microphone online right away.
This microphone sounds amazing on many various sources but our primary testing sources were vocals and acoustic guitars. The microphone excels in both of these areas. That is something that really separates this microphone from the others – the versatility and the innovation.
Austrian Audio OC818 Review
An Austrian Audio flagship condenser microphone, the OC818 uses large diaphragms and multiple capsules.
Positives
Trusted Developer
Amazing Software
Great Rounded Sound
Versatile
Negatives
Not a budget item
A learning curve with the software
Conclusion
The interesting fact is that Austrian Audio developed a microphone that sounds so great that this mic will probably become an heir to the CK12 capsule heritage. Compared to many large diaphragm condenser microphones, the high frequencies produced by this microphone are organic and natural and not generated artificially.
In case you have any questions in regards to this microphone, please let us know in the comment section below or reach out to the respected developer and they will be able to give you more details about this product and explain it more to you.