AKAI Professional MPK Mini Plus



37 Velocity-sensitive mini keys
Dimensions (W x D x H): 451 x 180 x 52 mm
Weight: 1260 g
---
AKAI Professional MPK Mini Plus Review
Another new gem from AKAI. The MPK Mini Plus is here and it is an upgrade from it's little brother. This unit has built-in 2-track sequencer, 8 pads and much more all slammed down to a new and portable/affordable unit. This unit was initially inspired by the Keystep, the MPK Mini Plus is amazing with added MIDI CV/Gate functionality.
In terms of design, the keyboard is really neat and has all the proper features that one keyboard needs to have. This is really impressive, but it's something that we all can expect from giant like AKAI.
This sweet little keyboard has 37 mini keys in a 3-octave range that is more than enough to begin with playing. Based from AKAI information, the keyboard has Gen 2 dynamic keybed that is good to play extensive range of melodic and harmonic pieces. Another thing to say about it is that the keyboard has no aftertouch, but has very nice velocity/sensitivity feature.
Another thing that is there is the build-in step/live sequencer with a polyphonic 2-track functionality that will be there to help you create melodies and drum patterns nicely. 8 polyphonic notes per step are available and 16 notes per drum pad, arpeggiator is also there to provide you with some nice creative possibilities as well.


On the top right side on the panel above the keys, there are 8 assignable 360-rotary knobs that you can assign different functions from your DAW. Also, you can pick between Chords Mode and Scales mode that is pretty self-explanatory. The modes provide the user wide range of features and a 15-scale settings to choose from.
The transport controls that are there, you will be covering all the bases in your playing and DAW functionality. The joystick that is there will also allow you to assign up to 4 parameters and morph between in a X/Y axis as its already known for this feature.
As we all expect, the unit from AKAI cannot go without the pads. Well, here you can find 8 pads that are velocity sensitive with RGB backlight that are very nice for programing drums. Also, they can be assigned to trigged different functions if you are in need for that, all done from the DAW of your choosing.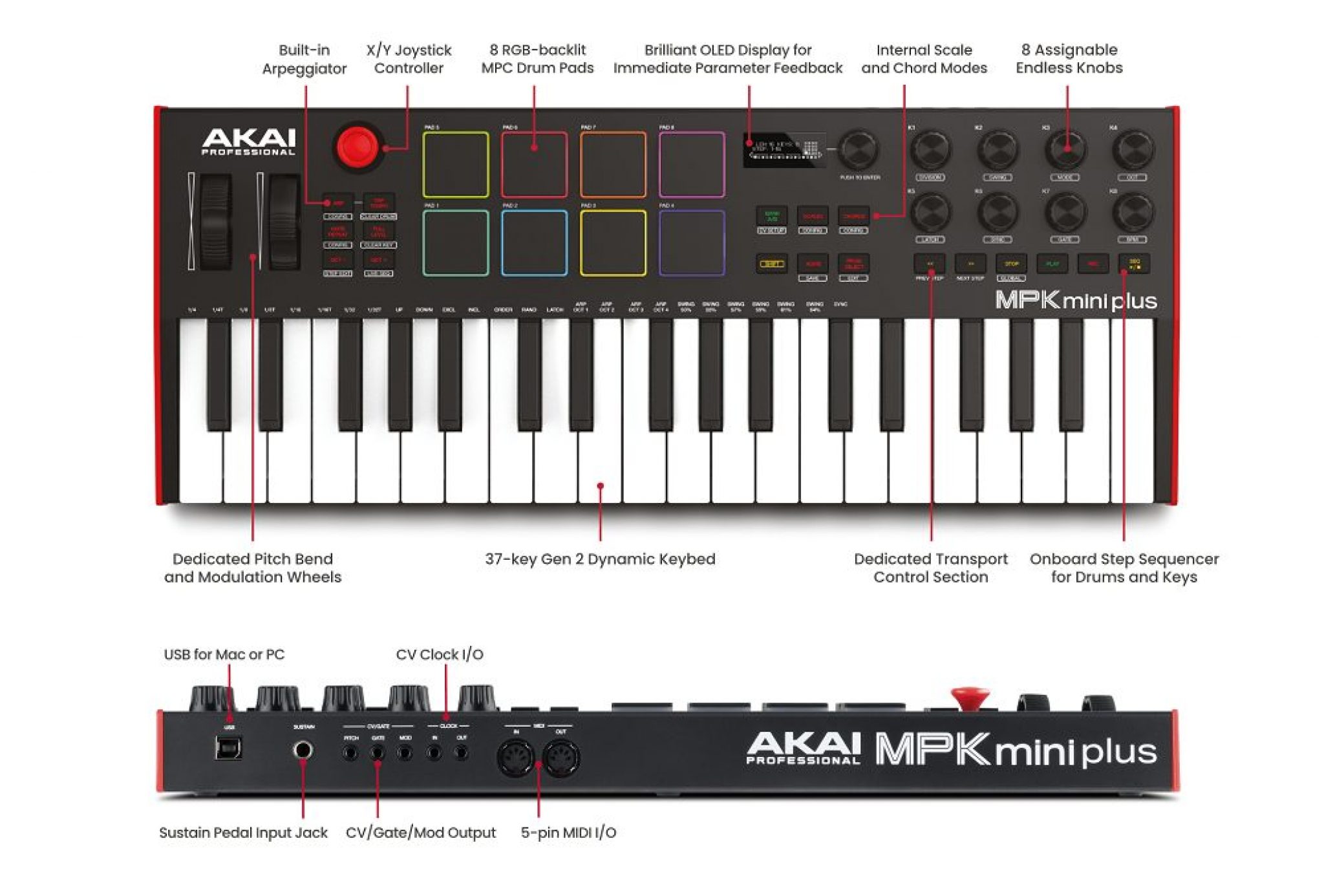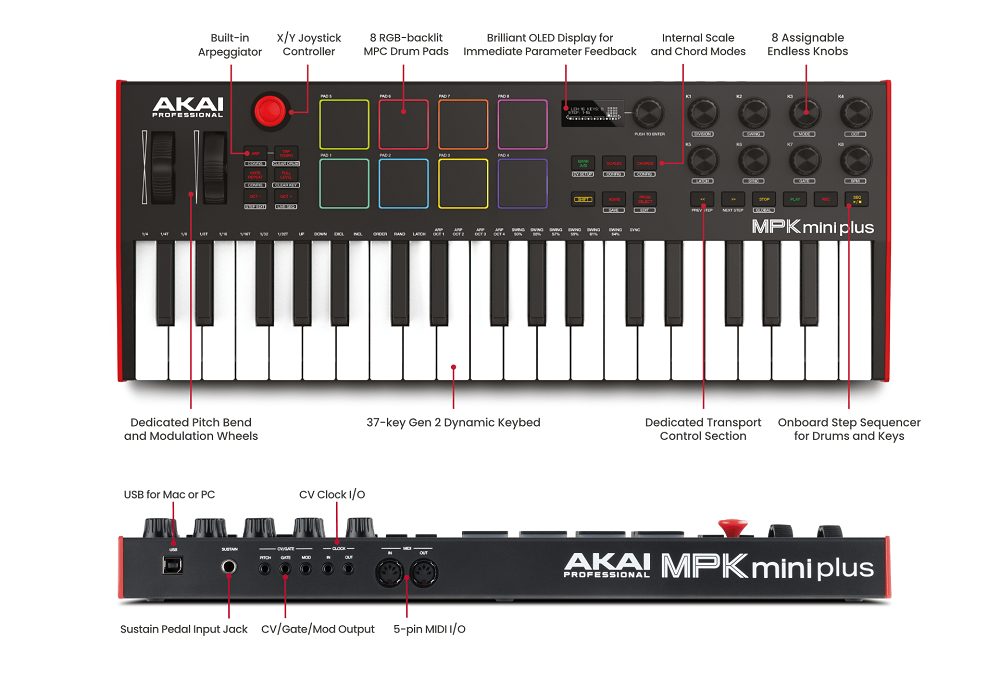 MPK Mini Plus Connectivity
Because of the compact design that the MPK Mini Plus has, it can be used everywhere no matter the situation. It also features a USB and MIDI connection that will be able to help you out with controlling the DAW and some of the VST plugins that you decide to use.
Besides that, the keyboard will allow you to connect any modular synth and other hardware that you have in your arsenal to use for your music production. This means that the device is very compatible for integration with external devices and instruments.
If you are on the road and you traveling and playing, the Mini Plus will be able to be used as a standalone device easily. If you have a creative moment, you can record it on the road and store it for further usage. And if you have any compatible devices that are in MIDI, you can connect them with the five-pin MIDI connection and preserve your idea.
On the back of the machine, you will find the following I/O:
3 CV outputs of 1/8″ (3.5mm)
2 1/8″ (3.5mm) CV clock inputs and outputs
A pair of MIDI DIN in/out ports
Sustain Pedal input
Powered by USB Type-B (Bus-powered or wall-powered)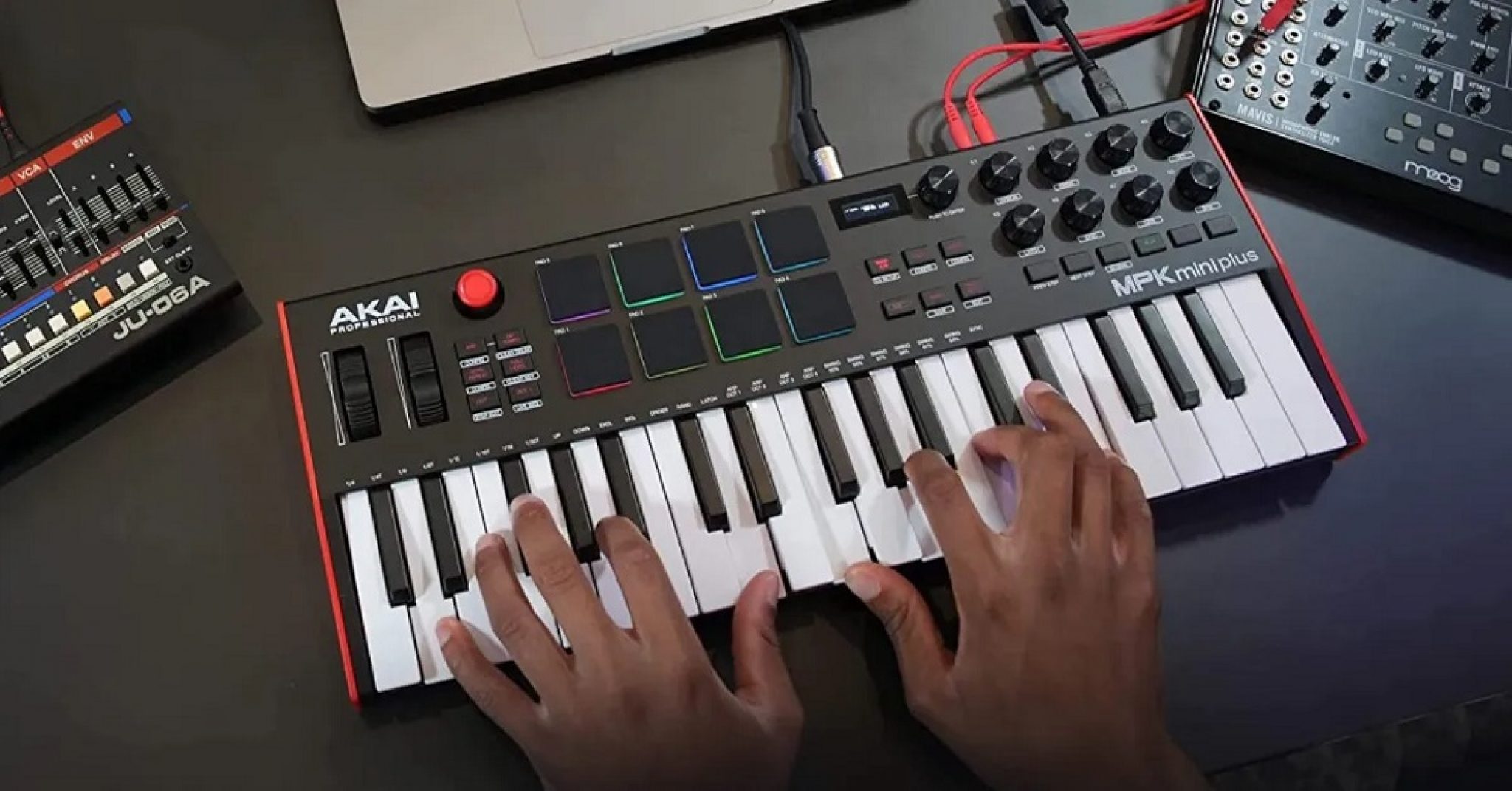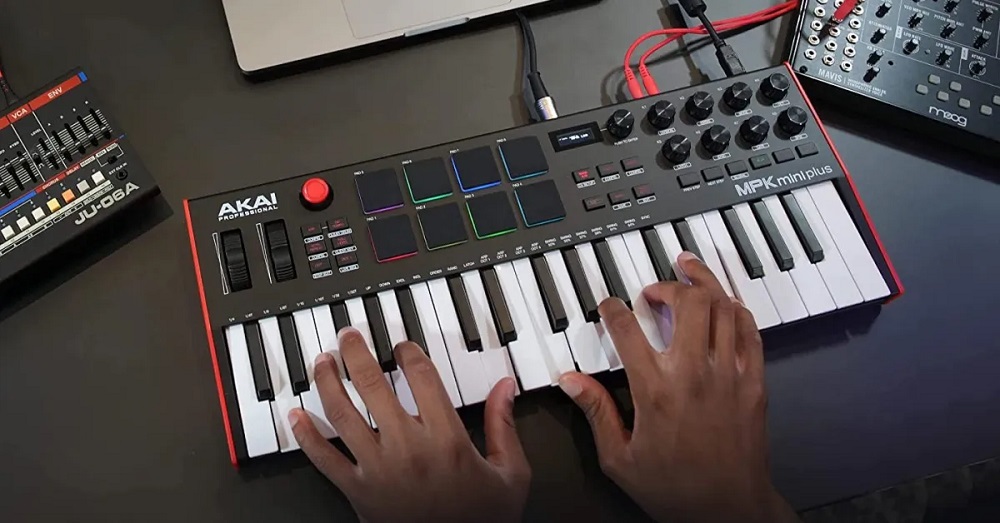 "Introducing the MPK Mini Plus, a new keyboard controller that offers advanced features unlike anything else on the market. With a built-in sequencer, CV and Gate connections, Sync inputs and outputs, and eight RGB-backlit MPC drum pads, this unit enhances the workflow and creativity of modern musicians. Any studio will benefit from the addition of the MPK Mini Plus." –Dan Gill, Senior Product Manager, Akai Professional
In a bundle with the keyboard, you will also get software instruments, samples, and plugins that will assist you with creating modern and professional music including the famous Akai MPC Beats DAW software which is a legendary recreation of the MPC hardware.
MPK Mini Plus Brief Features:
Keyboard and live controller that are USB Class-compliant
The 37-key Gen 2 keybed provides three octaves of comfortable note control
A compact design makes it easy to transport in nearly any gig bag
Featuring 8 RGB-backlit drum pads for exclusive sampling and looping functionality
The new Polyphonic Step Sequencer feature
A pitch bend and modulation wheel for live tweaking
Compatibility with external equipment is provided by CV/Gate inputs and outputs
A total of eight parameter knobs for controlling the mixing process
A dedicated transport control system (Start, Stop, Record, Loop, Locator)
The classic four-way joystick controller
Compatible with standalone operation
PC and Mac version of MPC Beats software is included
Why You Need the MPK Mini Plus
This is the latest release from AKAI Professional that both professionals and beginning beatmakers might find useful. Being the next generation unit after its smaller sibling, the MPK25 Mini tells us that the developers had the same idea in mind, but to provide the users just a little bit more of their budget bestseller.
Now with 37 keys and more features than before, the MPK Mini Plus is the perfect companion for on-the-road producing and in your home studio as well. And with the original MPC software coming with it, you will taste some of the high-end from AKAI for a really affordable amount.
AKAI Professional MPK Mini Plus Review
Featuring a built-in 2-track sequencer, 8 MPC pads, and more, the Akai Pro MPK Mini Plus is a new portable, affordable MIDI CV/gate keyboard.
Positives
New and Improved Unit
Affordable
Amazing Features
Free High-End Softwares
Conclusion
Well, if you check the above review box, you will notice that we gave a lower rate on the sounds, but that is because this unit doesn't work on the sound and is only a MIDI controller. Aside from that, this is a really great unit for every studio and even veterans will want it.
We hope that if you are at the point of getting a new MIDI keyboard, this review will nudge you toward getting this one. If you are having any questions in regards to this device, please let us know in the comment section below and we will be more than happy to provide more answers!