Best MIDI Keyboards With 61 Keys
Introduction
If you browse our website, you will be able to find several articles that are covering MIDI keyboards and we reviewed some products as well. Also, we went over the best 25 keys and 49 keys keyboards, meaning that we are already done with smaller versions of keyboards that can be used in home and project studios.
As part of today's article, we will cover the top 11 MIDI keyboards. MIDI keyboards with 61 keys are great because they give you enough space to use both hands during the arrangement without hitting the octave key and take up less desk space than keyboards with 88 keys.
Since producing is an important aspect of the genre that you work on, it's important to keep in mind the keyboard's functions. There are different features available on each model, depending on how the controls are configured. Based on the number of pads, size, weight, keybed feeling, functionality, and software integration, we have compared these models.
61 keyboards have several advantages over other keyboards. You will experience a "pro feel" with it as opposed to 25 keys. The feeling would be similar to playing a regular piano if you are familiar with that instrument. Furthermore, some of them have enhanced features that go beyond the basics because of their size.
We just want to let you know that we'll list these Best MIDI Keyboard With 61 Keys in no particular order. They'll be randomized as we don't wish to sort them from best to worst.
Listed below are our Top 11 MIDI Keyboard With 61 Keys for 2023:
1. Novation Launchkey 61 MK3
Users of Ableton Live can make the DAW an instrument with the Novation Launchpad series. Unlike conventional clip launchers, Launchkeys combine clip launch buttons with synth-action keys.
With new chord and scale modes, an arpeggiator, larger pads, and other under-the-hood tweaks such as hardware control, the Launchkey 61 MK3 offers all the features associated with the MK3 line.
A strong suit of this keyboard is its easy integration with Ableton Live, regardless of whether you are new to the Launchpad/Launchkey workflow or are accustomed to it. As complex as it may appear, we found the Launchkey 61 MK3 intuitive for composition and arranging.
Adding this additional dimension of expression would have been a fascinating addition, similar to the way a guitar responds to your pressure while playing a note. Is this a reasonable request? This may be possible in Mark IV.
Launchkey 61 MK3 is a great, full-featured MIDI controller and clip launcher that is easy to integrate and gives you excellent compositional tools if you are a producer who uses Ableton Live.
You can create new sounds using the Launchkey app, which is an analog modeling synth that features eight nodes that you can drag across the screen. In this manner, you will be able to make your iPad a more powerful force during live performances. As well as having great build quality, it has sturdy knobs and pads. It is a versatile controller that works with all DAWs and many iOS applications.


Features
61 Keys with velocity sensitivity
16 RGB illuminated velocity-sensitive pads
Scale and Chord modes
Arpeggiator
Capture MIDI function
MIDI mappings
IMAGE
PRODUCT
For US
Customers
For EU
Customers
Amazon Store

Novation Launchkey 61 MK3
Novation Launchkey 61 MK3
Launchkey 61 MK3 by Novation is a versatile MIDI keyboard designed to be used for music production and live performances. In addition to its 61 velocity-sensitive keys, the Launchkey 61 MK3 features aftertouch functionality, allowing for expressive playing. Among its features are RGB backlit pads, assignable knobs, and faders, and dedicated transport controls to facilitate seamless integration with a variety of popular music software. In a music store, I had a brief experience with this keyboard, but I had sufficient time to make an informed purchase decision.
Positives
Great with Ableton Live
Amazing Controls and Features
Very Responsive Keyboard
Negatives
Arp might not be that good
---
2. Native Instruments Komplete Kontrol S61
Despite its high price, the Komplete Kontrol S61 is one of the most powerful options on the market. Among the biggest selling points of this keyboard is the inclusion of Komplete 12, which is an extremely expensive software package.
As this keyboard includes an aftertouch, you can take full advantage of the technical aspects. If you enjoy vibrato, you can control the level of intensity by pressing the keys harder or softer. In order to run all of the software, you will need a fast computer or laptop.
Despite the fact that the keys and software are incredible, there is one thing that people may desire, and that is pads. Although this is one of the disadvantages of the controller, some producers do not make use of the pads.
Screens with high resolution are a particular highlight. The Native Instruments MIDI controllers go well beyond what is expected in this area, where most MIDI controllers adopt a more utilitarian approach. In contrast to standard displays, they are stunning to look at and are capable of conveying far more information to the user in a far more intuitive manner.
There are a number of good reasons why this is a premium option. It is essentially the best MIDI controller available and does everything you require and more. You should consider this option if you do not have a strict budget to adhere to!
Investing in this MIDI controller is like buying a diamond: it may be expensive, but it will last for a long time and offer more benefits than a more affordable option.


Features
For all virtual instruments
Full VSTi support
Two freely assignable inputs for foot pedals
MIDI in/out
Power supply via USB 2.0
Dimensions (W x H x D): 1006 x 84 x 297 mm
IMAGE
PRODUCT
For US
Customers
For EU
Customers

Native Instruments Komplete Kontrol S61
Native Instruments Komplete Kontrol 61
Komplete Kontrol 61 integrates MIDI keyboard features to streamline musical production workflows. An aftertouch-equipped Fatar keybed provides a comfortable playing experience on the Komplete Kontrol 61. An RGB-lit touch-sensitive encoder, expression control strip, and informative color display are included. Based on my experience with this keyboard, it integrates well with Native Instruments software. Additionally, it offers extensive Komplete software control and smart mapping.
Positives
Very Good Integration with NI Software
High-Quality Keybed
Very Advanced Controlling Features
Negatives
It is focused on its software and might have limited capability for linking with other DAWs
---
3. Nektar Panorama P6
A MIDI controller that looks and feels like an electric keyboard or an acoustic piano might be a great option if you are in the market for one. A fully-weighted keybed comes with a velocity setting as well. As a result, you will have the best of both worlds as these keys will give you the feel of a real piano while giving you the control of a MIDI controller.
You will have access to the entire musical world at your fingertips as far as the controller aspect of this device is concerned. It features 93 real-time controls, allowing you to create a customized sound every time you use it. For a new user, the multitude of options might be a bit overwhelming.
Thanks to its automapping feature, this controller is very user-friendly. It is possible to configure the controller software to map the functions of each control to a default setting by using this amazing option. As a result, you can begin to create music, or just tweak some of the settings, rather than all of them.
It is important to emphasize that automapping will save you a great deal of time in getting the controller up and running. Automapping this controller is like having a built-in GPS; it helps you find your way around quickly and easily so you don't have to waste time getting lost.


Features
USB Controller-Keyboard
Semi-weighted Keyboard with 61-Keys
Velocity sensitive and Aftertouch
Simensions: 990 x 330 x 101 mm
Weight: 7,71 kg
IMAGE
PRODUCT
For US
Customers
For EU
Customers
Amazon Store
Nektar Panorama P6
This is another comprehensive MIDI keyboard that we had a chance to try and play with it a bit. It is very nicely laid out and easy to get around. We really liked how it worked with Reason and all the knobs and display integration with the software. Would definitively recommend it to every user of Reason for sure.
Positives
Extensive Features
Great DAW Integration
Very Responsive Keyboard
---
4. Arturia Keylab MKii 61
Among Arturia's latest controllers, the Keylab MKii is one of the best. Following Arturia's lead, aftertouch was added to this keyboard as well. This feature is a huge favorite, as well as that of the majority of musicians in the music industry.
It is hard to go wrong with the Arturia KeyLab 61 MKII if you are looking for a keyboard that works seamlessly with Ableton.
From the moment you open the KeyLab, you will notice that everything about it feels premium. The white chassis with wood inserts on the sides feels both retro and modern and is far superior to any other product on the market.
A subtle pastel hue is reminiscent of vintage synths from the 1980s. It is even the layout that is thoughtful – the pads and transport controls are located on the left, and the encoders and faders are located on the right.
There is no doubt that the quality of the construction is excellent. Aluminum is used in the chassis to provide strength without adding weight to the device. It is referred to as "tour-ready" by Arturia. The keyboard weighs just over seven pounds, making it one of the lightest 61-key keyboards on the market.
The lightweight quality of the keyboard is similar to a feather, both in terms of its weight and its ability to withstand wear and tear. It is both strong enough to withstand regular use and light enough to make it easy to transport.


Features
61 Velocity sensitive keys with aftertouch
16 Colour illuminated performance pads
9 Faders
9 Rotating control knob
LC-Display
Category function
IMAGE
PRODUCT
For US
Customers
For EU
Customers
Amazon Store
Arturia Keylab MKii 61
Arturia Keylab MKII 61 is a robust and comprehensive MIDI keyboard controller. In my experience, this keyboard provides professional-grade play and control. With a high-quality Fatar keybed and aftertouch, the Keylab MKII 61 plays expressively. For versatile control over software instruments and DAWs, it includes assignable knobs, faders, and pads. Besides the color display, the keyboard has chord and scale modes.
Positives
Very Sturdy
Extensive Controls
Amazing Integration
Negatives
Might be over budget for some users
---
5. M-Audio Oxygen 61 Pro
Oxygen Pro 61 is a powerful, USB-powered MIDI controller with 61 keys that makes it easier to create your own music. Bringing your production ideas to life has never been easier with the new Oxygen Pro controllers.
The controllers were developed in response to user and artist feedback, allowing you to keep your focus on creating music rather than programming your software. The M-Audio Oxygen Pro series provides flexible workflow options whether you are recording on the go or in the studio.
It is easy to use the Oxygen Pro 61 controller with any DAW thanks to its automatically mapped controls, including Transport, Faders, Channel controls (Record Arm, Solo, Mute, and Select), and Pan controls.
In the Oxygen Pro 61, when you select your DAW and select the correct configuration in your DAW, the Oxygen Pro 61's controls will be integrated seamlessly with your DAW, regardless of whether you use Ableton, Pro Tools, MPC Beats, Cubase, Logic, Studio One or any other major DAW.
A number of virtual instruments are also instantly mapped to the Oxygen Pro 61 (Velvet, Mini Grand, Hybrid 3, Tube Synth, Electric, Bassline). Oxygen Pro 61 allows you to control and mix your music in real time using these Air Music Tech plugins.


Features
61 Velocity-sensitive, semi-weighted keys with aftertouch and assignable zones
16 RGB pads – backlit, assignable and velocity sensitive
8 Assignable controls and buttons
9 Assignable faders
Dimensions (L x W x H): 965.2 x 264.2 x 83.8 mm
Weight: 4.8 kg
IMAGE
PRODUCT
For US
Customers
For EU
Customers
Amazon Store
M-Audio Oxygen 61 Pro
Another keyboard that will not break the bank and give you enough features to produce a song. We tried it at a friend's studio and the performance was really good. M-Audio is a brand that knows how to produce low-cost keyboards and this one is proof of that. Very good keyboard for the cash.
Positives
Affordable
Good Keybed Feel
All Basic Features
---
6. Midiplus i61
Whether you are on a budget or not, the Midiplus i61-keyboard controller is a great deal. All the necessary features are included with this key controller at an extremely affordable price.
This controller is powered by the USB port on the computer, so there is only one cable to handle it. Compared to other products with 61 keys, this unit is relatively compact. This controller is a basic model that does not make any sound on its own and must be plugged into a computer or other MIDI equipment in order to operate the software.
If you are new to using key controllers, it may be just what you are looking for. It is a simple and accessible interface.
There may be a concern about the short length of the USB cable that is included with the unit. It might be a good idea to obtain one that is longer. It should be noted that although the keys appear to be full-sized, they are actually shorter than regular-sized keys.
It may take some time for someone who normally plays on full-sized keys to becoming accustomed to working with this piece. In spite of the fact that the unit does not come with a manual, you can download one online.
The overall conclusion is that this is a great budget MIDI controller that offers satisfactory durability given its price, which is why we have selected it as our budget pick.


| IMAGE | PRODUCT | Amazon Store |
| --- | --- | --- |
| | | |
Midiplus i61
If you are after something basic and cheap, this is the keyboard to go. We do not have experience with this one but we made the research for this article, looking for a really affordable keyboard for users on a budget. What you'll get is a keyboard with full-size keys and that's it. But it's cheap and will get you through the project
Positives
Affordable
Full-Size Keys
Plug and Play
---
7. Korg microKEY Air
Featuring 61 velocity-sensitive Natural Touch mini keys and a pitch wheel, the microKEY Air is a slim USB-powered MIDI controller keyboard from Korg.
The unit features an assignable jack for using a sustain pedal, as well as two octave-shift buttons for changing the range. On the Korg website, you can download the free KONTROL Editor software, which allows you to make changes to MIDI parameters.
As a result, you may be able to customize the microKEY Air to your individual preferences, for example, by adjusting the velocity curve of the instrument in accordance with your touch preferences.
Korg Software Bundle is included with the controller. Last but not least, if you purchase the Korg microKEY2, you will have access to a limited version of Reason.
MIDI mapping software for the Korg KONTROL Editor allows you to set a fixed velocity or one of eight distinct velocity curves. This feature allows you to customize the microKEY2 to suit your personal preferences
Features
Compact natural touch mini-keyboard
Pitch Bend Wheel
Modulation
Octave Shift button
Damper pedal connection
Power supply via 2x AA battery or USB


IMAGE
PRODUCT
For US
Customers
For EU
Customers
Amazon Store
Korg microKEY Air
Another very basic keyboard, but this time from a trusted developer. This one is a little bit more expensive than the other one above, but the functionality is all the same. You are getting what you are paying for. The MIDI is really playable and I found it really simple to use and would recommend it to every beginner who wants more keys.
Positives
Compact Size
Affordable
Easy to Setup
---
8. Akai Professional MPK261
In the past few years, the Akai MPK 261 has become one of the most popular MIDI keyboard controllers on the market. It is well known that Akai makes some of the highest-quality MIDI keyboards available to musicians, producers, and keyboardists.
The interface is positioned right in the middle of the screen, while the pads are located to the left. Our preference is for pads to be positioned on the left. Having them on the right makes it difficult to trigger them while playing with my right hand.
In addition to velocity-sensitive keys, the Akai MPK261 also features an aftertouch function. In case you are a person who enjoys exploring the capabilities of a MIDI controller in-depth, you will find the aftertouch particularly appealing. There are some RGB backlit pads on the MPK261 that are red, blue, and green in color. In dark music venues, these are extremely useful as they illuminate the top of your keyboard.
In terms of touring, the MPK261 is an excellent choice. As far as keyboards are concerned, Akai has done an outstanding job of creating products that are durable and reliable. As a MIDI keyboard, it is lightweight and fairly durable.
It would be a good idea to try out a different controller if you are looking to upgrade from the original MPK series. On the MPK261, there have not been many upgrades to warrant paying the additional cost.


Features
61 Semi-weighted keys
16 MPC Pads with RGB lighting
8 assignable knobs, sliders and switches each
Inputs for expression and sustain pedal
Arpeggiator
MPC Note repeat
IMAGE
PRODUCT
For US
Customers
For EU
Customers
Amazon Store
Akai MPK261
The Akai is a keyboard with very rich features and it is designed for professional and beginner use as well. We briefly used it in a studio with our friend and this is one great keyboard made by a professional developer. You will find all the features you need from a big keyboard, including semi-weighted keys with an after-touch. Amazing!
Positives
Extensive Features
Excellent Keybed
Solid Build Quality
---
9. Nektar Panorama T6
With powerful VST, VST3 and AU Instrument control in any VST/AU DAW, Nektar Panorama T6 gives virtual instrument plugins the feel and touch of hardware synthesizers. It is possible to perform this with the new Nektarine plugin control software, which is equipped with factory maps for a number of popular plugins that are available for free editing, as well as the ability to create new maps.
As a result of MCU support, virtually all DAWs on the market are capable of mixing, selecting tracks, and transporting audio. Nektar DAW Controls Integration enables deeper control over DAWs.
In addition to a second-generation Panorama synth-action keyboard with medium tension and aftertouch, it features 8 highly dynamic LED drum pads, backlit transport controls, a custom LCD display, and new performance features. Creating rhythmical figures is easy with highly customizable note repeats for keys and pads. With its powerful software and hardware combination, the T-series offers a level of control that is unmatched.
As a result of Nektar's Nektarine DAW Integration software, system integration has been taken to a new level. In order to provide you with an integrated workflow that allows you to easily access transport and mixer functionality, as well as control your DAW's internal instruments, Nektar creates custom software for each supported DAW.


Features
8 Impact and pressure-sensitive pads
Bank button for access to another 8 pads
9 Fader 30 mm
8 Assignable LED buttons and 8 encoders
Each controller is fully programmable
Chord function: Trigger up to 6 notes via a key or pad
IMAGE
PRODUCT
For US
Customers
For EU
Customers
Amazon Store
Nektar Panorama T6
This keyboard can be integrated with all the big DAWs that we use and it is very intuitive and has good features on it. We checked it out in a store and we played with it for a while – and we can freely say that it is a great unit. Compared to other lower-cost keyboards, it has a great display, but for that matter, the NI keyboard excels. Amazing unit overall.
Positives
Great DAW Integration
Good Control Features
Versatile
---
10. M-Audio Keystation 61 MK3
As far as the features of the MK3 are concerned, "what you see is what you get." If something is not listed as a function above a key, it may not be something that can be adjusted. Keystation is designed to eliminate the need to use software for adjusting simple settings while maintaining the lowest number of buttons possible.
The Advanced key on the keyboard performs some heavy lifting in order to achieve this. If the user presses "Advanced", they can select a parameter that can be increased or decreased by the +/- buttons (which are by default octave +/-) or choose an immediate option such as selecting a MIDI channel.
Keystation 61 MK3 offers an intuitive control set that makes it easy to navigate sessions. On the left side of the keys, you will find controls for pitch, modulation, and octave. The dedicated Volume slider can be used for live performances as well as in the studio to control any MIDI value – for example, you can add an expression or sweep a filter while you are recording a sequence.
The Keystation 61 MK3 comes with dedicated transport controls and cursor keys (so you don't need to use a mouse), making it ideal for minimal studio and performance environments.


Features
61 Velocity-sensitive keys
Pitch bend and modulation wheel
Octave selection
Transport button for DAW control
Dimensions: 995 x 189 x 68 mm
Weight: 4.1 kg
IMAGE
PRODUCT
For US
Customers
For EU
Customers
Amazon Store

M-Audio Keystation 61 MK3
M-Audio Keystation 61 MK3
Another simple-to-use keyboard with minimum features to get you through the production process. Feels really nice to play on it and is great to lay down the notes of your song. Aside from that, no additional features and that's it.
Positives
Affordable
Simple to Use
Light and Portable
---
Best 61 Keys MIDI Keyboards – 2023 Additions
11. Alesis V61 MKII
A comprehensive set of USB keyboard controllers provides the perfect interface for entering notes and tweaking parameters, and Alesis' new controller keyboard series promises an attractive combination of features and price.
A total of three keyboard sizes are available, with 25 and 49 key versions below the 61 key model. Despite being semi-weighted, the keyboard offers both velocity and aftertouch control, while the playing surface may not offer the most sophisticated action, it is of sufficient quality for prolonged note input.
MIDI is supported via a USB connector on the rear panel, as well as traditional MIDI Out and Sustain ports, as well as a 9V power inlet port.
In spite of this, the V61's most notable feature is its wide array of control options and pads. There is nothing complicated about it, it is straightforward and flexible. That effectively summarizes this quiet yet highly impressive keyboard controller, which is immediately ready and waiting to meet your playing and controlling needs.


Features
61 Velocity-sensitive keys
Arpeggiator with 6 modes
Tap tempo and adjustable time division
Gate and Swing
4 Assignable knobs
Pitch bend and modulation wheels
IMAGE
PRODUCT
For US
Customers
For EU
Customers
Amazon Store
Alesis V61 MKII
This newest keyboard that we had the chance to try out is another one with a compact size, great price, and limited features. Compared to the other low-cost keyboards on the list, this one at least has 8 pads that will help you out in creating the music. We would recommend it to every user that is focused on playing but needs pads as well.
Positives
Affordable
Very Compact Design
Essential Features
Negatives
Not premium build quality
---
Is a 61-key MIDI Controller enough?
For playing one-handed synths and basses 25 keys is a good choice. When arranging a piano piece you will need 61, 76, or even the entire 88 keys. The most popular sizes of MIDI controller keyboards are 61 key – large enough to play twohanded.
Guide for Getting a 61-key MIDI Controllers
In selecting a keyboard or digital piano, you should consider several factors, whether you are shopping in your local music store or browsing through online retailers like Amazon, Sweetwater, or another store in your area.
Several factors should be considered when selecting an instrument: the size and number of keys, whether the keys are weighted, whether the instrument uses MIDI, and whether it is new or used.
Number of keys
Keyboard models vary in terms of the number of keys they contain. You can play a wider range of notes the more keys you have on your keyboard. It is important to consider both your experience with keyboard playing as well as the available space when choosing the number of keys.
66 keys is a good starting point for beginner keyboard players, which is sufficient to learn the basics of piano and keyboard playing as well as play a variety of songs. Despite this, a smaller instrument can be used for a wide variety of purposes.
Full-sized vs compact keyboard
What is the size of the keyboard you are looking for? Consider some of the smaller digital pianos and keyboards available on the market, or the so-called compact keyboards, if you intend to carry your instrument around a lot or have limited space. It is likely that a smaller keyboard will have fewer keys than a larger one, but it will be lighter and more portable.
Weighted keyboards
Keyboards with weighted keys are similar to acoustic pianos with weighted keys. It is often referred to as a digital piano when these types of keyboards sound similar to an acoustic piano. In the event that you are accustomed to playing an acoustic piano and do not feel comfortable changing to an electric keyboard, playing with weighted keys may be a good choice.
MIDI
In any home studio, MIDI keyboards (short for Musical Instrument Digital Interface) are an essential piece of equipment. There is a great advantage to using MIDI keyboards in that they can be connected to your computer or another device via a physical connection or even wirelessly via Bluetooth – also with MIDI input and MIDI output. In addition to being available in a variety of sizes, MIDI keyboards also fall within a broad range of price ranges.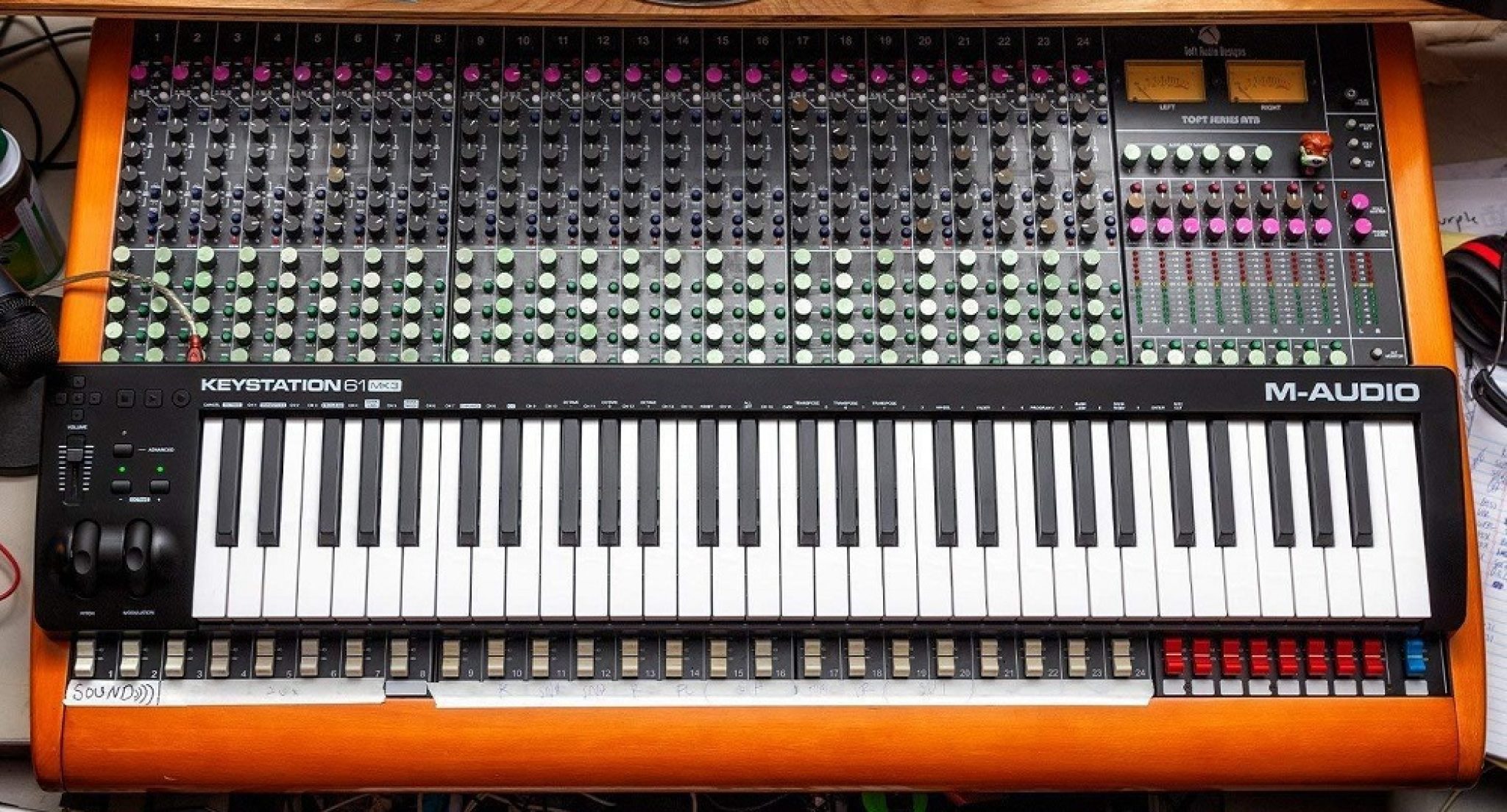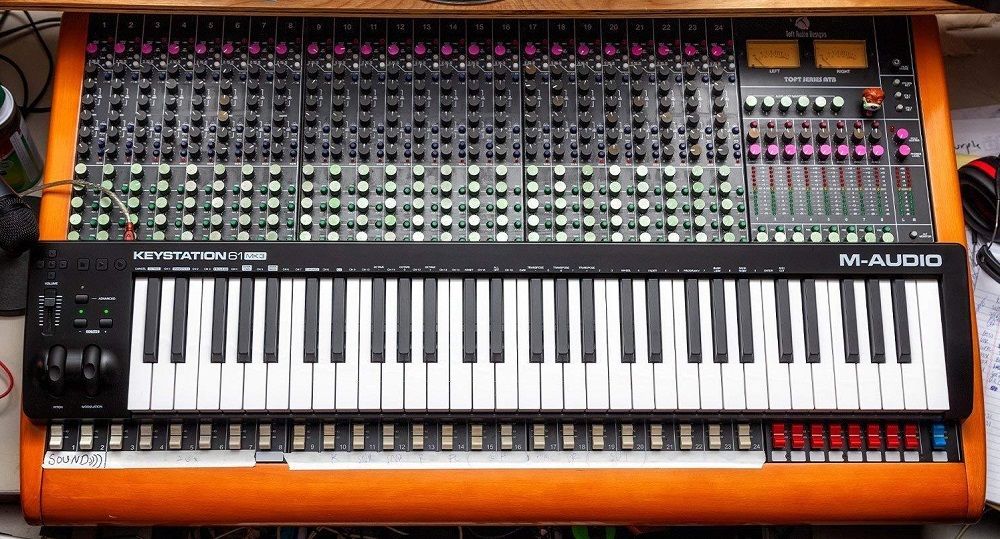 Conclusion
We compiled 11 midi controller keyboards and provided a brief buyer guide on what to look for when getting one. There are some key features to look for: full or semi-weighted keys, modulation wheels, pitch bend wheel, audio interface, sustain pedal input, and some might include bundled software with DAWs such as Logic Pro, Ableton, Cubase, and more.
Also, you will be able to find what we think are the best 61-key midi keyboard controller options here with some great keyboard functionality. Anyway, if you want to improve your music production, you cannot go wrong with any of these suggestions. Our 2 best picks are the Native Instruments and Panorama P6 models. As for the budget unit, the 11th one on the list and the newest is Alesis V61 MKII.
If you are having any questions about these models or the topic as a whole, please let us know in the comment section below and we will be happy to provide an additional explanation on it.