Best Sennheiser Headphones
Introduction
Whether you're listening to music on critical listening, in the studio, or at home, Sennheiser headphones provide an immersive listening experience. There are wired and wireless options available from the company, which are ideal for home listening. The wireless options offer a long battery life for extended listening sessions. Additionally, Sennheiser offers a variety of different options in its headphone lineup so you can find the perfect product for your specific needs.
Their headphones are some of the best-sounding on the market and they have been making them for over 70 years. Fritz Sennheiser founded the company after working for Siemens as an engineer before deciding to establish his own company making microphones and other sound recording devices. Then he created one of the most renowned brands of high-quality audio products in all of Europe, including headsets, earphones, speakers, and more.
Those interested in listening to the music of high quality should consider Sennheiser headphones. These headphones have the best sound quality and can be used with any device with an audio jack, such as digital players or mobile phones. The Sennheiser headphones are the best option for those who enjoy listening to their favorite songs on their mobile devices but do not enjoy the sound quality due to low-quality speakers.
Now we will try to share some of their best headphones for several separate usages and we will try to cover all you need to know about those sets. So let's start with the first and their most famous pair.


1. Sennheiser HD 650 – Best Budget Audiophile Headphones
This is the third model in the HD650 family of over-ear headphones which began with the HD580 in the early 1990s. Our overall impression of the design is that it is functional rather than premium.
In the construction of the device, there is a considerable amount of glossy plastic, but it is of high quality, and metal is used where it is necessary, such as the frame of the adjustable headband and the mesh that protects the driver. As far as durability is concerned, there are no concerns.
There is a good reason why the HD650 design is not the smallest. The enclosure contains a 42mm transducer that drives a 38mm diaphragm with an aluminum voice coil. In addition to the tight design tolerances, Sennheiser touts hand-picked drivers that have been matched to within 1 dB, which they claim makes these headphones suitable for both audio engineers as well as audiophiles.
As a result of their neutral to warm tone balance, they are easy to listen to across a wide variety of music, but the detail is not lost, and it is evident why they are targeted at audiophiles and engineers alike.
The task of reviewing a headphone that has been on the market for almost 20 years is no easy one. As the internet is already cluttered with numerous reviews of the HD650, it is not easy to remove all that information from the mind.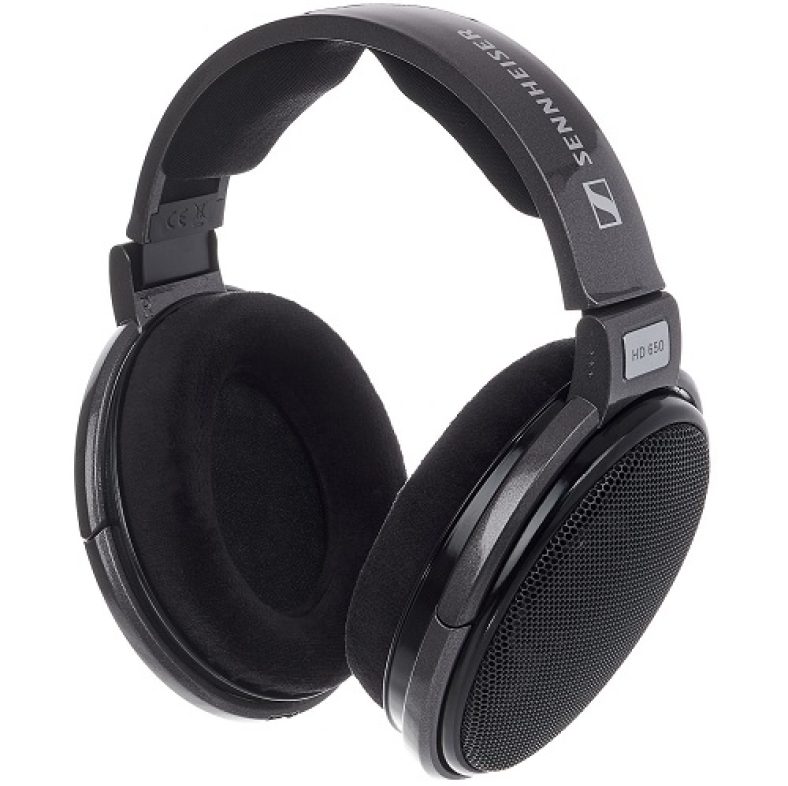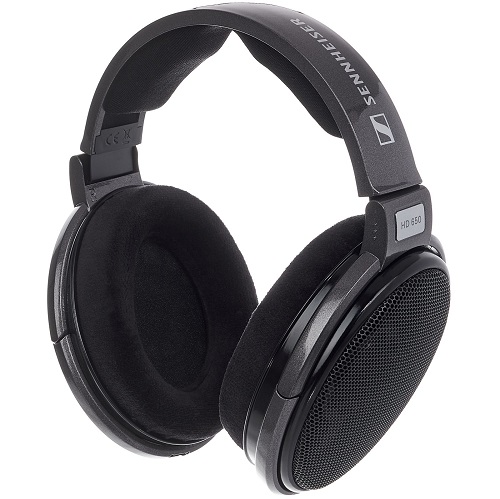 Features
Dynamic
Open-back
Impedance: 300 Ohm
Sound pressure level: 103 dB
Frequency range: 10 – 41,000 Hz
3 m Cable with 6.3 mm stereo jack plug
IMAGE
PRODUCT
For US
Customers
For EU
Customers
Amazon
Store
Sennheiser HD 650
These cans are around for some time now and we weren't able to find any bad reviews online that prove their worth. Probably the first and last open-back headphones that we are going to use because we really like how they sound and what kind of results we are getting with them.
Positives
Best Sound Quality
Very Comfortable
Great Value for the Money.
Check out our full review for HD 650 here!
---
2. Sennheiser HD-25 Plus – Best DJ Headphone Choice
A very popular pair of headphones among DJs and producers, the HD25 Plus is another winning product from this audio-tech giant. If you are a DJ, you would be wise to invest in a pair of dedicated DJ headphones.
In order to ensure that these headphones can withstand the constant wear and tear that comes with the DJing game and constant use, they have been specially designed. It is generally the case that these headphones are a closed-back design, which allows them to isolate noise from the surrounding environment as well as from whatever you are playing. It is an excellent opportunity to concentrate on matching the beats and cutting the best transitions.
Furthermore, with the superior sound quality, you will be able to listen to your music for an extended period of time compared to a generic earbud. This robust and modular closed-back HD 25 headphone is designed for professional monitoring in loud environments by blocking out background noise, minimizing high sound pressure levels, and minimizing wind noise.
You should expect an accurate monitoring experience with the HD 25 headset because it offers a powerful and wide frequency range between 16Hz and 22khz. Every component of the simple, yet sleek design is robust and reliable. An impedance of 70 ohms is supported by lightweight aluminum voice coils, allowing for excellent flexibility.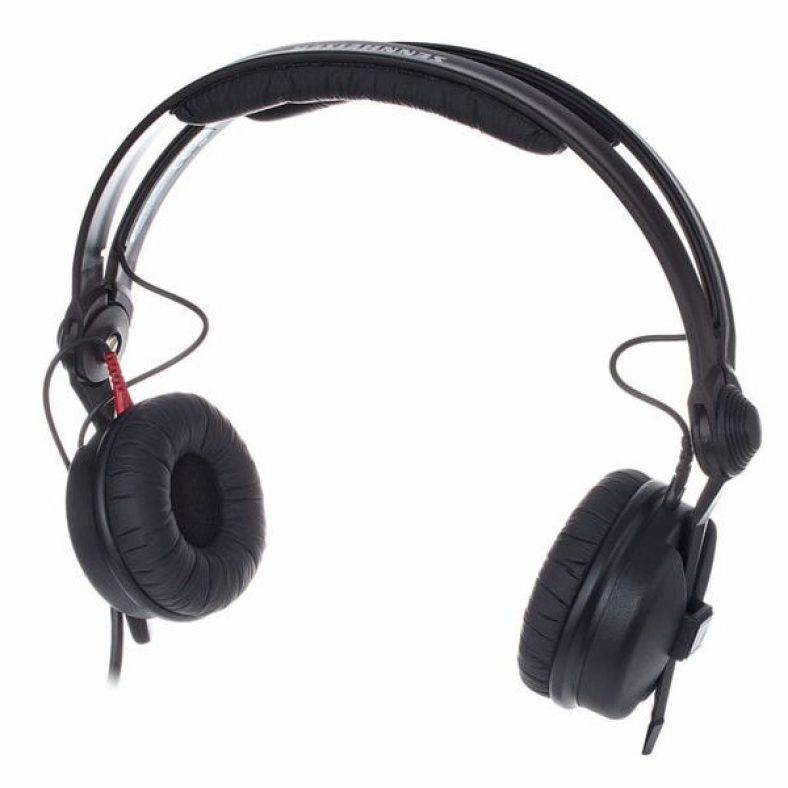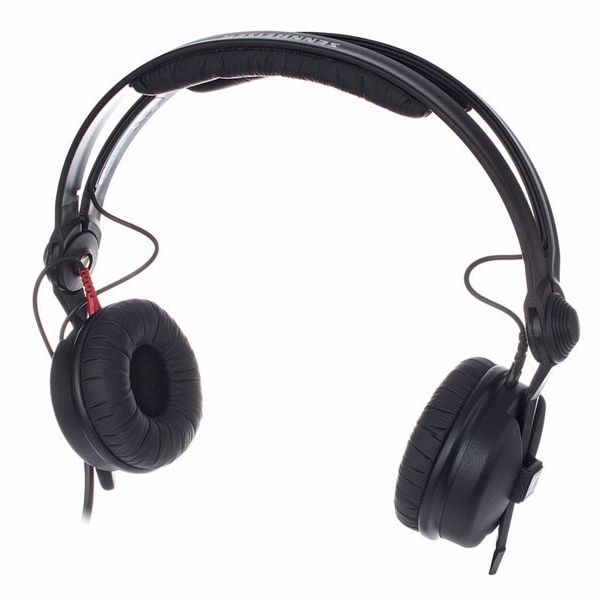 Features
Dynamic
Closed-back
Supra-aural
Impedance: 70 Ohm
Max. SPL: 120 dB (1 kHz,1 Vrms)
Frequency range: 16 – 22000 Hz
IMAGE
PRODUCT
For US
Customers
For EU
Customers
Amazon
Store
Sennheiser HD-25 Plus
The headphones are known for their lightweight figure but heavy on sound. I really like how they do their job for DJing purposes because of their sound isolation performance. We used them for a while until we passed them down to a younger fellow DJ to move on with them. Great unit!
Positives
Great Design
Nice Sound Isolation
Accurate for DJing
Negatives
Tiring for the ear after a long time usage
---
3. Sennheiser RS 175 – Best Wireless Over-Ear Headphones
The Sennheiser RS175 is an excellent replacement for the excellent forerunner. As time passes, Sennheiser has developed some even more fantastic wireless headphones that have left a lasting impression on everyone. It would be a perfect use for these headphones to parade around the house wearing them.
Wireless transfer is seamless and lossless, allowing uninterrupted and interference-free enjoyment of television and music. The headphones are equipped with buttons that control volume, bass boost, and virtual surround sound.
Furthermore, switching on or off the headphones will issue the same instructions to the transmitter, allowing convenient operation wherever the transmitter is within range of the headphones. As well as serving as a stylish headphone stand, the transmitter can be used to recharge the AAA batteries included in the headphones.
The transmitter is capable of connecting both analog and optical cables; a switch on the back of the device selects the input source. Their 2.4GHz frequency makes them interference-free; they can even be used in close proximity to Wi-Fi signals, such as wireless internet routers
It is safe to say that the audio quality of the headphones is comparable to many similarly priced wired headphones; with the default settings unaltered, the deep bass is well-controlled and has a great deal of impact. It has a more prominent midrange than the older RS170 model, which contributes to improved speech intelligibility with video as well as harmonics with music.
In the event that there is a great deal of activity within the audio, there is a possibility of clutter. In terms of treble, it is clear and crisp but does not become overwhelming. In this price range, the soundstage is exceptional and the separation is as good as any closed back.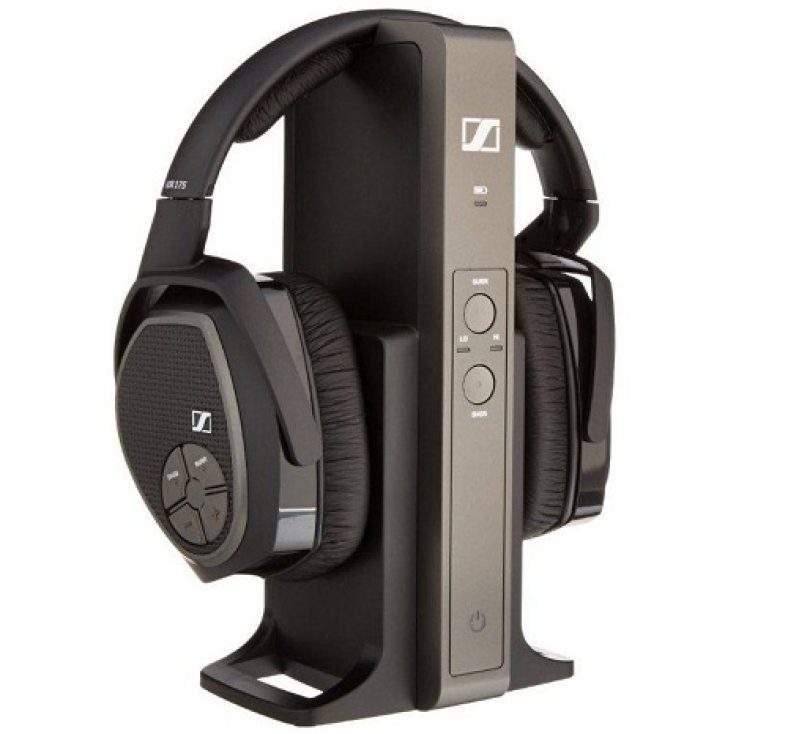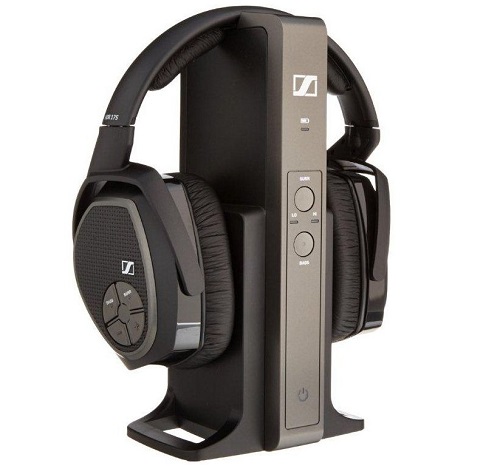 Features
Rechargeable wireless headphones
Closed-back
Circumaural
Max. SPL: 114 dB SPL
Frequency response: 17 – 22,000 Hz
Up to 100 m range
IMAGE
PRODUCT
For EU
Customers
Amazon
Store
Sennheiser RS 175
Great headset when it comes to its wireless performance. Can be used for any purpose. Unfortunately, we only tried them briefly on a presentation, but we were really satisfied with everything that these cans provide.
Positives
The Wireless Rocks
Very Comfortable
Amazing Sound
Negatives
No negatives at this time
---
4. Sennheiser Momentum True Wireless 3 – Best Wireless In-Ear Headphones
As a consumer and as a reviewer, you can easily get wireless earbuds fatigue when so many models are competing for your attention. The Sennheiser Momentum True Wireless is one of those pairs that has proven so consistently excellent over the years that a new version is hard to ignore when it comes along.
Bluetooth codec support has been upgraded from aptX to the newer aptX Adaptive, which allows Sennheiser to transmit up to 24-bit music files while reducing latency and eliminating dropouts when removing the phone from your pocket.
As for the True Wireless 3's battery life, Sennheiser has chosen to stick with the same extremely reasonable number of hours – seven hours with the earbuds and 28 with the charging case, which isn't far short of the class-leading level. The case charges via USB-C (the socket is located on the front this time), and it provides an hour of playback after ten minutes of 'fast charging'. In addition, Qi wireless charging is also available.
There is a useful option for Transparency mode in the app, which allows you to activate it while your music is playing or paused, so you can have a conversation over your music, or to have silence – although we found this to be hit-and-miss.
There were times when the music would pause when requested, and there were times when it did not. The active noise-cancellation function is also available in three settings – 'on', 'off', and an intermediate 'anti-wind' setting.
Considering that the design of the earbuds makes them vulnerable to wind noise, we are glad to see that there is a middle mode. Wearing them on particularly windy days can reduce distracting wind noise artifacts, but not entirely. All in all, these are amazing Sennheiser earphones for active people!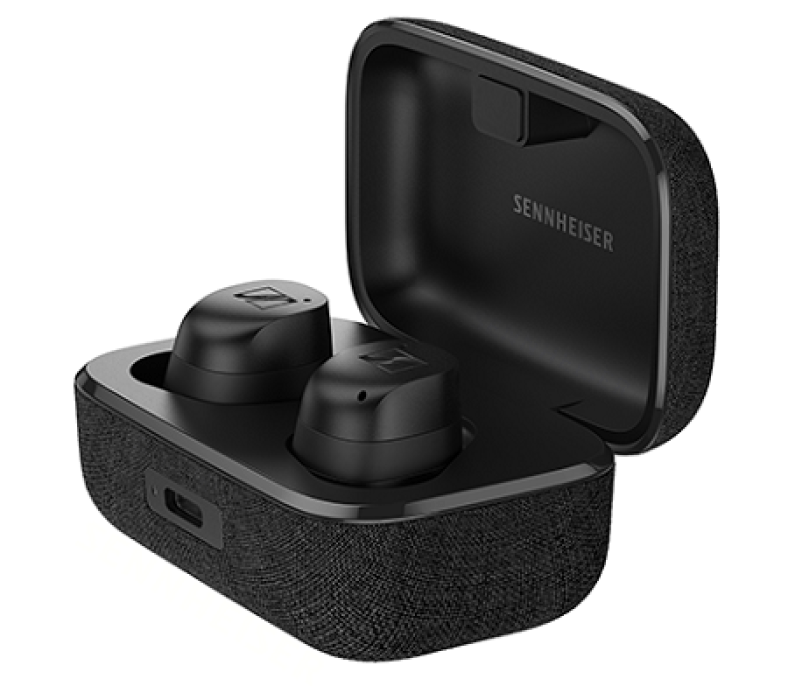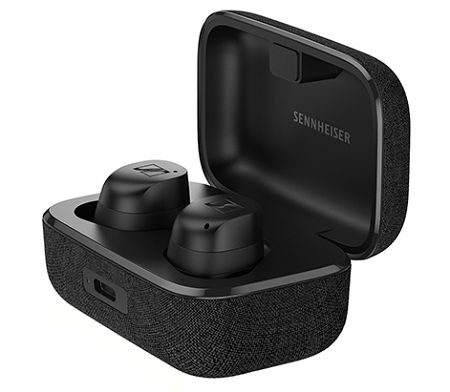 Features
Type: True Wireless
Connectivity: Bluetooth v5.2, aptX Adaptive Bluetooth
Fit Style: In-ear
Drivers: Dynamic 7mm Driver
Noise Attenuation: Hybrid Adaptive Active Noise Cancelling
Frequency Range: 5Hz-21kHz
IMAGE
PRODUCT
For US
Customers
Amazon
Store

Sennheiser Momentum True Wireless 3
Sennheiser Momentum True Wireless 3
Probably one of the best in-ear wireless headphones on the market. A friend of ours uses them every day and we just heard a couple of songs through it and we were amazed. I highly recommend them to everyone that needs such headphones, cause you will like them 100%
Positives
Excellent Sound Quality
Great Design
Precise
---
Among Sennheiser's open headphones, the HD 800 S is the top model. HD 800 successors are available both in black and in fashionable matt gold Anniversary Editions, each limited to 750 units, for the same price as the HD 800 from 2009.
Due to its open construction, the headphones utilize so-called ring resonators, which are larger in diameter than those of other Sennheiser headphones, with a diameter of 56 mm. As a whole, the craftsmanship is exceptionally high-quality, and the product is robust enough to be used on a daily basis. The metal and plastic headband is adjustable in length and has a cushioned element that can be replaced.
Given the high price of the HD 800 S, it is understandable that the device is designed to meet the highest demands. As far as audiophiles are concerned, the results are truly remarkable. In contrast, an unbalanced connection does not produce a particularly loud sound from the headphones. We can assume adequate and distortion-free performance from the test unit since it is equipped with a high-quality headphone amplifier. As a side note, a balanced connection doubles the output level.
With the HD 800 S, you get jaw-dropping detail resolution across all frequency spectrums, dynamics, stereo panoramas, and even spatial audio. The headphones are generally analytical rather than warmly tuned, so all aspects can be heard and assessed clearly.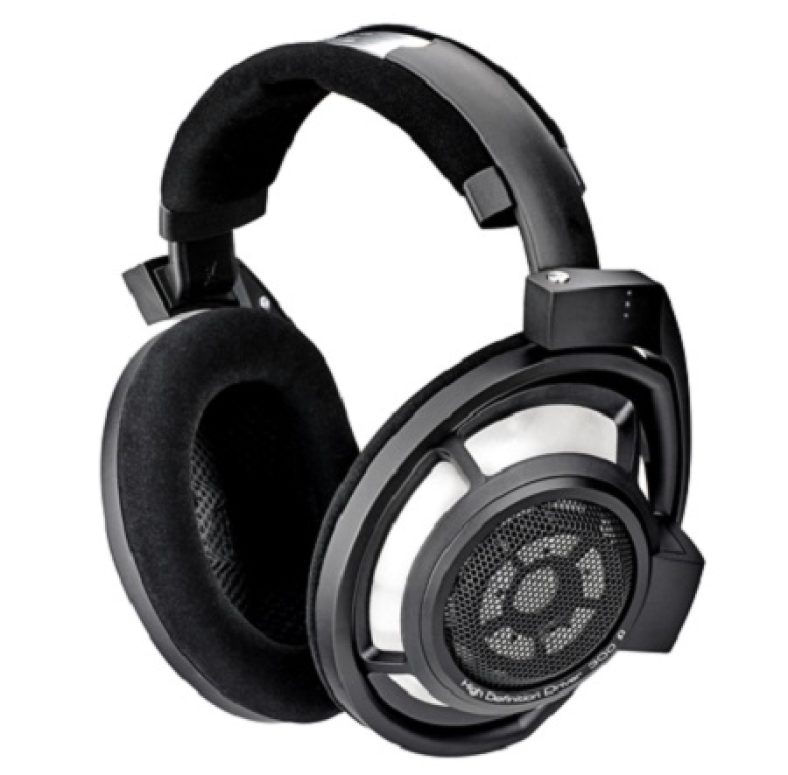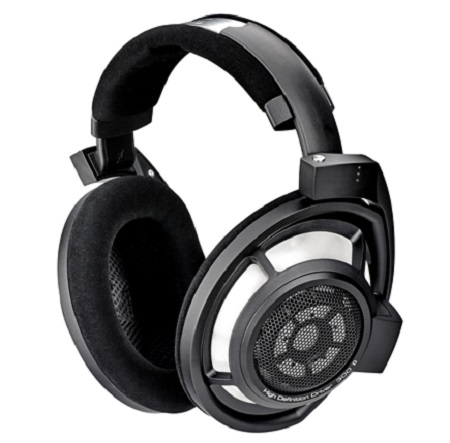 Features
Type: Wired
Open/Closed: Open
Fit Style: Circumaural
Driver Size: 56mm
Frequency Response: 4Hz-51kHz (-10 dB)
Impedance: 300 ohms
IMAGE
PRODUCT
For US
Customers
Amazon
Store
Sennheiser HD 800 S
If you are after something really exceptional, then these headphones are for you. Great for audiophile uses, studio mixing and mastering, and everything in between. Unfortunately, we do not own them, but listened to them in a music store and we were blown away and all for a good reason.
Positives
Amazing Sound Quality
Luxurious Design
Great Fit
---
6. Sennheiser HD 300 PRO – Best Budget Closed Back Headphones
HD 300 Pro headphones are constructed entirely of plastic, but the material appears hard and durable, giving the impression that they will not fall apart easily. Due to their robust construction and foldable design, they will be easy to store and transport and will not require a dedicated hard case.
HD 300 Pro has been tuned impressively by Sennheiser, so there is relatively little calibration left to be done. A "smiley face" pattern is evident in the curve with a boost in bass and highs, however, these boosts are conservative and there are only two abrupt dips throughout, which allows the coloring to remain tame and the sound to be relatively balanced. Despite that, calibration still makes a difference, since it reduces low-mid mud and improves high-mid clarity.
Sennheiser has clearly prioritized sound isolation over long-session comfort with HD 300 Pros. Our testers found that the headband cushions and ear pads are soft and comfortable at first, but none of them felt that they were suitable for extended mixing sessions, which is not surprising considering how strong the clamping force is.
Don't let this discourage you if you intend to use HD 300 Pro headphones as recording headphones, the comfort level is adequate for tracking purposes.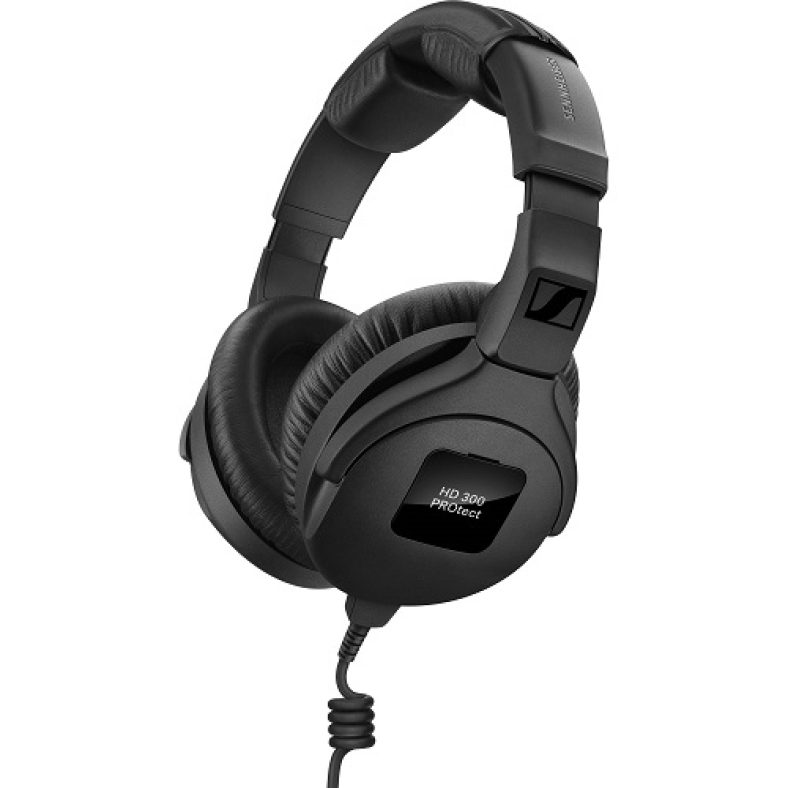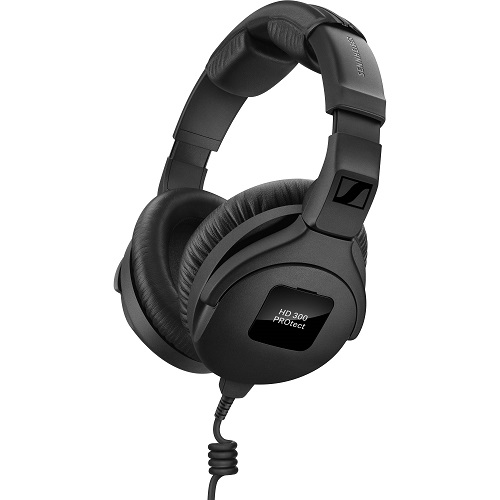 Features
Closed
Circumaural
Impedance: 64 Ohms
Nominal sound pressure level: 108 ± 3 dB SPL / 1 V rms / 1 kHz
Transmission range: 6 -25000 Hz
Harmonic factor <0.1% at 1 kHz
IMAGE
PRODUCT
For US
Customers
For EU
Customers
Amazon
Store
Sennheiser HD 300 PRO
If you are after a budget set of closed-back headphones that you are going to use daily, then these are the ones for you. Amazing for both tracking and referencing, the HD300 Pro is set for life. We used them in a studio session in a local studio and they are amazing! Compared to other closed-backs, these excel!
Positives
Budget Friendly
Great Build Quality
Good Sound
Negatives
The sound is good for tracking and referencing, not full mixing
---
Other Honorable Mentions
7. Sennheiser Momentum 4 Wireless
It was announced sometime in 2015 that Sennheiser Momentum 4 Wireless would be their next generation of active noise-canceling closed-back headphones featuring Bluetooth connectivity. Those who are familiar with audiophilia know that Sennheiser is one of the top brands in the industry.
We believe Momentum 4 Wireless' focus on immersion is at the forefront of its design, and we consider its active noise-canceling functionality to be on par with the best active noise-canceling headphones available today.
One of the most interesting features of the Sennheiser Momentum 4 Wireless is its design. When you lift up the right-side cup of the headphone, your music and audio activity will pause on the source that the headphone is currently connected to when you remove the right earcup from your head.
Since this is a headphone intended for active use, we appreciate that plastics have been used instead of metal. Despite being aluminum, the headband arc feels slightly malleable and is capable of being bent outward directly before returning to its original shape when you play with it. In terms of ear pads, they are circumaural, but are on the smaller side of being described as "full-sized".
A perfect fit can be achieved by rotating and swiveling both ear cups. In the bottom right-hand corner of the ear cups are the power button, which also serves as the pairing mode button when long pressed, light indicators for the pairing mode and the remaining battery life, a 2.5mm input for wired cable mode, and a USB-C port.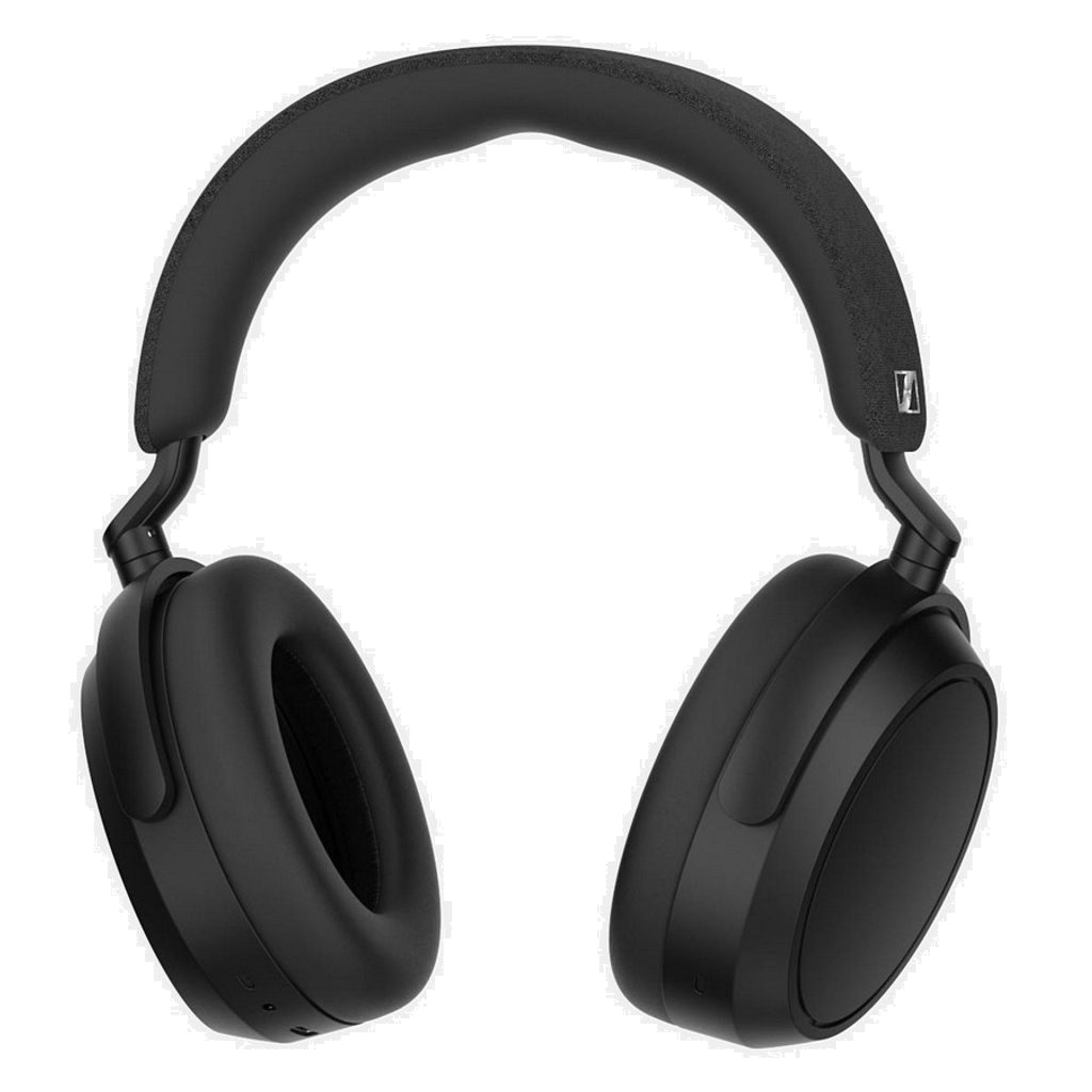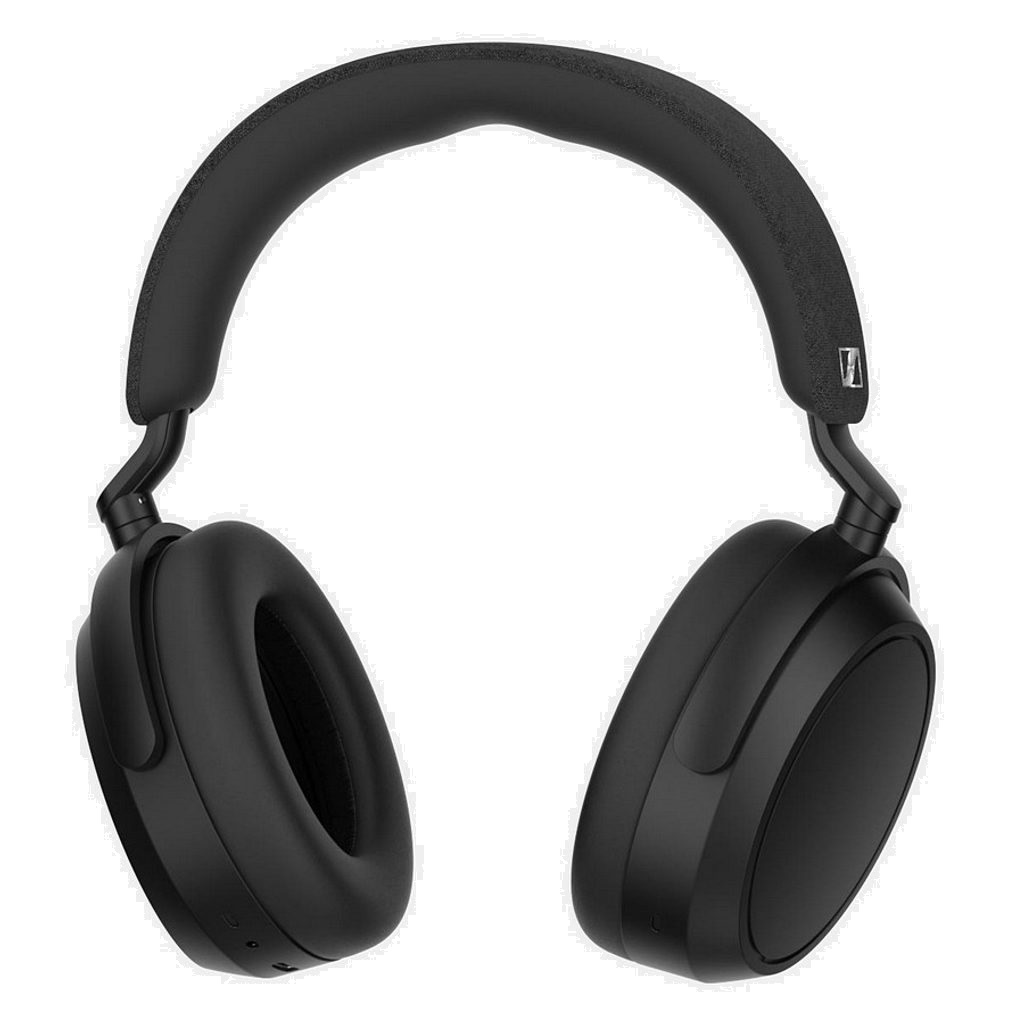 Features
Type: Wireless
Open/Closed: Closed
Fit Style: Circumaural (Around the Ear)
Driver Size: 42mm
Noise Attenuation: Active Noise Cancelling
Frequency Response: 6Hz-22kHz
IMAGE
PRODUCT
For US
Customers
Amazon
Store

Sennheiser Momentum 4 Wireless
Sennheiser Momentum 4 Wireless
The set was recommended by a friend who owns them. Those seeking high-quality wireless headphones should consider the Sennheiser Momentum 4 Wireless. With a closed-back design, the Momentum 4 Wireless ensures effective noise isolation. The device is Bluetooth-connected and features active noise cancellation. Really nice set and an amazing design.
Positives
Premium Design
Good Sound Quality
Wireless
Negatives
Pricey compared to other wireless models
---
8. Sennheiser HD 599
In their 5XX range, Sennheiser has introduced the HD 599. This headphone is marketed as an entry-level audiophile headphone that is capable of doing everything. With the HD 599, you can enjoy audiophile-quality sound whether you are watching movies, listening to music, or engaging in any other activity with headphones.
These headphones have an open back. It is for this reason that they are primarily designed for listening to audio in a controlled environment, which for most people would be at home. These can be taken on the go, but if mobility is your primary concern, you should consider another model.
There are two color schemes available for the Sennheiser HD 599. In the standard model, the housings are ivory in color, the grilles are black with silver edges, and the ear cups and headband are brown. Rather than ivory and brown, the special edition features black rather than traditional ivory and brown.
There are two different cables included with the HD 599. Firstly, there is a cable of three meters that has a 6.35mm jack plug. The larger jack can be adapted to accept a 3.5mm adapter if necessary. Due to this design, the device is rather bulky and maybe a little hard to plug into an average 3.5mm port due to its heavy construction.
As the manufacturer describes them, the Sennheiser HD 599 headphones deliver audiophile-quality sound at an entry-level price. In our opinion, this statement is accurate. Even though they are considered lower-tier audiophile headphones, they offer a very refined listening experience.
If you are familiar with Sennheiser's balanced sound signature you will recognize the overall sound signature as being very typical of the brand. Because of the open-back design, they have an impressive sound stage and a very natural sound. As far as sound quality is concerned, they are certainly among the best available headphones.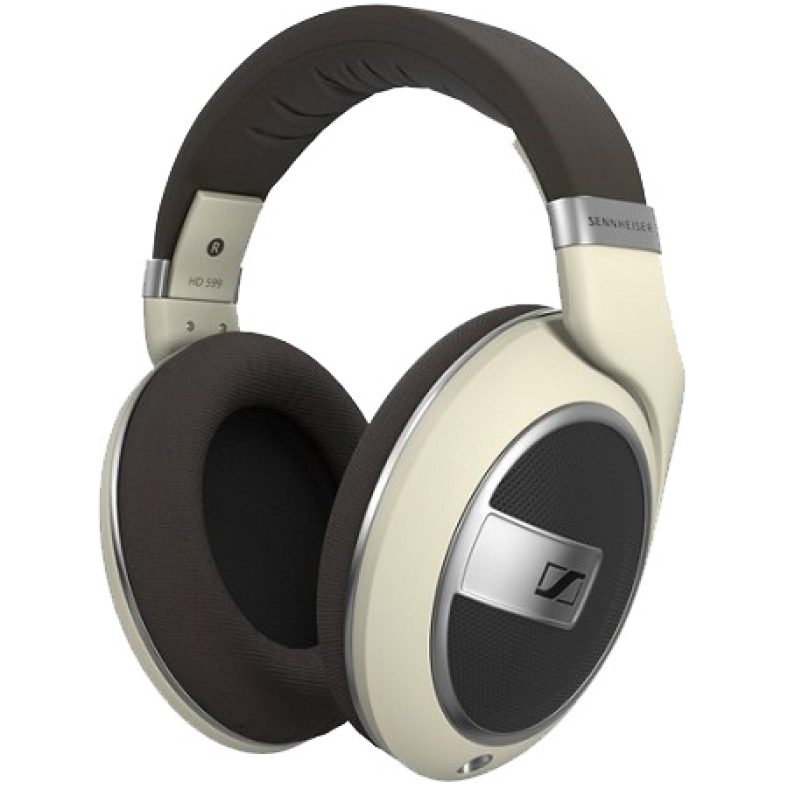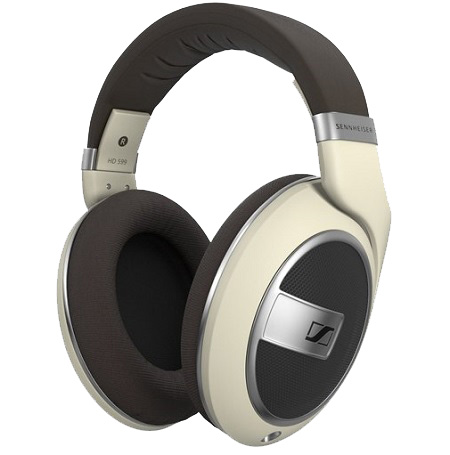 Features
Circumaural
Open-back
Cable attached on one side
Max. SPL: 106 dB SPL @ 1 kHz, 1 V RMS
Impedance: 50 Ohm
Frequency range: 12 – 38500 Hz
IMAGE
PRODUCT
For US
Customers
For EU
Customers
Amazon
Store
Sennheiser HD 599
Really elegant design and looks that separates them from the rest, even from other Sennheiser models. In terms of sound, they are amazing and really comfy. Despite their complex design, they are really light in weight. I was really impressed by them while I had them for testing.
Positives
Very Comfortable and Sturdy
Amazing Design and Appearance
Great Sound
---
9. Sennheiser HD 200 PRO
A simple yet attractive design distinguishes the Sennheiser HD 200 PRO. This pair of headphones is made entirely of plastic, making them quite lightweight, and the soft cushions that cover the headband and ear cups add to their comfort.
Both sides of the shell are textured, and there is only one wire attached to the left side of the device. The only downside to this design is that the adjustment slider produces a grinding sound when adjusted, which can become rather irritating after a while. There is a 3.5mm audio jack on the device and a 2-meter-long wire, which can be both an advantage and a disadvantage.
The Sennheiser HD 200 PRO weighs only 184 grams, has a 32-ohm impedance, a frequency response of 20 to 20,000 Hz, and a load rating of 500 milliwatts, very similar to the Sennheiser HD 280 pro set that comes later on.
Considering the HD 200 PRO's price, we found its performance to be quite satisfactory. Due to its closed-back design, there is very little sound leakage. Occasionally, however, the audio output is too loud due to high pressure within the ear cups.
It was a pretty amazing acoustics experience, even for songs with high tempos. In addition to being warm, loud, and clear, the vocals are perfectly synchronized between the highs, the lows, and the mids. The sound was so well balanced that each layer of the music could be discerned and appreciated in its entirety, creating an unforgettable listening experience.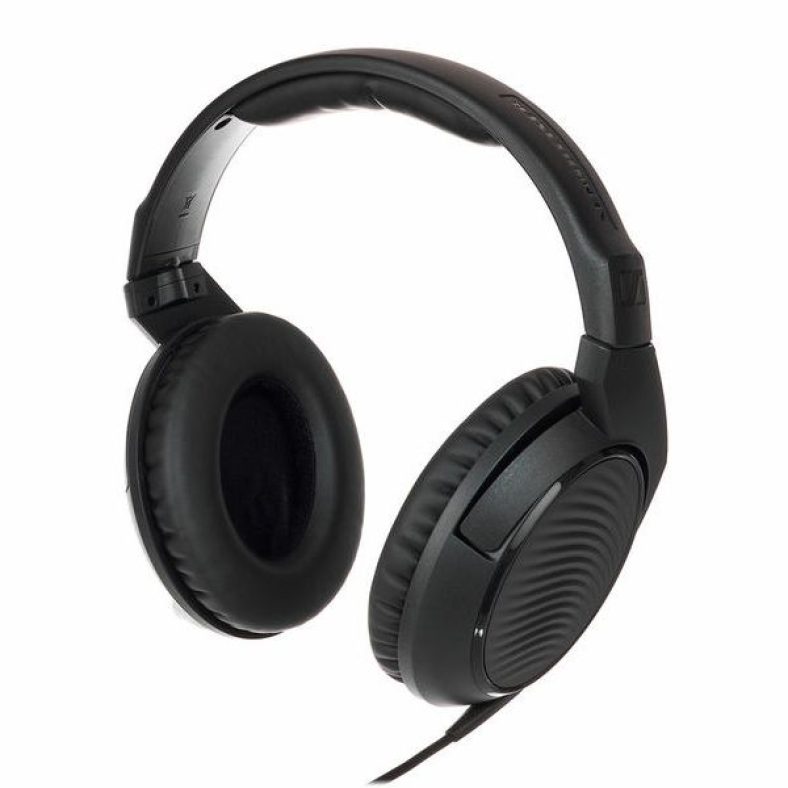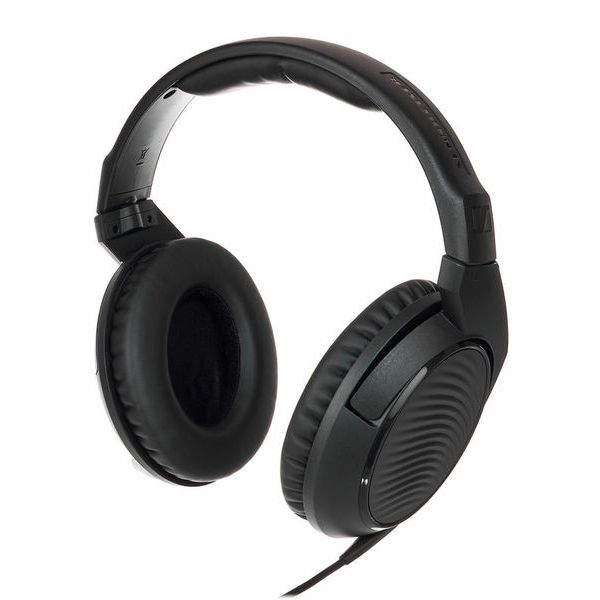 Features
Circumaural
One-sided cable management
Dynamic
Closed
Maximum level: 108 dB SPL @ 1 kHz
Impedance: 32 ohms
IMAGE
PRODUCT
For US
Customers
For EU
Customers
Amazon
Store
Sennheiser HD 200 PRO
If you need closed-back headphones for studio monitoring and recording on a budget, the Sennheiser HD 200 PRO is a great option. Featuring a closed-back design, the HD 200 PRO isolates noise well and prevents sound leakage. This device offers balanced and accurate sound reproduction, making it ideal for critical listening. Really nice cans for studio usage, met them in various studios around and that proves them worthy of the task.
Positives
Budget Friendly
Great Construction
Accurate Sound
Negatives
No details as a higher end cans
---
Sennheiser Headphones: How to Choose the Best
Since 1945, Sennheiser has been one of the world's leading audio brands, offering both professional and leisure audio products.
However, selecting the best Sennheiser headphones can be a challenging task. There are a few headphones from Sennheiser that stand out among its competitors, despite the fact that most of its products are good.
Are you planning to use them for any particular purpose?
There are a number of headphones available from Sennheiser, each targeting a different purpose and audience.
It is important to choose Sennheiser headphones that are appropriate for your specific needs. When you are constantly on the move, you will need headphones that are both light and portable. The professional who works in a studio, however, requires wired and breathable headphones.
It is therefore necessary to determine what your lifestyle demands in order to find the right one for you. It is important to match the form factor, connectivity, build, and features to your specific requirements.
Configuration compatibility
It is important that your headphones' impedance or voltage match the voltage produced by your source in order to utilize them properly. The headphones will not function properly if they do not receive enough electricity. Impedance matching is the concept behind this.
Impedance matching is a challenging process for some Sennheiser headphones. The reason for this is that the majority of portable devices, such as smartphones, have low power output, whereas the majority of high-end headphones require a high level of power. It would be necessary to choose either a device with a high power output or headphones with a lower impedance requirement in order to match impedance.
Cost-effectiveness
There is no doubt that Sennheiser is not an affordable brand. In spite of the fact that the brand offers some budget options, you would need to spend at least $100 in order to obtain the best product from them. There are even premium headsets from Sennheiser that cost as much as $2000, such as the new HD 820.
For good reason, Sennheiser has remained an institution in the industry regardless of its high price point. When it comes to sound quality and build quality, Sennheiser headphones are on par with the very best.
It is important to remember that the best headphones are those that cater to your needs in an effortless manner. As long as your headphones are right for you, it will not matter how expensive or affordable they are.
Conclusion
The excellent sound quality and durability of Sennheiser headphones make them some of the best on the market. For over 75 years, the company has been producing high-end audio equipment for consumers and professionals alike.
Using advanced technology, such as their proprietary "transducer technology," they are able to reproduce sound in a natural and accurate manner. Moreover, many of their headphones are equipped with noise-canceling capabilities, which makes them ideal for use in noisy conditions.
Additionally, Sennheiser headphones are known for their rugged design and superior sound quality. In addition to being constructed of premium materials, such as high-quality leather, many of their headphones are designed to withstand heavy use.
A wide variety of models are also available, from over-ear to in-ear, wired to wireless, and noise-canceling to open-back headphones, to meet the needs and preferences of all users. Considering the outstanding audio quality and durability of Sennheiser headphones, they are an excellent investment.
In this article, we didn't include any Sennheiser gaming headsets, but we will leave them for some other occasion. Also, in the future, we will cover more on the Sennheiser smart control app that works with some of the amazing headphones.