Best 8 Inch Studio Monitors
Introduction
If you are having a big studio room, you probably will need big studio monitors as well. Picking the size of your monitors mainly depends on your needs and the size do the room generally. In order to satisfy the needs of the room, you should aim for at least 8-inch studio monitors to cover the area with sound.
In case you already own smaller speakers and you plug them into a bigger room, you will notice that they are not enough and that you are lacking the power of the music. Also, the bass response will be smaller and you will feel like you are missing something in your production, but in the end, you will notice that the only thing lacking is a bigger studio monitoring system.
Well, in this article, we are going to cover what we think are the best choices for 8-inch studio monitors that will have the best sound quality, and accurate frequency response and that probably will be active monitors. We are not going to go over some passive speakers we will leave that for some other occasion.
Now we are going to start with our selection and brief review of each model and also want to mention here that we are not going to list them in no particular order because we do not want to separate the best from the not-that-best options. So let's begin.
1. Yamaha HS8
Although the Yamaha HS8s might be the best out of Yamaha's HS line, they aren't perfect. In addition to overhyped highs and scooped mids, they also have an overly smiley response that makes them better suited for secondary reference monitors.
Yamaha's HS8 offers a frequency response from 38 Hz to 30 kHz. Regardless of the lack of a subwoofer, this range should be enough for any producer to create a full image. The highs were overhyped, and the low mids were scooped.
The sound coming from these monitors is very clean, although some may find it too clean. These aren't ideal for primary monitoring, but if you're looking for "in-reality" checks, they might be useful. Similar to a car stereo sound system, or midrange home stereos. Give these a try if that appeals to you.
Their 120 W amplification makes them quite loud as well. Despite the fact that we did not hear any hiss or distortion from these, it might be worthwhile to buy from a local seller just in case you want to exchange if that's a problem.
Considering how heavy these things are, they're not recommended for your mobile setup. As Yamaha speakers, they have the simple, elegant look we have come to love and expect from them throughout the years.
They would look great anywhere in a studio. Their size shouldn't be an issue either, since they are controlled by the room control switches. Overall, they are a nice choice if you are entering the music production world now since they are not going to break the bank.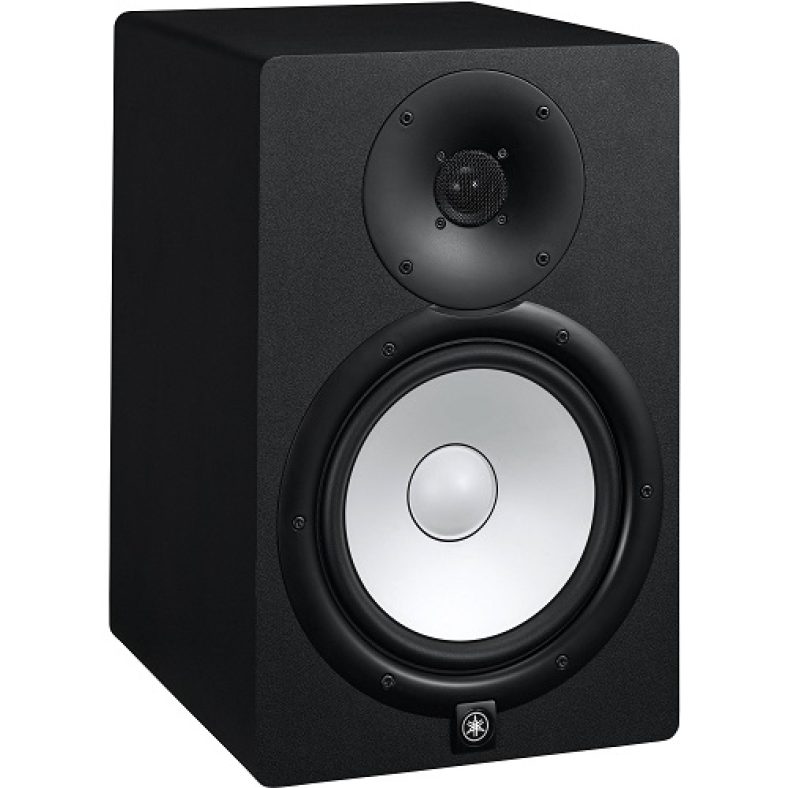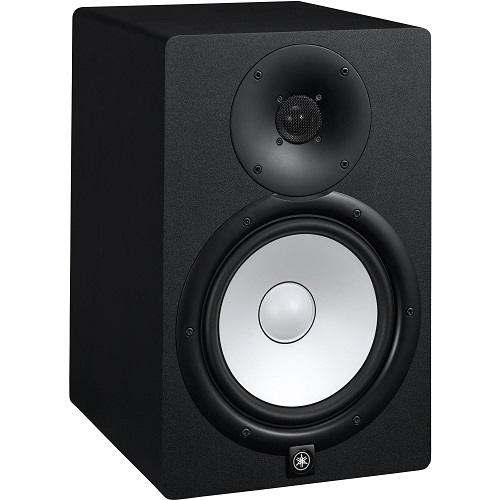 Features
Active 2-Way Nearfield Monitor
8″ Woofer (75 W) + 1″ Tweeter (45 W)
Power: 120 W biamp
Bass reflex system
Frequency range: 38 Hz – 30,000 Hz
Inputs: balanced XLR and 6.3 mm balanced jack
Yamaha HS8
Monitors found in many studios worldwide. Beatmakers friends of ours have them and are swearing by them for the outcomes that they are getting. They are great for their neutral sound and will give you this perk, something that Yamaha is known for.
Positives
Accurate and Neutral Sound
Amazing Build and Design
Very Famous Models
IMAGE
PRODUCT
For US
Customers
For EU
Customers
Amazon
Store
---
2. KRK Rokit 8 G3
A new generation of ROKIT monitors has been released by KRK with the ROKIT 8″ G3. ROKIT is KRK's series of studio monitors that were introduced in the mid-2000s. KRK has been producing studio monitors since the 1980s.
A black and yellow Aramid glass composite speaker cone is one of the first things you will notice about these monitors. A speaker cone made from aramid is very strong, heat-resistant, and is commonly known as Kevlar. Most studio monitors come with a 1″ soft dome at their top.
Featuring a 35 Hz to 35 kHz frequency response, these monitors are perfect for producers of all genres. At the back, you'll find switches for adjusting the high and low by 1 or 2 decibels. You can use these if your room is experiencing some sound problems.
XLRs, 14-inch jacks, and RCA connections can also be found on the back. Having a wide variety of connection options is helpful if you are connecting to a mixer or audio interface that has a specific output connection.
If you have an open area under your woofer, the front port (the open space behind it) might be of benefit to you. It is important to keep in mind that rear-ported speakers will drastically change their sound when placed against a wall.
This is a good mid-range studio monitor for the price. For producers just starting out, the KRK ROKITs are a great way to jumpstart their careers.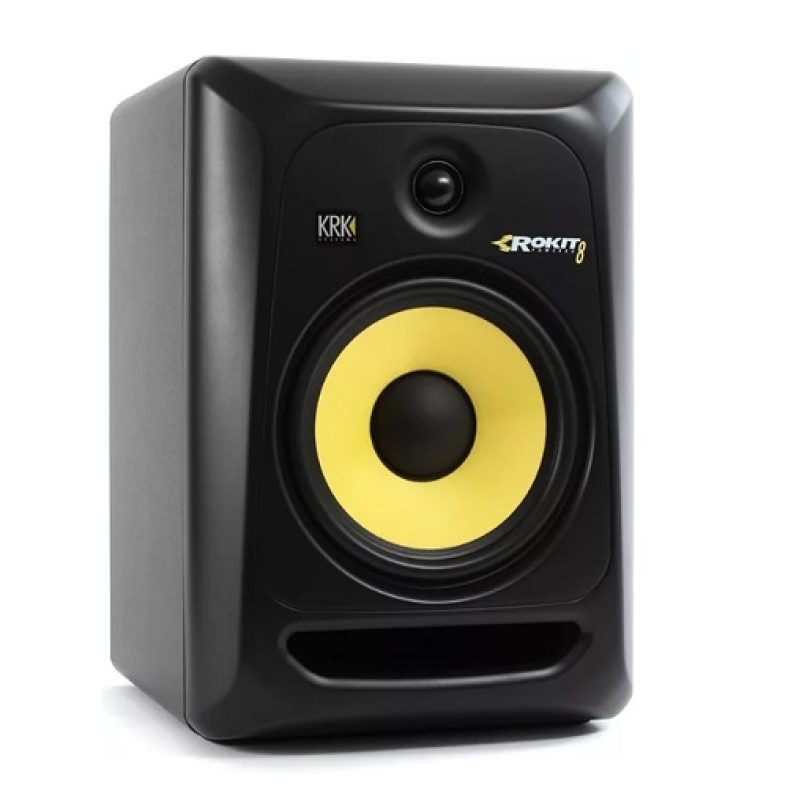 Features
Power Configuration: Bi-amped
Quantity: Single
LF Driver Size: 8″ Woofer
LF Driver Type: Glass Aramid
HF Driver Size: 1″ Tweeter
HF Driver Type: Soft Dome
Frequency Range: 35Hz-35kHz
KRK Rokit 8 G3
Another set that can be found in many worldwide studios and we most recently used them in a session. They are amazing pair and great for users that want to have more bass performance in their room. That can be good or bad, depending on what you prefer. In terms of price, they are optimal and worth the money.
Positives
Affordable
Big bass response
Amazing Design
Negatives
High frequencies are less detailed
IMAGE
PRODUCT
For US
Customers
For EU
Customers
Amazon
Store
---
3. Kali Audio LP-8
Kali Audio is one of the world's leading manufacturers of studio monitors, offering outstanding speakers. There is no exception to this rule when it comes to the LP-8 Kali studio monitor. In order to achieve a 3D soundstage performance this speaker has a 3-D imaging waveguide.
As a result, you will have the ability to make critical decisions regarding your mixes when you listen to the Kali LP-8. Additionally, the speaker has a 40W dome tweeter that does a great job of articulating the sound quality. Furthermore, these speakers have LF and HF trim, ensuring the best possible sound quality no matter what room you are in.
The sound is great, you will detect flaws, and they are easily rectified without spending hours chasing your tail to fix problems that no one else will be able to hear. Because they are so balanced, they are a great choice for a main speaker. In a small collection, they would still be the go-to speaker, and other monitors might be used to double-check.
A small bump in the upper mids may cause you to attenuate too much, but not enough to ruin a mix. There is a good balance between the lows and highs, which is a common problem with budget speakers. Also, Kali's mids sound honest, something even less common among budget speakers.
A mix engineer of any level would benefit greatly from Kali Audio LP-8s. There won't be much to say beyond what you need to know. The speakers don't have any hype, aside from the excitement around them in general.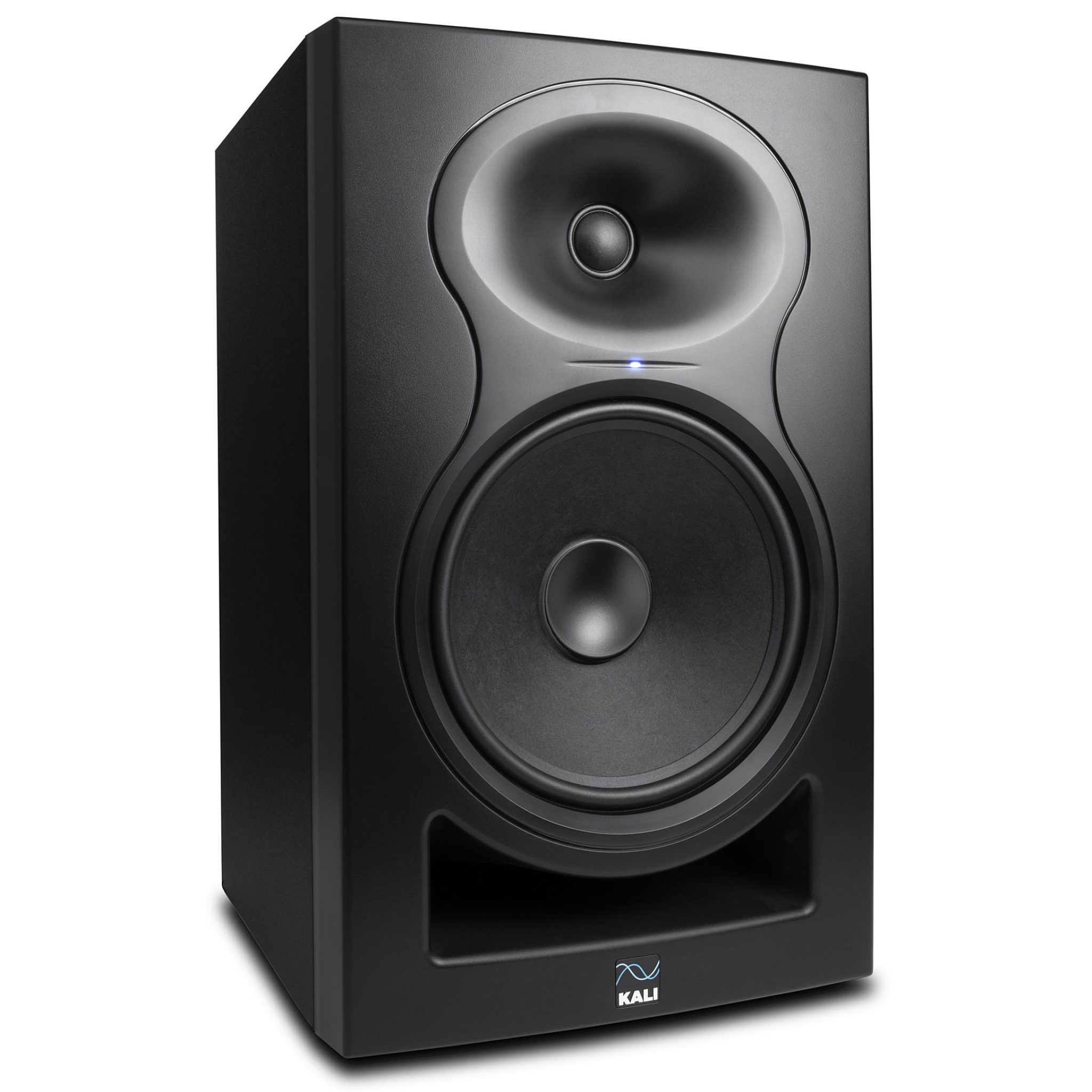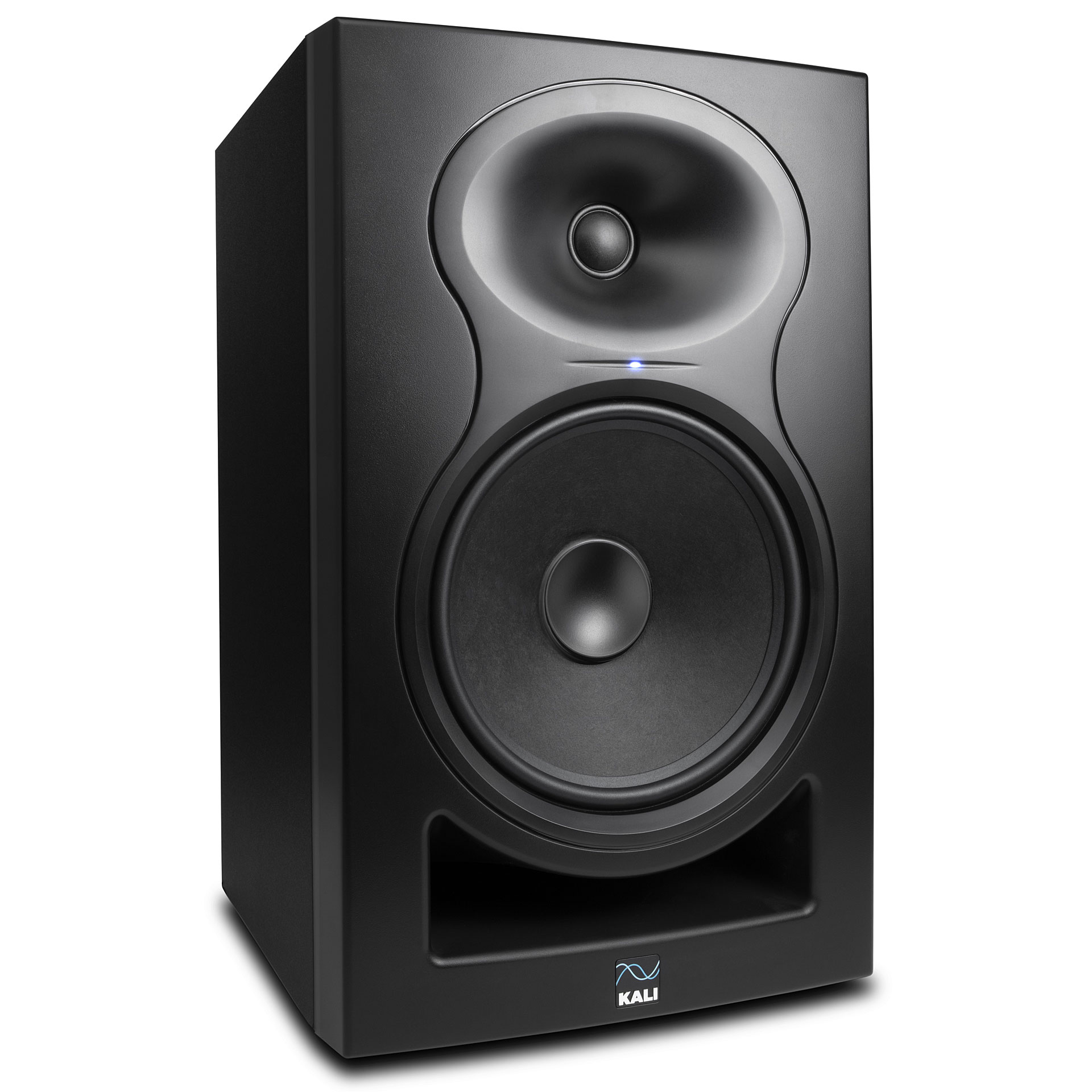 Features
Bass reflex system
Power: 100 W (60 W / 40 W bi-amped)
Frequency range: 37 – 25000 Hz
Crossover frequency: 1500 Hz
Sound pressure level: 85 dB SPL continuous
Inputs: XLR, 6.3 mm jack (balanced), RCA
Kali Audio LP-8
In spite of its relative newness, the Kali Audio LP-8 has gained notice for its exceptional value and accurate sound reproduction. Though I have not personally used this model, it has a transparent sound and an affordable price based on what I've read about them. In addition to its 8-inch woofer, the LP-8 features a 1-inch soft dome tweeter offering a well-balanced frequency response. Amazing design!
Positives
Affordable
Transparent Sound
Good Stereo Imaging
Negatives
Great design but feel less sturdy
IMAGE
PRODUCT
For US
Customers
For EU
Customers
Amazon
Store
---
4. Focal Alpha 80
Focal's Alpha 80 offers top-notch innovations at an affordable price. There are two Class AB amplifiers providing 100 Watts of power to the LF and 40 Watts to the HF (140 Watts in total). It has a frequency response of 35Hz-22kHz and a maximum sound pressure level of 109dB, which is more than sufficient for a studio monitor.
Detailed information about the Alpha 80's design is available on the manufacturer's website. The Alpha 80 measures 397mm tall, 287mm wide, and 348mm deep, and weighs 28.2 pounds. Additionally, it features a 15mm MDF enclosure for the bass port, which allows you to position it in different ways. In addition to the woofer, the monitor is also equipped with a 1-inch inverted dome tweeter and an 8-inch Polyglass cone woofer.
Regarding the sound quality, we were very pleased with the Alpha 80 as it provided incredible clarity and great accuracy. The instrument of the mix was faithfully reproduced without any coloration, making it an excellent tool for the production of music. Using different old speakers, we reproduced some of the mixes we had made using the Alpha 80, and the sound was flawless.
There is a noticeable difference between the Alpha 80 and the Alpha 70 in terms of the design, however, they both weigh the same at 28.2 pounds. While the Alpha 80 and Shape 65 are comparable in terms of audio quality, they are in different leagues when it comes to audio quality. Our comparison of the Alpha 80 with the Shape 65 revealed a greater level of detail and accuracy.
In general, the Alpha 80 is an excellent 8-inch monitor. With its incredible highs and powerful lows, it provided excellent sound quality. Furthermore, it feels very neutral, making it a great choice for an 8-inch monitor.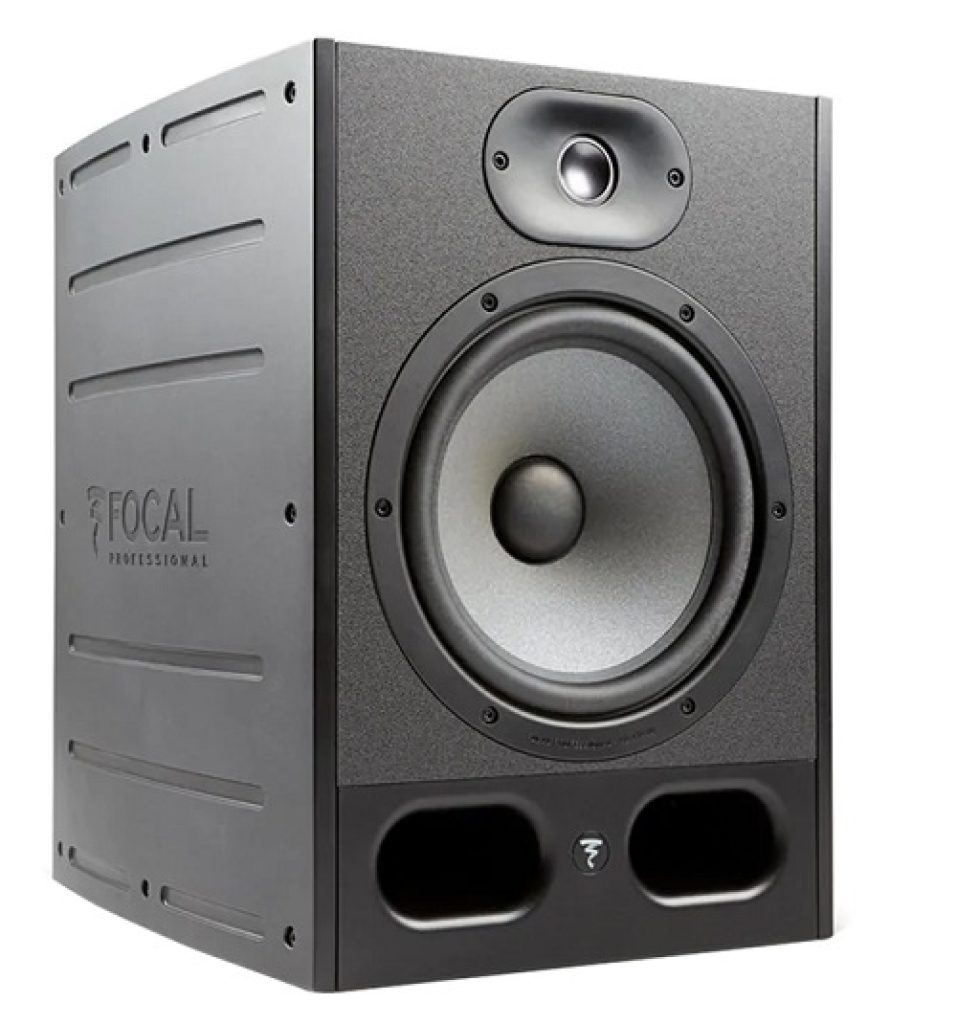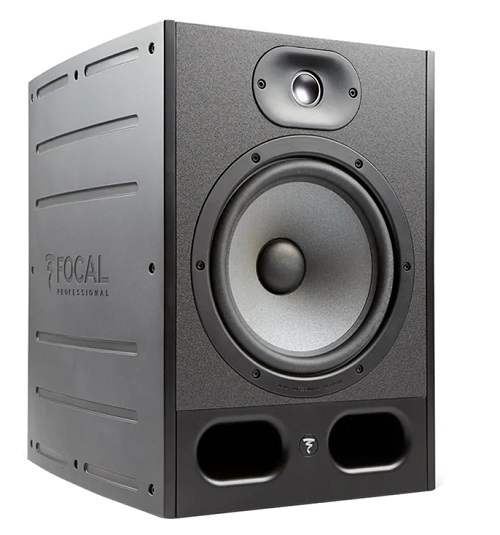 Features
Power Configuration: Bi-amped
Quantity: Single
LF Driver Size: 8″ Woofer
HF Driver Size: 1″ Tweeter
Total Power: 115W Class D
Frequency Response: 38Hz-22kHz
Focal Alpha 80 Evo
Professional-grade performance and precise audio reproduction distinguish Focal Alpha 80's 8-inch studio monitors. Alpha 80 features a 1-inch aluminum dome tweeter and an 8-inch woofer. Their neutral sound signature makes them suitable for critical listening, mixing, and mastering. Amazing speakers that are good for a wide range of usage, simply great!
Positives
Precise Sound Reproduction
Amazing Construction
Nice Features
Since Alpha 80 is upgraded to Alpha 80 Evo, the links below lead to the new and improved version of the speaker above!
IMAGE
PRODUCT
For US
Customers
For EU
Customers
Amazon
Store
And if you want to check the full review on the Alpha 80 Evo, follow this link here!
---
5. M-Audio BX8 D3
The M-Audio brand has been around for a while, and it used to be the only company to produce entry-level studio monitors. It has been a decade since they experienced a fall in quality. In the recent release of their BX series of studio monitors, it is safe to say that they have regained their position in the industry. Professionals and beginners have rated them highly as a solid budget option.
Similarly to the JBL LSR series, the BX series has been iterated on several times, with the D3 being the third iteration. The D2 features 150 Watts (80W LF, 70W HF) of power amplification as opposed to 130 Watts in the previous version, as well as low-frequency response down to 37 Hz as opposed to 56 Hz previously. Additionally, the D3 features enhanced stereo imaging through an optimized tweeter waveguide and new acoustic tuning controls.
A rear-ported monitor such as the BX8 is less suitable for placement near walls because of its rear porting. If you are concerned about space constraints, you can activate the acoustic tuning switches to help counteract this problem. A noteworthy feature of these monitors is their bright alignment LED, which gives them an edge over their competitors. There is an embedded LED in the cabinet that shines brightest when the monitors are properly aligned with the monitor position.
It may seem that they are relatively simple at first glance, but they provide everything you may need in order to achieve a good listening position from which to shape and sculpt sounds with confidence. In the end, we found that we could trust them quite quickly, and the proof is in the pudding if it translates in a car, you're pretty much done.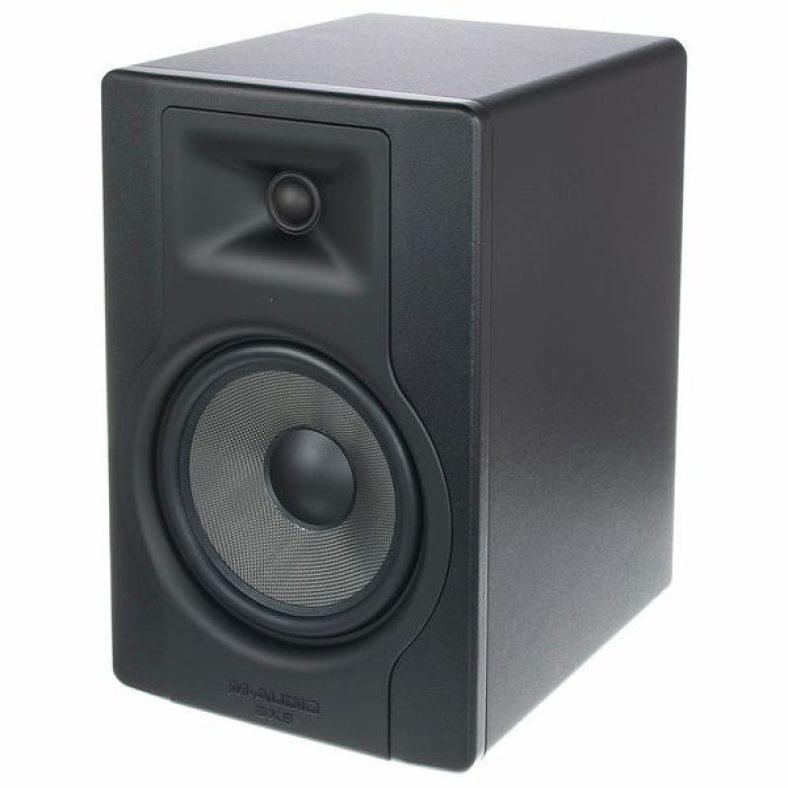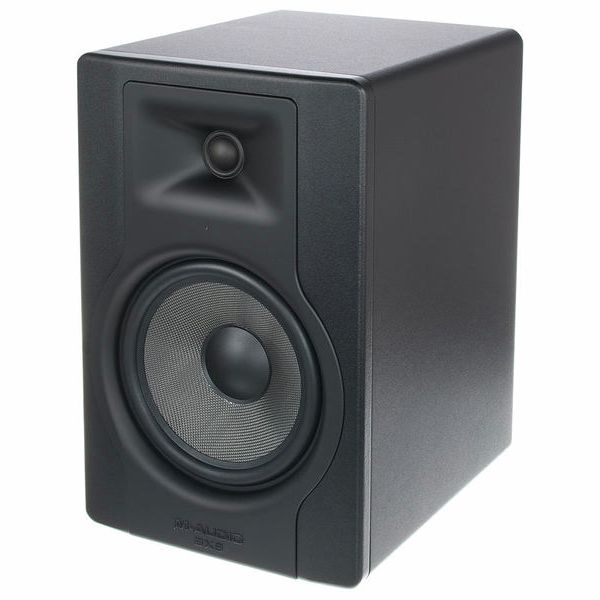 Features
Woofer: 8 "woofer (203 mm) 70 W with Kevlar membrane
Amplifier: 150W RMS bi-amp Class A / B power amp
Maximum level: 114 dB
Crossover: 1900 Hz
Further sound adjustments: Acoustic Space
Frequency range: 37 – 22,000 Hz
M-Audio BX8 D3
It's affordability and reliable performance make it one of the most popular 8-inch studio monitors. A 1.25-inch silk dome tweeter complements the 8-inch Kevlar woofer on the BX8 D3. Multimedia, mixing, and recording applications benefit from their neutral sound signature. We listened to them in a local store and we noticed why they are recognized worldwide.
Positives
Really Affordable
Accurate Sound
Flexible Connections
Negatives
Missing a touch of low end
IMAGE
PRODUCT
For EU
Customers
---
6. ADAM Audio T8V
In designing the Adam Audio T8V monitor speakers, the studio owner and bedroom producer in mind were taken into account. This is Adam Audio's latest addition to the T-Series, and they have 8-inch woofers onboard (the T5V and T7V have 5-inch and 7-inch woofers, respectively). In addition to being physically larger and heavier than the other models in the line, they are also louder and offer a wider frequency range.
The unit is equipped with a patented Adam Audio U-ART 1.9" ribbon tweeter at the top as well as an 8″ woofer at the bottom. The speakers are active speaker monitors, and there are two Class D amplifiers on board: a 20W amplifier for the U-ART tweeter, and a 70W amplifier for the woofer.
Like the T5V, the T8V does not disappoint in terms of sound quality: the highs remain crisp and the mids remain clear, though the lower frequencies have a bit more power thanks to the 8-inch woofer. It should be noted that the frequency response skews a bit more towards the bass side of things when compared to the A7X.
Although its size causes it to require more desk space and room space to sound its best, the T8V is a satisfying combination of power and clarity. You may want to consider the excellent T5V model if you have a smaller desk (or a smaller space).
The T8V monitors would be an excellent choice for engineers looking for production monitors as well as monitors for their home set-ups. We recommend them.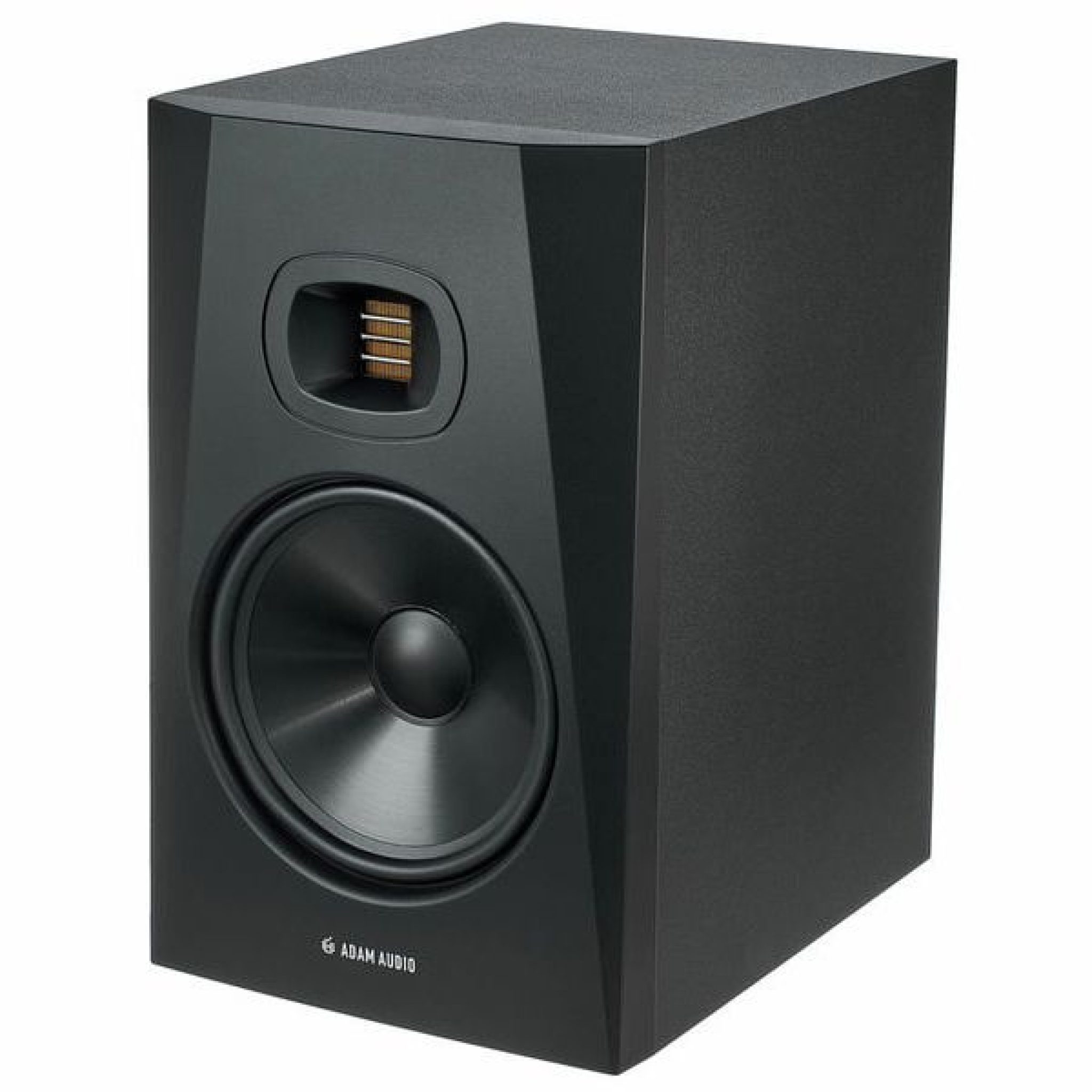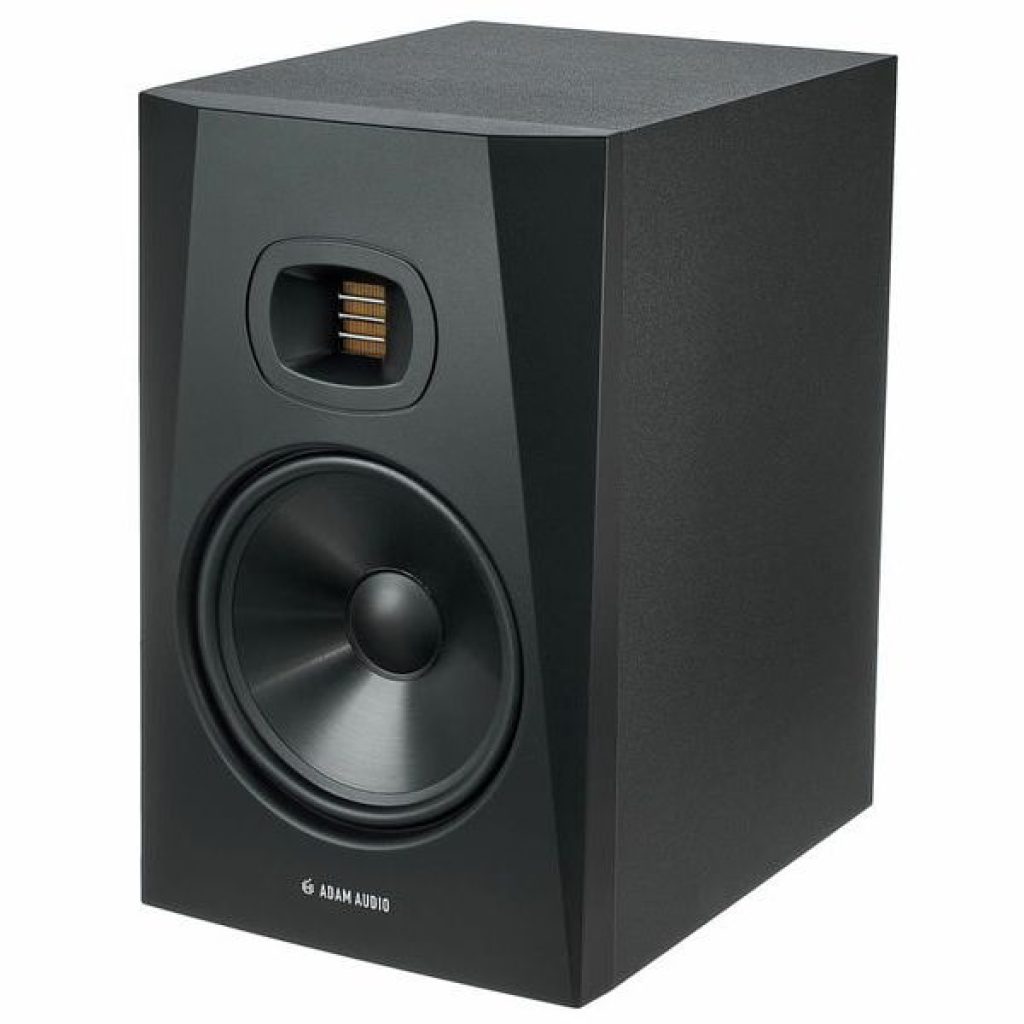 Features
8″ Woofer
1.9″ U-ART Ribbon tweeter
2x Class-D amplifiers: 70 W RMS subwoofer, 20 W RMS tweeter
Frequency response: 33 to 25,000 Hz
Crossover frequency: 2600 Hz
Max. SPL (sound pressure level): 118 dB (per pair at 1m)
ADAM Audio T8V
Those looking for an 8-inch studio monitor with accurate sound reproduction and professional-grade performance will find the ADAM Audio T8V appealing. Polypropylene woofers and U-ART tweeters provide balanced, precise sound. Their transparent sound signature makes them ideal for critical listening, mixing, and mastering. A friend of ours sold his Yamahas to get these, probably for a good reason.
Positives
Amazing Sound Reproduction
Professional Design
Great Features
IMAGE
PRODUCT
For US
Customers
For EU
Customers
Amazon
Store
---
7. Genelec 8351B
We already reviewed this amazing pair of studio monitors, but we are going to over some of the features briefly now and provide you with the full link to the review below.
Genelec's 8351B near-field monitor features a finish referred to as "producer" by the manufacturer. In addition to its coaxial design, this speaker possesses dual 8.6″ woofers, which are aligned along their acoustical axes, resulting in a precise point of sonic radiation.
In addition to accepting analog and digital AES/EBU signals from separate XLR jacks, the monitor utilizes Intelligent Signal Sensing technology (ISS) that detects when no audio is being fed into it, thereby conserving energy when there is no audio. It features a frequency response of 38 Hz to 20 kHz (1.5 dB) at a maximum SPL of 113 dB at 1m.
The Genelec GLM software can be used to tune multiple 8351B monitors to your room, enable daisy-chaining of monitors, and override the ISS function among other things. GLM adapters and Cat5 (RJ45) cables are used for routing. For GLM connectivity, there are two RJ45s available. Other monitors can be connected using the XLR output jack to receive identical copies of the incoming AES/EBU signals.
An offline control for level and DIP switches are available on the back of the monitor. Using these switches, you can tune your monitors without the need for DSP if necessary. As part of the package, there is an Iso-Pod stand that facilitates isolation from environments that may cause acoustic damage. This section also discusses the 8351B's acoustically concealed woofers, coaxial construction with minimal diffraction, and proprietary waveguide.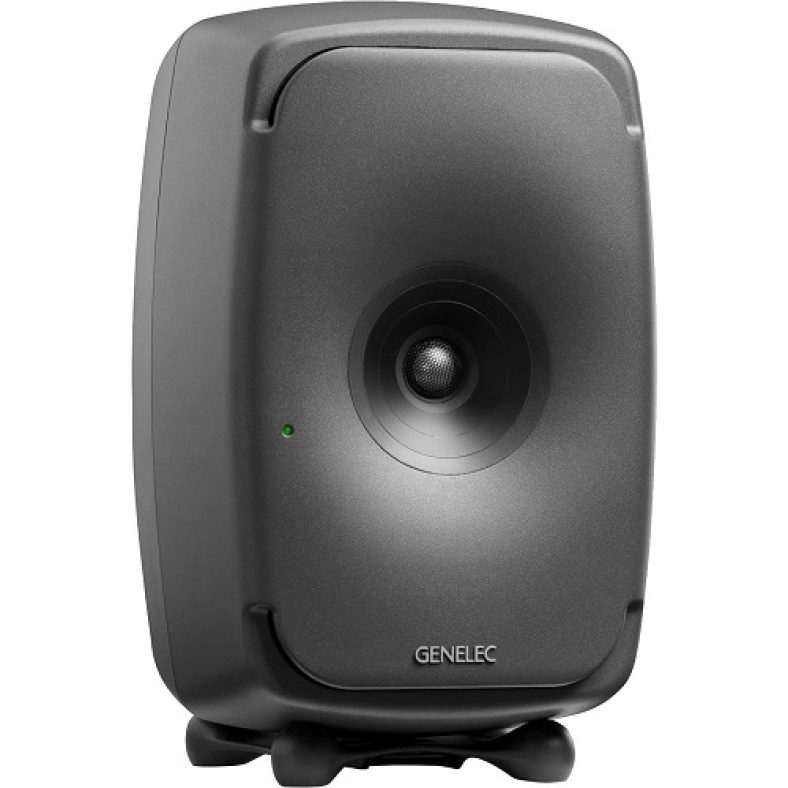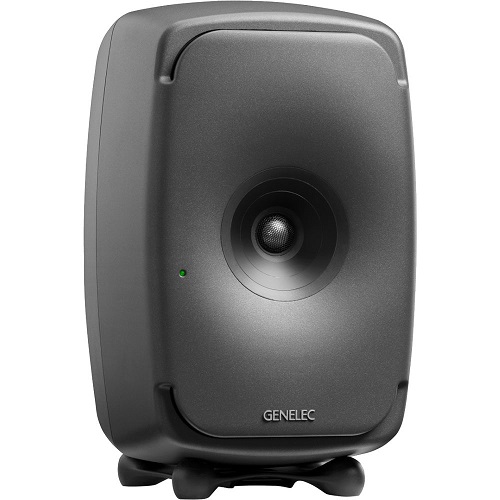 Features
Max. SPL: 113 dB
Frequency response: 32 – 43000 Hz (-6 dB), 38 – 20000 Hz (± 1.5 dB)
Analogue input: XLR
AES/EBU input and output: XLR
2 RJ45 connectors
Internal power supply 100-240 VAC 50/60Hz
Genelec 8351B
These monitors have this great score because they are bloody amazing. Everything that you need from one monitor that is 8 inch and used in a medium room, these will satisfy. Listened to them for a while in a local store, and can freely say that they were the best models there.
Positives
Exceptional Audio Quality
Advanced Tech Features
Great Build
IMAGE
PRODUCT
For US
Customers
For EU
Customers
Check out our full review on the link here!
---
8. Dynaudio LYD 48
The Danish company Dynaudio manufactures high-quality loudspeakers for the home audio, professional studio, and automotive markets. In 1992, Dynaudio launched its Professional division to develop monitor loudspeakers for recording studios and broadcasts. The company was originally rooted in the world of hi-fi. In the world of professional monitors, Dynaudio's BM series, especially, is extremely popular, and they have been for many years.
There are four switches on the rear panel of the Dynaudio LYD 48 for adjusting the speaker's response, including an IEC input, power switch, auto-standby mode switch, and analog input (balanced XLR and unbalanced RCA). It is Dynaudio's belief, however, that changes to speaker response are seldom required in actual use. As a result, LYD speakers have relatively limited options for DSP drivers.
A Bright and a Dark option is available on the Sound Balance switch of the LYD 48. In the Bright option, a linear phase filter increases the signal at 20KHz by 1.5dB, while a linear phase filter attenuates it by 1.5dB at 20Hz, preventing phase problems in the listening position. When you select the Dark option, the boosted frequency is switched with the attenuated frequency.
Dynaudio LYD 48 has a 24-bit/96kHz digital audio signal format, a PWM class D power amplifier, and a Dynaudio DSP module. 50W and 80W power amplifiers drive the tweeter and woofer of the LYD 48, respectively, while 50W power amplifiers drive the midrange. In terms of frequency response, the speaker operates between 32Hz and 21KHz.
Despite its relatively moderate price, these high-quality three-channel monitor speakers provide excellent performance. LYD 48 active monitor speakers are an affordable and high-performance choice for those looking for active monitor speakers.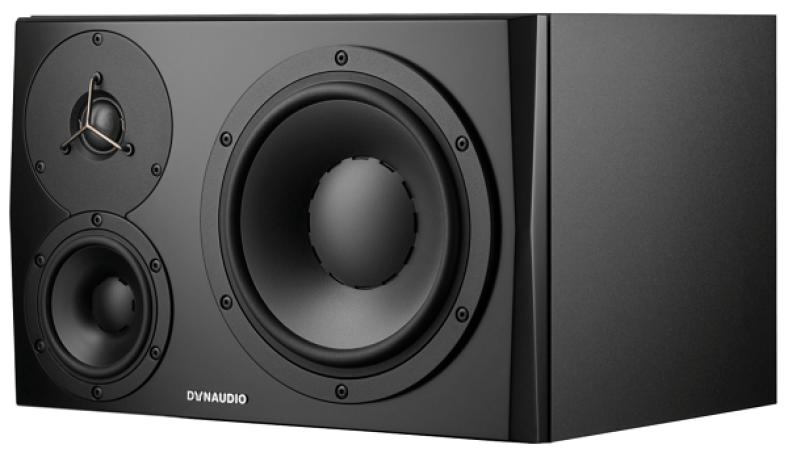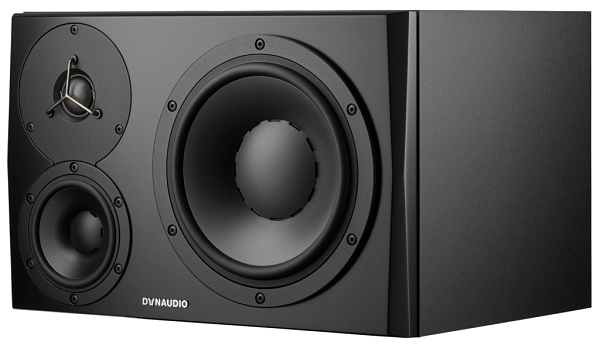 Features
8″ Woofer
4″ Mid-range speaker
1″ Fabric tweeter
Tri-Amp design class D amplifier
Power: 50 / 50 / 80 Watt
Frequency range: 40 – 21,000 Hz
Dynaudio LYD 48
Overall, these are another of those high-end speakers that are not budget models, but those that can afford them will be able to get their hands on very good speakers. Compared directly with the Genelecs above, these have a touch more subs in them, but we also rank them really high cause we like how they produce.
Positives
Great Horizontal Design
Very Precise Sound
Sturdy Design
Negatives
No cons at this time except price
IMAGE
PRODUCT
For US
Customers
For EU
Customers
Amazon
Store
---
9. Mackie HR824mk2
As soon as you open the box, you'll notice its curvy cabinet and glossy finish – the angular edges are gone, it's heavier, and its dimensions have increased slightly. In addition to bringing the original 824's look up to date, clever restyling has improved the acoustics by reducing edge diffraction.
Since the LF driver is slightly larger (8.75 inches instead of 8 inches), one might assume that the 824 mk2 has the same drivers, since the proportions remain the same. Waveguides similar in size and shape to those on the 824 surround the 1-inch HF driver.
Enhanced specifications and increased dimensions are provided by a new passive woofer mounted behind the power amplifier assembly. In the rear panel, a recessed slot also accommodates the two IEC sockets and the three inputs provided (XLR, TRS, RCA).
Due to the vertical placement of all cabling, a speaker can be installed against a wall with no connectors extending beyond its profile.
There are three controls on the rear panel: input sensitivity, an acoustic space choice between corner placement (- 4dB), against the wall (-2dB), and normal (normal or freestanding), which dims the low-frequency output.
You can also choose from 80Hz (THX standard), 47Hz (any other subwoofer), and 37Hz (normal) for low-frequency bass management. As a follow-up to the acclaimed HR824 mk1, the HR824 mk2 offers a solid, solid working monitor.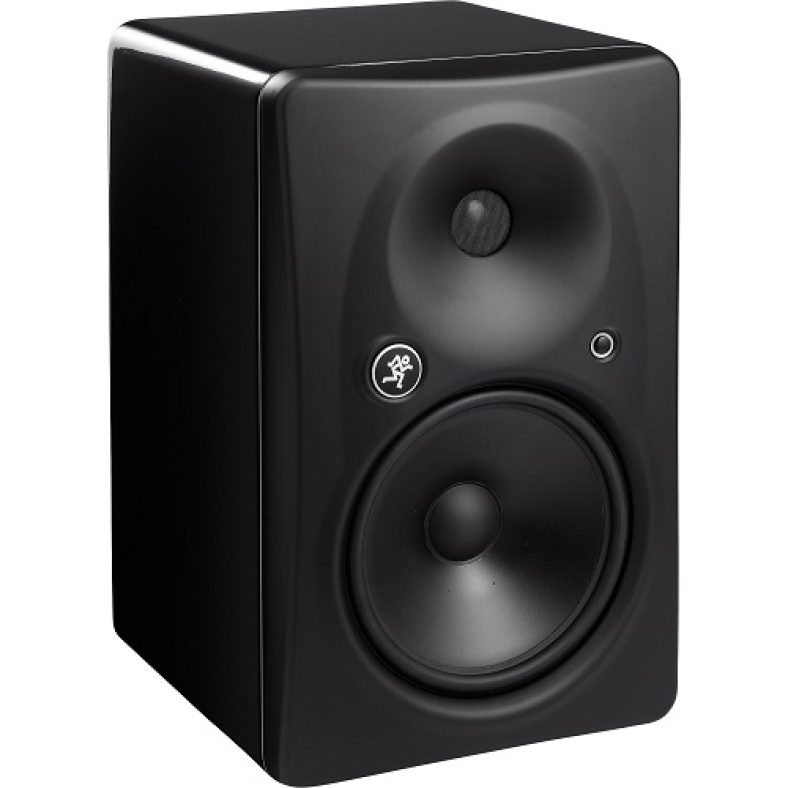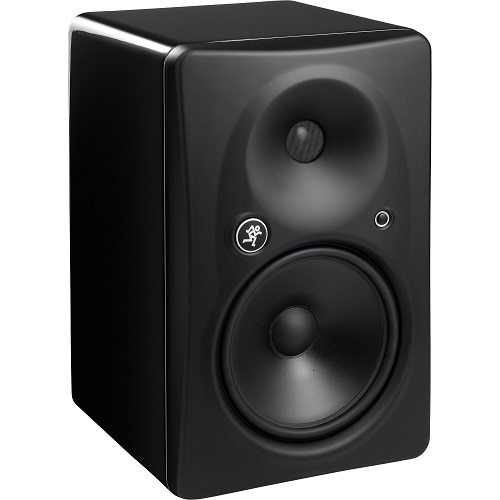 Features
Power Configuration: Bi-amped
Quantity: Single
LF Driver Power Amp: 150W
HF Driver Power Amp: 100W
Total Power: 250W
Frequency Range: 37Hz-20kHz (±1.5 dB)
Mackie HR824mk2
This Mackie HR824mk2 studio monitor has a reputation for providing high-quality audio reproduction with accurate sound. A woven Kevlar woofer and a ferrofluid-cooled tweeter deliver a balanced and detailed sound. Amazing sound and great compact design with a price point that will not ruin your life. Tried them out, not for us but that doesn't mean that they are not good.
Positives
Good Sound Production
Nice Compact Design
Nice Room Tuning Features
IMAGE
PRODUCT
For US
Customers
Amazon
Store
---
10. PreSonus R80 V2
With the R80 V2, Presonus offers a larger studio monitor that presents high-fidelity audio with a clear and loud response, perfect for analyzing, mixing, and mastering. In addition to the 8″ custom-coated, woven composite LF driver, the cone shape produces accurate frequency response and transparent sound.
With the custom-made Air Motion Transformer (AMT) tweeter, the R80 V2 delivers high frequencies with detail and precision. With the AMT tweeter's unique housing, the highs are focused on the horizontal axis, pushing air and rocking high end. As a result, your furniture, ceiling, and floor will not reflect unwanted sound on the vertical axis, resulting in mild sound dispersion.
The backside control panel of the R80 V2 reveals a speaker that is capable of sculpting sounds like no other! Boost and cut frequencies up to 6dB with the turn of a knob, and dial in levels with the Gain control.
Acoustic Space and Low Cutoff controls add even more flexibility, offering Flat, 80Hz, and 100Hz cutoffs as well as -4dB, -2dB, and 0dB cut settings to better match the R80 V2's sound to your workspace. Whenever and wherever you need it, the R80 V2 can deliver peak performance with sound-shaping tools like these.
As a result of its bi-amping design, the LF driver (75W) and high-frequency tweeter (65W) can share 140W of Class D power, providing power that ranks highly among speakers in its class. Presonus R80 V2 offers balanced XLR & 1/4″ TRS inputs along with unbalanced RCA inputs for use with audio interfaces, mixers, and much more. It also boasts transparent output for automating mixing, mastering, and much more.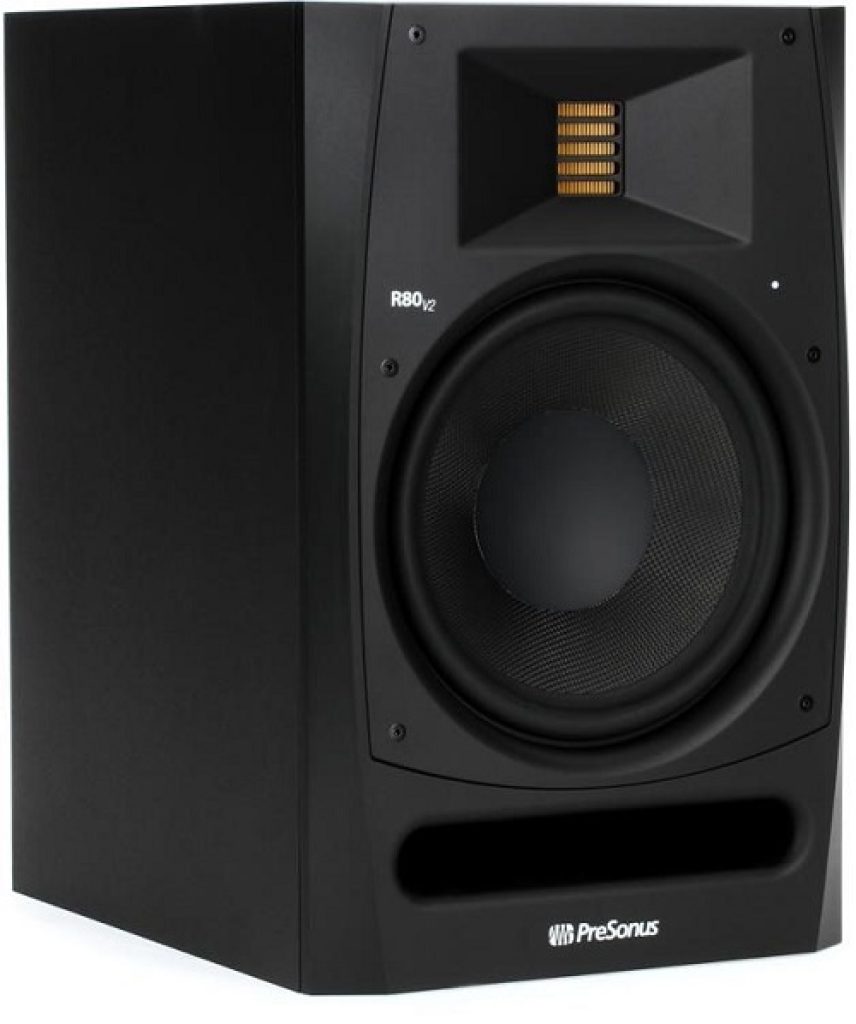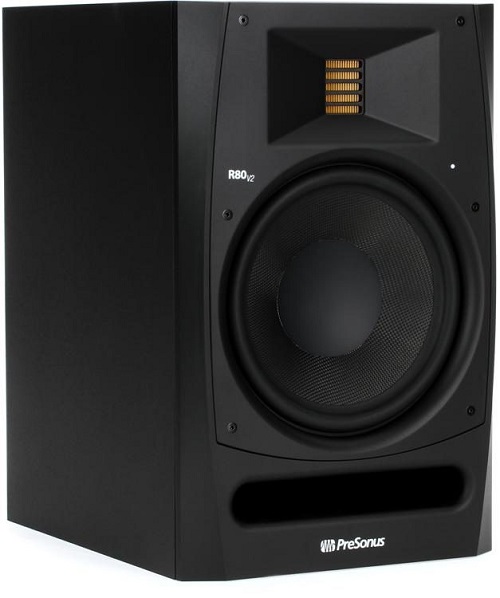 Features
2-Way monitor with Air Motion ribbon tweeter
8″ Woofer made of composite fabric
Tweeter with ultra-thin Kapton diaphragm (<0.01 mm)
Tweeter area: 4.4 cm2
Frequency response: 40 – 22000 Hz
Crossover frequency: 2.6 kHz
PreSonus R80 V2
If you are after nice monitors with nice price and great features, the R80 v2 can be for you. With a great responsive and accurate sound you will be able to make the right decisions when mixing. We listened to them in a store and they sound great, even better than we expected.
Positives
Versatile Features for Connection
Clear Sound Quality
Affordable
IMAGE
PRODUCT
For US
Customers
For EU
Customers
Amazon
Store
---
11. ADAM Audio A8X
Next up, we have the ADAM Audio A8X from Germany. With a reputation for providing the best pro audio equipment, ADAM has been on the market since 1999. With years of R&D behind each driver, ADAM's sole business is monitors, allowing them to devote all their efforts to bringing the best products to market.
It is obvious from one glance at ADAM's AX monitors that they are not your typical monitors. They have improved on Dr. Oskar Heil's air motion transformer technology with the X-ART tweeter.
By using a transformer, the loudspeaker is capable of making faster and more accurate movements, which can result in a higher level of fidelity. Its advanced power and dispersion characteristics allow the A8X to function as both a near-field monitor and a midfield monitor.
In terms of features, the A8X holds its own with the best studio monitors listed here. While the front-ported design of the woofer enables it to be placed closer to walls, there are still options for tuning to achieve balanced monitoring in a wide range of acoustic environments.
A low shelf EQ of 6 dB is located at 300 Hz, a high shelf EQ of 6 dB is located at 5 kHz, and an independent tweeter gain control switch of 4 dB is available. You can view the full list of features and specifications on the ADAM Audio website.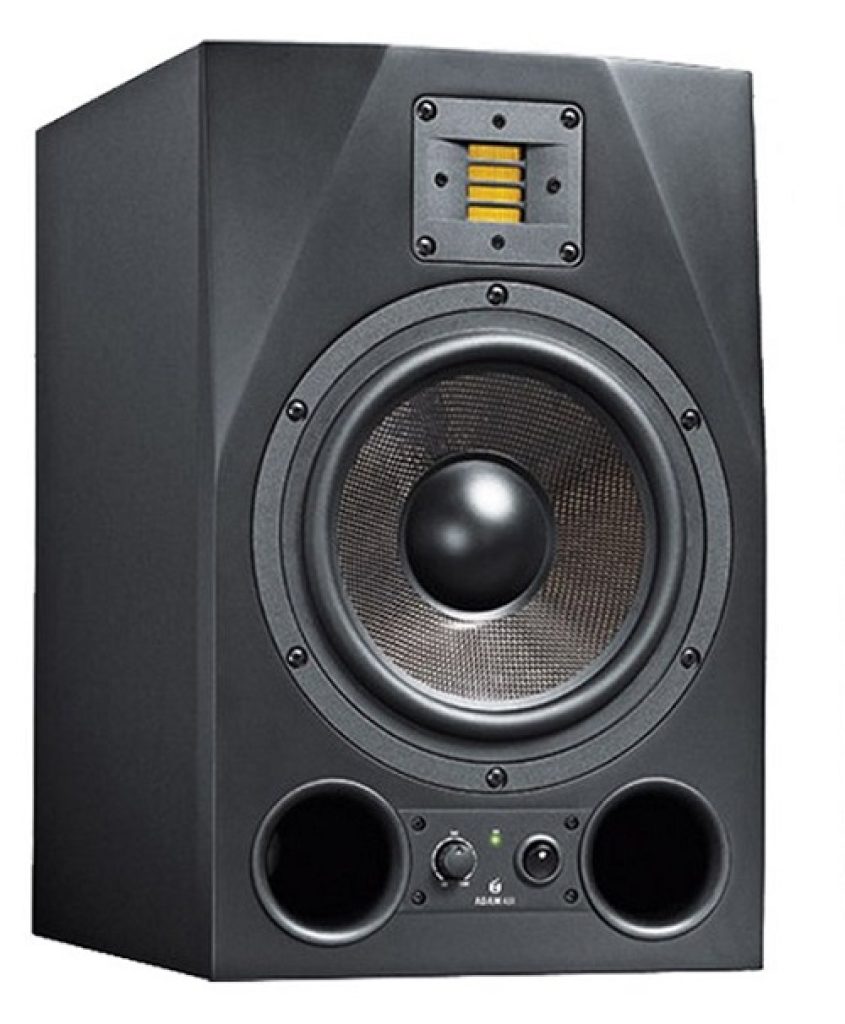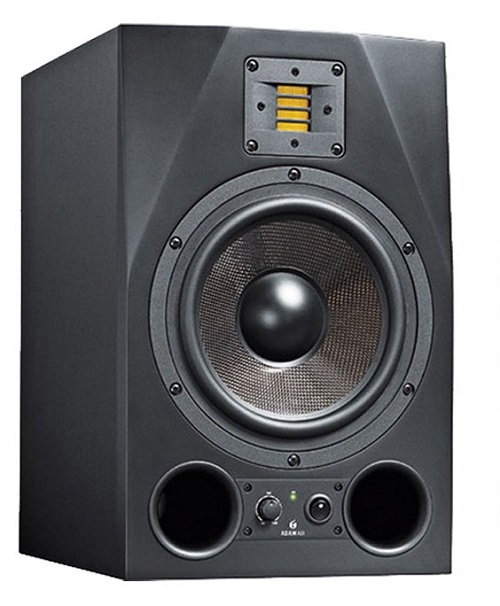 Features
German Handmade Precision X-ART Tweeter
8.5" Woofer (Carbon/Rohacell/Glass Fiber)
Amp. Power RMS / Music: 200 W / 300 W
Frequency Response: 38 Hz – 50 kHz (-10 dB)
Max. SPL per pair at 1 m: ≥120 dB
ADAM Audio A8X
Probably the best speakers in this price range that they are in, but unfortunately they are very hard to be found new. Many drum and bass producers used them for their quality, meaning they are good for electronic music. We share the same opinion as the majority!
Positives
Great for EDM
Accurate Sound
Advanced Sound Design Features
IMAGE
PRODUCT
For US
Customers
---
8 Inch Studio Monitors: How to Choose the Best
It wouldn't be complete without explaining what to look for when choosing the best 8-inch studio monitors. Many things need to be taken into consideration when choosing these monitors, as they are designed to reproduce audio as accurately as possible.
Range and Response of Frequencies
These two critical specifications are sometimes used interchangeably by some manufacturers, but they need to be differentiated. As this term implies, it refers to the frequency range that the monitors can reproduce. Any specification with a higher or lower limit may be unnecessary since the human hearing range is 20 Hz to 20 kHz.
A monitor's frequency response in more specific terms refers to how it changes the audio signal when it is being played. Usually, it is represented as a curve, with X representing the range of frequencies and Y representing the gain in dB. As we can see from the curve, the audio signal is being boosted and cut according to the spectrum. This is a graph that you need to look for and find a speaker with a flat response.
Unported vs Ported
Ported studio monitors usually have a wide frequency range, although accuracy is sacrificed, as well as placement flexibility. Due to the port's resonance frequency, the monitor's natural bass roll-off occurs just below the port's resonance frequency.
The bass roll-off of unported monitors is usually less steep and more tight. Additionally, they reproduce transients at low frequencies, which is sometimes called "tight" bass. Since the port does not create a resonance peak at that frequency, transients are blurred.
Selecting Materials
It is very important to choose the right cabinet material. Due to its homogeneous nature and lack of voids, MDF is a perfect choice here. Solid wood has a higher density than lighter, less sturdy materials, which helps reduce resonances. The most accurate monitoring requires MDF to have the least amount of coloration of the sound.
Build and Design of Drivers
A studio monitor consists of two types of speakers: a woofer and a tweeter. Low-frequency drivers are referred to as woofers. Tweeters are smaller, high-frequency drivers. Dedicated mid-range drivers are also commonly included in midfield and far-field monitors.
Whenever we refer to a monitor's size, such as 5 inches or 8 inches, we are referring to the diameter of the woofer cone. There is generally a correlation between the size of the woofer and the quality of the bass response.
Types of Amplifiers and Bi-amplifiers
On monitor speakers, there are built-in amplifiers that should not be overlooked. All of the monitors that are included in this list are active monitors. Consequently, these speakers have powered speakers that have individual power amplifiers inside.
Since they require power sources in order to function, it is only natural that they will require power sources. It is imperative to have other components in your setup in order to be able to use passive monitors or passive speakers, such as external power amplifiers.
Conclusion
All in all, when you are choosing studio monitors, you should be after some flat frequency response ones that will give the most uncolored sound quality possible. All the studio monitors on our list are good for studio use and they have such a feat and produce very accurate sound. Just one more thing on this topic – you will not be able to find a completely flat frequency response monitor, but you will need to find the one that suits you best.
Also, we cannot point out one best studio monitor, because that is something that heavily relies on the usage and purpose – and also the needs of the engineer. What we can separate from the list are the Genelecs 8351B for professional purposes and higher prices option and the Adam T8V for home studios and affordability.
We wish you good luck in picking the speaker for you and in case you are having any questions about this topic or you need any other advice connected to some of the models we listed, please let us know in the comment section and we will be happy to help!