Best KRK Studio Monitors
Introduction
For a generation of bedroom beat makers, DJs, and synth-obsessed youth, the iconic yellow and black speaker has been the de-facto monitor, learning how to mix exclusively on the speakers' very unique and exceptionally singular sound.
While being very accessible and having a very present sonic character, they have made a significant impact in today's studio ecosystem. In addition to their versatility and broad frequency profile, they have often been praised for their ability to sound good across multiple applications, which they often underrate.
An industry visionary who worked on films including "Brainstorm" and "The Doors" founded KRK Systems in 1986. He was frustrated with the lack of quality monitors he was able to purchase, so he began to manufacture them himself. The high-end studio monitors began to attract the attention of other engineers and producers, and soon a company was born.
Anyone who works in this field will be familiar with KRK's precise and defined sound, which accurately reproduces the increasingly powerful kick fundamentals and guttural sub-bass frequencies that are a staple of modern electronic music.
KRK has emerged as the monitor best suited for facilitating these kinds of new sonic textures due to its extended LF response and broad soundstage, which provide some clarity in the lower harmonics which, in turn, facilitates multi-band compression and 808 sub work easily.
This was a brief introduction to the KRK brand and its beginnings and how it entered into the world of studio monitor development. Now we are going to look into their most famous models that sell like candy, so stick around!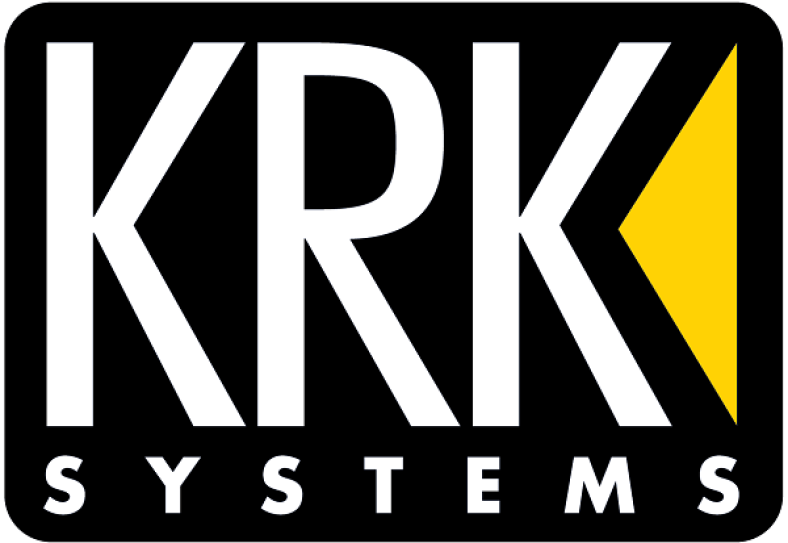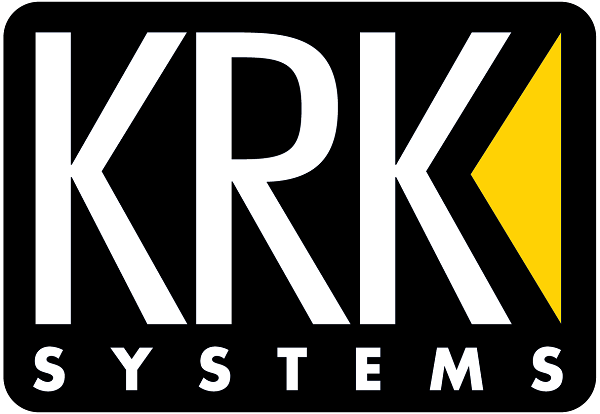 1. KRK GoAux 4
In the last few years, the budget and travel-friendly monitoring market has steadily grown, and KRK has been expanding its offering with the GOAUX 4. While KRK's technology has gone above and beyond what most other portable speakers have accomplished by providing pragmatic solutions to the most common on-the-go mixing problems, they have also managed to surpass what most other portable speakers have achieved.
In addition to the speakers, a carrying bag, speaker stands, and a few choice accessories are included for mobile mixing. It is a one-stop solution that can be grabbed, carried, and mixed on the go. These are some of the best mobile studio monitors on the market because they are reasonably priced, have a great overall package, and have a wide range of positioning methods.
There are many accessories included with the KRK GoAux 4 system, which is truly portable at 4.3kg in total. In addition to the speakers, you receive an angled stand for each one. This is necessary when placing speakers on your desk; many other smaller desktop speakers do not offer this feature.
The GoAux 4 speakers are bi-amped and output a total of 100 watts (33 watts RMS for the woofer and 17 watts RMS for the tweeter). It has a wide range of connectivity options, including 1/4″ TRS balanced, RCA, USB-type B, and 1/8″ Aux, as well as an input for the measurement microphone. Bluetooth is even available, so you can connect pretty much any device you want.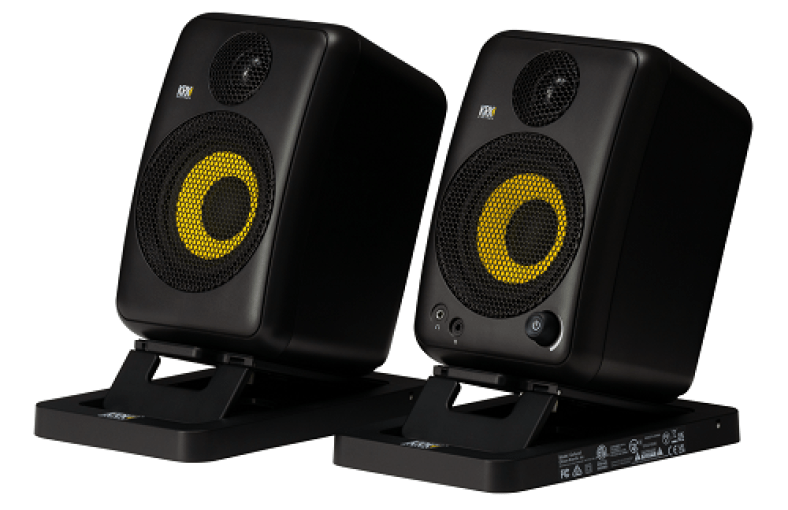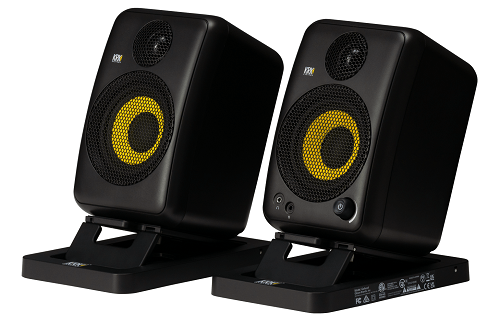 Features
4″ Woofer (33 Watt) + 1″ tweeter (17 Watt) per monitor
Frequency response (-3 dBSPL): 60 – 20,000 Hz
Frequency response (-10 dBSPL): 55 – 22,000 Hz
Maximum sound level: 98.5 dB
Integrated Bluetooth 5.0 receiver
Front volume control
KRK GoAux 4
If you need small speakers that will give a very good sound for their size, the GoAux 4 is great for that. They give amazing sound responses and are very compact for desktop use. The music store we checked them out had them on their desk and that was for a good reason of course.
Positives
Compact and Affordable
Decent Sound for the Size
Portable
IMAGE
PRODUCT
For US
Customers
For EU
Customers
Amazon
Store
---
2. KRK V4 S4
V4 S4 speakers are front-ported, which means that bass frequencies come out the front rather than coming out the back as with back-ported studio monitors. This minimizes build-up if your speakers are positioned close to a corner. Additionally, the S4 offers a number of options for room correction.
An unbalanced 1/4″ connection or XLR connection are the connection options for V4 S4. In addition to the brushed aluminum accents on the enclosure, the enclosure is similar to its larger brothers. In order to enhance durability, both the woofer and the tweeter are constructed of Kevlar.
Input and mains connections are located on the rear panel, as is a screwdriver preset control for adjusting input gain anywhere between +6dB and -30dB. Input sockets are Neutrik combi jack/XLR sockets that accept balanced XLRs and TRS jacks, as well as unbalanced TS jacks.
A frequency balance adjustment is not provided, however, we did not find needing one. The frequency balance is exquisitely flat and neutral, and the specifications specify a frequency response of 65Hz to 20kHz (in dB).
Even though it may not be able to meet the needs of more demanding users, especially in terms of reproducing sub-frequencies, the KRK V4 S4 is still a great option if you are looking to upgrade from your budget monitor speakers.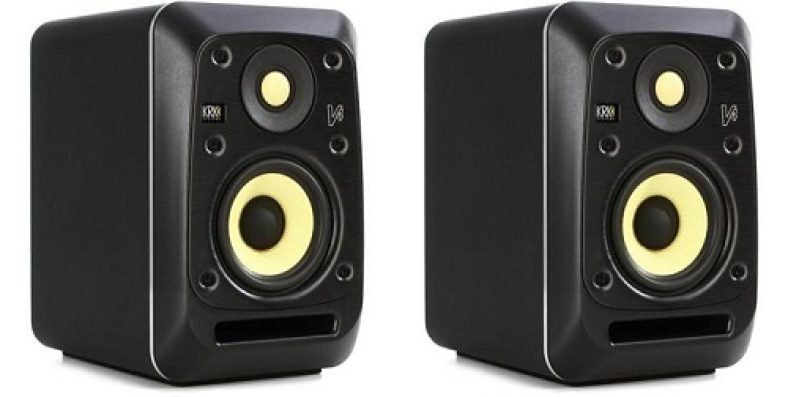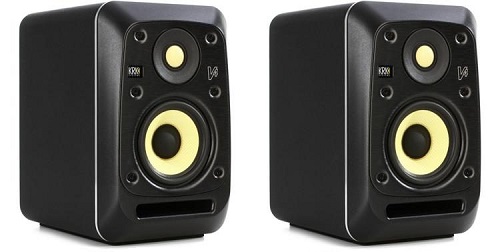 Features
Equipped with: 4″ Woofer and 1″ tweeter
Power: 85 Watt (LF 55 Watt, HF 30 Watt)
Frequency range: 50 Hz – 24 kHz
Maximum level: 110 dB
Input: XLR /jack combo connector
Auto-standby after 30 minutes
KRK V4 S4
The speakers have great design and sound recognizable for KRK. Even with their small cone, they give a satisfactory bass response. They have a sturdy build and are good for portable reasons. A friend has them and works on them for their accuracy and detailed sound.
Positives
Affordable and Portable
Nice Bass for Small Speakers
Great Build Quality
Negatives
Not prof professional uses but for high-quality listening
IMAGE
PRODUCT
For US
Customers
For EU
Customers
Amazon
Store
---
3. KRK RP5 RoKit Classic
Among the most popular studio monitors in the industry, the KRK Rokit 5 G4 is found in both small bedroom studios and large studios that are state of the art. As a result of its layered 5″ glass aramid driver covering the lower frequencies and the 1″ soft dome tweeter covering the higher frequencies, it provides a very nice balance right out of the box. Considering it is based on the renowned ROKIT line of products by KRK, it should be.
Using the XLR balanced inputs of the Evo4 interface, we were able to connect them without any problems. The system is also equipped with RCA and 14″ TRS connections if needed. A variety of adjustment options are offered, including high-frequency controls ranging from -2 dB to +1 dB and low-frequency controls running from -1 dB to +2 dB depending on the room's acoustics.
Although there is a flat setting, which is the obvious starting point, the user has a great deal of flexibility when adjusting not only for room dynamics but also for the type of music they are engaging with. It is a nice feature that the automatic standby function is available. Whenever there is no signal for more than 30 minutes, the monitors go into sleep mode, which reduces the need to continually turn them on and off.
Upon receiving a signal, they do awaken but it takes a few seconds for them to do so. As far as nearfield studio monitors go, the KRK Rokit 5 is pretty good. The bass, however, seems to have been boosted slightly. You should adjust your mix as soon as you become comfortable with the studio monitors.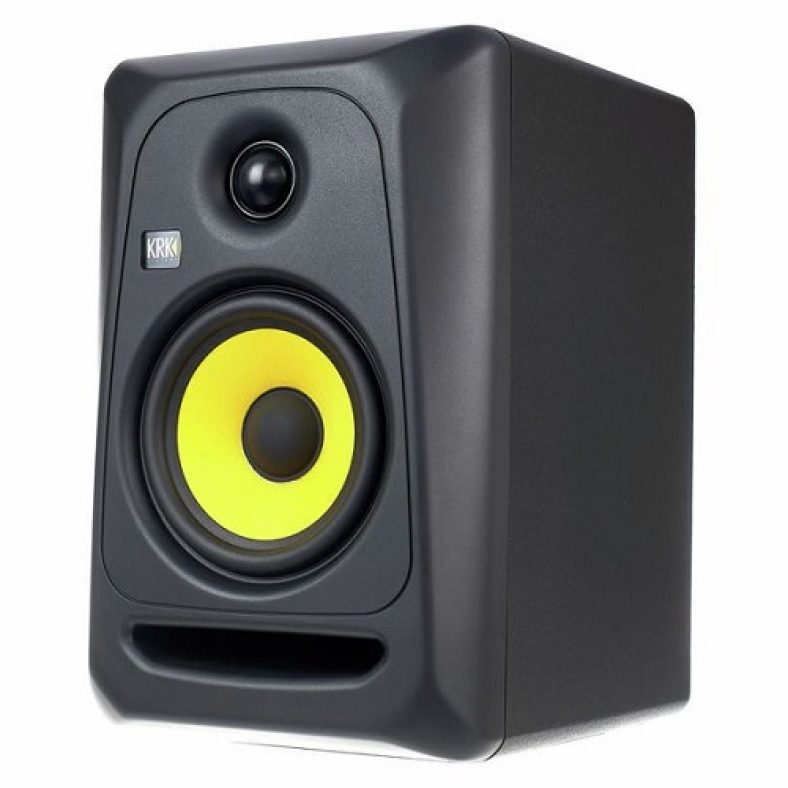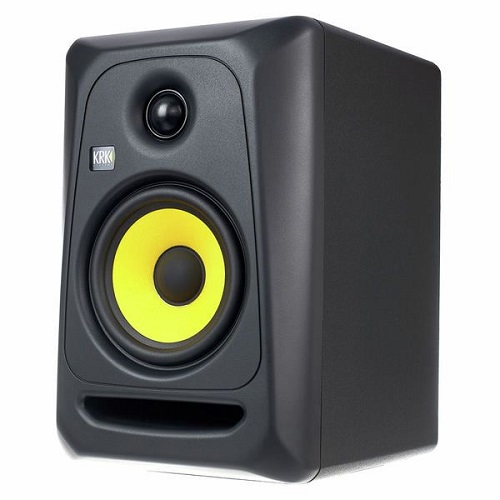 Features
Drivers: 5″ glass aramid woofer and 1″ textile tweeter
Class-AB amplifier: 30 W woofer, 20 W tweeter
Frequency response: 46 – 34.500 Hz (+3 / -10 dB)
Max. SPL: 101 dB
Connectors: RCA, XLR and 6.3 mm jack
Power: 50 W
KRK RP5 RoKit Classic
The legendary speakers are found in many studios and in ours as well. We still have those in our living room but they served their purpose for our production part. We highly recommend those to everyone that prefers a larger bass response and is a fan of big bass!
Positives
Really Affordable
Big Bass and Rest is Balanced
Great for Small Studios
Negatives
The louder bass might not suit everybody
IMAGE
PRODUCT
For EU
Customers
Amazon
Store
---
4. KRK V6 S4
KRK's V-Series 4 brings together the very best of modern technology while keeping its roots firmly in what made KRK an industry leader in professional studios for over 30 years. Recording, mixing, and mastering can be accomplished with the KRK V6-S4, a two-way, full-range studio reference monitor. It is designed to provide professional performance and accuracy.
This speaker features a lightweight 6.5″ Kevlar woofer and a 1″ Kevlar tweeter designed by KRK. Featuring Kevlar for the woofer and tweeter, these KRK monitors deliver superb midrange and high-end definition, tight low-end control, wide sweet spots, and impressive imaging.
This 155W, bi-amped Class D amplifier from KRK is designed to provide superior transient response and up to 115 dB of sound pressure level (SPL). The KRK bass reflex enclosure's optimized front-ported design prevents boundary coupling, thus allowing for flexible positioning within the room.
A total of 49 DSP-driven EQ presets allow you to adjust the sound to match your personal tastes as well as the room or desk. As a result of the solid aluminum front baffle and the EVA foam pad, it is as if the speaker is fitted with a built-in stabilizer that enhances transient response and imaging.
A 1″ Kevlar dome tweeter and woven Kevlar woofer power the V Series near-field monitoring speakers, which are powered by dedicated Class D amplifiers. The V Series near-field monitoring systems can accommodate listening environments ranging from 85 to 230 watts. The V Series 4 will be an ideal choice for recording studios, broadcast studios, sound design studios, and audio production houses as a go-to monitor.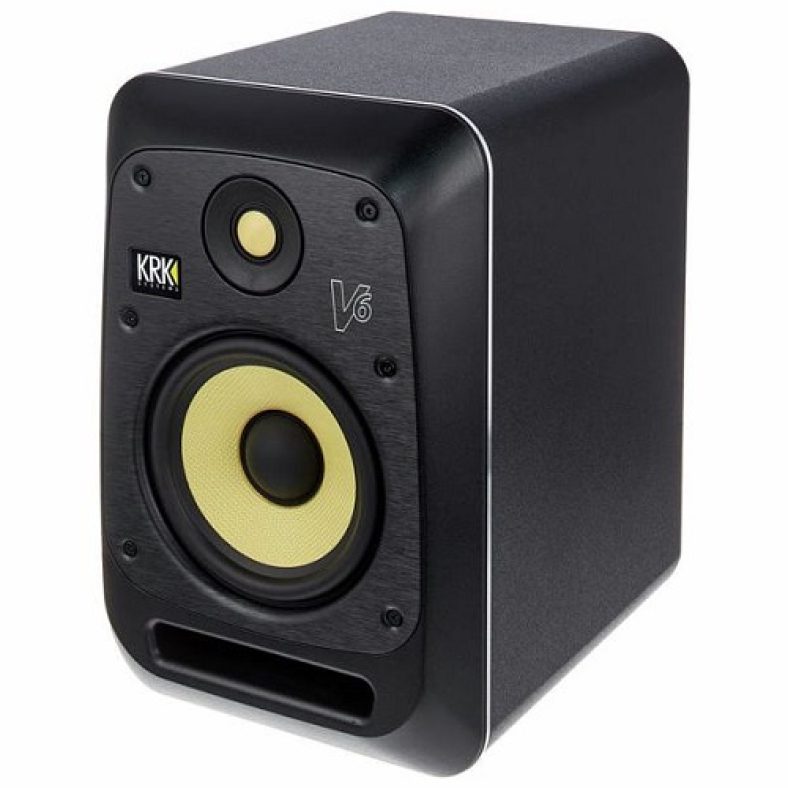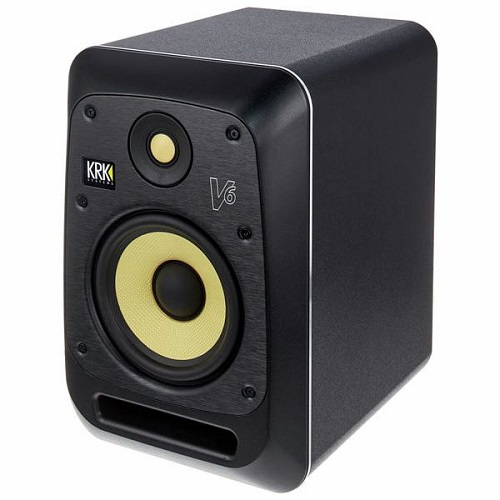 Features
Equipped with: 6.5″ Woofer and 1″ tweeter
Power: 155 Watt (LF 125 Watt, HF 30 Watt)
Frequency response 40 Hz – 24 kHz
Maximum level: 115 dB
Input: XLR /jack combo connector
Auto-standby after 30 minutes
KRK V6 S4
These speakers a professional grade speakers with great sound quality and reproduction. They cover a wide frequency range with great accuracy for any studio task. We heard them in a music store and are really well optimized in every regard. Very nice set!
Positives
High-Quality Audio
Sturdy Build
Good for Mixing and Mastering
IMAGE
PRODUCT
For US
Customers
For EU
Customers
Amazon
Store
---
5. KRK Rokit 8 G4
Compared to the previous generation of studio monitors from KRK Systems, the Rokit 8 represents a significant improvement. They are much better looking while still maintaining the well-known yellow and black color scheme of KRK Systems. The Rokit 8 G4 could be the ideal reference for your acoustic environment if you are seeking a decently powered studio monitor reference.
The Rokit 8 features a Kevlar cone woofer with a full cover, and a Kevlar dome tweeter with a 1-inch dome. Woofers enhance the low end by boosting lower frequencies. With its bi-amp design, KRK studio monitors offer separate sound output for the drivers and woofers.
An LCD screen with a stepped, continuous, push-button rotary encoder is used to control EQ, level, and system settings on the rear of the unit. There are 25 possible EQ combinations available in the page-based menu for fine-tuning your ROKIT G4 to your taste or to compensate for room and placement issues. Additionally, you can increase or decrease the overall output level
Additionally, the frequency response of the Rokit G4 reaches a high frequency of 40kHz and a bottom frequency of 36Hz. When it comes to good speakers, the sound is undoubtedly the most important feature. You will certainly be satisfied with the sound from these.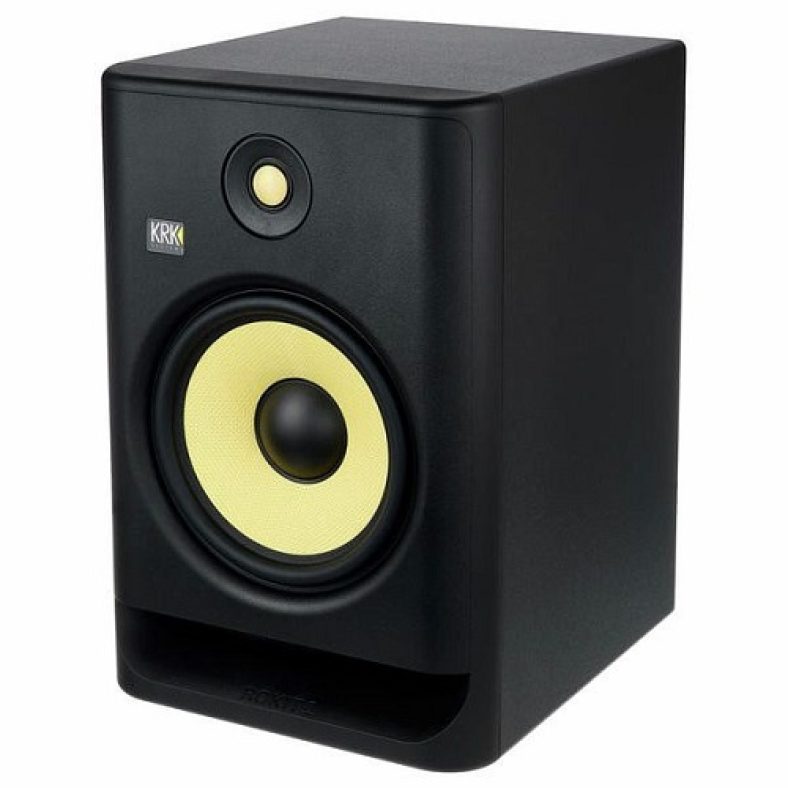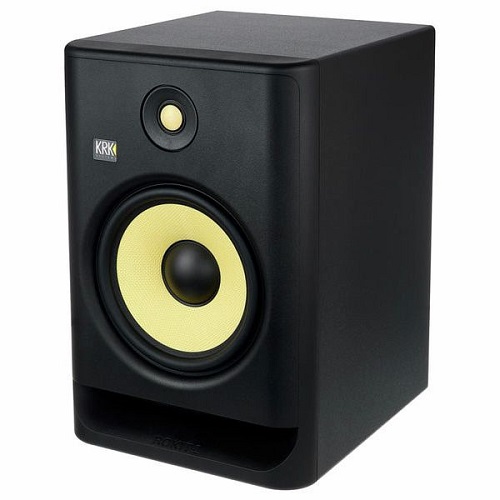 Features
Equipped with: 8″ glass aramid woofer and 1″ glass aramid tweeter
Power: 203 W – 68 W tweeter, 135 W bass driver
Bi-amped Class-D amplifier
Frequency response: 36 – 40000 Hz
Maximum sound pressure level: 111 dB (SPL)
Integrated backlit LC display
KRK Rokit 8 G4
I find the KRK Rokit 8 G4 to be a powerful and versatile studio monitor that provides excellent sound quality. Featuring an 8-inch woofer, it delivers punchy and well-defined low-end responses, making it ideal for bass-oriented genres. In the midrange and high-frequency ranges, there is a great deal of detail and clarity, enabling accurate monitoring and mixing. Great speaker indeed.
Positives
Accurate and Powerful
Clear and Details Mid Range
Build-In Tuning Options
Negatives
Not good for small spaces
IMAGE
PRODUCT
For US
Customers
For EU
Customers
Amazon
Store
---
6. KRK S8G4
With the S8.4 powered studio subwoofer, KRK's sonic accuracy is carried forward in a compact form factor. Class-D power amplifiers improve transient response, control, and punch, coupled with a glass-aramid woofer that delivers tight, defined bass. Subwoofer settings can be easily adjusted using the four-position selectable crossover.
A variety of connections are available on the back, including XLRs, 1/4″s, and red/white RCAs, down to 30Hz. You can adjust the amount of bass depending on your current setup with the crossover dial, polarity, and input sensitivity switches, as well as the volume control. It's easy to place too, and you can dial in the right amount of bass.
Since subwoofers work differently than speakers, it's hard to pinpoint where the bass heft comes from. You're trying to fill out the bottom without detracting from the stereo image, so a 'non-directional' sub works well. The good thing about it is that you can tuck it out of sight if you need to, and it will still work just as well.
These engage the bass in a direct, non-flabby, and non-woolly way. With ludicrous 808s down low, it gets tight when you want it to be, and wobbly when you don't. You can also use an optional footswitch to bypass the sub altogether while you're working. Other subs haven't offered that feature too often.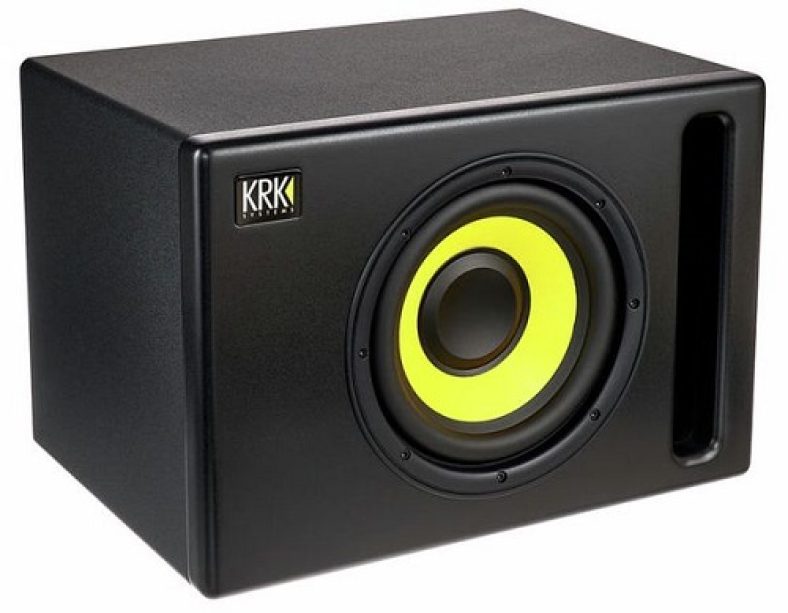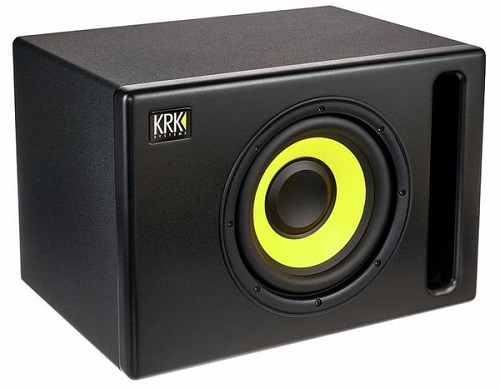 Features
Drivers: 8″ glass-aramid composite woofer
Power: 109 Watt – Class D amplifier
Frequency range: 34.5 – 133 Hz
Maximum level: 112.8 dB
Adjustable crossover frequency
Bypass function via an optional foot switch
KRK S8G4
KRK S8G4 subwoofer enhances the low-frequency response of studio monitors. It adds depth and fullness to the audio playback by reproducing deep bass. Featuring adjustable crossover and phase controls, the S8G4 is well-built and integrates easily with main monitors. Heard it in a local studio and the sub appeared to be what everyone expected.
Positives
Very Deep and Precise Bass
Adjustable Crossover
Nice Design
Negatives
Needs more space in the studio and carefully placing
IMAGE
PRODUCT
For US
Customers
For EU
Customers
Amazon
Store
---
7. KRK S10.4
KRK S10.4 is a fourth-generation powered studio subwoofer that delivers tight, defined bass with remarkable transient performance, control, and punch, making it a perfect choice for audio engineers, studio musicians, and audio enthusiasts seeking a high-quality active subwoofer to extend their monitor setup's low frequencies. When you incorporate this subwoofer into your 2.1 setup or 5.1 surround environment, your mixing and listening will be improved.
Featuring a 10″ glass-aramid composite woofer with a frequency response of 33 to 130 Hz and peak SPL of 117.2 dB, the S10.4 is powered by a 160W Class-D amplifier. As well as XLR, 1/4″, and RCA inputs and outputs, you have total flexibility when connecting additional subs and monitors.
It's easy to match the subwoofer settings to your existing monitors with a selectable crossover with four positions. Any studio monitor will work with the S10.4, but KRK's Rokit and VXT monitors really shine.
Flexibility is provided by the curved design with the bass port facing the front. A ground lift is also included to prevent ground loops, as well as polarity and input sensitivity controls. Maximum strength and protection are assured by the rugged MDF enclosure and stainless steel grille. One of the best buys out there in terms of subs.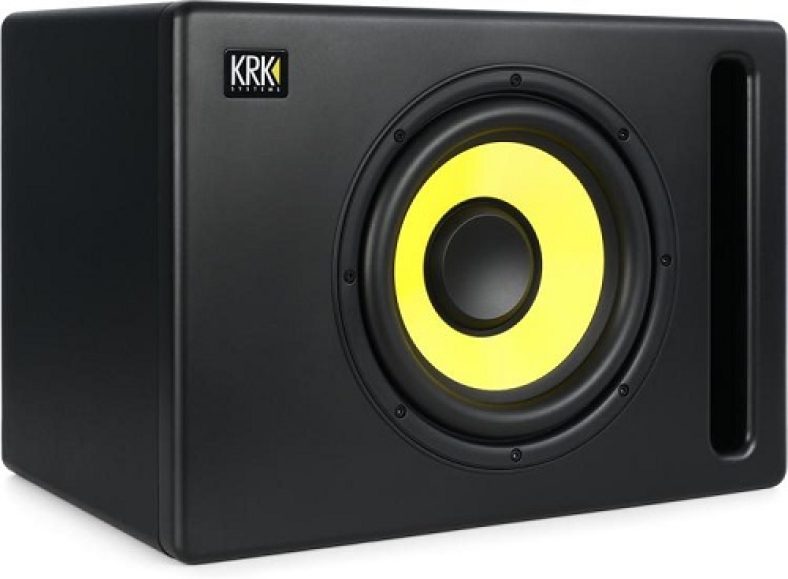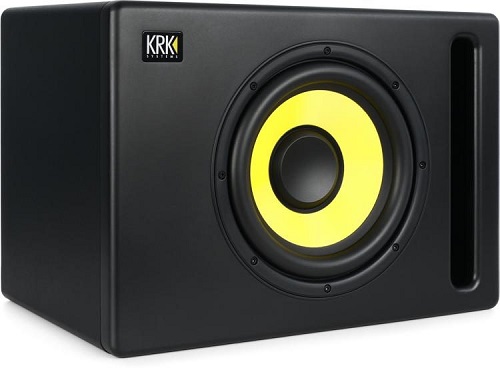 Features
Equiped with: 10″ glass-aramid composite woofer
Power: 160 Watt – Class D amplifier
Frequency range: 30 – 110 Hz
Maximum level: 117.2 dB
Class D amplifier with 160 Watt power
Adjustable crossover frequency
IMAGE
PRODUCT
For US
Customers
For EU
Customers
Amazon
Store
KRK S10.4
A KRK S10.4 subwoofer enhances a studio monitor system's low-end performance. It adds depth and impact to the audio with its 10-inch woofer and high-power amplifier. Flexible control settings and advanced connectivity options make the S10.4 easy to integrate and customize. We tried it out and tuned it to our liking and the subwoofer was amazing. Really good!
Positives
Very Good Bass Response
Nice Pricing
Advanced Connection Options
---
8. KRK 12sHO
Mixing and mastering professionals have trusted KRK monitors for more than 25 years. These new subwoofers allow you to extend KRK's legendary accuracy to the limit of human hearing by enhancing their natural power.
You can easily create a rich, vivid, professional mix with the KRK S-series whether you're mixing in 2.1 or 5.1 surround or just need to upgrade your existing monitors. With a pair of nearfield speakers, the 400-watt KRK 12sHO can extend the low-end down to 29Hz and produce a dynamic range that is impressive. Subwoofers often sound best paired up with the same brand of full-range monitors, such as the KRK VXT and Expose series.
Adding a powerful, sonically pure subwoofer to your studio setup is a must for large, powerful near-field studio monitors. The 12sHO is just such a subwoofer. Subwoofers like the 12sHO reproduce low-frequency detail as well as the bass content of the LFE channel.
Since these challenging applications require far more than what traditional low-frequency drivers and power amplifiers can accomplish, KRK developed the 12sHO (HO for "High Output") to fill all types of demanding mix situations.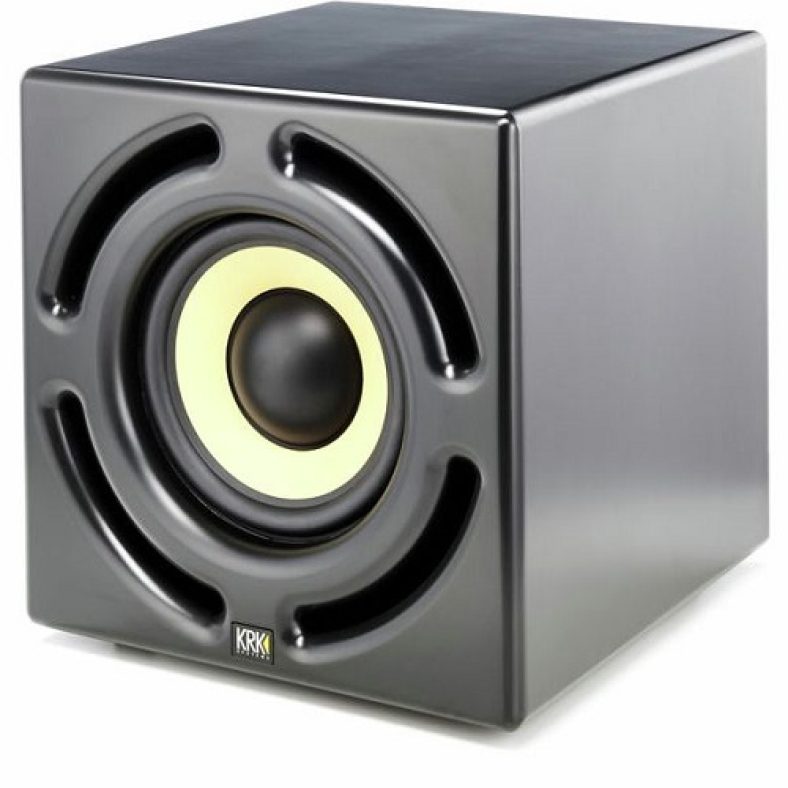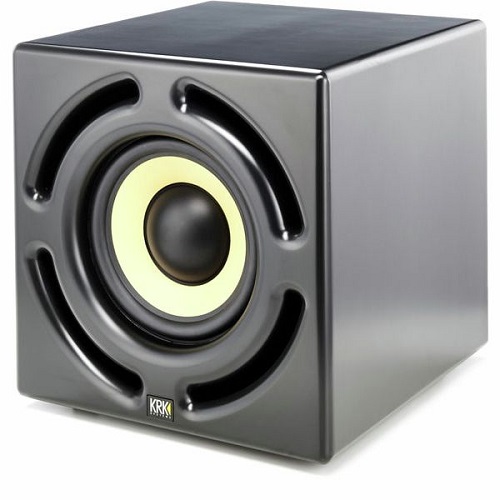 Features
Power: 400 W
Frequency response: 29 – 160 Hz
Max. (sound pressure level): 123 dB (peak)
LFE input for 5.1 systems
Variable tuning of integrated crossover and low-pass filter
Ground lift
KRK 12sHO
With the KRK 12sHO, you will get powerful, accurate bass reproduction. With its 12-inch woofer and high-power amplifier, it delivers deep, tight, and well-defined low frequencies for critical listening and music production. Suitable for big studio rooms and it has a great design. Highly accurate.
Positives
Powerful and Accurate
Tuning Features
Amazing Design
IMAGE
PRODUCT
For US
Customers
For EU
Customers
---
Conclusion
We presented some active speakers and some subwoofer options from KRK if you are after a detailed sound from speakers designed to give you accurate sound. No matter if you are after great low frequencies, mid-range or high frequencies, KRK has you covered with some speakers that ooze sound quality. If we are choosing a set for our studio and the size of the room, we would go with the KRK V6 S4 and KRK S10.4.
So if you are having any questions about the topic we covered for the brand review on KRK, please let us know in the comment section below and we will be more than happy to assist you and give you more detailed answers.