Best Passive Studio Monitors
Introduction
The passive aspect of passive speakers or monitors simply refers to the fact that some form of amplifier or receiver will be necessary in order for them to function. This type of speaker is most commonly used in home theater environments and is often referred to as a "bookshelf speaker."
In these speakers, a speaker-level signal is amplified by a power amplifier connected to them. Power amplifiers boost line-level audio signals to speaker-level signals from audio sources and preamplifiers. Prior to being sent to the appropriate driver, the crossover unit separates the speaker-level signal into different frequency bands.
Speakers will not reach their full potential with a weak amplifier and the signal will be distorted before the speaker even gets close to its loudest. Furthermore, too powerful an amplifier can cause distortions and speaker blow-out if it overloads passive speaker crossovers and drivers.
So in this article, we are going to look more deeply into some passive studio monitor options and we are going to provide a brief review of each model. Also, we are not going to look into models that you will need to sell your kidney for, but some models that are in the semi-professional level range. Let's check them out!
1. Behringer Monitor Speakers 1C-BK
These Behringer 1C-BK 100 Watt 5″ speakers are the best solution for delivering high-quality sound in a compact format. Their sleek design and wide frequency response make them ideal for both public venues and home studios alike.
In addition to its stunningly accurate sound reproduction, the 1C-BK 2-way monitor speaker features a beautiful neo-classic design. A variety of fixed installations can benefit from the 1C-BK, including stereo and surround sound applications, restaurants, both audio and video production studios, as well as home recording studios.
A 5.5-inch cellulose cone woofer and a 0.5-inch tweeter give the 100-Watt 1C-BK its incredible sound quality. With high-precision components and a clever design, the tweeters are protected from overload due to the internal crossover. In the end, you will experience a full-power, ultra-linear frequency response spanning from 60 Hz to 23 kHz.
You can choose between black or white (1C-BK) and come with a matching mounting bracket for easy, convenient installation. They can be displayed on bookshelves, on desktops, or hung from the rafters. It is likely that you will find dozens of applications for these small speakers with great sound.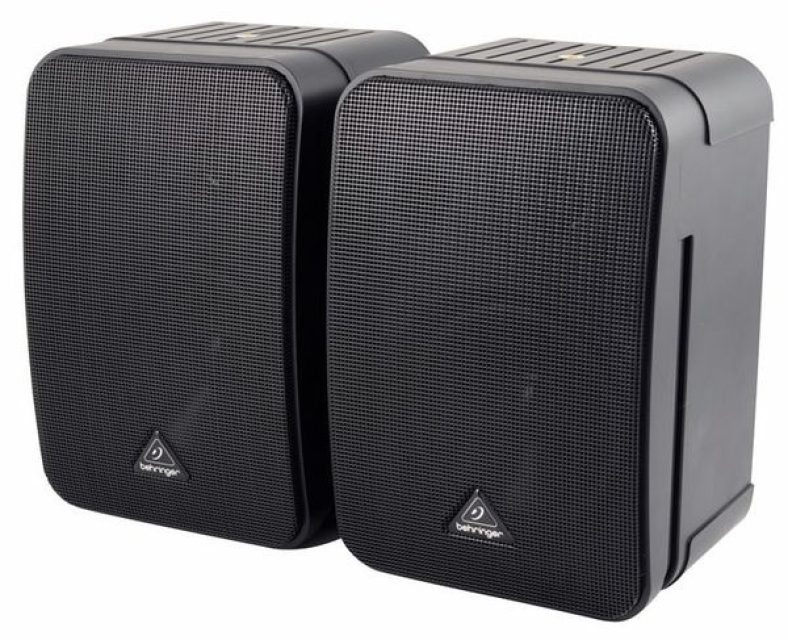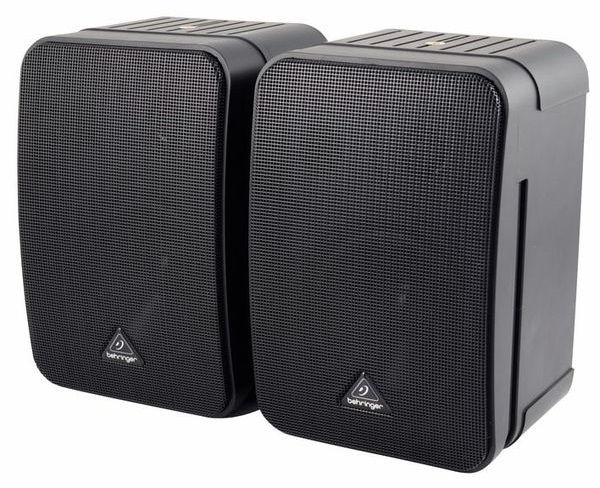 Features
Equipped with: 5 1/2″ Woofer with extremely light cellulose membrane and high resolution 1/2″ woofer
Linear frequency response from 60 – 23,000 Hz
Power rating: 100 W
Automatic overload protection prevents damage
Impedance: 4 Ohm
Dimensions: 225 x 150 x 142 mm
IMAGE
PRODUCT
For US
Customers
For EU
Customers
Amazon
Store

Behringer Monitor Speakers 1C-BK
---
2. JBL Control 5 175W 6.5″ Surface-Mount Speaker
In a variety of applications, the Control 5 can serve as the primary sound source for a high-performance control monitor. Recording studios, audio-video control rooms, remote trucks, and broadcast studios benefit from the Control 5's smooth, extended frequency response and wide dynamic capabilities.
This system is also ideal for music playback systems, music playback systems, and sound reinforcement systems, with its clean, functional visual design. With a low-frequency drive of 165 mm (6 1/2 in), this system offers a solid, powerful bass response down to 50 Hz. In order to handle high frequencies up to 20 kHz, the dome measures 25 mm (1 inch) in diameter and is made of pure titanium.
Transducers on both ends are magnetically shielded, which allows them to be used alongside video monitors. High-quality components, such as bypass capacitors, are used in the dividing network for outstanding transient accuracy, and protection circuitry is incorporated to prevent system damage.
Polypropylene foam is molded into a pleasing shape, with black or white finishes to fit any environment. For optimal performance, a system can be mounted on a wall, ceiling, rack, or tripod.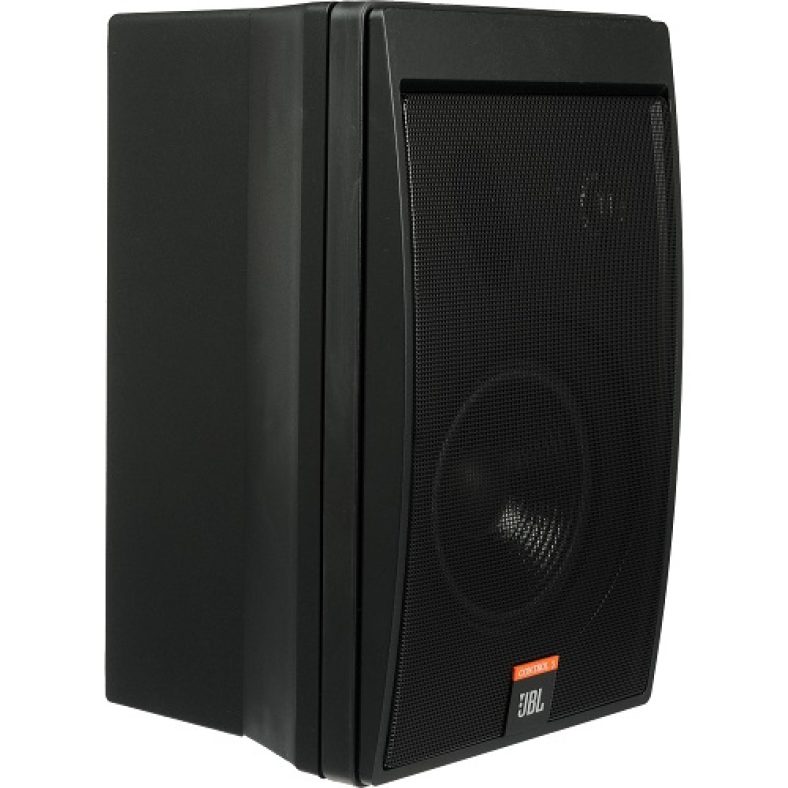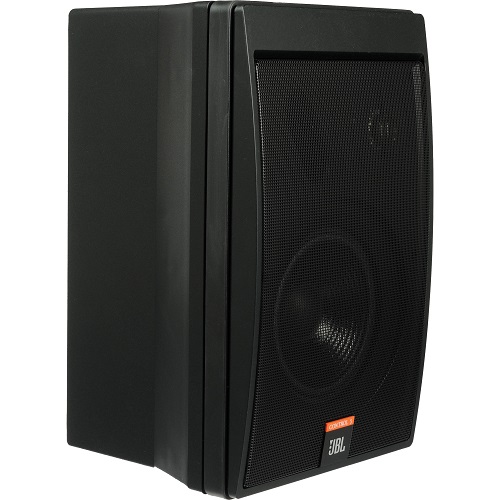 Features
Offers high and low end and a greater power handling capability
Molded of dense polypropylene foam
175 watts
Wall, ceiling, rack and tripod mounting systems
Powerful bass response to 50Hz
High frequency response to 20kHz is handled by a pure titanium 1″ dome
IMAGE
PRODUCT
For US
Customers
Amazon
Store

JBL Control 5 175W 6.5″ Surface-Mount Speaker
---
3. Auratone 5C Super Sound Cube Classic
There is an impressive history of sound recording with the Auratone 5C Super Sound Cube loudspeaker. Studio pictures from the 1970s and 1980s often show it perched atop the console meter bridge with its six-inch wide cabinet and single driver cone.
Compared to the original design, the modern 5C does not look all that different. With an 80 Hz – 15 kHz frequency response and a reproduction of the original 4.5″ driver (made here in the US), the 5C brings clarity to the midrange.
One Sound Cube can be used with two or three-way monitors, ensuring your mixes are compatible with any system. Mixing setups have never been easier with the Sound Cube's passive and active designs.
There is a combined input of 1/4 inch XLR on the speaker and on the active monitors from Auratone, there is also a protective system from overcurrent, heating, and power interruptions in the powering. An amazing speaker that is best in slot for referencing, so the reason is that you are able to see it in many studios worldwide.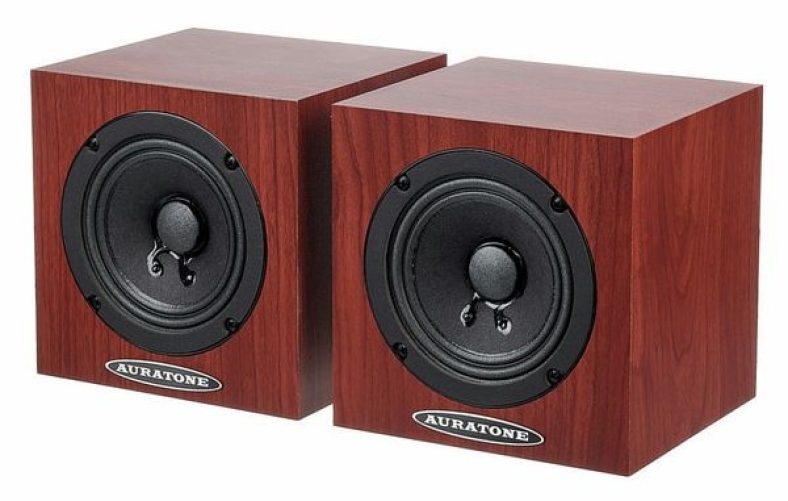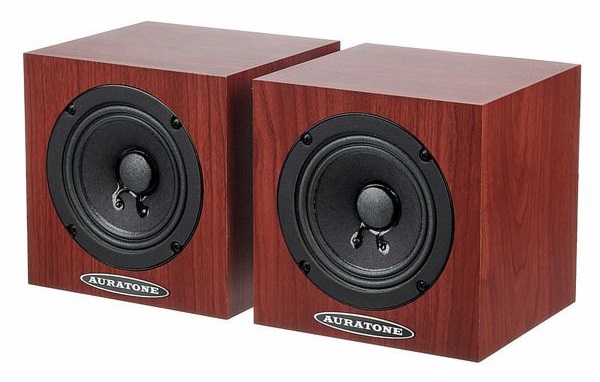 Features
Loudspeakers: 4.5″ full range speaker
Rated power: 25 W RMS / 50 W peak
SPL / sensitivity: 90 dB at 1W / 1m
Frequency range: 75 / 15,000 Hz
Impedance: 8 Ω
Magnetically shielded
IMAGE
PRODUCT
For US
Customers
For EU
Customers

Auratone 5C Super Sound Cube Classic
---
4. Avantone CLA-10
The Avantone CLA10 is virtually identical to Yamaha's NS10M studio monitors. Featuring the same white cone and black box design, the Avantone CLA10 spotlights every little flaw in your mix. You can rest easy knowing that your tracks will sound great wherever you take them with CLA10s.
As a painstaking recreation of the legendary NS10, the CLA10 was created in conjunction with the legendary Chris Lord Alge. In addition to having the same sealed-box cabinet design, it highlights the midrange to create that classic "mid-forward" sound.
The tweeter is doped with phenolic resin in the same manner as the original, which ensures a matching frequency response. To achieve a more consistent frequency response between units, each cone is constructed from custom-tooled mechanical parts.
Compared to the original speaker, the CLA10 has only one significant difference: its cone construction. Featuring a modern pressed cone, the CLA10 has improved stiffness and weight control while maintaining an identical sonic response.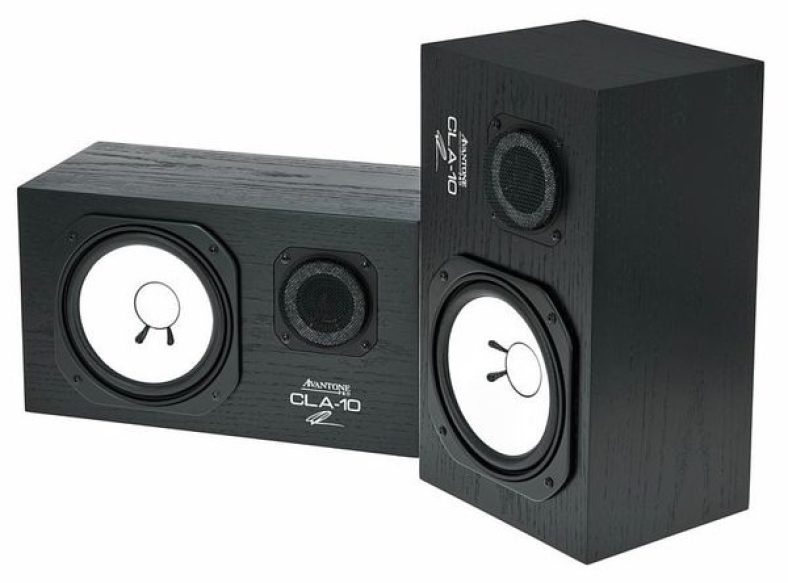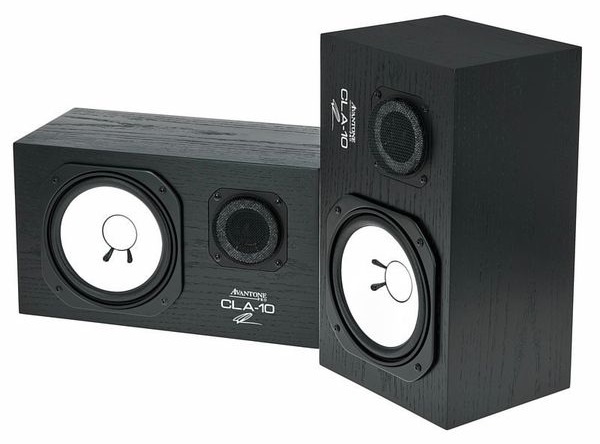 Features
Developed in collaboration with Chris Lord Alge
2-Way speaker: 18 cm woofer and 3.5 cm tweeter
Frequency range: 60 – 20,000 Hz
104 DB SPL
200 W Class AB amplifier
18 mm MDF case with real wood veneer
IMAGE
PRODUCT
For US
Customers
For EU
Customers
---
5. Amphion One15 5.25″ Passive Studio Monitors
Across the entire frequency spectrum, Amphion One15 studio monitors maintain a pure and authentic sound. The stereo image they provide is impressive and keeps the balance accurate even at low listening levels. By using these monitors, you will no longer have to waste time on additional checks and amendments when using other playback systems.
Studio monitors One15 are the ideal affordable near-field monitor for tracking, mixing, and mastering. It provides clear and transparent mids, smooth highs, and an incredibly accurate bass response, which makes it an ideal choice for musicians who require additional clarity in the low-frequency range.
There is no doubt that Amphion One15s would benefit from any professional monitoring setup. To provide the natural, transparent, un-hyped sound necessary to make critical mixing decisions, these passive monitors feature specially designed drivers and a high-density Corian waveguide.
It is always the case that the tools used by sound engineers or producers either allow them to produce a better product or allow them to work more quickly. It is possible to do both with the One15 studio monitors.
Whether you are composing, tracking, or mixing, you can make better decisions more quickly. Regardless of whether you are working in a commercial or home studio environment, the One15 nearfield monitors are an excellent choice.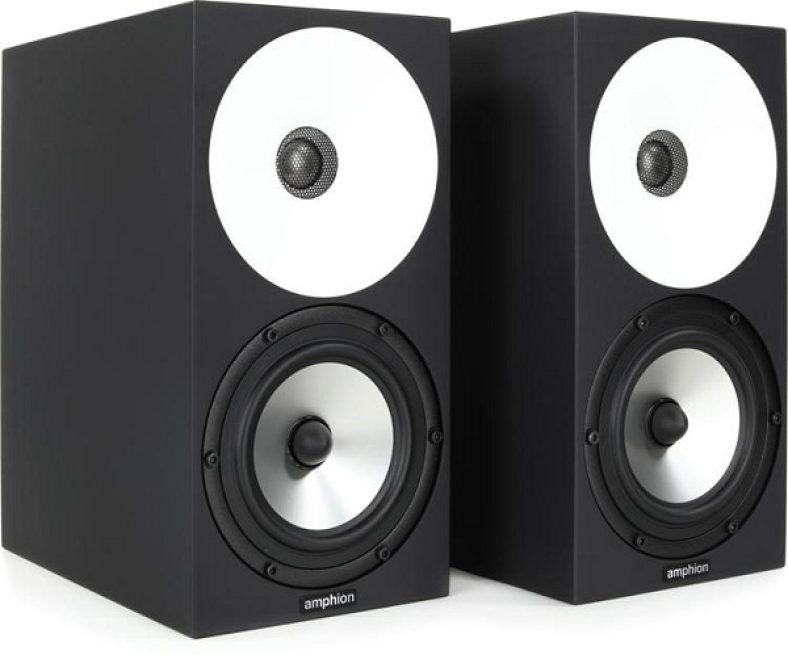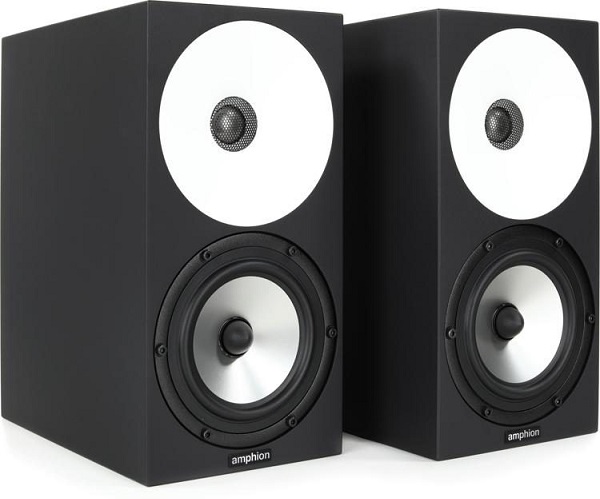 Features
High-quality studio monitors designed for uncompromised performance
2-way passive construction with rear-mounted passive radiator
Frequency range: 49Hz-20kHz
5.25″ mid/bass woofer
1″ titanium tweeter
Power recommendation 20 to 100 watts
IMAGE
PRODUCT
For US
Customers

Amphion One15 5.25″ Passive Studio Monitors
---
Conclusion
Despite the fact that passive studio monitors are less popular than they used to be because they require an additional amplifier to produce sound, they are still available. In general, passive studio monitors are cheaper than active monitors, which is one of the reasons they are attractive, and if you already have a power amplifier, then passive studio monitors are a good choice.
Passive speakers require only a speaker cable and are powered via the amplifier, as opposed to active speakers, which require power cables (and often lots of extension cords).
There is a wide range of speakers that can be used with most amplifiers. When you are ready to upgrade, you have a wide range of options to choose from based on your needs and budget. A power amplifier with high-quality features can help you achieve the best sound by customizing your sound system. Technology is considered to be future-proof in the technology world.
Additionally, upgrading your amplifier system comes with some risks. You may overpower or underpower your passive speakers if you buy the wrong product, which can result in their destruction.
So in case you are having any questions about the topic we covered here in this article, please let us know in the comment section below and we will be more than happy to elaborate!