Best Microphone Shock Mounts
Introduction
Shock mounts prevent unwanted noises caused by movement and low-frequency sounds from affecting your recordings. This article explains the workings of microphone shock mounts, explores some of the benefits you can get from using one, and recommends the best universal shock mount options we have come across. Shock mounts: what exactly are they?
With a shock mount, your mic will be protected from contact with surfaces and equipment that could interfere with your recording. The suspension is elastic and created in circles to avoid contact between the mic and surfaces. Additionally, they protect against microphone vibrations that can be heard in recordings.
Shock mounts are perfect for recording environments that are vibrating or rumbling at low frequencies. When you suspend your microphone with a shock mount, vibrations are prevented from adversely affecting your recording.
Although you can record efficiently without a mic shock mount, they will significantly improve your recorded audio by reducing unwanted noise. It is especially helpful to use shock mounts when recording with condenser microphones because these are extremely sensitive. Shock mounts might not be necessary for a professional environment, which is designed to minimize vibrations and low-level noise.
Isolating your microphone with a shock mount will improve the quality of your audio. A shock mount will stop unwanted noise from entering your recording since not all sounds can be removed in post-production. We will move on with our choices now and explain more about them later for sure.
1. AKG SH-100 Shock Mount for Perception Series Microphones
Shock mounts from AKG can reduce unwanted rumble and noise during recording sessions. It is designed to be used with the Perception 200, 220, and 400 microphones manufactured by AKG. Perception microphones are suspended using the SH100 Spider Suspension from AKG.
In the SH100, the microphone is suspended in an elastic mount that isolates it from the stand itself, protecting your recordings from vibrations, rumbles, and other external noises. It works really well when it comes to handling all the vibrations around you and will surely protect your microphone, and with that – your recordings.
Maybe it might not be universal, but you will be able to fit a whole series from AKG, making it really versatile and compatible with many microphones. And truth to be told, you will be able to fit other microphones as well, just need to fit the diameter and you are good to go.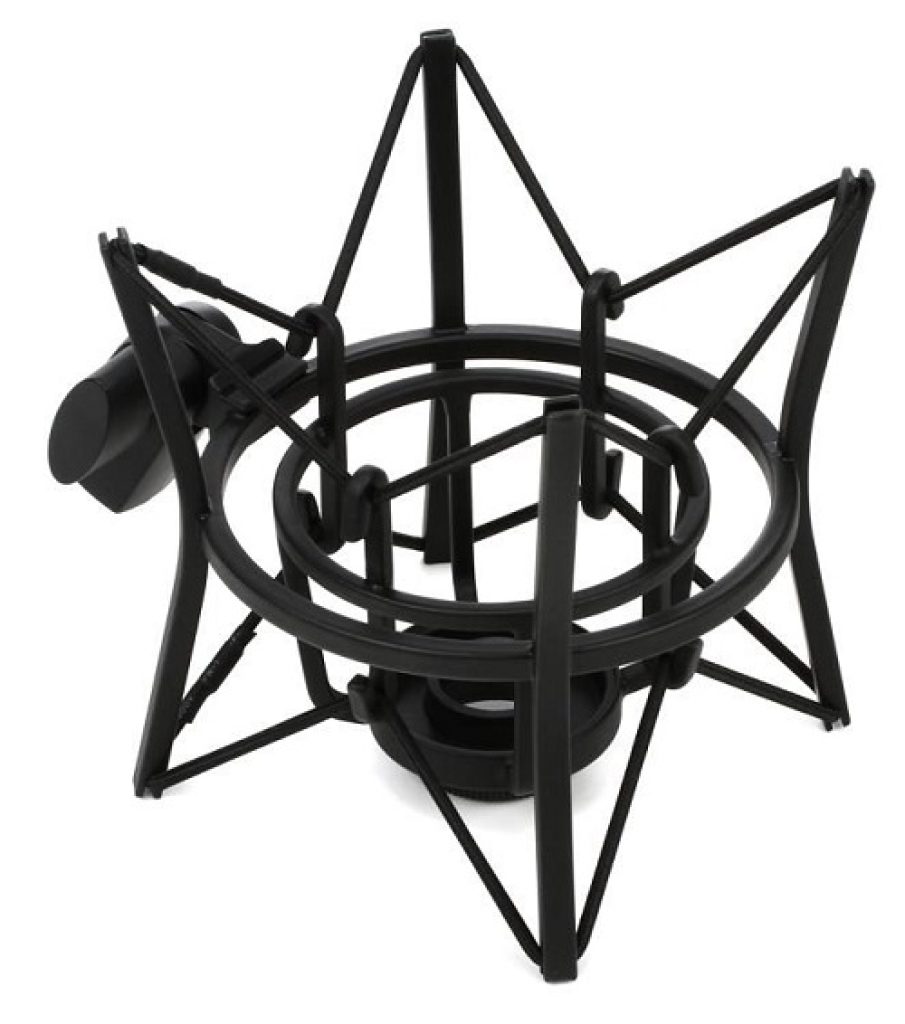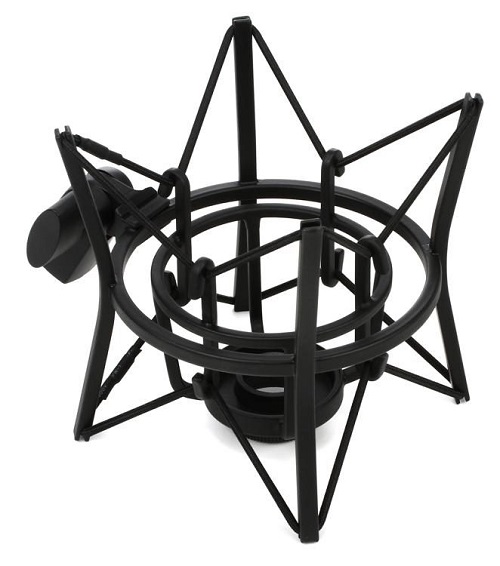 IMAGE
PRODUCT
For US
Customers

AKG SH-100 Shock Mount for Perception Series Microphones
---
2. Rode SM6 Shock Mount with Detachable Pop Filter
It is common for the Rode NT1 kit to include the SM6 shock mount and pop filter. Designed with a sturdy metal frame and woven elastic bands to keep the cradle in place, it is a good shock mount to have. A rubber band system is usually used in shock mounts, and it is prone to breaking over time.
One of its unique features is the inclusion of a dual-layer pop filter. On the front of the shock mount, a 5.5″ diameter pop filter is attached. However, some mic stands may be unable to support the weight, despite the solid construction. The best way to avoid this issue is to mount it on a boom arm or vertical mic stand with a counterweight.
Furthermore, a pop filter is included to suppress breath and pop noises. Easy adjustment and precise positioning are made possible by the pop filter's articulating head and telescoping height. In addition to two pivot points, the pop is equipped with a telescopic arm so it can be positioned in a variety of positions as needed.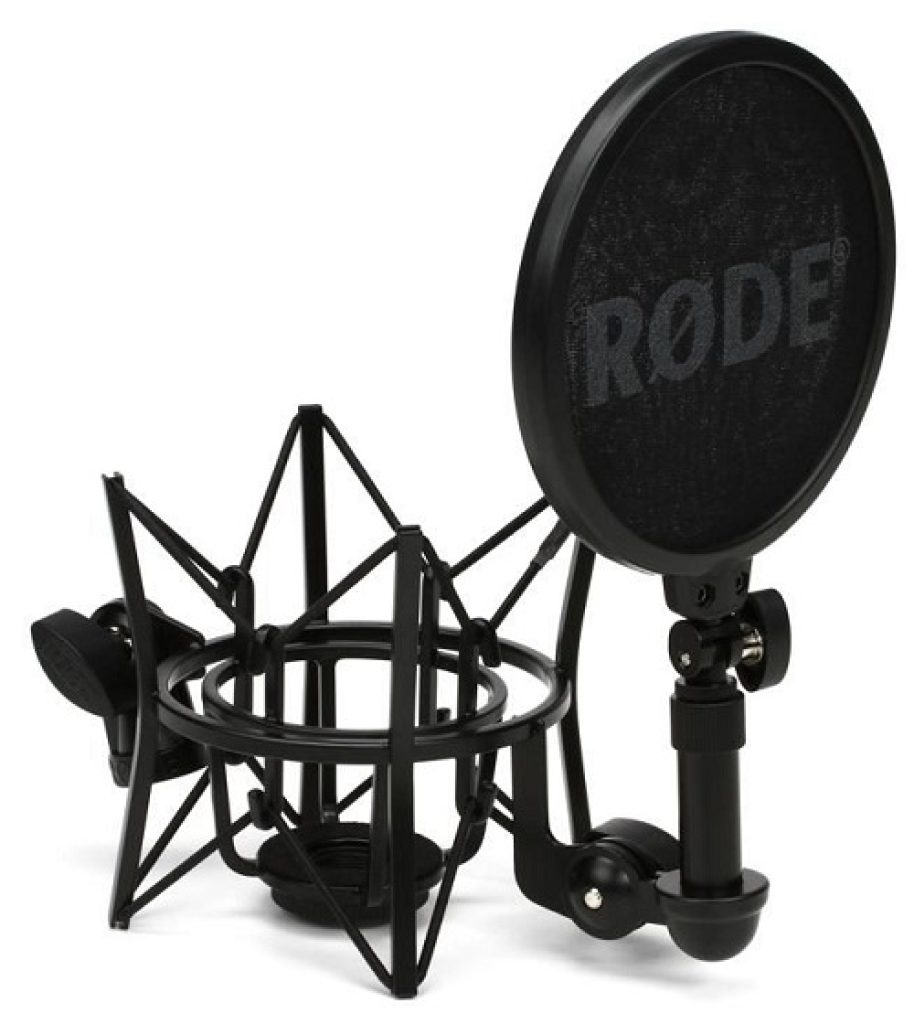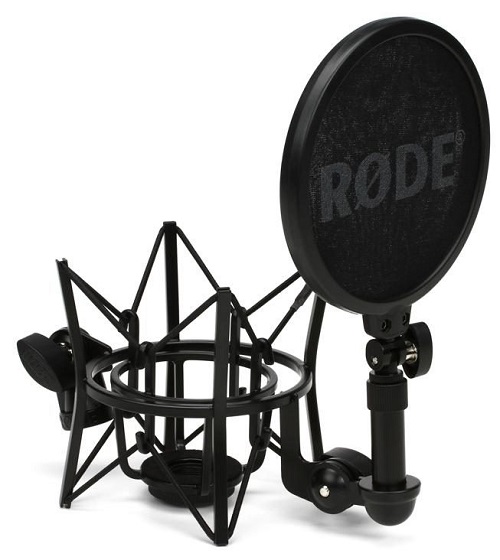 IMAGE
PRODUCT
For US
Customers
For EU
Customers
Amazon
Store

Rode SM6 Shock Mount with Detachable Pop Filter
---
3. Roadworx MSM 2000
The Roadworx MSM 2000 is a universal mount that can be used with a variety of microphones, having a diameter from 22 to 62 millimeters. The mount fits and sits really tight on the stand and it grips the microphone tightly, so you are not gonna have any issues with your microphone falling or the whole mount being dropped.
All the screws are of decent quality and you will be able to fix them to your needs without any unnecessary hassle. Another interesting point about it is that comes with a pop filter that can be removed, but it is a really nice addition to it if you are not already owning one. All in all, great universal shock mount that will do its task very well.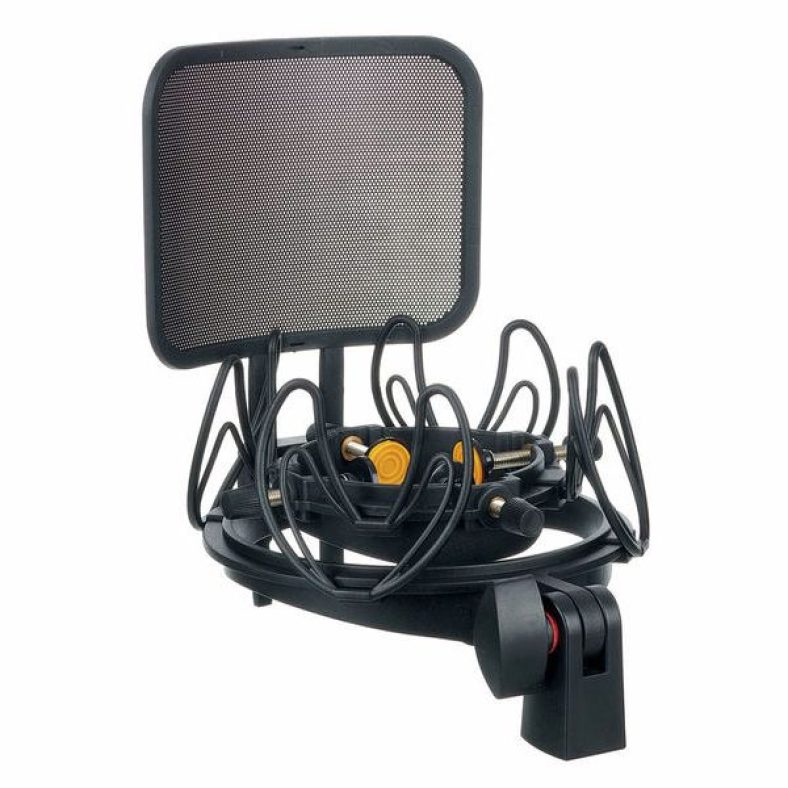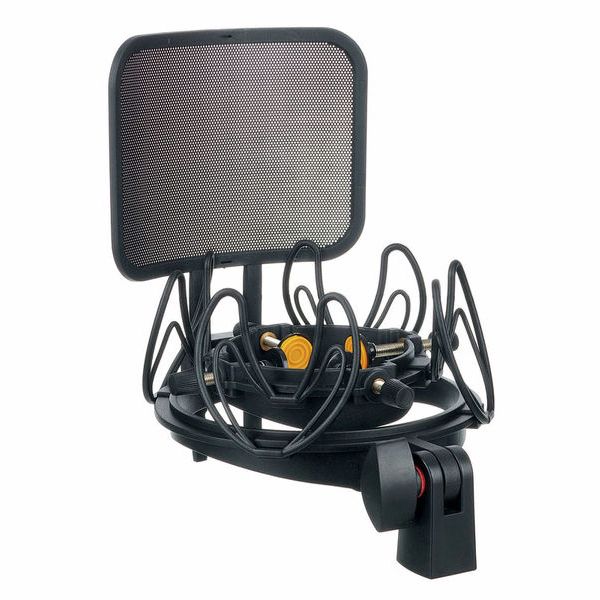 IMAGE
PRODUCT
For EU
Customers
---
4. Gator Frameworks GFW-MIC-SM5560 Universal Shockmount
A universal shock mount for 55-60mm large-diaphragm condenser microphones from Gator Frameworks allows you to get better studio recordings. A suspension design helps to minimize the impact of an accidental nudge by isolating the microphone from vibrations and rumbles.
A threaded, black powder-coated steel mount fits a standard mic stand and can be adjusted to fit mics from 55mm (2.17″) to 60mm (2.36″) in diameter. The inner ring will accommodate microphones from 55mm (2.17″) to 60mm (2.37″).
EVA foam is used in the interior of the shock mount, which protects your microphone from scratches. Standard microphone thread attachments also have an angle-adjustment knob so you can place the mic in the best position for recording.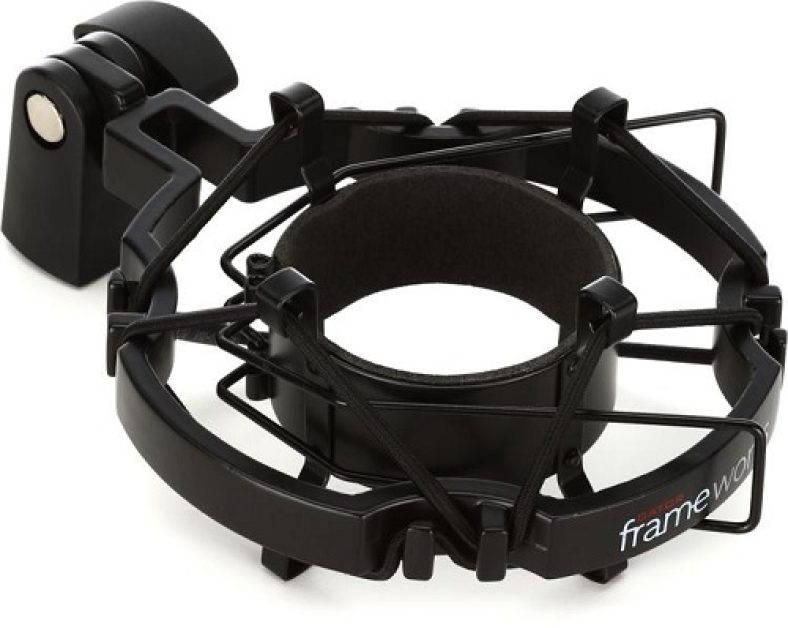 IMAGE
PRODUCT
For US
Customers

Gator Frameworks GFW-MIC-SM5560 Universal Shockmount
---
5. AKG H85 Universal Microphone Shock Mount
For stabilizing ultrasensitive microphones, such as condensers, AKG's H85 Universal Shock Mount is the perfect solution. A mic like the C414 and others can be mounted on the H85 with a shaft diameter between 19mm and 26mm.
Compared to the H 100, the AKG H 85 shock mount has a lower profile and a better appearance. As a result, the H 85 can also be used in conjunction with several other AKG studio microphones, including the C 2000 B, C 3000 B, and C 4000 B. In the current configuration, only the C 414 B-XLS and C 414 B-XL II microphones include the H 85 shock mount as a standard accessory.
All in all, this is a nice shock mount that will be of great use in the studio. Despite being well made, they are easily breakable, especially if they fall from a microphone stand height. Therefore, it is recommended to keep them in the studio and not use them on stage.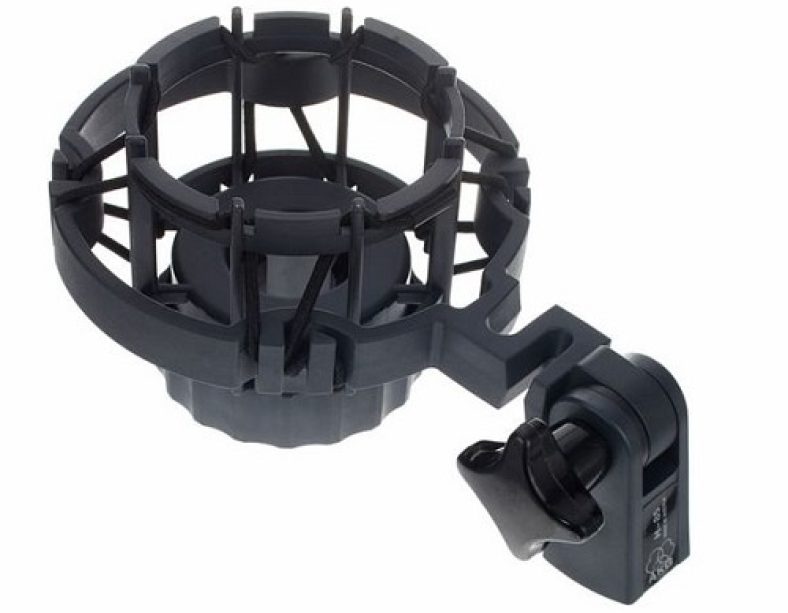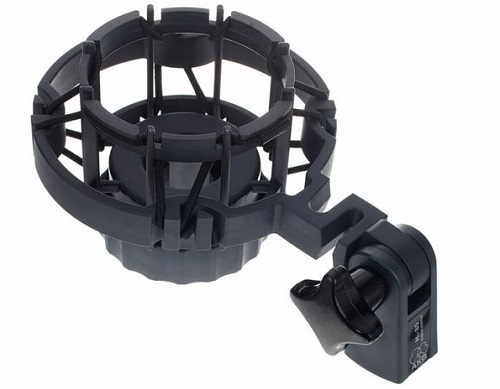 IMAGE
PRODUCT
For US
Customers
For EU
Customers
Amazon
Store

AKG H85 Universal Microphone Shock Mount
---
6. Aston Microphones Swift – Universal Shock Mount
Mounting a microphone has never been easier than with the Aston Swift shock mount. You can mount your microphone easily with the help of two quick-release spring clips that are designed to fit a broad range of microphones, from 40-60mm in diameter.
With the Aston shock system, they have completely re-designed it from the ground up, as with all their products. A patented suspension system that eliminates the need for fiddly rubber bands while providing a high level of elasticity for maximum isolation is called the 'ShockStar' suspension system.
The Aston Swift has been designed using an innovative alloy of Aluminium and high-grade glass-fill nylon polymer, in combination with a unique nitrile suspension system known as the 'ShockStar'. It provides ultimate support, reliability, and shock absorption. Aston's products set new standards for design because of the use of novel materials and architectural approaches.
Our opinion is that this shock mount is the best shock mount you can buy because of its superior mounting and release capabilities, novel use of materials, and excellent British design. You may also purchase the Aston Swift with the Aston Shield SM (SwiftShield) for all your micing requirements.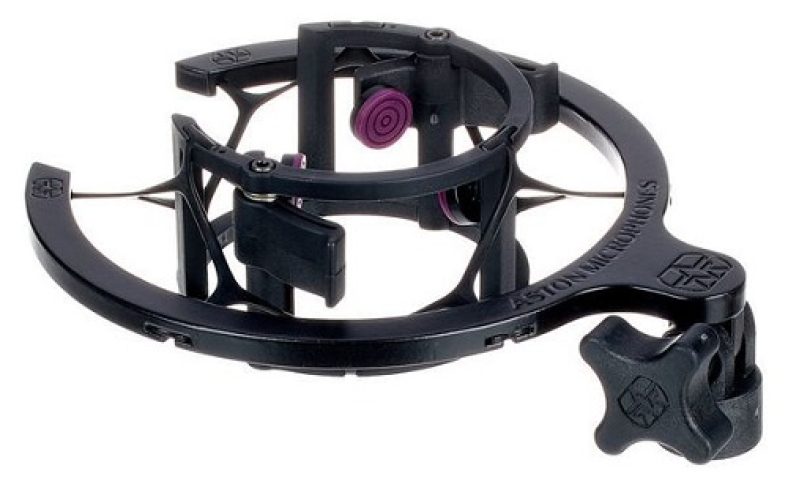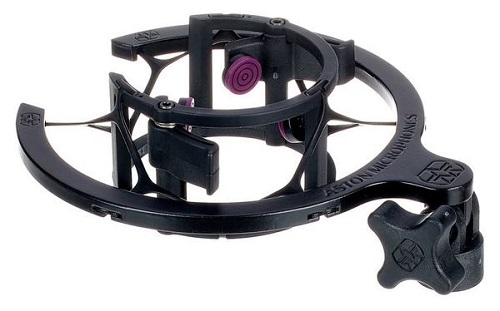 IMAGE
PRODUCT
For US
Customers
For EU
Customers
Amazon
Store

Aston Microphones Swift – Universal Shock Mount
---
7. Rycote InVision Studio USM-L Shock Mount
This shock mount can be used with microphones with a diameter of 18 to 55 mm and a weight of up to 0.88 pounds. According to controlled tests conducted at Rycote's factory, the patented vibration-resistant Lyre mount reduces capsule and cable-borne noise by as much as twice compared to traditional microphone suspension systems.
The InVision pop filter's universal screw clamp allows it to be used with any universal shock mount with a diameter between 1/8″ and 1/2″ in addition to the InVision USM. You can replace the mesh filter at any time, allowing you to maintain a clean, hygienic studio, and the ergonomic frame is designed for comfort, allowing you to focus on the performance rather than what is in front of you when it comes to the mesh filter.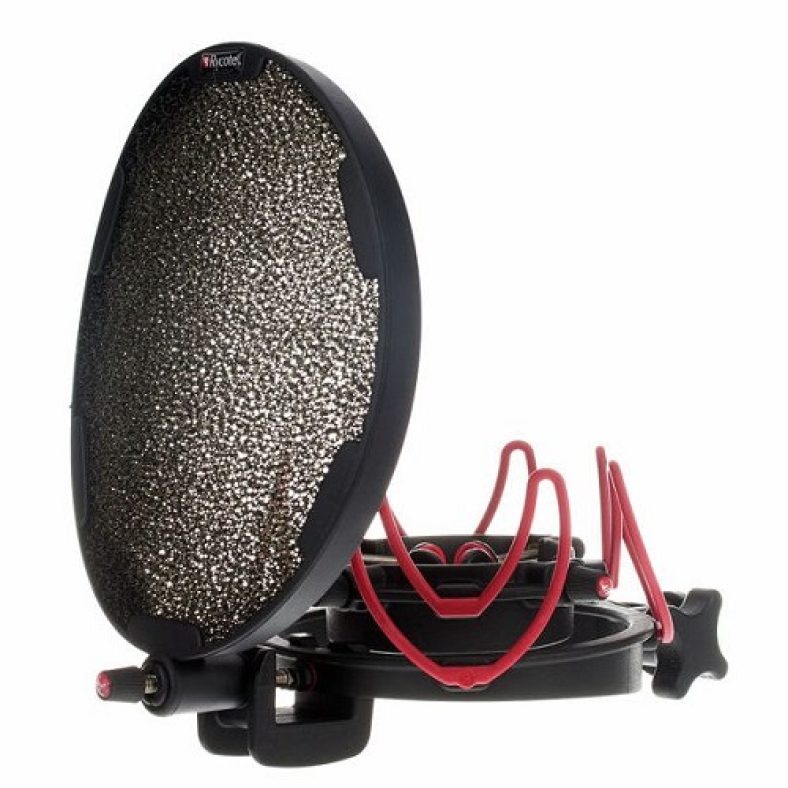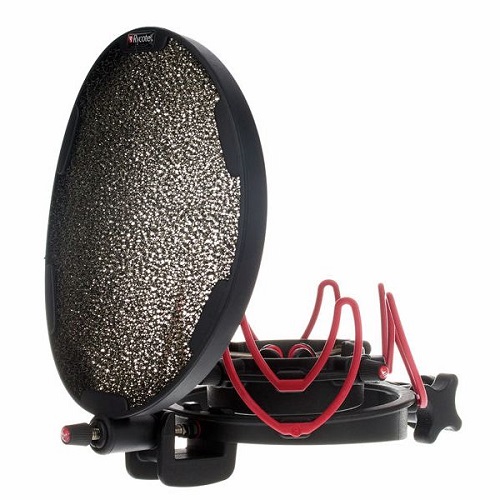 IMAGE
PRODUCT
For US
Customers
For EU
Customers
Amazon
Store

Rycote InVision Studio USM-L Shock Mount
---
8. PreSonus SHK-2
In order to ensure good audio quality, the PreSonus SHK-2 has been specifically designed to reduce background noise and interference. The only downside for this shock mount is that can be used with the mic that it was created for – Revelator.
Use the SHK-2 shock mount to maximize the performance of your Revelator. Your microphone is protected against the vibrations of the physical world, such as mechanical keyboard clacks, clumsy mic handling noises, and your overly curious cat jumping up on your desk.
In addition to all of these disruptions, the SHK-2 shock mount can provide you with a solution to reduce unwanted noise and rumble during broadcasts and recordings. As long as your Revelator is isolated from any jarring movements, your Discord teammates, listeners, and YouTube subscribers will only hear you.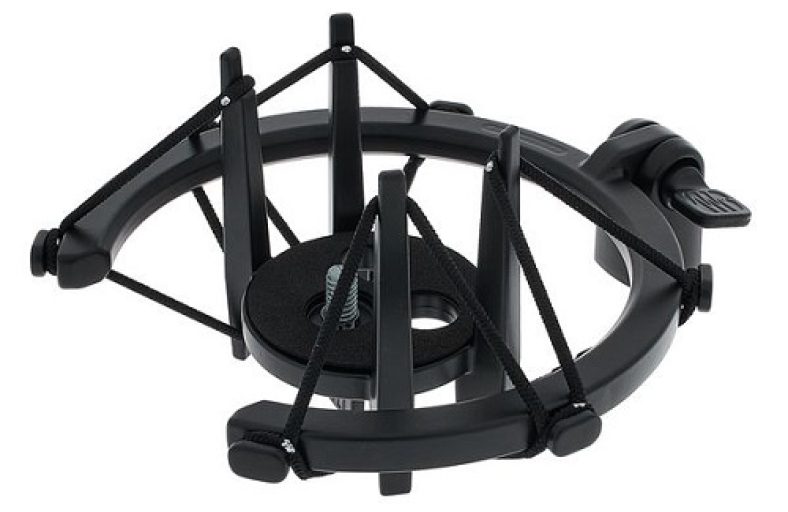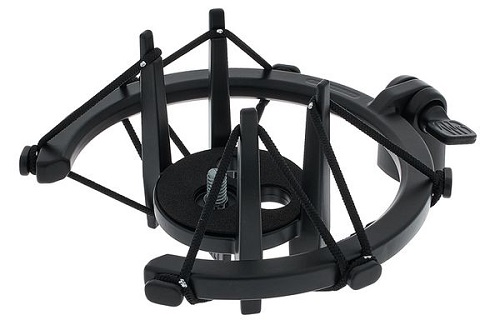 IMAGE
PRODUCT
For US
Customers
For EU
Customers
Amazon
Store
---
9. Audio-Technica AT8415 Universal Shockmount
The lightweight, low-profile Audio-Technica AT8415 Universal Shockmount is designed for boom poles or mic stands, providing a rubber membrane suspension for isolation from motion and cable noise. Also, you will be able to adjust the height and the angle of the mount with the knobs that can be found on it.
This is a universal shock mount for shotgun microphones and you will be able to use it with many different microphones that are out there. It has a nice tension clutch that will secure the precious cargo and 360 degrees rotation feature.
The most important feature is maybe that is compatible with 3/8 – 16 and 5.8 27 stands and it has an internal adapter that can be removed to fit the stand you have. All in all, very cool mount for shotgun microphones and this one will be the one we use for our next outdoor recording session.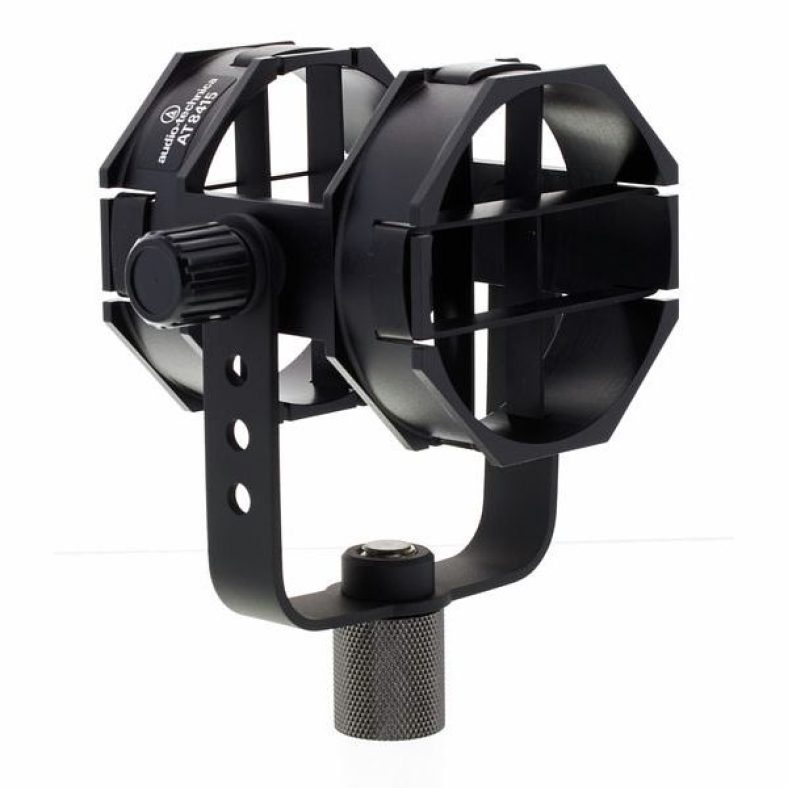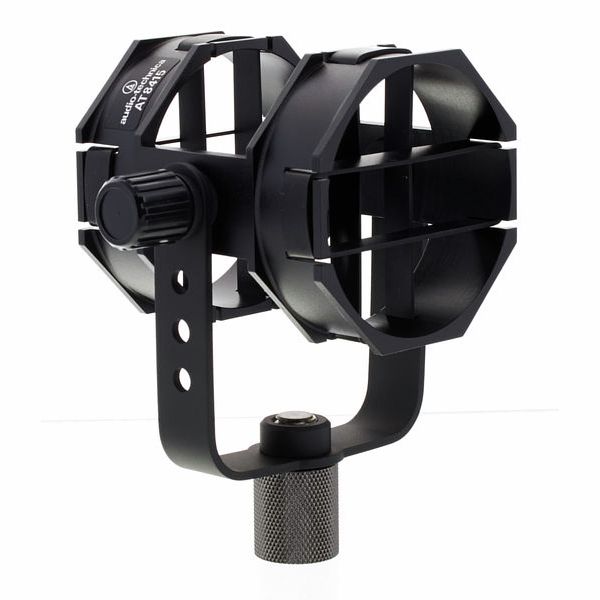 IMAGE
PRODUCT
For US
Customers
For EU
Customers
Amazon
Store

Audio-Technica AT8415 Universal Shockmount
---
The Buyers Guide
The diameter of your mic is the most important thing to consider. Your product description usually lists it when you buy it for the first time. The good news is that you can always find this information online if you don't keep this tedious documentation. Shock mounts that are universal aren't always available.
Next, determine what mic accessory you need based on the mic's dimensions. You're a winner if they match! The next step is to examine some other features. It is very important for a product to be durable. Metal or alloy mounts are the best and plastic mounts are rarely effective. Plastic ones are always cheaper, however, if you want to save money.
An additional feature to look for is the connection adapters on the mic stand. Adapters for 5/8-inch threads are used to connect microphone stands. When you can't attach a shock mount to any microphone stand, there's no point in buying it. It's the same with boom arms. If you want your shock mount to attach to a boom arm, make sure it has a 3/8-inch adapter.
In addition, you should ensure your microphone, along with any others you may have, can be adjusted on a shock mount. A microphone with more adjustable features will be beneficial to you and your recording since you will inevitably want to position it at certain angles and settings.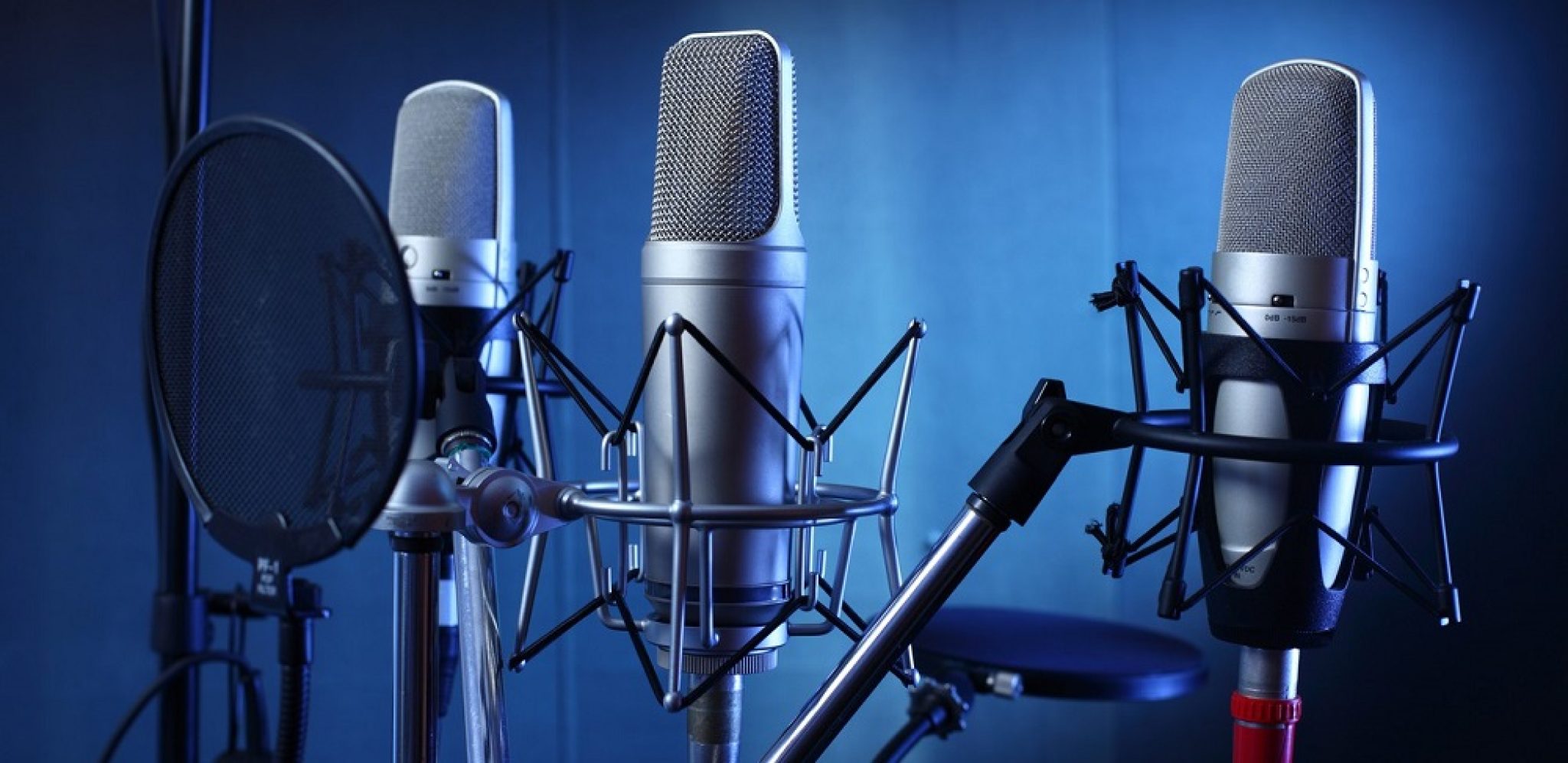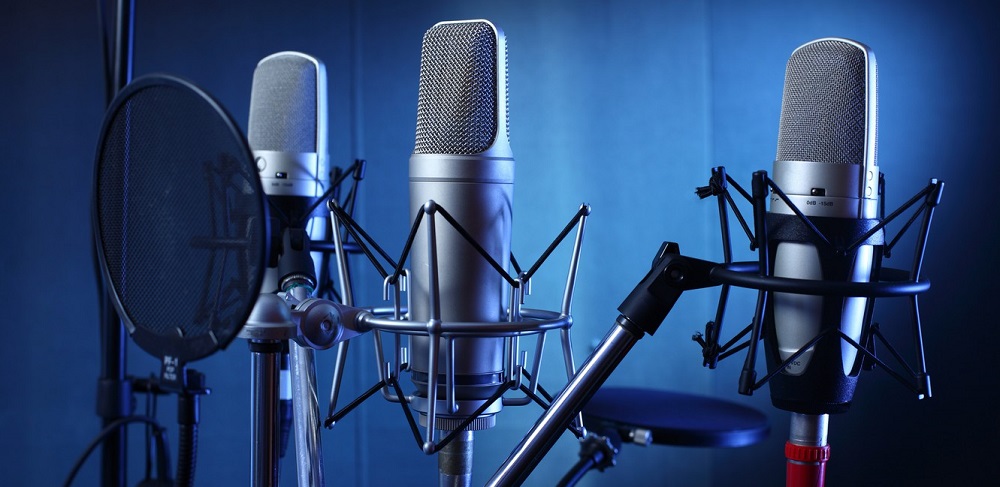 A shock stand with an adjustable clutch or locking knob can be used to adjust the angle of a microphone. The mic can be fixed securely at any angle you choose using these features. If your mic slides away when you're recording, that's the last thing you want!
As well, the type of mount you use can also affect the sound quality of your recordings. High-quality metal mounts are the most durable, so we recommend looking for them. As a result of this material, your mic is also more stable and stable while in use.
When your microphone shakes when recording, recordings may not sound as good as they should and unwanted noises may be generated. It is also important to secure the mic with elastic roping. In this way, your mic is suspended in the microphone frame and vibrations cannot travel to it. In the event that the microphone ends up being too loose, it may fall out and become damaged.
Conclusion
For the best recording results, you should always use a microphone shock mount. Your microphone won't move around all over the place, allowing you to record in a clear, clean manner. By doing this, you also ensure your mic is secure, so you don't have to worry about it falling and becoming damaged.
When used with mic stands or booms, mic shock mounts keep microphones in place and isolate them from mic stands or booms. Some shock mounts, however, are universal and can be used with any microphone, regardless of its size and shape.
We will be happy to answer any questions you have in the comment section below concerning the topic we covered here. Until next time!