Lewitt Connect 6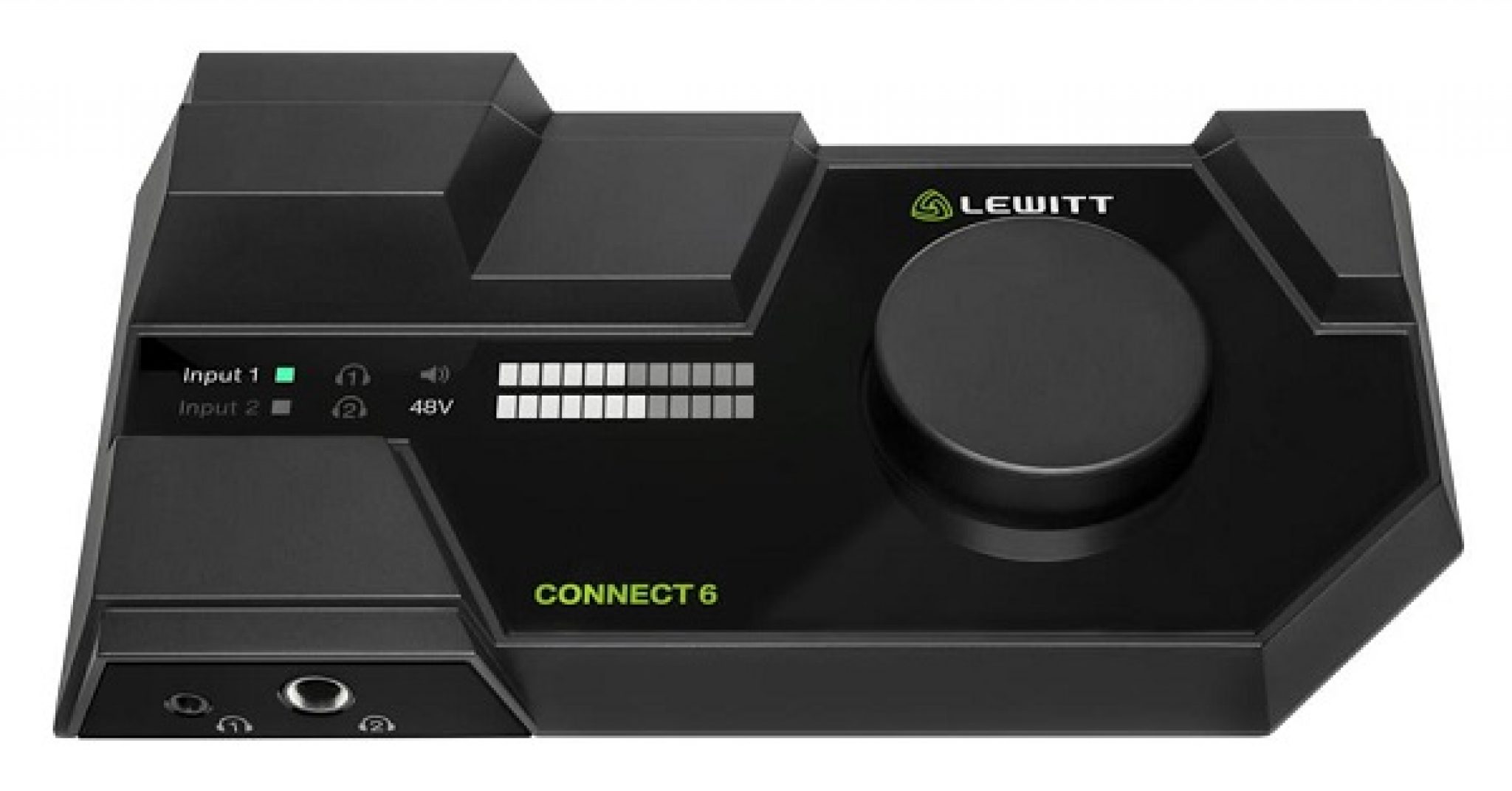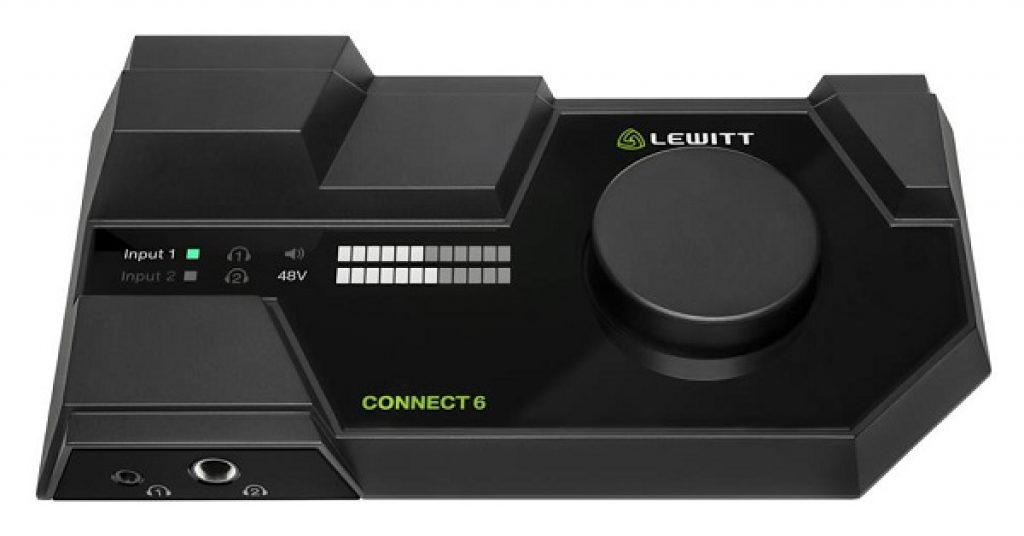 2 Studio-quality preamps
Dimensions (W x H x D): 220 x 42.5 x 110 mm
Weight: 0.4 kg
Color: Black
---
Lewitt Connect 6 Review
The Lewitt CONNECT 6 Dual USB-C audio interface is available now. With extensive analog and digital connectivity, onboard DSP, and studio-grade preamps, the CONNECT 6 provides musicians and creators with game-changing versatility.
Virtual channels, a mixer, loopback, and individual audio routing can all be found in the CONTROL CENTER software that is included with the unit. It is also possible to find your optimal settings automatically using Auto Setup. You can manage your audio setup conveniently on a single device since hardware-based DSP does all the processing.

Connect 6 Design and Features
To begin with, let's look at the look of this thing, which is quite unusual. In Connect 6, there are various raised ledges and cut-off corners that give the design a very distinctive look. There is nothing generic about this audio interface.
You will also find two USB-C ports – one for your computer and one for your mobile device. Using your phone or tablet, you can easily integrate it into your studio setup, as well as transfer lossless audio between them.
Streaming to TikTok and Instagram will be possible, or you can capture audio directly from your phone. In addition, there are options for connectivity. A number of features are geared toward streaming and podcasting applications in Connect 6. The XLR/jack combo inputs can be used with any microphone by connecting to one of two studio-grade preamps.
-133dBV EIN and 72dB of gain are claimed for both preamps by Lewitt, which should eliminate the need for expensive signal boosters. The Connect 6 will then automatically figure out the best settings for your voice or instrument by activating Auto Setup.
The 1/8″ Aux input can also be used to connect a stereo source. A total of three USB-C connectors are available on the Connect 6 – one for computers, one for phones, tablets, or second computers, and one for powering mobile devices while connected.
The ability to send and receive audio between a computer and a phone exists, according to Lewitt. The Connect 6 app supports both iOS and Android devices.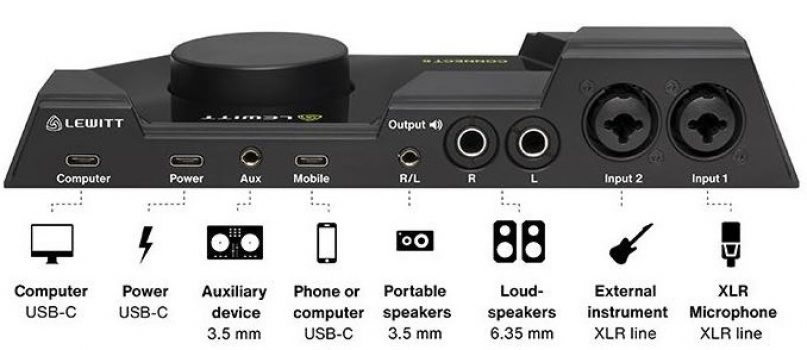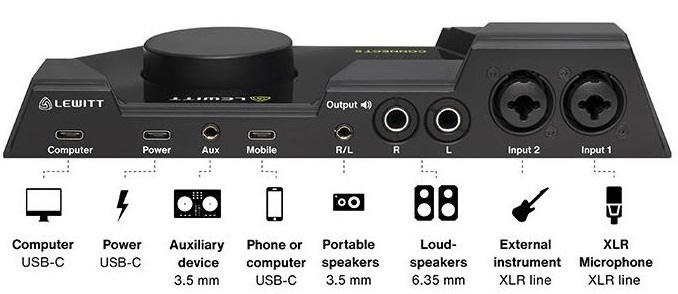 Connect 6 Sound
Connect 6 makes it easy to create great-sounding audio content. Auto Setup ensures a hassle-free recording experience with Connect 6 because it automatically adjusts the settings to your voice or instrument. Besides low latency effects, the DSP also gives you zero-latency compressors, EQs, expanders, and maximizers, as well as seamless routing, mixing, and monitoring.
Regardless of your computer's performance, the onboard DSP in Connect 6 ensures a stable recording setup. Convenience is maximized by managing everything on one device.
And with the latest technologies used, comes quality as well. You will be able to generate truly clear signals when recording vocals and instruments. For the price ticket that it comes with, you are getting an amazing sound, so we consider this a pro.
Connectivity and Routing
There are, however, some interesting routing options that are designed for streaming and podcasting. A software mixer runs on the built-in DSP, which lets you mix microphone input with audio from a computer, a mobile device, or another source.
You can capture audio from Zoom calls, games, and similar computer-based sources in addition to the three virtual stereo channels. There are two different audio mixes that you can create, e.g. one for monitoring and one for streaming. With the included Control Center software, everything can be controlled.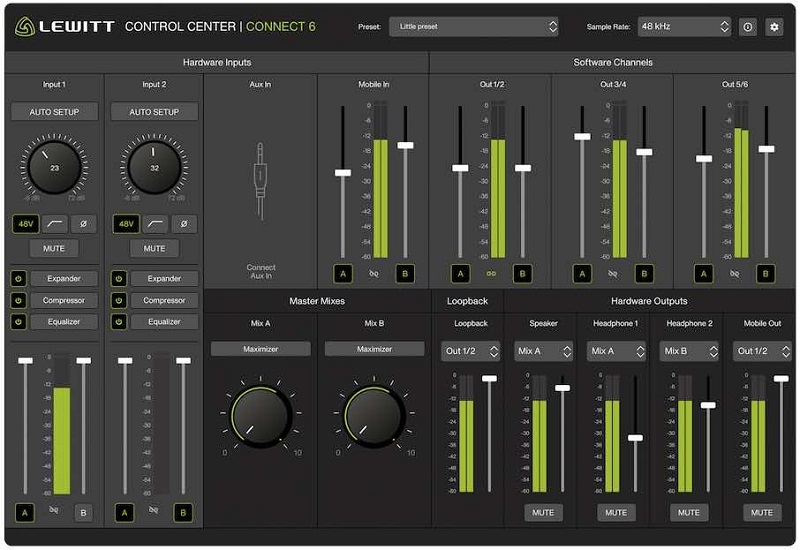 Lewitt Connect 6 Brief Features:
For home recording and content creation
Powerful hardware-based DSP for routing, mixing, latency-free effects
Auto Setup selects optimal settings for voice, vocal or instrument recording
Full audio integration of mobile devices incl. charging via USB-C
2 Independent headphone outputs: 1x 6.35 mm jack and 1x 3.5 mm mini jack
2 x Balanced speaker outputs: 6.35 mm jack
1 x Stereo aux input for additional audio devices: 3.5 mm mini jack
3 x Virtual stereo channels
1 x Loopback channel
Why You Need the Lewitt Connect 6
If you are a streamer, gamer, or person that needs ease of usability when it comes to recording or producing vocals and instruments, Connect can help you out with that point. Having so many features in a small box is really amazing and it gives so much that we are truly flabbergasted.
Also, the DSP system will ease up the process on your computer and you might not need to worry that much about how your software will perform, cause the interface itself can handle some of the weight on your processor. For around $300, you can get a really nice portable unit for your studio!
Lewitt Connect 6 Review
The Lewitt CONNECT 6 Dual USB-C audio interface is available now. With extensive analog and digital connectivity, onboard DSP, and studio-grade preamps.
Positives
DSP System
Multiple Connectivity Features
Great Preamps
Conclusion
Lewitt delivered again. Even though they are better known for developing microphones, this is a unit that sets them away from the path they are known for. If you are already familiar with their microphone lines, you will know that this is also a unit that will deliver what was promised by the developer.
If you are having any additional questions about this unit, please let us know in the comment section below or reach out to Lewitt customer service for more detailed answers.