Best Shure Microphones
Introduction
It is possible that Shure may be exactly what you are looking for if you are seeking the cleanest possible audio. You have probably held one of their microphones even if you have never heard of them.
From its beginnings as a supplier of radio parts, the American company has since grown into a global leader in audio electronics. Currently, they have over 400k followers on Instagram and offer a wide variety of products.
It has been nearly 100 years since Shure was founded. It was founded in 1925 as the Shure Radio Company in downtown Chicago. Now that they have mastered analog recording, they are focusing on digital recording. A number of their products are geared toward podcasting and the modification of audio from mobile devices. A principle that has allowed Shure to prosper for almost a century is their willingness to adapt to the times.
Customer feedback was overwhelmingly positive about Shure's attention to detail. Each product was designed uniquely and intricately to provide customers with a unique sound. Their quality was praised, but they also had the advantage of cutting out a lot of the little background noises that can bug people.
It's hard to say which audio companies are best for beginners or experts. Most of these brands do not produce products that are suitable for both groups without compromising in some manner. Shure is an exception to this rule.
Throughout the years, their craftsmanship has been evident in how they have catered to the needs of customers. As a result, they do not sacrifice what made them so remarkable in the first place. Instead, they use their expertise to bring new technologies and ventures to life.


In this article, we are going to review their most famous microphones, no matter if it is a condenser mic, dynamic mic, or something else. So let's check our selection of microphones from Shure!
1. Shure SM58
In particular, the Shure SM58 is well suited to rejecting signals coming from behind because it is a cardioid microphone. It features a 50 Hz – 15 kHz frequency response as well as 150 Ohms output impedance, which makes it suitable for handling loud sound sources.
It may not be ideal for recording instruments with lower frequencies such as bass and kick drums, but it is an excellent choice for recording vocals, guitars, as well as snares and rack mount toms. SM58s are frequently used as vocal microphones. With its built-in pop filter, it reduces sibilance while adding warmth and clarity to performances.
If toms are tuned properly and dampened appropriately, the SM58 can work wonders. Because the SM58 is basically the same microphone as the SM57 (although the SM58 has a pop filter), it is ideally suited to use with guitar amplifiers. The SM58 is a rugged microphone that has been manufactured for many years. It may be possible for you to use it as a weapon in the event of an emergency.
To conclude, we have the utmost respect for SM58. Among the most basic and reliable tools that you can have as a sound engineer is this device. It is difficult to imagine a better microphone to keep with you if you were stranded on a desert island and had only one choice of microphone to bring. There is no doubt that it will handle humidity well.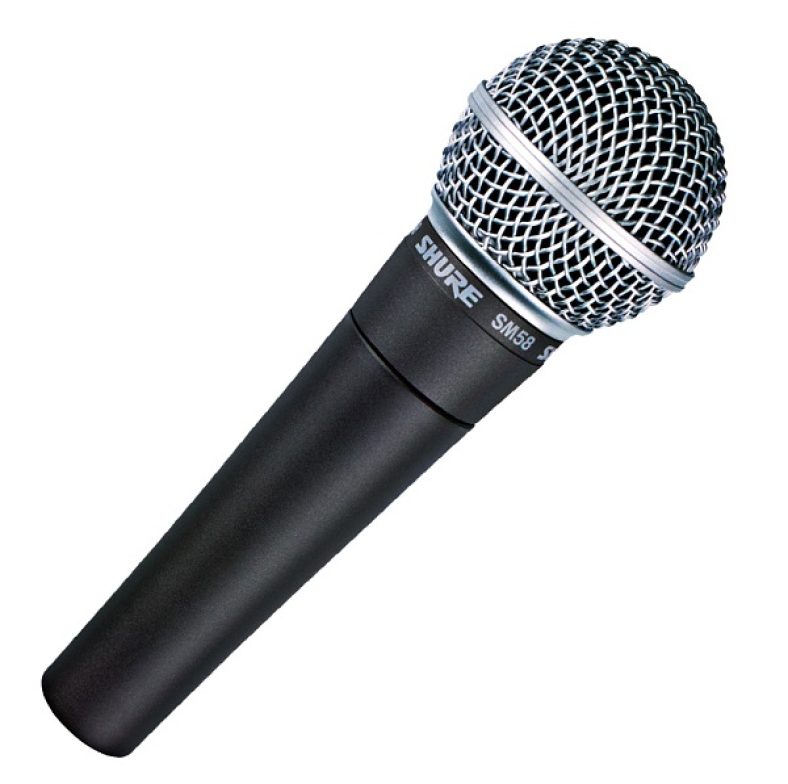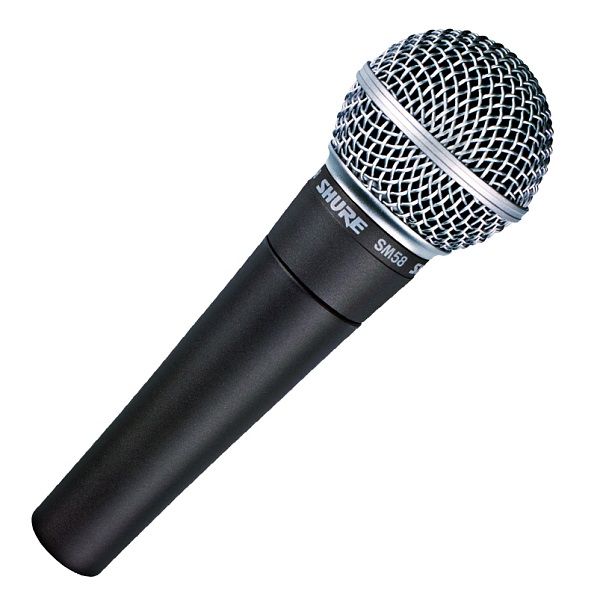 Features
Directivity: Cardioid
Frequency range: 50 – 15,000 Hz
Output impedance: 300 Ohm
Sensitivity: -56 dBV / Pa (1.85 mV)
Dimensions: 23 x 162 x 51 mm
Weight: 298 g
Shure SM58
Probably their most famous model and all for good reason. They sold so many models that they can be found in every country worldwide. This is an amazing microphone that we also have and we use it in every possible spot where we can. From stage to studio usage, this mic will not disappoint.
Positives
Legendary Status Mic
Very Versatile
Highly Durable
IMAGE
PRODUCT
For US
Customers
For EU
Customers
Amazon
Store
---
2. Shure SM7B
There is no doubt that the Shure SM7B is an iconic dynamic moving-coil microphone that is ideal for close-proximity recording and broadcasting of instrumentals and vocals. Designed to provide a flat, smooth frequency response packed into a durable casing, this Shure microphone is the product of several decades of acoustic development and research.
The SM7B delivers polished and professional sound in almost any room thanks to its wide dynamic range and smooth, extended frequency response – this is why it is so well known in the broadcasting industry.
With an innovative design, the microphone hangs from an integrated yoke which is fitted with an XLR jack and a threaded nut for mounting the microphone on a stand. A visual representation of the frequency spectrum is located on the microphone's rear, along with two switches for selecting low-frequency roll-off, mid-frequency boost, and fully flat response.
As an accurate and consistent microphone, the Shure SM7B excels. From 20 Hz up to 20,000 Hz, this mic captures the entire audible spectrum, with a slight scoop in the low and midrange and gentle shaping on the high end, which makes it an excellent choice for most musical and vocal sources.
Also, it is able to withstand a maximum sound pressure level of over 180 decibels. Therefore, it makes an excellent choice for placing in front of the loudest guitar amps and on the drum kit of heavy-hitting drummers.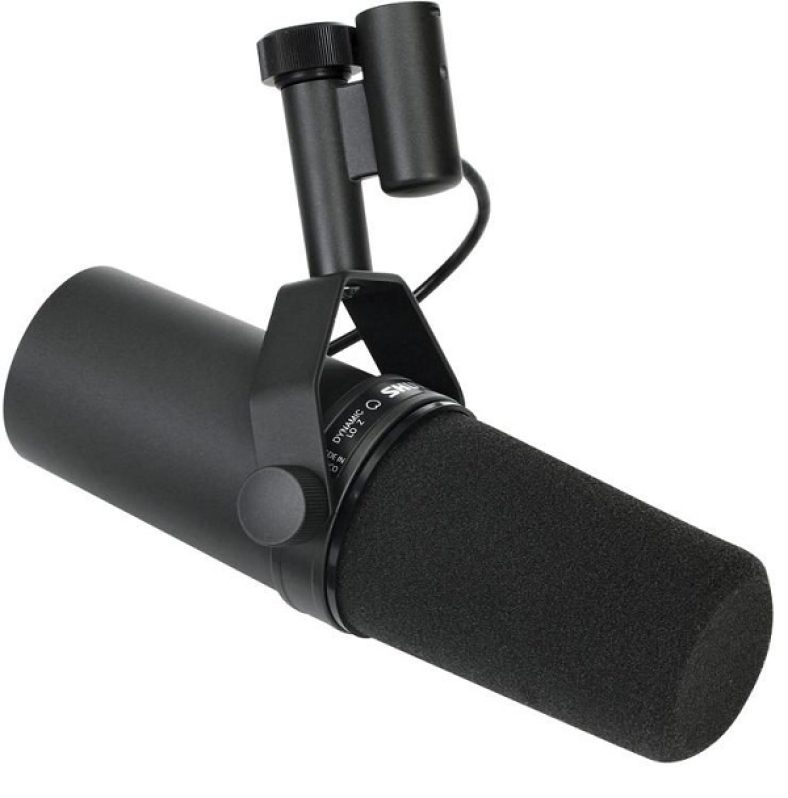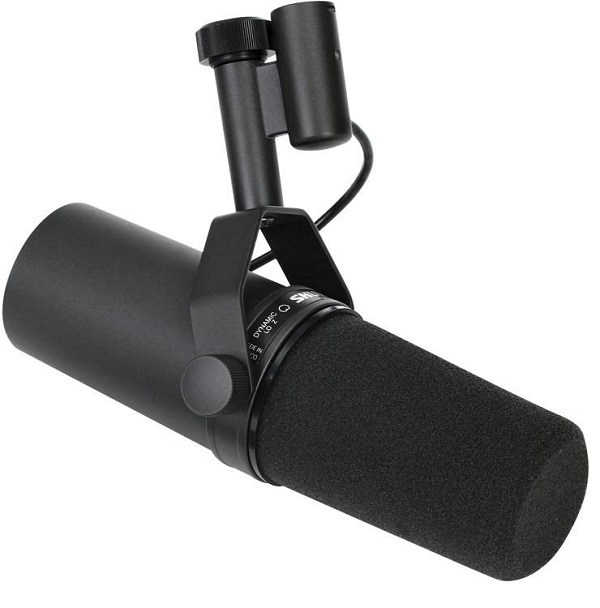 Features
Directivity: Cardioid
Frequency range: 50 – 20,000 Hz
Sensitivity -59.0 dB (1.12 mV)
Bass roll-off switch
Mid-boost switch
Impedance: 150 ohms
Shure SM7B
Another legendary model that can be seen in many streams and podcasts. The SM7B makes the vocals sound extra present, smooth and warm. It has a cardioid pattern which makes it great for vocals and it produces great details and has internet characteristics that complement vocals.
Positives
Great Vocal Characteristics
Amazing Design
Can handle High SPLs
Negatives
Need to be used with a preamp
IMAGE
PRODUCT
For US
Customers
For EU
Customers
Amazon
Store
---
3. Shure Beta 87A
The appearance of handheld stage microphones is not very flexible – at the end of the day, they need to be both ergonomic and aesthetically pleasing. However, the Beta 87A demonstrates a sleek and attractive design that immediately inspires confidence as soon as you pick it up.
When it comes to its features, Shure has placed the Beta 87A's performance at the heart of its capsule. As we are considering an internal-suspended unit, it is both the diaphragm and capsule that are tuned to meet the demands of everyday stage use.
A handheld microphone is fitted with a fixed super-cardioid polar pattern, making it suitable for live use. In terms of raw specifications, the unit has a frequency response range of 50Hz to 20kHz and a low self-noise level.
The Beta 87A is primarily designed as a handheld stage microphone, which dictates its suitability for a variety of applications. In this application, live vocals are obviously to be the main focus, and it performs exceptionally well in this regard. The sound is open, natural, and detailed, with a slight boost in the midrange, allowing it to cut through a live mix very well.
In spite of the fact that the Beta 87A is somewhat of a one-trick pony, it is an incredibly useful condenser microphone for live performances. We enjoy the natural sound of the vocals and their ability to cut through the mix while maintaining that condenser vibe we love.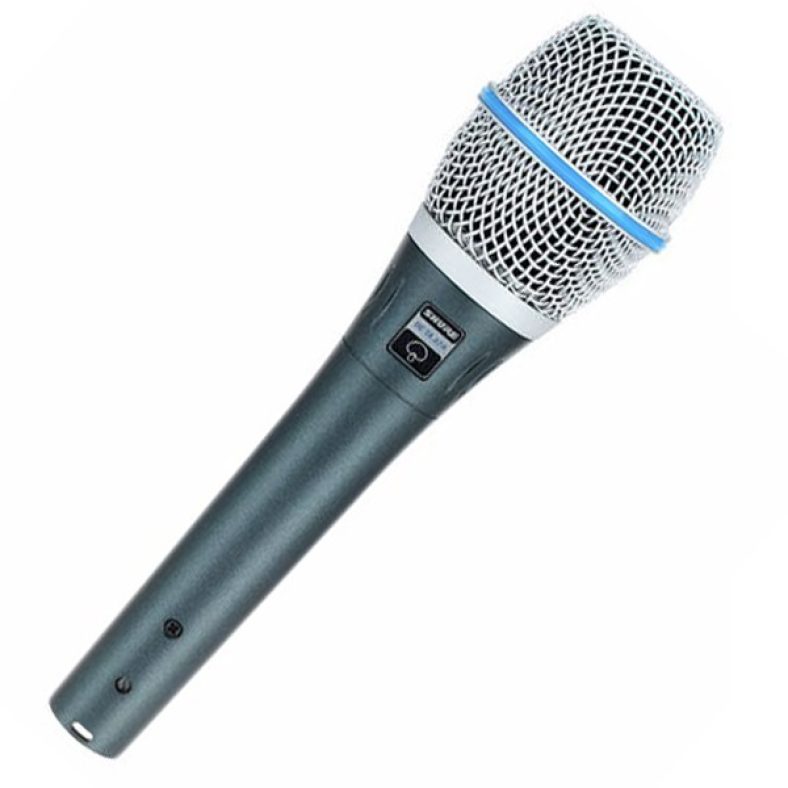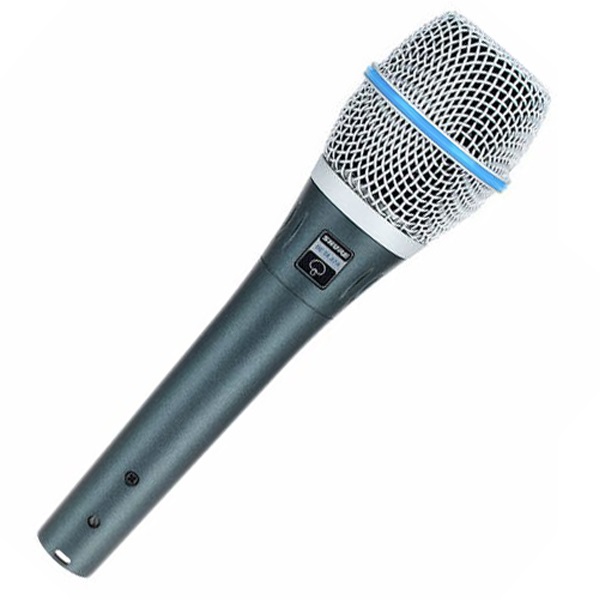 Features
Directivity: Supercardioid
Freuqnecy range: 50 Hz – 20 kHz
Output impedance: 100 ohms
Idle sensitivity: -54 dBV / Pa (2 mV)
Operation with phantom power
Inherent self-noise (equivalent sound pressure): 23.5 dB (A)
Shure Beta 87A
Even though it appears like a handheld stage microphone, this is a microphone that can be used on many various sources as well. It has a super-cardioid pattern that will get you nice outcomes when recording direct sounds. We used it for a while and were really satisfied with it.
Positives
Transparent and Detailed Audio
Great Off-Axis Rejection
Versatile
Negatives
Condenser with phantom power
IMAGE
PRODUCT
For US
Customers
For EU
Customers
Amazon
Store
---
4. Shure SM81
Since the late '70s, the Shure SM81 has been one of the most popular recording and live sound devices. It was at that time that Shure developed a small condenser microphone that was both great sounding and rugged enough for use on stage. For many recording enthusiasts today, it remains their go-to microphone.
You can capture the crystal-clear details of acoustic instruments like guitars, pianos, and cymbals with a pair of SM81s when building your studio mic inventory. Because of their long, slim design, they are perfectly suited to placement inside pianos, above drum kits, or near fretboards. By using two microphones, you are able to capture a beautifully balanced stereo image, and when paired with a good preamp, your tracks will sound stunning.
This microphone is a must-have for your studio arsenal due to its bulletproof construction. It is a versatile product that can be used for both home and commercial studios and is durable enough to withstand live performances.
The microphones are inexpensive and consistently produce excellent results for the applications for which they were designed – primarily recording acoustic and delicate performances in which transparency, detail, and a limited low end are required.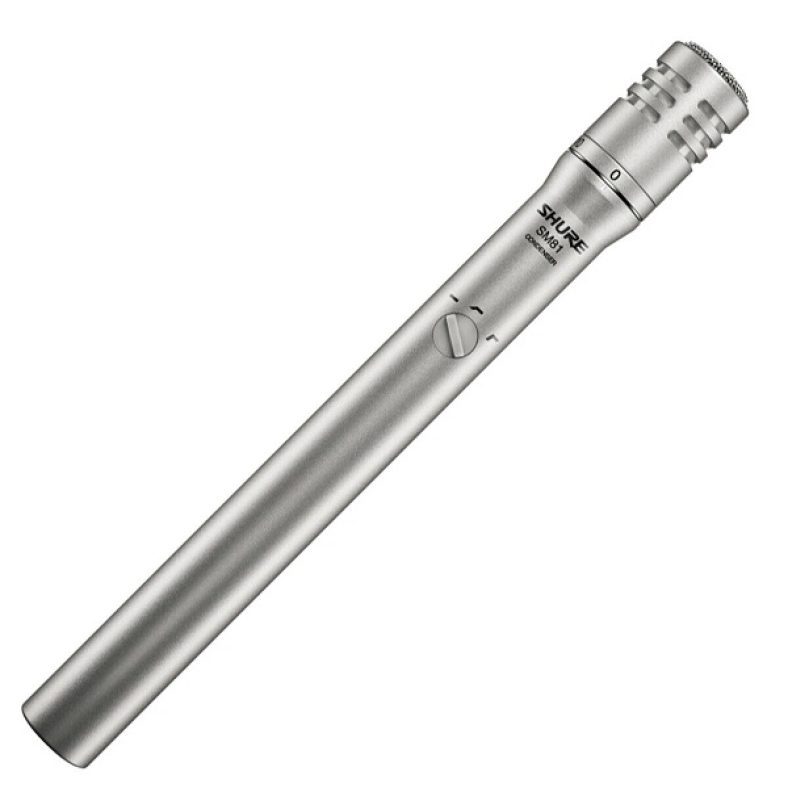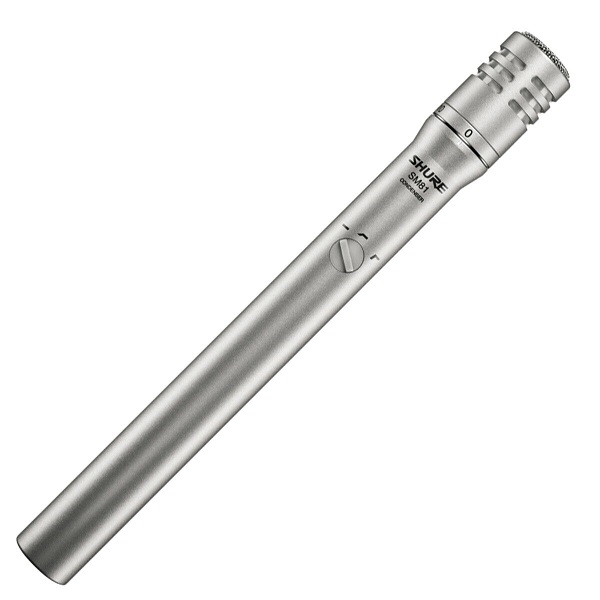 Features
Directivity: Cardioid
Switchable 10 dB attenuation
Frequency range: 20 Hz / 20 kHz
Robust steel version
Output impedance: 85 Ohm
3-Step switchable high-pass filter
Shure SM81
Its outstanding audio performance and versatility make the Shure SM81 a highly valued condenser microphone. This cardioid recording microphone is suitable for vocals, acoustic instruments, drum overheads, and other recording applications. Our experience with it was brief but insightful.
Positives
Very Versatile
Transparent Audio
Records Details Very Well
IMAGE
PRODUCT
For US
Customers
For EU
Customers
Amazon
Store
---
5. Shure KSM 137 Stereoset
Stereo condenser studio microphones from Shure, the KSM137/SL ST PAIR, are designed for recording instruments and sound reinforcement. KSM137/SL offers a wide frequency response of 20 Hz to 20 kHz, making it suitable for a wide range of applications.
This KSM137/SL offers clean, accurate signal reproduction and frequency response thanks to its cardioid element and permanently biased transducer. In addition to providing a noise-free output signal path, the transformer-less, class-A output circuitry maintains a high gain level.
Its tight cardioid pattern effectively attenuates off-axis signal caused by the ambiance of the room, instruments, monitor noise, etc. Similarly, the multipattern KSM141 uses the same capsule (acoustic vents at the rear are selectively opened or closed to change its polar response).
Low-frequency roll-off switches enable low-frequency rumble noise to be eliminated and the proximity effect to be countered. In addition to handling high sound pressure levels, the KSM137/SL comes with a 3-position pad switch providing attenuation at 0dB, 15dB, and 25dB.
As a result, instruments that have a high transient response, such as drums, percussion, and brass, can be miked with confidence. In addition to piano, strings, guitar, and woodwinds, the microphone can also be used for other instruments.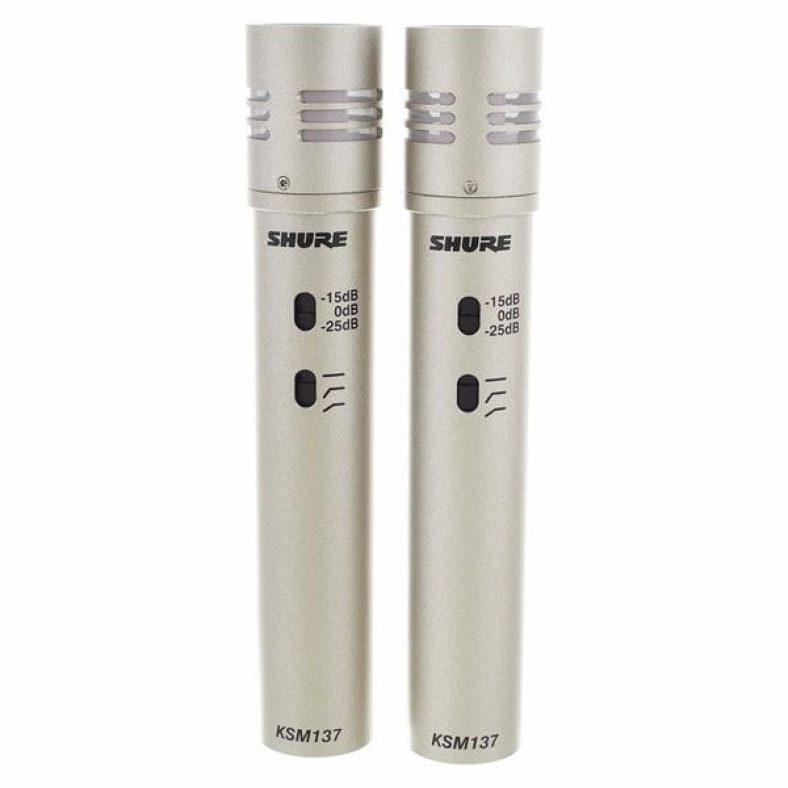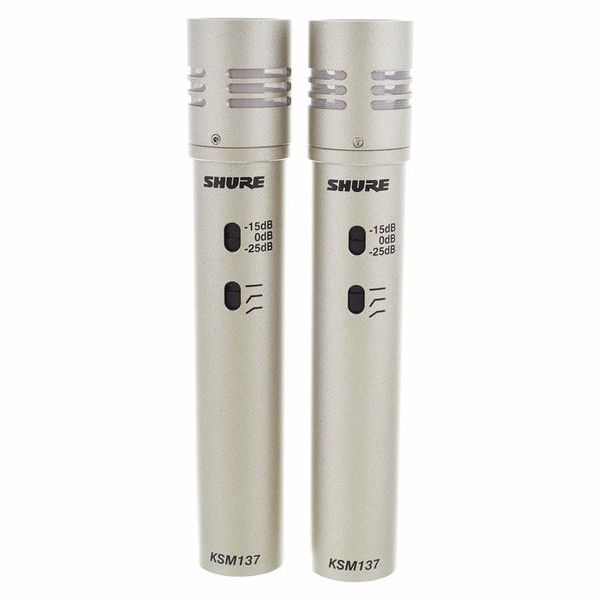 Features
Directivity: Cardioid
Frequency response: 20 Hz – 20 kHz
Sensitivity: -37 dBV / Pa
Switchable pad: 0 dB, -15 dB, -25 dB
SPL: 164 dB (with switched -25dB pad)
Three-stage switchable low cut filter
Shure KSM 137 Stereoset
An amazing set of stereo small diaphragm microphones that are very versatile and give great outcomes on stereo sources. They have cardioid patterns and are amazing for instruments, percussions, and overheads. We used them once while recording overheads and we were really happy with the results.
Positives
Great for Stereo Recordings
Amazing Sound
Very Good Build Quality
IMAGE
PRODUCT
For US
Customers
For EU
Customers
Amazon
Store
---
6. Shure Beta 52A
Firstly, the Beta 52A is a large, heavy dynamic microphone with a large diaphragm. As a result, it was designed with a particular focus on low low-frequency characteristics and is capable of handling high-pressure levels (up to 174db at 1000Hz), making it ideal for picking up kick drums. Although this microphone can be mounted within the drum, we have found that it produces the best sound when it is placed just outside the port of the drum.
This device has a frequency range of 20Hz to 10kHz, with a boost in the lows and high mids. With the Beta 52A microphone placed very close to the sound source, it provides approximately +6 dB per octave between 700 Hz and around 50 Hz, where it plateaus.
Moving the microphone further away will, of course, result in a lesser amount of bass boost. Furthermore, the Shure Beta 52A features a rotationally symmetrical super-cardioid polar pattern. By doing so, a high gain can be achieved (before feedback) and unwanted sounds can be effectively isolated.
In terms of weight, this is a substantial unit weighing approximately 22 ounces. It is made of die-cast metal with a hardened steel grill and an enamel finish in silver blue. Plastic is not used here. With a neodymium magnet and pneumatic shock mount, the Beta 52 provides a high signal-to-noise ratio output.
In the event that you are interested in purchasing one of these items, we recommend shopping at a major retailer rather than flimsy websites for deals that seem too good to be true. The popularity of Shure products is causing them to be counterfeited like there is no tomorrow, so you must be careful not to be burned.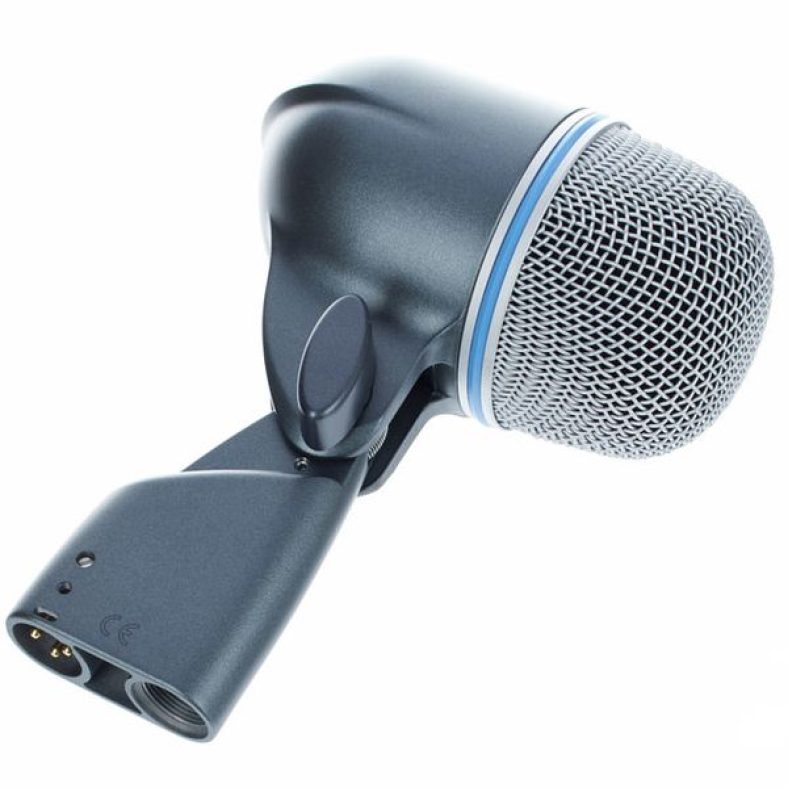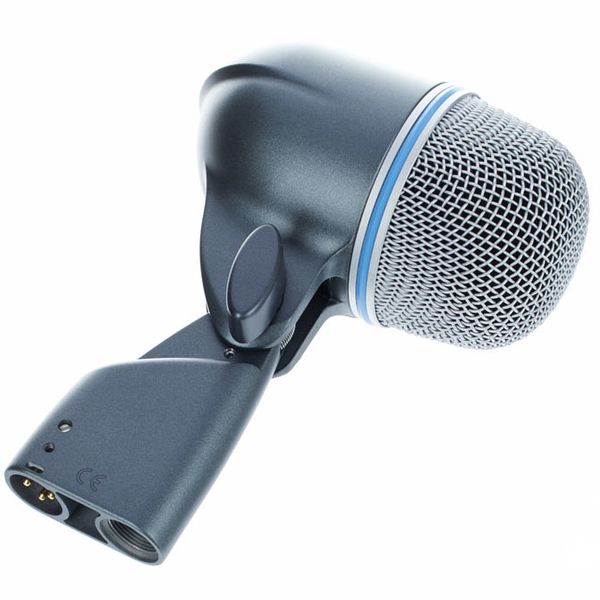 Features
Super-cardioid
Transmission range: 20 – 10,000 Hz
Maximum sound pressure: 174 dB SPL (up to 1 kHz, calculated)
Output Impedance: 45 Ohm
Noise Sensitivity: -64 dBV / Pa (0.63 mV)
Weight: 605 g
Shure Beta 52A
This is a dynamic microphone by Shure that is dedicated to recording kick drums and any bass sources. The microphone is built for this purpose and generates amazing outcomes. We heard recordings by it and it is a really reliable microphone for these uses.
Positives
Great for Low End
Very Sturdy Build
Affordable
IMAGE
PRODUCT
For US
Customers
For EU
Customers
Amazon
Store
---
7. Shure KSM32
In addition to incorporating integral pop protection and shock mounting, the champagne Shure KSM32/SL microphone features a large-diaphragm true condenser capsule and transparent Class-A circuitry.
Besides its flat frequency response, the KSM32/SL offers two low-cut filter options as well as a -15 dB pad, so you can use it on everything from vocals and guitars to drums and piano. A ShureLock shock mount and a ShureLock stand mount are included with the SL model, as well as a velveteen pouch and a hard shell carrying case.
KSM32/SL has a uniform cardioid polar pattern which reduces the capture of background noise and stage bleed, resulting in increased gain and a more direct sound. It is designed with three separate layers of pop protection that are designed to minimize noise generated by vocal plosives, breaths, and even light winds. A shock-mounting system inside the microphone helps to isolate the capsule from vibrations that would otherwise be transmitted to the microphone body.
The KSM32/SL is a solid-state XLR condenser microphone that requires 48V phantom power to operate. It is fair to say that the KSM32 is a reasonably priced condenser mic that performs well on a wide range of instruments. The bass response and ambient clarity of the system were the most impressive features. Shure should not be expected to provide less than the best.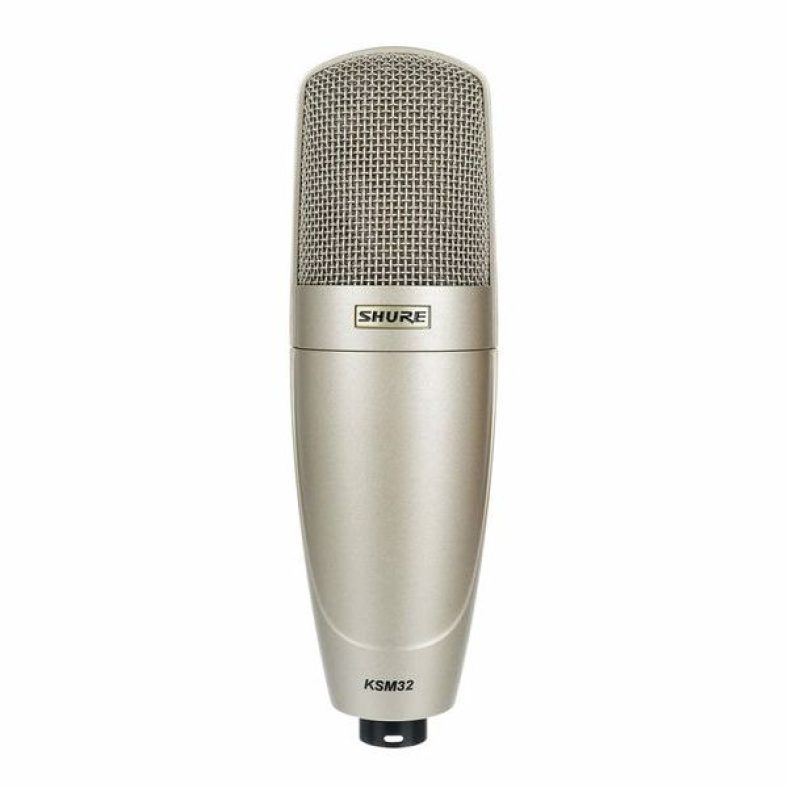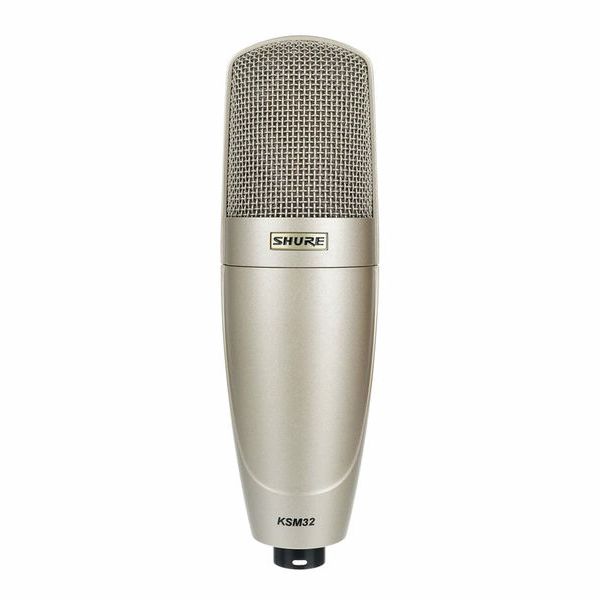 Features
Polar pattern: Cardioid
Frequency range: 20 Hz – 20 kHz
Output impedance: 150 Ohm
Max. SPL: 154 dB SPL
Voltage supply: 48 ± 4 V
Dimensions (L x Ø): 187 x 55.9 mm
<strong>Shure KSM32</strong>
A top-of-the-line large-diaphragm condenser microphone, the Shure KSM32 excels in sound quality and versatility. Focused sound capture and minimized off-axis noise are key features of the KSM32. A friend of ours has it and records his vocals without any problems and is really happy with it.
Positives
Versatile
Transparent Sound
Very Accurate
Negatives
Very Sensitive and picks up noise easily
IMAGE
PRODUCT
For US
Customers
For EU
Customers
Amazon
Store
---
8. Shure KSM44A
Shure's KSM44A represents a revised version of the KSM44. The two condensers have large-diaphragm FETs with low self-noise amplifier circuits that are multipattern and have large diaphragms. Dynamic range differs in the two models, ranging from 120dB (KSM44) to 127dB (KSM44A; cardioid, 1000Ω load).
With a one-inch diaphragm made of 2.5-micron Mylar, the KSM44 is similar to most Shure large-diaphragm studio mics. It is Shure that manufactures these capsules. As a result of its flat frequency response and selectable settings, the KSM44A/SL can be used for everything from vocals to guitars to drums to piano with ease.
KSM44A/SL features cardioid, omnidirectional, and figure-8 polar patterns, making it a perfect choice for close mics, room mics, and even single microphones for multiple instruments. Featuring three separate layers of pop protection, the device minimizes the impact of vocal plosives, breaths, and even light breezes.
An internal shock-mounting system enables the mic to be decoupled from vibrations that may otherwise be transmitted from the mic body to the capsule. The KSM44A/SL is a solid-state XLR condenser microphone that requires phantom power of 48 volts.
It was expected that this lightweight and extremely clean model would be a big hit when it was introduced. There was no reason for any of those expectations to be unfounded. After reviewing reviews online, we were pleased to find that so many people were impressed with the model's durability and efficiency.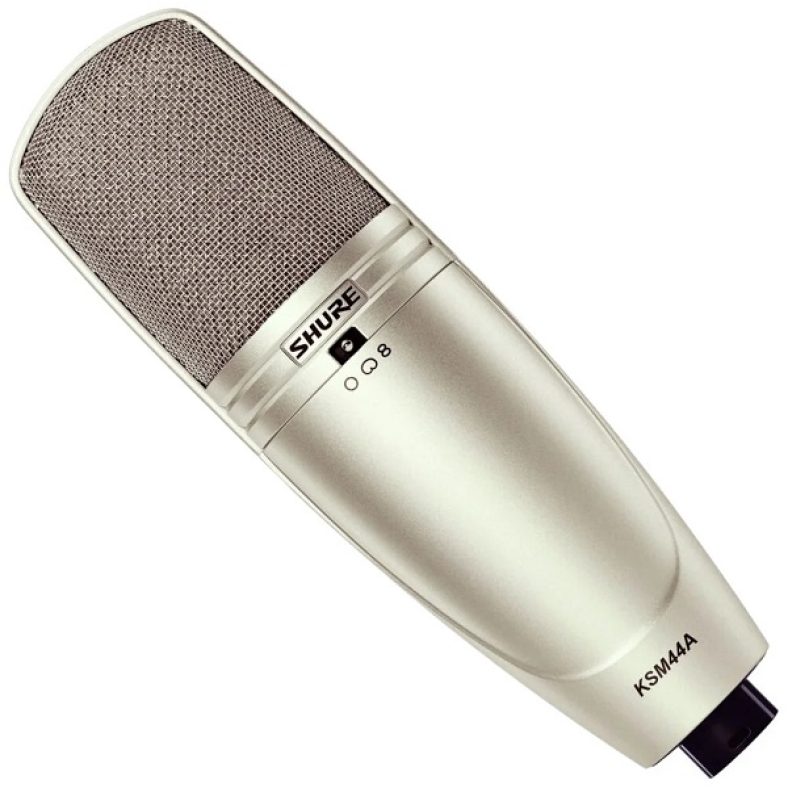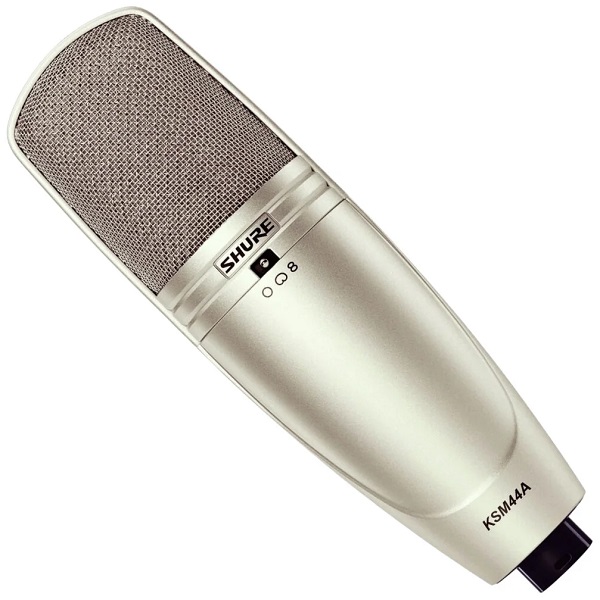 Features
With dual diaphragm
Omni, cardioid and eight
Frequency range: 20 – 20,000 Hz
SPL: Peak 131 dB SPL
2 X 24 k gold-plated Mylar membrane
15 dB attenuation element for very high sound pressure
Shure KSM44A
Designed for professional audio applications, the Shure KSM44A is a flexible condenser microphone. Featuring cardioid, omnidirectional, and figure-8 polar patterns, the KSM44A allows for capturing multiple sound sources and recording techniques. We tried it out in a local music store and the mic gives satisfactory results and we recommend it for sure.
Positives
Very Versatile
Multiple Polar Patterns
Great Build
IMAGE
PRODUCT
For US
Customers
For EU
Customers
Amazon
Store
---
9. Shure SM57
A microphone such as the SM57 should be part of every audiophile's arsenal. Its versatility and utility in such a broad range of applications is unparalleled, and if that weren't enough, it is durable enough to last a lifetime. You really cannot ask for a better microphone for $100.
Due to its cardioid polar pattern, the SM57 is more sensitive to sounds coming from in front of the microphone as opposed to those coming from behind. With a frequency response ranging between 40 Hz and 15 kHz, a sensitivity of -56dB, and an impedance of 150 or 310 ohms, it offers a wide range of performance.
When you first take the Shure SM57 out of the box, you will notice that it has a nice weight to it. Because of its die-cast metal body, the mic has a characteristic toughness. The microphone is clearly designed to withstand all types of abuse, such as dropping, knocking over, standing on, and generally being not wrapped in cotton wool.
With a fairly broad frequency spectrum, the SM57 is ideal for guitars; with a natural presence boost, the top end shines without overpowering the overall mix, and with the natural cutoff at 15,000 Hz, the SM57 is an excellent choice for guitars.
In most cases, any sound above that threshold would be trimmed using EQ in post-production, so you are not losing anything by setting the cut-off here. You will not have to worry about kick drums overpowering the guitar because the mic attenuates the frequencies in the far low end. In addition, you will not have to consider high-pass filtering in the future.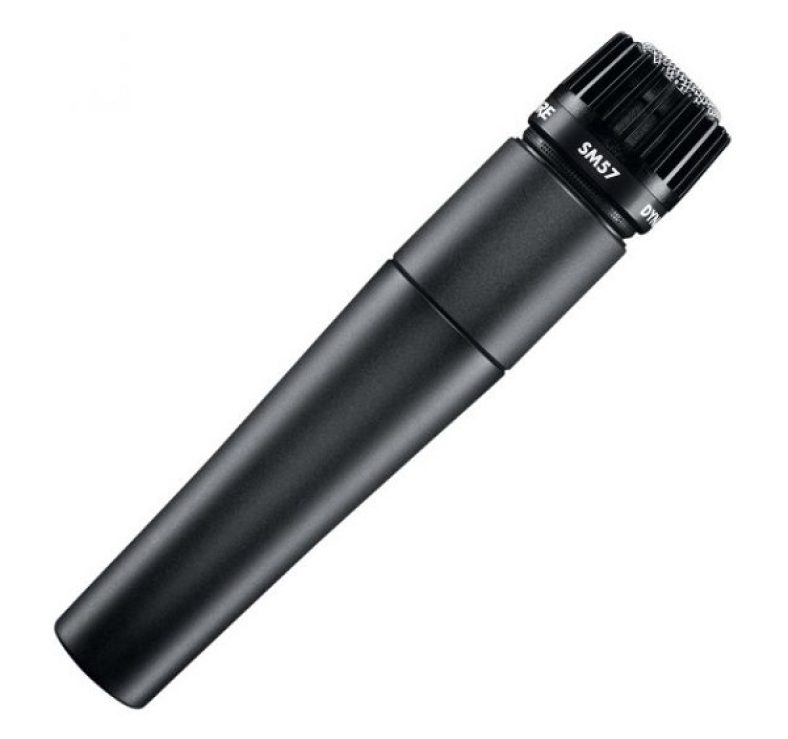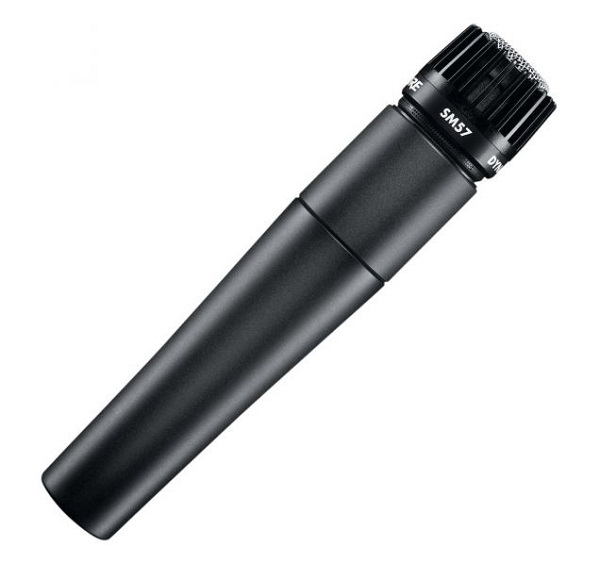 Features
Cardioid
Frequency response: 40-15000 Hz
Output Impedance: 310 Ohm
Open circuit sensitivity: -54.5 dBV / Pa (1.88 mV)
Dimensions (L x Ø): 157 x 32 mm
Weight: 284 g
Shure SM57
The Shure SM57 dynamic microphone is an iconic recording tool used both on stage and in the studio. My own experience with this microphone attests to its reliability and durability. Sound sources captured by the SM57 include vocals, instruments, amplifiers, and drums. Focused sound is captured while background noise is minimized with a cardioid polar pattern. Not bad words were found for this mic, a true gem!
Positives
Durable and Versatile
Punchy and Focused Sound
Status of a Legend!
IMAGE
PRODUCT
For US
Customers
For EU
Customers
Amazon
Store
---
10. Shure Beta 91A
Among the rare microphones, the Shure Beta 91 consistently appears to defy expectations. As a result of live touring engineers using the tabletop boundary mic Beta 91 as a kick mic inside the stage, the popularity and user base of the Beta 91 spread from the stage to the studio, rather than the other way around.
Thanks to the half-cardioid polar pattern, this microphone provides a strong low-end response and high gain-before-feedback. The instrument has a contour switch with two positions to maximize attack and clarity, in addition to its low-profile design.
When it comes to recording kick drums, the Shure BETA 91A is also suitable for use with other low-frequency applications, such as pianos. The BETA 91A microphone offers a strong low-frequency response and is specifically designed for applications involving bass frequencies. It has an updated capsule, an integrated preamplifier, and an XLR connection.
Besides producing a strong, solid low-end response, the flat, boundary design facilitates the installation inside bass drums. Both sound reinforcement and recording can be accomplished with Beta 91A. Even at very high sound pressure levels (SPL), the Beta 91A provides studio-quality sound with superior attack and punch.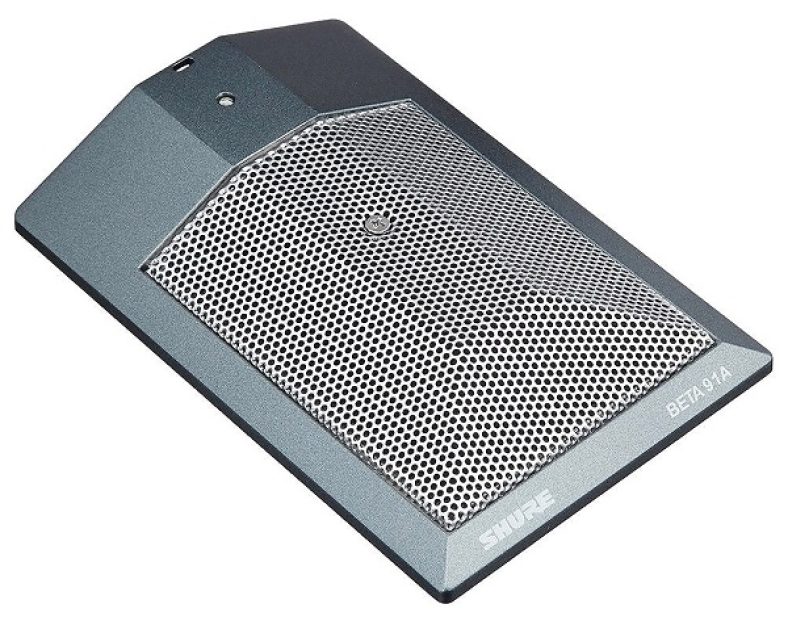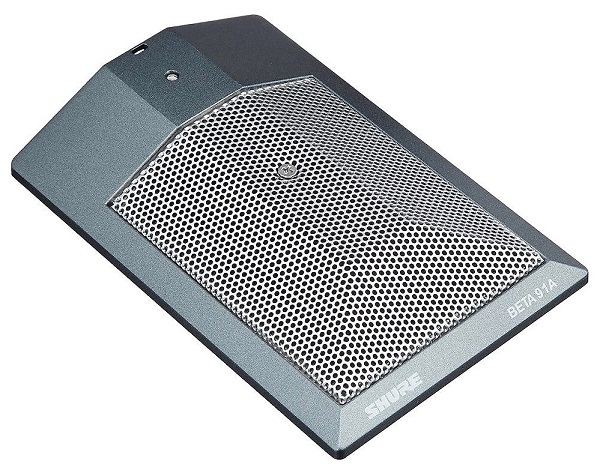 Features
Combination of Beta 91 and SM 91
Polar pattern: half cardioid
Frequency range: 20 – 20,000 Hz
Impedance: 146 Ω
11-52 V Phantom power
Switchable frequency range for bass drums or piano/ voice applications
Shure Beta 91A
To be completely honest, we never used this microphone but its reputation is big because it can be found in many studios, conference rooms and stages. It is amazing for capturing the low end but it's also good for amplifying conference talks. Great subtle design and really good sound.
Positives
Great for Low End
Convenient Design
Nice Pricing
IMAGE
PRODUCT
For US
Customers
For EU
Customers
Amazon
Store
---
Conclusion
Well, we shared what we thought are some of the best Shure mic choices, no matter if it is a vocal mic, instrument mic, or simply a multi-purpose mic. Certainly, we cannot point to the best Shure microphone, because they offer a variety of microphones suitable for different usages.
All in all, this is a brand that should not be overlooked and taken into close consideration when getting a new microphone. Their most famous choices are the dynamic microphones since they are sturdy, durable, with great sound quality, and are handling noise and high SPL in the best possible way. Our top choices are SM58 and SM57 from the list and we believe that you would agree with us.
In case you are having any questions about these microphones we listed, or the brand itself, please let us know in the comment section below and we will be more than happy to answer to your needs!