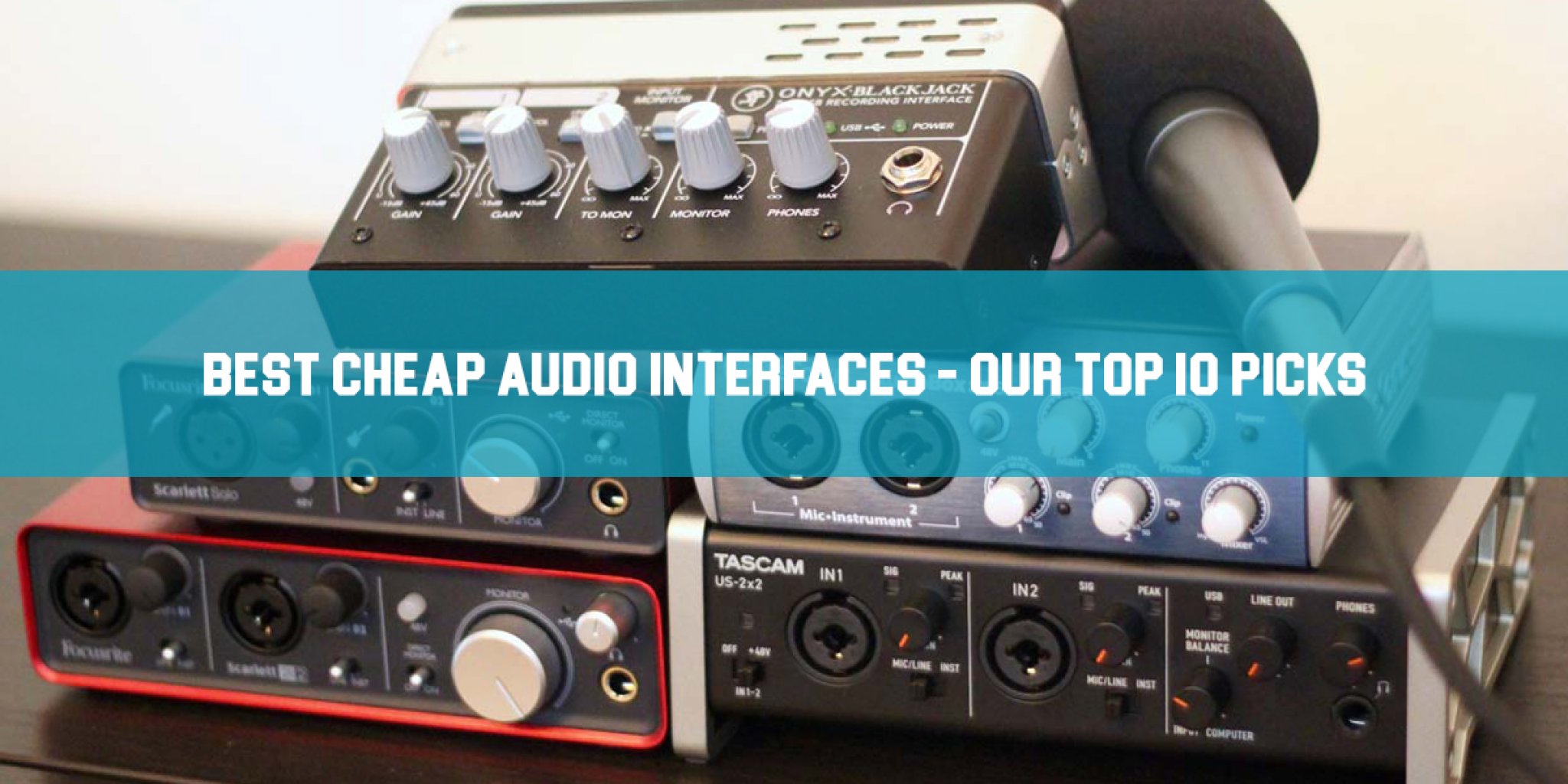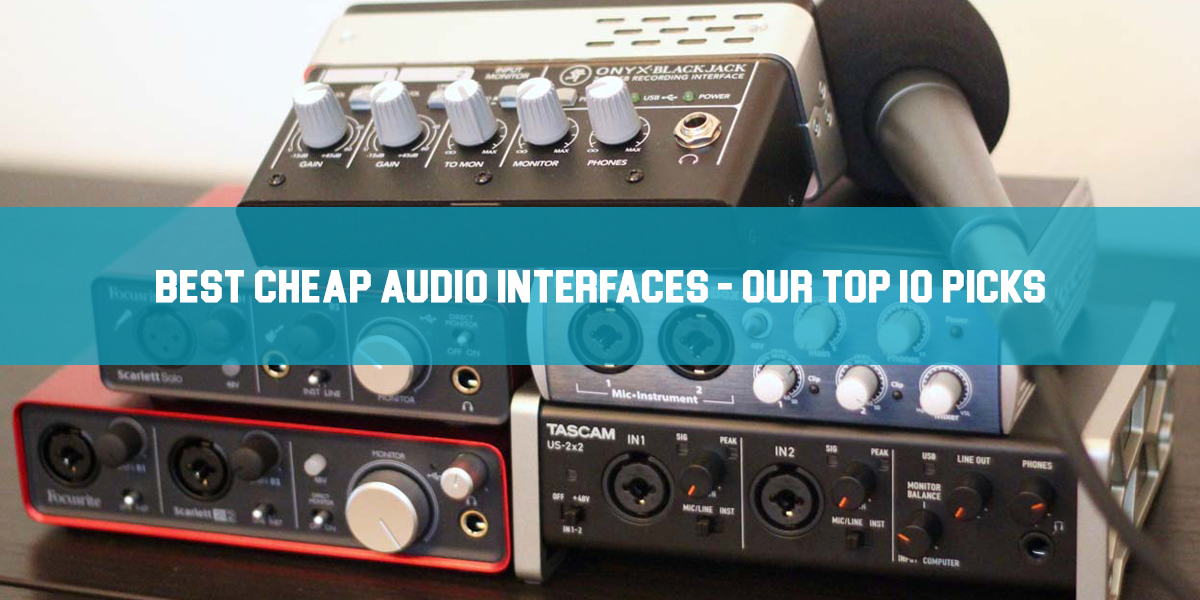 Best Cheap Audio Interfaces – Our Top 10 Picks!
Introduction
We can describe audio interfaces as a key piece of hardware that will turn your PC into a recording studio. If you are spending your time and you are making your music on PC or MAC, an audio interface will be an essential piece of gear for your studio. It will provide you with the inputs you will need for recording sound and outputs for listening to your music material and for checking the quality of your work.
At the moment there is a lot of audio interfaces on the market, our job is to help you decide what best suits your style and your needs. We took out some of the best interfaces on our list of top 10 audio interfaces.
What's an Audio Interface
An audio interface is a bridge between your microphones, devices, audio gear, and your computer. You want an audio interface so as to record high-quality audio into your DAW and send the signal to the audio system by input and output.
An audio interface also called a soundboard, is a hardware gadget aimed primarily to transform AD and DA. In different words, it adjusts an analog signal ("A") from the mic/instrument to a digital signal ("D"). In different words,  "Analog to Digital" or "AD". Not only does convert AD, as it then converts the digital signal from the computer to an analog signal ("DA").
There are a bunch of various interfaces available on the market with numerous numbers of inputs, outputs, and different options.
We just want to let you know that we'll list these audio interfaces are in no particular order. They'll be randomized as we don't wish to sort them from best to worst.
Listed below are our Top 10 Best Cheap Audio Interfaces for 2021:
1. Focusrite Scarlett 4i4
The most populated audio interface between musicians and producers. Focusrite Scarlett 4i4 is similar to other Scarlett audio interfaces witch means quality sound for any instruments you are using. Scarlett 4i4 is bringing more connectivity and also more inputs and outputs. With preamps that were improved (going to 56dB gain), also with the inclusion of ISA transformer preamp emulation option (Air) and balanced connectivity throughout, you can see that almost all units in the range received technical and physical upgrades.
Control application by Focusrite is supported on Scarlett 4i4, which means that number of settings like Air option, pad, and line/HI Z instrument selector can only be set with this software.
As we all expected from the Scarlett series, drivers are reliable, the sonics are neutral and both units can work on up to 192Khz. The frequency response is tilted towards high frequencies with the Air option which can be good for adding high-frequency lift. You will receive a good pack of software like Focusrite Red 2 and Red 3 plugin suite, Softube Time and Tone bundle, Pro Tools First Focusrite Creative Pack, Ableton Live Lite 10, XLN Audio Addictive Keys, and Focusrite Plug-In Collective.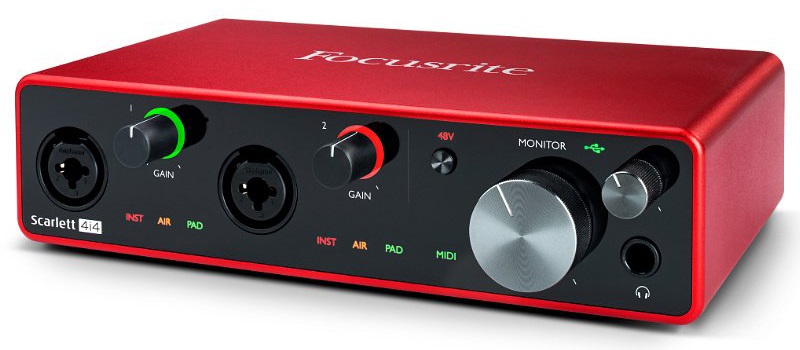 Features:
Computer Connectivity: USB 2.0
Form Factor: Desktop
Simultaneous I/O: 4 x 4
Number of Preamps: 2
Phantom Power: Yes
A/D Resolution: Up to 24-bit/192kHz
2. Audient Evo 8
Audient is changing since we are living in a new golden age when it comes to recording. Embracing the fact that the number of musicians, podcasters, and recordists is growing on a daily basis, Audient came up with a new EVO 8 USB audio interface. Featuring an innovative Smartgain automatic level setting function and four transparent EVO preamps, class-leading converters, a JFET instrument input, ultra-low latency performance, and an innovative Smartgain automatic level setting function. It is also an ideal travel companion, extra portable with great sound.
To ensure that you are capturing pristine and distortion-free sound there are class-leading converters together with a 24-bit/96kHz sample rate and a 113dB dynamic. The Audient Evo 8 is powered by a USB 2.0 connection, there is no need for an additional power adapter. Evo 8 has two front-panel headphone jacks and two stereo monitor outputs. It actually has everything you need to start recording. With a new type of interface for younger artists, or better said for the new generation of artists. Evo 8 is there on our list of top 10 audio interfaces for 2021.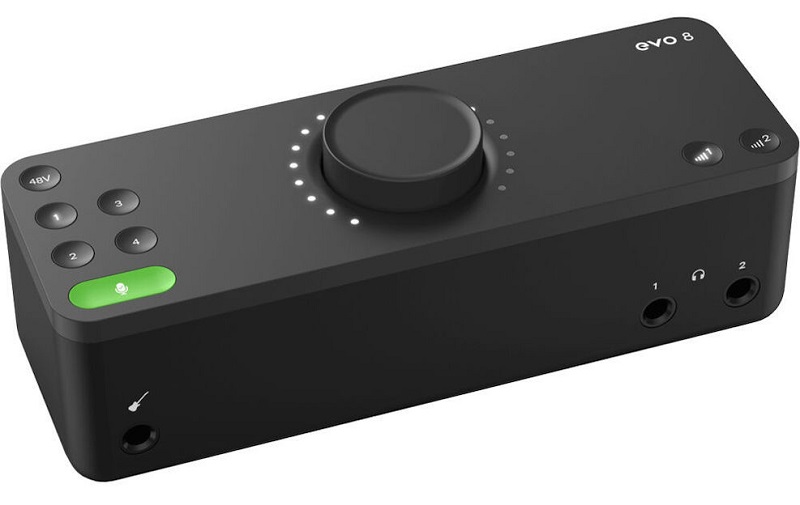 Features:
Computer Connectivity: USB 2.0
Form Factor: Portable
Simultaneous I/O: 4 x 4
Number of Preamps: 4 x Mic, 1 x Instrument
Phantom Power: Yes
A/D Resolution: 24-bit/96kHz
3. SSL 2+ Audio Interface
SSL 2 USB audio interface can bring legendary SSL sound into your studio. Solid State Logic has been one of the moving forces when it comes to audio recording for more than 40 years.
SSL 2 comes with 24-bit/192 kHz converters and a set of pro-grade preamps. SSL 2 brings to your studio the signature of the 4000 series with its Legacy 4k feature. This feature with the push of a button will impart the preamps with two characteristics. The first one will be musical with a high-frequency EQ boost and it will push your instruments or vocals forward. Then you will notice an addition of harmonic distortion that will add personality to the signal.
About SSL2 shipping and packing, it comes with an extensive production pack. It will include third-party software from Native Instruments, Avid, and Ableton and also 1.5GBs of samples from Loopcloud. In addition, SSL2 comes together with two SSL native channel strips Vocalstrip 2 and Drumstrip. There is no need for further explanations why this legendary audio interface is on our list.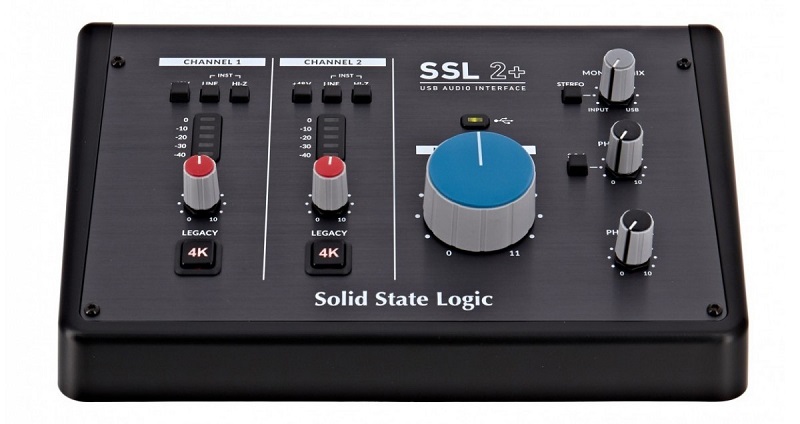 Features:
Computer Connectivity: USB 2.0
Form Factor: Desktop
Simultaneous I/O: 2 x 2
Number of Preamps: 2
Phantom Power: Yes
A/D Resolution: 24-bit/192kHz
4. Audient iD4
Audient iD4 is a very simple two-input/two-output offering a mic preamp together with phantom power for using condenser mics and instrument level DI for plugging in your bass or guitar. On top of everything, iD4 has a main output for your speakers and dual headphone outputs. Audient iD4 is arguably the best audio interface you can get for less than 200$.
iD4 can work on iPhone or iPad, it is powered with USB and with Apple's camera connection kit. To be honest Audient did a great job with this interface thinking about everything from usability to value. It will help the musicians with low budged to have this great piece of equipment in their studio. Audient iD4 is very simple and it is the best USB audio interface that we have seen at this price for a long time. That also helped a lot with our decision to put this great and inexpensive audio interface to be featured in our picks.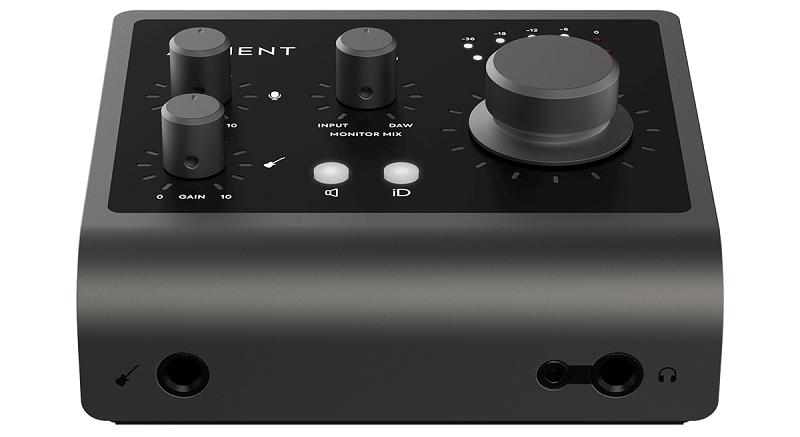 Features:
Computer Connectivity: USB 3.0
Form Factor: Desktop
Simultaneous I/O: 2 x 2
Number of Preamps: 1 x mic
Phantom Power: Yes
A/D Resolution: 24-bit/96kHz
5. Presonus Studio 24c
The Studio 24c 2-in, 2-out audio interface options 2 front-panel combo mic/line/instrument inputs with PreSonus XMAX-L solid-state mic preamps. It comes with Studio One Artist music manufacturing software for macOS and windows. Studio One enables you to store, audition, and buy new content right out of your production setting.
A Mixer knob blends analog input and laptop playback for low-latency monitoring. The Studio 24c provides you with clear, clean, ultra-high-def sound in a bus-powered, rugged unit. Whereas it is the proper companion for any recording software program, it supplies you with a reasonably priced, home and mobile recording resolution.
The Studio 24c operates at as much as 192 kHz for ultra-high-definition recording and mixing. High-quality converters on each input and output and PreSonus' professional-grade XMAX-L mic preamps allow you to seize advanced musical harmonics easily and naturally, with no audible distortion. XMAX-L mic preamps are designed to carry out optimally on bus-powered audio interfaces, permitting you to take the nice sound with you wherever you record.


Features:
Computer Connectivity: USB 2.0 (3.0 compatible)
Form Factor: Desktop
Simultaneous I/O: 2 x 2
Number of Preamps: 2
Phantom Power: Yes
A/D Resolution: Up to 24-bit/192kHz
6. Steinberg UR12
The Steinberg UR12 USB Audio Interface combines an especially compact design, extraordinary build high quality, full iPad connectivity, and the excellent D-PRE mic preamp to redefine high quality for its class of 2-in 2-out USB interfaces. 24/192 converters give you excellent ranges of audio constancy, whereas the D-PRE provides your microphone recordings unbelievable detail, depth, and dynamics.
The Steinberg UR12 proves with a number of first-class elements can match right into a compact gadget at a really competitive price level. Its cleverly engineered capabilities provide you with all of the I/O you could quickly record your tracks.
At a top quality that may just some years in the past have appeared unattainable on a recording gadget at this price level. The acclaimed D-PRE gives a sumptuously detailed, splendidly dynamic sound, whereas the second input gives access to a Hi-Z input for guitars or basses. That includes recording in beautiful 24-bit high quality at a whopping 192 kHz, the Steinberg UR12 gives virtually unheard-of constancy for recording in its class.
The Steinberg UR12 has been engineered not only to supply the utmost functionality and high quality in an especially compact design but additionally to be out there at a really low price point. Typically, smaller interfaces that might be inexpensive for those on a tight budget imply (at finest) common audio high quality; this ethos has been transcended by the Steinberg UR12, with its first-rate components, implausible price/value ratio, and exceedingly transportable design.
Features:
Computer Connectivity: USB 2.0
Form Factor: Desktop
Simultaneous I/O: 2 x 2
Number of Preamps: 1
Phantom Power: Yes
A/D Resolution: 24-bit/192kHz
7. Behringer U-Phoria UMC22
When it's time to record, you want a dependable audio interface, one you possibly can rely on. That's why Behringer kicked things up a bit with the U-PHORIA Collection USB Audio Interfaces. With four distinctive models to select from, the U-PHORIA Collection has the perfect interface to make your recording expertise legendary.
Renowned for their digital console design, Behringer's sister firm MIDAS developed the world-class preamps for the UMC204, UMC202, and UMC22 interfaces" and because of the available +48 V phantom power, you possibly can even use professional-grade studio condenser mics to create excellent tracks.
You take your tracks seriously, and the U-PHORIA Collection respects that, offering your alternative of 96kHz resolution (UMC204/UMC202), or 48kHz resolution converters (UMC22/UM2), relying on your software. Both sampling rates supply higher than CD recording high quality for professional outcomes.
All U-PHORIA models present highly effective phones output with Level management and Direct Monitor select, Status, Signal, and Clip LEDs, and are powered through your laptop's USB port in order that they're ready to go wherever you go. Plus it provides free audio recording, enhancing, and podcasting software, plus 150 instruments/effect plug-ins" only a download away at BEHRINGER.com.


Features:
Computer Connectivity: USB 2.0
Form Factor: Desktop
Simultaneous I/O: 2 x 2
Number of Preamps: 1 x mic, 1 x instrument
Phantom Power: Yes
A/D Resolution: 48kHz
8. Peavey USB-P
The USB-P from Peavey is a compact-sized and really sturdy audio interface. It was primarily made for on-stage use, therefore the heavy-duty metallic chassis. That is additionally one of the crucial reasonably priced interfaces Peavey makes, in addition to one of the simplest.
Instead of recording, this little gadget is made for playback, the letter P in its name standing for 'Playback.' The USB-P is, without doubt, one of the most popular choices amongst musicians who need to enhance the quality of the signal coming from their computer systems on stage.
As said above, the principal goal of this little interface is for use in live settings to spice up the signal coming from the computer. It has two XLR outputs which you could connect with XLR cables to the venue's PA system or the mixer.
Not so surprisingly, this little fellow could be very well-liked with church bands and choirs. It's also well-liked amongst ministers and different individuals giving speeches in churches and different locations.
Because it doesn't have any instrument or XLR inputs, you possibly can't actually use it for recording in a home studio. Additionally, it lacks a USB output through which you'd have the ability to connect it to a pc as the standard recording-oriented audio interface.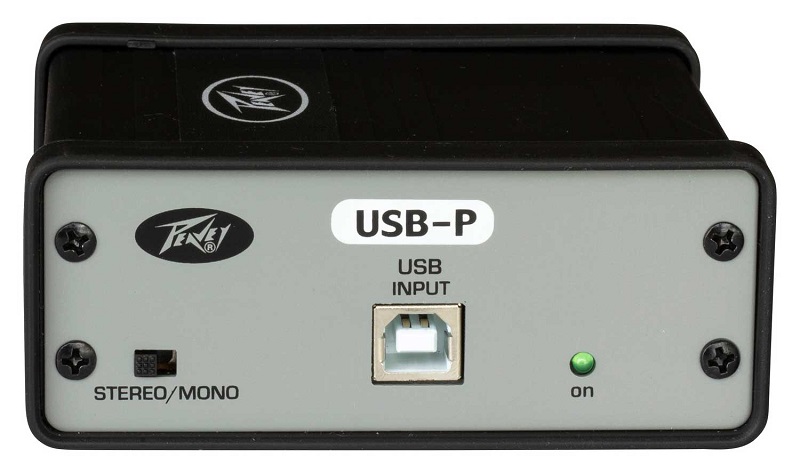 Features:
USB B type connector
Left and right XLR outputs
Stereo/mono switch
Frequency Response: 20Hz to 20kHz ±1 dB
THD + Noise: < .015% @ 1 kHz, -9 dBu full scale output into 10k ohm
9. Mackie Onyx Artist
Aesthetically talking, there's nothing out of the ordinary on the subject of the design of the Onyx Artist 1-2 it appears like 90% of the other budget audio interfaces on the market (other than the cool Mackie logo watermarked onto the chassis!).
Below the hood, the USB 2.0-powered 1-2 options premium Mackie circuitry with a renowned Onyx mic preamp for excellent constancy. For connecting instruments equivalent to electric and bass guitars, there's a 1/4" TRS input with a Hi-Z change, whereas connecting studio mics is simple with the XLR and +48v phantom power switch. As is typical, both sit neatly at the entrance of the gadget, together with individual gain controls. The headphone jack additionally sits on the entrance, whereas across the back you'll discover the balanced TRS monitor outputs.
The Onyx Artist 1-2 is suitable with Mac and PC, and – while it comes with a duplicate of Tracktion T7 – this interface is suitable with all DAWs. This is nice since you'll need to use it to its full potential.
The general efficiency is surprisingly strong for an entry-level gadget. The sound quality is nothing short of glorious, with pure replication of an instrument's tone, 24-bit/192kHz recording, and no-latency monitoring. In the meantime, the controls all really feel very sturdy and responsive, whereas the USB energy port makes it excellent to be used on the go – simply plug into your machine and you are ready.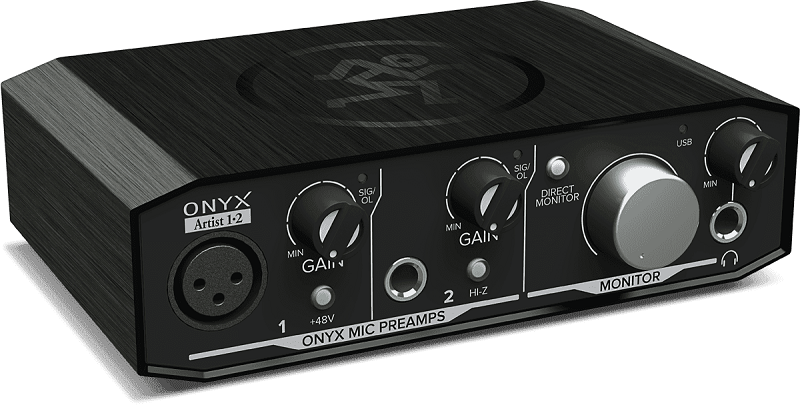 Features:
Computer Connectivity: USB 2.0
Form Factor: Desktop/Portable
Simultaneous I/O: 2 x 2
Number of Preamps: 1 x mic, 1 x instrument
Phantom Power: Yes
A/D Resolution: 24-bit/192kHz
10. Lexicon Alpha
The interface consists of a twin/2-channel input, 2-bus, 2-output USB I/O mixer with an additional high-impedance instrument input. Along with this, to allow for extra versatility and the power to record from completely anyplace, the interface includes a separate output for headphones.
Featuring a 1/4-inch instrument on the modern front panel, the interface lets you connect electrical, bass, and acoustic guitars. Customers also can connect headphones via the 1/8-inch headphone jack. The entrance panel additionally features input stage controls as wells as peak meter lights and a mono/stereo monitor assign switch. A monitor mix management for balancing an audio supply between live input and playback mix stage whereas recording. And lastly, we have an output stage know to control the line and headphone outputs.
Customers connect the gadget to their computers utilizing the USB port on the back panel. The gadget comes with a cable and it doesn't need a power supply. Principally making it handy for portability. Two 1/4-inch inputs can be found for unbalanced and balanced line sources. For examples sources reminiscent of drum machines or keyboards.
In the middle, we now have a balanced XLR mic input with an awesome quality preamp.  We even have RCA left/right line outputs to hook up with a mixing board,  powered studio monitors, RCA left/right line outputs to hook up with a power amp, mixing board,  powered studio monitors, or another line-level input.

Features:
USB bus-powered audio interface
16-, 24-bit/44.1-48kHz resolution for Mac and PC
Zero-latency Direct/Playback Monitoring
Individual level controls and peak meters for mic/line inputs
Mono/stereo monitoring
1 x XLR microphone input
---
Check our eBook on Mixing Tips! If you want to get a more in-depth breakdown of those tips we share, follow our link and get the "Ultimate Mixing Tips Booklet" and up your game quickly!