15 Best Free VST Synths
Introduction
Getting a high-quality VST instrument in the realm of synths is crucial to producers that create music that is in a genre that uses one and producers that are not in the budget to purchase a hardware synth. Even better, if you find a synthesizer VST plugin that is free of charge, to download it and play with it – that is something special.
Well, in this article, we are going to crawl the internet for you and find what we think are the best 15 free synth VST plugins compatible with several digital audio workstation programs. Some of them will be analog sound emulations and some of them will be something completely new, but do not worry, you will find usage in many of them.
We believe that is futile to talk more about how important they are for modern electronic music, so we are going to start directly with the list and brief review of each model.
1. Exakt Lite
Sonicbits' Exakt Lite FM synthesizer is a great addition to your arsenal if you want to add another FM synthesizer to your selection. In addition to its unique sound and layout, Exakt Lite emulates the Yamaha DX7 synthesizer and does it in its own way. Furthermore, we find Exakt Lite to be very user-friendly.
The Exakt Lite synth engine features twelve voices, four operators, and eight iconic FM algorithms. The Yamaha TX81Z module provides eight additional waveforms along with the four alias-free operators, namely sinewave, square, saw, and triangle.
You can also modulate the volume with a five-point TX envelope, a resonant multi-mode filter, and a syncable LFO. With the waveform display, you can also see every move you make in real-time.
An appealing feature of Exakt Lite is how intuitive the interface is compared to other FM synthesizers. It is possible to have a fun and enjoyable experience using Exakt Lite even if you are not familiar with the nuances of FM synthesis.
Despite its simple controls, SONICBITS was intentionally designed so anyone with a very basic understanding of FM synthesis could start making music right away.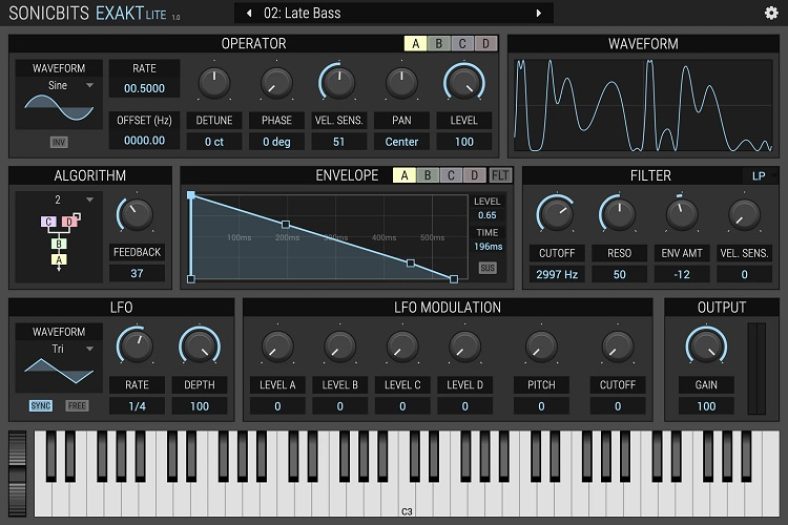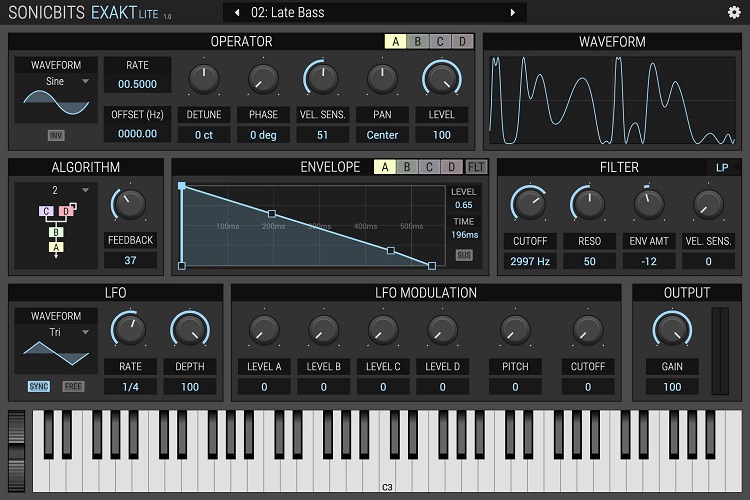 ---
2. Digits
Digits is a phase distortion synth that is inspired by Casio's CZ series synthesizers. It even extends that idea to the maximum limits of its creation. With Digits, you can create lush and creamy pads, techy and grimy sound FX, gritty basses, and everything else that can be done.
A relatively simple 2D interface gives it a simple look, showing that using this VST synth should be easy and not be buried in a gazillion buttons and knobs. Another critical point for beginning producers is that this synth offers around 100 presets to choose from, to ease up the whole production process for you.
Basically, this synth will give you a very straightforward sound that with more experimentation on top of the generated sound, can result in great outcomes and unique soundscapes for your music. We believe that this is a synth that everyone needs to try if they are on a budget, but serious about their work.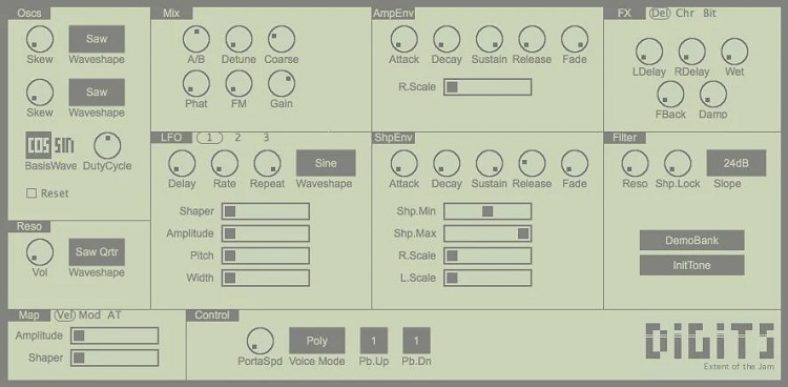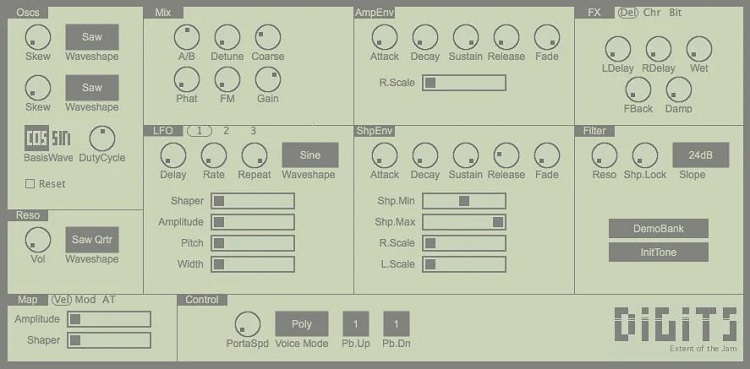 ---
3. Chip32
Sam created Chip32, which is a wavetable soft synthesizer. There is a graphical wavetable synthesis and editor included in this virtual synth VST that produces old-school electronic sounds. In addition to responding to midi control, this synth provides 8-bit wavetables for playing "Chiptune"-type music.
A bit crusher, an ADSR envelope, and a primary filter are all included in Chip32. There are a number of common wave shapes in Chip32, including sine, saw, triangle, and square. In order to use this synth and its effects, you must have a plugin host such as Renoise, Studio, or another similar program.
Chip32 has a wide range of synth parameters. Standard amplitude ADSR settings are the first four parameters. Bit depth (roughness) is controlled by the 'B' slider in Chip32. This slider controls the frequency of filtering of the wave with the 'F' setting. A place where waveshapes can be drawn can be found on the left side of the GUI.
All in all, this synth is program-dependent on a host, but since it's free, and can generate very unique sounds, we decided to list it here among our best 15 downloadable synths. So if you are still in the market for a new free unit, this might be the one.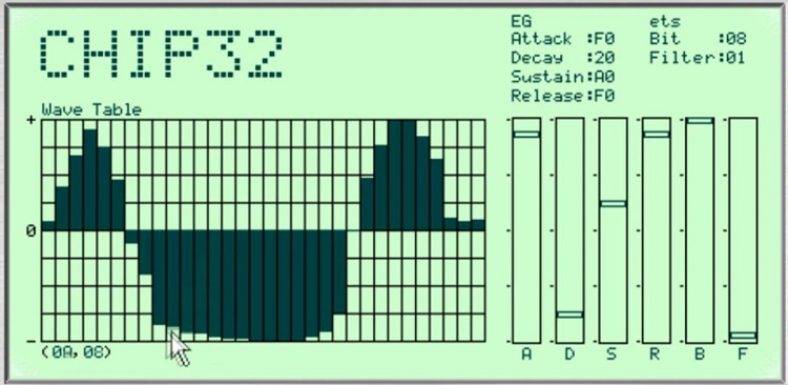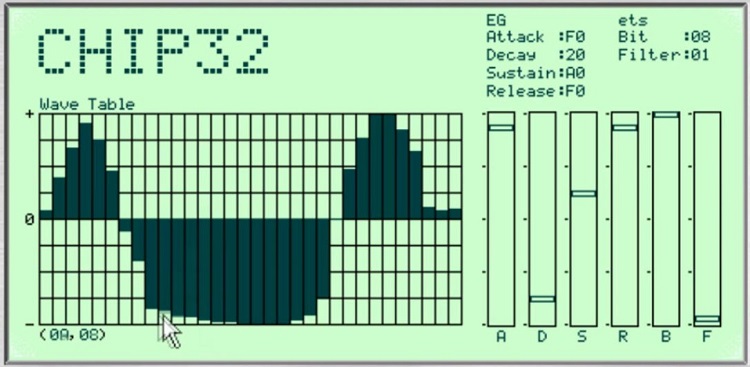 ---
4. Crystal
The Crystal VST synth is another semi-modular synth that creates great sounds from its simple GUI. With Crystal, you can have granular synthesis, morphing and wave sequencing, and whatnot.
Crystal VST is still popular, despite the belief that people are no longer enjoying it. Even though it might be old and fighting for its space among updated and modern synths, people still use it because of its dependency and trusted design.
A total of 90 parameters are available in this VST, including multi-stage envelopes with graphical editors, modulated, tempo-synchronized envelopes and delay times, a band splitter for processing effects by frequency band, and built-in effects like flanging, chorus, comb, filtering, and echoing.
Despite being a free VST, Crystal VST still has fantastic sound quality and versatility, and it can compete with any commercial soft synth on the market. This VST synth became popular among sound designers and music producers because of its versatility. On the internet, you can also find preset libraries, which many new engineers want.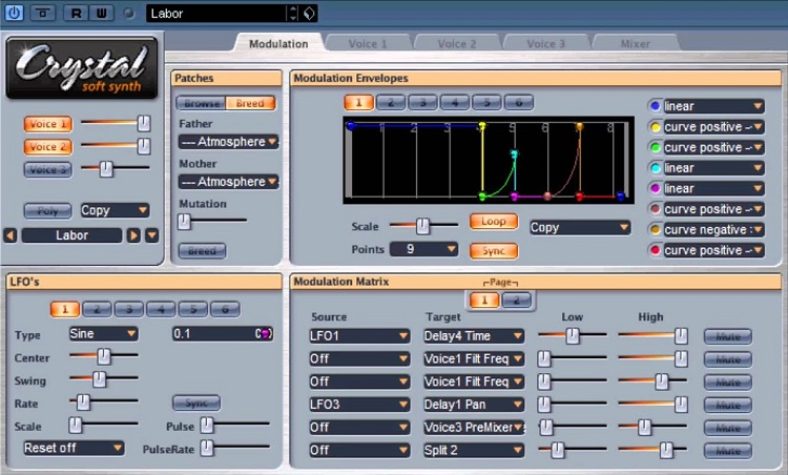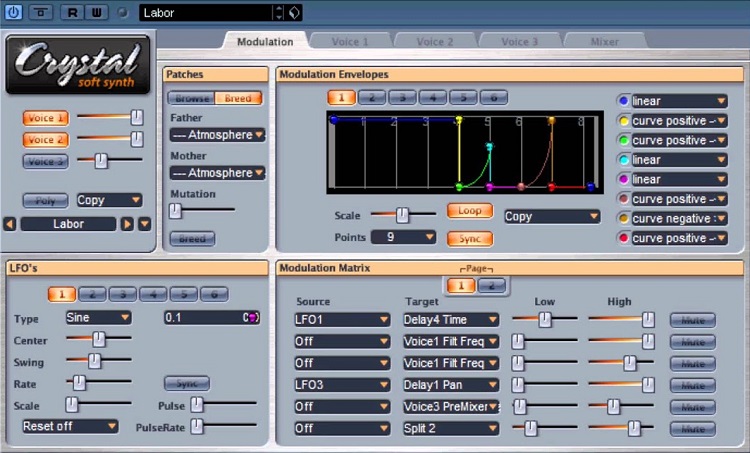 ---
5. Blocks Base
Block Base is a free synth VST plugin from Native Instruments and it gives us the taste of modular synthesis that cannot be found in many other freeware synths. So if you are after some testing and trying modular synths, this is a go-to free plugin to try.
This plugin comes in a bundle with other instruments in the Komplete Start bundle from NI, so besides this, you will be getting some more goods. The Block Base is a part of the Reaktor unit from NI, so you will need to have that installed as well to get the perks from this great modular.
What is great about this one is that you will have a bunch of choices and modules to combine, just to create something unique that no one else will have. And that is something that we give high praise to because originality is something that every producer should strive to.
With the simple and easy appearance of the modules, you will have no problem combining them the way you want, since they were made not to confuse the user, but to ease up the whole process.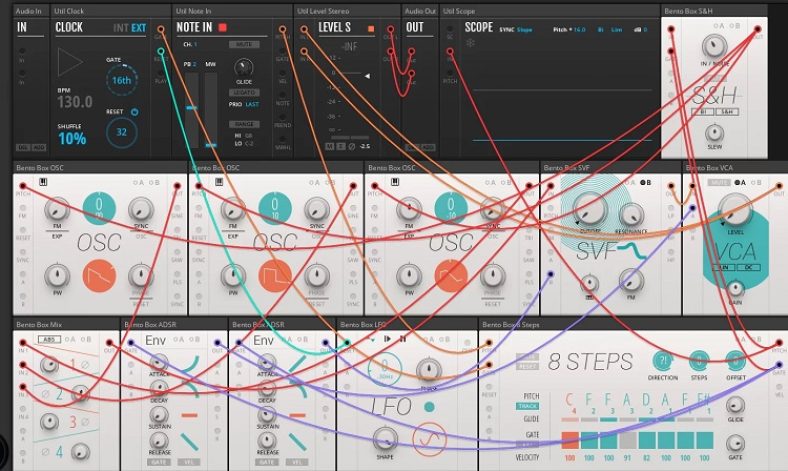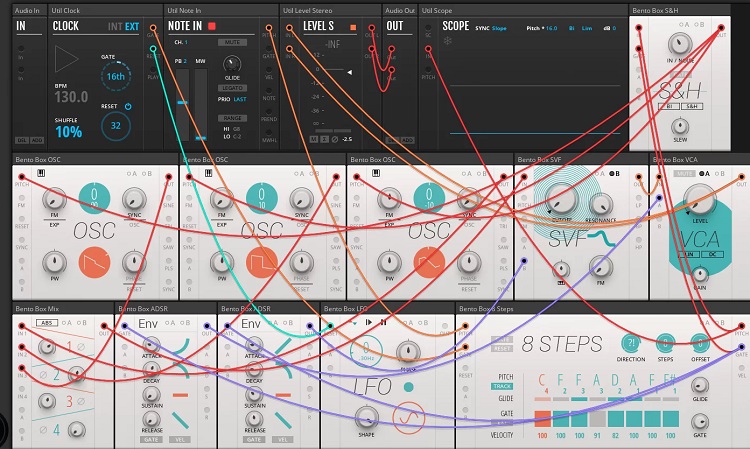 ---
6. Noisemaker
No matter how many websites you open in the search for the perfect free synth, you will end up finding a part that mentions the Noisemaker from TAL. Well, we also are going to mention it since this is one VST that many many people use, and all for good reason.
The Noisemaker is a noise generator type of plugin, that is great for electronic types of music production. The variety of sound design options that you have with the Noisemaker is great since you will be able to make some pads, leads, SFX, and more – and that is what one producer needs.
The VST has three oscillators, tuning and transposing features, great versatility for both mono and polyphony sounds, a ring modulation matrix, ADSR, LFOs, and practically what every synth needs to have.
The plugin also comes with a lot of presets that you can pick and learn from and it has a really easy and not cluttered GUI that will improve your production and not confuse you and make you quit the process. A certain must-try unit indeed!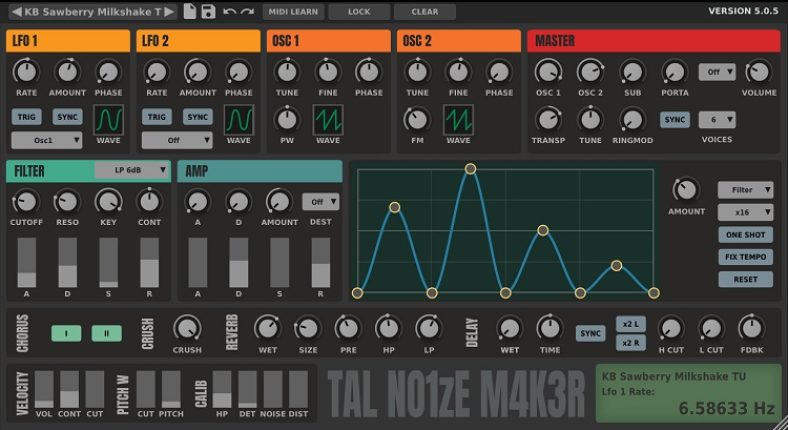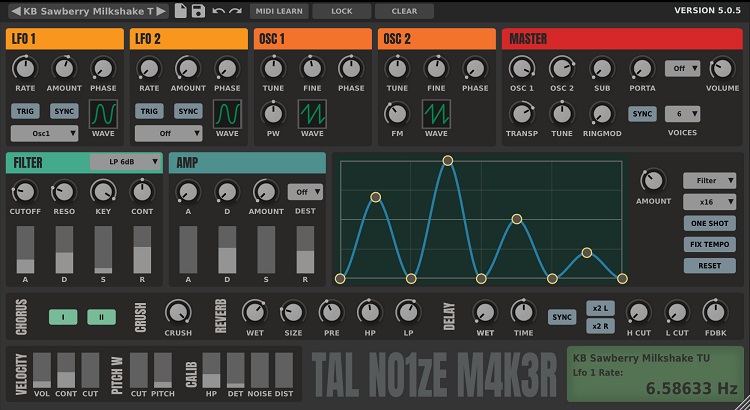 ---
7. Helm
Helm is also another pick among the plethora of free synths that will create classic sounds with its 32-voice polyphony engine. Its user interface is pretty modern, which makes it to be a clear and easy-to-understand unit. This synth has everything that any modern synthesizer VST plugin needs to have, making it really versatile.
When it comes to sound design, your possibilities are endless here, since it has everything that every premium VST has. You can create various pads, leads, SFX, and basses and with its old-school sounding characteristics, it can be amazing for people that are working on movies and video games that require such sounds.
With the visual assistant, you will be able to see what you are actually doing, and with the two oscillators, you can create many amazing sounds. It also has a unison mode, harmony mode, saturation and distortion parts, LFOs, filters, step sequencers, and many other effects. In a single word – a gem!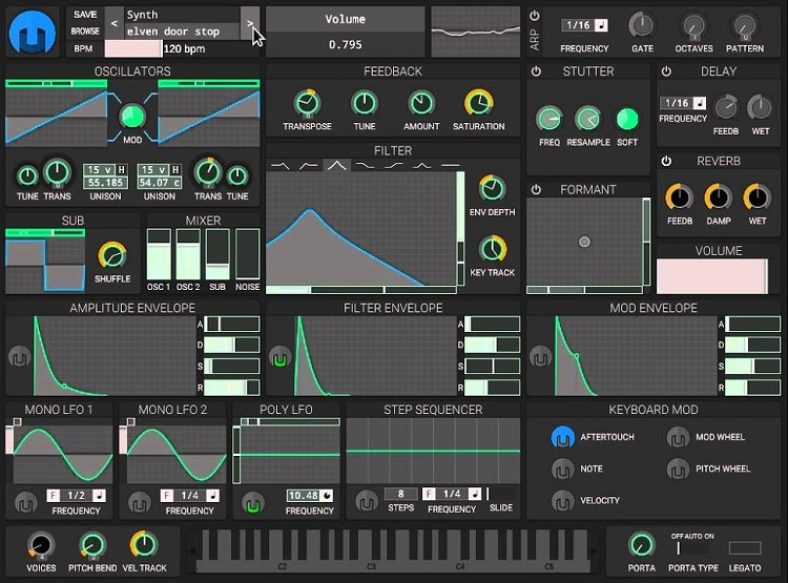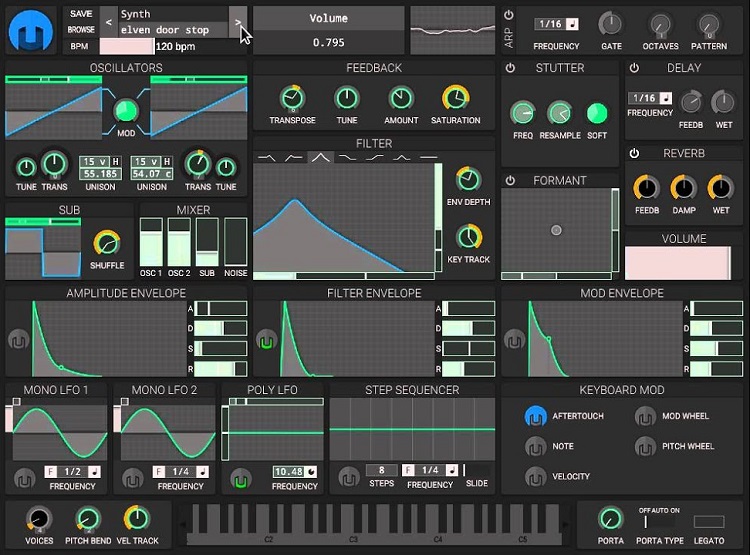 ---
8. Pendulate
According to Eventide, the Pendulate is a "chaotic" mono synth that offers a wide range of controls, effects, and parameters for a rich and detailed musical experience. You will wonder why the Pendulate does not come with an expensive price tag because it features 136 presets, animated modulation, a unique oscillator, and a low pass gate based on the quirky and cool Buchla 292.
A unique blend of East and West Coast forms, Pendulate from Newfangled Audio explores the more esoteric side of synthesis. They combine East and West Coast sounds into a zany mix of fascinating waveforms.
While Pendulate may seem random at first, it makes use of a double pendulum oscillator to modulate and move anarchy through a low pass gate and into a wave folder. A user finds it far too enjoyable to play with it due to the ease with which it switches between chaos and sweetness, self-oscillation and self-awareness.
In the beginning, the interface seems alarming and unexpected, but somehow the way in which the display bleeds through the interface neatly conveys the disorder and fearlessness of the virtual synthesizer. As a premium instrument, Pendulate would be fantastic, but as a free tool, it is incredible.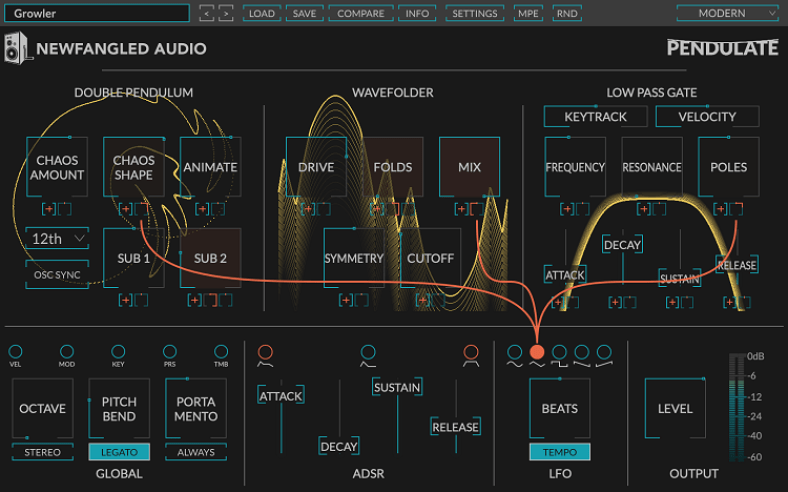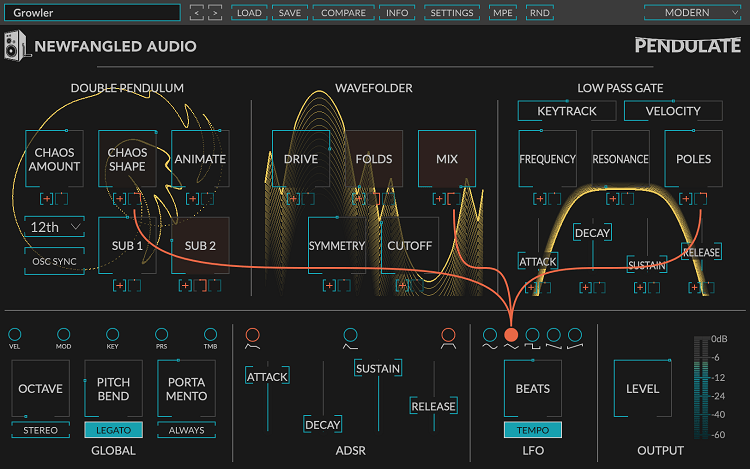 ---
9. Lokomotiv
This software synthesizer is available for both Mac and Windows. Lokomotiv makes it easy to create a variety of sounds and to make your sounds more powerful. With a bit of creativity and little effort, it is capable of creating some very unique and rich sounds and textures that are often hard to reproduce on other synthesizers.
You can easily achieve whistle-like sounds by using filters intelligently, including resonance and key track, without having to set tens of parameters. It is possible to obtain interesting sounds by using distortion over highly detuned sawtooth waves. There is something interesting and rich about even the simplest waveforms when played on this synth.
There isn't a lot of indication of the full potential of this synth in the presets included. Considering it's free, it qualifies for our list without any doubt as a good and versatile little synth. To download this synth right away, click the button below, as you would with the other synths in this list.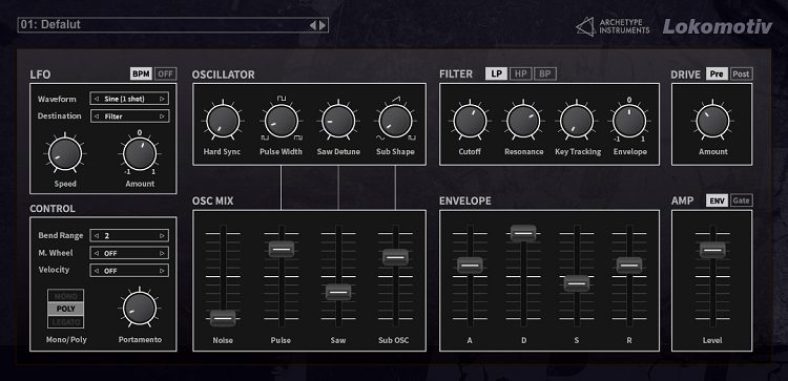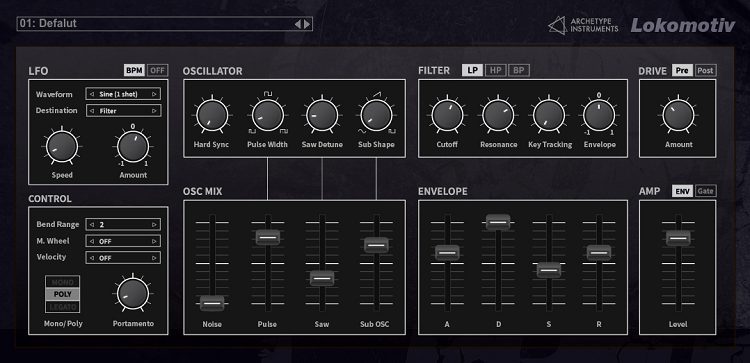 ---
10. VCV Rack
A very intuitive and easy-to-use modular synthesizer software platform: VCVRack was developed by Andrew Belt. Not only does it sound great, but it is also a very intuitive and easy-to-use software platform.
As far as virtual modular synth software goes, VCVRack is one of the easiest and most intuitive programs we have ever used. This seems like something that should cost several hundred dollars, so it is hard to believe that it is free.
Using the onscreen GUI is simple, just patch in modules using the virtual patch cords and you are ready to go. Virtual cables will snap to their virtual jacks as soon as you are near an input or output.
The system will not allow you to patch things that don't work together. As modules are added and scrolled up and down and left and right, the virtual rack will continue to grow horizontally and vertically, in contrast to real physical racks.
In addition to being open source, this project offers a large number of modules that are already available and will only continue to expand. Take a look at it now and you may find that this will be the only synth you will need in the near future.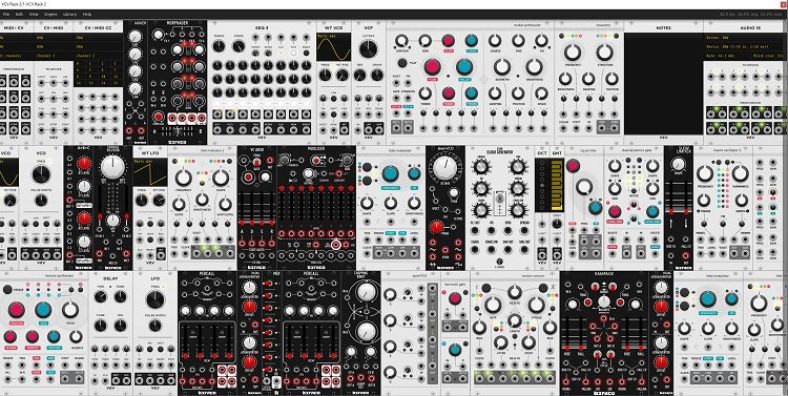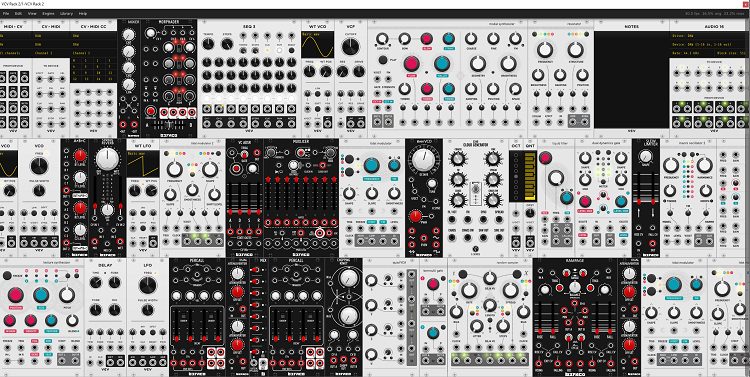 ---
11. MiniSpillage
The MiniSpillage is a plugin that acts as a drum synth and can help you create synthetic drum hits that are of great quality. As part of the MiniSpillage package, there are three exclusive drum synthesis algorithms as well as distortion effects and resonant filters.
The following points provide a description of three different types of drum synthesizers. One of these synths, called "Bass Drum", generates bass drum sounds using a single oscillator. The device offers a variety of controls for manipulating the sound, including pitch sweep, internal FM, and harmonic controls.
A second instrument, the "Wood Drum", is a flexible wooden drum synthesizer that is capable of creating both natural and synthetic timbres, such as log drums and toms. Also included are a noise source and dual resonant filters on the "Hi-Hat" synth, which can generate both closed and open hi-hat sounds.
This a great free option for those who are interested in creating their own drum sounds that can be modulated, filtered, and distorted. We suggest that you take a look at it and try it out, perhaps this is what you need to create something unique and tailored to your preferences.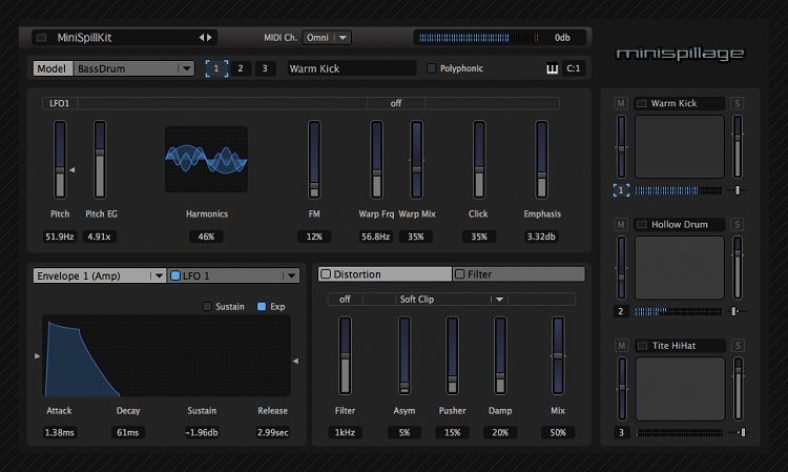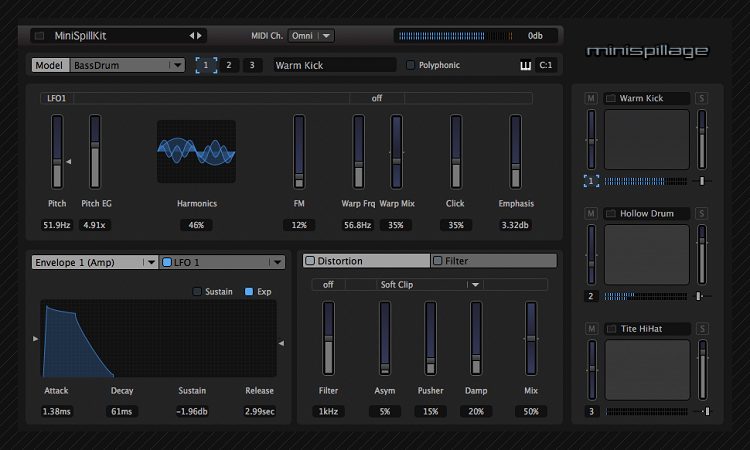 ---
12. Surge
Surge is the first free VST synth that we used when we started producing ourselves. In our opinion, at that point in time this was the best free synthesizer VST plugin out there, so we decided to go with it – and also share it with the world now.
In addition to having 3 oscillators (plus octave variations), 614 wavetables, a customizable FM and dual filter routing, several LFOs and modulation envelopes, an extensive FX section, a key and channel split feature, and a wide array of preset provided by the developers and third parties, this instrument is a full-featured hybrid instrument.
Volunteers support the instrument, which is completely open-source. The software includes a patch browser based on categories, three oscillators (each with a different algorithm – Classic, Sine, Wavetable, Window, FM2, FM3, S&H Noise, and Audio Input), two filters that can be configured in eight different ways, twelve LFO units, and eight effect units with 14 effect algorithms.
Also includes EQs, distortions, conditioners, frequency shifters, and many more. We are only beginning to scratch the surface of the features offered by this synthesizer. Once again, it is absurd to offer all of this for free.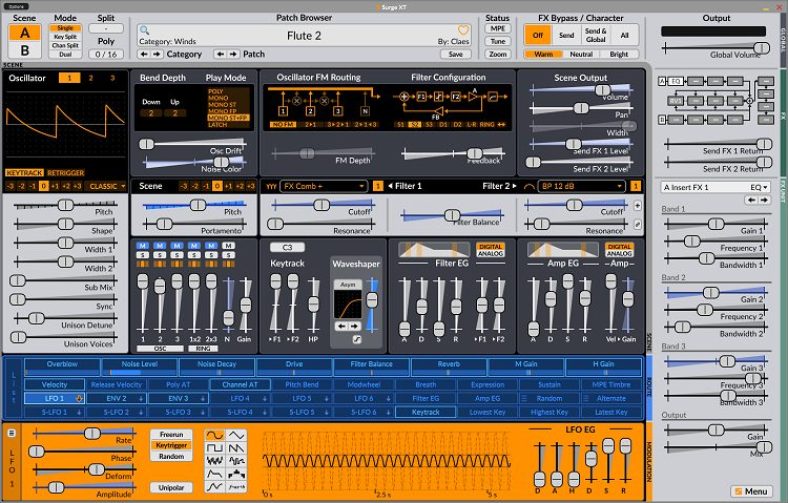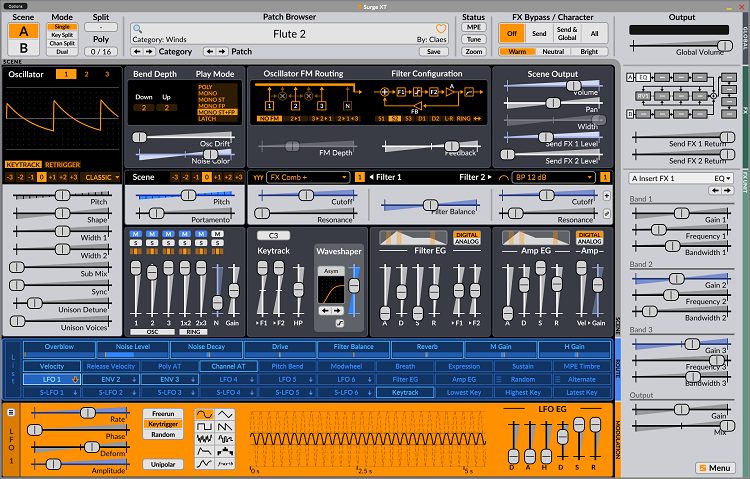 ---
13. Podolski
This virtual analog synthesizer is very simple to use and is extremely CPU-efficient. There are a couple of changes between this and FilterscapeVA, as it has only one oscillator and one envelope, with only one filter and two LFOs. There is also a Zebra-style arpeggiator/sequencer within this software, as well as chorus and delay effects within it.
Podolski specializes in the Click parameter that allows seamless morphing between three waveforms. It is a hidden gem of the freeware world that Podolski is. First released at Musikmesse 2005 as a freebie for visitors, it has been included on CD covers of keyboard magazines since then.
Modern computers are able to run this VST synth with great efficiency due to its CPU-friendly nature. For several years, it was unavailable; however, it was re-released in 2012 as a free download for everyone. In 2012, Howard Scarr (a sound designer) was responsible for crafting a collection of factory presets for this VST. All in all, another great synth to have!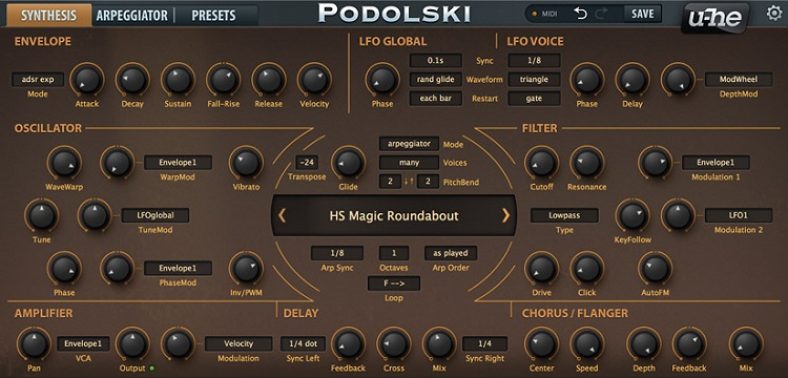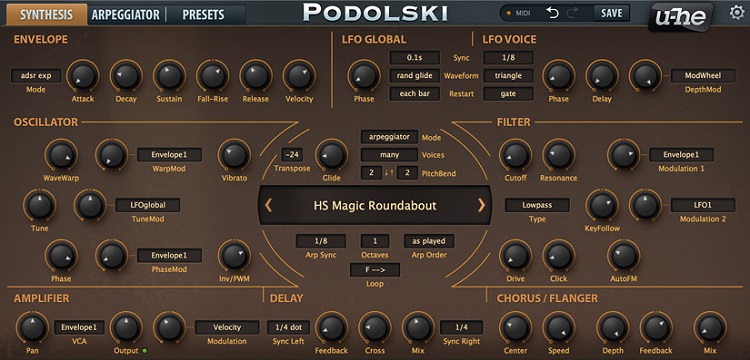 ---
14. SubDuer
We came to our 14th model on the list, and we want to share our opinion with the world about the SubDuer synth. This one is really nice VST synth that will be easy on your CPU and that is something that we want for our production if we want to save some of the resources of the computer. Using 3 oscillators, the SubDuer is really easy to use and everything is separated neatly and can be easily found on the interface.
Inside the instrument, you will be able to find some effects that will additionally shape the sound, similar to distortions, chorus, flangers, and some others as well. This is really nice since you can shape the synth output from one interface and additionally save some resources.
Everything that one synth needs to have can be found in the SubDuer, making it a really nice choice for everyone who wants to try something different and wants to spice up the production in a good manner. Even though this might not be the best synth on the list, we highly suggest it because it has really nice features on it.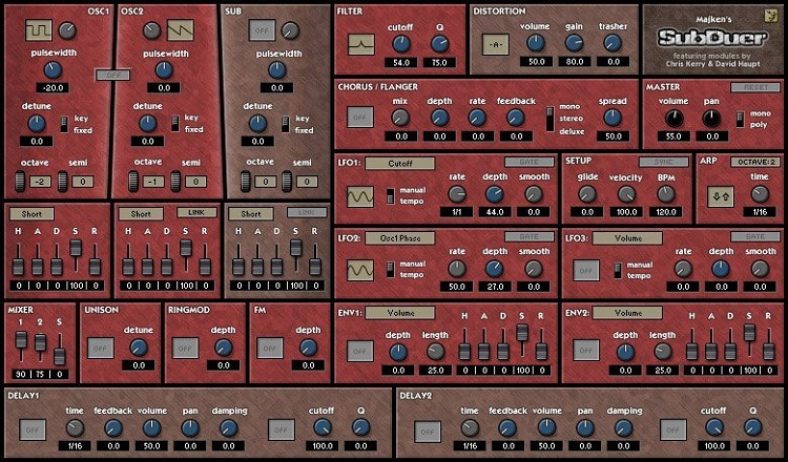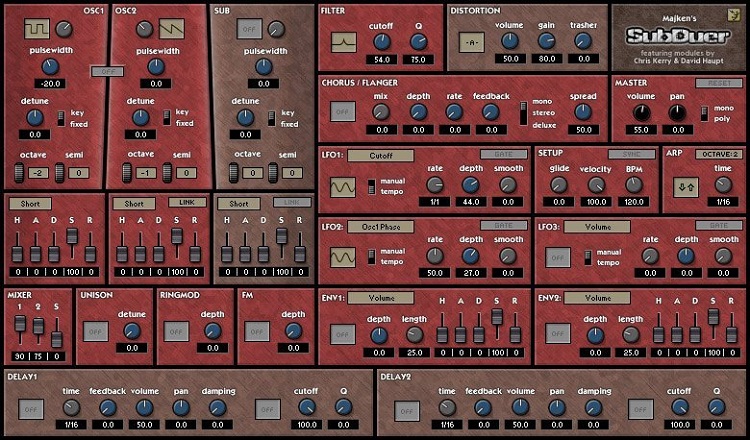 ---
15. Vital
There is no free VST synth list without the Vital. This is a synth that works with wavetables and if you watch tutorials on how to create any EDM genre music on YouTube, in most of the videos you will be able to find this one. In terms of features, the free version of Vital has some presets with, wavetables, samples, and LFO shapes that are easily customizable to make them fit your needs.
It will take you less than 5 minutes to download the VST instrument, install it, and run it in your DAW. Immediately you will notice the quality of the plugin, no matter if you create your own presets or you decide to check out some of the presets that are coming with this VST. You will be able to experiment and play with it, along with all the features and effects that can be found on the interface of the instrument.
In terms of appearance, the plugin looks really modern and serves its users with many visual aids that are there to ease up your production and help you create the sounds you want. After a short while of testing it, we were able to get around it and create some interesting sounds that we used for our music. Amazing.
This is really rich and probably one of the best free VST synths out there, so there is no doubt that you need to try it out, cause we did and we are not stuck with it – all for a good reason.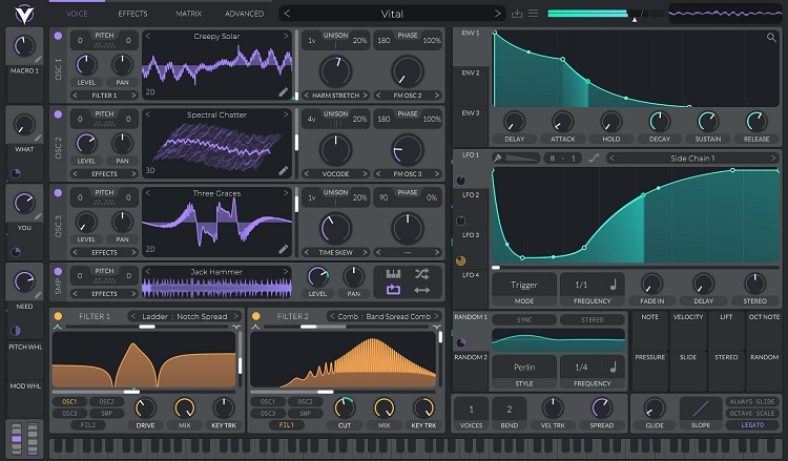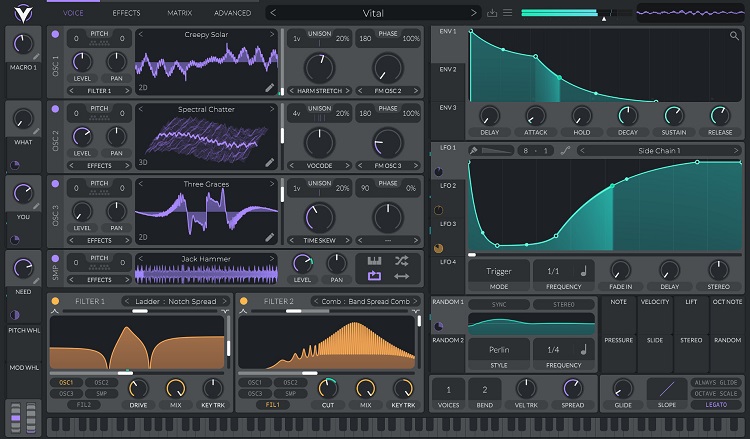 ---
Conclusion
Even though this list is not huge like many others that can be found online, it is an honest one and every VST synth was tested out by us – so all the opinions are after we tested it. A nice list of the 15 best free VST synths always comes in handy when you need to try something out that is out of the ordinary and out of your comfort zone.
Experimentation makes perfect and with it, you will end up with some really nice outcomes that will be in your production. That might be the sound that will separate you from the others and make a new hit sound.
Feel free to try some of those options out and we guarantee that you will at least have fun with them. The creative part – well, that's up to you! Until next time.