Techivation T-Compressor and T-De-Esser Review
Introduction
Welcome everybody to our honest review of the Techivation new plugins. They have released them on their website and we are going to look more deeply into them and give you some in-depth details about those plugins.
They've released a de-esser plugin named T-De-Esser and a compressor plugin called T-Compressor. All of us are already using these types of plugins in our mixing arsenal, but why not have something new with 2022 algorithms that will work nicely with newer DAWs and computers.
We are going to see what's new with those plugins and present to you will some of the most important capabilities that you can benefit from if you decide to use them. So without any further ado, let's start with the good reliable Compressor plugin.
1. T-Compressor
The T-Compressor makes the professional audio compression process as simple as possible. It's straightforward to set it up and use and is highly effective to get any complicated audio processing duties accomplished.
T-Compressor gives distinctive and fast audio compression options, such as the serial
compression characteristic, automated compression setting management, and the smart auto-gain.
This compressor is an excellent clear compressor, but it additionally provides you the choice to add distinctive coloration to your sound. The way in which it is set the attack/release/ratio/knee controls on this compressor makes it straightforward to get a correctly compressed sound.
The serial compression characteristic means that you can use up to 3 instances of the plugin on the identical window. This characteristic not solely provides you extra control over your serial compression processing, but in addition saves you time, plugin spot, and CPU usage. It additionally helps you create more distinctive sounds.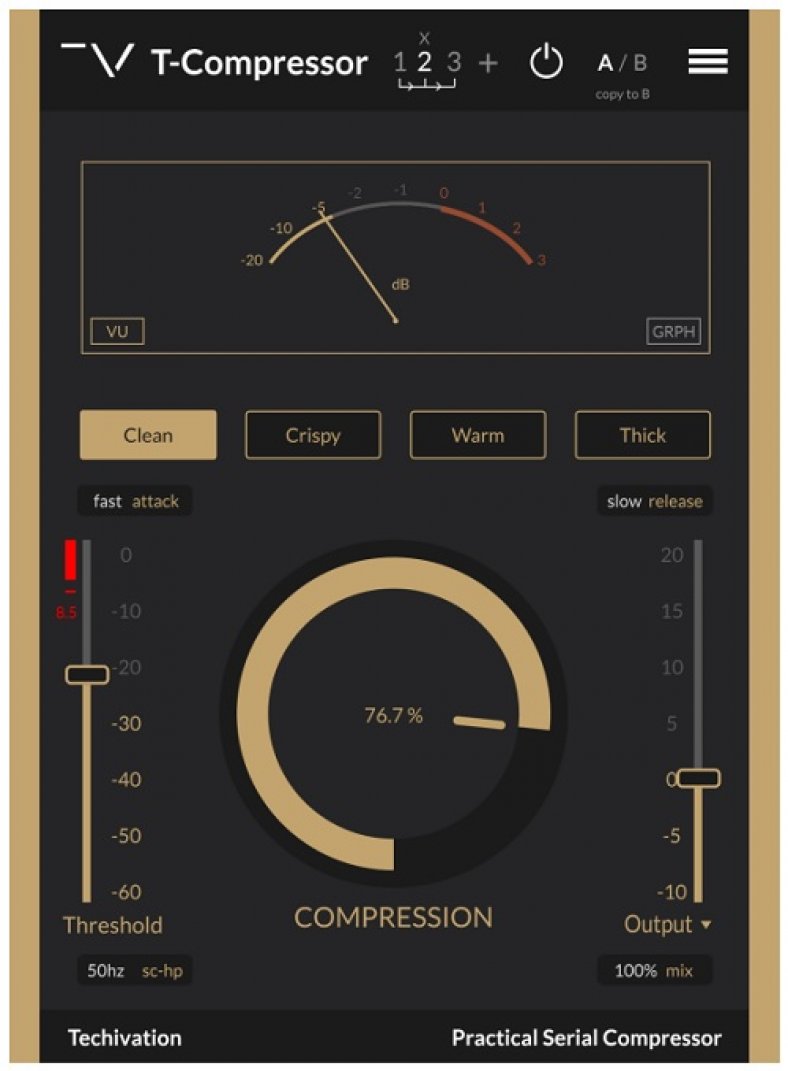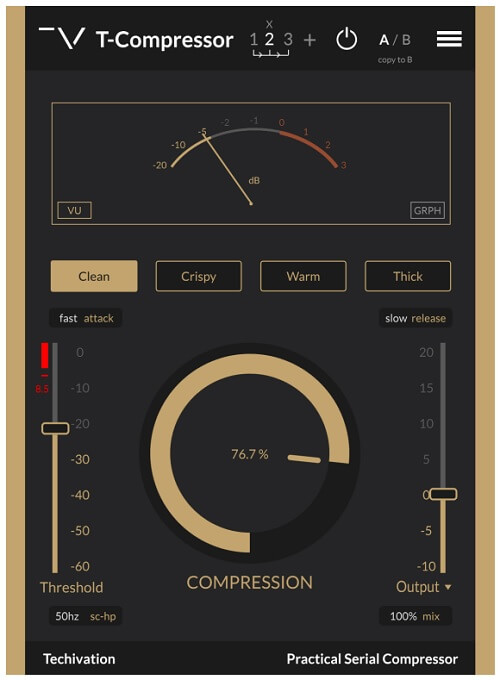 Compression Knob
This knob determines how much compression is added to the signal. It's the central feature of the plugin. As you alter the compression knob values from 0% to 100%, you automatically change the attack, release, and ratio of the compressor.
Relying on selecting slow or fast "attack" or "release" settings, the values for these would differ at different percentage ranges of compression you regulate. The automated connection of the compression knob with the attack, release, and ratio controls allows you to discover the specified sound more quickly and precisely. The knee worth in T-Compressor is static.
Smart Auto-gain
The smart auto-gain characteristic in T-Compressor allows you to focus on listening to the precise compression effect that the plug-in provides, fairly than the adjustments within the volume. Each sound that will get compressed loses amplitude level, but this selection retains the wet output sound on the identical level as the dry input sound.
Note: The smart auto-gain is "Off" by default however you'll be able to turn that on from the Input/ Output menu.
Compression Modes
Clean: The compressor sounds totally transparent when the "Clean" mode is chosen. It really works nice on any sort of sound source and can be very helpful for audio mastering if you don't want any additional flavor or texture added to your sound.
Crispy: This mode provides extra brightness to the sound, by mixing its distinctive bright flavor and character with the audio. The more you push the compression amount, the more of the mode's effect will likely be utilized. Crispy additionally works on any sound source and sounds particularly nice on bass, vocals, guitars, synths, and drums.
Warm: This mode provides warmth and a novel analog vibe to the sound when chosen, by implementing a certain sort of tape saturation processing, and filters. It really works for any sounds and is particularly preferred for vocals, drums, buss processing, synths, hi-hats, snares, and many others.
This helps with making the sound smoother together with including its personal distinctive character to it. For instance, if in case you have a very bright sounding snare, do this mode while compressing it, and make it sound nicer together with its particular tape saturation and filter effect to it.
Thick: This mode helps to make the sound extra open and 3- dimensional, and brings sounds that lack excitement to life.
Serial Compression
Serial compression is if you use a number of compressors in a row (one after the other), and it is a fantastic method to mix the perfect features of two or more plugins. You might also share the effect by connecting compressors in a sequence.
T-Compressor permits you to add up to 3 compressor instances in the identical plug-in unit and have full management over 3 of them on a single plug-in window! You'll be able to select them as a web browser and rapidly make changes.
Features:
Compression Knob
Threshold Control
Input/Output Control
Smart Auto-Gain
4 Compression Color Modes
VU Meter
Digital Graph Meter
Serial Compression Feature *(up to 3X)
Oversampling up to 4X
Peak Meter
Zero Latency
Global Serial Presets
Individual Presets Page 4
Smart Attack & Release Control
Side-Chain High-Pass Filter (sc-hp)
Dry & Wet Signal Mix
On/Off Button
A/B Switch
Undo/Redo Options
Scaleable Graphic User Interface (GUI)
Internal Menu
Stereo and Mono
Supports VST, VST3, AU, AAX Formats
IMAGE
PRODUCT
DETAILS
Techivation WebStore

Plugin formats: VST, VST3, AU, AAX.
Platforms supported: Mac OS X 10.11 (OS X El Capitan) –
macOS 11.6 (Big Sur) – Native M1
---
2. T-De-Esser Pro
T-De-Esser Pro is an elective upgrade for T-De-Esser, and T-De-Esser Plus. It supplies the ultimate solution for skilled audio cleanup. Whereas being constructed with the newest technology and is tremendously versatile in mind, it's a must-have instrument for audio mixing, enhancing, composing, and sound design to make the audio excellent at each degree.
Processing Knob
The Processing setting determines how much level can cross via the De-Esser Pro before compression is triggered. Lower the processing till gain reduction begins to happen. Now pay attention as you alter the processing. Discover the point at which sibilance is managed without excessive audible compression.
Quick tips:
Double-clicking on the Processing knob will set back its worth to default.
Double-clicking on the Processing knob's value number will let you type in your desired value.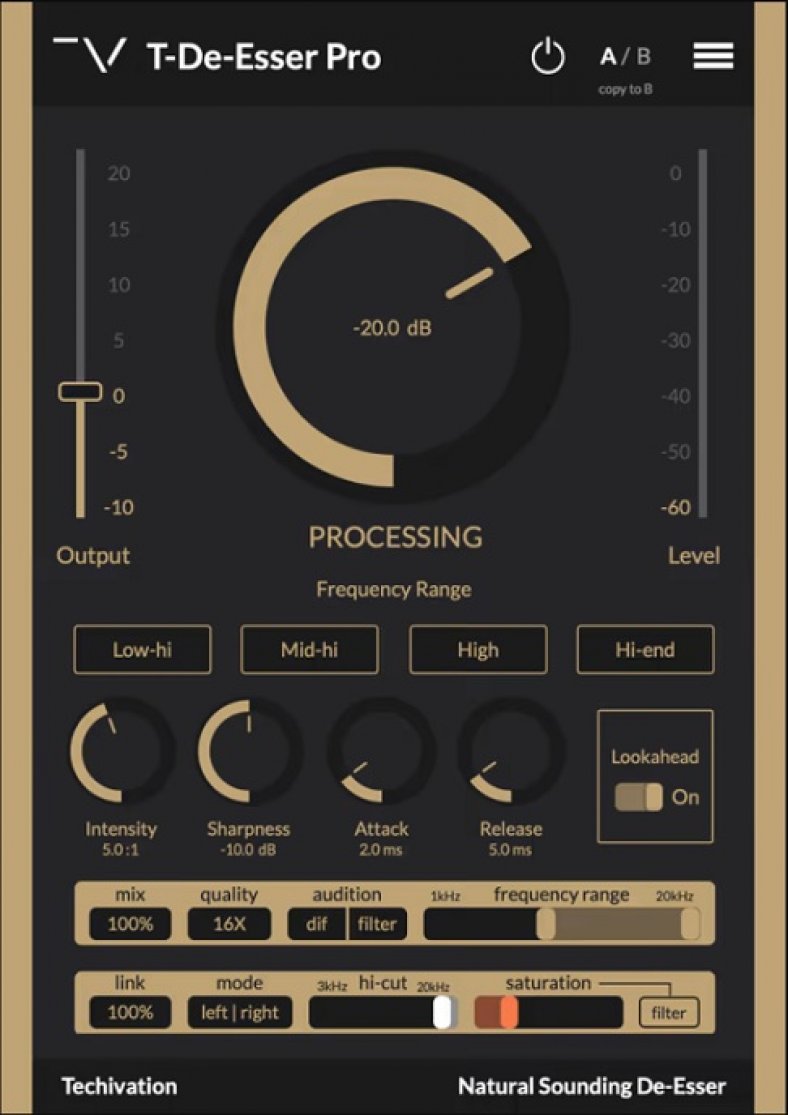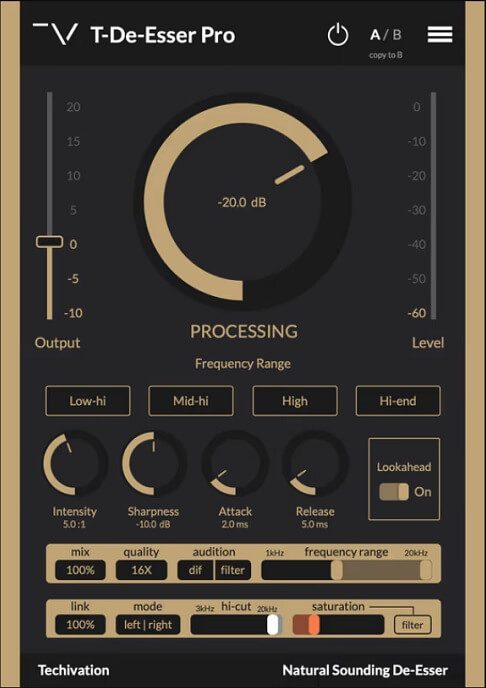 Attack/Release
The attack setting controls how long it takes for the de-esser to interact, while the release setting controls how long it takes to let go.
A quick attack leads to a softer sound, whereas a slower attack setting will make the sound punchier. For those who go too quick with the attack it might trigger distortion, however, in case you have the "Lookahead" choice turned on, it should assist the attack to function more precisely, leading to an extra pure sound.
Lookahead
The Lookahead function permits the de-esser to "see" the input signal before it's processed, permitting it to handle transitory info better and make the attack smoother. Having the "Lookahead" on will increase the latency so it's not excellent for use while tracking/recording.
Frequency Range
This function means that you can select your custom frequency range in high frequencies for an extra accurate result. You may select to select frequencies from 1kHz to 20kHz. The T-De-Esser Pro focuses on this frequency range for locating and eradicating harsh sounds. The meter across the processing knob additionally reveals the input level that's coming from the chosen frequency range.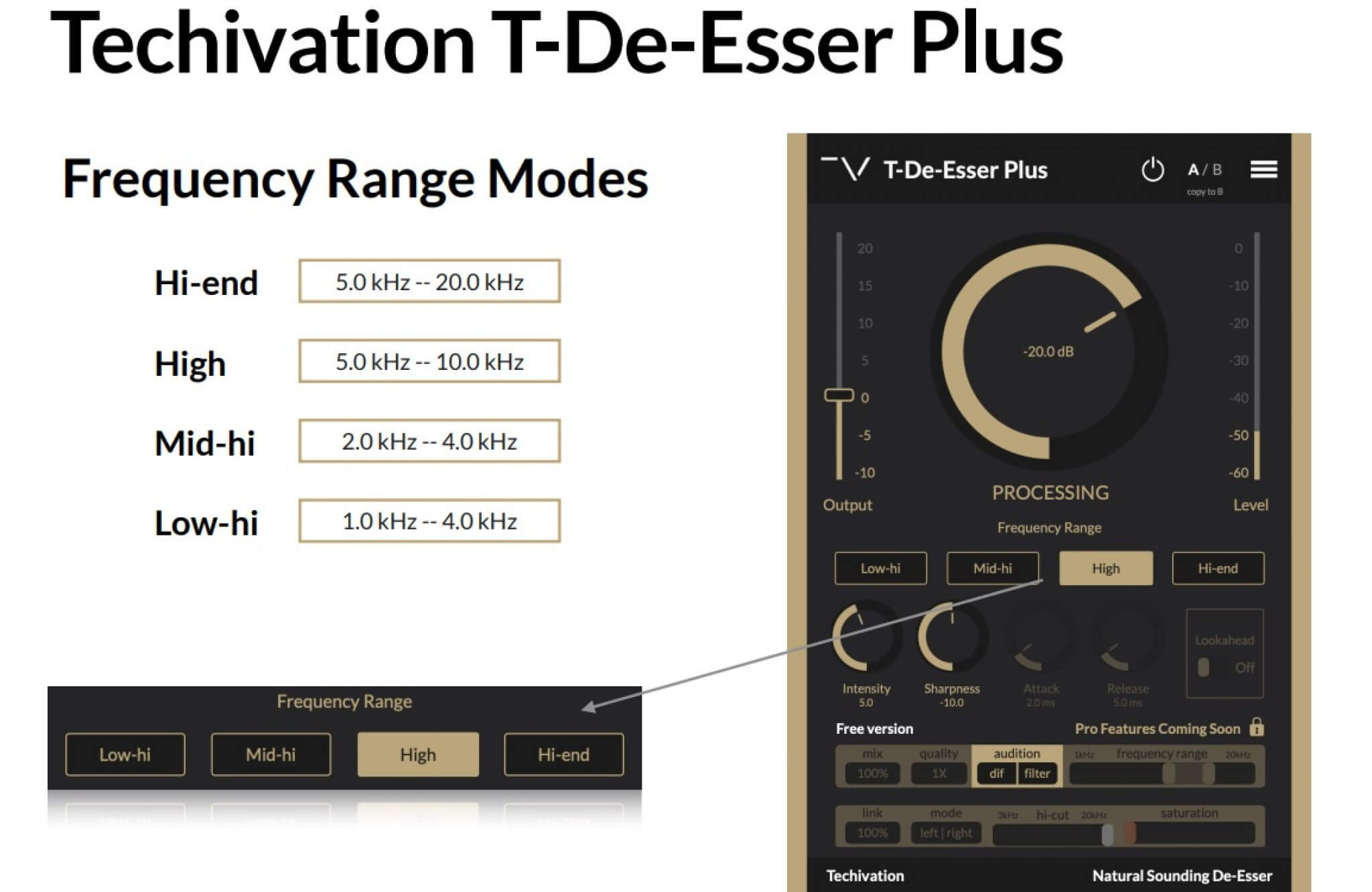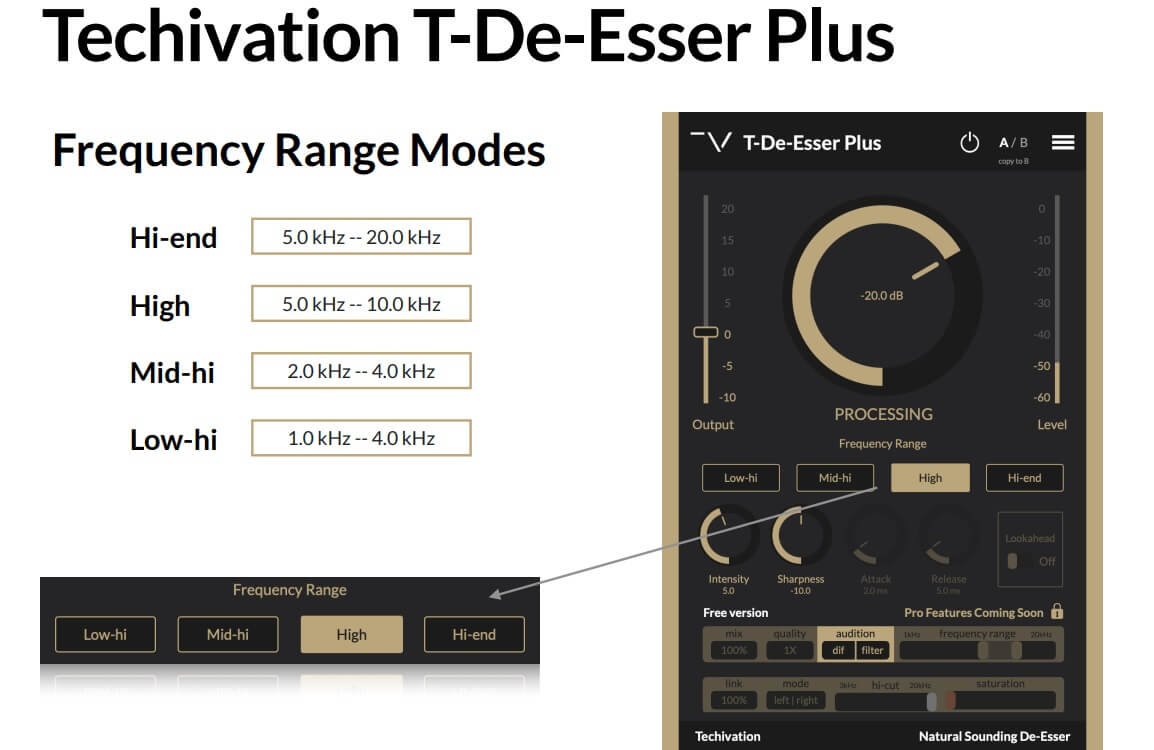 Saturation
The saturation function in T-De-Esser Pro provides a unique color and texture to the sound, helping the de-esser in some circumstances to make a smoother sound. It could possibly also create a brand new character in your sounds, specifically when used with the opposite features just like the "mix" and the "hi-cut".
Features:
Processing Knob
Intensity
Sharpness
Scaleable Graphic User Interface (GUI)
Undo/Redo Options
A/B Switch
Output Level
Level Meter
Frequency Range Modes
On/Off Button
Menu
Audition (Filter & Diff)
Quality (Oversampling up to 16X)
Saturation (Warmth)
Saturation Filter
Hi-cut Filter
Custom Frequency Range
Lookahead
Attack/Release
Mid-side Mode
Stereo Link
Mix (Dry/wet)
IMAGE
PRODUCT
DETAILS
Techivation WebStore

Techivation T-De-Esser Pro

Plugin formats: VST, VST3, AU, AAX.
Platforms supported: Mac OS 10.7 and up including Catalina
and Big Sur. M1.
---
Conclusion
Well, we tried to bring you close to what we experienced with these two plugins and we hope that you will go ahead and try them out. They are something new and advanced versions of any previous compressor and de-essing plugins we used.
We will certainly use them in any future projects since they are great plugins to work with. Very easy GIU and they work perfectly for the purpose they've been made.
In case you have any questions in regards to these plugins, please head over to techivation.com/support/ and they will be more than happy to provide you with all the answers you need!