Best Delay Plugins
Introduction
Reverbs and delays are essential for giving track depth and giving instruments, especially direct recordings, a sense of space. When these effects are well applied, they tend to feel more natural and blend well with other instruments.
In terms of sound design, it's a fantastic tool, especially for creating build-ups and creating ambiance in recordings. There are countless ways to use a delay plugin, and a free one can often offer just as many possibilities as a premium one, whether you're looking to add depth to your stereo image, make gigantic pads, or explore distorted sound design.
In this article, we have compiled a list of the best free delay VST plugins as well as the best-paid delay VST plugins. Additionally, we will be reviewing each model in detail, so stay tuned and choose the best modern delay plugin for your music production needs.
Best Paid Delay VST Plugins
1. Waves H-Delay
In addition to real PCM42-style effects like phasing, filtering, flanging, and slap-back echo, H-Delay also includes ping-pong delay and tempo sync with various modulation parameters, all controlled by an intuitive interface.
There are nice big knobs on the GUI, which makes it look nice. Switching between BPM host mode and free time mode (ms) changes only the units of measurement, not the actual time (which makes life easier if you're going for slightly off delays).
Additionally, we've never heard an analog tape delay sound like this before. When changing the delay time, you'll notice that the pitch shifts. Consequently, it is a useful tool for live jam sessions and feedback loops.
As long as we can remember, Waves H-Delay has been our go-to delay for guitars, synths, and vocals. The H-Delay is a straightforward delay plugin that can be easily manipulated to get impressive results very quickly and easily, unlike other delay plugins which seem to have a million controls and layers. There is nothing more or less to it than an analog delay.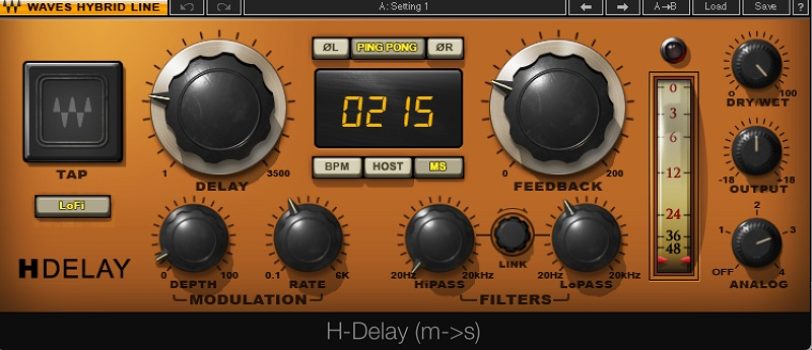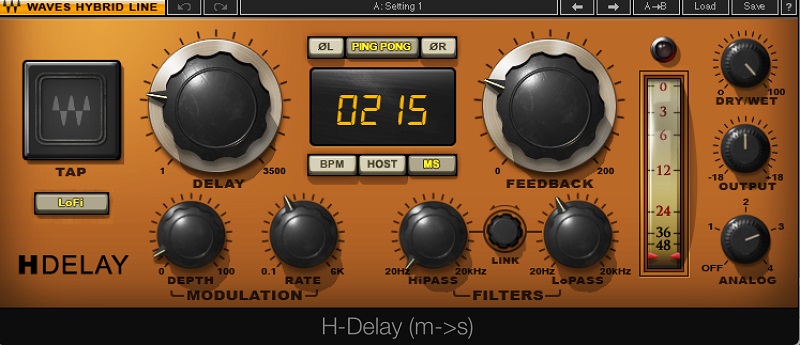 ---
2. Soundtoys Echoboy
Unlike classic guitar pedal echos and delay units, EchoBoy offers a wide range of features. Using a tape machine sound, EchoBoy provides a warm, smooth echo perfect for solo vocals at the front of a mix.
As well as creating lo-fi crushing echo sounds, it also works well for guitars, drums, vocals, or anything needing mojo. Producers, mixers, remixers, sound designers, and artists love EchoBoy's classic echo styles and modern delay effects.
Despite its familiar look and feel, the interface is user-friendly, with a "deep dive" feature if you desire to go through the looking glass. There is a wide range of rhythms that can be created with EchoBoy to suit any mood or situation, whether you prefer swing, shuffle, rush, or drag rhythms.
It has a separate sonic and rhythmic side, so you can experiment with different delay sounds to find the perfect sound, as well as play with different grooves to find the perfect echo sound. Due to this design, it can easily be used in conjunction with any mixing, writing, or sound design approach.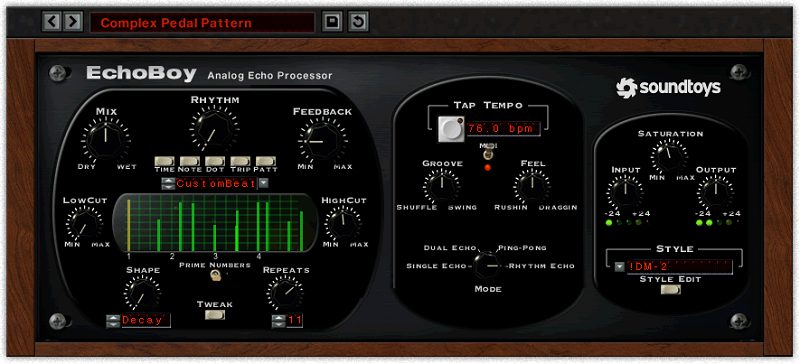 ---
3. iZotope DDLY Dynamic Delay
This dynamic delay is designed to respond to the dynamics of your song in order to produce versatile and captivating delays. With this plugin, you get creative delays and can delay the signal differently depending on the sound's character without creating an aural muck. Send your signal down two separate analog or granular delay paths by modifying the threshold to split it based on transients.
A two-delay solution; the DDLY algorithm analyzes your audio and determines what should be sent to the top delay and what should be sent to the bottom delay based on an adjustable threshold. Change the Intensity to determine how strongly the signal is split between the two types of delays – it's perfect for a punchy delay on the harder, transient cracks of your drums and a scuff delay on your main beat elements.
You can customize your delay by selecting either Analog or Grain modes. As a result of analog processing, warm lo-fi delays are produced, characterized by smearing and nostalgic degradation. With Grain, you can create melodious, symphonic, and futuristic soundscapes that are truly unique.
DDLY can be applied to everything. Seriously, the more you let it rip, the better it will sound. However, despite the fact that you can play with it like crazy, it is more than just a toy. There are also some very practical and serious applications of DDLY.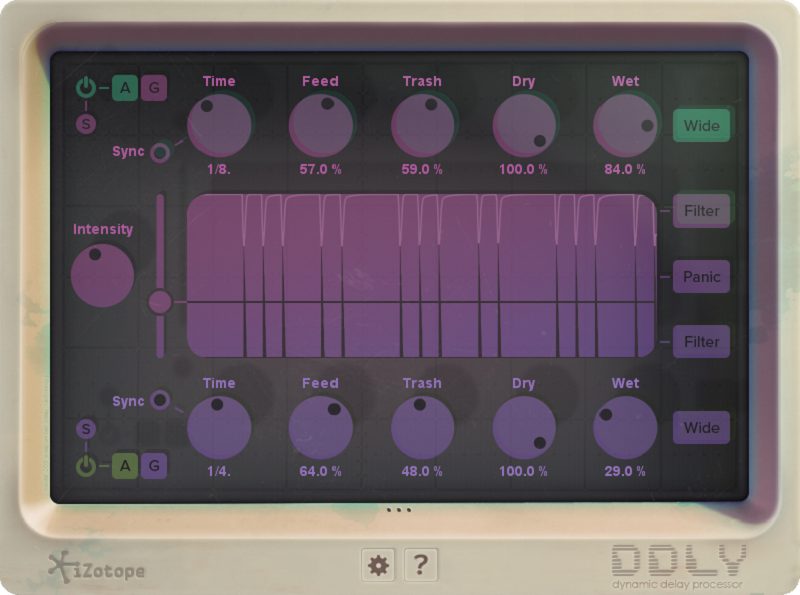 ---
4. Fabfilter Timeless 3
A similar feature to its predecessor, T3 features two delay lines (either Left-and-Right or Mid-and-Side), a feedback loop incorporating a variety of filters, a tape-like or constant-pitch delay mechanism, and a modulated freeze option.
There is a time-stretching (constant-pitch) delay mode which is all too seldom found; it is essential for projects involving tempo changes where you wish to adjust the delay with the host's tempo. In addition, there is, of course, the top-tier modulation methodology utilized by FabFilter. This scheme was introduced by FabFilter almost two decades ago, and it remains in the forefront, having been improved in T3.
Delay, Feedback, and Wet are all controlled by dual-concentric rotary knobs, which have offset, percentage, and level knobs at their centers, while panning balance is controlled by the outer rings. The delay tap lines displayed on the screen change position and length in response to the changes made to these parameters.
Despite the excellent sound quality of Timeless 3, these effects can give the sound a boost, as well as radically alter it when necessary. There is no doubt that this is a well-crafted, elegantly presented delay that lives up to its name, and it is available for an extremely reasonable price.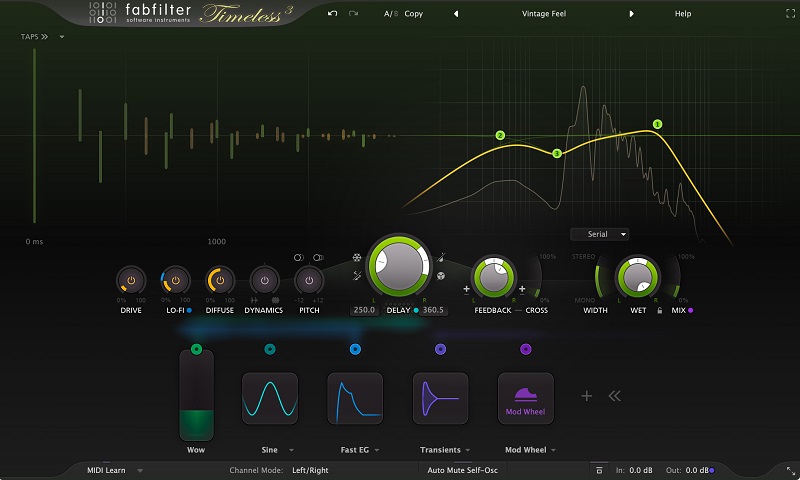 ---
5. Arturia Delay TAPE-201
With the Arturia Delay TAPE-201, you can enjoy the classic sound of vintage tape delays on your computer with the convenience and versatility of the software. The Delay TAPE-201 will provide you with that spacious, reverberating delay that you are looking for. It is easy to use, fun to tweak and offers the most accurate tape delay emulation available in a software effect.
There is no doubt that this incredible plugin pays homage to the tape delays that altered the way music sounded forever. Tape delays created a new, exciting tool for guitarists and organ players to use on stage and in a studio, beginning with Ray Butt's EchoSonic and Mike Battle's Echoplex. As soon as studios, recording engineers, and producers heard this fluttering golden tone, they wanted to include it in their signature sounds.
This is not simply a software sound-alike effect; it is a highly detailed, accurate recreation of the famous tape delay of the 70s. A comprehensive study of the circuitry, analysis of the tape, and even modeling of the quirks have been undertaken by Arturia in order to deliver you an authentic tape delay that you will return to time and time again. The most iconic studio gear you have ever used is now available to you as well, compatible with all major DAWs.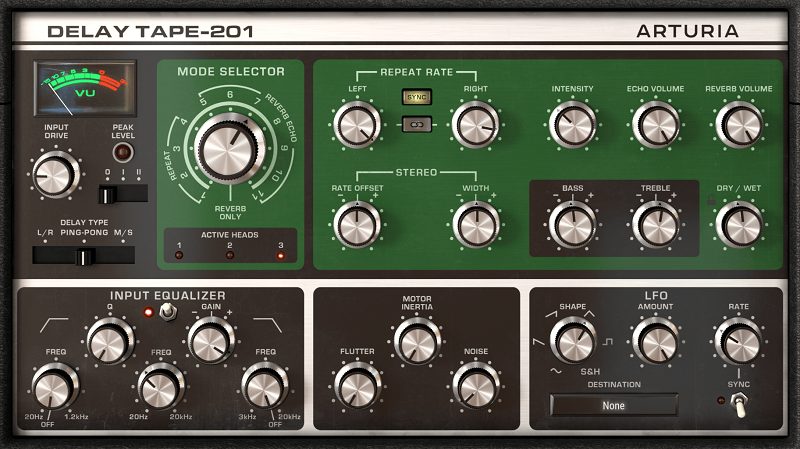 Check Arturia Delay TAPE-201 here!
---
6. Softube Tape Echoes
Tape Delays enhance the warm ambiance of a track, making it transcendent. It is possible to hear tape echo on important recordings spanning decades, including those by Elvis Presley, King Tubby, and Radiohead. It is costly and difficult to own and maintain analog tape delays, and the plug-in versions have filled this gap, but they are associated with a feeling of cleanliness that is unwelcome.
Although there are many plugins that offer a tape delay effect, only Tape Echoes provides the exact tape delay you hear in your head without causing headaches. In Tape Echoes, you will find an abundance of pulsating colors and textures to make your tape effect sound authentically gritty and luxuriously analog. By using Drive & Dirt, it is easy to effortlessly soak your track in as much wobbly, glitchy, distorted delay as you desire.
When the reverb is set to zero, the Just Dirt setting reveals classic, old-school grit. With its vintage lo-fi vibes and ease of use, this plug-in makes audio production a dream. Your digital workflow is smooth thanks to Tape Echoes' programmable parameters. It must be repeated: Tape Echoes is a real retro mojo machine.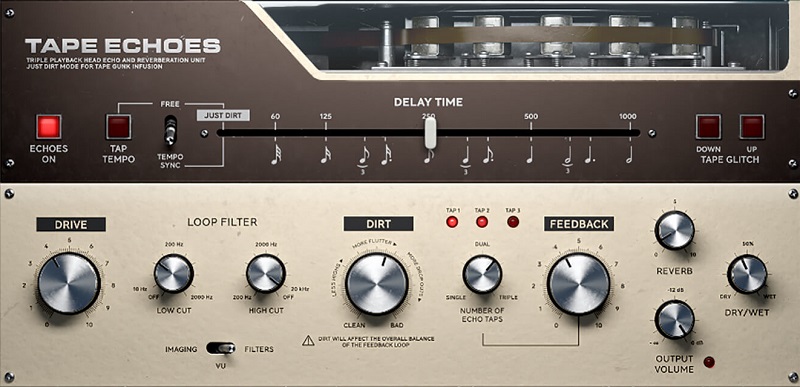 Check Softube Tape Echoes here!
---
7. Valhalla Delay
With Valhalla Delay, you get a combination of classic delay and echo units, as well as modern digital delay units and echo units. There are a variety of delay styles available in ValhallaDelay, including Ratio and Quad delays, Ghost mode (which implements frequency shifting), and a diffusion section that can be used to create a variety of sounds, such as smeared echoes and ethereal reverb.
There might be a correlation between the delays on offer and vintage delays, but Valhalla has gone beyond what was, creating a new standard. This is a trademark of Valhalla's plugins, which is why it's truly a joy to use their plugins due to the amount of tweaking available.
A Style control adds a variety of changes to the mix depending on the mode in which you are working. Each mode has the standard Delay/Mix/Feedback modulation controls used. There are four delay modes available: Single, Dual, Ratio, Ping-Pong, and Quad. Ping-Pong, Ratio, and Dual are stereo effects that have distinct delays on the left and right sides.
As free plugin updates are not always common, hats off to Valhalla ringleader Sean Costello and his team for doing this. Valhalla Delay impressed us for constantly improving their products, rather than just updating them whenever a new iLok or MacOS update was released and there was a compatibility issue.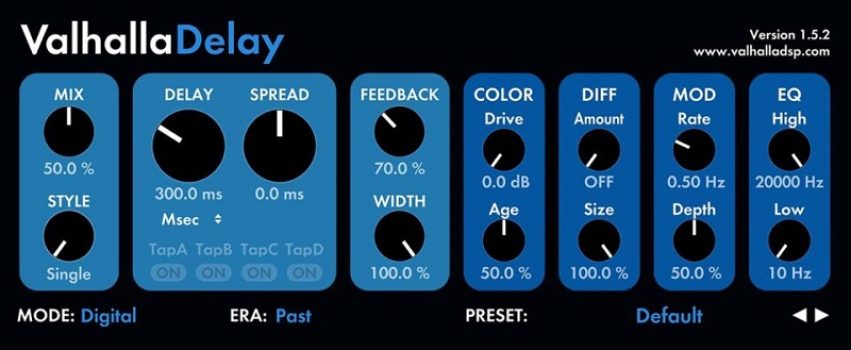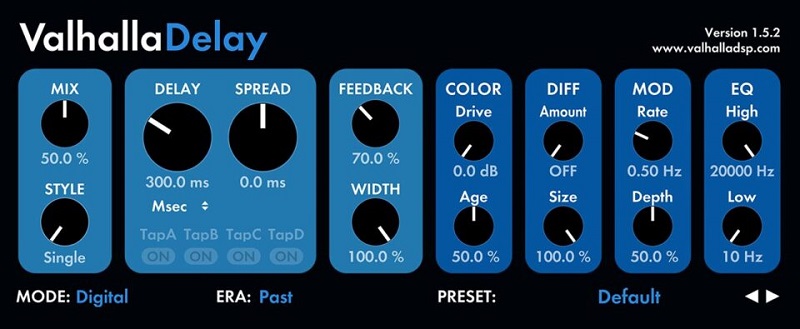 ---
8. Arturia Delay MEMORY-BRIGADE
With Arturia's Delay MEMORY-BRIGADE, you can create the creative, dark BBD analog echo on your DAW without worrying about spilled drinks, dead batteries, and whether or not it is a "true bypass". The "bucket brigade" offers so many creative options and is a software plugin that can be used on anything – not just guitars. It is among the most versatile delays available today, offering everything from tight slapback delays to never-ending feedback noises.
With delay MEMORY-BRIGADE, Arturia is paying homage to the legendary BBD – commonly referred to as the "bucket brigade device", which revolutionized the way time-based modulation effects were created. More and more audio effects companies began using BBD technology to create chorus, flange, and delay effects during the 70s; however, it was the BBD technology that created the recognizable sound that many music aficionados loved.
Despite its similarity to an old pedal, Delay MEMORY-BRIGADE is a tribute to the classic BBD delays that have shaped music throughout history. As part of their research, Arturia analyzed old circuit diagrams, studied wiring diagrams and components of popular delay models now, and re-created the most desirable aspects of the vintage effect so that you can enjoy the best BBD experience available to you.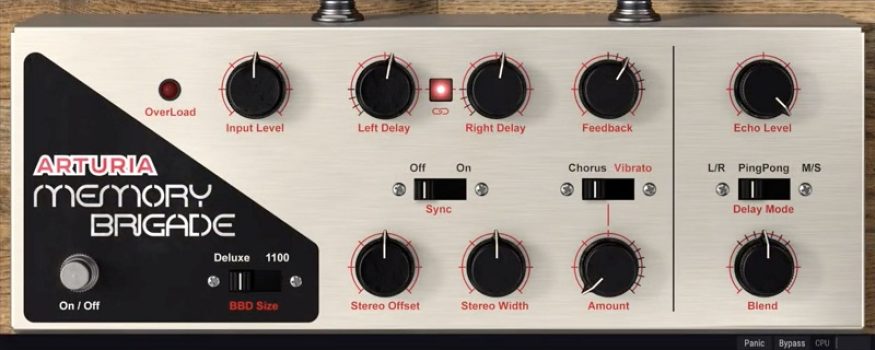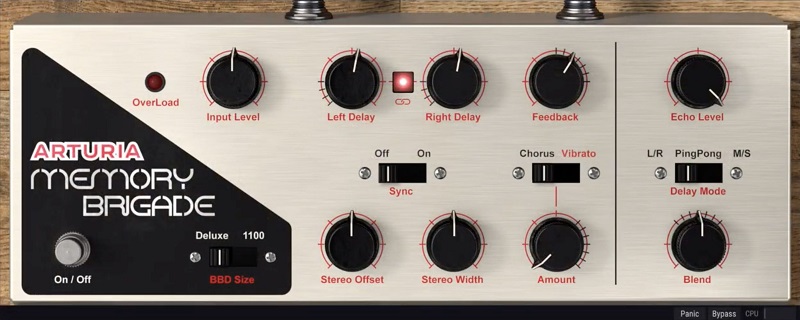 Check Arturia Delay MEMORY-BRIGADE here!
---
9. Pulsar Audio Echorec
In the 1960s, the Italian brand Binson produced a popular echo/delay unit with the same name known as the Pulsar Echorec. There is a distinct difference between the sound of a magnetic disk delay and the sound of a tape delay at the time, and this delay contributed greatly to the sound of many bands in the 1970s.
Music produced in the 1970s was characterized by saturation, self-oscillation, and over sound in vintage Echorec devices. As well as their fragility and difficulty in maintaining, they are also known to be susceptible to damage.
A faithful emulation of this legendary echo unit is provided by Pulsar Echorec, along with many workflow improvements, such as the ability to adjust motor speeds (and therefore delay times) in real-time or sync the motor speed to any tempo, including tapping tempos.
Additionally, three different units, under different conditions, were precisely modeled in order to achieve every sound you can imagine, from the cleanest magnetic delay to the grungiest delays. This echo is one of the must-have tools for any mixer looking to add the subtle analog life that is sorely lacking in most modern digital delays and delay plugins due to these additions and the original sound of the Echorec.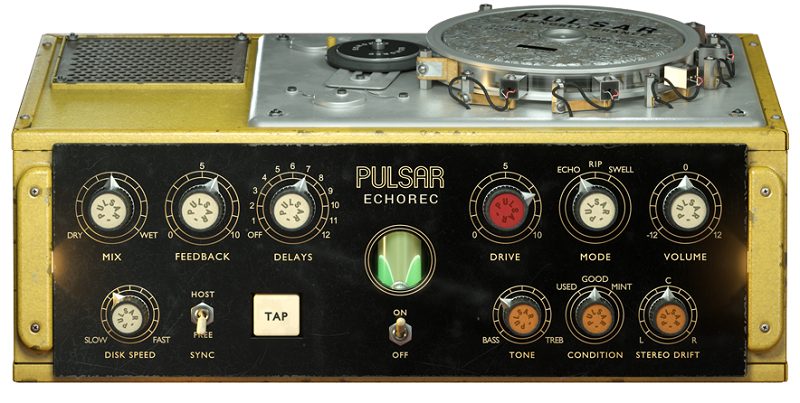 Check Pulsar Audio Echorec here!
---
10. Native Instruments Replika XT
It is not always the complexity of the interface that you are looking for, but a quick and easy way to get what you want quickly. If you had that, you still would have power and great quality. In addition to its simplicity, quality, capabilities, options, and tone, NI's Replika XT makes it onto our list of delay plugins because of its price. There is just so much value in this delay plugin, and the price is so much lower than other delay plugins of this kind.
With the Amount, Size, and Movement parameters selected, you can adjust the length and amount of the delay, as well as the tone with the helpful Low Cut and High Cut filters. Rhythmic delay patterns can be quickly and easily created using the pattern controls. Each delay and a dry signal can be panned independently, while ducking can be adjusted simultaneously to get it to work well with your mix.
Sound designers and creative producers alike will find plenty to enjoy in Replika XT's impressive array of stereo signature, pitching, and oddball delays. We would describe it in one word as brilliant.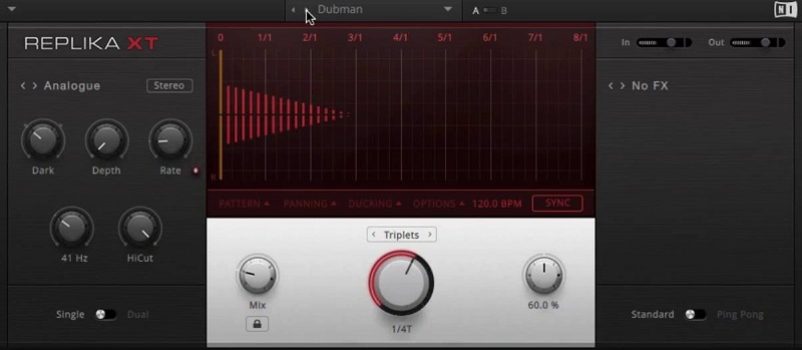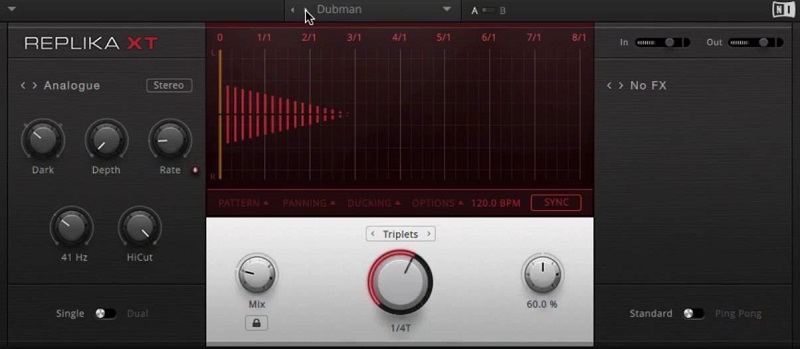 Check Native Instruments Replika XT here!
---
Best Free Delay VST Plugins
11. Valhalla FreqEcho
Valhalla's first plugin, Freq Echo, is our favorite! For chorusing, double tracking, barber pole phasing, flagging, and endless glissandos and runaway echoes, this device combines low-pass filters and a bode-style pitch shifter in the feedback path.
There is an easy and clear way to control the system. A dropdown, a switch, and six dials are present. In the first dial, we have the combination turn degree between dry and wet, in the second dial we have the put-off time (As long as Delay Sync is about to become free), in the third dial we have a frequency shift applied, the fourth one is the feedback and then in the fifth and sixth dial, we have a low cut and high cut filters.
It is available as a VST plugin, Audio Unit, or AAX plug-in for Mac and Windows. All DAWs supporting AU, VST, or AAX, such as Pro Tools and Logic Pro, are compatible with this plugin.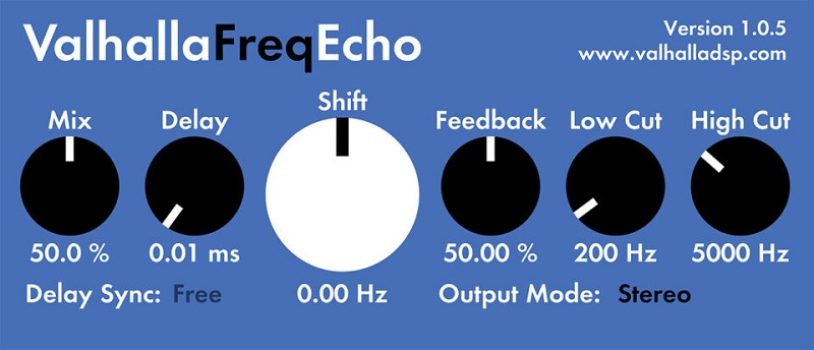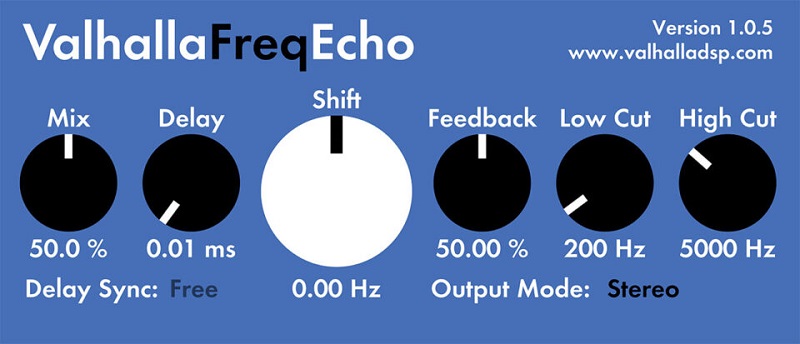 ---
12. Rhythm-Lab Twin Delay
Emulation of classic digital delay units and analog delay effects is possible with Twin Delay, a VST plugin. Despite not being an exact copy of existing hardware-based equipment, this plugin can produce many popular effects, as well as modulation and 'unusual' effects, including Flanger and Metalizer, to round out the versatile plugin, along with a type selection setting that allows you to select between three different delay styles.
An emphasis has been placed on analog delay algorithms that are able to create beautiful and original sounds commonly used in genres like EDM, Experimental, Breaks, and especially Dub, as well as genres using Dub elements, including Dub Techno, Dubstep, and Dubwise.


---
13. Glitchmachines Hysteresis
Designed for electronic musicians and sound designers, Hysteresis is a versatile effects processor. Drums, synthesizers, guitars, vocals, and sound effects can all be processed to create anything you like. It has the ability to produce classic delay effects as well as create contorted signal mutations.
Hysteresis incorporates a delay effect along with stutters, lowpass filters, and modulations to create a feedback signal. Input signals are first delayed in each stereo channel, but instead of sending the output directly back into the delay line, a stutter processor is used, followed by a lowpass filter, then another delay line is modulated in order to create chorus effects on the opposite channel.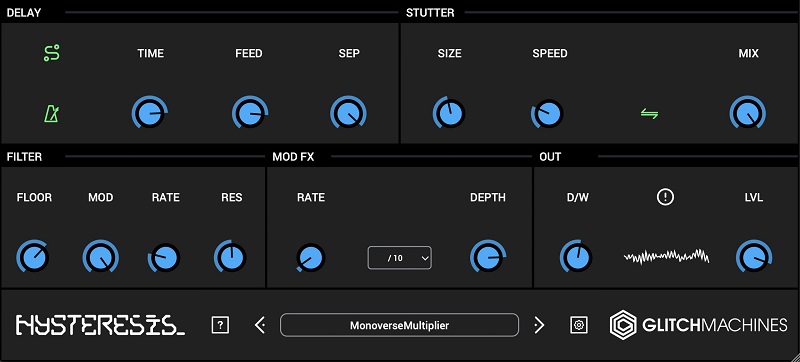 ---
14. Valhalla Supermassive
A relatively recent addition to the platform is Valhalla Super Massive. Its name reflects how Valhalla Super Massive has been developed from the ground up. We knew we had to download the plug-in after reading its description and discovering it is completely free.
In addition to delays and reverbs, Valhalla Super Massive offers a wide range of effects. There are all the basic features you would expect, such as EQ High and Low Cuts, Density for echoes, Mix (to control the wet-to-dry ratio), and Width (for reverbs and delays).
Featuring "luscious clouds of reverb, otherworldly delays, and swelling waves of feedback unlike anything you have heard before", Supermassive promises to "blow your mind and your music to new levels of consciousness."
A must-download processor for PCs and Macs, this offers Valhalla's trademark clear and concise interface. The Valhalla website now offers Supermassive in the VST, AU, and AAX formats.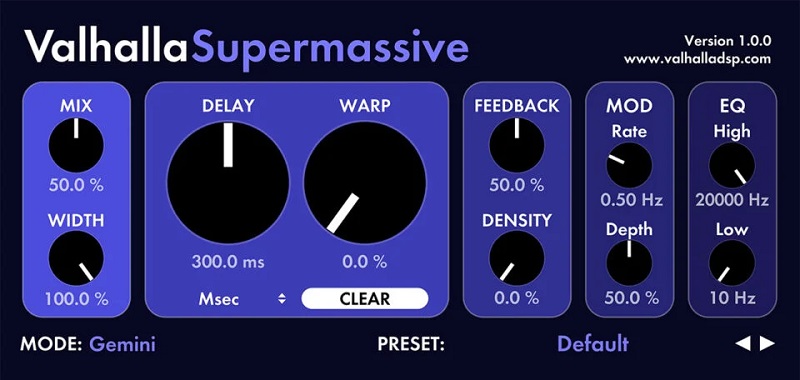 ---
15. TAL Dub II
A completely new sound engine has been added to TAL-DUB-II, making it an enhanced version of TAL-DUB-I. It is possible to add vintage distortion to the delayed signal using a 4x oversampled distortion stage, but it is also possible to make clean delays using the same stage. In addition to modulating delay time and low pass filter cutoff, a sinusoidal LFO can also modulate delay frequency.
The LFO stereo width can also be adjusted. The TAL-DUB-II also includes a high cut filter of 3dB and a low pass filter of 6dB with resonance. There are a number of routing options available, which open up a wide range of possibilities.
You can use it to create awesome pads and arpeggios using pitched samples. It may be a good idea to load multiple instances of it and pan each one in a different location. You should utilize automation to control the feedback, resonance, and drive in order to obtain pads that breathe. It is possible to achieve truly amazing results.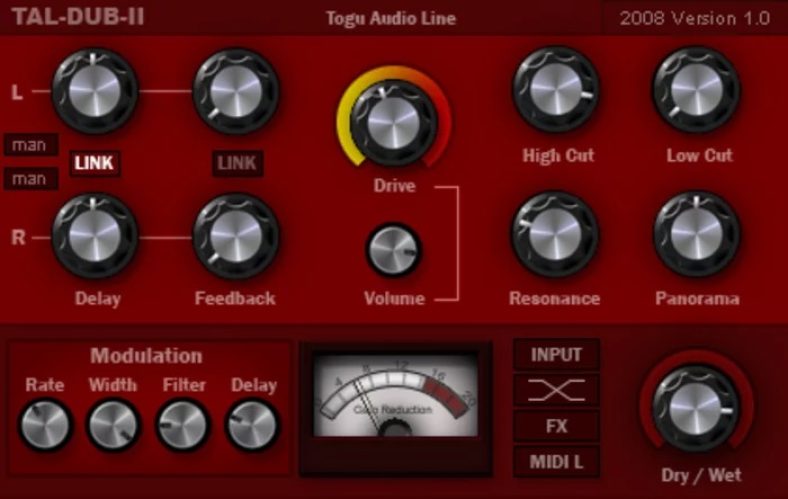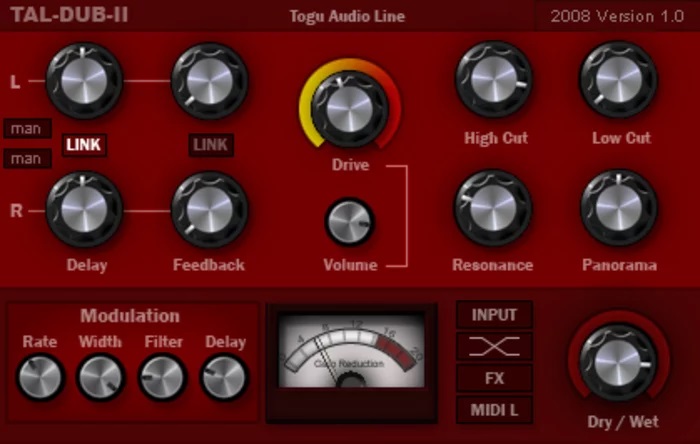 ---
Conclusion
In this list, we included some analog and digital delays that will help you to shape the sounds you want. There are some other delay types as well, like the tape delay units we listed and some analog delay emulations. You can also check out the complete article on tape emulations here.
With both the free and the paid versions you will have some creative sound design possibilities, both from classic delay sounds to glitchy and modulated ones.
We are welcoming you in the comment section if you have something else to add about this topic here and we can look into it together! Until next time.