EVE Audio SC2070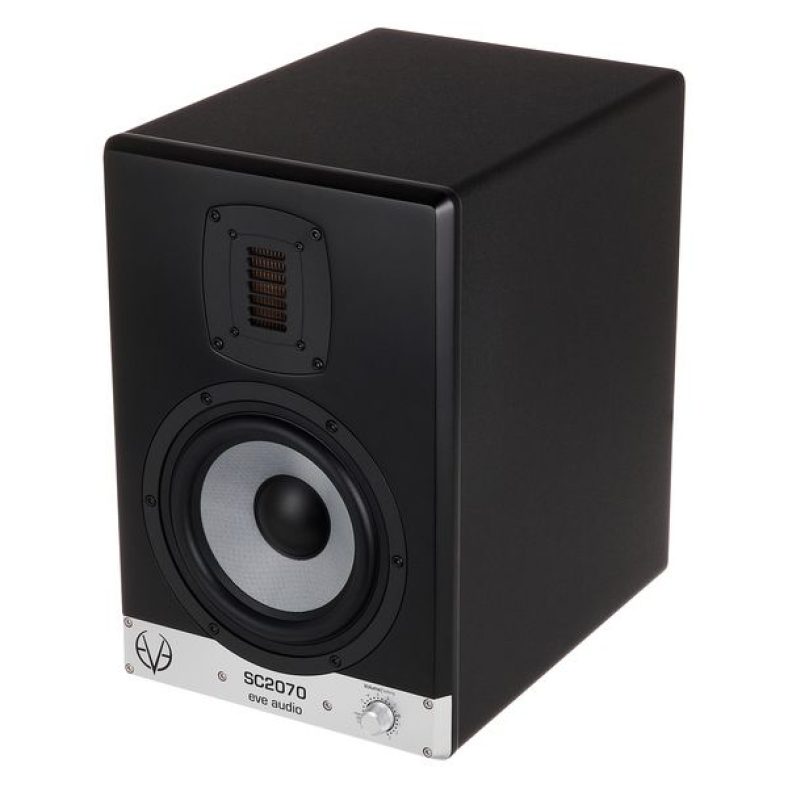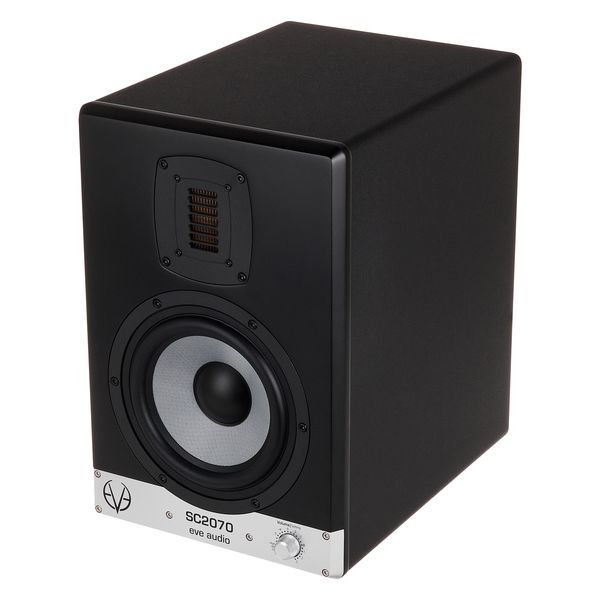 Class-D power amplifiers
Frequency range (-3dB): 38 – 25000 Hz
Maximum level: 116 dB (per pair)
Integrated limiter
---
EVE Audio SC2070 Review
EVE Audio. Another developer that produces speakers that are of the highest quality and that bring all the goods to the table when it comes to your music. Found in many studios worldwide and used by many professional audio engineers, their speakers speak for themselves.
And in this review article, we are going to look more deeply into the SC2070, their latest set released. With all the latest techniques used to develop the best that there is, this speaker will give you accurate sound for your mixes. Let's dive into the review more deeply and give you all the details you need about it!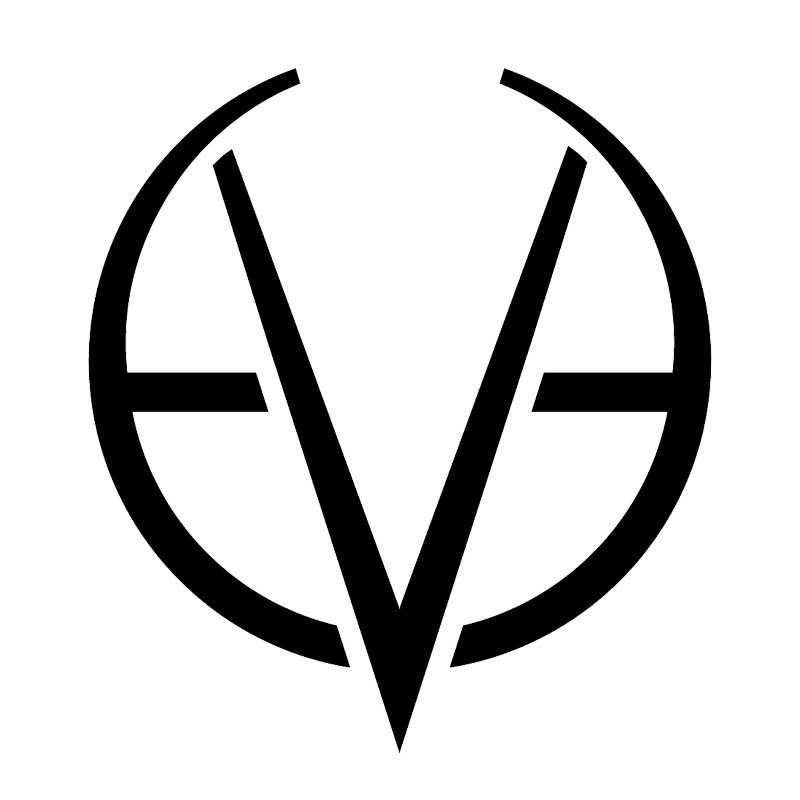 EVE Audio SC2070 Design
These speakers from Eve Audio are distinguished by their sleek, modern design, which reflects both their aesthetics and functionality. With proportions of 9.05 x 13.58 x 11.96 inches (W x H x D), the speakers are perfect for smaller studios while still producing an impressive outcome.
In addition to adding a touch of elegance to any studio environment, the matte black finish seamlessly blends in with any decor. A stellar build quality is evident in the SC2070 speakers, which are constructed with meticulous attention to detail. A high-quality material was used in the building of these speakers, making them feel sturdy and well-built to last you longer than any other set.
There is a proprietary Air Motion Transformer (AMT) tweeter and a 150W SilverCone 6.5-inch woofer in the front baffle, which are perfectly integrated into the overall design of the speaker.
On the back of the speakers you will be able to find the regular XLR and RCA connectors, on/off switch and power input slot, and Volume, Filter and Max Input switches to shape the functionality of the speaker according to your needs.
Another interesting feature that SC2070 has is the back opening for bass output. Our suggestion here is to treat the area behind the speakers for the best outcome because if you do not have bass traps or any acoustic treatment behind the speaker, you might end up with inaccurate low-area reproduction in the room. As we said many times before – treat your room cause it is 50% of the overall sound quality of your mix.
The backfiring bass reflex channels do not do any disadvantages to the speaker in comparison to bass reflex channels or ports in the front. The wavelengths in the area the bass reflex channel works are 6 to 7 meters, so long that the 25 cm difference in the depths of the cabinet has no influence on the reproduction of the low end at all. It's rather general advice to make sure a room is well-treated.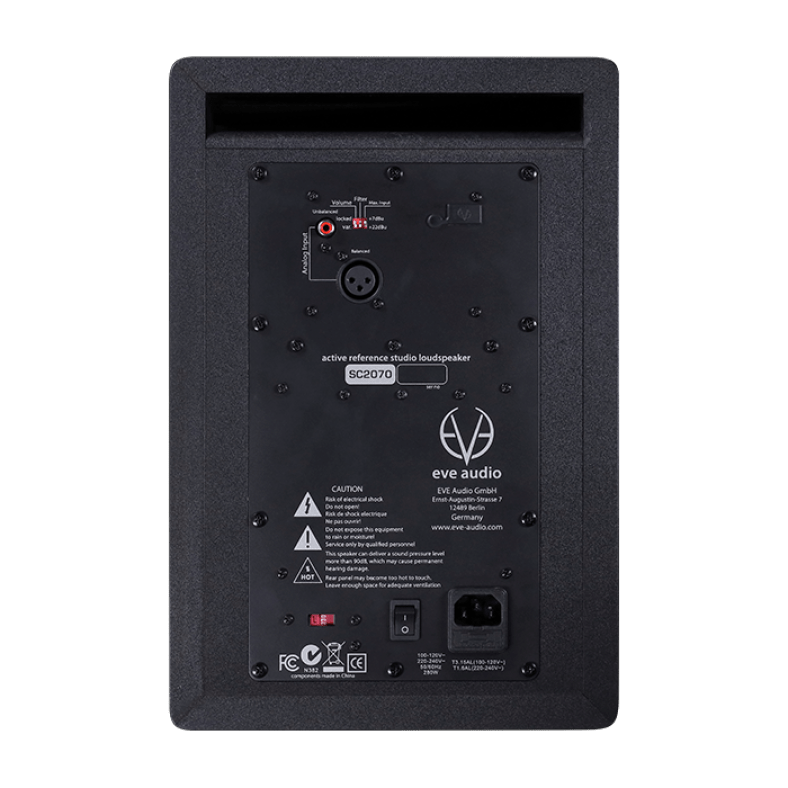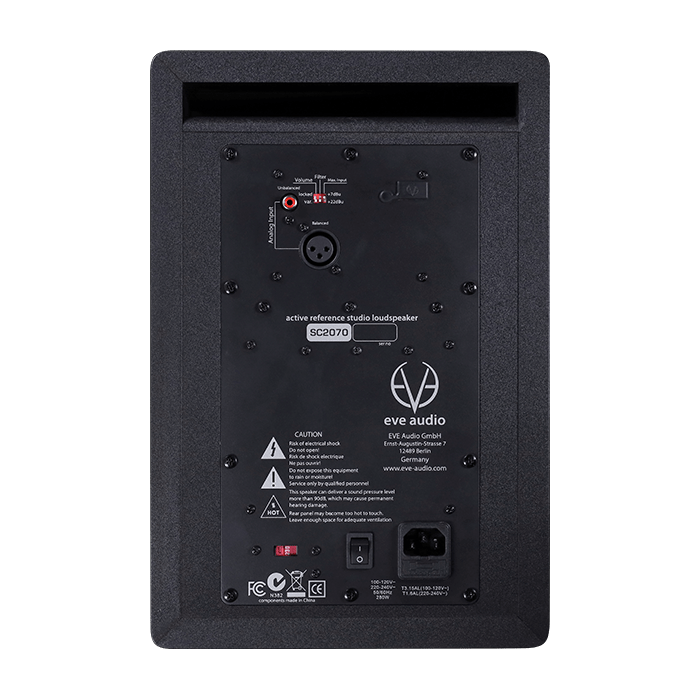 SC2070 Sound
The SC2070 speakers are praised for their impeccable imaging capabilities, providing a precise and accurate reproduction of audio. The attention to detail in imaging enhances the overall listening experience and boosts confidence in audio production. Furthermore, these speakers excel in delivering detailed low-end response, allowing for the discernment of subtle nuances in the bass range.
The monitors are also well-suited for small rooms, as they offer an immersive audio venture without overpowering the space. No matter the compact size of these speakers, they can handle a wide soundstage that ensures precise stereo imaging and the feeling of spaciousness while mixing. This quality is particularly beneficial for maintaining clarity and separation between instruments in smaller rooms.
A notable feature is the dedicated desk setting, which optimizes the speakers for desk-based setups. This setting helps clear up the low-mid frequencies that are prone to muddiness or overemphasis when speakers are placed too close to walls or on a desk surface. As a result, the speakers provide a balanced and accurate representation of audio, making them ideal for nearfield listening and critical low-mid frequency mixing decisions.
This SC2070 studio monitor has the ability to be controlled by means of the SMART-knob which is a trademark of all studio monitors produced by EVE Audio. It is supported by a Burr-Brown A/D converter and high-resolution DSP electronics which is capable of delivering high-resolution audio.
The DSP ensures that a latency-free filtering process is carried out, and a protection mechanism is present over the complete frequency range to prevent overheating of the drivers. When you switch the monitor on, the volume also slowly increases giving you enough time to trim down the volume and not blast out your speakers.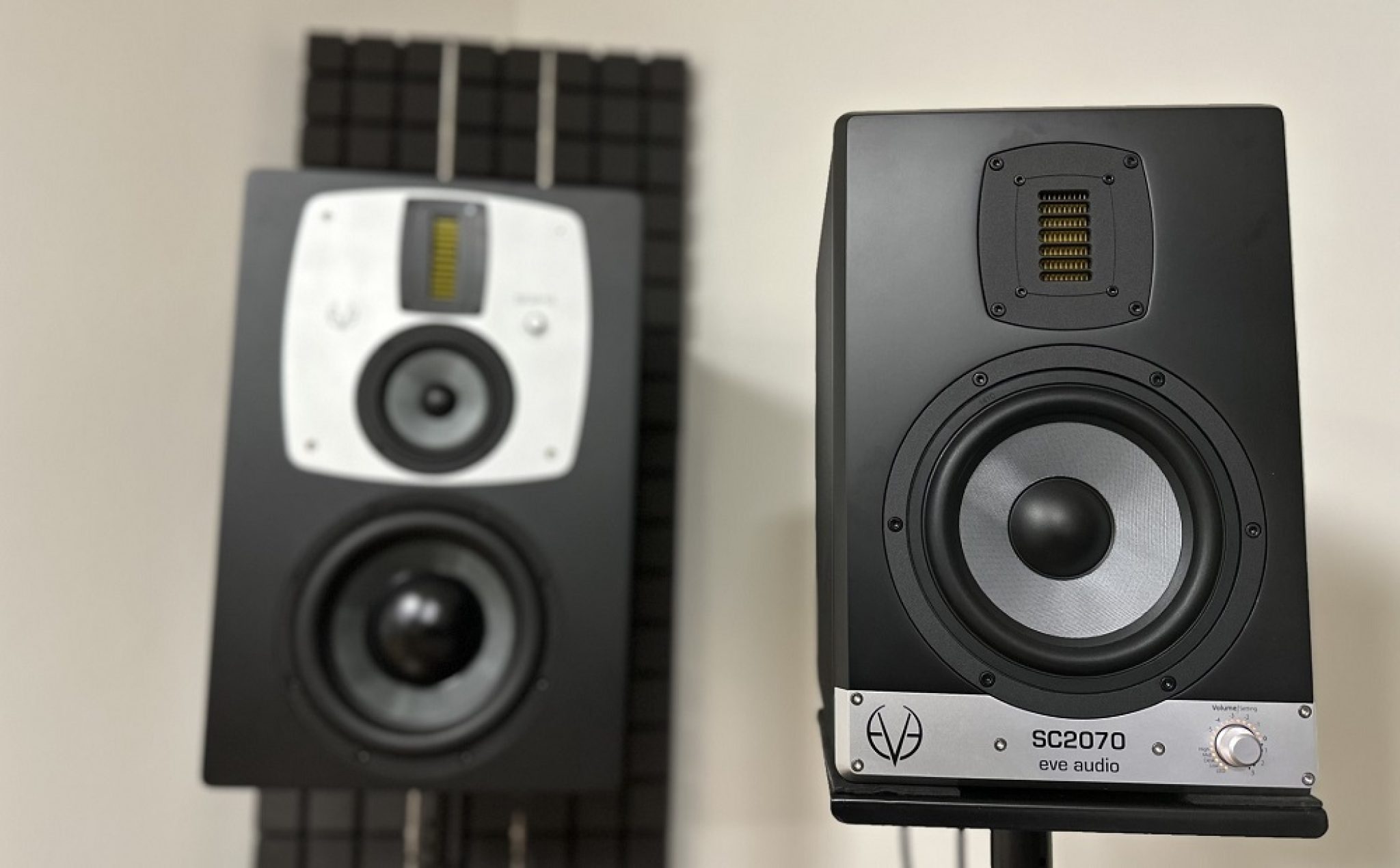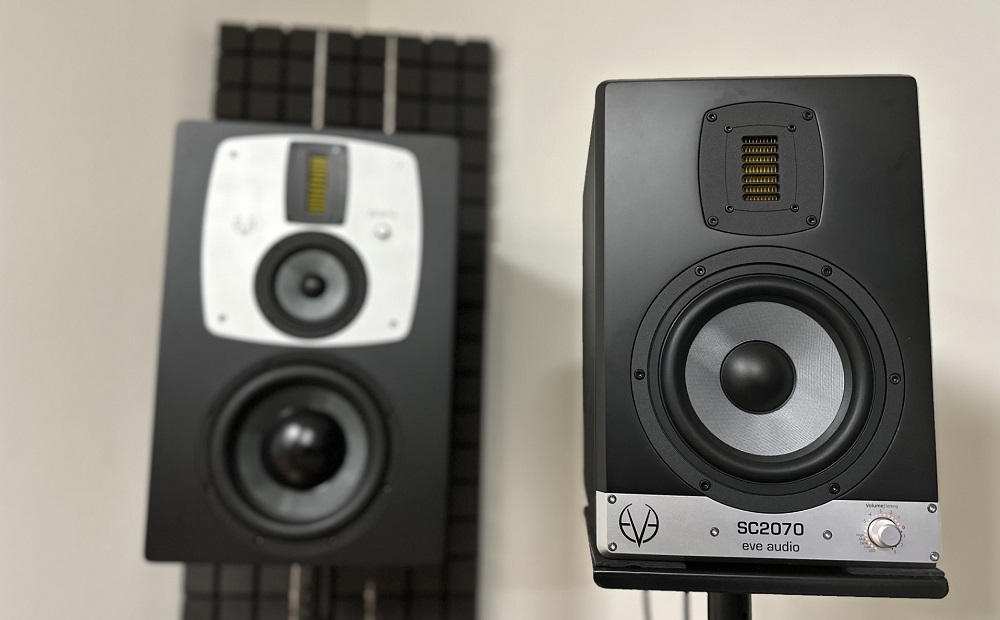 Features
Frequency range: 38Hz to 25kHz (-3dB)
Drivers: LF 165mm, HF AMT RS7 ribbon
Inputs: RCA and XLR
Amplification: Class D, 150W (LF), 100W (HF)
EQ Controls: high shelf, low shelf, mid-peak, desk filter
EQ Frequencies: 3kHz, 300Hz, 1kHz, 170Hz, and 80Hz
Max SPL (Sound Pressure Level): 116dB (per pair)
Crossover: 1.8kHz
Size: 230mm (width) x 345mm (height) x 304mm (depth)
Weight: 9.4kg
Need more details on monitor placement? Find our full article on it here!
---
Why You Need the EVE Audio SC2070?
Well, if you are after an accurate sound and a speaker that will not give you any headaches when it comes to precise mixing and reproduction, the SC2070 is the set for you. Compared to other models from different developers, with EVE Audio you are getting German craftsmanship that will last you for years and very friendly personnel that will be there to help you out if you have any questions.
From our personal experience, the team from EVE Audio will do their best to satisfy your requirements and guide you to properly set up the speakers. Something that not many others do for their customers.
Overall, the speakers are what everyone needs, no matter their level of professionalism, so a complete no-brainer if you are in doubt about whether to get them or not. Get them now and you'll see what we are talking about.
EVE Audio SC2070
These speakers from Eve Audio are distinguished by their sleek, modern design, which reflects both their aesthetics and functionality.
Positives
Amazing Sound
Great Sturdy Design
Smart Knob
Conclusion
Well, we summarized some insights on the speakers, hoping that it will be enough for you to make the decision and go for them. Drop a follow to EVE Audio's social media and follow closely how they are caring and developing their products, you'll be amazed!
If you are having any questions in regards to those monitors or anything about this review, please let us know in the comment section below and we will be more than happy to help out. Also, if you want more details, you can do the same on the EVE Audio website and reach out to them as well. Until the next review!