Top 6 Linear Phase EQ Plugins
Introduction
Well, since we already covered the topic of what are linear phase equalizers, it is time now to share with you some of the plugins we like to use when it comes to mixing and mastering. We will try to share some of the best paid and some free plugins as well.
Using linear phase EQs is really important if you are having low-frequency signals that might suffer from cutting some of the lows, which can create this issue – meaning that the linear phase will come into play here nicely and will do the job without any trouble.
Key Points
Free Linear Phase EQs
Marvel GEQ by Voxengo
Filtrate LE by LiquidSonics
SplineEQ by Photosounder
Paid Linear Phase EQs
ProQ3 by FabFilter
Linear Phase EQ by Waves
T-Racks Linear Phase EQ bt IK Multimedia
So without any further ado, let's dive into the plugins we suggest to you for linear phase EQing:
Free Linear Phase EQs
1. Marvel GEQ by Voxengo
Marvel GEQ is a free linear-phase 16-band graphic equalizer plugin with multi-channel support (supporting as many as eight input/output channels, audio host application-dependent). It presents in-depth inside channel routing capabilities and supports mid/side channel work.
Marvel GEQ permits audio engineers and musicians to use fast EQ shape changes, each to audio tracks and full mixes. The linear-phase filtering supplied by Marvel GEQ is appropriate for equalization tasks where prime quality and glorious sonic character are a must.
It has track graphic and mastering graphic equalization capabilities and it is a truly transparent one, meaning that it won't color the signal but only will do the work of cutting or boosting the desired frequencies. Also, you have a free-hand drawing mode where you will be able to select which area to be processed in the frequency spectrum.
For being a free plugin, it is a really powerful tool that you can use completely free of charge, thanks to the folks from Voxengo.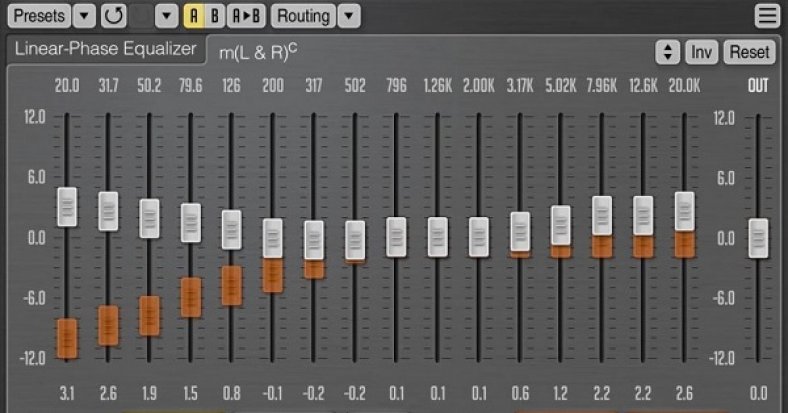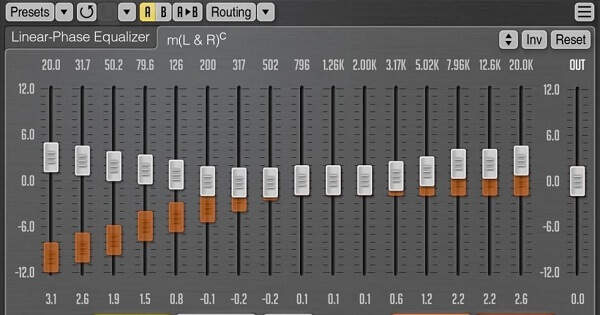 ---
2. Filtrate LE by LiquidSonics
Filtrate LE is a linear phase EQ that is a five-band parametric equalizer for PC users only. It's out there as a VST plugin and is available in one model that runs as a local process in your CPU, and one other version that works with a CUDA processor on an NVIDIA graphics card to do the calculation.
This system is common within the scientific group, where a CUDA (Compute Unified Device Architecture) processor is able to work 3-D imaging algorithms as many as 100 times faster than a general-purpose Intel Core 2 Duo processor.
A single tab on the top signifies that these are the controls for the linear EQ. Chances are you'll note that they refer to Filtrate as a paragraphic EQ, which will not be technically appropriate since paragraphic EQs are graphic equalizers with an extra Q management for bandwidth.
Nonetheless, the primary controls include a master input quantity knob, plus gain, frequency, and Q knobs. The Type management has just one setting which is Peak, so it won't do both shelving or filtering. Subsequent to that's the On/Off button, which serves as a bypass.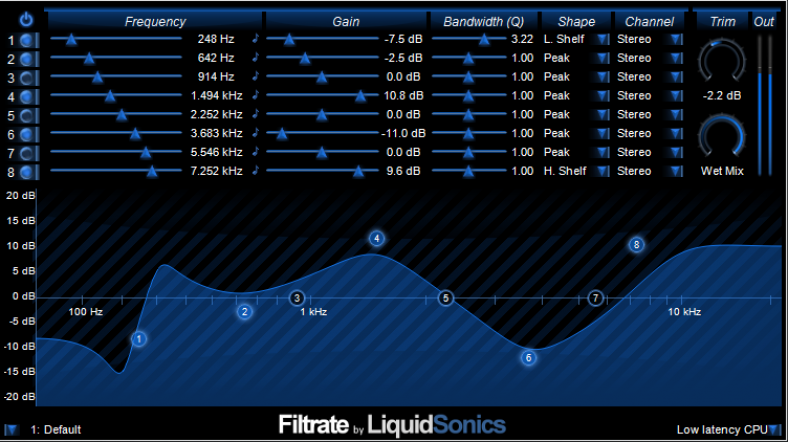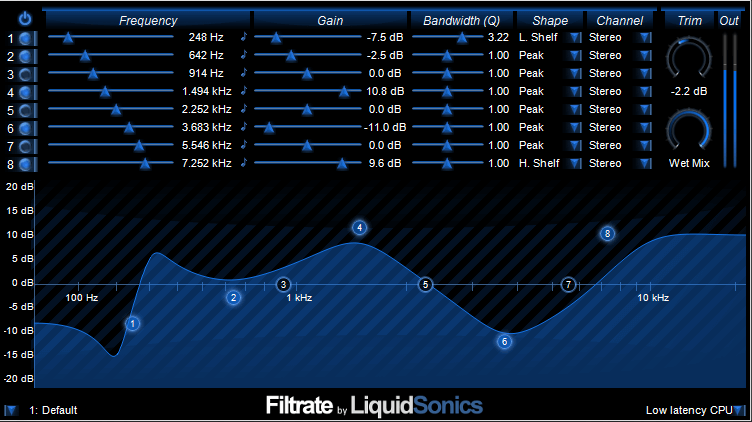 ---
3. SplineEQ by Photosounder
SplineEQ is a VST/AU linear-phase EQ for PC and Mac that provides up to 60 bands of extremely adjustable filters. The filter frequency response curve is constructed using a number of those filters, every centered on a management level.
Shifting these points up or down impacts the gain (+60dB to -inf. dB range) whereas altering the angle of their straight-line tangent handles adjusts the form.
To maintain CPU usage under control, SplineEQ mechanically will increase its buffer size as the Resolution goes up. You possibly can override this with the CPU Delay management, upping CPU utilization and decreasing latency.
Every band works along with these adjacent to it, in the end making up a cubic Bezier spline curve (therefore the name). Transitioning on the range limits (20Hz and 20kHz) is finished utilizing hidden automated management factors, sustaining a clean curve, and the currently chosen filter may also be adjusted utilizing the knobs (Gain, Freq, and Slope) within the right-hand panel.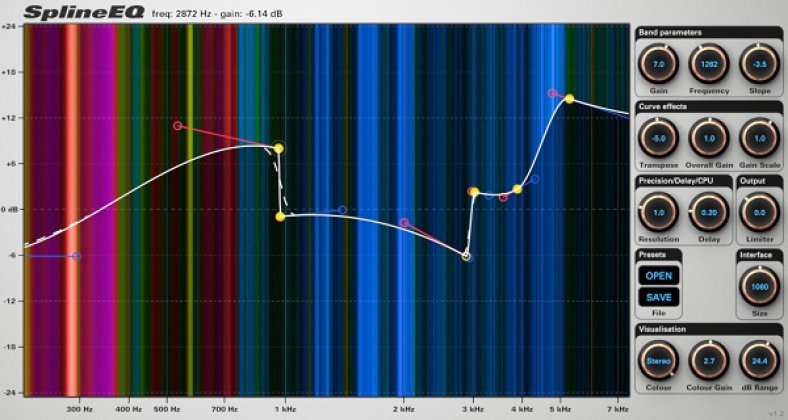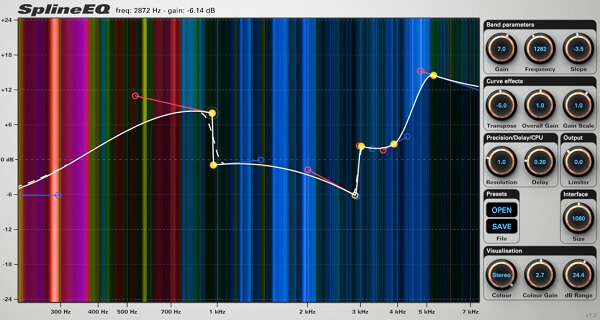 ---
Paid Linear Phase EQs
1. Pro Q3 by FabFilter
All of us are already familiar with this plugin and we are not going to talk about its general functionality, but we are going to focus only on the process at hand – linear phase EQing.
A number of plugins provide linear phase choices, but few provide as many as the ProQ 3. With 7 totally different latency choices, you may craft the timbre of your signal to better suit what you're trying to achieve.
In case you're making an attempt to perform fundamental equalization or use the plugin in a live setting, zero latency is nice. If you wish to extra carefully emulate the phase relationships of an analog console, try the Pure section option.
Or in the event, you'd choose to have an excellent clear sound without the introduction of phase cancellation, try the 5 linear section modes. Understand that these will enhance your latency – but are nice while you're mastering and need as clear of a sound as doable.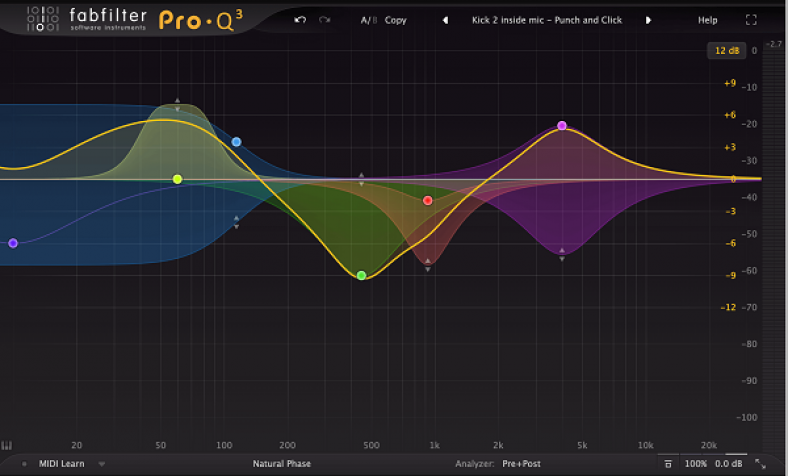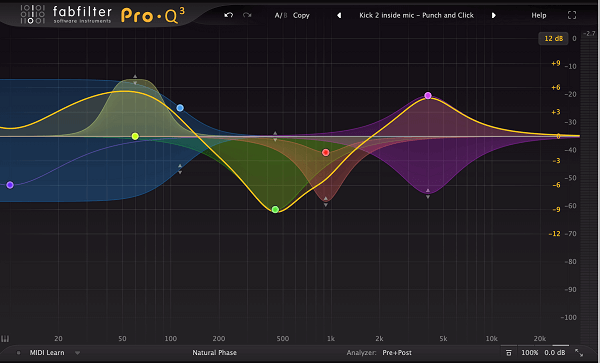 ---
2. Linear Phase EQ by Waves
The Waves Linear Phase EQ is easy but highly effective 6-band linear phase EQ designed with mastering in thoughts. The Linear Phase EQ by Waves is a high-end professional piece of software program.
As a proper linear phase EQ should, the Waves Linear Phase EQ affords precise management over the harmonic spectrum with no phase shifting. The Broadband model affords 5 fully parametric bands with linear phase crossovers and one linear phase high-pass filter.
Each variation of the plugin is notably user-friendly. Alter the gain of every band between +-30 dB, the frequency of every band in response to the outlined overlapping ranges, the Q of every band, and the filter type. Make fast or fine-tuned changes to regulate the tonal balance in a remarkably pure and clear means with Waves' Linear Phase EQ.
Though the unique intent was to make an EQ plugin for mastering functions, the Waves Linear Phase EQ additionally performs extremely well on separate channels.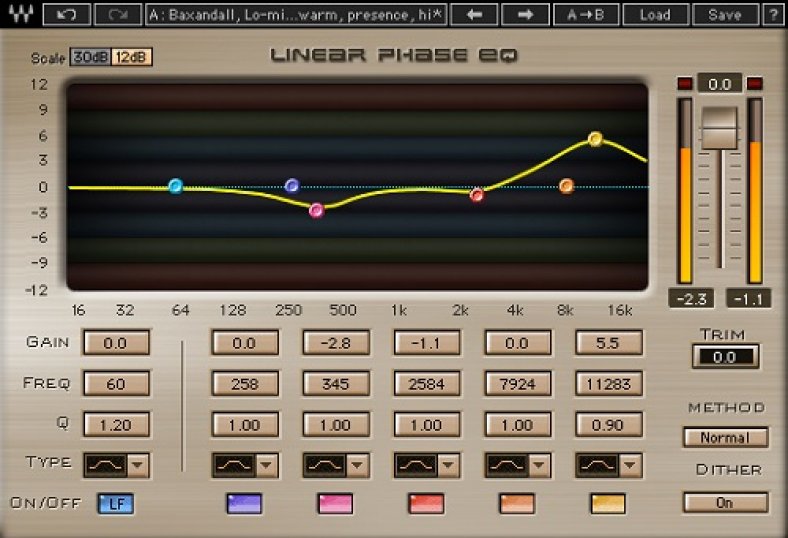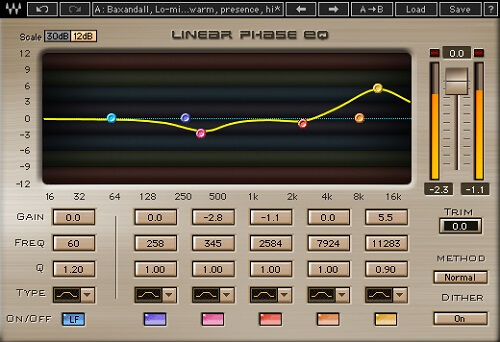 ---
3. T-Racks Linear Phase EQ bt IK Multimedia
Ever had that good tone on a vocal track but simply needed to tweak the highs without compromising the integrity of the Mic/Pre mixture you had? Now you'll be able to. This digital EQ was designed to be particularly high precision with 6 bands to play with.
The kicker of that is that because we're recording within the digital realm, they've designed this EQ to be as clear as possible. When the linear phase is enabled, no time or phase shifts are utilized to the signal, permitting you to EQ with no coloration. It's one of many purest types of mixing a track you'll be able to presumably do because it leaves the track in its pure state. It's merely wonderful.
We've by no means been in a position to apply an EQ that may enhance a frequency without altering the tonal traits of the audio. In mastering, that is good because in the event you simply need that further little oomph or crisper highs, this may do it without the fuss of screwing up your already spectacular (hopefully) mix.

---
Conclusion
Here we provided some options when it comes to linear phase EQ plugins that will be helpful if you need to use them in your mix or during the mastering stage. We have 3 free options and 3 premium paid options to go for if you need a plugin like this.
Have no worries, we have you covered here only for the sake of contributing to the community. We are at no point affiliated with these plugins and brands, so if you decided to go with them, we will be glad that we helped you out.
If you are having any questions in terms of this topic we covered here, please let us know in the comment section below and we will be more than happy to answer!