Eventide H90 Harmonizer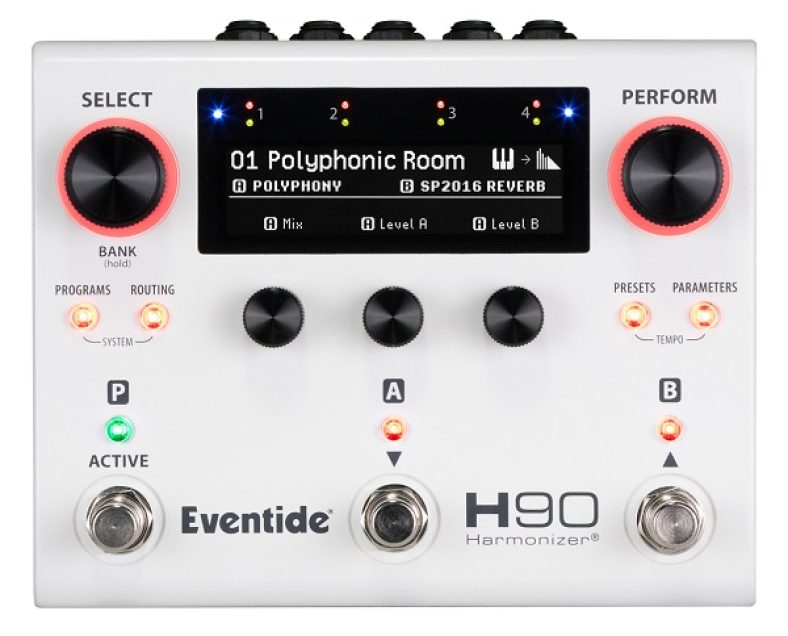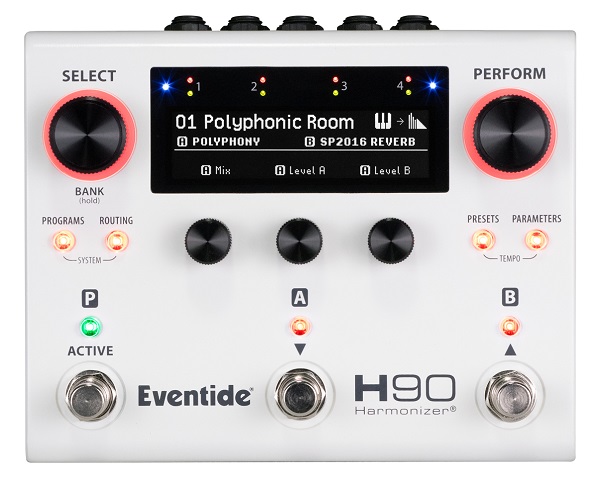 Multi-Effect Guitar Pedal
Dimensions (W x D x H): 170 x 136 x 65 mm
Weight: 841 g
Made in the USA
---
Eventide H90 Harmonizer Review
Based on the famous H9 architecture, the H90 is a new multi-effects processor. According to Eventide, the H90 combines the studio-level versatility of Eventide's flagship H9000 rack unit with a streamlined design.
This product features all-new hardware based on an ARM architecture that enables all-new and classic H9 effects. On the effects side, you can choose from a variety of classic H9 algorithms as well as brand-new ones. In addition to the epic Blackhole reverb, it comes with all 52 algorithms found in the H9 Max pedal.
Eventide's H90 Harmonizer gives guitarists the opportunity to equip themselves with an excellent multi-effects pedal equipped with a user-friendly interface and all the inputs and outputs needed for seamless integration into live and studio rigs.


Eventide H90 Harmonizer Sound and Effects
Along with all the original effects from the H9, the H90 has a number of new effects. There is also a very neat polyphonic pitch shifter that can mess up your played chords in a very interesting way.
Eventide's forward-looking heritage is reflected in these effects. Even though Eventide devices offer some classic guitar effects, including a vintage tape delay effect that sounds great, you are not necessarily purchasing Eventide devices to replicate old effects in digital form. This is the place for the weird, the new, and the possibilities for sound-sculpting that they provide.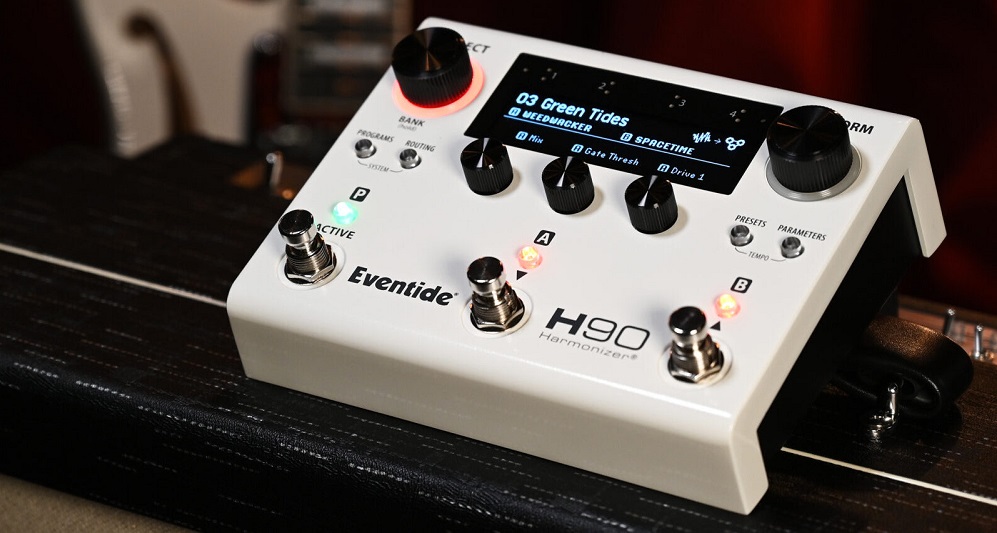 I/O Power Design for Eventide H90 Harmonizer
Designed with players in mind, the H90 offers everything you need to inspire your creativity, whether you are looking for high-quality bread-and-butter effects or experimental sounds that haven't been heard before.
There are a number of I/O options available on the H90, including two 1/4″ mono inserts that can be combined to create one stereo insert, which can be used to incorporate outboard effects. Dual Mode can also be used to simultaneously process two stereo instruments.
H90 Connectivity
On the connection side, the H90 has also made significant progress. You will be able to process two stereo channels independently since it has four mono inputs and four outputs. Both instrument and line-level are supported, which makes them perfect for synthesizers as well. Additionally, dual mono inserts can be placed anywhere in the signal chain, allowing seamless integration of outboard effects.
Auxiliary switches and CV signals can also be controlled via two expression pedal inputs. In addition, you will find classic 5-pin DIN inputs for MIDI input, output, and through. The H90 control software also provides deep editing capabilities via the USB-C port. In addition, it comes equipped with a handy tuner.


H90 Features
Eventide's flagship H90 Harmonizer incorporates the world's most powerful effects processor, an ARM-based architecture. The creation of more advanced effects processing techniques will be made possible as a result.
With Eventide's proprietary SIFT (Spectral Instantaneous Frequency Tracking) technology, next-generation effects will become possible for the first time.
Live performance is made easy with the H90 Harmonizer! In order to provide greater hands-on control and parameter feedback, the front panel has been redesigned with five push knobs, seven LED buttons, and a high-resolution OLED display.
You have a choice of six programmable footswitches in PERFORM mode. Perform functions such as tapping tempo, preset bypass with momentary states, pitch flex, delay repeat, and reverb freeze with momentary states.
Key Features:
Preloaded with 62 effect algorithms and hundreds of program presets
Includes all 52 effect algorithms from the H9 Max Harmonizer with enhanced features and improvements
10 new effect algorithms: Polyphony, Prism Shift, Bouquet Delay, Head Space, Weedwacker, Even-vibe, Wormhole, Instant Flanger, Instant Phaser, and SP2016 Reverb
New low-latency Polyphonic Pitch Shifting with SIFT (Spectral Instantaneous Frequency Tracking) technology
ARM-based architecture lays the foundation for new and exciting creative effects.
Use two algorithms at once per Program
True spillover between Programs
Route effects in series or parallel
Instrument or Line level operation
Two mono inserts or one stereo insert can be positioned anywhere in the signal chain
Dual mode for processing two independent stereo signals at once
Five push-turn knobs for more tactile control
Two expression inputs for pedals, up to 3-button auxiliary switches, and CV signals
Use H90 Control software to edit Programs, create lists, and update firmware on a Mac or PC
Built-in tuner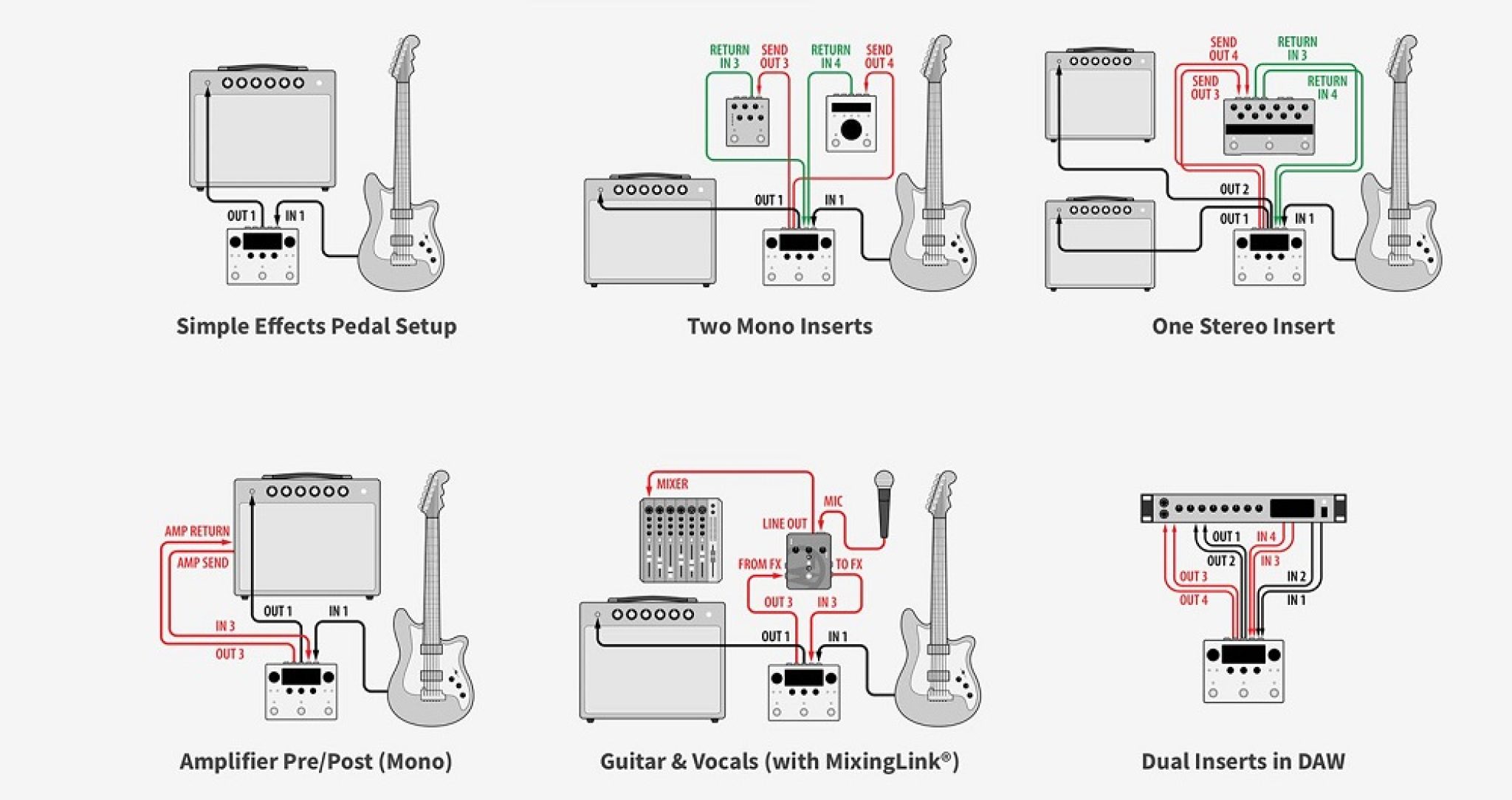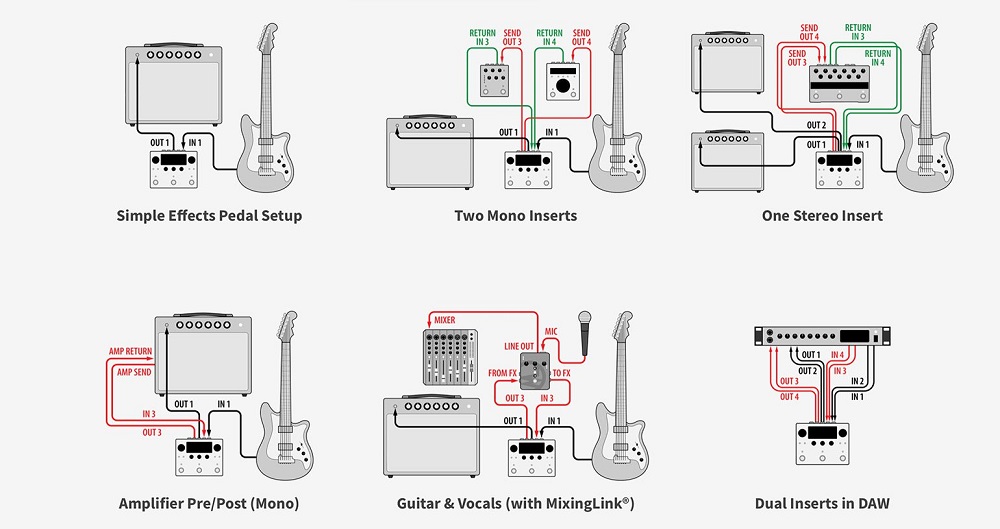 Why Do You Need the H90 from Eventide
The good thing about this new module from Eventide is that it has some really cool effects and the slick pedal design makes it really wanted among guitar players and studio engineers.
To have this unit in your arsenal is genuinely a reward because you will have a unit of the highest possible quality with a plethora of effects in it. Maybe the price isn't what we all expect from a regular guitar pedal, but this also is very far from a standard guitar pedal – so no complaints from our side there.
Eventide H90 Harmonizer Review
According to Eventide, the H90 Max combines the studio-level versatility of Eventide's flagship H9000 rack unit with a streamlined design.
Positives
World Class Delays
A Lot of Effects
Great for Experimentation
Sturdy
Negatives
Two algorithms at a time
Not a budget unit
Conclusion
This is the first successor to the H9000 from Eventide, and we are pleased to see it. Finally, it is available after a long wait. The first demos sound fantastic. Significant, clear, and high-quality, as we have come to expect from the H90. We are very pleased with the new interface.
If you are having any questions about this amazing multi-effect pedal, please let us know in the comment section below, or reach out to Eventide for more detailed answers if you need any!