Best Free Limiter Plugins
Introduction
The market is flooded with potent limiter VST plugins, and most DAWs contain one or two decent limiter tools. The good news is that there are a wide variety of free limiter plugins available that can do the same job as commercial plugins if you do not wish to reach for your wallet just yet.
In spite of the fact that some of the best digital limiters are fairly expensive, there are still some excellent free options available. In light of this, we have created a list of the best free limiters we could find.
Key Points
1. Frontier
2. Voxengo Elephant
3. LVC-Audio Clipshifter
4. LoudMax
5. Multi Peak Limiter
6. VladG Limiter N°6
7. Limited-Z
8. A1Stereo Control
9. Unlimited
10. easyLimiter
If you want to check what is an audio limiter, you will be able to do it on the link here!
---
1. Frontier

Developed by D16 Group, Frontier is a versatile mixing limiter. As an excellent tracking limiter, the plugin allows you to boost the volume of individual tracks and prevent clipping.
In addition to bringing out fine details in audio recordings, Frontier can level out highly dynamic tracks in a mix. It is ideal for drum buses, percussion instruments, and bass guitars.
It is also possible to use Frontier as a limiter on the master channel. Ensure that the release is fast and that the threshold is gradually reduced in order to catch the volume peaks. By using a soft clipper on the output, it is possible to prevent transient peaks without overburdening the limiter.
When rendering your project, take note of the processing quality. Access the menu located in the lower right corner of the screen to adjust the desired processing quality. Increasing the audio quality will result in more CPU being used for limiting.

---
2. Voxengo Elephant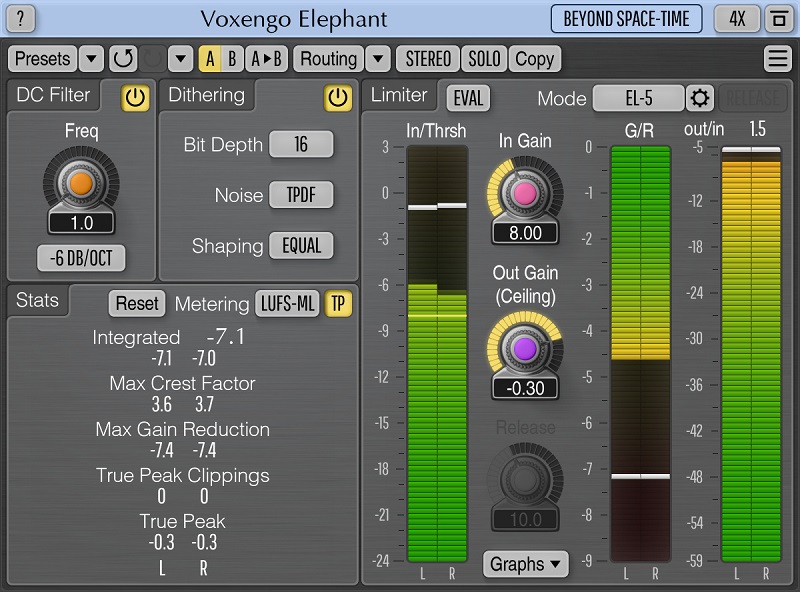 This plugin provides AAX, AudioUnit, and VST mastering limiter support for professional sound and music production applications. There is a remarkable characteristic of this signal limiter which is its sonic transparency. There is no sonic "fuzz" or "pumping" with Elephant's sound limiting and loudness maximization.
In addition to offering a wide range of limiter modes that can be fully customized, Elephant includes a comprehensive set of level metering tools, including headroom estimation, EBU R128, and K-system metering.
In order to achieve high-quality peak limiting and loudness maximization without overshoots between samples, Elephant features linear-phase oversampling.
Elephant Limiter can be used to mix and master stereo and multi-channel music, sound material, and audio files at any standard sampling rate. It is possible to visualize the limiting process both as a waveform graph and as a gain reduction meter.
You can finish your music and audio productions with a spark by using Elephant, which features a DC offset filter as well as a high-quality bit-depth converter with an optional noise-shaping option!

---
3. LVC-Audio Clipshifter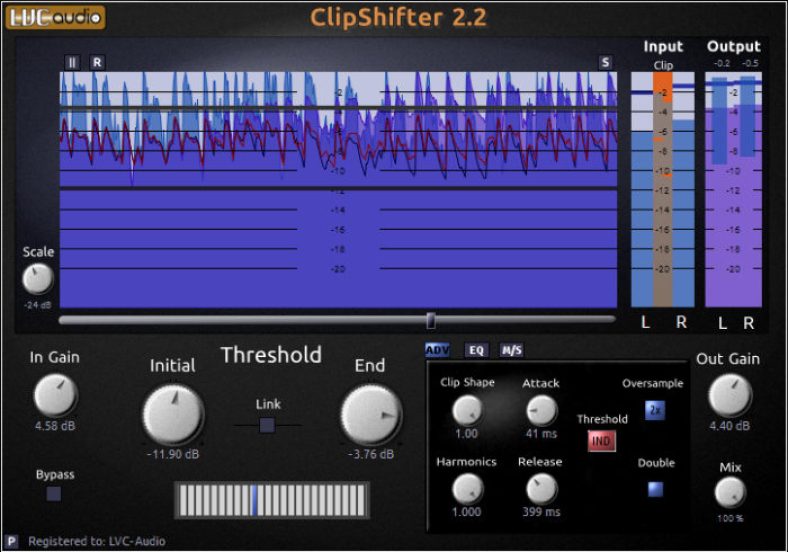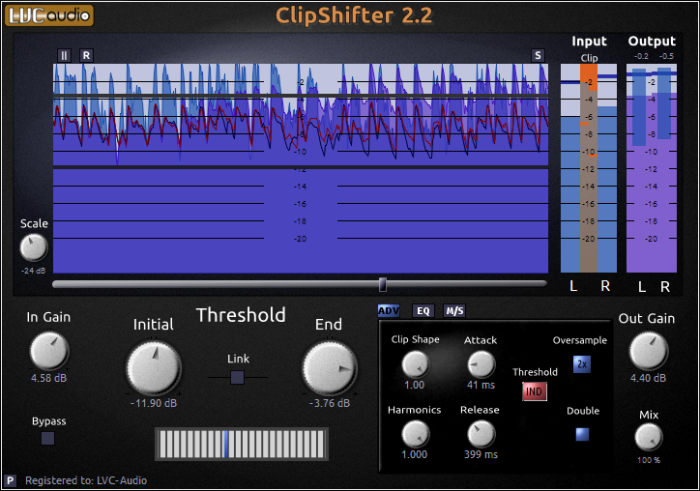 In essence, ClipShifter is an audio plugin that shapes waveforms in a manner similar to a clipping limiter. There are sufficient controls available for the user to use it throughout the mixing process, from distorting bass lines and drums to optimizing mix buses and warming up overall mixes. With compression, you can alter the sound characteristics of the clipping distortion from hard, brickwall-style clipping to softer saturation.
Despite its ability to function as a static clipping effect, ClipShifter is also capable of responding to the transient qualities of the incoming signal. Depending on the level of audio, the threshold for clipping can be raised or lowered. A control for Attack Time and a fast release button can be used to adjust the speed.
You can either allow the transients to pass through while distorting the rest, or you can distort the initial bass thump while leaving the rest sounding clean. With version 2.2, the Left/Right Threshold Control (or Mid/Side) has been added as an independent feature. To determine how the clipping thresholds change dynamically, you can choose from Independent, Maximum, or Average.
In addition to the ability to change the clip shape, ClipShifter allows you to adjust the harmonic content of the clip. As the Clip Shape control is set to maximum, the sound will be hard-clipped, whereas at lower settings, the sound will be compressed subtly with minimal auditory distortion. It is possible to control the amount of distortion in both even-order and odd-order by using the harmonics control.

---
4. LoudMax


The LoudMax plugin was designed as a Look-Ahead Brickwall Loudness Maximizer Plugin with a transparent, clean sound. Despite high compression levels, the music is designed to retain as much of its original character as possible.
One of the good uses for this plugin is to push drums to the front of your mix very effectively. This sound has a very warm and transparent quality that can complement every production. In addition, the ease of use makes it a no-brainer!
This is an amazing plugin, intuitive and easy to use, which provides transparent compression even at a high level that is comparable in quality to many commercially available plugins. In addition, it has very low latency, and very little CPU impact, and last but not least, it is free, so we believe it deserves a five-star rating.

---
5. Multi Peak Limiter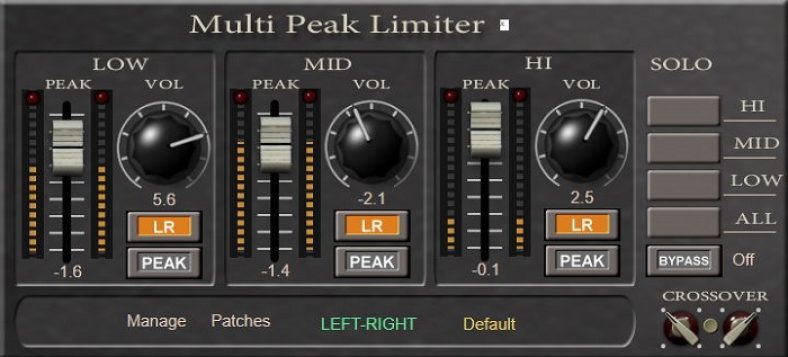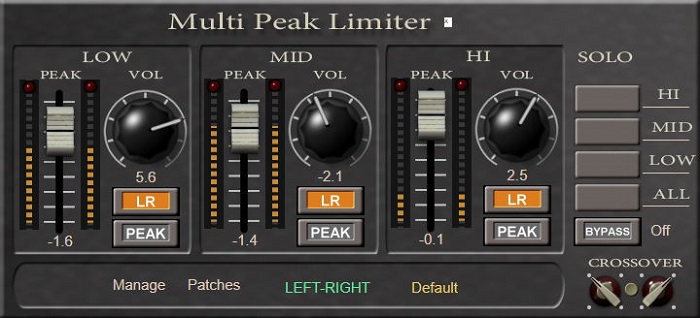 Here we have something never mentioned before. The Multi Peak Limiter is a multiband limiter that can work on three separate bands and provide you with a pristine limiting quality. This is a plugin that works in both Left/Right mode and in Mid/Side mode as well.
With its easy-to-use features, you will be able to address issues in three separate bands and make tight limiting choices when it comes to both single channels, groups, and even the master bus.
This is another amazing freeware that will handle the peak limiting properly that will not sacrifice your CPU and sound quality. The plugin is also available for both Windows and Mac.

---
6. VladG Limiter N°6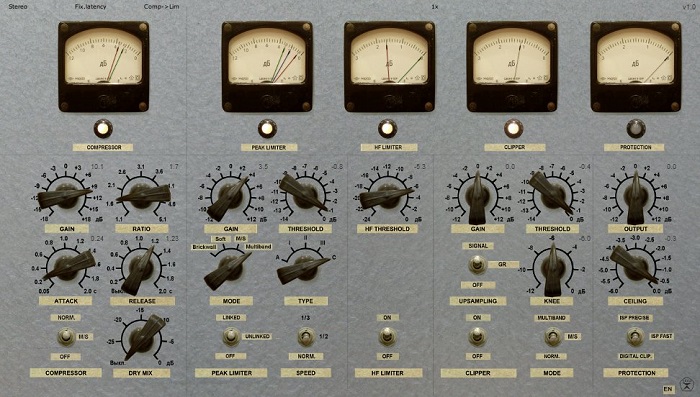 With true inter-sample limiting and a variety of modes, this thing sounds incredible. Additionally, the plugins come with a number of presets from which you can select if you are unable to find the setting you are looking for.
If used thoughtfully, it can yield near-pro results, but you need to be careful not to kill a mix with this. As a whole, each element serves as a valuable tool. You should not expect to achieve a result immediately. Getting the best results requires a thorough understanding of each element.
There are five modules: an RMS compressor, a peak limiter, a high-frequency limiter, a clipper, and a true peak limiter
Mastering applications that require high-quality signal processing
Different timing settings for brickwall and soft limiting
Multiband and M/S modes
Oversampling by four times is optional
Limitation of true inter-sample peaks (ISP)
Indications in analog format
Two different graphical user interfaces

---
7. Limited-Z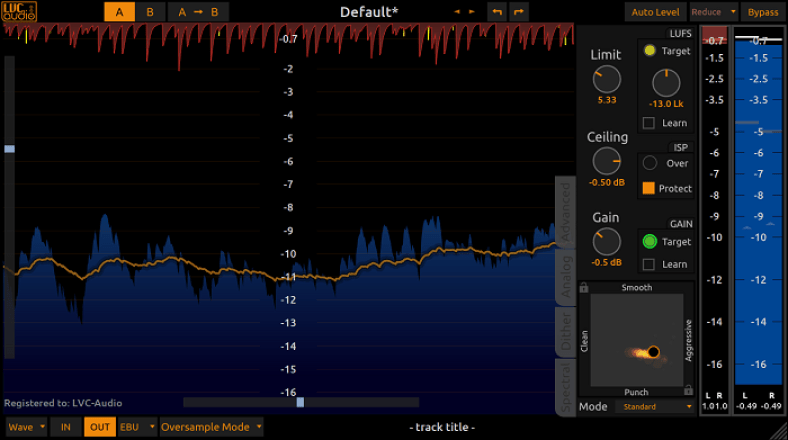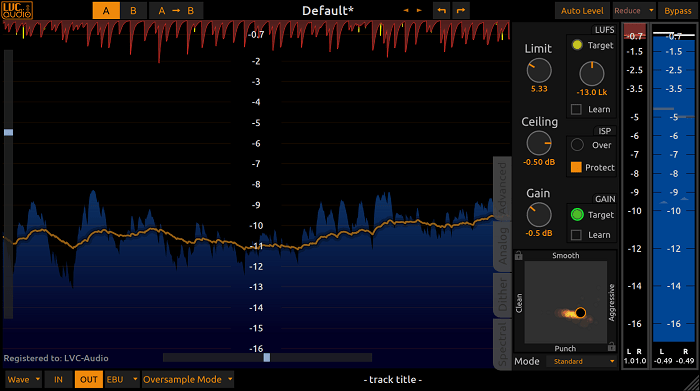 The Limited-Z limiter is a versatile and easy-to-use limiter that is devoted to serving as a capable brickwall limiter for final mixes or mastering. To provide transparent limiting for all audio sources, Limited-Z dynamically combines several unique limiting algorithms.
Despite the fact that Limited-Z is capable of substantial levels of compression/limiting, it does not inadvertently create excessive amounts of audible distortion.
Developed from LVC-Audio's full-featured mastering limiter, Limited-MAX, Limited-Z offers a wide range of features. In addition to including many of the underlying limiting processing engines, the user interface has been simplified. There is also a specially designed variable clipping algorithm based on LVC-Audio's ClipShifter. Thus, a mastering limiter that is both configurable and useful is created without significant learning curves.
Among the internal features of Limited-Z are attack and release controls, knee and look-ahead controls, stereo linking, program-dependent release timing, dynamic EQ, DC filtering, and dynamic compression; however, these internal settings are packaged into a variety of unique limiter modes.
Features include:
Improvements to the GUI, including larger interfaces, resizable GUIs, and smoother vector graphics drawing
Analyzer view of the spectrum
View of the waveform history over a period of two minutes
Waveform history and spectrum analyzer elements can be colored by the user
It is possible for the user to set the plugin's default settings (including colors)
Free and paid versions of ISP filtering and indicators are now available
Measurement of peak output in real time
There are two additional modes of limiting

---
8. A1Stereo Control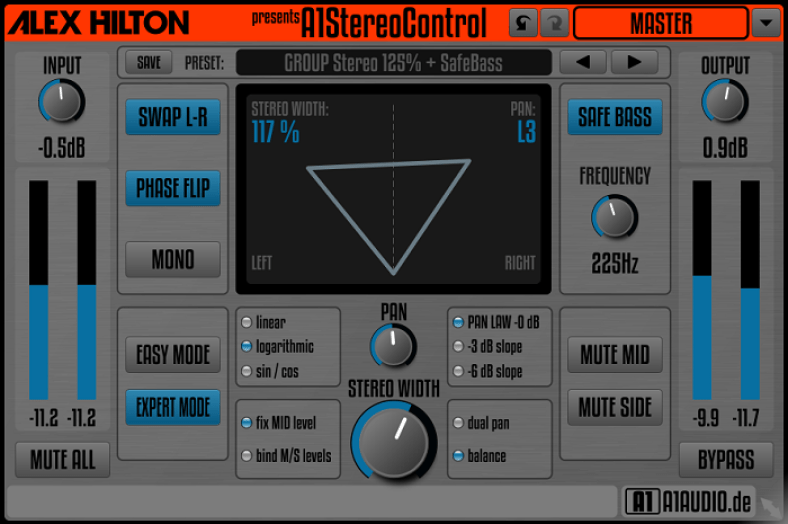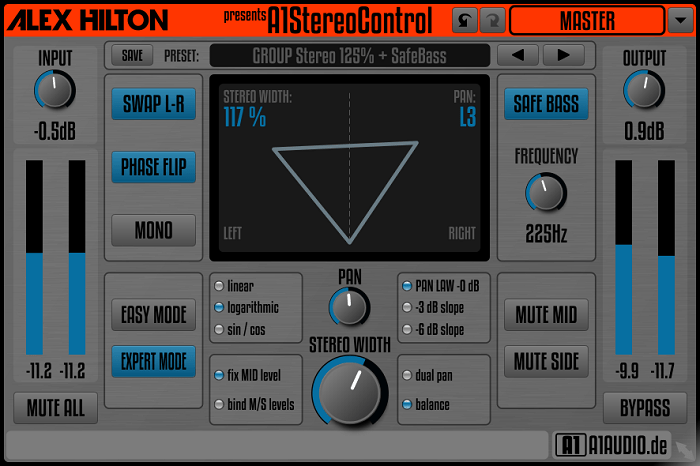 With A1StereoControl, you can expand or limit stereo wideness in a variety of ways and for a wide range of signals.
All bass frequencies are centered below an adjustable value by the Safe Bass algorithm. Your tracks will retain maximum transparency and sharpness while retaining the solidity and definition you desire.
Additionally, A1StereoControl allows you to place your stereo signal within the stereo field in an intuitive manner. There are a number of pan laws (0db, -3db, -6db), different pan curves (linear, logarithmic, sin/cos), and classical balance modes available in the expert mode.
It is possible to expand or limit the stereo wideness (between 0% and 200%).
The SAFE BASS algorithm centers all bass frequencies (BASS is treated as a MONO frequency).
A linear phase necessary for mastery.
GUI that can be scaled (fully vector-based, ideal for retina displays or even small displays).
It is latency-free.
The input signal can be flipped 180 degrees (phase flip).
L-R swap (left and right input channels are swapped).
The mono option converts the input signal to mono, but panning remains possible.
It is possible to automate all parameters.
Gains of 12 dB at the input and output.

Need a Linear Phase EQ – Check them here!
---
9. Unlimited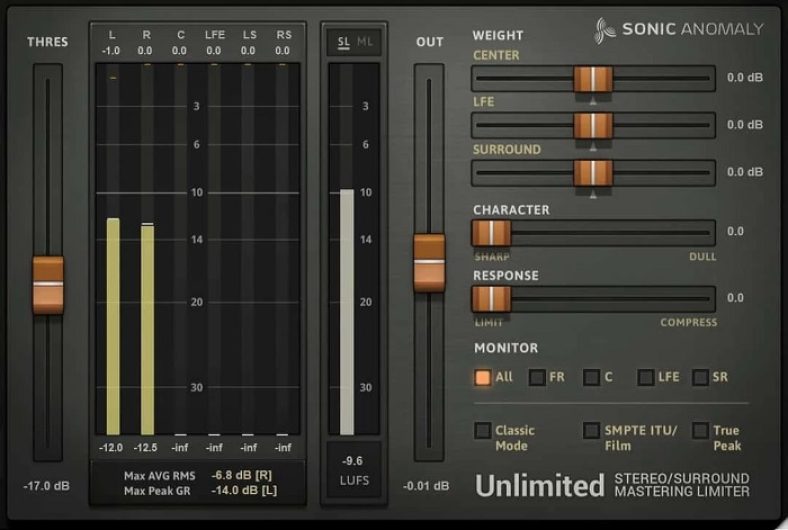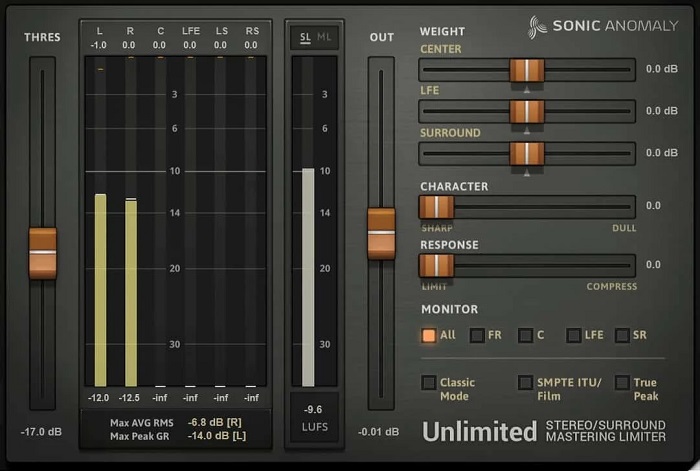 Sonic Anomaly released Unlimited as a freeware mastering limiter in 2017. In addition to processing 5.1 surround audio sources, it is also capable of processing stereo sources.
Sonic Anomaly's free limiter VST plugin features RMS meters and a loudness meter compliant with ITU-R BS.1770 to measure the output signal's loudness. When a stereo signal is detected, the algorithm automatically adjusts to the type of audio signal on the input, reducing the overall CPU load.
Due to its highly transparent sound and intuitive controls, Unlimited easily surpasses most of its competition. For those who are not interested in the complex user interface and advanced features of Limiter No6, Unlimited is an excellent alternative. With a much faster workflow and simple control scheme, the quality of processing is second to none.
Unlimited's only drawback is that it can only be used with Windows-based digital audio workstations. Your computer will need to run on Windows 7 or above and the plugin can be found in 32 and 64bit versions.

---
10. easyLimiter


An aggressively compressed signal can be smoothed out with the help of the Easy Limiter's advanced functionality. With its lookahead function, the Easy Limiter provides engineers with something most other limiters do not.
Clearly, setting a quick release time of fewer than 10 milliseconds causes significant distortion to the sine wave. The real-time, soft, medium, or hard settings above the meter can either remedy or exacerbate this problem, so take care when using this plugin, otherwise, you may distort your mix.
When the Out Limit function is used, which is essentially a threshold, actual compression occurs. Interestingly, this plugin does not have an output gain dial or a make-up gain, so you will need to use another plugin if you wish to increase your gain after limiting it.

---
Conclusion
Well, we listed what we thought are some of the best free limiter plugins out there and if you are on a budget at this time and cannot spend some funds on a limiter plugin, these are amazing options that you can go for.
Do not hesitate or question their functionality because they are free. Many of those are created by high-end developers and you will be getting some really quality products here.
In case you are having any questions about some of the plugins or you want to add more to it, please head over to the comment section below and we will be more than happy to answer you!