WES Audio Phoebe Review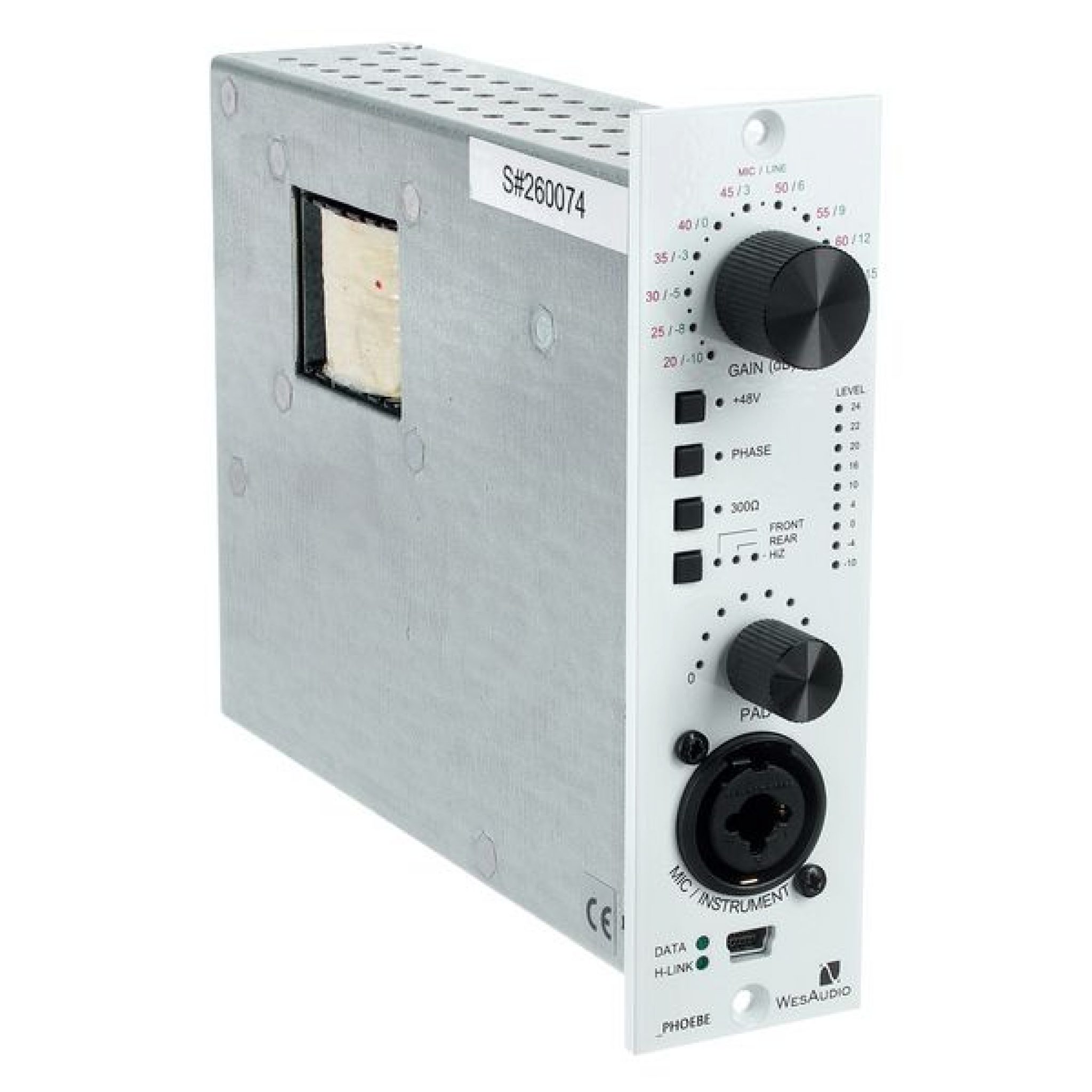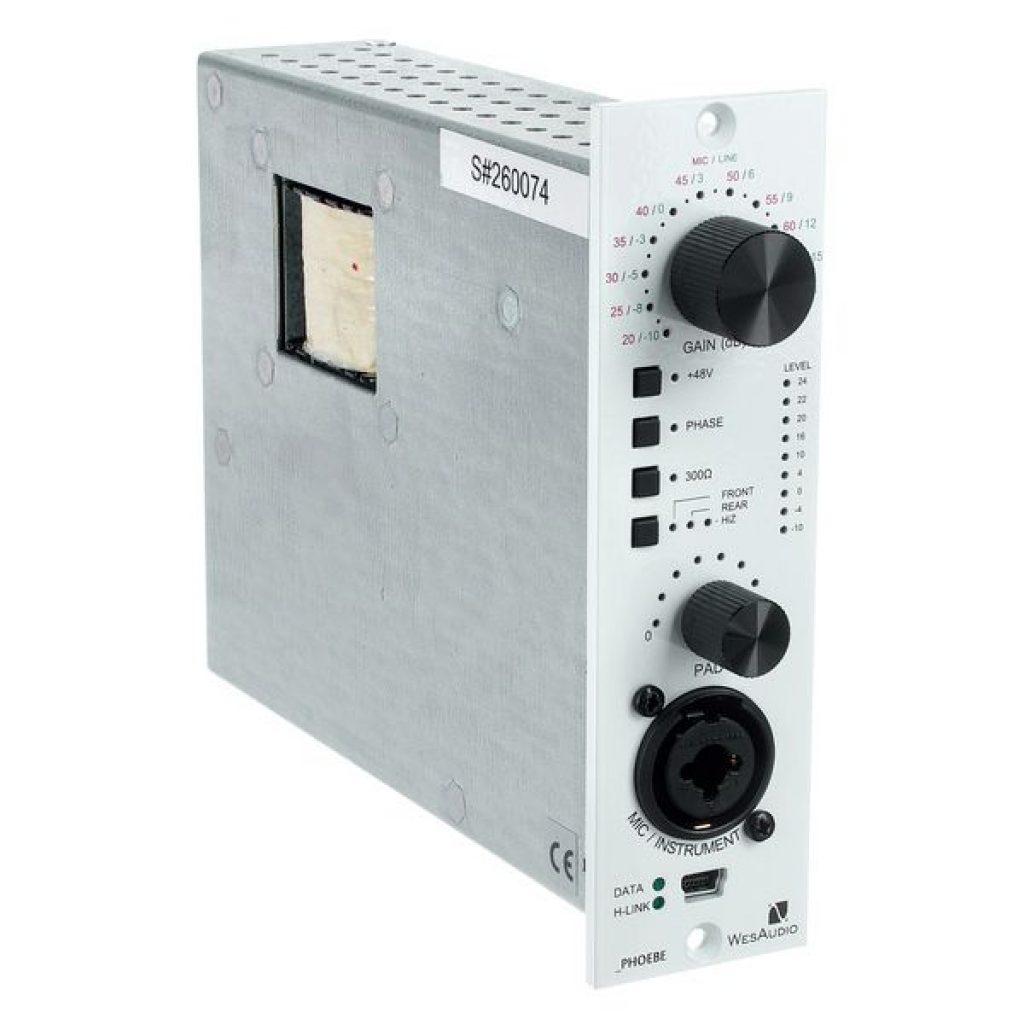 Microphone/instrument/ line input: XLR / 6.3 mm jack combo
1 Mini-USB connector
Construction: 500 module
Dimensions (W x H x D): 38 x 133 x 145 mm
---
About WES Audio
Since 2010, WesAudio has been manufacturing professional audio equipment. Since 2013, a new branch of development has been started bringing into the market innovative and modern "Next Generation" products for professional audio processing. The company's legacy rests upon modernizing analog equipment, but since 2013 a new development has been focused on modernizing analog equipment.
Despite this, the main goal of WesAudio remains the same – to create beautiful-sounding analog equipment that incorporates modern features at an affordable price. As a company, they are committed to providing their customers with the best quality and precision products, as well as complete warranty and service support for the entire range of equipment available for purchase.

WES Audio Phoebe Review and Features
Featuring cutting-edge features, the WesAudio Phoebe is a 500 Series mic/line/instrument preamp. Phoebe incorporates analog and digital technologies seamlessly, combining the best of both worlds. The Class A signal path is 100% analog, but Phoebe can be controlled and automated directly from your DAW. An XLR mic and line-level input jack and a TRS hi-Z instrument DI are located on the top panel.
You will have ample headroom for even low-output passive ribbon mics with 75dB of microphone gain, while selectable input impedance allows you to get the best sound from any mic. With the help of WesAudio's proprietary Iron Pad, Phoebe is equipped with precise gain staging, where you can control the attenuation of the output in 1dB steps up to -15dB.
The legendary Big Iron sound of Phoebe is a direct result of Phoebe's two transformers (input and output). These transformers are genuine Carnhills, and they are integral parts of Phoebe's legendary sound. WesAudio Phoebe is an ideal 500 Series preamp for the modern DAW-based studio, featuring state-of-the-art engineering, advanced features, and classic, warm, punchy analog sound.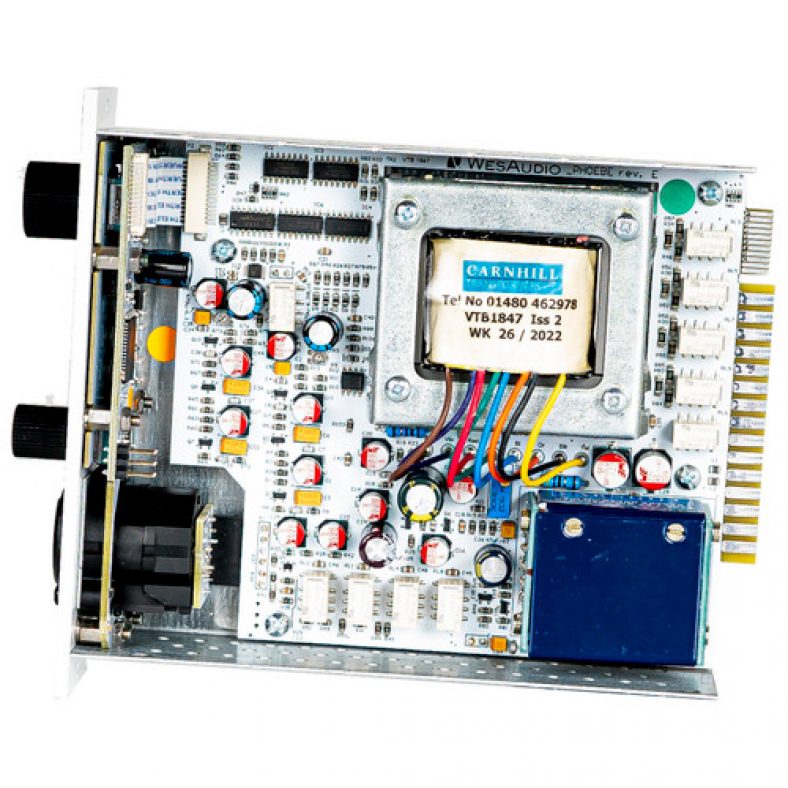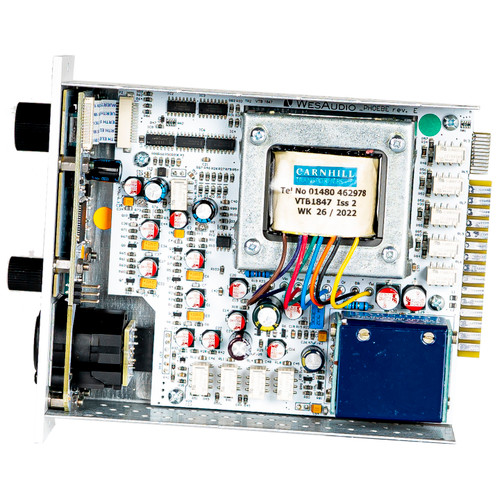 Full digital control with 100% analog input
An initiative spearheaded by WesAudio, a company headquartered in Poland and founded by Radoslaw Wesolowski, is called "ng," which stands for next generation. A unique feature of Phoebe is that it has a special connector that matches the receiver connector in the Titan NG500 Recall chassis, like all of the company's NG500 products.
Titan's rear panel is equipped with a USB port for connecting to your computer, as well as an Ethernet port for connecting to a network. There is a single data cable connecting all modules in the rack that are ng500-compatible with your computer.
Do you not own a Titan? The convenient mini USB port on the top panel of Phoebe allows you to access full digital recall capabilities.
Combining hardware and software in an elegant manner
In conjunction with the new extension of the ng program to 19-inch rack equipment, the gear will now come with free downloadable software that will appear in your DAW session as a standard plug-in and will give you the ability to control your analog hardware with precision.
Your DAW session file contains the settings and automation moves associated with your session. What a great idea!
WES Audio Phoebe Brief Features:
100% analog microphone/line/instrument preamp
Pure Class A analog circuitry
+28dBu of headroom
Microphone gain up to 75dB
Carnhill input and output transformers
Output signal metering with clip detection on top panel
Phantom power and polarity inversion
Selectable input impedance (1200/300 ohms)
All controls/analog settings fully manageable via WesAudio's GCon DAW plug-in
Iron Pad passive output attenuation circuit
Top-panel XLR/TRS combo jack with TRS hi-Z instrument DI plus XLR mic and line-level inputs
Recallable signal source supported by rear XLR or top-panel XLR/TRS inputs
500 series and ng500 series (Titan) compatible
Total Recall and plug-in control compatible with most DAWs
Analog automation in DAW
Isolated analog circuitry, fully digitally controlled
igital recall via top-panel mini USB socket
Free software and firmware upgrades
Why You Need the WES Audio Phoebe Preamp?
If you already own a 500 series chassis and you want to upgrade to something new and innovative, Phoebe is the right answer for you. With the +28dBu headroom, Carnhill transformers, and complete control over its settings via your DAW, you are in for a treat.
What caught our attention the most is that you will be able to automate the parameters from your DAW according to your needs, which is something really cool in a hybrid setup. Also being able to store your settings is another hassle-free setting that you can go for when you want to use the same settings on another project. A real gem!
WES Audio Phoebe Review
Featuring cutting-edge features, the WesAudio Phoebe is a 500 Series mic/line/instrument preamp. Phoebe incorporates analog and digital technologies seamlessly, combining the best of both worlds.
Positives
Analog and Digital Control
Amazing Sound
DAW Automation
Free Software Control
Conclusion
We really like this unit and we think that we provided the most important things that you will need to know about this unit. WES Audio provided some nice units before and this one is no different from the others.
In case you have any questions about this unit, please let us know in the comment section below and we will be more than happy to answer. If you want to know more details than we provided, feel free to reach out to WES customer service for additional explanations.