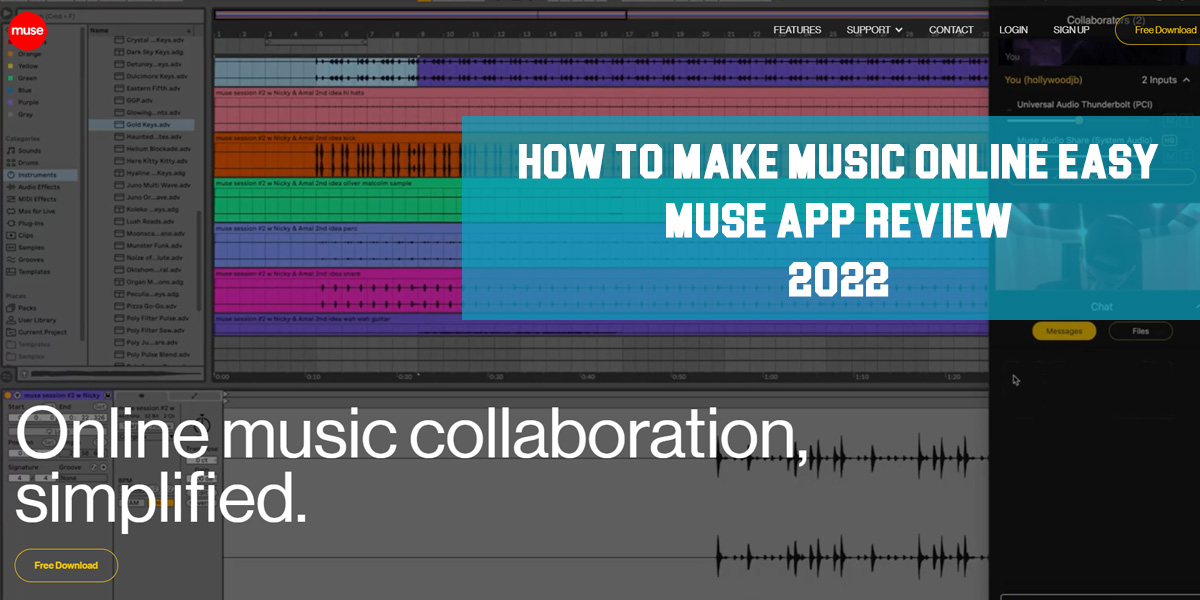 Muse App Review
Introduction
Collaboration has always been a vital part of making music. From forming bands to finding a team of artists and musicians that come together to work on a project is deeply engrained in music. Without collaboration, music becomes stale, and the eclectic mix of songs that give rise to new genres becomes lost and dull.
Today, the Internet allows people from around the world to connect. Even during a global pandemic, the Internet and collaborative apps like Zoom allow people to continue working from home. But after all this time why has there never been a viable solution for people that work in audio?
A common problem many musicians, producers, and audio professionals experience is that collaborating online is difficult. There have been solutions created in the past that attempt to simplify music collaboration, but many of these apps overlook the needs of modern-day workflows or require other apps to be used alongside them.
Most people don't want to learn a new DAW just to make music online, and the proposed solutions are too complicated and confusing to fit into anyone's workflow.
Luckily for us, Muse has finally created a solution that's revolutionizing the way people make music online.
What Makes Muse Different?
Muse is a free music collaboration app that has everything you need to make music online. Available for Mac and Windows, Muse takes the headache out of hosting a remote studio session. Sometimes referred to as the "Zoom for music" Muse comes with a suite of powerful tools that makes sharing audio and MIDI as easy as clicking a button.
The entire session takes place in a virtual studio environment and recreates the in-person studio experience. Let's dive into some of Muse's features that are simplifying online music collaboration.
Listed below are the features simplifying online music collaboration:
1. Share multiple high-quality audio devices
With Muse, you can share your microphone, instruments, computer audio, and DAW audio so everyone in the session can hear what's playing like they're right next to you. There's no limit to how many devices you can share, and you don't need confusing audio routing or loopback apps because Muse handles all of the tricky stuff for you.
2. Share Computer/DAW Audio
Muse comes with a free plugin that allows you to share audio from your DAW to Muse. Once you put the plugin on your Master Track, Muse takes care of the rest and you're instantly streaming HQ audio from your DAW to the Muse session.
Muse also comes with virtual audio drivers that allow you to route audio from anywhere on your computer. Everyone can hear as you play an audio file on your desktop, or you can play something on YouTube and record it into your DAW.
3. In-session convenience features for a quick workflow.
Muse makes it simple to work between the app and your DAW of choice. With a couple of clicks, you can pin Muse to the side and work on your project. While in the session you can share your screen and others can control your computer remotely. The Muse app also provides familiar controls such as push-to-talk on your devices, or you can mute, solo, or record shared devices (more on recording later)
4. Record Audio
One of the best features is that you can record audio online directly into your DAW. If an artist joins your session, you can record their vocals from Muse into your DAW. For the first time, you can have an audio engineer remotely control your session, and they can record your vocals into your DAW and their remote DAW at the same time without being in the same room.
5. Play & record MIDI
Another impressive feature is that you can connect your MIDI keyboard to Muse, and you can play MIDI into your collaborator's DAW. If you invite a talented musician into your Muse session, they can hook up their MIDI and play directly into your DAW from across the world. From there you can record the MIDI notes into your DAW, and they can play any instrument available on your computer.
6. Easy file sharing
Muse removes the need for emailing or texting stems back and forth. In the app, there's a chatbox you can drag files into. From the chatbox, you can drag files directly into your DAW. Depending on what DAW you use, you can even drag files from your DAW to the chatbox making Muse by far the easiest way to share files back and forth.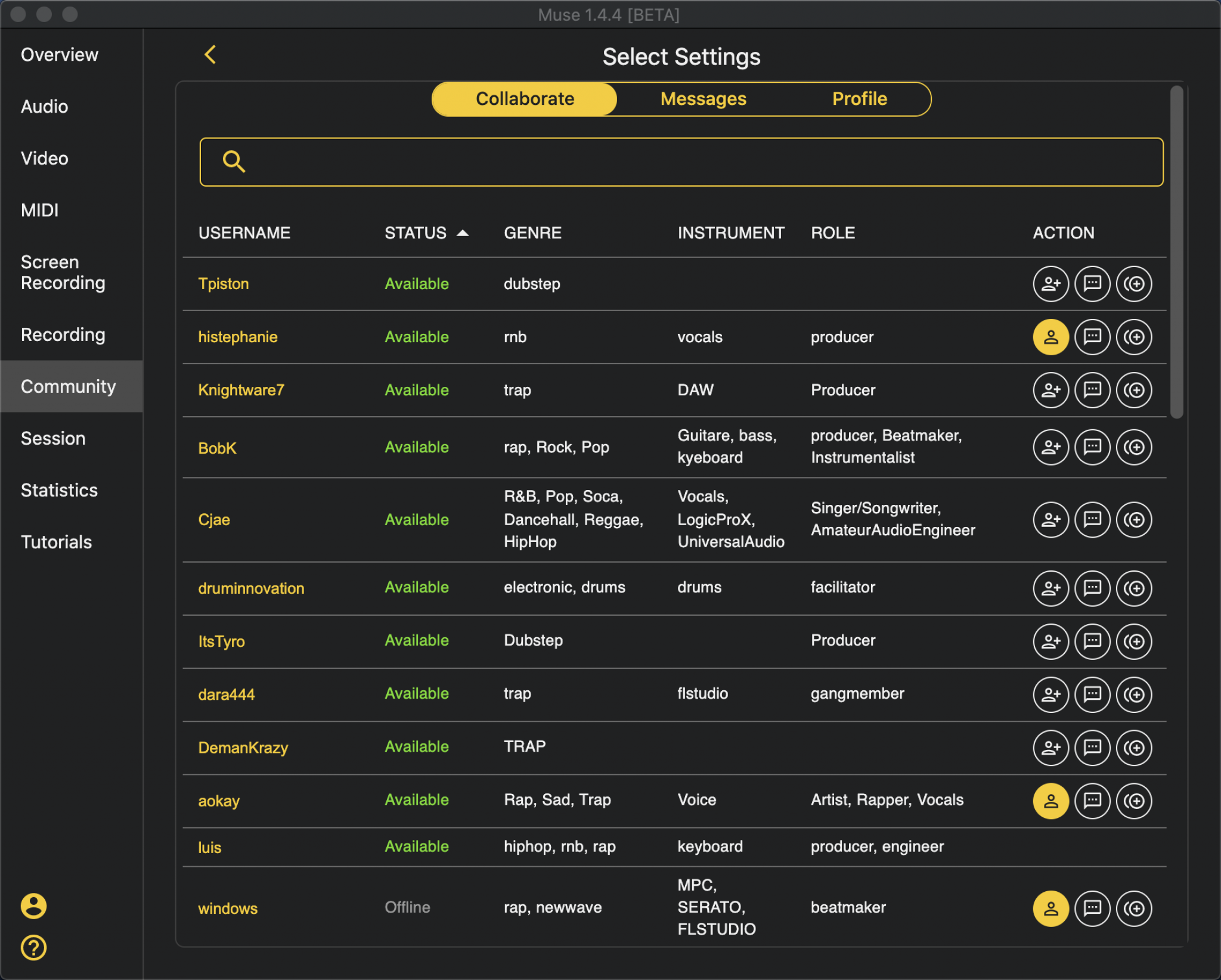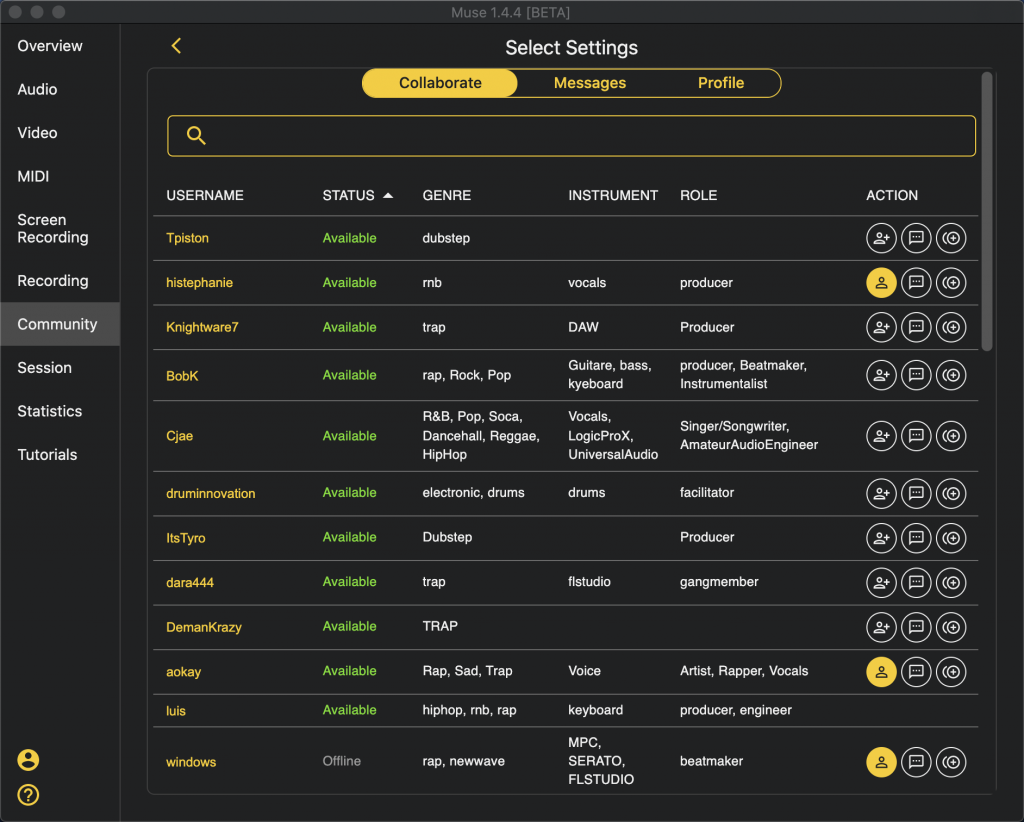 7. Find collaborators in the Muse Community
If you don't already have people to collaborate with, Muse has a growing community of producers and audio professionals you can find in the app. You can search for collaborators by genre, instruments, or location, send them messages, and invite them to your session all from within the Muse app. Muse is opening the door for everyone to find musicians to collaborate with and provides the collaboration platform to make it happen.
8. Additional features on a local network connection.
Despite how great Muse is for traditional music collaboration, there's still the limitation of network delay when trying to jam in real-time. With the prospect of 5G technology, there's hope that long-distance real-time jamming can become a reality.
But in the meantime, Muse can provide a low-latency wireless solution if you're connected to the same network. This allows you to connect to the same speakers without needing to use wires, and if your network is fast enough there won't be a noticeable delay.
Conclusion
Overall, Muse is by far the best music collaboration app on the market. You no longer need an online DAW to collaborate, and if you've ever asked someone how to make music online, this is the perfect tool for you.
Now you can use your favorite DAW to make music online, and Muse is completely free. Muse's intuitive solution was just released in September, and they're actively working on new features for their growing community. Visit https://musesessions.co to download the free app and start collaborating online today!