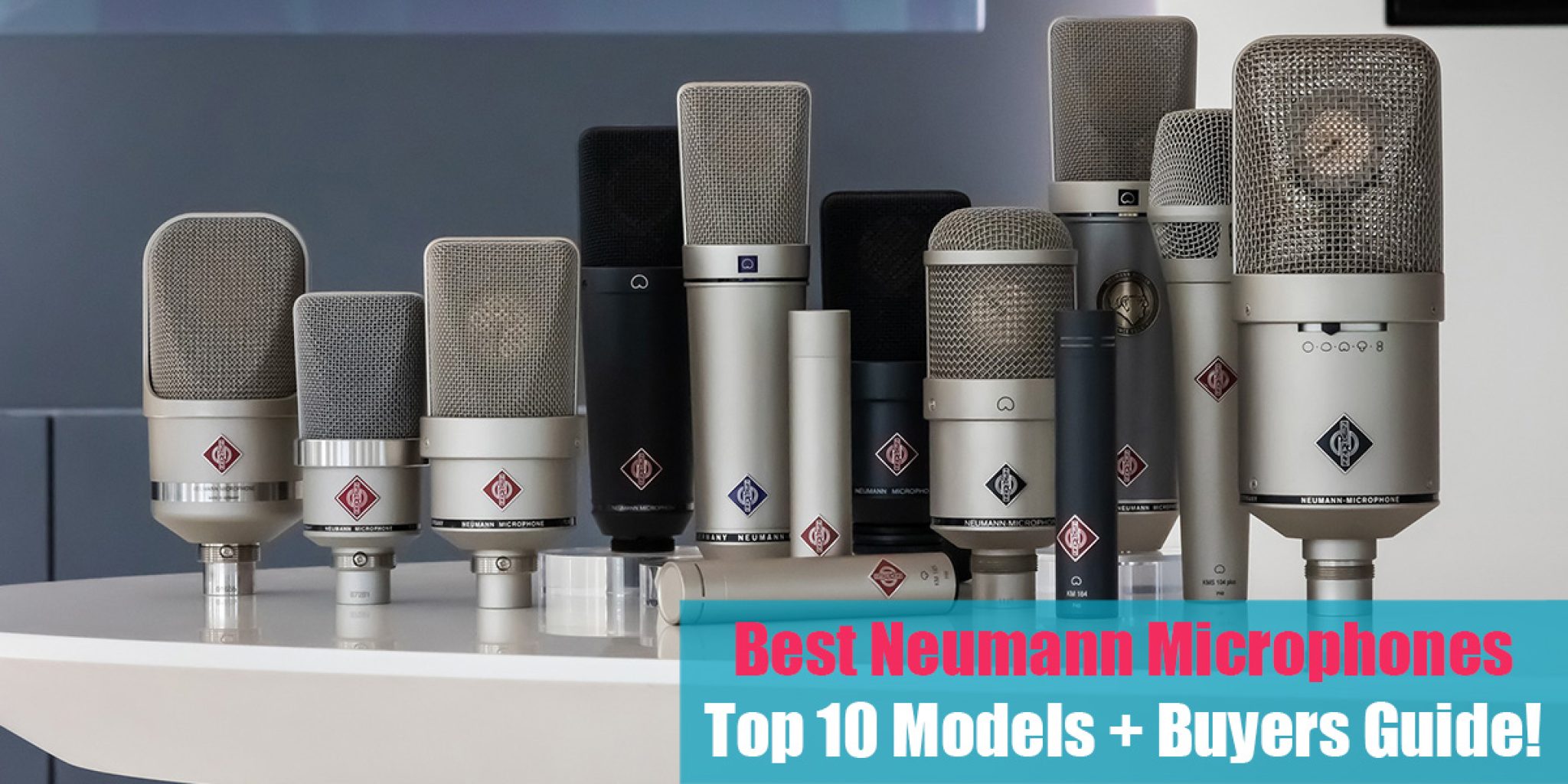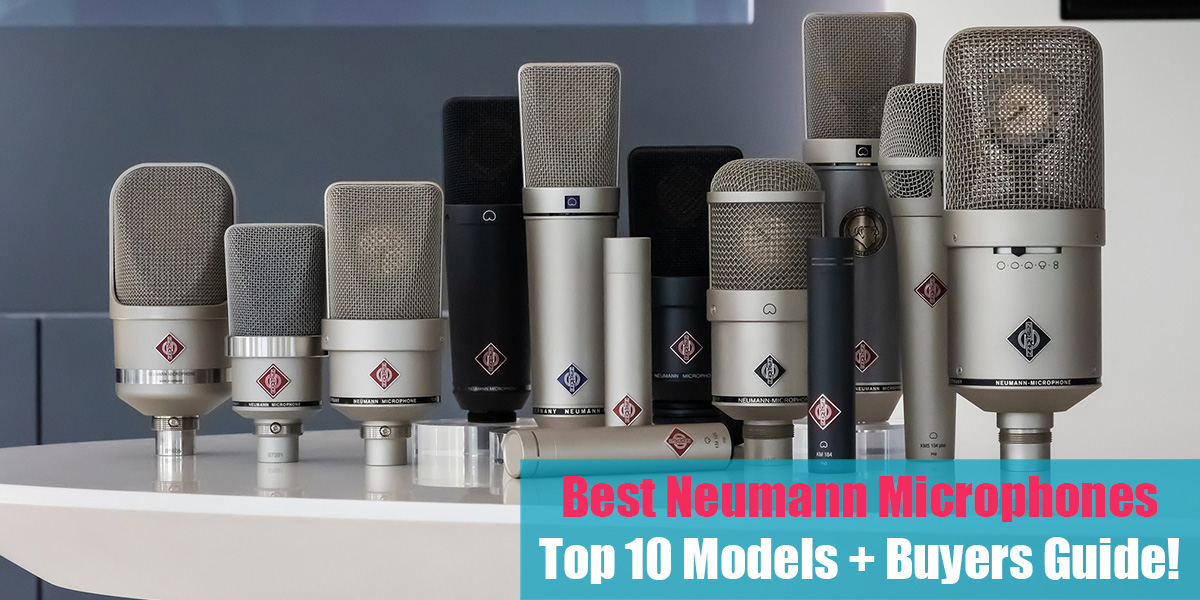 Best Neumann Microphones
Introduction
There is no doubt that Neumann Microphones are some of the best studio microphones on the market. In addition, all Neumann Microphones are made in Germany by hand. Neumann offers a wide variety of microphones that can enhance your recording experience regardless of whether you are starting a professional or commercial studio or a small home studio that has a higher budget.
Over the past few decades, Neumann has gained worldwide recognition as the standard-setting, leading microphone manufacturer of studio gear. The company has introduced a number of products that have become milestones in the world of professional audio technology over the years.
As a matter of fact, it has established an irreplaceable position in the worldwide studio microphone industry. When someone asks what the best studio microphone is, every recording studio as well as sound engineers recommend Neumann Microphones.
In spite of the fact that Neumann microphones are not inexpensive, these are products that provide excellent sound quality, reliability, and long-lasting value, an investment that usually lasts several generations of audio engineers. From their daily experiences, professionals know that Neumann microphones are well worth the investment.

Now we will share what we think are some of the best choices when it comes to picking a Neumann microphone, no matter if it is for recording vocals, acoustic guitars, or any other purpose.
1. Neumann U87 Ai – Great Multipurpose Mic
Neumann's U87 is widely considered to be one of the best condenser microphones of the 1960s, and one of the most admired large diaphragm condenser mics of all time. This microphone is fitted with a large dual-diaphragm capsule that offers three directional patterns, including omnidirectional, cardioid, and figure-8. Under the head grille, there is a switch that can be used to select between these options.
The Neumann U87 AI is packed with the same engineering but goes a step further with modern advances; now 6 dB quieter as a result of substantial improvements to the microphone's circuitry, which has improved both the microphone capsule and amplifier, as well as a higher polarization voltage that results in lower distortion and higher sound quality.
In spite of the fact that this classic condenser microphone is widely regarded as one of the best available today for recording vocals, it has nearly as much versatility as any premium microphone today. It is ideal for recording virtually any instrument and is widely employed for orchestral recordings.
In addition to audiobooks, film dialogues, and commercial voice-overs, the U 87 has been used for a large number of recordings. In addition, the U 87 features a low-cut filter that inhibits the proximity effect, unless you enjoy such a sound, in which case you can move in close and let the singer loose. In terms of SPL, the U 87 can handle up to 127 decibels. Listen to the magic of the Neumann U 87 Ai becoming part of your vocal expression.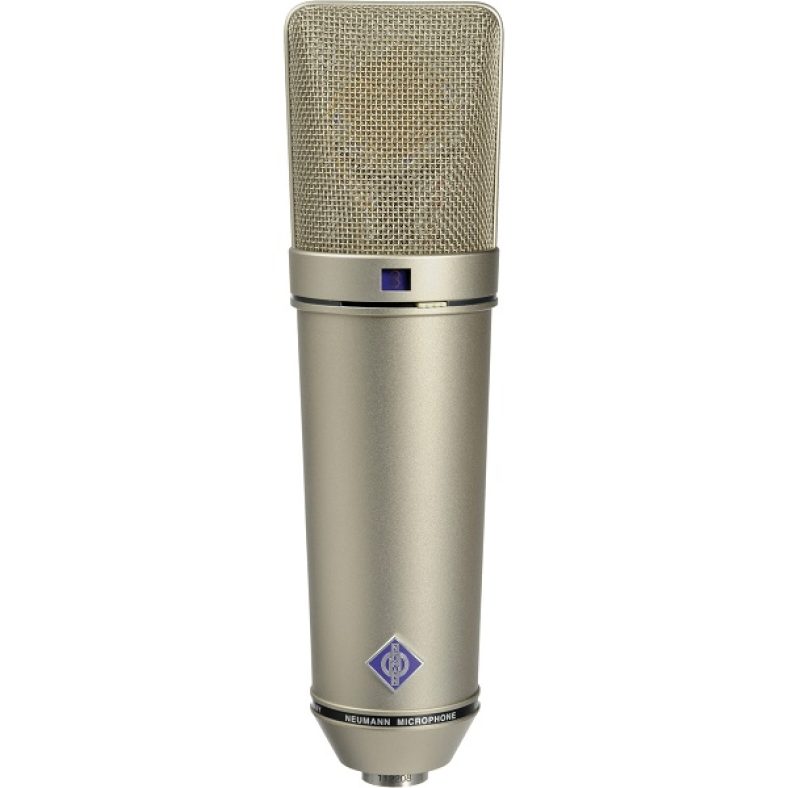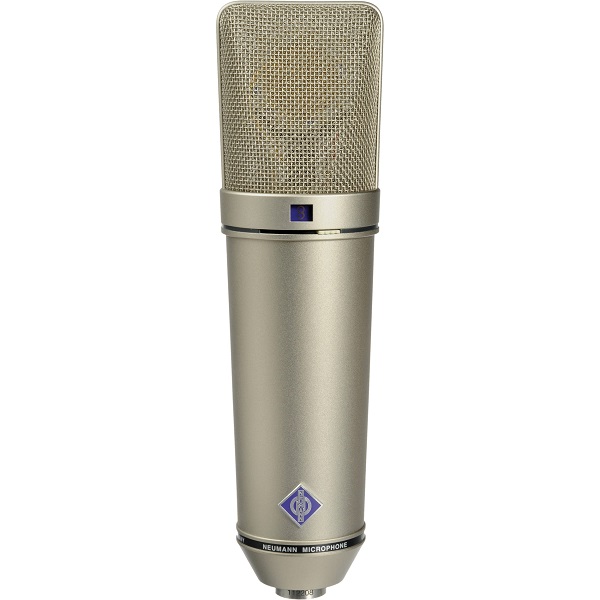 Features
Directional characteristic: Omnidirectional, cardioid, figure-8
Frequency range: 20-20000 Hz
Nominal impedance: 200 ohm
Weight: 500 g
Diameter: 56 mm
Length: 200 mm
IMAGE
PRODUCT
For US
Customers
For EU
Customers
Amazon
Store
Check out our full review here!
---
2. Neumann TLM 107 – Amazing Vocal Microphone
The TLM 107 condenser microphone was announced in 2013 and is a universal microphone with a large diaphragm and a multi-polar pattern. The body and grille design remain consistent with Neumann's legacy look, and a control switch is located directly on the microphone itself for easy control of parameters.
By using the elegant navigation switch, users are able to switch between the five polarity patterns, including cardioid, omnidirectional, and figure-8, instantly and simply. As an additional feature, the switch is also capable of turning on a low cut for either 40Hz or 100Hz, which is helpful for the highest quality recording of the most advantageous frequencies.
Additionally, the pad function can be used to record louder instruments such as guitars or drums at -6dB and -12dB. Designed to be intuitive and user-friendly, the TLM 107 allows recording artists to enhance their sound directly on the microphone.
There is almost no EQ curve in the TLM 107 for most frequencies up to 8 kHz, which allows recordings to retain their cleanness and magic. With a smooth response and a slight boost in the higher frequencies, recordings are of excellent quality and are sonically pleasing.
Furthermore, Neumann addressed the problem of preventing the dreaded "S" sound in the human voice, which is normally corrected by external DeEssers. The TLM 107 is a great recording tool for those who take recording seriously. You will not be disappointed if you decide to give it a try.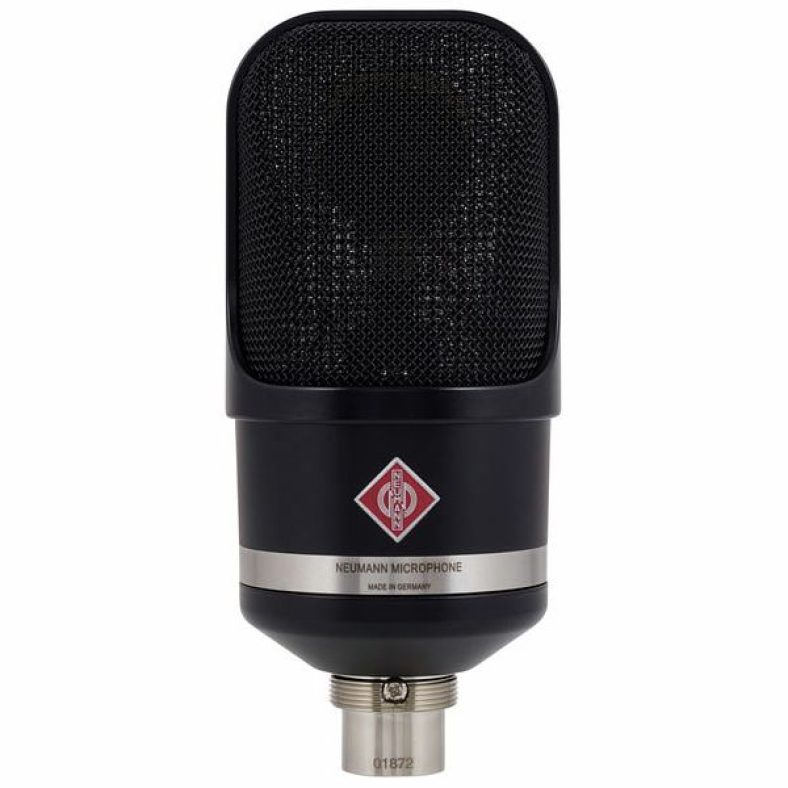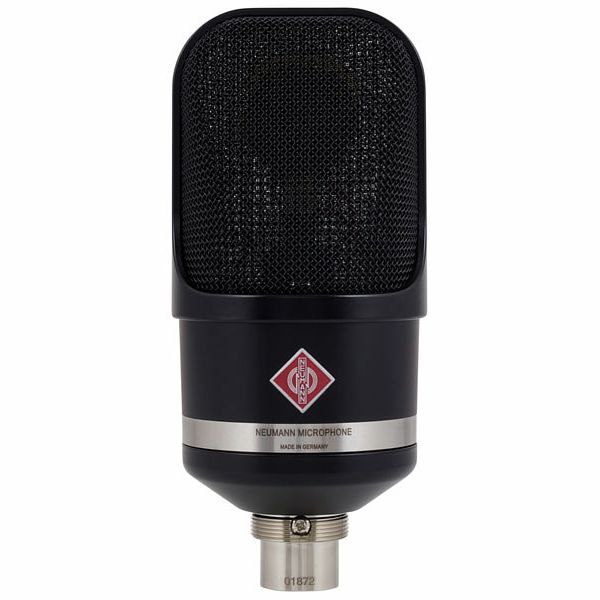 Features
Bass reduction: 40 Hz or 100 Hz switchable
Level reduction: -6 dB or -12 dB switchable
Navigation switch with LED display for directional characteristic
Low-cut and pre-attenuation
Max sound pressure level: 141 dB (153 dB at -12 dB pad)
Replacement noise level
IMAGE
PRODUCT
For US
Customers
For EU
Customers
Amazon
Store
---
3. Neumann U67 – Best for Instrument Recordings
Neumann intended to retain the original design of the mic, despite the fact that the power supply has been redesigned to look more like one that has a large toroidal transformer rather than a switched-mode power supply.
It is a BV12 output transformer and an EF86 valve, making it one of the best tube mic choices on the market. The body of the speaker is equipped with a low-pass filter and three polar patterns. The K67 capsule is the centerpiece of Neumann mics, and it is the capsule in which the U87 mic was developed.
A flight case is included with the latest version of the U67, which includes the power shock and cable as well as the shock mount. There is no doubt that the new microphone is well-constructed and well-designed. Due to the voltage-sensing circuit in the latest PSU, it is easy to adapt to any local power source. A voltage of 50 or 60 Hz, 100-120 V, or 220-240 V may be used.
Although there may be numerous differences between the two microphones, the thing to note is that they both produce excellent sound. The latest model is capable of capturing the fast transients of the guitar and provides each detail of its sound.
There was a mid-range of 6k Hz on the electric guitar. This helped greatly as it did not have any fizz and provided a good top-end tone to the amplifier.
The Neumann U67 provides the best performance opportunities for instrumentalists and guitarists. In comparison to other microphones that have largely faded into obscurity with the passage of time, Neumann's U67 has come a long way.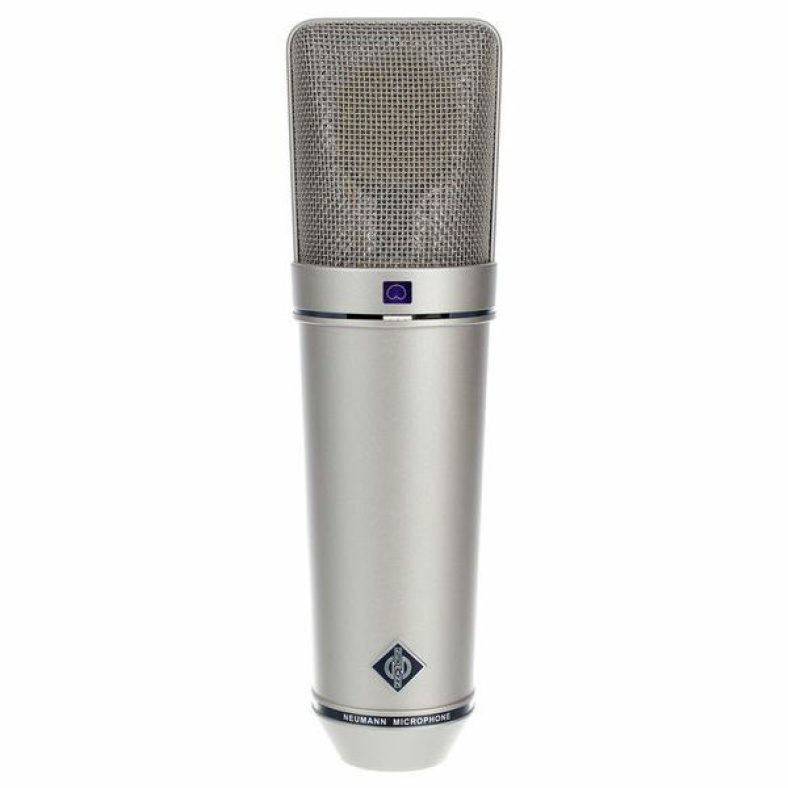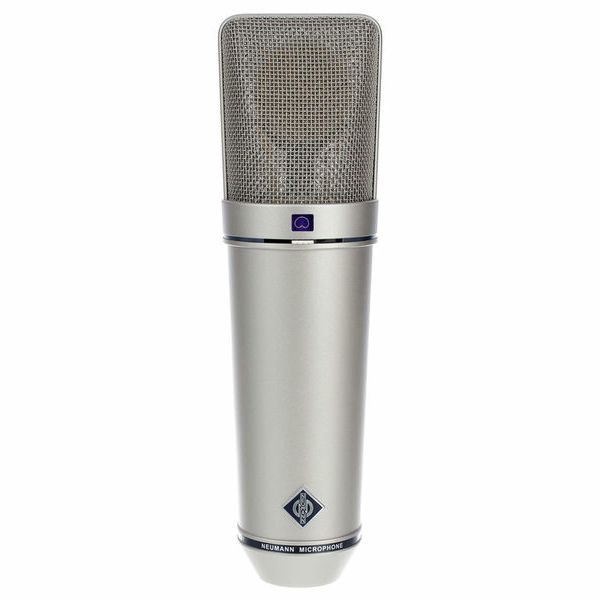 Features
K67 capsule
Switchable polar pattern: Omni, cardioid, and figure-8
Frequency response: 20 – 20,000 Hz
Nominal impedance: 200 ohms
Nominal load impedance: 1 kOhm
Switchable bass roll-off
IMAGE
PRODUCT
For US
Customers
For EU
Customers
Amazon
Store
---
4. Neumann KM 185 – Best Paired Small Diaphragms
KM 185 Microphones from Neumann are hyper-cardioid condenser microphones that are intended for use in live sound reinforcement, broadcasting, and recording.
An output stage based on the KM 100 is featured in the KM 180 series of microphones. As a result of the transformerless circuitry and balanced output, a high output gain is achieved while a very low noise floor is maintained and the output signal does not exhibit any coloration.
In addition, the KM 185 provides attenuation at the off-axis sections of the microphone and can be used for X, Y, and ORTF stereo miking, announcer's mics for broadcast, drum overheads, strings, winds instruments, percussion, pianos, and amplifier cabinets.
A +48V phantom power supply powers the KM 185 MT. This device has a frequency response of 20 Hz to 20 kHz, which makes it suitable for a wide range of recording applications. KM 185 handles sound pressure levels up to 142 dB, which allows for the close miking of instruments with high transient levels (peak levels).
As with the KM 100, the KM 185 features the same electronics for the output stage. A transformerless circuit design and a quiet balanced output design provide a clean, high-gain output signal that does not show any coloration. The design of the electronics is like a blank canvas; it does not introduce any paint strokes of its own, allowing the artist to create something unique.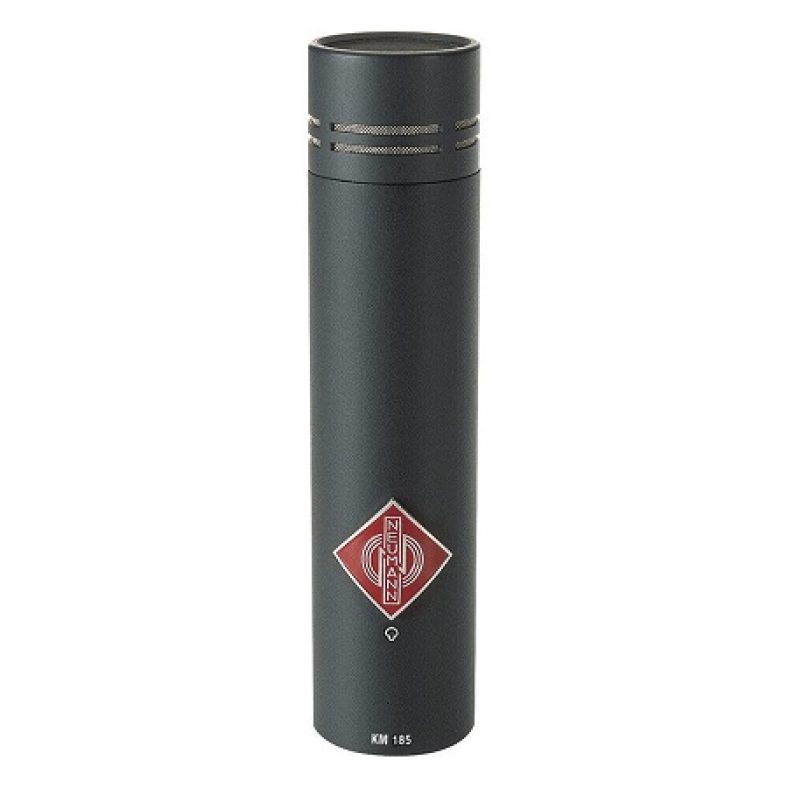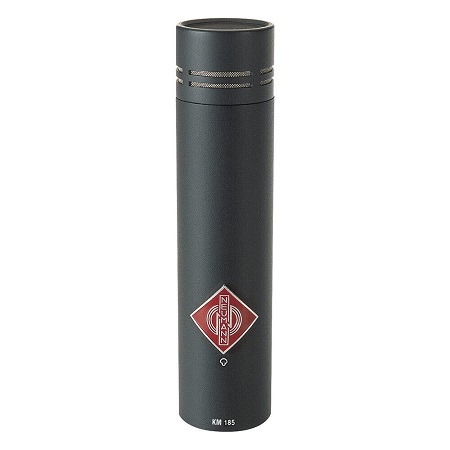 Features
Polar pattern: Hypercardioid
Frequency range 20 Hz – 20 kHz
Open circuit voltage: 1 kHz at 1 kOhm: 10 mV/Pa ± 1 dB
Sensitivity 12mV/Pa
Required phantom power 48 V +/- 4 V
Sound pressure level for k < 0.5%: 142 dB
IMAGE
PRODUCT
For US
Customers
For EU
Customers
Amazon
Store
---
5. Neumann KMS 104 – Best Handheld Vocal Microphone
Known for their outstanding studio microphones, Neumann now offers their uncompromising standards in an affordable high-quality hand microphone with the elegant KMS-104.
A cardioid capsule mounted on an elastic shock, coupled with a foam-lined grille, provides a robust method of eliminating annoying plosives. Aside from the fact that it is a luxurious-looking microphone, it is also very lightweight, making it an enjoyable microphone to use in live performances.
With an extended frequency response and accurate transient detail, the KMS 104 provides superior resolution of the voice to other handheld vocal microphones. There are no sibilance issues associated with other handheld condenser microphones.
Developed in the acoustic realm, the frequency response characteristic captures the detailed transient elements found in speech and music, thus transmitting a very "open" and detailed representation of the human voice.
A highpass filter and a frequency response that has been optimized for very close micing have been included in the device. As a result, the proximity effect is compensated, resulting in an even reproduction of sound. There is a cardioid capsule included in the KMS 104, which produces the best rear sound rejection.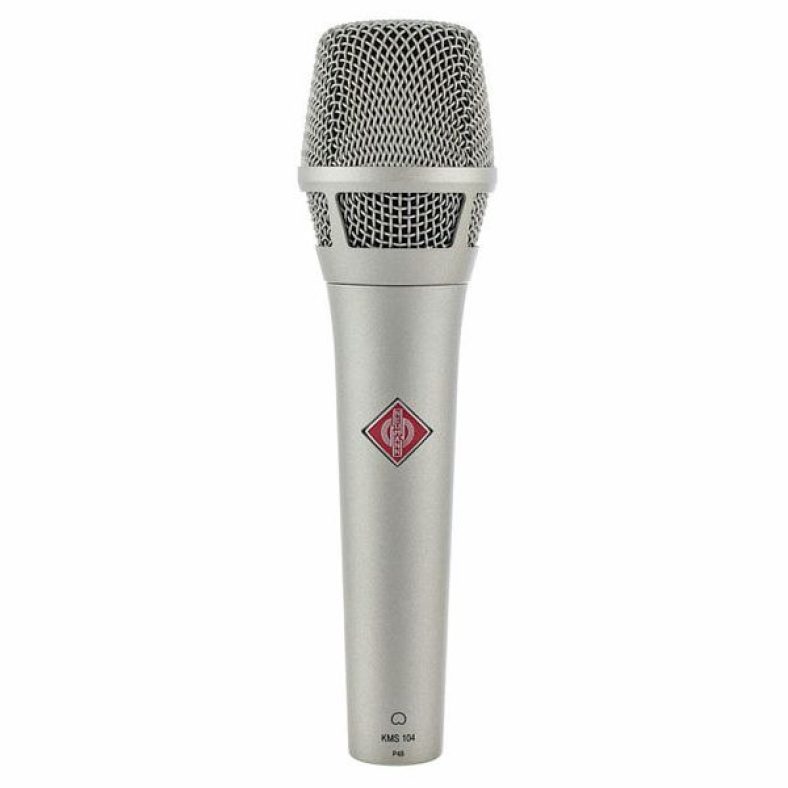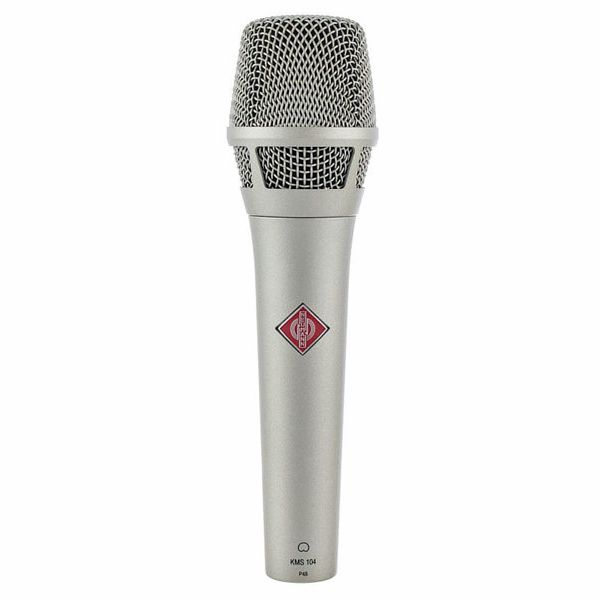 Features
Frequency range: 20 – 20.000 Hz
Impedance: 50 Ohm
Maximum level: 132 dB SPL max.
48V phantom power
Color: Nickel-plated
XLR connector
IMAGE
PRODUCT
For US
Customers
For EU
Customers
Amazon
Store
---
Other Honorable Mentions by Neumann
6. Neumann U 47 FET
The valve U47 was discontinued in 1967 and the valve U47 FET was introduced in 1969 after a four-year gap. There has always been some confusion regarding the model designation since the two microphones have little in common.
A new fixed hypercardioid capsule, the K47, was used with the U47 FET. A FET preamp circuit was used instead of a separate power supply and this eliminated the need for a separate power supply.
Additionally, two pad switches and a bass roll-off switch were provided. Additionally, Neumann did not provide a suspension mount, opting instead for a bracket with a cable clip integrated into it.
In this reissue, the old specifications and new specifications are identical – right down to the preamp's rats nest of point-to-point wiring.
Though it may not be the most subtle or nuanced Neumann mic has ever created, the U47 FET does possess that sense of enhanced realism that typifies so many of the company's products. In particular, the midrange of the U47 FET is fat and upfront without sounding woolly or overpowering, and its strong upper midrange and low treble allow it to cut through without sounding edgy or taking up too much frequency space.
There is a very present and upfront quality to the sound of the U47 FET. This microphone adds body without adding boom and we noted a slight softening of the 'esses', which will assist singers who are sibilant. When the microphone is placed off-axis, the sound is fairly consistent, which is helpful for talent that cannot remain still.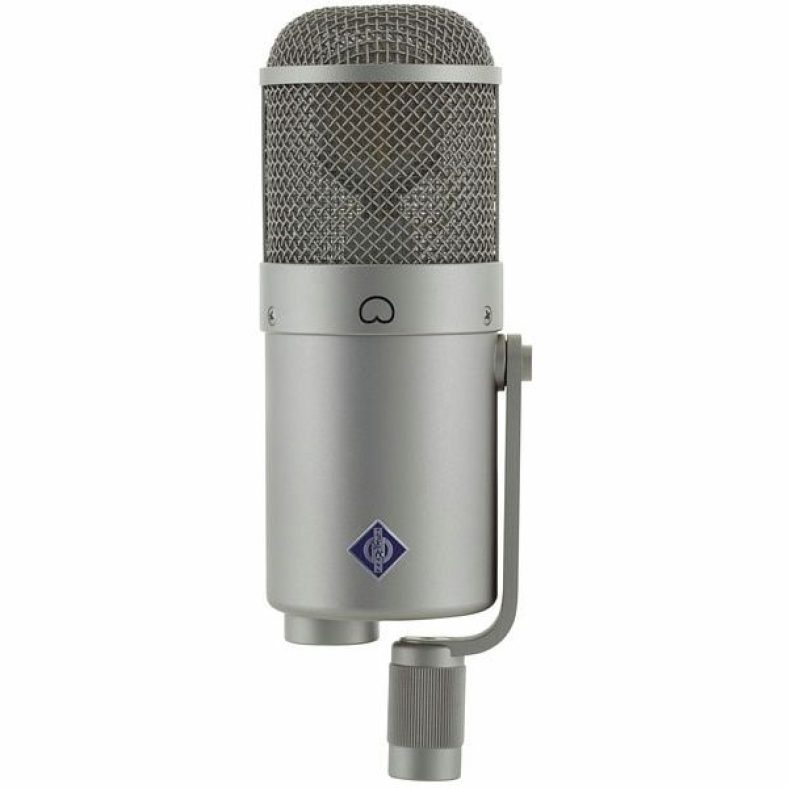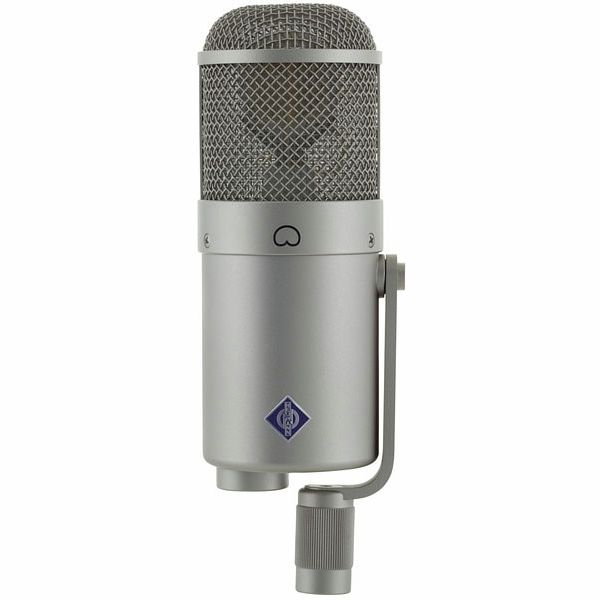 Features
Polar pattern: Cardioid
Frequency response: 40 – 16,000 Hz
Sensitivity at 1 kHz into 1 kOhm: 8 mV / Pa
Rated impedance: 150 Ohm
Rated load impedance: 1 kOhm
Equivalent noise level, CCIR: 25 dB
IMAGE
PRODUCT
For US
Customers
For EU
Customers
Amazon
Store
---
7. Neumann TLM 102
Neumann's TLM 102 is a condenser microphone with a large diaphragm and produces a sound that is as elegant as one can expect from an XLR microphone. We have worked with numerous microphones over the years, but this one sounds exceptional.
A wide frequency response is provided by the Neumann TLM 102, which is in accordance with the human ear's range of 20Hz to 20kHz. You will find that its sound features both a deep, warm, and rich bass, as well as a smooth, silky high.
You cannot tell that it is recorded audio because you are getting so much depth. There is no doubt that the smooth high-end is among the finest sounds ever heard from a microphone, and it is easily comparable to the much more costly (and well-known) Neumann microphone.
It relies on a cardioid polar pattern, which means the microphone only records the sounds that are fed into the capsule from the front while blocking out most of the sounds from the sides and rear. In order to maximize the performance of a highly sensitive microphone, such as this one, background noise should be minimized as much as possible.
A large diaphragm provides the sensitivity of this device; it works almost like a piece of tissue paper. Because it is so light, it is moved by sound waves in the most subtle ways, and this movement is picked up by the condenser with extreme precision, creating capacitance.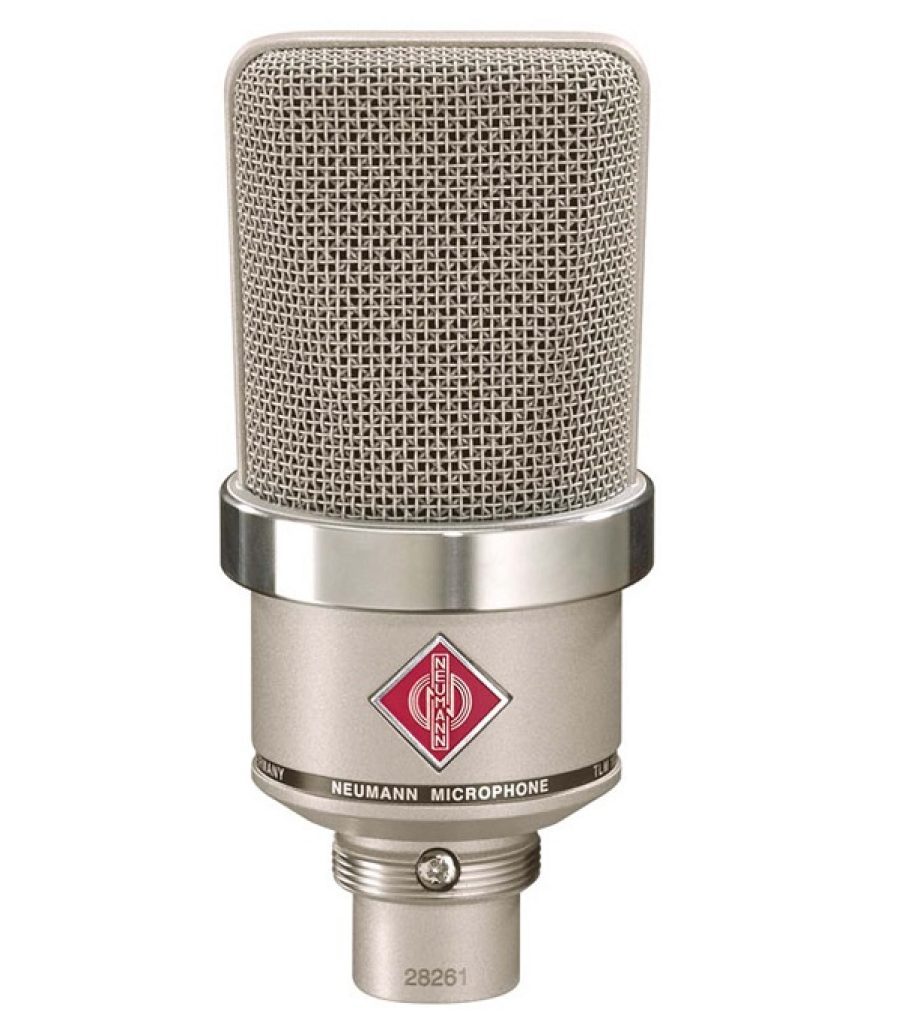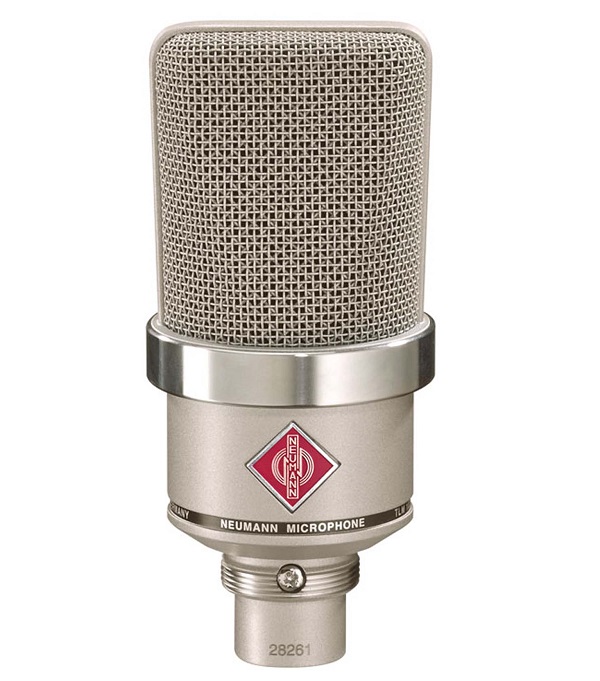 Features
Pressure gradient transducer
Directional characteristic: Cardioid
Frequency range: 20 Hz – 20 kHz
Peak SPL: 144 dB
Nominal impedance: 50 Ohm
Rated load impedance: 1 kOhm
IMAGE
PRODUCT
For US
Customers
For EU
Customers
Amazon
Store
---
8. Neumann M 149
It was in 2003 that Neumann released the M149 Jubilee to commemorate the 75th anniversary of the M149. In addition to the "platinum-finish" grille and body, these microphones have an engraved logo commemorating the 75th anniversary of the company. There were 500 such microphones produced, with serial numbers ranging from 1 to 500. A stereo pair was available as part of this series.
Neumann's flagship tube condenser microphone, the M 149 Tube has a large-diaphragm capsule, many pattern controls, and low self-noise.
Neumann's K47 capsule features dual diaphragms with membranes that are center-terminated. A K49 capsule may also be referred to as this one. There are some printed documents from Neumann that indicate that this microphone is equipped with an M7 capsule. This appears to be a typographical error.
At higher frequencies, the K47/K49 capsule produces a more directional output rather than a pure cardioid pattern of pickup.
Unlike many tube microphones, the M 149 excels at recording intimate performances, just like its predecessors. In addition to recording piano, electric and acoustic guitar, upright bass, percussion, and drum overheads, as well as solo strings, and brass, and woodwind instruments, the M 149 is ideal for recording nearly any audio source.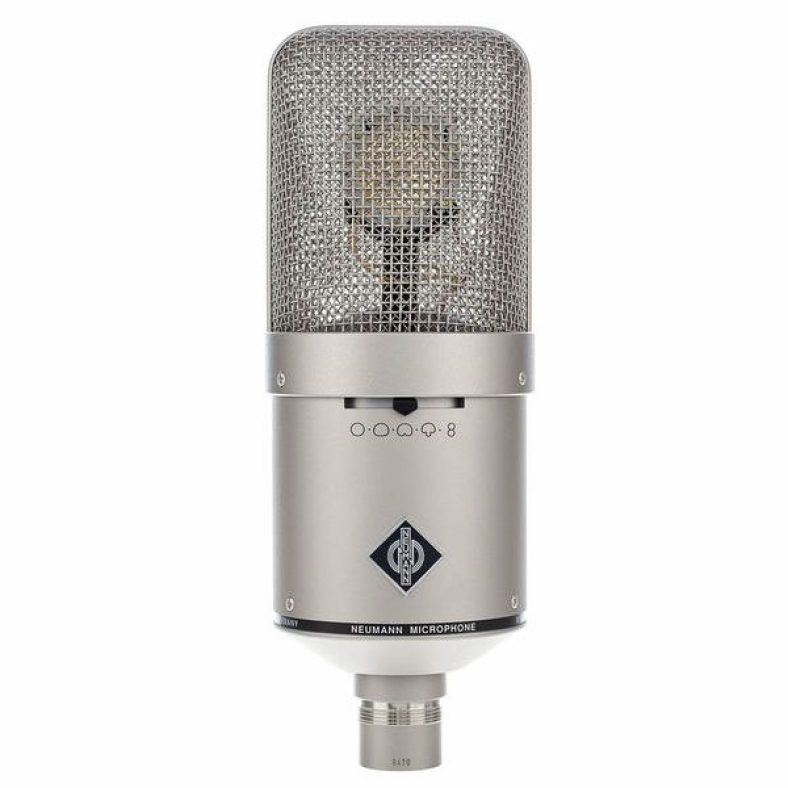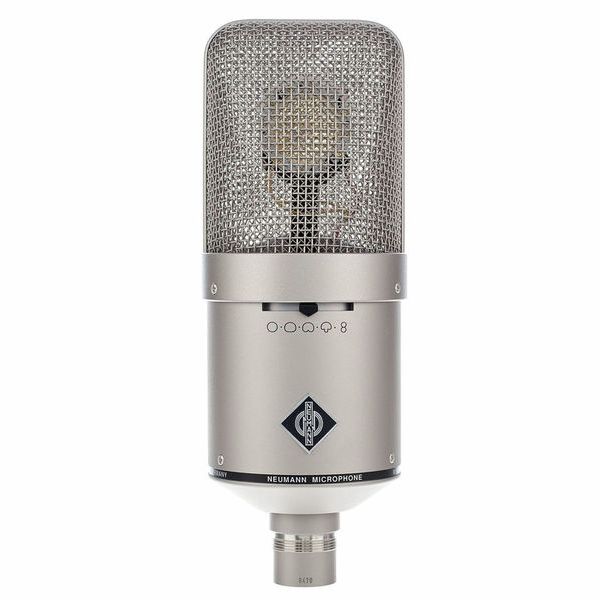 Features
Tube Condenser
Omni, Wide Angle Cardioid, Cardioid, Hypercardioid, Figure-8
Frequency range: 20 Hz – 20 kHz
Max SPL: 136dB
Nominal impedance: 50 Ohm
IMAGE
PRODUCT
For US
Customers
For EU
Customers
Amazon
Store
---
9. Neumann BCM 705
A hyper-cardioid dynamic microphone, the BCM 705 is designed for broadcast applications. This dynamic microphone is the first product from Neumann.
As the microphone has a low sensitivity of 1.7 mV/Pa and a relatively high self-noise level of 18dBA, it is best used with a preamp that has low noise and high gain.
Microphones with removable head grilles are compatible with condenser microphones in the BCM 104 series. The Neumann head grilles are available in a variety of colors, so that staff at broadcast facilities may more easily track individual head grilles for reasons of hygiene (or perhaps for personal preference).
With the help of a network of elastic bands, the hypercardioid capsule is mounted on the oversize head basket in a shock-mounting manner. In use, a metal-mesh pop filter surrounds the capsule. The filter can easily be removed for cleaning.
It is likely that the microphone's built-in yoke mount does not swivel since it is designed for use with an articulated boom arm. It is extremely difficult to position the BCM 705 in the absence of a rotating or swiveling mount. Using a floor mic stand, it is nearly impossible to place the mic face flush against the speaker cabinet grille.
It is important to note that the capsule's polar pattern changes with frequency. Below 1kHz, it is essentially hypercardioid, but above 2kHz, on-axis sensitivity narrows and off-axis response changes, which are most easily understood after examining the graph to the right.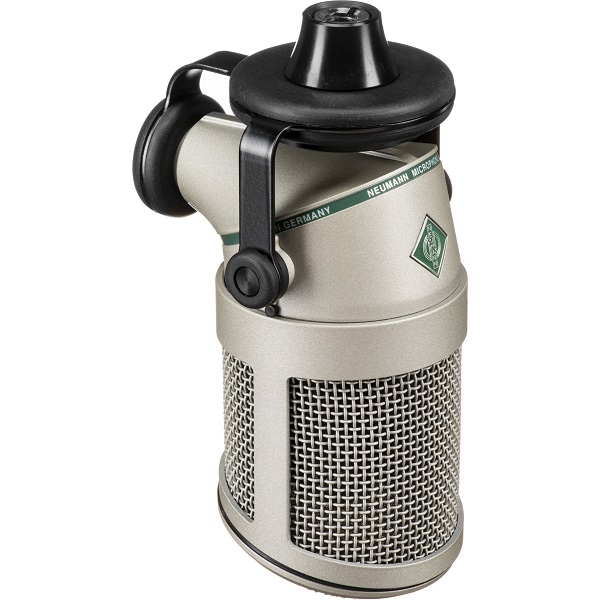 Features
No phantom power required
Pop-screen protection and elastic suspension are already integrated
Frequency range: 20 Hz – 20 kHz
Sensitivity: 1.7 mV / Pa = -55.4 dB ± 1 dB
Impedance: 200 Ohm
Equivalent noise level: 18 dB-A
IMAGE
PRODUCT
For US
Customers
For EU
Customers
Amazon
Store
---
10. Neumann M 147
The first thing you will notice about this microphone is that it has two polar patterns: omnidirectional and cardioid. As opposed to traditional condenser microphones, which have a diameter of 1″ or 2″, this microphone has a diameter of 4″, which distinguishes it from others on the market. As a result of these features, the microphone produces a unique sound quality that will be suitable for a variety of applications.
The Neumann M 147 Tube Microphone is a condenser microphone with a large diaphragm made of vacuum tubes. Inheriting from the classic U 47 and M 49 microphones, the K 47/49 capsule uses a pressure gradient and a dual diaphragm. The tube is followed by a transformerless output circuit that provides low self-noise and high output gain without introducing coloration to the output signal.
In addition to providing high output levels, the M 147 Tube enables the microphone to feed cables up to 984.3′ in length without deteriorating the signal. Due to the cardioid polar pattern of the side-address capsule, ambiance and noise from the off-axis sections of the microphone are minimized.
Capsule characteristics include a flat frequency response up to 2 kHz and a 3 dB boost above that frequency. Suitable for recording vocals and general instruments such as strings, piano, and wind instruments, the M 147 Tube is an excellent microphone for recording vocals.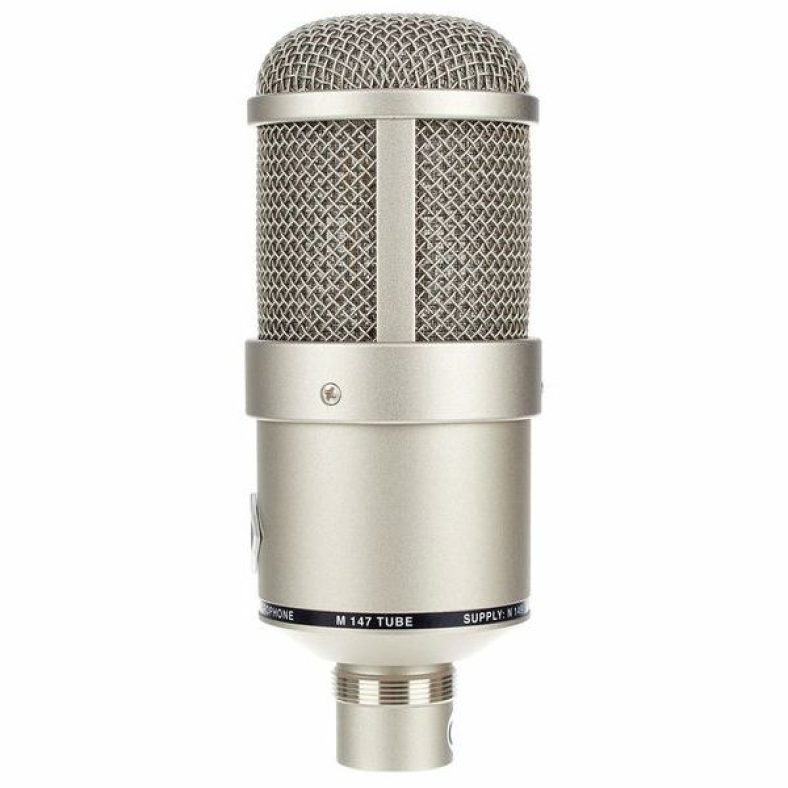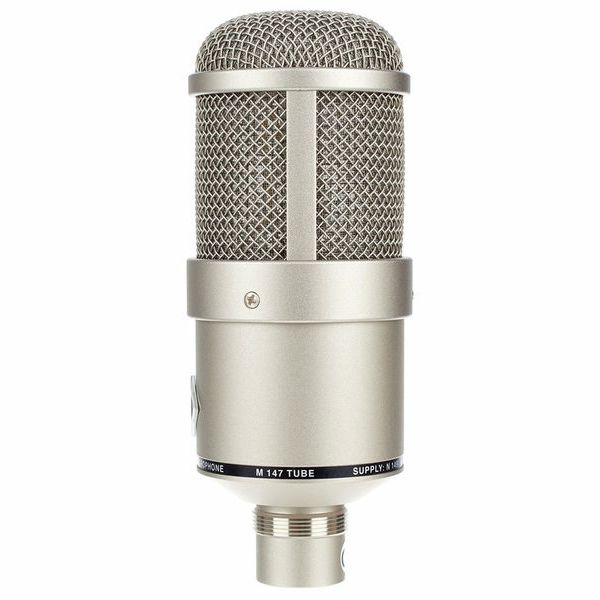 Features
Directional characteristics: Cardioid
Frequency range: 20 – 20,000 kHz
Max. sound pressure level: 114 dB for K < 0.5%, 134 dB for K < 5%
Max. 8 dBu output voltage
Nominal impedance: 50 Ohm
Nominal load impedance: 1 kOhm
IMAGE
PRODUCT
For US
Customers
For EU
Customers
Amazon
Store
---
Conclusion
A variety of reasons make Neumann microphones some of the highest-quality mics in the recording industry. In the first place, they are known for their superior build quality and attention to detail, coupled with precision engineering. As a result, their microphones have the durability needed to withstand the demands of professional recording.
Second, Neumann microphones are known for their exceptional Neumann sound quality, reproducing the source audio with a high degree of accuracy and richness. Recording studios, live performances, and broadcast studios often use them to capture vocals and instruments.
There's no denying that Neumann microphones offer a combination of quality, durability, and performance that is hard to beat for professionals and enthusiasts alike.